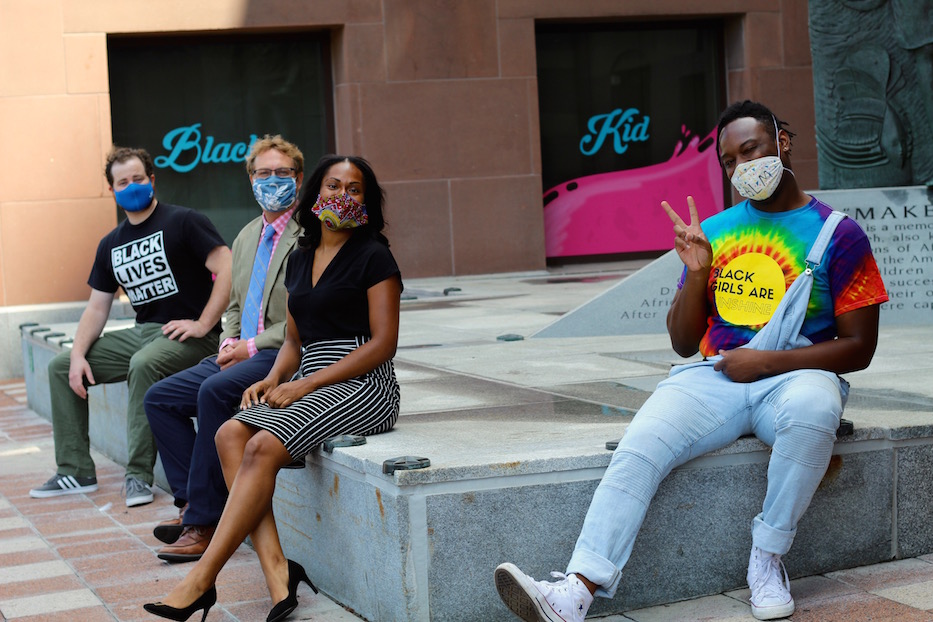 Economic Development | Arts & Culture | Arts, Culture & Community | Black Lives Matter | Elicker Administration | COVID-19 | Arts & Anti-racism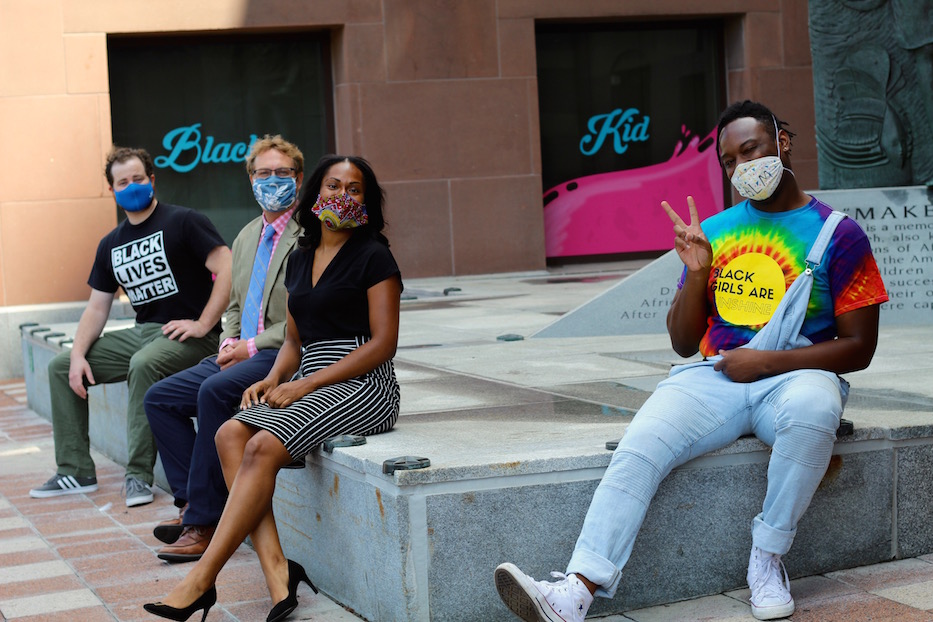 From left to right: New Haven Innovation Collaborative Director Michael Harris, Town Green Executive Director Win Davis, Cultural Affairs Director Adriane Jefferson and artist Isaac Bloodworth at an unveiling of Bloodworth's installation in August 2020. Lucy Gellman File Photo.
It started with a call for cultural equity in the lobby of City Hall. One year later, one city department has transformed into an engine for social and economic justice—while using the arts as its springboard.
That's the story for the city's Department of Arts, Culture, and Tourism, which has experienced a year of unprecedented growth while facing COVID-19, a citywide economic crisis, and an ongoing epidemic of state-sanctioned violence at home and across the country. Less than 12 months after Mayor Justin Elicker named Adriane Jefferson as director of cultural affairs, both she and Community Outreach Coordinator Kim Futrell are entering the new year with a razor-sharp focus on equity in the arts.
"When we're looking at cultural equity, we're looking at how we achieve equity in the arts, but also equity in other sectors," Jefferson said in a recent interview over Zoom. "How the arts can play a role in health, in transportation problems, in social justice? The thought is, if you can achieve equity there, then you can achieve equity in the arts."
Jefferson began her tenure in February of last year, just weeks after a mayoral transition team held multiple public meetings and rolled out a report calling for a comprehensive cultural plan, expanded K-12 arts education, and greater support for the New Haven Free Public Library. In her first weeks, she presented early work on a cultural equity plan to the city's Cultural Affairs Commission. She prepared for the department's move to Economic Development. She was starting to ease in.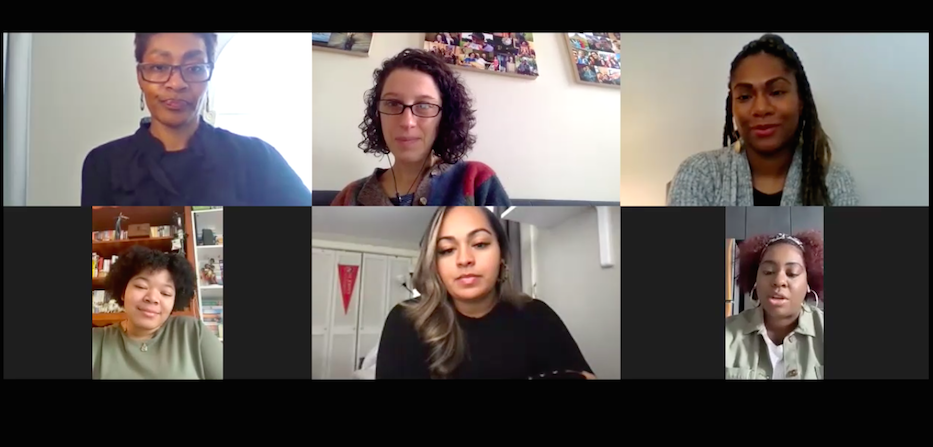 Clockwise, from top: Community Outreach Coordinator Kim Futrell, this reporter, Adriane Jefferson, project managers Typhanie Williams and Corinna Santos, and department intern Sonjah Dessalines. Screenshot from Zoom.
Then COVID-19 hit. In mid-March, Jefferson and Futrell made a hard pivot to economic development, rolling out the city's #TogetherNewHaven campaign with Economic Development Administrator Michael Piscitelli. As Futrell worked on the branding, Jefferson partnered with the Arts Council of Greater New Haven to pilot a creative sector relief fund, which has since opened to the greater New Haven region. (In the interest of full transparency, the Arts Paper is an arm of the Arts Council but is editorially independent from it).
"That was a huge milestone," Jefferson said. "We were helping during a time that was crazy, that was chaotic. No one knew the ramifications that Covid would have, and we were forced to step up in a way that I don't think any of us expected. That was just a major feat."
From there, the two focused on early data that suggested gig workers, freelancers, and individual artists—particularly artists of color—were more likely to lose work and bear heavy economic and medical burdens of COVID-19. In May, the department launched its Mask Up campaign, the first of its kind in the city, in an effort to spread a public health message through Black and Latinx radio hosts, musicians, business owners, and community members. It later expanded the campaign to faith leaders and childcare providers.
Meanwhile, Jefferson continued to work towards a cultural equity plan, in an act of pandemic-era reverse engineering that started with action, and worked backwards toward putting it on paper. As protests against police brutality roiled the city and the country, the department built an arts for anti-racism pledge and toolkit designed for city cultural organizations, which remain disproportionately white in a city that is not.
In August, the department collaborated with artist Isaac Bloodworth and the Town Green Special Services District to bring a window installation on Black joy to City Hall.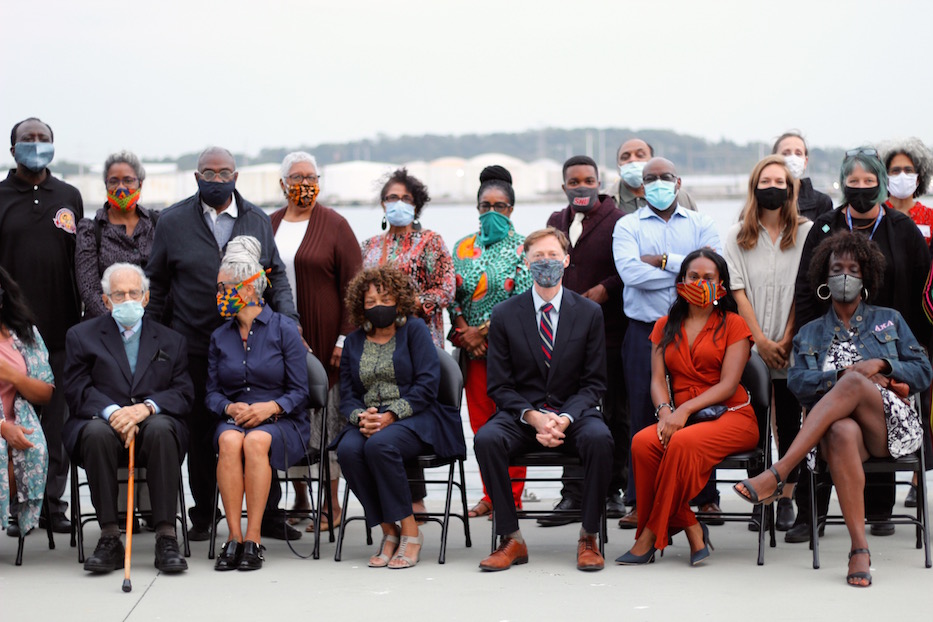 Members of the Department of Arts, Culture, and Tourism joined Mayor Justin Elicker, the Amistad Committee, and sculptor Dana King shortly before the installation of a sculpture celebrating William Lanson on the Farmington Canal. Lucy Gellman File Photo.
In September and October, the department also worked with Black Lives Matter New Haven to install new murals on Bassett Street in Newhallville and Temple Street downtown. It saw through the long-awaited installation of a statue dedicated to nineteenth-century Black engineer and entrepreneur William Lanson. Behind the scenes, Jefferson worked to secure funding and final sign offs on a formal cultural planning process that could begin before the year was over.
"When the pandemic came, you would think that that kind of threw us off, but it actually didn't," Jefferson said. "To me, it verified why we needed to do the work. We already know that the inequities were exacerbated. We saw what was happening. We saw where the hotspots were. When the protests broke out, we saw what we already knew was happening for years ... in terms of racism and white supremacy. What it did was it accelerated our work, and it made us have to show up now as opposed to wait for the plan to be finished to do the work."
She hasn't done anything alone, she added. She praised Futrell, who ran the department singlehandedly from July 2019 through last February. Over the past nine months, they have brought on project managers Corinna Santos and Typhanie Williams, as well as intern and Trinity College student Sonjah Dessalines. Both Santos and Williams are artists and entrepreneurs: Santos runs Glamrosa Creative and Williams runs the brand Create Unapologetically.
Futrell, who has been in City Hall for over a decade, said that she is excited for the department's new direction and reach beyond downtown New Haven. It marks a departure from programming under the late Andy Wolf, who held the position until his death in July of 2019.
"I've been through several transitions," she said. "But this is the first one that is specifically geared toward people that look like me, that reflect me, so it's exciting in that way. And I think that it turned out to be perfect timing for Adriane to come on board to tackle some of these issues."
Sprinting Into 2021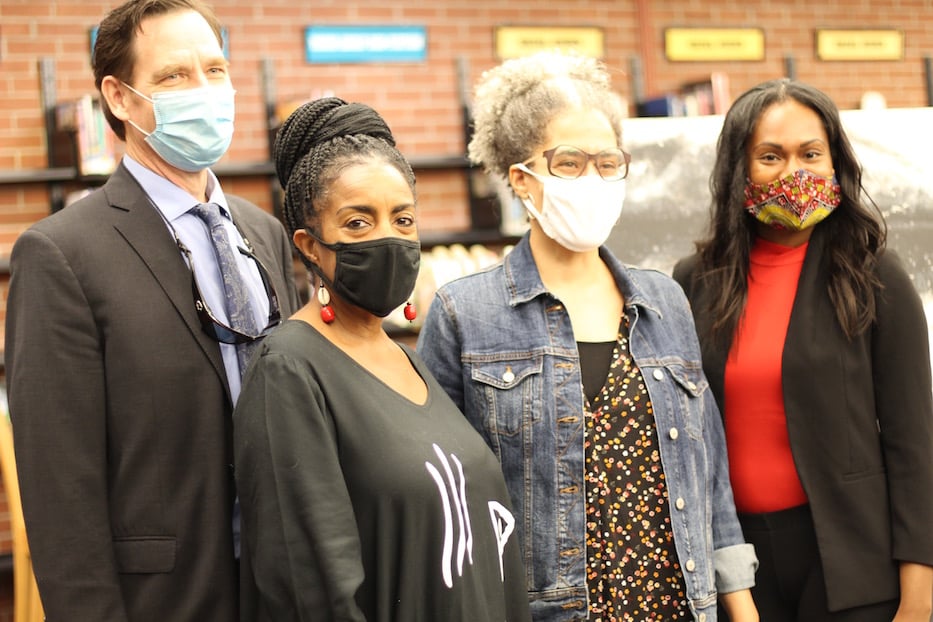 NHFPL Director John Jessen, Stetson Library Branch Manager Diane Brown, Artspace New Haven Director Lisa Dent and Cultural Affairs Director Adriane Jefferson at Stetson Library in September 2020, for a virtual conversation with the sculptor Dana King. Lucy Gellman File Photo.
That momentum has continued into the new year. After city approval last month, the department has started working on a formal, long-awaited cultural equity plan that it hopes to finalize in May. Currently, it has partnered with the New Haven-based organization Civic Impact Lab and New York-based nonprofit Hester Street, which designed New York City's five-point cultural plan in 2017. Funding for the plan comes from the Emily Hall Tremaine Foundation, the Connecticut Office of the Arts, and a donor who has asked to remain anonymous.
Jefferson said that the planning process will include a series of virtual community discussions, for which Civic Impact Lab is assembling a paid committee of local artist-facilitators. While the process is still in its early phases, she added that she hopes that the plan will be finished by May, at which point the department will seek approval from the Cultural Affairs Commission and city's Board of Alders.
"We want to put people at the forefront of this plan, and make sure that it's human-centered," she said. "We're at the very beginning. We're talking about who is going to be on the committee, and we're just going from there."
The team is also working on an "Unapologetically Radical" conference, scheduled to hit a virtual stage on Feb. 20 of this year. The conference includes two different tracks—because it focuses on music and social justice, they are labeled as "EP 1" and "EP 2"—each with a subset of panels and sessions.
The first is intended as a creative affinity space for artists, activists, and makers who identify as Black, Indigenous, and People of Color (BIPOC). There are discussions on the intersection of hip-hop and social justice, people-centered and grassroots storytelling, and self-care in the activist community.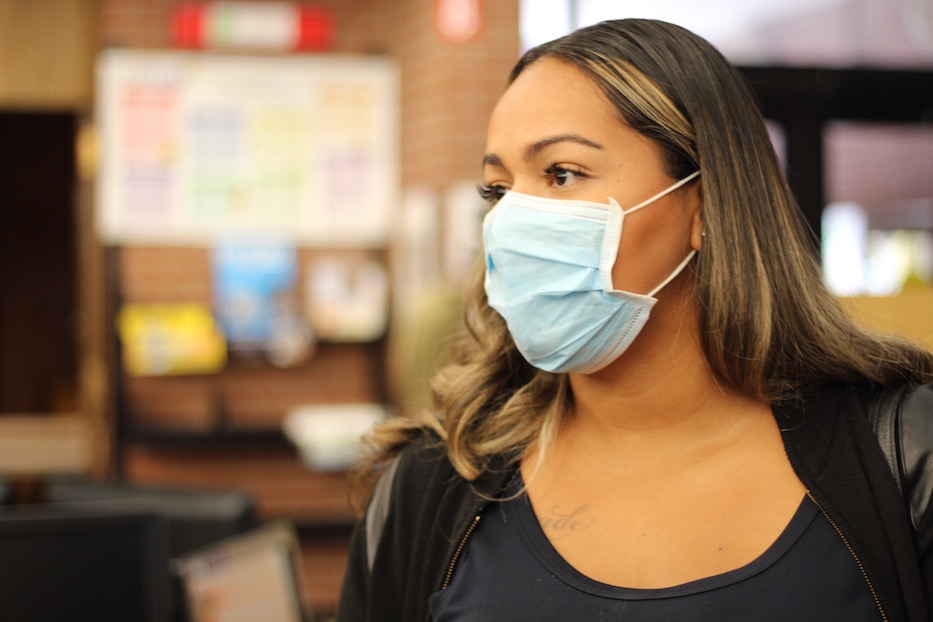 Corinna Santos at the Stetson Branch of the New Haven Free Public Library in September 2020, for a virtual conversation with the sculptor Dana King. Lucy Gellman File Photo.
The second is designed for organizations that have committed to doing anti-racism work and are searching for a training space to double down. The department has planned discussions around historical trauma, truth, and reconciliation, decentering whiteness, and cultivating an anti-racist budget. It is also assembling a registry of anti-racism organizers and facilitators, to whom Jefferson hopes organizations will turn as they work to become more equitable.
"So much of what we do is so colonized," she said. "If you look around, it's in our institutions. It's in our organizations. It's in how we speak. It's in how we dress. Right? And so you have to be intentional by really pinpointing what needs to be decolonized, and really that is decentering whiteness in order for us to achieve true racial justice."
Santos added that the division's aim is to use the conference as an entry into sustained discussions around arts and anti-racism in New Haven and beyond. Across the city, she's watched organizations pledge their support for the Black Lives Matter movement and vow to make their workplaces more diverse. Now, she said, it's time for them to act.
"We don't want to stop the conversation," she said. "This is kind of just the tipping point … how do we tell stories like the William Lanson story without having to wait hundreds of years to highlight the contributions they've made to society?"
"We have seen a lot of barriers, and none of that has stopped the work getting done," she continued. "Which means that it's possible, that it's attainable, and I'm just excited for our team to continue to grow and be as creative as possible as we make government sound a lot more fun."
Find out more about the Unapologetically Radical conference here. Find out more about the Department of Arts, Culture, & Tourism here.