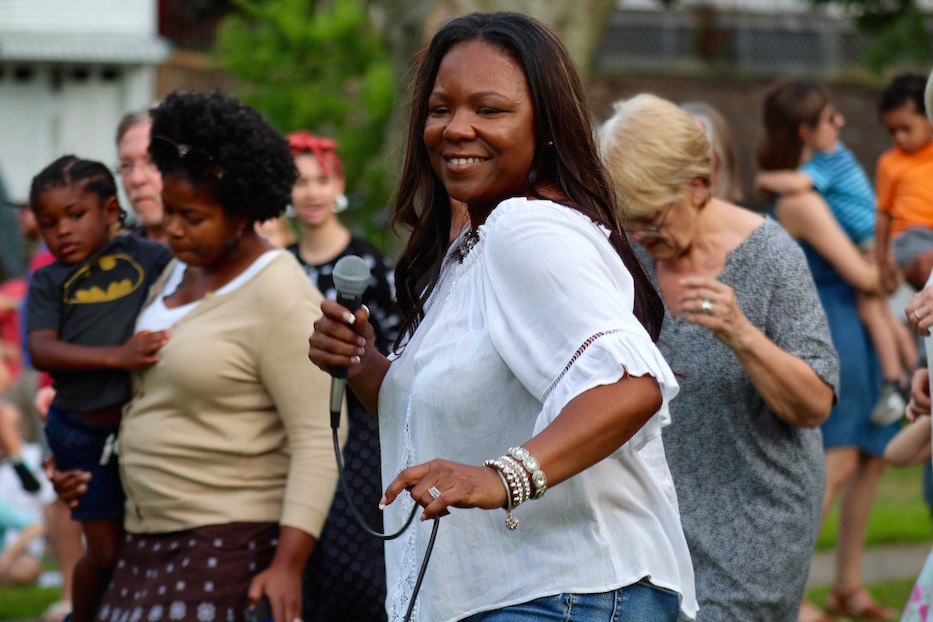 Arts & Culture | Elicker Administration | COVID-19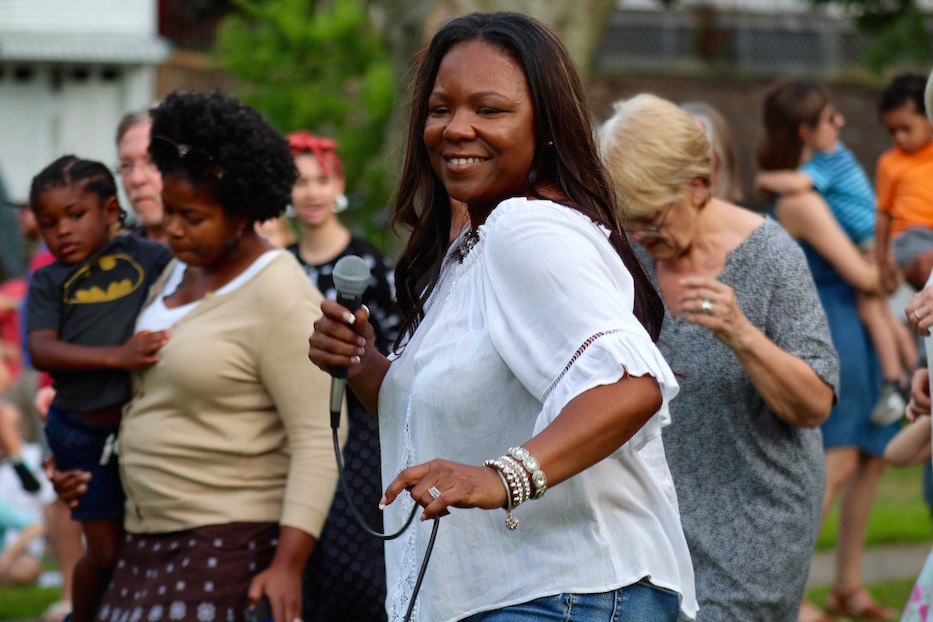 Alisa Bowens-Mercado teaching outdoors in August 2019. Lucy Gellman File Photo.
Three hundred and twenty-six artists have now received support from the New Haven Creative Sector Relief Fund, in the latest update to come from the city's Division of Arts, Culture & Tourism.
Cultural Affairs Director Adriane Jefferson made that announcement Friday afternoon, in a daily COVID-19 press briefing from Mayor Justin Elicker and city Health Director Maritza Bond. A video of the full press conference is available below.
Among updates on distance learning, pending summer programming, and New Haven's 1,324 confirmed COVID-19 cases, Jefferson announced that the fund has been able to distribute a total of $132,225 among 326 artists. That includes the 146 artists in the first round of funding announced earlier this month.
"When we first launched this program, the day we announced, we probably got over 300 applications, " she said Friday. "And in that time, the next week, we were up to 500 applications."
The fund is a collaboration between the city's Division of Arts, Culture & Tourism and the Arts Council of Greater New Haven (for full transparency, the Arts Paper is an arm of the Arts Council but is editorially independent from it). In the four weeks that the fund has been open, over 500 artists have applied for funding. The fund has included a list of additional funding resources to all applicants in its responses and follow-up emails.
Initially, the fund held $50,000 from the division's not-for-profit arm New Haven Festivals, Inc. and $10,000 from the Arts Council's Artist Next Door Fund. Jefferson said that an additional $10,000 has come from the Arts Council and $57,225 has come from individual donors.Together, that money has allowed the fund to take 123 people off a weeks-long waitlist and provide an additional $8,458 to 22 applicants who applied this and last week.
Jefferson described recipients as a mix of "artists, creative freelancers, arts workers and small arts nonprofit organizations who were in great need of relief." On average, applicants requested $1,000—the amount the fund initially advertised on the day of its launch—and received around half of that.
While the fund remains open, Jefferson added that there may be a point at which it closes temporarily to build up fundraising efforts. Community members can donate here.
Alisa Bowens-Mercado, who received $333 from the fund on Friday morning, recalled crying when the money came through. As the owner of two businesses—she runs Alisa's House of Salsa in Westville and is the founder of Rhythm Brewing Co.—she has spent the past weeks applying for "everything that's out there" for small business relief while also offering free salsa lessons online.
"PPP [Payment Protection Program], EIDL [Economic Injury Disaster Loan], it's crazy," she said Friday afternoon, reached by phone. "Like, it's absolutely crazy."
Her story is one that has become all too familiar for artists and entertainers in the past six weeks. In mid-March, she lost $2,100 in 72 hours, as Quinnipiac University cancelled three of her on-campus performances. It was the tip of a financial iceberg: eight more of her gigs disappeared overnight, and with them another $7,500.
As she sees it, "that's at least three, four months of rent, gone."
The hits kept coming. Closed schools meant that her workshop, "Diversity Through The Language of Latin Dance," wouldn't happen again for months. Her weekly salsa night at Te Amo Tequila downtown disappeared. At least four couples that she'd been working with postponed their weddings, meaning no private lessons for their first dances. Overnight, her business went from making it to having no revenue stream.
"What are you going to do?" she said. " As an artist, there's always a little bit of that uncertainty. You don't always know when the gigs are coming in. You don't know when students are coming in. But this is different. You just hope that people have seen that you've been in business for two decades and will support you again."
With relief funding, she said she plans to pay her utility bills and use what's left over for back rent. While the dance studio's doors remain closed, she is trying to talk to more distributors about Rhythm Lager, a pursuit that keeps her focused while she is sheltering in place with her husband.
"I'm thankful and grateful that people are looking out for the arts," she said. "Every bit counts. They didn't forget about us."