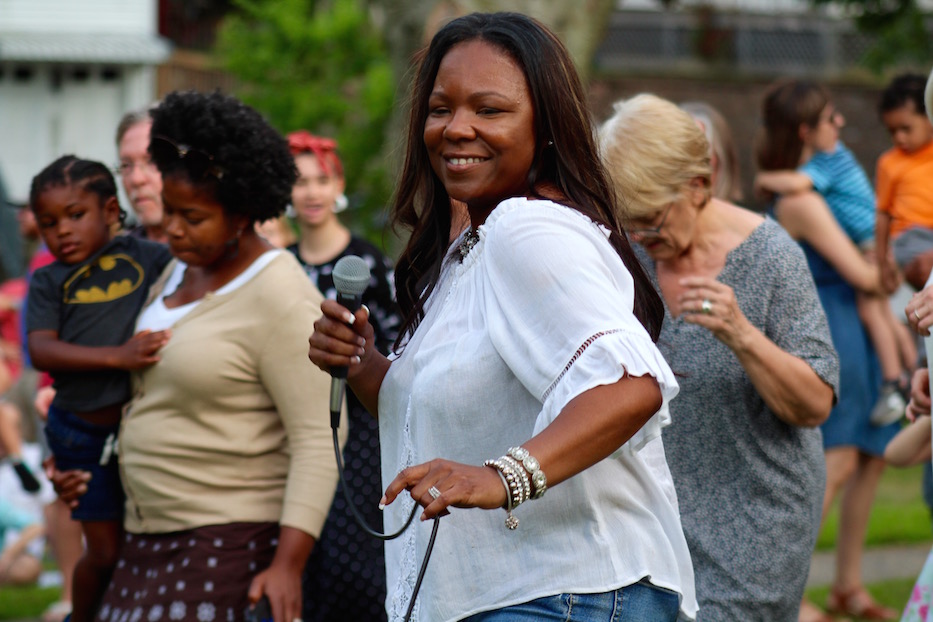 Music | Arts & Culture | Westville | Culinary Arts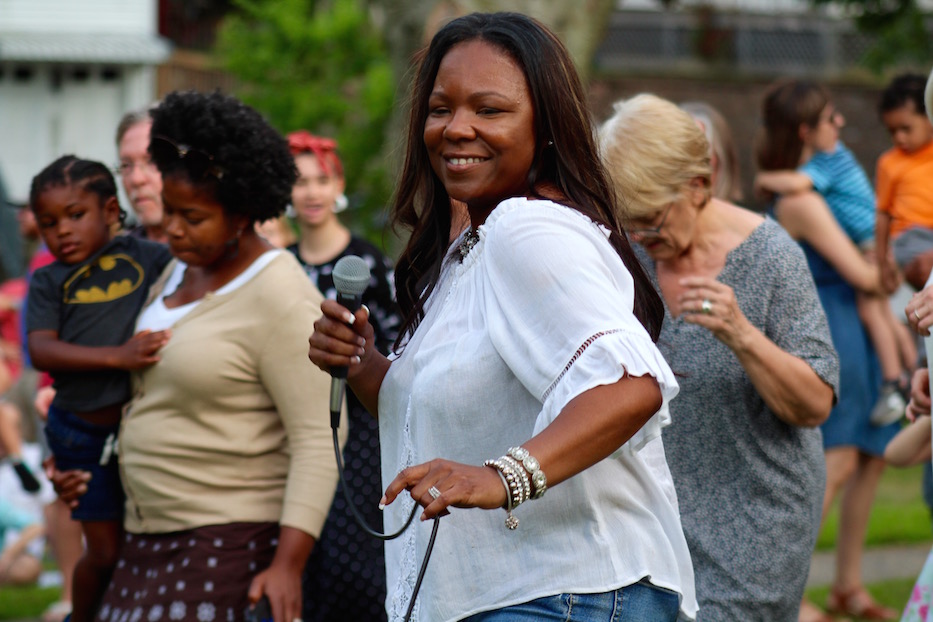 Alisa Bowens-Mercado: "We're gonna get up and move a little bit, because this music is so good that I don't think we should be sitting down!" Lucy Gellman Photos.
The public salsa lesson wasn't planned. Bakers hadn't banked on also having to dance. Babies had trouble finding their footing and grown ups weren't sure what to do with their hips. But by the end of the night, almost all of Beecher Park was on its feet.
Monday night marked the fourth and final summer concert and HiFi pie-off in Westville's Beecher Park, just beside the Mitchell Branch Library (the series' July 22 show, featuring Dr. Caterwaul's Cadre Of Clairvoyant Claptraps, was rained out). The event is organized by the Westville Village Renaissance Alliance (WVRA), with local musicians and bakers who come out to compete for a weekly pie crown and a summer audience choice award.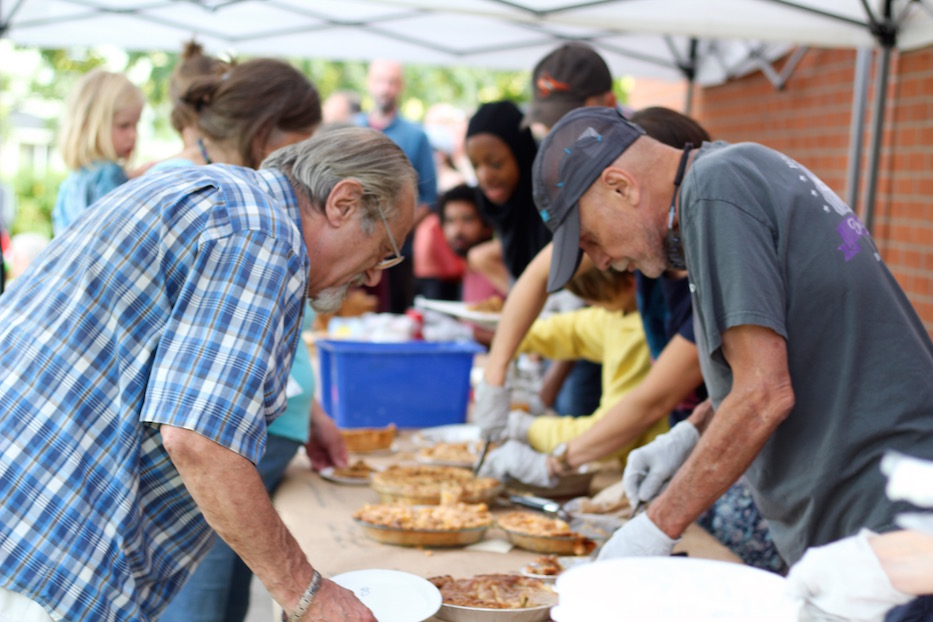 "I just love it," said WVRA President Lizzy Donius. "I love all of it. Pie, and music, and everybody coming out. All of these people bake, and it's a serious investment of time and effort. We never know what we're going to get—one week this year, I think it was 19 pies."
"This is on rails," she added when asked if the event is difficult six years in. "Like, people know it's going to happen and they come."
Each week has had a themed pie and different musician, from stone fruit and East African jamming to Sam Carlson and "freestyle" pies. Monday closed out the series with apple or pear and quince pies and music from Carlos y su Momento Musical. Judges included Hamdenite Val McKee, founder of The Town Tart, and her partner and fellow baker David Johnson.
As the two of them closed themselves in the library for some serious deliberation, the band launched into its set, spanning salsa, merengue and bachata in just three or four numbers. On a makeshift stage, band members shifted and danced even as they lifted up their instruments.
But in the audience, the evening seemed subdued. Families showed up with strollers, picnic blankets, books and extra cash for pie in tow. Friends caught up with each other, some stopping by a table for the New Haven Free Public Library and a stand from Cafe X. A line for the night's eight pies snaked back around a tent and spilled out into the library's parking lot. A few people skipped pie and went right for burritos from the Holy Guacamole food truck instead.
But the grass in front of Carlos y su Momento Musical remained remarkably untouched, as if no one wanted to dance where others might be able to see them. Families, many dancing with their kids, stuck toward the back. A few pint-sized dancers wiggled closer to the front, with no real movement behind them. The band rolled out hot salsa, bachata, merengue—all to no avail.
Then Donius took the mic, and invited salsa teacher and Westville business owner Alisa Bowens-Mercado to the front of the crowd for a salsa lesson. Applause erupted from a few people still close to the pie tent. A mom and daughter near the front stood up at the same time, cautiously ready to get into the groove. Donius found a place in a crowd that was slowly growing in front of the band. Bowens looked behind her and took the mic.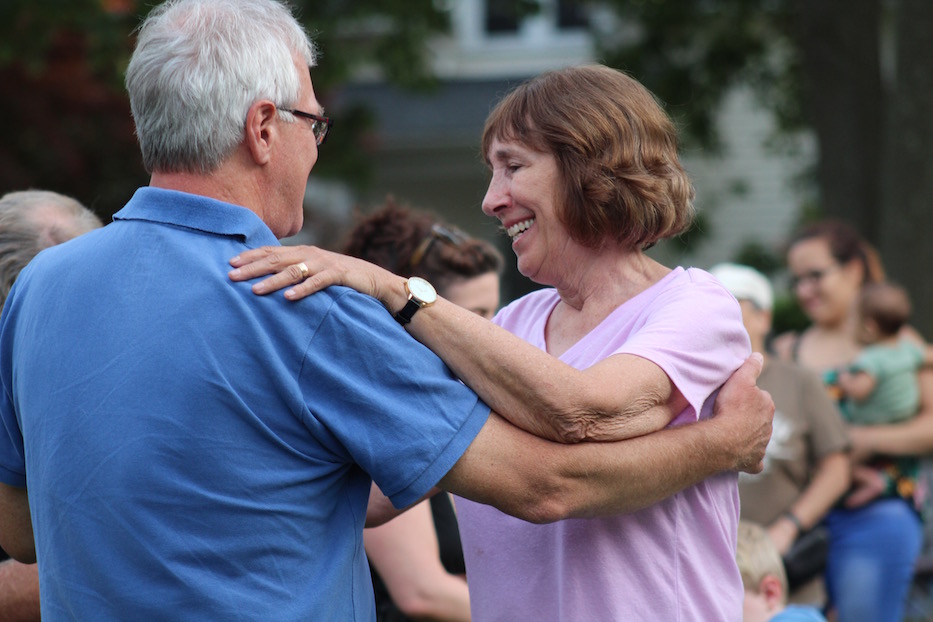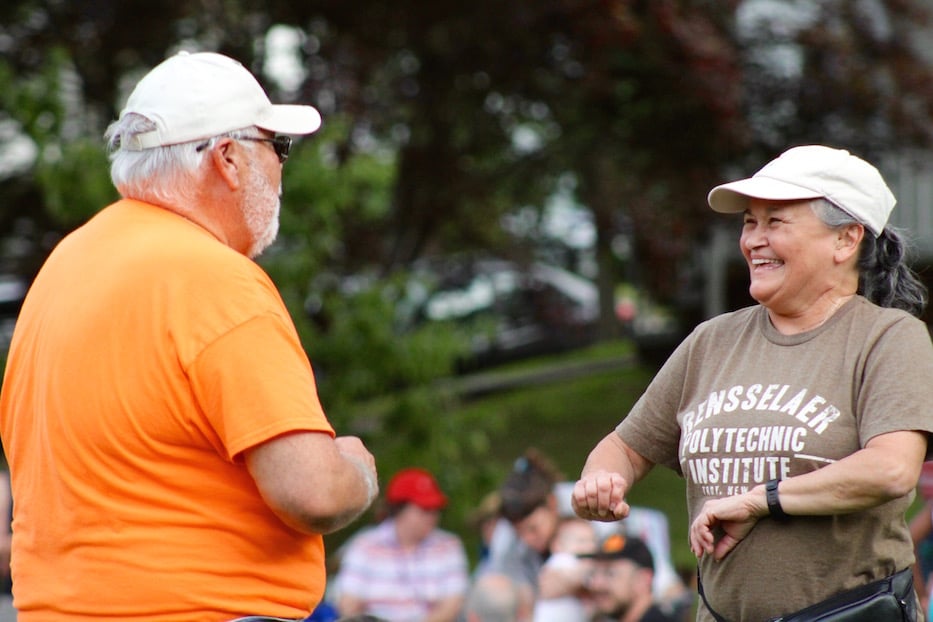 "Westville, you guys ready?" she asked. "We're gonna get up and move a little bit, because this music is so good that I don't think we should be sitting down!"
She motioned to the ground in front of her. "This will be our dance area, and we are gonna salsa!"
The sound of keys erupted from the stage, soon joined with drums and vocals. Bowens guided attendees through a series of steps: left, right, left, right. A few kids wandered in with improvised moves. Nobody seemed to mind.
"Who knows how to shimmy?!" she yelled out. "I want to see your best shimmy. We might have a shimmy contest out here."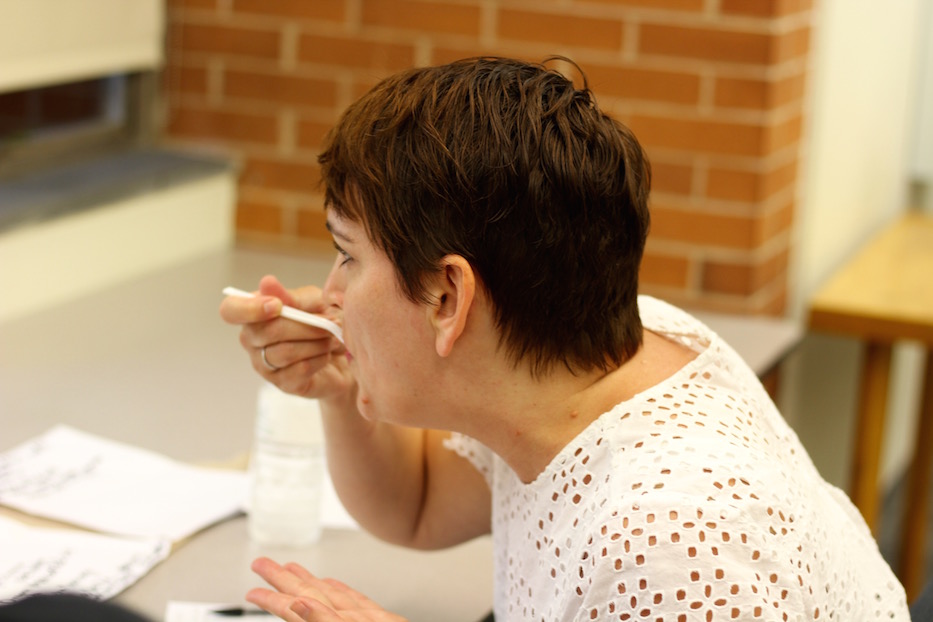 Back inside the library, McKee and Johnson were hard at work. Surrounded by photographs of New Haven in the library's program room, they laid out the tools of their trade: two forks, two plates, two neat pages of notes, and a cluster of amber, tan, pink-flecked and cream colored pie slices. Blooms of cinnamon rose unexpectedly from where they sat.
"We are taking this very seriously," she said.
McKee laid out some ideal criteria: slices of pie that did not ooze or lose form, light and flaky crust (spoiler: the secret is butter and also butter), filling that had not been overcooked or left runny, fruit that had been peeled. Johnson said that unpeeled seemed to be a favorite among bakers, which had left him fishing a few threads of peel out of his teeth.
McKee took a bite of one entry and chewed very slowly, teasing out flavors. A hint of cinnamon here. A question about sugar there. She scanned a summary of the pie for ingredients. A purply pile of apple and blueberry beckoned from her plate; she paid it no mind. She turned back toward Johnson.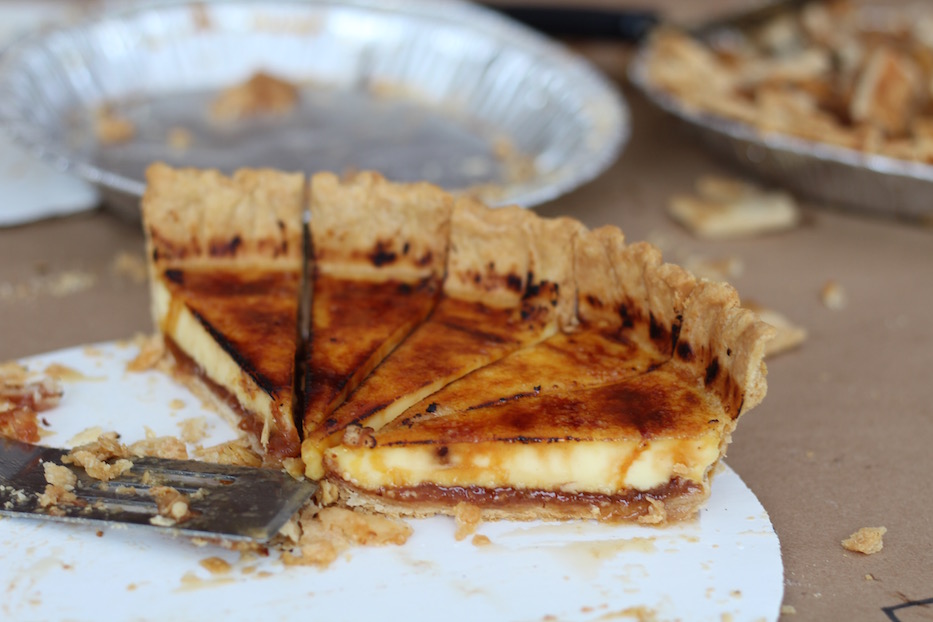 Kathy Hoffman's burnt orange custard and quince pie. Johnson said it reminded him on crème brûlée.
"I think the crust is great," she said, scribbling down a few things. "Really light and flaky. There's no big wedge. All you get is a bite. There's some nice cinnamon, a sort of thick sauce. It's got good hold."
Johnson debated the merits of a custardy entry with a thin, clean layer or orange-and-brown quince, digging his fork back in for a second bite. He did a quick inventory on a pile of pie before him. They still had so much work to do.
Back outside the library, Bowens' lesson was winding down. She shimmied, and this time the crowd did it with her. She did one last turn, whirling around as she returned the mic to its stand.
"How are your hips? Are your hips loose?" she yelled.
As attendees clapped, Wesvillian Gabriel DaSilva announced another event that warranted dancing: Donius' birthday, which she shares with fellow Westville resident Mark Oppenheimer. The crowd burst into bouncing rendition of "Happy Birthday" in several different octaves, swinging from side as they kept up with the band.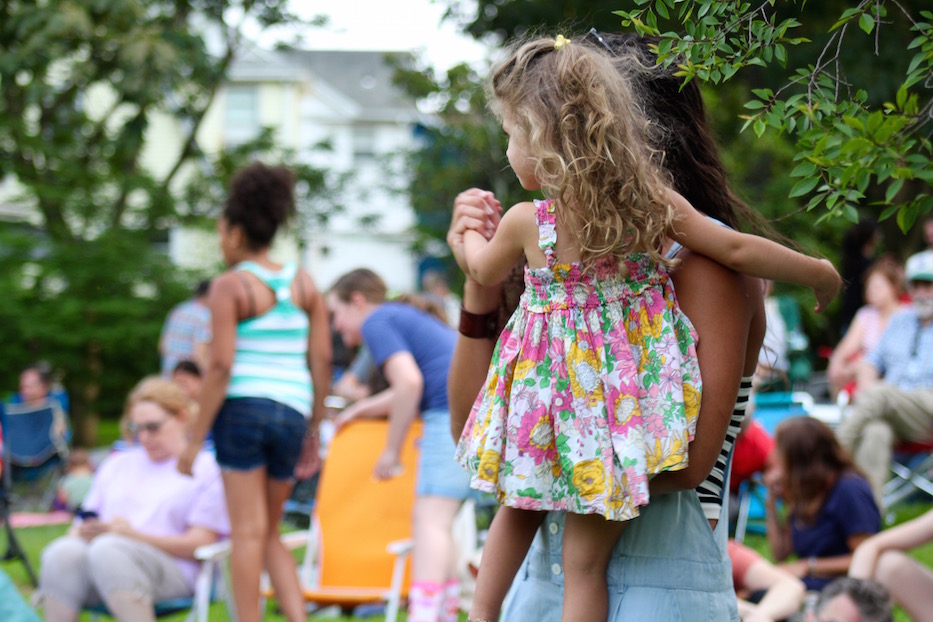 They were still dancing when McKee made her way to the front, lauding several of the night's pies. Laughing slightly, she told attendees that she and Johnson had been equally amazed when they agreed on their top three choices without having to duke it out—and that they had agonized slightly over choosing winners.
"I promise you that my partner and I took it very, very seriously," she said. "We didn't think we were going to make the time deadline to come out because we were having so much fun."
Among the winners were mother-daughter duo Rachel and Talia Glover (honorable mention, "Piggy Pie" and third place, blueberry-apple kid pie), Kathy Hoffman (honorable mention, apple pie with a cheddar crust), Ammie Kimsman (honorable mention, burnt orange custard and quince pie), Neycha Santiago (second place, apple-quince pie), and Kate Bradley for a traditional apple pie, heavy on the cinnamon.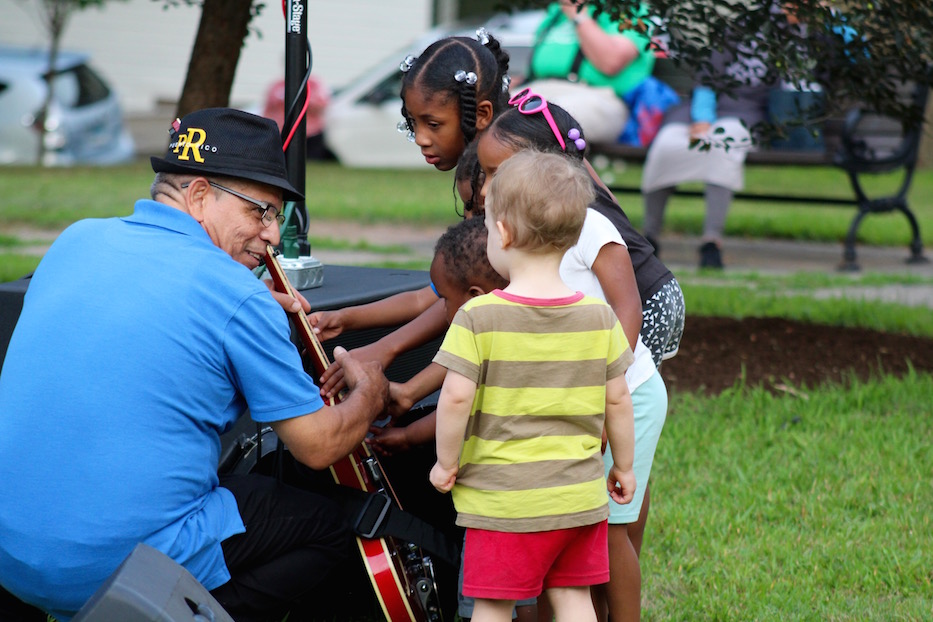 "This was just such a stellar, classic apple pie," McKee said. "We were so excited. Great blend of cinnamon, the crust was flaky and gorgeous. No soggy bottom. It held together nicely. Beautiful, beautiful apple pie. This is like my mother's and my grandmother's apple pie."
As she looked on, Donius beamed, then started to pack up in the fading light. She parted happily with the audience choice award, a red and white pie plate that went to Kathy Hoffman after the baker turned out several favorites this summer.
"This is so special," Donius said. "The fun, artsy, inclusive spirit behind all of these events gets to the heart of why I like being a part of this community. I really think it makes this kind of a magical place."
To see more from Monday's event, check out the video below.