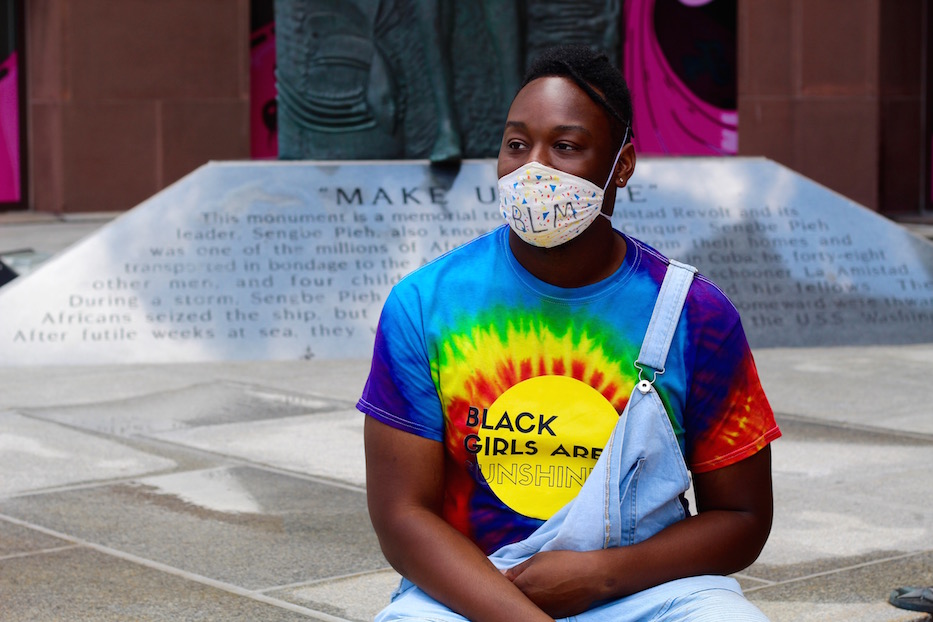 Downtown | Arts & Culture | Visual Arts | Arts & Anti-racism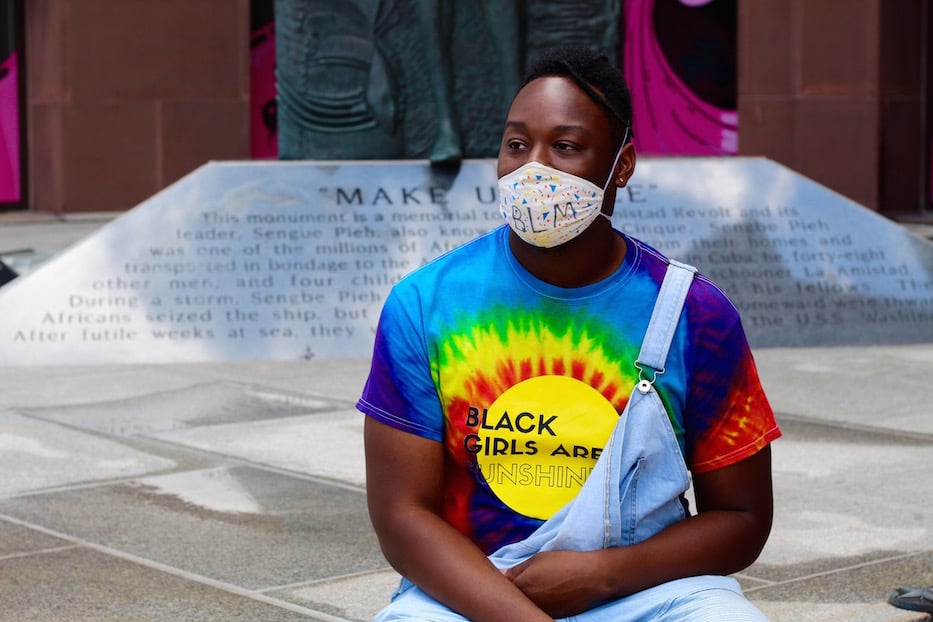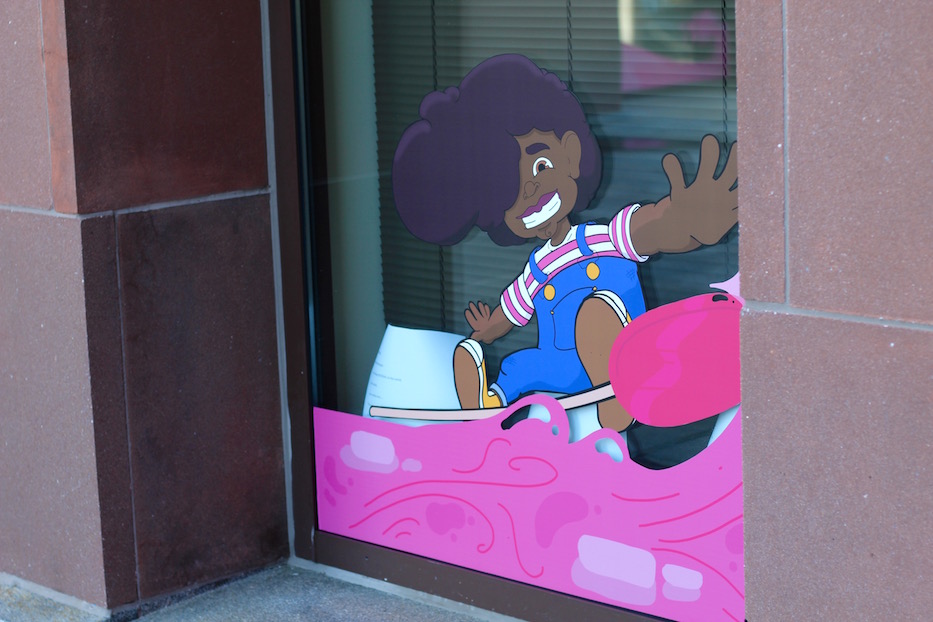 Artist Isaac Bloodworth: "Right now, my heart is heavy. I'm tired. But I'm also excited, because the world is catching up after 400 years." Lucy Gellman Photos.
The kid lifts their arms and rides on a spray of pink soda. Their overalls flap in the breeze, vibrant against a pink-and-white striped t-shirt, glinting gold buckles. Their hair, a wooly black that is almost purple, swoops to one side with the soda's sheer inertia. A sugary wave rises; their arms fly out to steady them. They explode into an enormous smile.
The installation—aptly titled Black Kid Joy—has arrived at City Hall courtesy of artist and activist Isaac Bloodworth, working in collaboration with the Town Green Special Services District and the city's Division of Arts, Culture and Tourism. It was installed Tuesday morning on the Amistad Plaza, across several first-floor windows where it is slated to remain for at least the next month.
It marks the latest chapter in Town Green's "Windowed Worlds" initiative, rendered in pink and blue vinyl to honor Black trans kids. It is funded by the Elm City Innovation Collaborative and CT Next.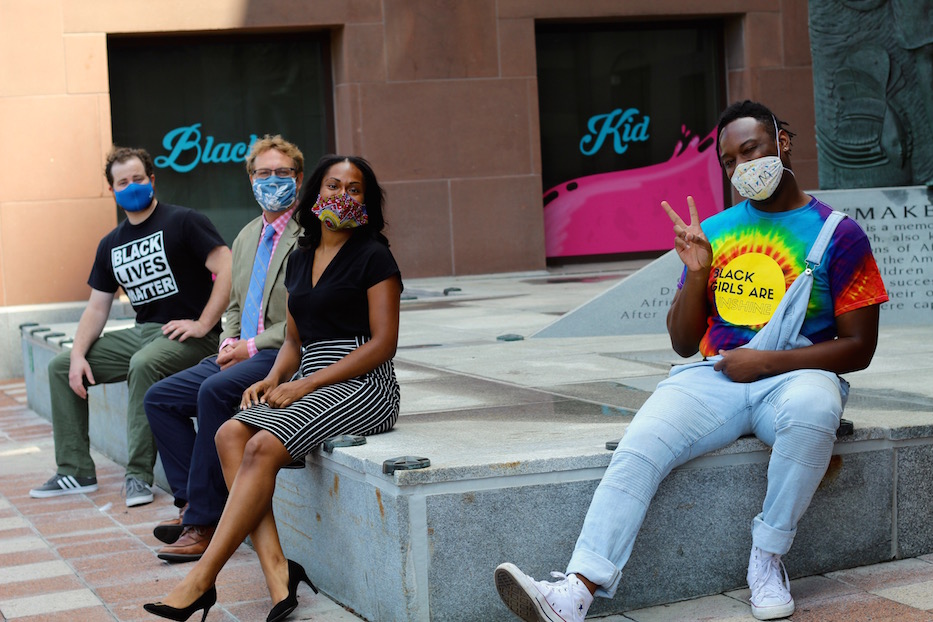 From left to right: Elm City Innovation Collaborative Director Michael Harris, Town Green Executive Director Win Davis, Cultural Affairs Director Adriane Jefferson and artist Isaac Bloodworth.
"I thought, what better way to dive into justice than celebration," Bloodworth said Tuesday. "That's something that I've been learning. I wanted to do a Black kid surfing on a soda stream. Right now, my heart is heavy. I'm tired. But I'm also excited, because the world is catching up after 400 years."
The work, which wraps around part of the building and surrounds Ed Hamilton's Amistad Memorial, came out of a collaboration that started in June. In New Haven and across the country, organizers were gathering for Black Lives Matter protests, Juneteenth celebrations and calls to defund the police. Adriane Jefferson, director of cultural affairs for the city, wanted to bring attention to the moment through public art.
"We realized that it was an opportunity to include a young, up-and-coming local artist," she said, adding that the project dovetails with other cultural equity work the city is doing. "And frankly, it was important to us to have a Black or Brown artist working on this project."
Kim Futrell, community outreach coordinator for the division, sent out a call for proposals in late June. She assembled a jury that included Black Lives Matter New Haven Co-Founder Sun Queen, Citywide Youth Coalition Executive Director Addys Castillo, Amistad Committee member Althea Norcott and Town Green staffer Elizabeth Bickley. Bloodworth's design, which ultimately won, was one of 14 submitted.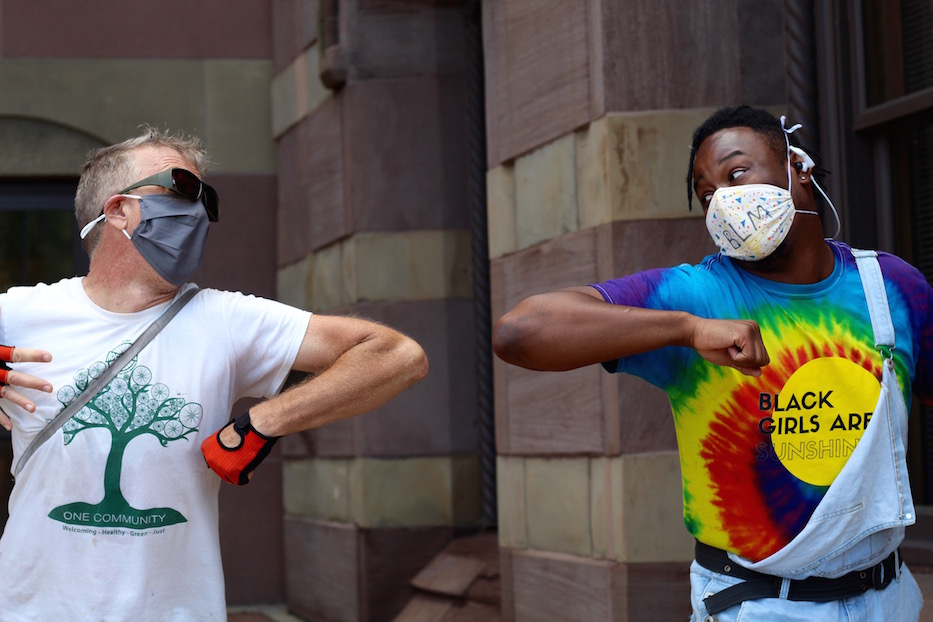 The Devil's Gear Owner Matt Feiner, who stopped by. He said he is a superfan of Bloodworth's work.
Tuesday, Bloodworth arrived in a "Black Girls Are Sunshine" t-shirt and overalls, honoring both Joy and Sun Queen's ongoing campaign to celebrate Black women. He took in the finished piece, stopping every so often to greet friends who were walking past City Hall. A few got cautious elbow bumps; most received air hugs from at least six feet away.
Artist and writer Marshall Cruz, who was headed downtown, stopped in his tracks when he passed the space. As he studied each panel, he did double takes at each detail, pointing out little details that he noticed the second time around. As he looked on, a transparent jellyfish continued its float through the wide pink sea.
"I think it's beautiful," he said. "It's a great way to brighten up the space. It embodies exactly what it says—Black kid joy. It's a great addition to downtown, and it feels like it belongs here."
As it frames the Amistad Memorial in storybook pinks and soft cartoon shapes, the piece forms a bridge from past to present, suggesting a new model for seeing Black liberation. Bloodworth first introduced Joy several years ago, as part of a moving panorama. The character has appeared repeatedly in his designs, from in-progress cartoons to a piece called "Sugar Rush" that he raffled off at the Yale Center for British Art last year.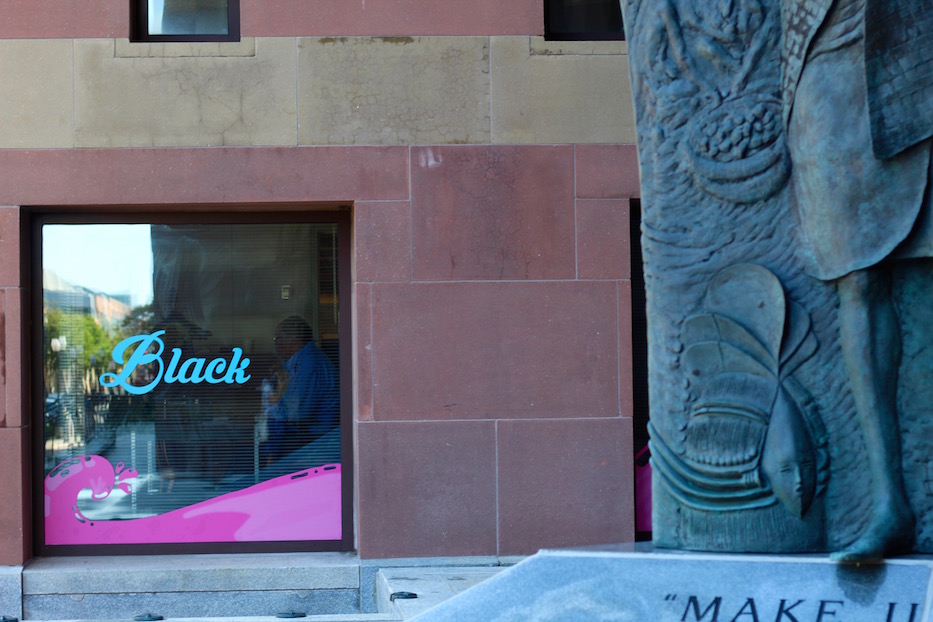 In several previous versions of the story, Joy was oppressed by the same forces of police brutality, economic deprivation and white supremacy that Bloodworth sees Black boys and men facing each day. In this design, Bloodworth said, he wanted the character not just to survive, but to thrive. Joy, who is depicted beside a lollipop staff, needed to be happy.
"I'm trying to give people time to learn," he said. "Not to make mistakes—mistakes can determine whether I live or not. But to learn."
It also dovetails with the way Bloodworth, who was born and raised in New Haven, has been thinking about civic space. Last year, he designed and painted a mural for Citywide Youth Coalition's Black and Brown Power Center on Chapel Street. Tuesday, he said that he would like to see a mural committee in the city, for large-scale public art projects that include murals honoring the Black Lives Matter movement.
Win Davis, executive director of Town Green, said he hopes that the work is the first of several similar projects around downtown and in the Amistad Memorial Plaza specifically. He added that Town Green is currently working to install proper lighting around the piece, so that it is visible at all hours of the day and night.
"We were very happy to put this project together," he said. "This would be a phenomenal thing to continue doing."
Learn more about the Division of Arts, Culture & Tourism here. Follow artist Isaac Bloodworth here.