Education & Youth | Arts & Culture | Black Lives Matter | Citywide Youth Coalition | COVID-19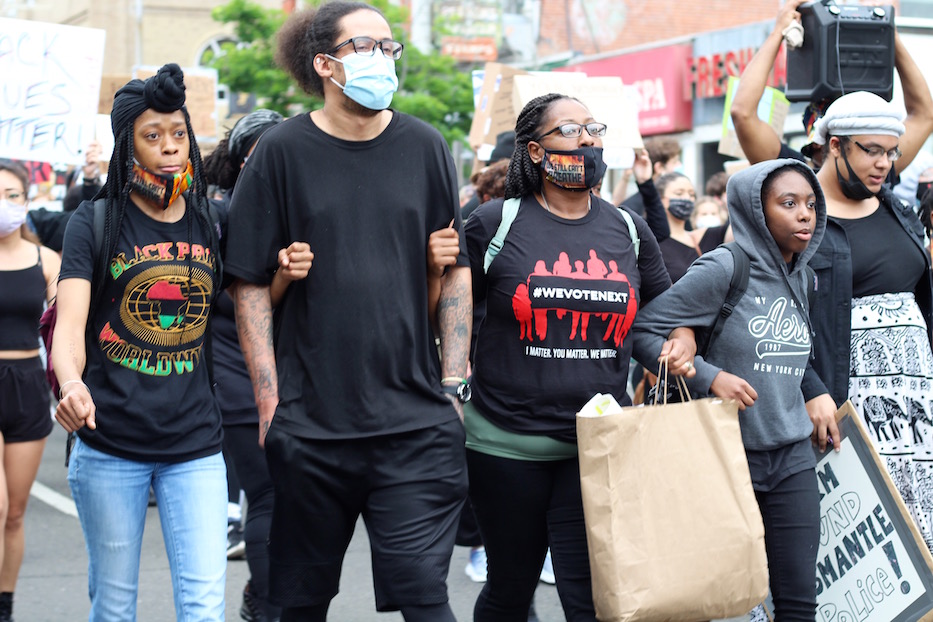 Top: Addys Castillo, director of Citywide Youth Coalition, dances. Bottom: Members of Citywide Youth Coalition lead the rally. Lucy Gellman Photos.
Under a tent on the sidewalk, the congas became a heartbeat. Just feet away, dozens of people moved back, an asphalt batey suddenly visible at the center of Union Avenue. Hands clapped. Hips rocked. Shoulders unclenched for flexing arms. The drums, now singing, slid into a rhythm New Haven hadn't heard for months. Revolution was coming.
Poetry, dance, spoken word and song filled the streets Friday night, as 5,000 New Haveners rallied peacefully to demand an end to police brutality and reallocation of funds from the New Haven Police Department to the New Haven Public Schools. The rally, which traveled from the New Haven Green to police headquarters at 1 Union Ave., was organized by Citywide Youth Coalition and Black Lives Matter New Haven.
It centered not only young voices, but specifically young Black, Latinx and queer voices of color. It joins nationwide outrage and mourning over the state-sanctioned murders of George Floyd, Ahmaud Arbery, Breonna Taylor and Tony McDade. Friday would have marked Taylor's 27th birthday.
Citywide Youth Coalition member Jamila: "We matter and we have so much power to do revolutionary work here today, and revolutionary work forever."
Citywide Youth Coalition is a peer-led group of students, creatives, and youth activists, many of whom have pushed for municipal and statewide legislative reform, stronger anti-racism curricula in their schools, and voting power on the city's Board of Education. Normally, it is run out of the Black & Brown Power Center at the corner of Chapel and Temple Streets. As they began the event, members read from a list of eight demands the group released earlier this week.
Those include moving $30 million from the police budget into the public schools, replacing school resource officers with counselors, and ending the city's "triple occupation" by the New Haven Police Department, Yale Police Department, and Hamden Police Department. Listen to a full list here.
"We are here today because we want to stand in solidarity with the national movement that's happening right now around Black Lives Matter," said Jahnice Cajigas, the group's lead school organizer, before the rally began. "Our demands are very simple. We are asking for an all-around disinvestment. We're asking for the dismantling and disarming for the New Haven Police Department and we're asking for the officers to be out of our schools."
"The only way we can reimagine New Haven is having a cop-free New Haven," they added. "And doing that is through disinvestment."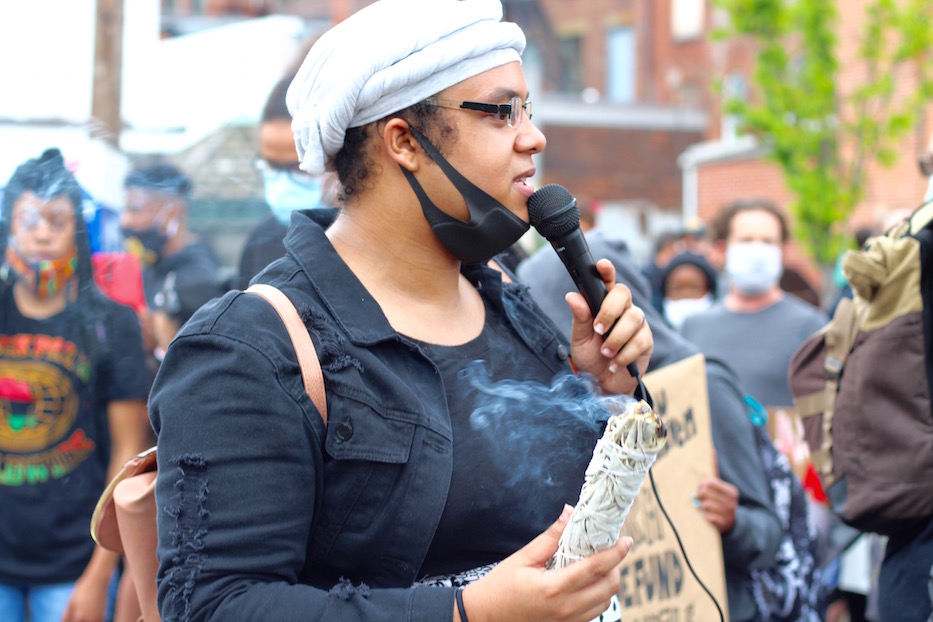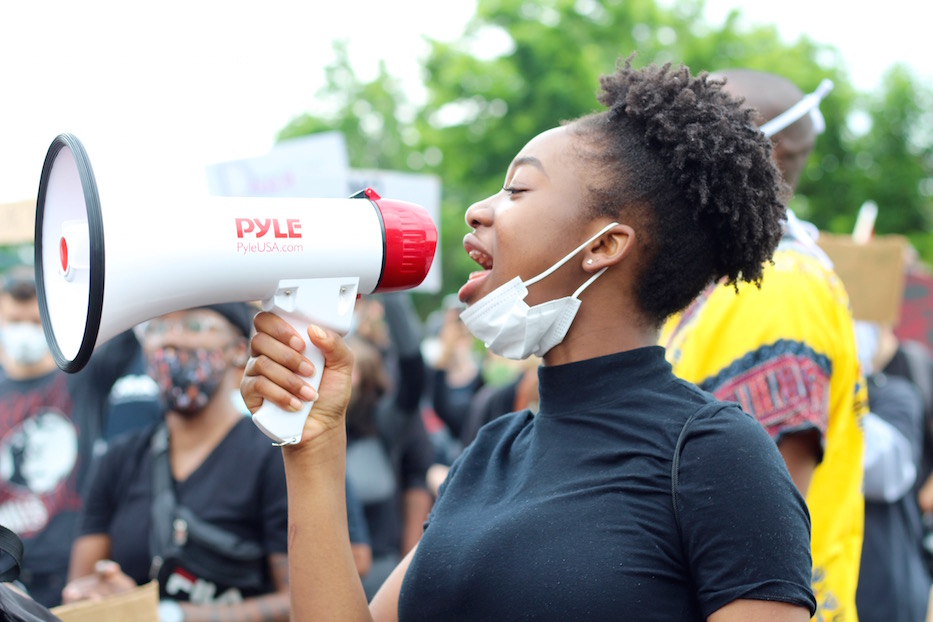 Top: Citywide Youth Coalition Lead Schools Organizer Jahnice Cajigas. Bottom: Citywide Youth Coalition member Lihame Arouna, who also sits in a nonvoting student role on the city's Board of Education.
For the next four hours, organizers made their pitch not only through speeches, but through song, poetry, and multiple dance parties in the middle of State Street and Union Avenue. As thousands gathered around the Green's flagpole, Citywide Youth Coalition member Jamila (she declined to give her last name) stepped forward to give a first reading of the group's demands, in what became a sort of echoing, poetic refrain for the day.
"You will hear from only young people today," she said to cheers from the crowd. "And before anyone calls us ageist for only focusing on young people, we want to make it clear that we are the Citywide Youth Coalition, and we are unapologetic about the work that we do. As for youth, we are not only the leaders of tomorrow, but the leaders of today … we matter and we have so much power to do revolutionary work here today, and revolutionary work forever."
She bowed her head and announced a moment of silence, originally set for eight minutes to remember the eight minutes and 46 seconds in which Officer Derek Chauvin knelt on George Floyd's neck, ending his life. The green fell to a hush, punctured by the intermittent clicking of press cameras. Cajigas began to burn a bundle of sage that left long, fragrant trails of white smoke in the air.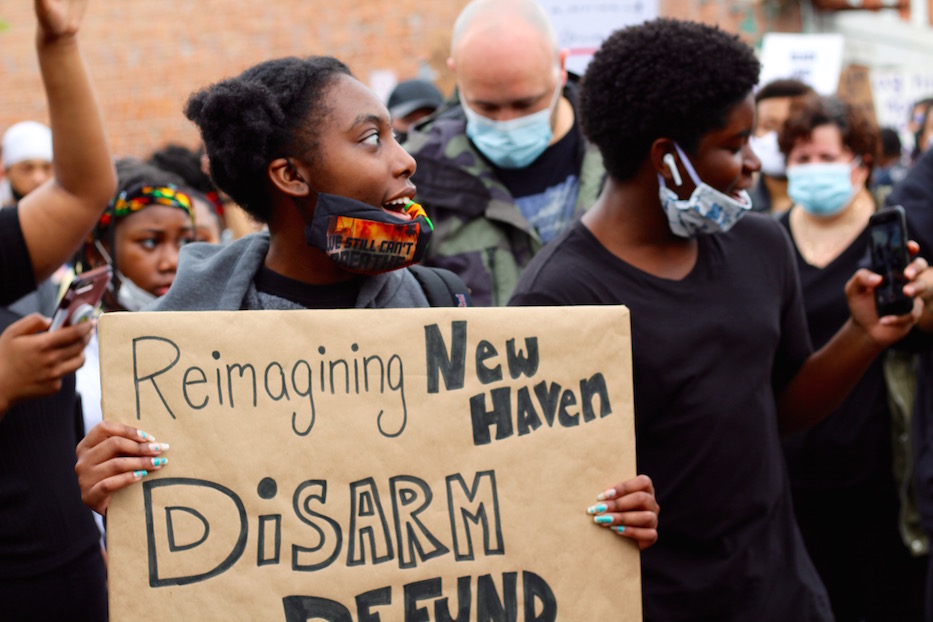 During her remarks Friday, Citywide Youth Coalition member Mellody Massaquoi told attendees: "I just want to say that I am tired of being seen as a criminal everywhere I go. I shouldn't have to be here. I shouldn't have to be here in a 2020 in a free country fighting for my humanity." Massaquoi is a senior at Cooperative Arts & Humanities High School.
As students linked arms and began to move to the cheer "money for school!/Not the police!" Cajigas passed the sage to Black Lives Matter Co-Founder Ala Ochumare and marched forward, their black and white skirt flowing in the humid afternoon. Chinedum Nnodum, program director for the group Students for Educational Justice, carried a speaker on his head just behind them.
As they headed down Elm Street, organizers paused for a moment, switching to "Brother/I can't breathe" by Luke Nephew of the Peace Poets. The song was inspired by Eric Garner's last words before he was murdered by Officer Daniel Pantaleo in Staten Island in 2014.
"We ain't gonna stop/until our people are free," they belted, with Cajigas on the megaphone. When it became clear that part of the crowd hadn't heard the song, they employed the people's mic—a sort of crowd-sized game of telephone—to get some stragglers on board with the message.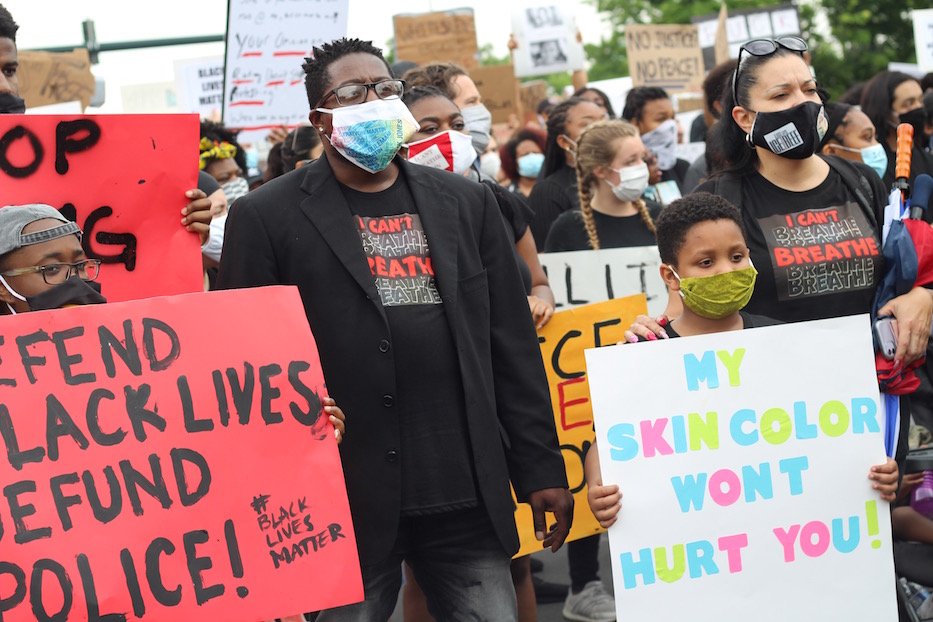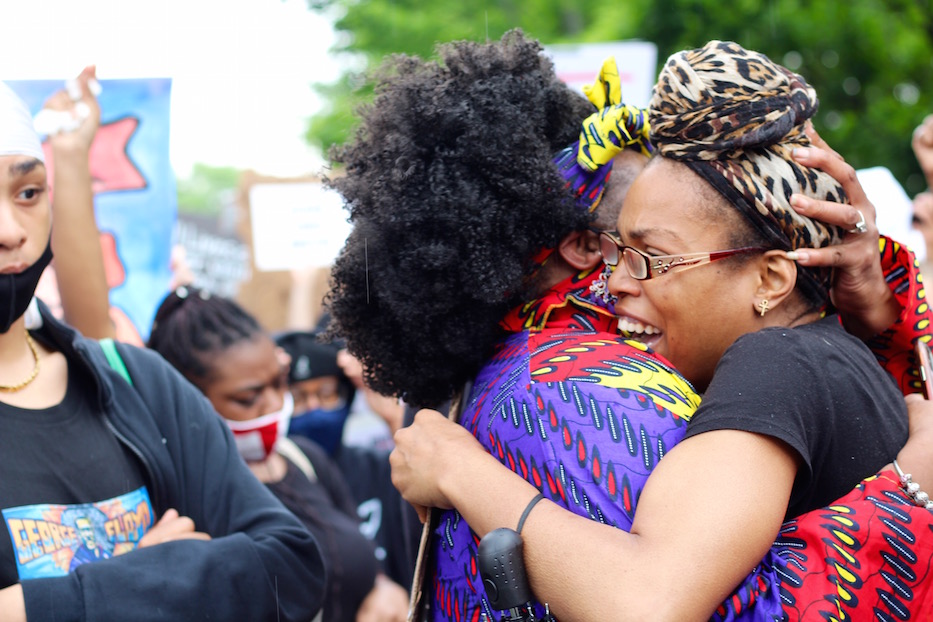 Top: Ice The Beef President Chaz Carmon. Bottom: Kharisma Redding, who called the rally "every black princess's dream come true."
The music kept up with the march. Organizers half-sang, half-yelled "Which side are you on my brother/Which side are you on?" before starting a round of birthday benedictions for Taylor. From cries of "no justice/no peace!" they switched to "Freedom Fighter" and then back to the Peace Poets. Nnodum was ready right on time: as the group moved down State Street, snippets of Beyoncé's "Freedom" blasted over the front of the line.
When they reached the corner of Crown and State Streets, the group stopped with the news that there were still people catching up. Not just one or two blocks of people. Five or six city blocks of people, reaching all the way down State Street. Ochumare, who also led last Sunday's rally, has been vocal about the importance of not leaving anyone behind.
Activist Ashleigh Huckabey, whom musician Ro Godwynn nicknamed "Sage Bae" during protests for Stephanie Washington and Paul Witherspoon last spring, dove right into a chant by BYP100. "I said I love being Black!" she yelled, pumping her shoulders and breaking into a huge grin. In her words, the possibility of fully funded schools and safe, jubilant Black bodies seemed to come to life.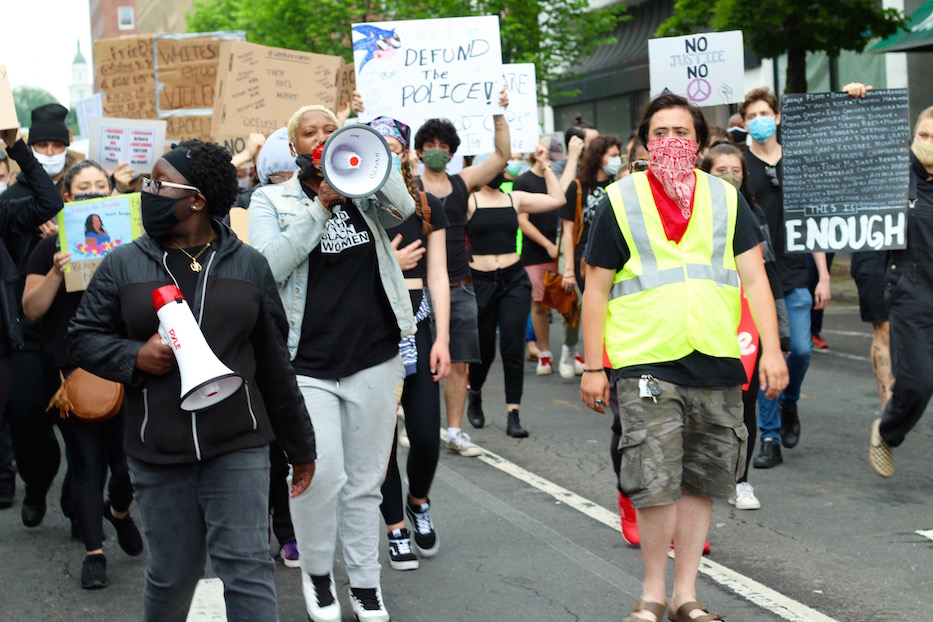 Huckabey (in the black shirt and jeans) holding it down Friday.
"I said I love being Black!" organizers responded.
"I love the color of my skin!" she crooned, now dancing.
"I love the color of my skin!" youth cried back, jamming in the street.
"'Cause it's the skin that I'm in," she shouted back.
"'Cause it's the skin that I'm in!"
As Nnodum shifted into a dance party to Kendrick Lamar's "Alright," Citywide Youth Coalition Director Addys Castillo took a megaphone. She urged organizers to occupy the space and allow the city to be theirs. After all, she said, it was theirs.
"I don't want to be at any revolution that ain't got a soundtrack!" she said to cheers, jumping in time with Lamar's lyrics. "White supremacy got us on a time limit, right? That we gotta be somewhere. We always in a hurry. But we got time today, don't we? We got time today. We got plenty of time. We gotta take up just a little more space, so we can let out brothers and sisters catch up."
"It's easy to squash a person," she added to cheers. "It's really difficult to squash a movement."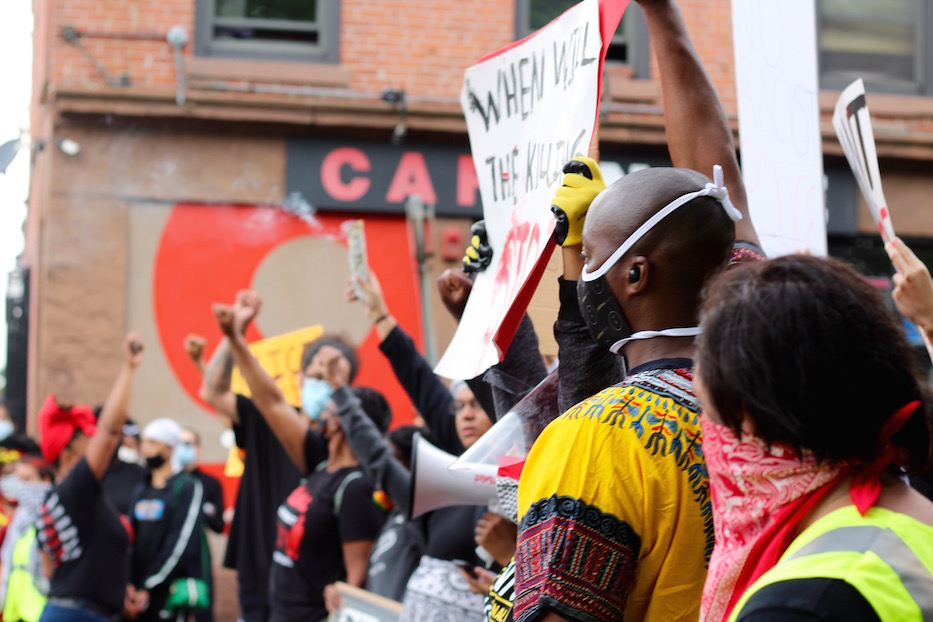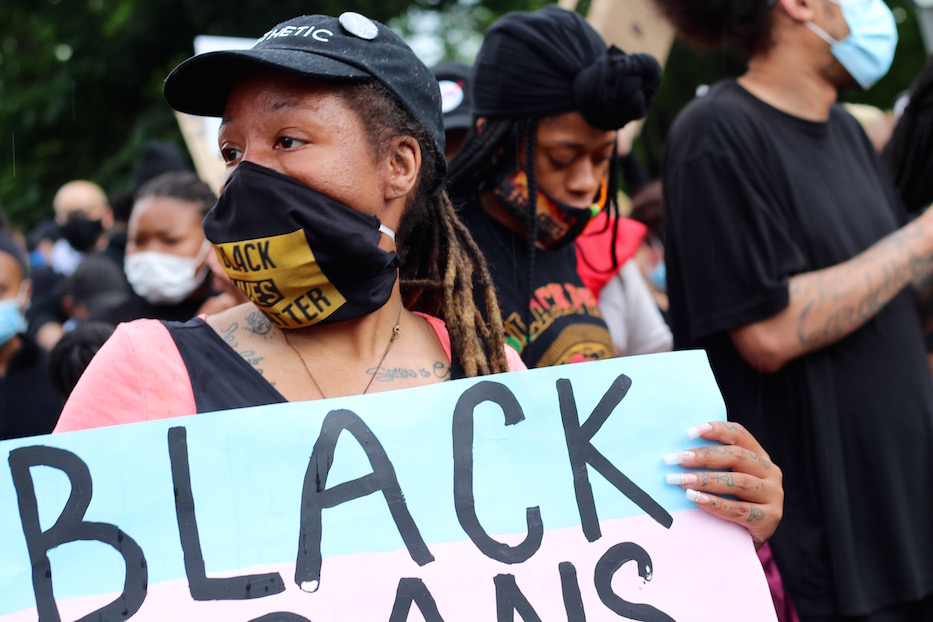 That remained the message as organizers lurched back into action, the mass behind them now thousands of people deep. As State Street turned into Union Avenue, the only sight for blocks were hand-painted signs with raised fists, calls for disinvestment, and birthday messages for Breonna Taylor scrawled in purple and black marker.
In the crowd, people wore cloth and respirator masks with the words "I Can't Breathe." A throng of doctors marched together somewhere near the middle, designated as white coats for Black Lives. As they lurched forward, it began to rain, attendees soon splashing through puddles and chanting as water ran down their faces.
In front of 1 Union Avenue, attendees fanned out, packing the steps of police headquarters and filling the street. Unlike Sunday's action, a peaceful protest led by queer women of color, they were not greeted by cops in riot gear but a small line of top brass, including Chief Otoniel Reyes and assistant chiefs. Mayor Justin Elicker, who Sunday had appeared among several police after emerging from inside headquarters, stood in the crowd.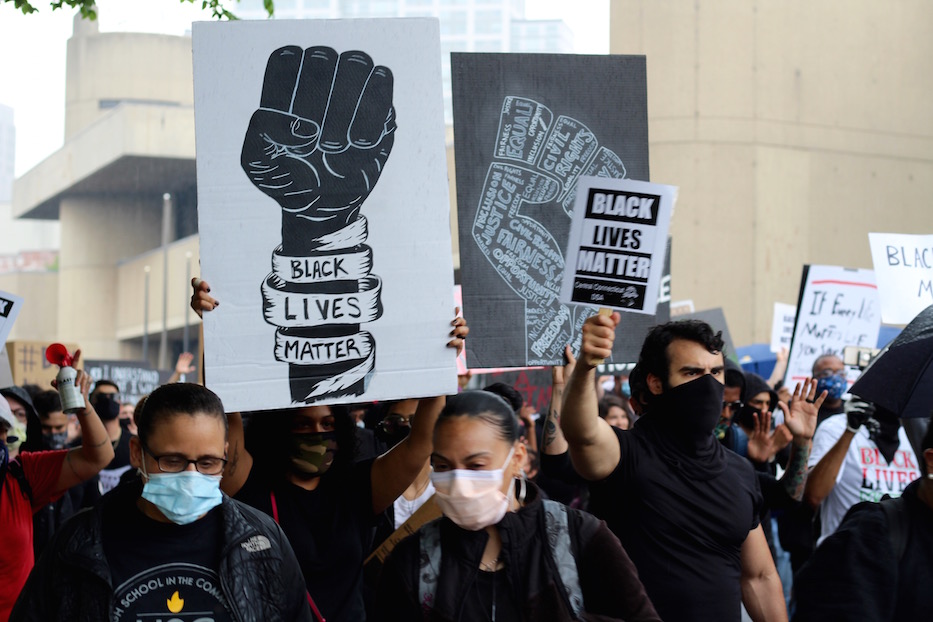 Poet and author Lauren Pittman (also known as Sun Queen), who co-founded Black Lives Matter New Haven with Ochumare, Dawnise Boulware, and Sy Fraiser in 2014, reminded attendees to follow the rule of "one mic"—that all ears needed to be on the person speaking. Among them: violin players, poets, fiction writers, and dancers.
One after another, youth organizers advocated for an intersectional, abolitionist movement that not only defunded the police and organized collectively but also made room for queer and trans voices in the fight for Black lives. Among calls for economic justice, racial justice, and advocacy at the local legislative level, organizers also urged attendees to learn and teach the weight of history as a tool in the fight for liberation.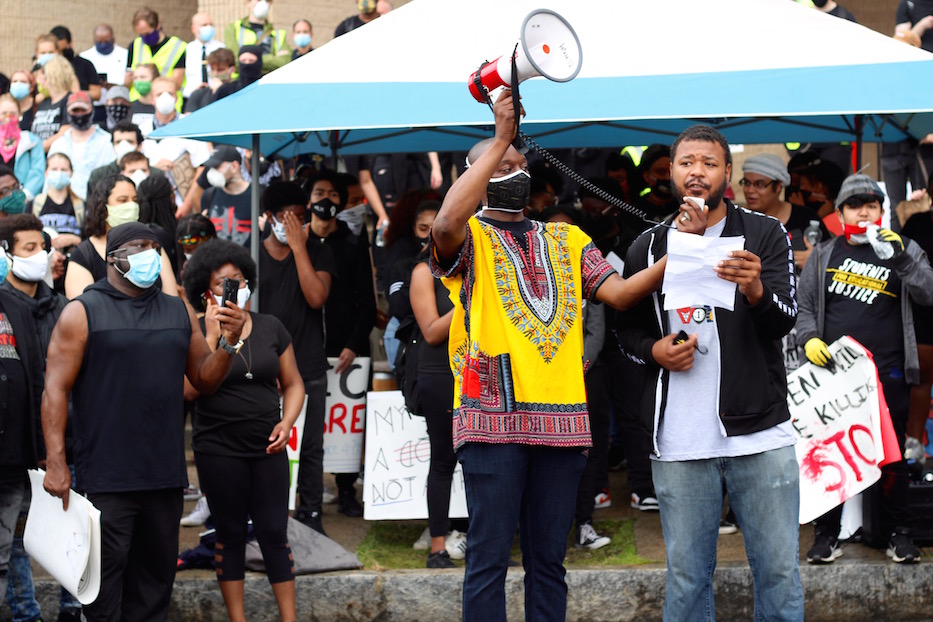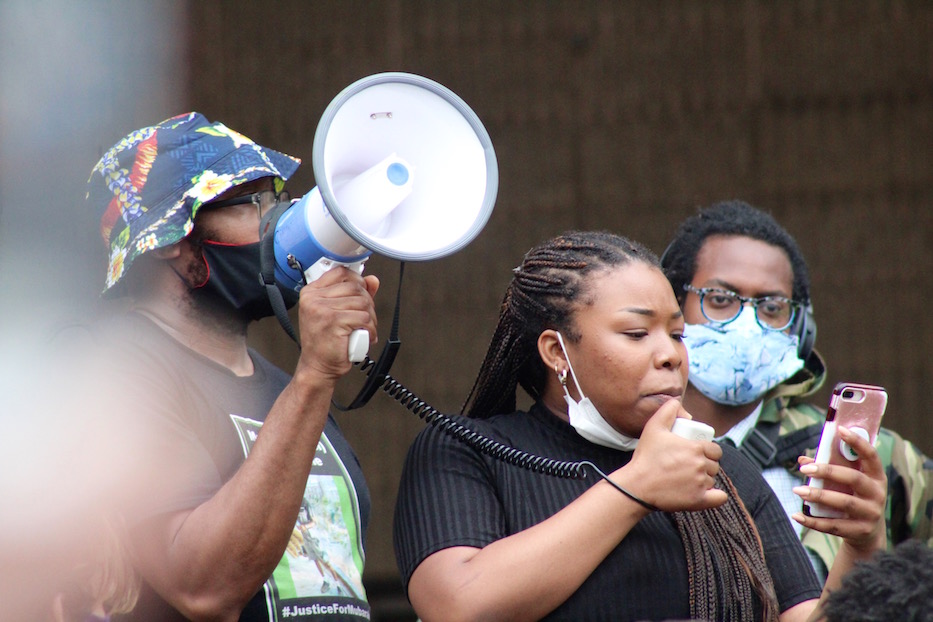 Top: Charlie Delgado of New Haven Rising advocates for economic justice. Bottom: Cowiya Arouna.
"Four hundred years ago, the first slave was brought to this country, and that's where they want you to think our history started," said Cowiya Arouna, who joined Citywide Youth Coalition in high school and is now a senior in college. "But before that, we were kings and queens. We built our own civilization. We built our own community. And when the colonizers stepped foot on the gold coast of West Africa, they killed us, they raped us, they stole us, but they want to call us savages."
She kept the crowd's attention, chronicling the birth of private insurance companies to track slaves as human property and the role of Wall Street in the slave trade to Connecticut's stark wealth disparity. She reminded attendees that Yale's endowment has topped $30 billion, while the New Haven Public Schools face a multi-million dollar deficit.
"We're here," she said. "The African continent is where they stole millions of slaves at gunpoint, taking away the dreams, language, culture, and possibilities of a people. They want us to believe our history begins with slavery so we never learn the beauty within our people, the power within our resources, the people they thought they could use and throw away. But we are still living, and we are still fighting!"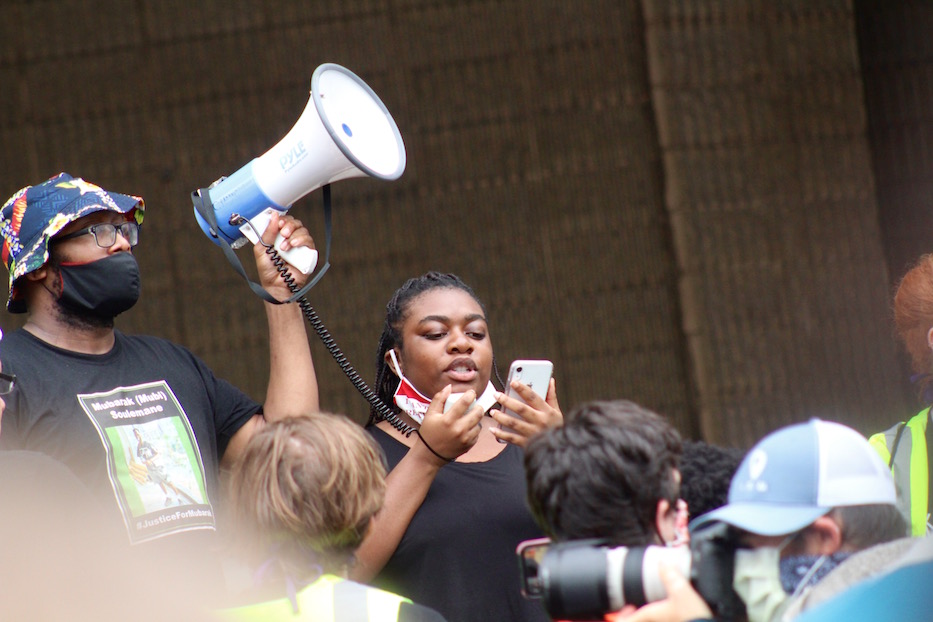 Benie N'sumbu: "Do you know your history?"
Castillo, speaking through tears, reminded attendees that too they were standing on the stolen land of the Quinnipiac people, on which New Haven's factories, homes, and universities were built centuries ago. Benie N'sumbu, a graduate of Cooperative Arts & Humanities High School and board member with Students for Educational Justice, spoke on the origins of the American police force to maintain and protect the system of slavery in the United States.
"To the police officers here today," she said. "Do you know your history? Do you know what the problem is with how the police force was founded? Do you know it? And if you do know it, how come you are still a police officer today?!"
Cyril King, a senior at the city's Engineering and Science University Magnet School (ESUMS), held the crowd with a sort of call-to-arms meets spoken word poetry.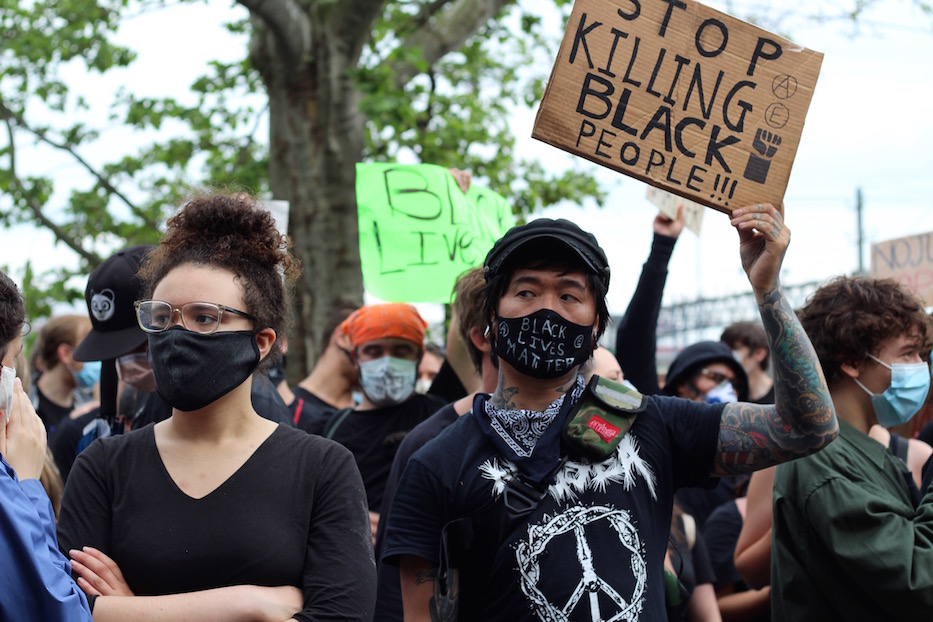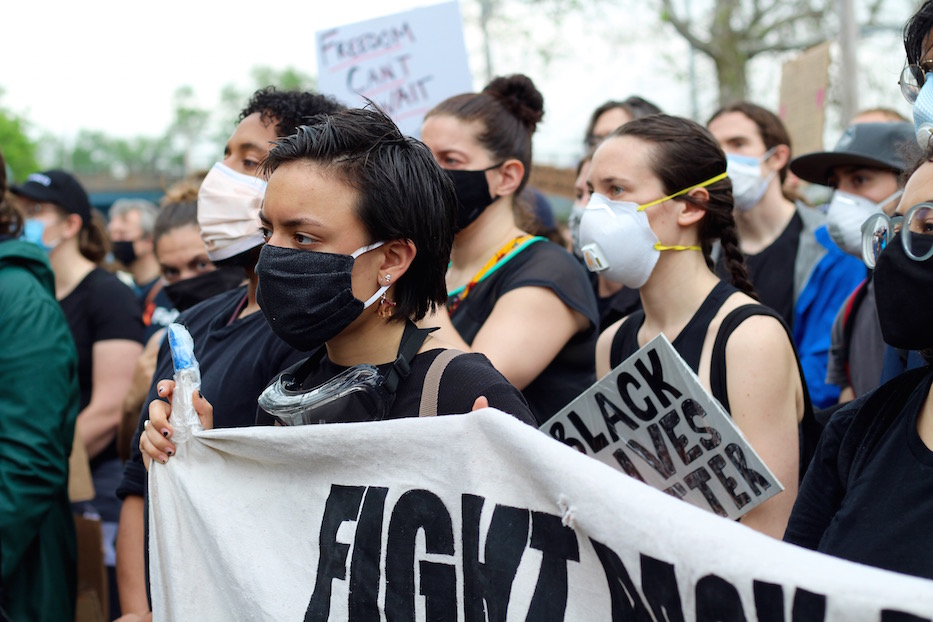 "Here lies a system rooted in inequality and injustice for all," he began. "However some might say that assimilation is better than self worth. Those who say that ignore that people of color need to work 10 times as hard to receive minor recognition from those straight white males in power. There needs to be a change in the system of marginalization."
"The Black body is fetishized as an object, yet criminalized as an entity," he later added. "Diversity does not stop in the classroom. It also calls for representation in forms of power."
Throughout, song and dance carried the rally. Beneath the speakers, musicians rolled in and banged on conga drums instead of applause. At one point, Nnodum kept the energy high with a dance break, set to "Glory," followed by Childish Gambino's "This Is America." A baby wearing a Black Lives Matter t-shirt became the rally's hype man as he swayed from side to side on tiny, certain legs. The crowd clapped along to the beat.
At another, Ice The Beef member Divine Wilkins took the mic, launching into "Glory" as 5,000 protesters stilled on the department's steps and on the street. A member of Citywide Youth Coalition led thousands in the Lord's Prayer, some attendees crying as they prayed for God to "deliver us from all that is evil." Pastor Tina Colón Williams, who also works as an immigration attorney, led attendees in "We Shall Overcome."
"What we are going to do right now is something that has been done for centuries," she said. "And it is powerful and it is meaningful to sing together in resistance to tyranny."
But nowhere, perhaps, was that united plea for revolution more apparent than at the end of the rally, as members of Movimiento Cultural Afro-Continental (MCAC) educated thousands in the history and echoing, pulsing footprint of Bomba. The demands, rising up in Castillo's words, got a soundtrack tied to abolition, uprising, and Black and Brown survival.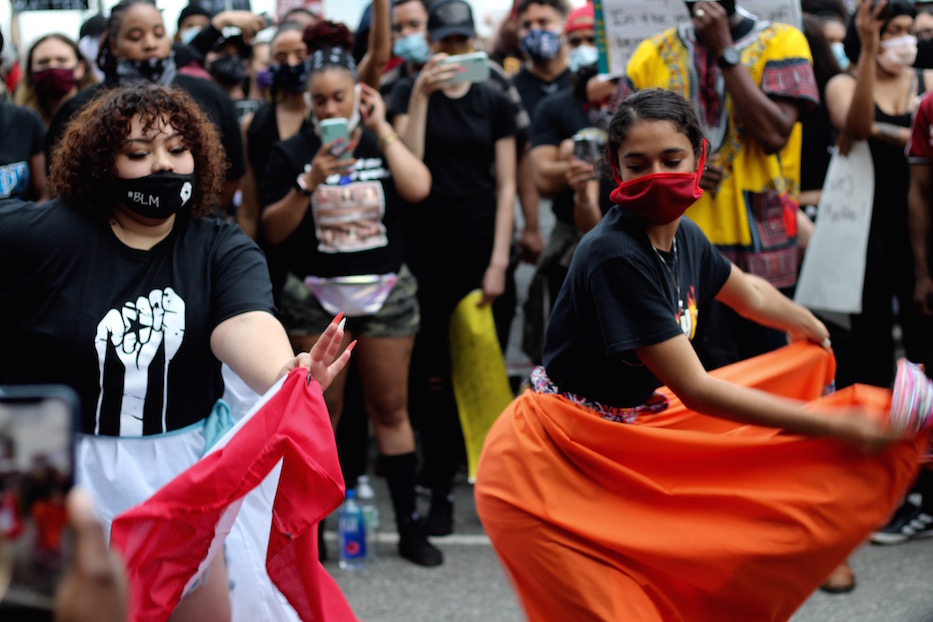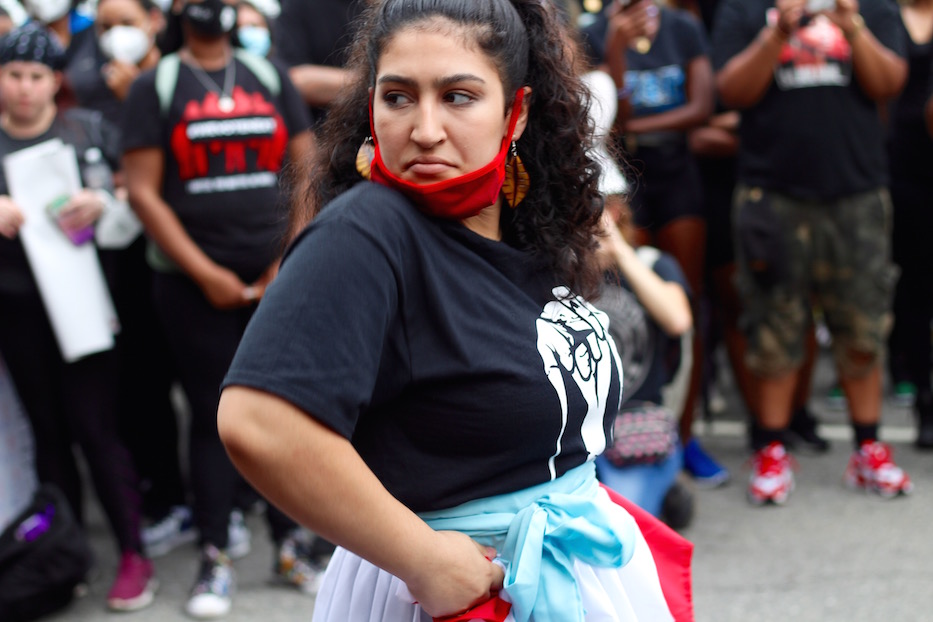 Members of Citywide Youth Coalition enter the batey. "This is about who feels the music," Castillo said.
Bomba is a communicative dance form that spread during the Afro-Caribbean slave trade. Its roots are in Puerto Rico, where drums and dance replaced language among those stolen from the African continent and treated as human property. Through a system of call and response, dancers "talk" to drummers and percussionists without ever having to use words, moving their bodies, feet and their long, ruffled white skirts, hats, and wrapped hair as a form of speech.
It is a healing form, rallying cry, and old-school messaging network of both release and revolt. Friday, it seemed right on cue, as if the phrase "Cada día sufriendo más/si no bailo esta bomba, me voy a morir" ("Every day I'm suffering more/If I don't dance this bomba, I'm going to die") could be replaced with the call "Money for schools/Not the police."
"Every single one of our cultures had a drum," Castillo said. "It's like a heartbeat. It's a heartbeat. All of us got a drum. So I want you to listen … and understand that this music, it's not R&B. It's not about who has got the nicest voice. This is about who feels the music."
On the street below, a batey—a circle for the dancers—formed. Members of MCAC put their palms flat on their drums, and waited for a dancer to enter the circle. Picking up a mic Jessica Flores began to sing, the drums steady and strong beneath her. Frenchie Rivera, a member of Citywide Youth Coalition, donned a long skirt over her jeans and bowed to the drummers.
One by one, marchers and organizers entered the circle (read more about that here). From the methodical yubá rhythms with which they began the drums picked up, in what Castillo called joy-conjuring "party music" that was just right for the end of a long, emotionally draining week.
Where members of MCAC and Citywide Youth Coalition had started the dance, others took over, watching as drummers changed their rhythms and channeled the African subcontinent, then breakdance, then something entirely. When Flores stepped in to the circle, someone took over on vocals seamlessly.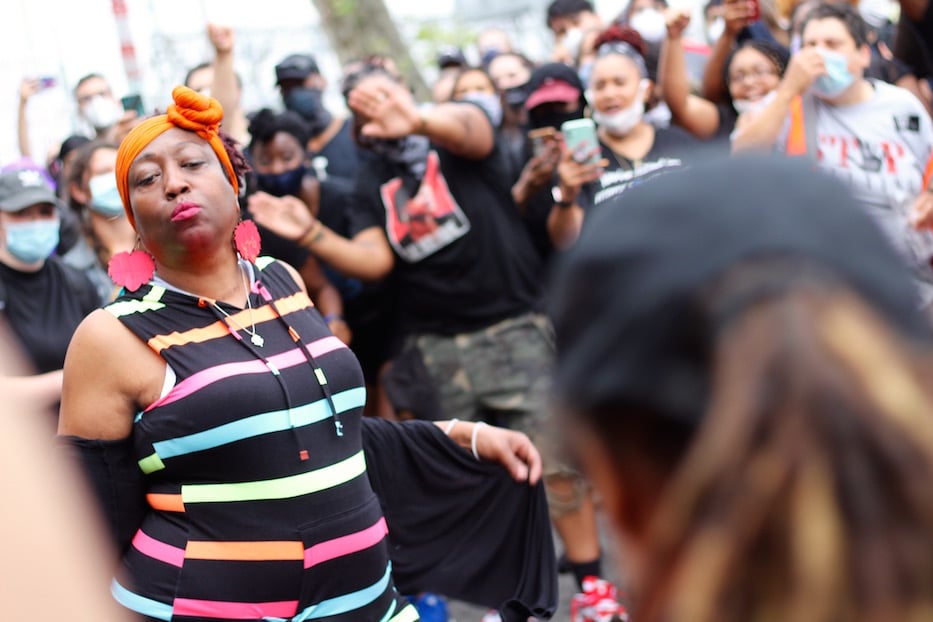 Vernetta Holley, who is a singer and songwriter.
It became a party in the center of Union Avenue. Whitney Brockenberry donned a skirt and glided in at one point, lifting an orange pattered skirt to her temples. "Go auntie!" hundreds cheered as songwriter Vernetta Holley stepped into the circle, moving her shoulders and torso to beat. Or maybe the beat was moving to her. Her body became a blur of bright stripes as she swayed.
Castillo and Pittman closed out the rally with song, attendees clapping along. After singing with the crowd—"We are going/God only knows where we're going/But we will/We will get there/God only knows how we'll get there/But we will"—Pittman took the mic. She reminded attendees that Friday would have marked Taylor's 27th trip around the sun.
"We're gonna sing happy birthday the Black way," she said, attendees cheering around her. Several clapped as the crowd burst into Stevie Wonder's "Happy Birthday." Bodies sprang into motion on the street, where the batey had been just moments before.
Rally-goers lifted their arms. Members of Citywide Youth Coalition devised a few new moves closer to the tent. Castillo beamed watching the crowd.
In unison, thousands of voices lifted to the sky.