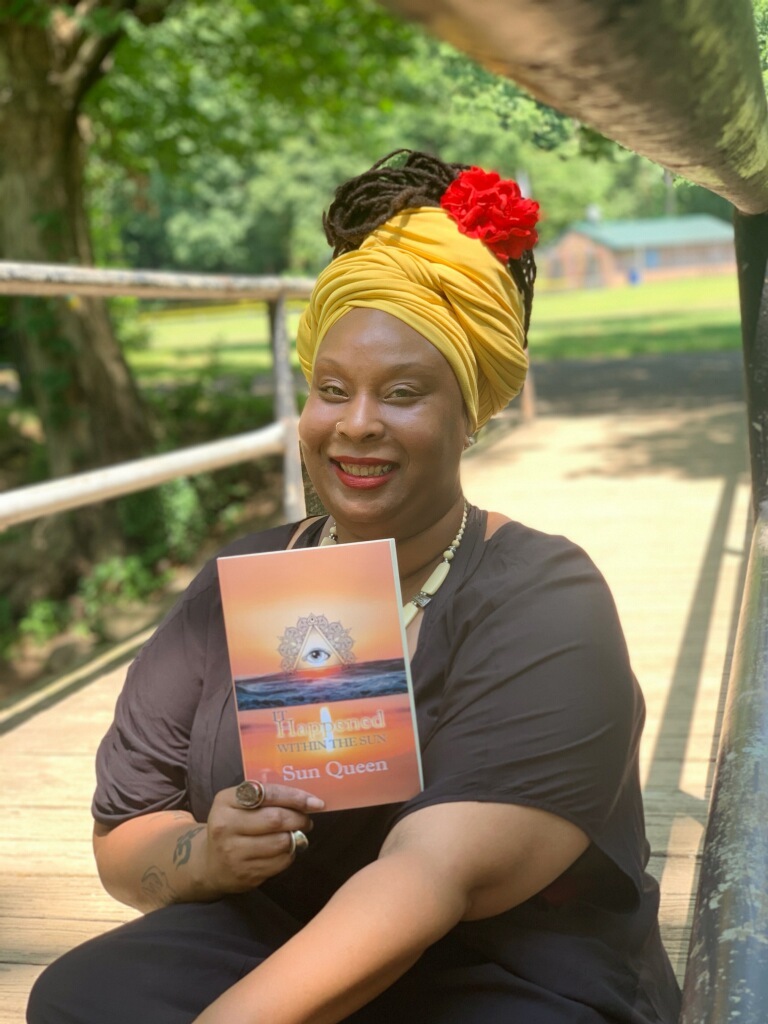 Books | Creative Writing | Poetry & Spoken Word | Arts & Culture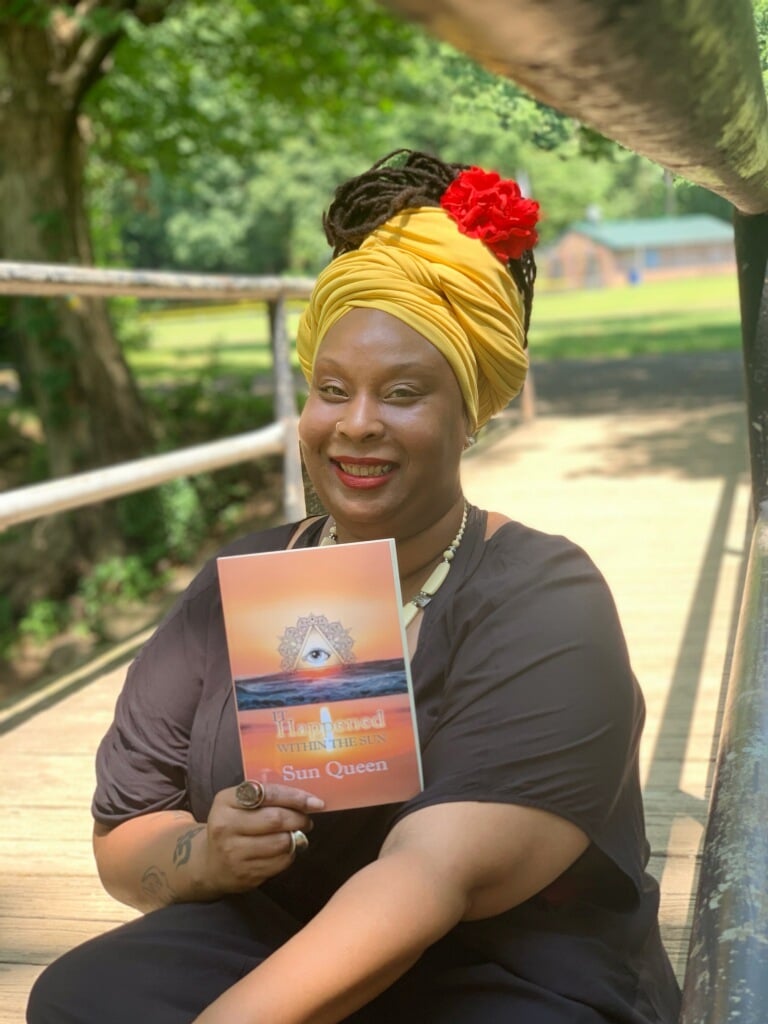 It Happened Within The Sun is a the first book of poems from the writer and activist Sun Queen. Photo courtesy of Sun Queen.
Sometimes Sun Queen is unfolding notes in her luggage and reading them to no one in particular. Sometimes she is standing in a crowd at a funeral, and figuring out the right words to speak to the dead. Sometimes she is shoulders-deep in the grass, listening to conversations rise around her. Always, she has a pen and a notepad at the ready.
That's the sense one gets reading It Happened Within The Sun, the first volume of poems from writer, activist and Black Lives Matter New Haven Co-Founder Lauren Pittman, known more widely as Sun Queen. After publishing the book in April of this year, she will hold a reading and release party on Aug. 31 at the Whitneyville Cultural Commons in Hamden. Details and more information are available here.
"It was definitely a lot," she said in an interview at Manjares Cafe earlier this month. "Writing can be so exciting and exhausting in the same moment, and I definitely experienced that. It can take you back to the moment [you're writing about]. But I always knew I would finish."
In part, the book's genesis comes from her deep New Haven roots, which work their way through almost every page. Born and raised in the city's Newhallville neighborhood, Sun Queen grew up with the city as her playground, enrolled in LEAP (Leadership, Athletics, & Education in Partnership) and a teen pregnancy prevention program that she went on to be a leader in. It was during those years that she became interested in writing, which she sees as in sync with her love for "the helping profession."
"It just feels good to me," she said. "Helping others is good to my spirit. I feel like it's what I'm supposed to be doing here on earth. "
In college at Delaware State University, she declared an interest in social work and began writing her first book of poems, a volume that she kept in a binder close to her at all times. The words kept coming, she recalled: there was a letter to her estranged father, who she first met at his funeral, and tens of observations on the world around her. When circumstances forced her to come home suddenly, she asked a friend to bring the binder back with her. It never made it all the way to New Haven.
"I was so devastated," she said. "Self doubt kicked in. And then I realized it wasn't supposed to be my first book."
But her second go at a book, it turned out, would take complicated and painful years to write. In December of 2012, her brother Christopher Fain was shot and killed in Newhallville, opening a well of grief that, as the writer puts it, "has no expiration date." In the years following, she struggled to write through her depression, a period that is now captured in painstaking and candid detail in "Letter To My Brother."
In the poem, she writes directly to her younger brother, painting a portrait of a sweet boy who learned to spell under her watchful eye, and was taken from the world much too soon, on the lip of his second decade of life. "Your smile is planted/in my bones," she writes, and the reader gets a vivid image, searing from its place on the page.
During those years she kept writing, sometimes only in journal entries that never made it to poem form, then in notebooks and often in the "notes" function of her phone. She changed her name to Sun Queen, a nod to the light she felt within herself, trying to make its way out into the world. She started blogging, putting some of her writing on the internet until she got locked out of the blog. She revisited old work and committed herself to writing new material to match it.
Then last summer, Nasty Women Connecticut Co-Founder Luciana McClure asked her to read some of her poetry during the group's #MeToo Testimonials project in an event at Lyric Hall. Sun Queen was nervous and shy, unaccustomed to reading her work in front of people. When she did, easing through a series of poems, she realized that she wanted to be doing more of it.
"I was like, 'I'm gonna write this book, I'm gonna finish this book,'" she recalled. "I knew that I had to finish this book. I had to get this done. Every piece that I wrote went in. I talked to my partner, and she was like 'just keep writing. You'll know when you're done.'"
In the book, she takes the reader on a sweeping personal journey, blending her stream of consciousness with affirmations, activist soundbites and snapshots, and vignettes from her daily life. In pieces like "Speak Up and Within," she takes the reader through her own hopes for the world, including an end to pollution, violence, food insecurity and mass incarceration. Other work may strike the reader as familiar: she has read her poem "#MeT00" at several events in the past year.
When she was writing, she said, those pieces came in different forms: sometimes a block of text made its way out while she was sitting at home or on her way to work, other times she would sit and write before work at the New Haven Free Public Library or on the New Haven Green, listening to conversations unfold around her. They now bubble up and chatter from the pages, reflections on personal happiness presented alongside passages on student loan debt and the impossibility of the American dream.
She has placed her Blackness, her woman-ness and her queerness front and center without apology, and the reader is better for it. In pieces such as "Why Am I Black?" she turns to self-interrogation, exploring police brutality, sexual assault, and economic inequality through the lens of her lived experience. In "Cause I Got Melanin," she picks that thread up again, answering those same questions as they are asked ("Why attack my Melanin?/My existence is not a tragedy/But a remedy to cure hatred"). In "Black Wombman," she spins wordplay into a love-letter to herself and to the women around her.
Get you a Black Wombman/She will make your life better
A Black Wombman is not a mystery/She's more than a fat ass and thick hips
Her nurturing spirit wasn't created to just be a/caregiver for Tom's children
She's candid and very up-front about her own grief and depression, embedding in poems like "Mental Transactions" and "Self-Talk" an unspoken plea to the reader to seek out the mental and emotional care they may need. Ultimately, she said, it reflects her hope that the book can double as an affirmation of its own to readers who may need to see themselves reflected in the pages.
"I want people to be the author of their own story," she said. "To know that they're not alone. In the book, I talk a lot about getting to know yourself and what that means. Overall, it's really about getting to know your true self and understanding your true self … reflecting on your own life. Where you've been and where you want to be."
"This is about taking off the mask," she continued. "Taking off the makeup. We have all experienced pain. Growing through that—it's traumatic—but it's also necessary."
She added that the book launch, which will mark the first of several readings, is part of that growth. While the book is technically finished, she said that it also feels like it is still in-process, because she's now setting up readings and working on marketing materials. At the launch, she plans to kick off that chapter by inviting fellow authors, musicians and artists to perform.
"I'm going to celebrate me while I'm alive," she said. "I did it. I did it. But I'm also taking the moment to lift up Black women in a space of love. I'm a firm believer in trusting Black women, in loving Black women. We all have our own personal journeys, but this life is about togetherness. We have to be one village."
Sun Queen will hold a launch celebration, book signing and reading for It Happened Within The Sun at the Whitneyville Cultural Commons on August 31 from 6-11 p.m. More information on the event, which is free and open to the public, is available here.