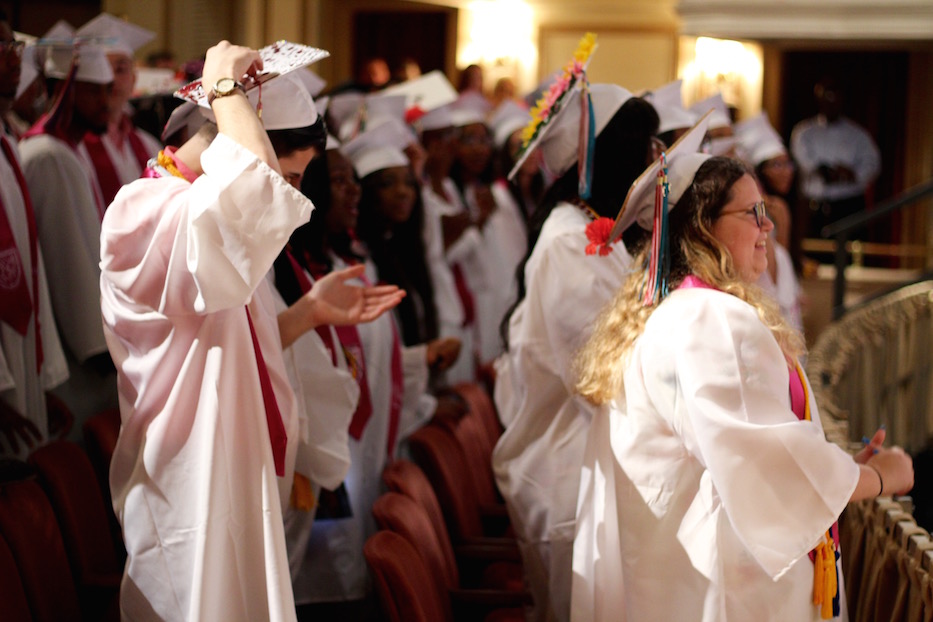 Co-Op High School | Education & Youth | Arts & Culture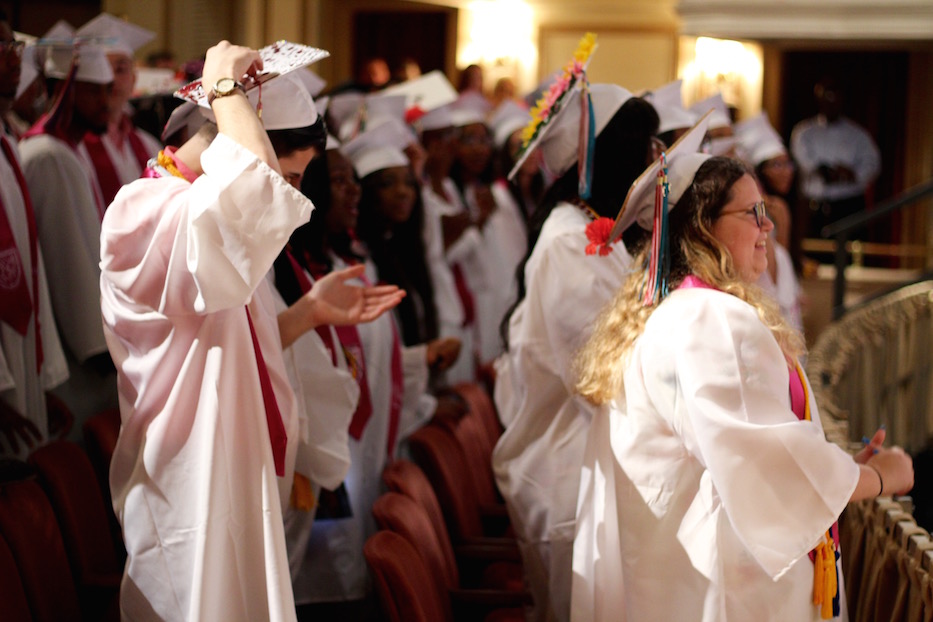 Choose your own "brand." If you don't, someone else might choose it for you.
Over 100 newly minted graduates of Cooperative Arts & Humanities High School (Co-Op) heeded that charge Friday afternoon, as family, friends, teachers, and peers filled the auditorium at the Shubert Theatre for the school's annual graduation ceremony.
This year's graduation also marks the departure of Co-Op Arts Director Tim Jones, who will be heading to Stanford for his doctorate, and the 10-year anniversary of Co-Op's College Street building (it was previously on Orange Street).
The graduating class of 135 includes artists in dance, theatre, visual arts, chorale, strings, band and creative writing as well as recent immigrants and refugees, graduates of Music Haven, published poets and writers and aspiring lawyers who have already testified publicly at the state capitol.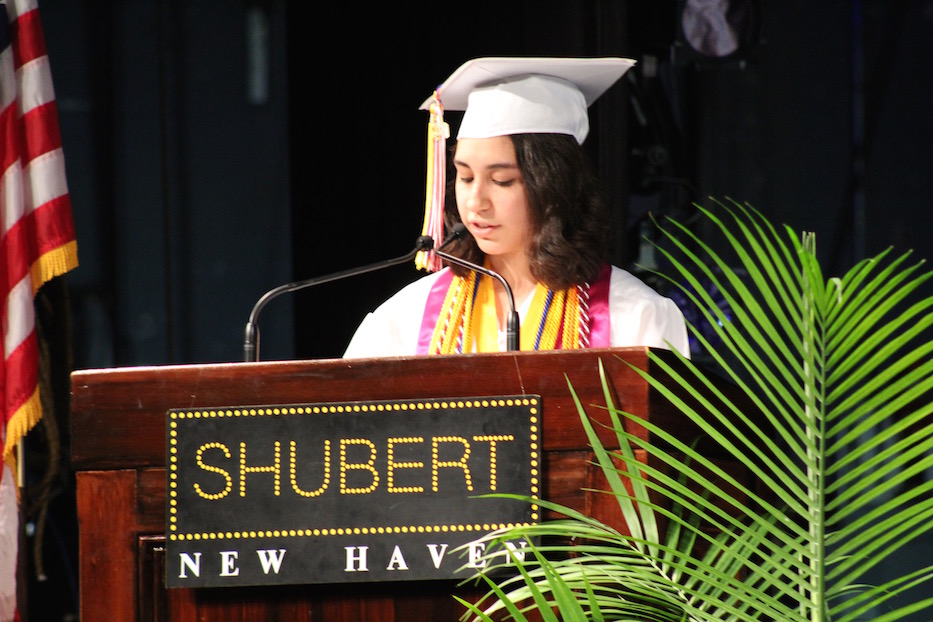 "'Follow your passion' is likely something that you've heard a lot being at an arts school, but it's true," said Salutatorian Salomé Campos (pictured above). "From now on, you get to make the decisions which will dictate your life, and you get the choice to turn your dreams into a reality."
"There is endless opportunity," she added. "Take advantage of it. We are the doctors, the lawyers, the teachers, the politicians, the scientists, and the artists of the future. We have the power to create positive change."
Amidst jubilant dance and song and lots of cheering, Campos ushered in a message that returned with the day's guest speaker, Dr. Dolores Garcia-Blocker. The director of college and career pathways for the New Haven Public Schools (NHPS), Garcia-Blocker was also the principal of Co-Op in 2009, when it moved into its College Street campus.
Ten years later, she found herself reflecting on that time when thinking of what to tell students as they left the school Friday.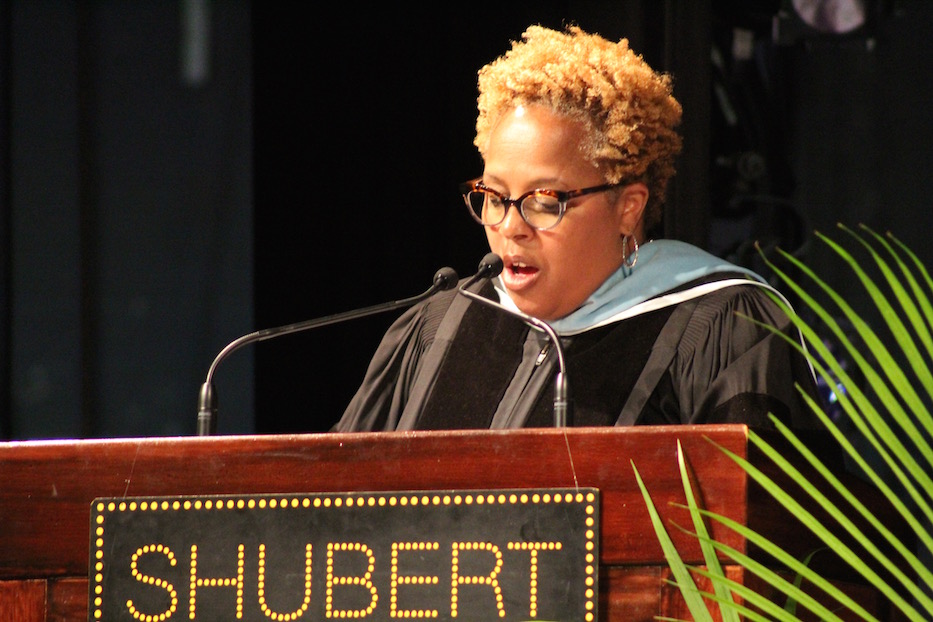 She panned back to College Street in 2009, speaking as soon-to-be grads shifted in their white gowns and colorful, home-decorated mortarboards. Taking the mic, she rattled off well-known branding campaigns, asking audience members to shout answers back at her. There was "Just Do It" ("Nike!" students yelled on one great wave) and "Taste The Rainbow" ("Skittles!"), and "Can You Hear Me Now?" among others.
"It is no secret how these brands came about, and when you use their name, you use their tagline … we know the quality of the product without the person being in the room to sell it," she said. "Graduates, control your brand. Or someone else will."
As she described moving into the current building in 2009, students mmmmed and aahed along to her message. It was Jan. 20 of that year, and Garcia-Blocker recalled that classes stopped so staff and students could watch the inauguration of President Barack Obama on every screen available to them in the new building.
She explained that as she and staff at the school returned to fully operational classrooms, navigated new relationships with the Shubert, and began to grow their multi-pronged arts strategy a decade ago, she learned that Co-Op had a brand of its own, and she wanted to make it even better. So she worked to grow the creative writing and string departments, to expand teacher resources, and overhauled the application process to make it discipline-specific.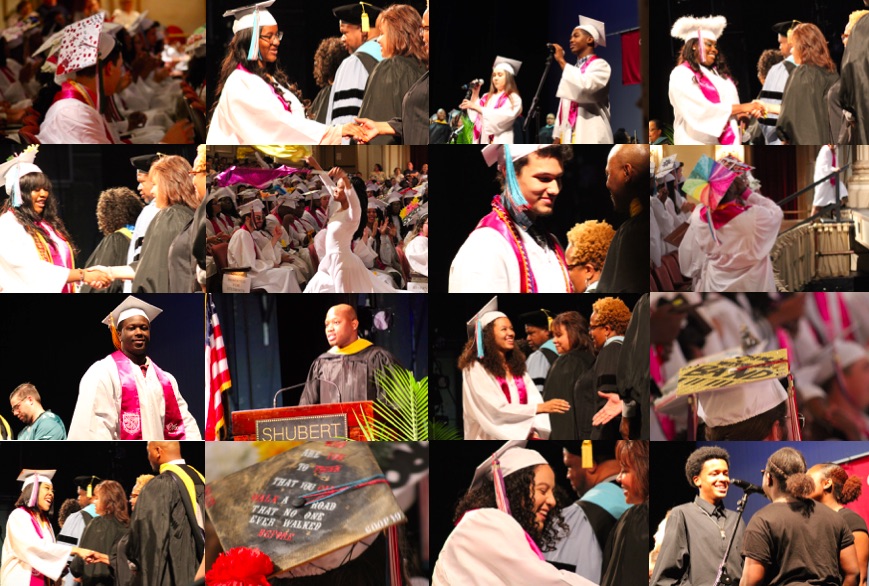 She urged students to "reflect honestly" on their own brands. She asked friends and family in the room to listen to their ideas, and provide honest feedback. Were they happy with their brand, whatever it was? Were they ready to take it to the next level? Did they need a rebranding? Where would that brand be in 10 years, when the year was 2029?
"You're going out into the world," she said. "Take advantage of that."
She added that in building their brands, students will also have to raise their voices and advocate for themselves when others fail to. She recalled a quote from politician and 1972 presidential candidate Shirley Chisholm, who lived in her dorm at Spelman College as a visiting scholar.
"If they don't give you a seat at the table, bring a folding chair," Garcia-Blocker said, quoting Chisholm. "There are going to be many, many tables to which you will not be invited. But your voice is needed. You might not be invited to a table because of your race, your ethnicity, your religion, your sexual orientation, your age, your zip code, whatever your politics might be or your job. That should not keep you from getting in."
"I see that is no problem here at Co-Op, because you all go in and sit on the floor and take over a lobby," she added to cheers and thunderous applause, in what was the day's only direct reference to recent student activism opposing the Board of Education's 53 proposed teacher transfers.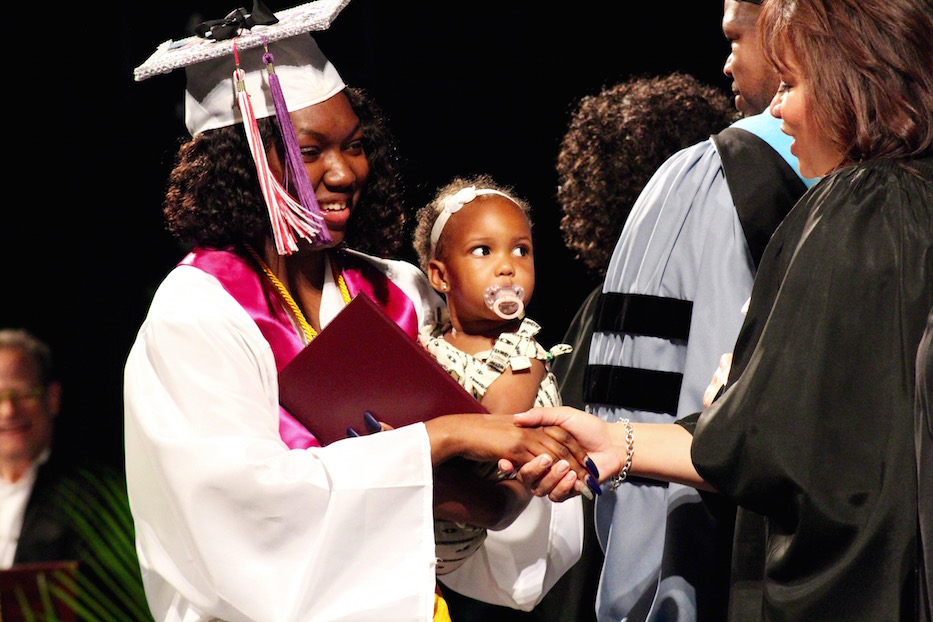 String student Quantashae K. Henry.
In closing, she recognized Jones, who was a freshman when she first arrived at Co-Op as principal in 2004. Back then, Co-Op was still on Orange Street, in a building where New Haven Academy now stands. Garcia-Blocker was new to the city, and didn't know her way around New Haven. But on her first day, Jones introduced himself to her, and informed her that he was going to graduate, and then return to Co-Op as its arts director.
He reminded her of that fact every year. He said it when he graduated. So when he returned as arts director in 2015, she wasn't surprised. As she recalled that history, students cheered, clapped, pumped their fists up and down and stood in recognition of Jones.
"What are your next years going to look like?" she asked. "What will be your brand? … What will be the status of your voice? Will you become silenced, irrelevant, invisible? Or will you use your voice become amplified? A force to reckon with."
As students crossed the stage by discipline, many stood as proof positive of the brands they have already begun to hone, develop, and take out into the world. Amidst cries of "yes!" "that's my man!," praise dancers and a surprise call-and-response to Common's "Glory," all 135 found a unique way to take their diploma, doing small bows, twirls, and even jumps as they mounted the steps to the stage.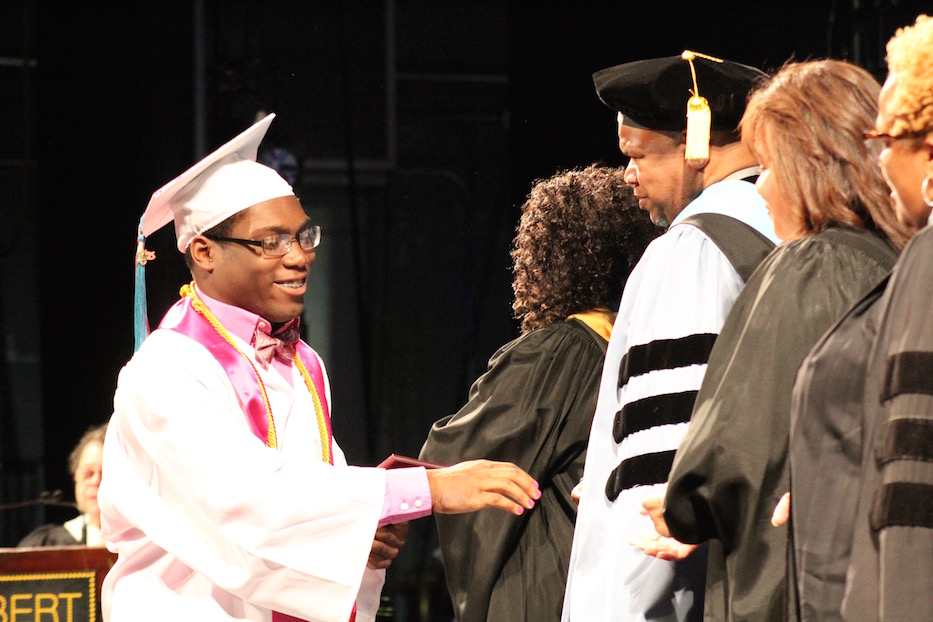 MarQuel Woods, who is an aspiring novelist, will attend Bard College in the fall.
Some were quiet but mighty, like writers MarQuel Horton Woods and Benie N'sumbu, who have transformed their art into advocacy for their school and for more inclusive statewide history curricula.
Or senior Eliza Vargas (pictured below), a creative writer who has become one of the most vocal anti-violence youth advocates in the city, organizing protests, marching in rallies and parades, and raising her voice against the Board of Education in the last four years.
A member of Ice The Beef, she has said multiple times that both in and out of school—her brand, if that's what it means—she plans to keep advocating for youth and against gun violence in New Haven. As she stepped onstage, tears were visible rolling down her face.
"It was great," she said afterwards. "Emotions ran high and it was definitely a once in a lifetime experience in all its aspects."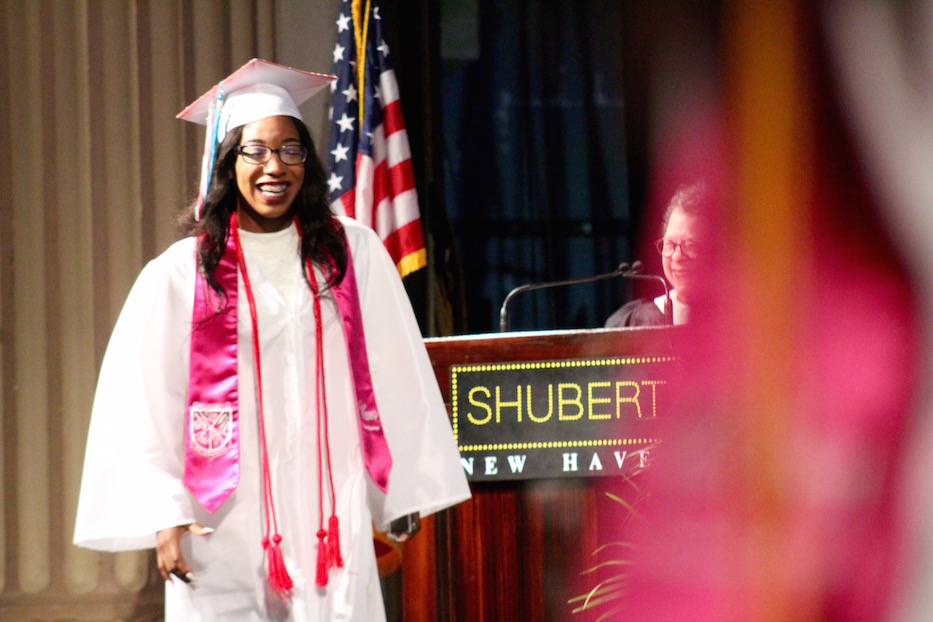 That sense of creation—or brand identity, to stick with the speech—flowed through the newly-graduated class after the ceremony, several students embracing Jones' suggestion that grads can be, and already are, "teachers of humanity, of kindness, of joy and protest and of courage."
"On the eve of triumph or of destruction, artists have always been at the forefront of society," he added during the ceremony. "You, as artists, drag people out of the darkness and into the light."
Out in the lobby, visual artist Alaysia Nailah Swagerty said she is already building that brand,and plans to rely on her arts education as part of the foundation. After growing up "all over"—she was born in New Haven but then moved—she entered Co-Op as a quiet, shy freshman. That changed midway into her first year there.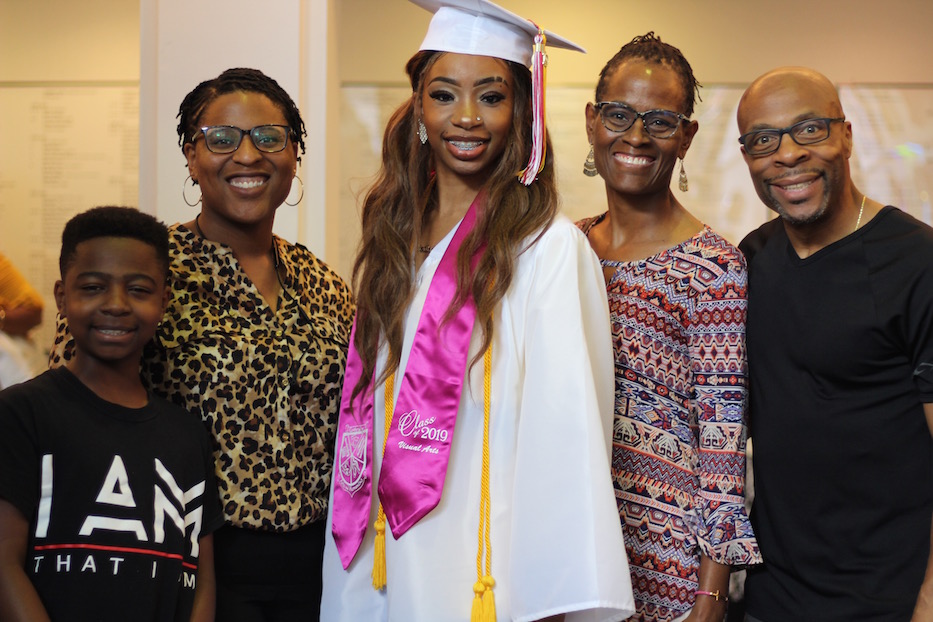 Alaysia Nailah Swagerty and her family.
"As soon as I got into the school, it opened me up so much," she said. "I've learned to have patience, to have forgiveness, to keep trying. Things that people tell you that are not true—just prove them wrong."
During her time at Co-Op, she said she has made that part of her work. After hearing that she wasn't good at math, she doubled down to get better. When someone told her that "I'm a pretty girl so I should stay in makeup," she added more academic and arts interests to her repertoire. She now hopes to become a doctor or veterinarian after studying at Morgan State University.
"Whatever they say does not determine me," she said. "I determine myself."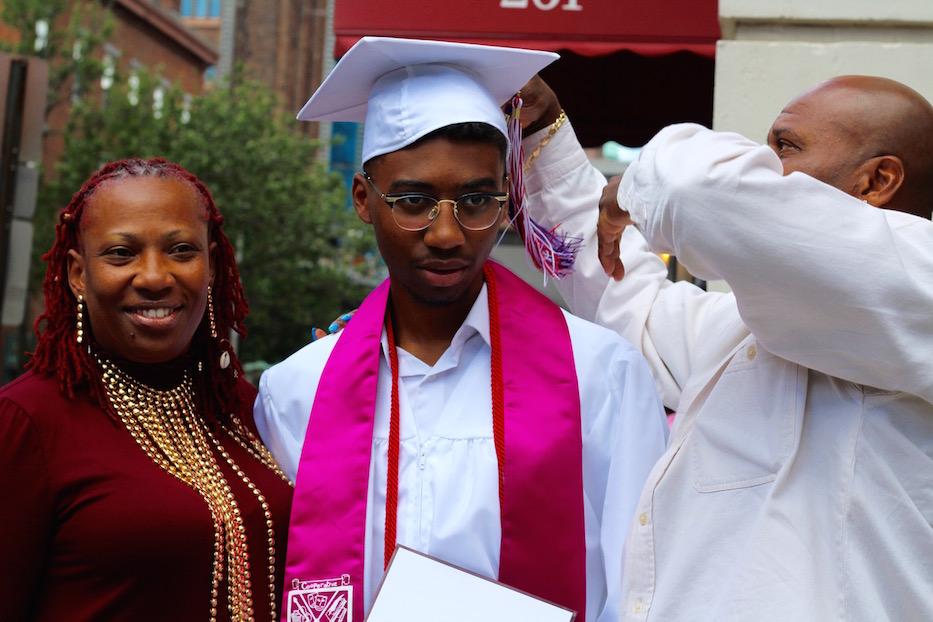 That was also true for Kenyatta Harris, Jr. (pictured above), who spent his time at Co-Op studying alto saxophone and piano. In the bright afternoon sunlight outside the Shubert, he said he is focusing on "achieving everything I was told I couldn't do, and showing people I could do things that I was told I wasn't able to achieve."
Specifically, he said, he met people who told him he wouldn't finish high school, or go on to college. That he wouldn't be able to provide for himself. He proved them wrong—over and over again—when he was accepted into the computer science program at Benedict College in South Carolina.
"If things go right, hopefully I'll be big in music," he said. "On tour or something, or in charge of my own tech company."