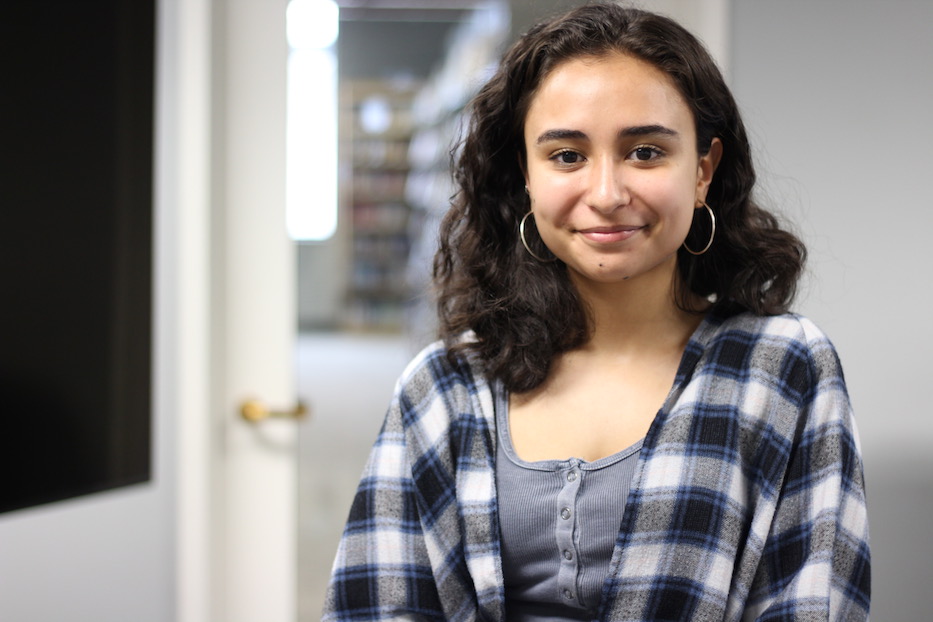 Co-Op High School | Creative Writing | Education & Youth | Arts & Culture | New Haven Public Schools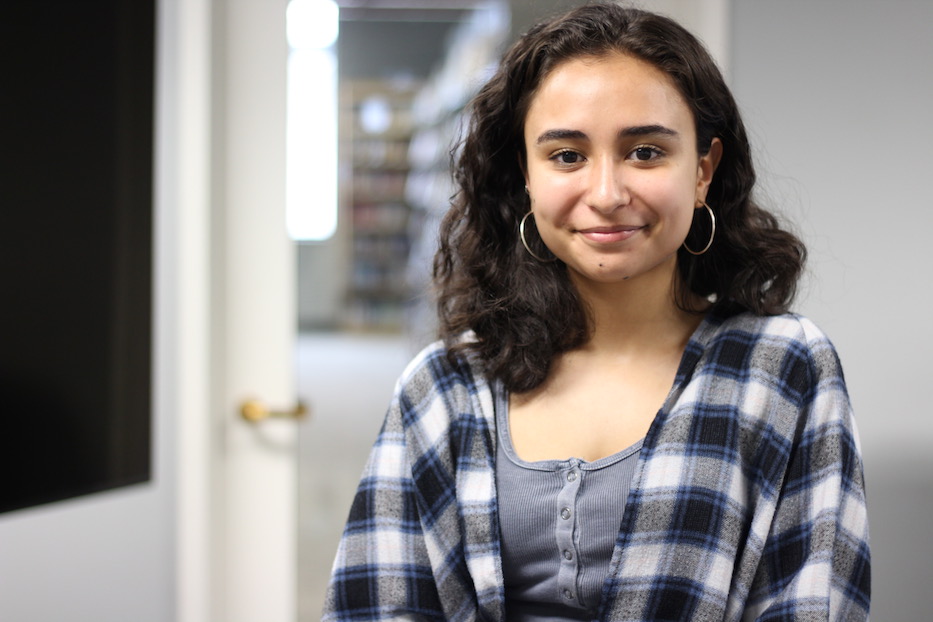 Nelani Mejias at the New Haven Free Public Library. Lucy Gellman Photos.
One student is worried she won't be able to get help for her college essay. Another isn't sure she wants to continue at the school if poetry disappears from the course list. A third doesn't know if she'll be able to edit the school's creative writing magazine, because it isn't clear if it will exist after this year.
They're trying not to jump to conclusions, because they've learned that's not what writers do.
All of them are students of Co-Op creative writing teacher Mindi Englart, who learned last week that she is one of 53 teachers being reassigned by the Board of Education at the end of this year. Englart, who declined to comment for this article, is one of two arts teachers from Cooperative Arts & Humanities High School (Co-Op) to have received that news. She has been at Co-Op for 17 years, the past 13 of which she has served as full-time faculty.
The other is theater instructor Scott Meickle, who spoke at a Monday afternoon rally organized by New Haven Public School Advocates.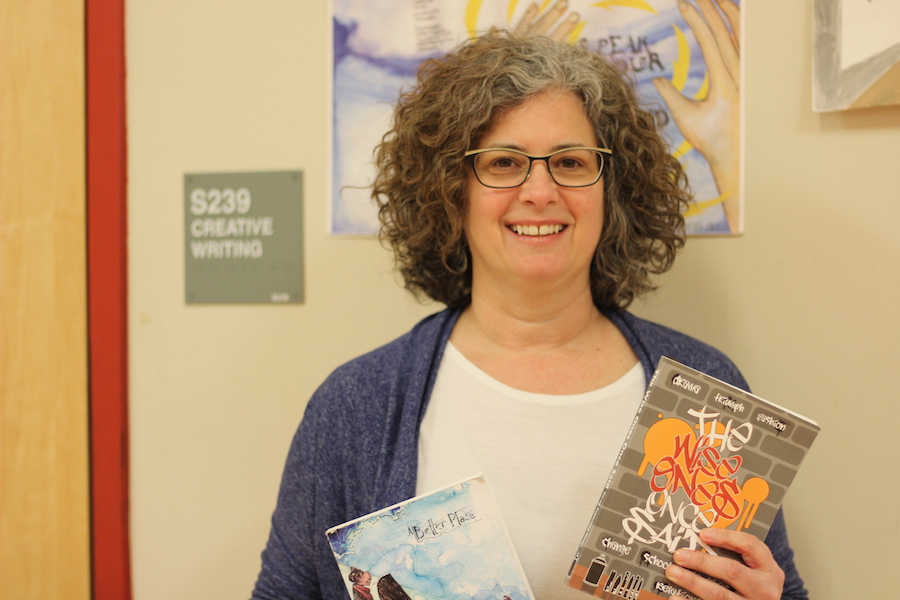 Englart, photographed at Co-Op earlier this year. Lucy Gellman File Photo.
Tuesday afternoon, several of Englart's students said they don't know what will happen to Co-Op's Creative Writing program next year, and are worried that the reassignment is the final nail in the coffin for the art form. For months, students and teachers have been advocating for the department, which lost fiction and screenwriting teacher Aaron Brenner last year when he was reassigned to teach Co-Op English classes (read more about that here). Now, it's unclear what will happen with one less teacher, leaving Judith Katz as the department's only full-time faculty member.
Early Wednesday afternoon, NHPS Chief Operating Officer Michael Pinto said that he had checked on the curriculum and anticipated no change to the program. He cited two full-time faculty members for the department and said he was unaware that Brenner had been reassigned to English last year. When asked if Brenner was going to be reinstated as full-time creative writing faculty, he said he would have to look into the issue further.
"Based on the enrollment of 89 creative writing students, the programmatic elements of the department will not be affected," he said.
Currently, Co-Op's creative writing program offers one freshman class, one sophomore class, and two classes for juniors and seniors (view more on the courses here). In addition to teaching multiple classes, Englart also supervises the publication of Metamorphosis, a journal of student poetry and prose illustrated with student art, and Co-Op Voices, the school's online student newspaper.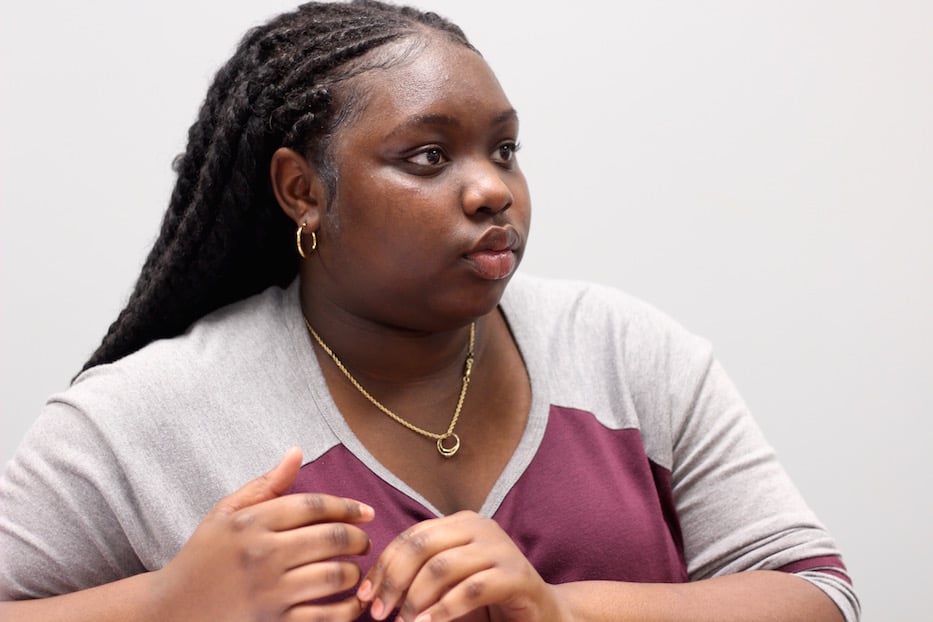 Green: "Like, are we still going to be able to do things? Will the program be an elective? What's going on?"
"It's running through everyone's head," said Co-Op sophomore Jamiah Green Tuesday afternoon, in an interview at the downtown branch of the New Haven Free Public Library. "Like, are we still going to be able to do things? Will the program be an elective? What's going on?"
When she arrived at Co-Op two years ago, Green said it was exactly where she wanted to be. She loved writing, and particularly poetry. She wanted to dip her toes into fiction and journalism. She experimented with different forms, honing her public speaking skills at a Metamorphosis reading last year. When she entered Englart's classroom as a sophomore this year, she started to plan a film festival with other students in her creative writing class.
Then last week, an online group chat with her class turned into a fretful discussion over what would happen if a teacher left the department. She said that she and her peers began asking fellow students, teachers and administrators what was going on. They haven't yet received any definitive answers.
"If the creative writing department were to shut down, I lose that," she said. "That was the whole purpose of me going to Co-Op. So if the whole department's going to be suffering, and they do come to some sort of conclusion where it gets taken away, I sort of feel like there's no purpose of me going to Co-Op. That's what I was there for."
She isn't the only one with that concern. Nelani Mejias, a junior at the school, is working on a zine project in Englart's junior year writing class. Tuesday afternoon, she said that she is concerned that without Englart, Metamorphosis and Co-Op Voices won't continue.
"They haven't said anything about how creative writing's going to go [next year]," she said.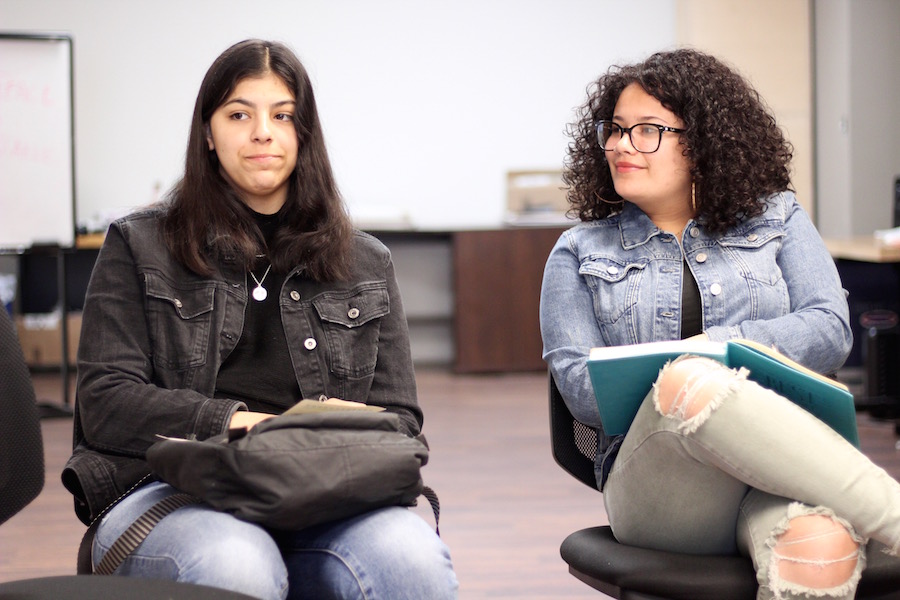 Chelsey Jara and Yesira Delgado.
Yesira Delgado, a junior who had hoped to transition into a supervisory role on Metamorphosis next year, added that she's worried for both the department and for fellow students who have looked to Englart for guidance. When she entered Co-Op three years ago, Delgado thought she wanted to write poetry. Then she learned that "I'm not a good poet." She felt as though she was running up against a wall.
"When I didn't have her, I felt like my writing was stuck," she recalled. "Like, I wasn't getting anywhere."
Englart suggested she try out fiction, creative nonfiction, and news writing. Delgado found that she loved writing on education—and that she was good at it. She branched out to articles for Co-Op Voices, then experimented with music and dance in a training program with this publication this spring. After she graduates, she said that she wants to become a teacher, and has found a personal and professional champion in Englart.
"She motivates you to motivate yourself," she said, something catching in her voice as she spoke. "I didn't feel that with any of my other teachers. I didn't feel connected. She's encouraged me to become a teacher, and she's happy that I want to become a teacher."
"She's always telling me, 'we need people like you to stand up,'" she added. "And I'm like, 'well, I want to be like you one day.'"
Sitting beside Delgado at the library, fellow junior Chelsey Jara added that she is worried about what will happen to her college essay and writing portfolio without the same faculty guidance. For the past year, Englart has been helping her work on college application materials, in which she has been writing on her interest in psychology and cognitive behavioral therapy.
When she first proposed the topic to Englart, she recalled, she was worried it wouldn't fly because it wasn't directly related to writing. Instead, she found a teacher that passed along resources and reading materials, lent her books on psychology, and encouraged her to incorporate psychology into prep for her senior year capstone and writing assignments. Now, she's working on poetry, nonfiction, and essays on cognitive behavioral therapy.
"She's helped us grow not only as students but as people," she said. "I've never felt that way with a teacher in any subject, whatsoever. She really builds a connection with each student, and she tries her hardest to make sure that they feel valuable in the class and that they can contribute."
"She adapts to every student," she added. "And that's hard to do as a teacher."
To read and hear more student testimonials, click here, here, here and here. The Arts Paper is hoping to write more on current reassignments from the Board of Education. If you are a student or teacher with a story about how this is affecting your school, email lucy@newhavenarts.org.