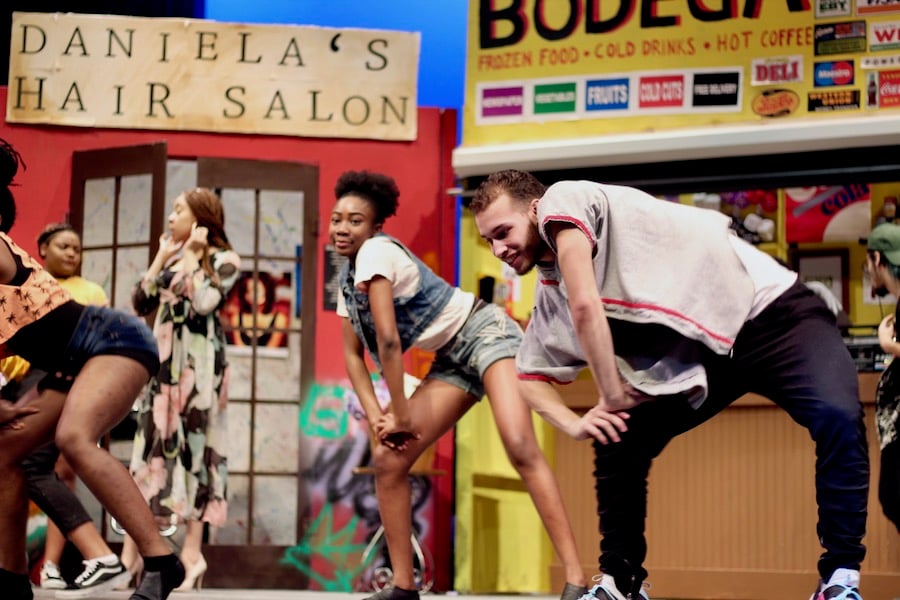 Co-Op High School | Downtown | Musical Theater | Arts, Culture & Community
Daniela and Vanessa are at it again, this time about the hair salon moving to the Bronx. Around them, the neighborhood has woken up: Abuela Claudia feeds crumbs to the birds, Mr. Rosario dispatches more taxis, Usnavi mans the corner bodega with year-old boxes of cereal and sweet coffee that reminds everyone of their grandmother. In the salon, gossip runs like rain. The temperature keeps rising.
It is life, maybe rude and cacophonous to an outside eye, but just as it is supposed to be.
That's where we find In The Heights at Cooperative Arts & Humanities High School (Co-Op), where a cast and crew of over 90 students bring the musical to life—and tie it inextricably to their own city—this week. Co-directed by Co-Op teacher Rob Esposito and Nathan Hale teacher Briana Bellinger-Dawson, the play runs Wednesday and Thursday afternoon at 2:30 and 6:30 p.m.. Tickets and more information are available here.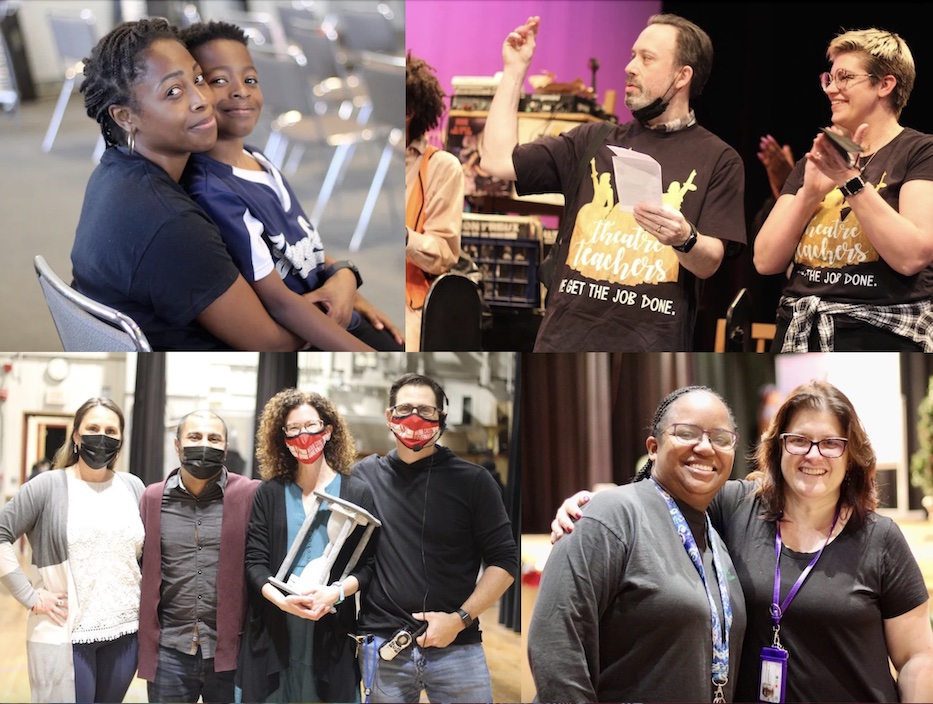 Clockwise from top left: José Resto as Usnavi, ensemble member Lihame Arouna, Jailene Resto as Abuela Claudia, and Ajibola Tajudeen and Audrey Adji. Lucy Gellman Photos.
Written, then workshopped, by Lin-Manuel Miranda in the late 1990s and early 2000s, In The Heights tells the story of New York's Washington Heights neighborhood as it finds itself on the cusp of gentrification around 2000. The neighborhood, in which rents are rising aggressively, is vibrant because of the majority-Latino immigrants who fill its shops, cut its hair, run its taxi companies and collectively mother its children—people who are extraordinary for the regular lives they live.
Their stories, told in a mix of English and Spanish, are packed with the same lyrical swerve that more recently made Hamilton famous—but seem radically close, as if they could be about neighbors in The Hill, Newhallville, and Fair Haven. There is our sweet protagonist Usnavi (José Resto) and his love interest Vanessa (Audrey Adji), who orbit each other like nervous planets and get a little help from Usnavi's cousin Sonny (Zamir Alford) and friend Benny (Rylan Mayo), one of the few non-Latinx characters in the play.
Around them, a whole world blooms: there's Stanford student Nina (Alanna Cajigas) and her parents Kevin and Camila Rosario (Tomás Echevarría and Yashaira Leguisamon), who would do anything for her. Or Daniela, whose Bronx-bound salon doubles as a sort of endless well for gossip. They are all under the watchful eye of Abuela Claudia (Jailene Resto), a Cuban immigrant who has become the neighborhood's ruling matriarch and faithful watchdog.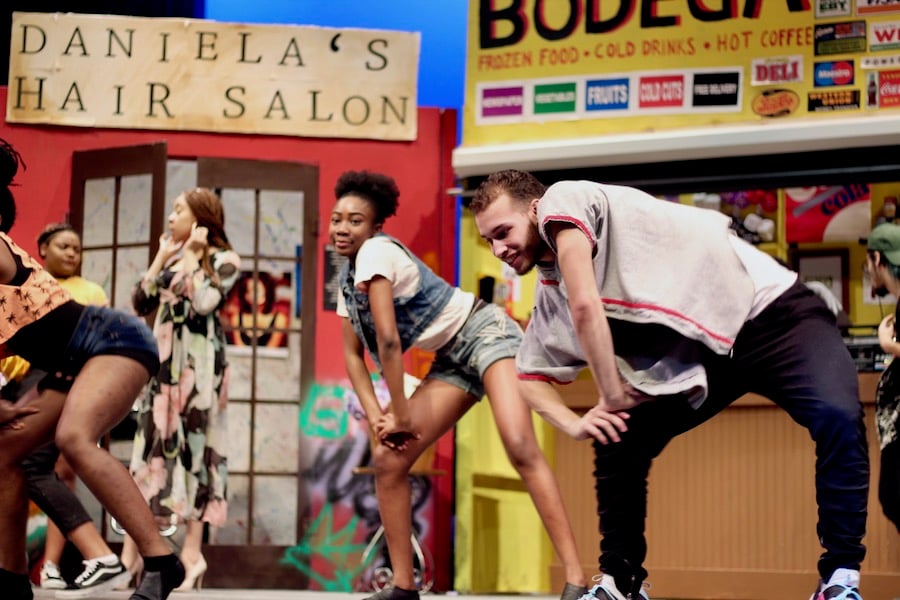 Jan M. Rosello Viera and members of the dance ensemble.
At Co-Op, the performance has been over a decade in the making. When the show hit Broadway in 2008, Bellinger-Dawson was a student at Co-Op, acting and dancing in the same kind of plays she would later help direct and choreograph. In 2009, she found herself at Wesleyan University for the summer, learning the musical's soundtrack at the Center for Creative Youth. At a tech rehearsal Monday afternoon, she recalled returning to school and telling Esposito "okay, I have the book memorized."
Esposito didn't think Co-Op was ready then, and so Bellenger-Dawson kept pushing. Her senior year, she devised a Co-Op Cabaret at the Shubert Theatre, during which she cast, choreographed, and performed in renditions of In The Heights' "96,000" and "Carnival del Barrio," taking up the role of Daniela. Before graduating she saw the musical on Broadway with fellow classmates from Co-Op. Two years later, she caught it again when it toured at the Shubert.
For her, the connection to the work was—and continues to be—immediate and personal. Raised in Newhallville by a single mom, Bellinger-Dawson learned about her Afro-Latina roots from her grandmother, who immigrated from San Cristóbal in the Dominican Republic. So she was rocked when, almost two decades into her life, she was finally able to look up on stage and see herself reflected there.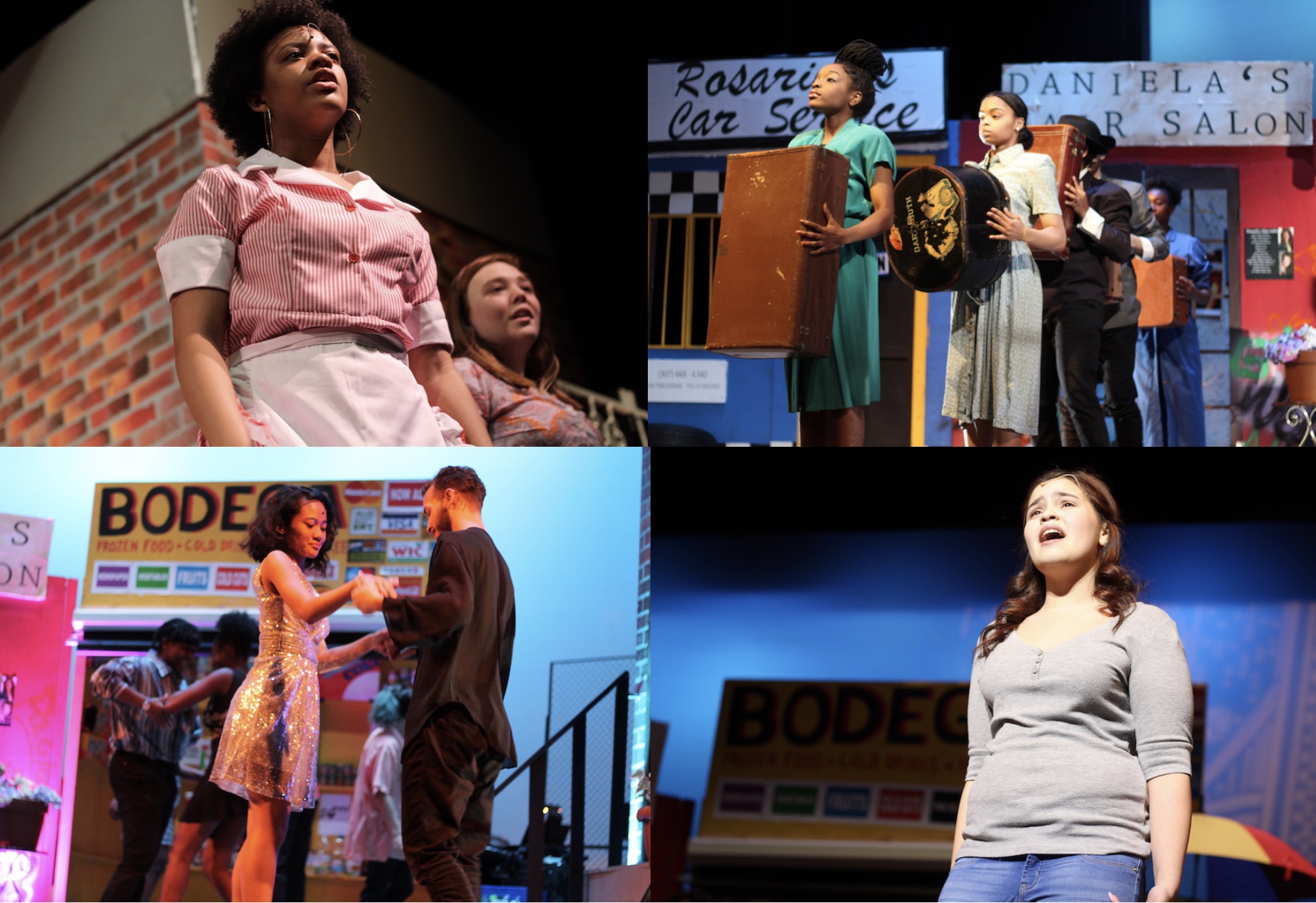 Clockwise from top left: Ensemble members rock opening numbers, Alanna Cajigas as Nina Rosario, Audrey Adji as Vanessa and ensemble member Jan M. Rosello Viera hit the dance floor at the club.
"She [my grandmother] taught me that even if you are in a different country, it's important to remember where you come from," she said. "This is literally a part I can play. This is my aunt. This is my cousin. These are people who did my hair growing up."
"This show is definitely about representation," she added. "It's not Wicked. It's not Hairspray, where there are people of color but the leads are white. They're telling their story of home."
Esposito said he is excited to be directing the play alongside a former student whose voice and cultural experience has guided the show, just as she did with advice on black hair during Steel Magnolias in 2017. For him, it has been worth the wait—he wanted a cast that largely reflected Miranda's original intention, and a directing partner who wasn't a white man, as he is (Esposito's wife Vandelina, who is Puerto Rican and a Spanish teacher at Co-Op, has also served as a dramaturg on the play). In the years since the play first premiered, he's had a lot of time to think about the script, and how deeply it reflects New Haven.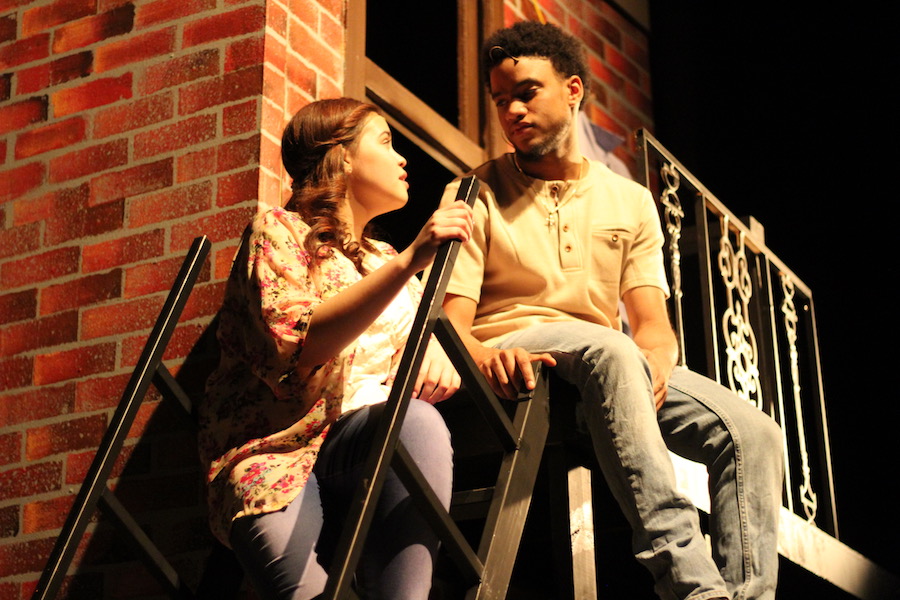 Alanna Cajigas as Nina Rosario and Rylan Mayo as Benny.
While there are obvious differences—Washington Heights is about one-tenth the size of New Haven, but has a higher population—Esposito said that he sees the city in every piece of the play, from the first corner store cafe con leche to the George Washington Bridge that dominates the program, and carries people right over the neighborhood in real life. That, and the fact that "my mother-in-law is Camila."
"The biggest symbol for me is the bridge," he said. "You drive over Washington Heights to from one place to another. We're also a drive over city! The most vital services are provided by people who live in the city to people who don't."
Getting the play ready has been a team effort. Of a student body of 645, over 90 students have joined In The Heights as cast and crew. The onstage ensemble totals 32 students, which translates to at least 100 costumes and several intricate dance numbers.
Of those 32 students onstage—20 more form a live pit orchestra, and countless more have served on the production end—24 have never been in a high school production before, and half of them are not studying theater at Co-Op. Several Co-Op alumni have guided the students through voice and music direction, with a live pit, light boards, and stage management team that are all student run.
As soon as it begins, the play feels as if it has been made for this cast. Resto is just right for Usnavi, who is trying to figure himself out while also falling in love and just barely holding a business together. In character, he sails through Usnavi's mouthfuls of lines, dropping bars without ever losing a joke or nuance. He has worked into the character all the feeling, fire and sheepishness that it demands, hitting lines with perfect and often funny timing.
But it's more than just spot-on acting—Resto grew up in The Hill and said the play resonates in his own life—more than playing Benny did in a different production last summer. While Usnavi is Dominican, Resto is Puerto Rican, and got into character by exploring what the characters had in common and what their cultures do differently. He discovered that there are different strains of Spanish, different holidays, and different cultural norms.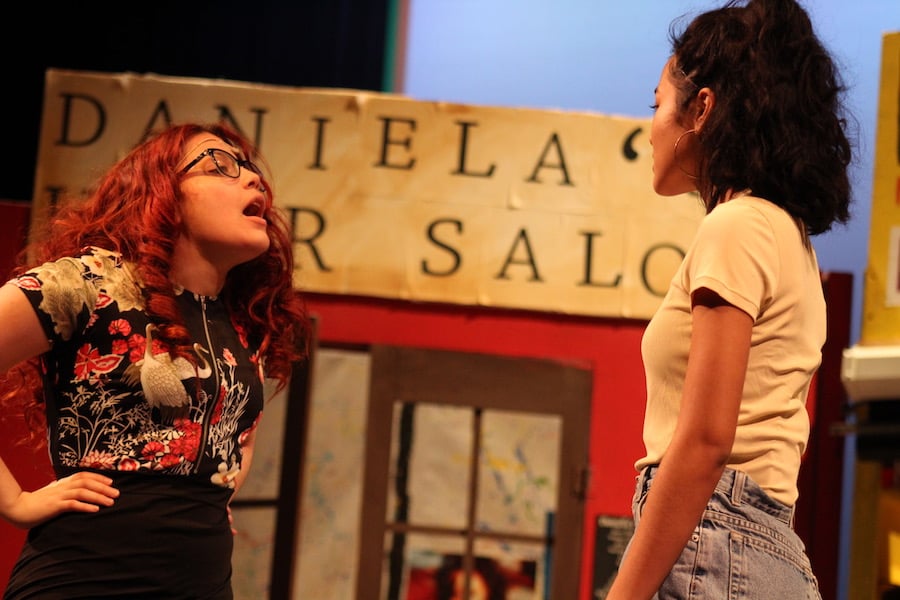 Naiyara Diaz as Daniela and Audrey Adji as Vanessa.
"It's a good thing to understand the difference and be like, 'I respect that," he said Monday. "I see people I know in these characters. Like, I can see my godfather in this play. And my mom is definitely Camila."
Around him, a world unfolds that is not New Haven, but not not New Haven either. As they push and prod, Kevin and Camila Rosario are not just exacting but passionate and vulnerable, the aspirational backbone of the show and of the American dream itself. As Abuela Claudia, Resto moves the audience, particularly as she belts "Paciencia Y Fe" with a sort of shadow double onstage. Adji and Cajigas are deeply feeling, cutting right to the heartstrings as they sing through their own lives and make their first steps forward on gelatin-like but certain legs.
It is also very much an ensemble show, and flies because of it. Dancers spring into the air for lifts, circle up for hip-hop cyphers, and break for salsa and merengue in a club that materializes onstage. The set becomes is lively and interactive, with working storefronts that characters dip inside to get cool, and bright facades that make it hard not to feel sunny and awake. Even the lighting cues, which students have mastered, make everything feel more urgent and romantic, splitting one's heart right open with a fireworks display at the end of act one.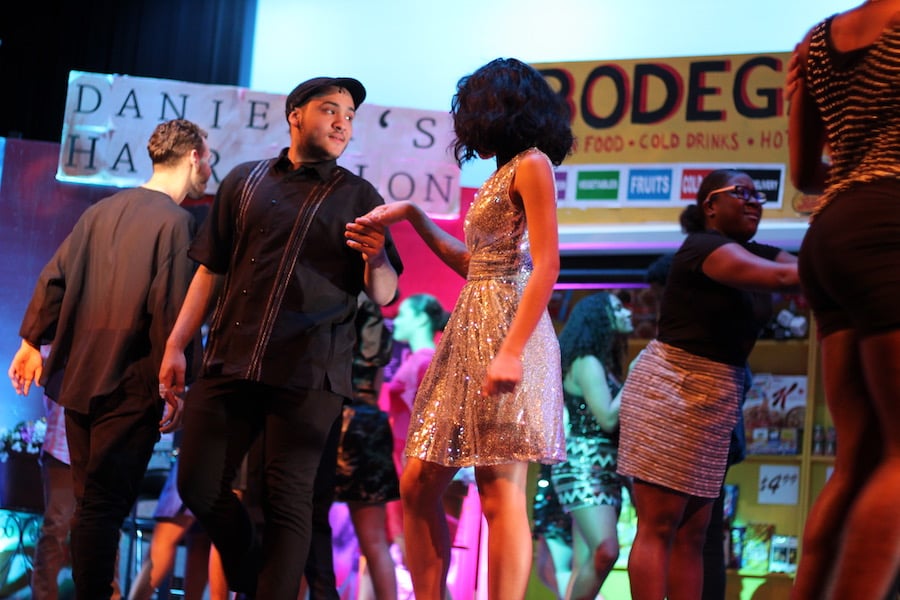 "This is my favorite show to do," said Yashaira "Yoshi" Leguisamon, a senior who plays Camila. "I am Latina, and it is special—how familiar it is. I think I am playing my mother and my grandmother all in one."
"This show allows you to see that we're more than just one kind of person," she added of seeing the Latinx community as kaleidoscopic, rather than monolithic. "We look different ways. We act different ways."
It's in this New York that New Haven begins to emerge. New Haven may not have a singing piragüero (a dynamic Ajibola Tajudeen), but it does have a lady who sets up shop each summer on Grand Avenue with her little cart by Ferry Street, and comes through with mango and coconut ice when they seem most crucial. There is no Daniela's Salon, but there is a row of barbershops at Grand and Clinton, and another scattering just off Ella Grasso Boulevard.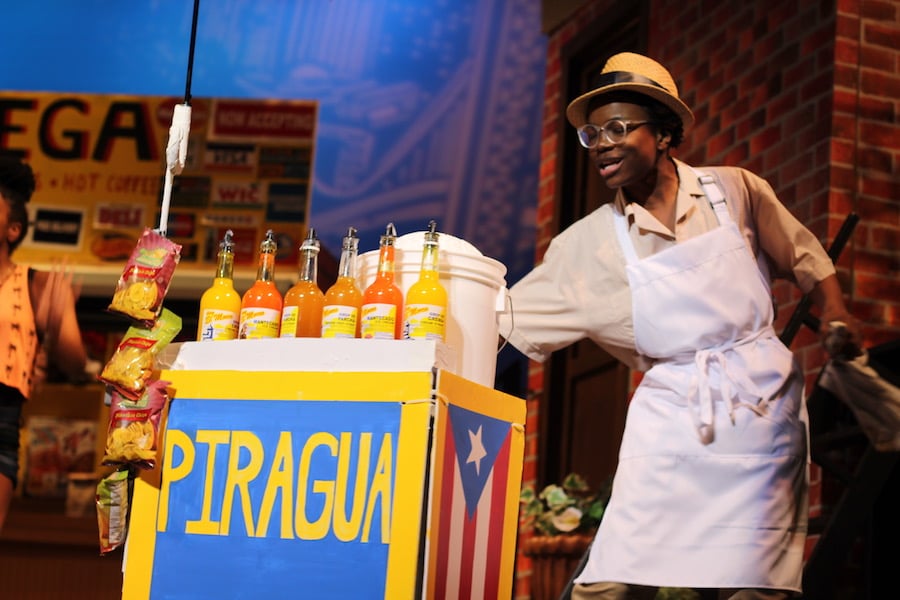 There is not an Usnavi, but there is a Miguel and Cecelia Xicohtencatl who make tens of cemita sandwiches in their Grand Avenue kitchen before 7 a.m., because they know workers will be picking them up on their early shifts. No Kevin Rosario, maybe, but New Haven has a Segundo Aguayza, who will jump into one of the EcuaMex taxis he owns if he's down a driver.
Characters' grind and struggle is also instantly relatable. In July 1999, an 18-hour blackout ended in eight deaths across New York City. In the weeks that followed, New York State officials launched an investigation into whether Con Edison had not provided residents of Washington Heights with the same resources, because the area was poorer.
At Co-Op, Bellanger-Dawson said she's been drawing parallels between Miranda's songified account of the blackout and Hurricane Maria, which ravaged Puerto Rico "while the rest of the world went on."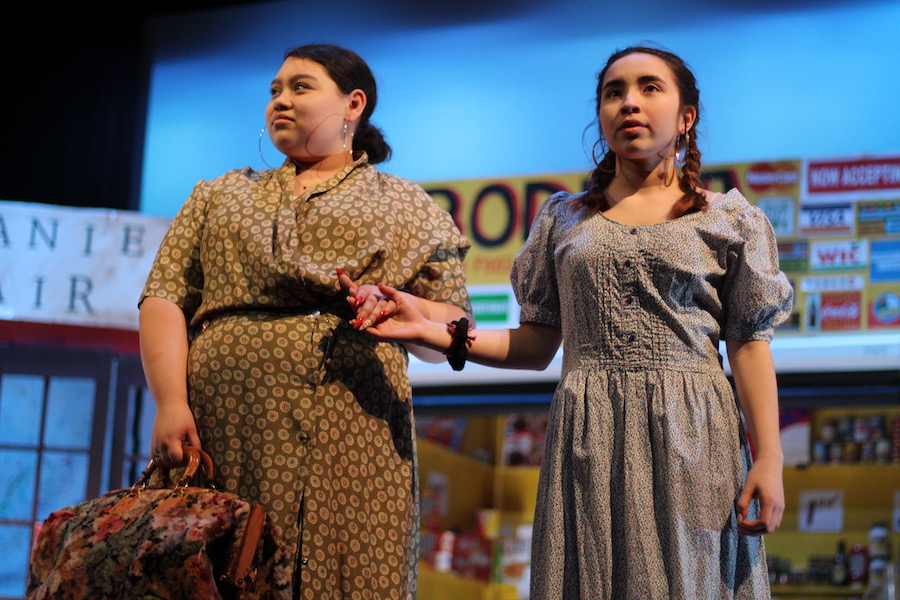 Maybe New Haven doesn't have its exact blackout analogue. But there were street lights in Cedar Hill that were out for six months in 2017, because residents of the neighborhood reported the outage incorrectly and no one in the city let them know. There are deep cracks in Spring Street where kids still play on the weekends. There's a four-way stoplight by Ferraro's Market hasn't worked for years, despite traffic improvements to the whiter neighborhoods of downtown, Wooster Square, and East Rock.
And in all of those neighborhoods, there are also celebrations of resiliency, testaments to how a community can become one's extended family.
"It's such a beautiful representation of who we are," Esposito said. "As a city, as a school community, but also as a nation. This play is about us. But we also deserve it. This is our play to do."