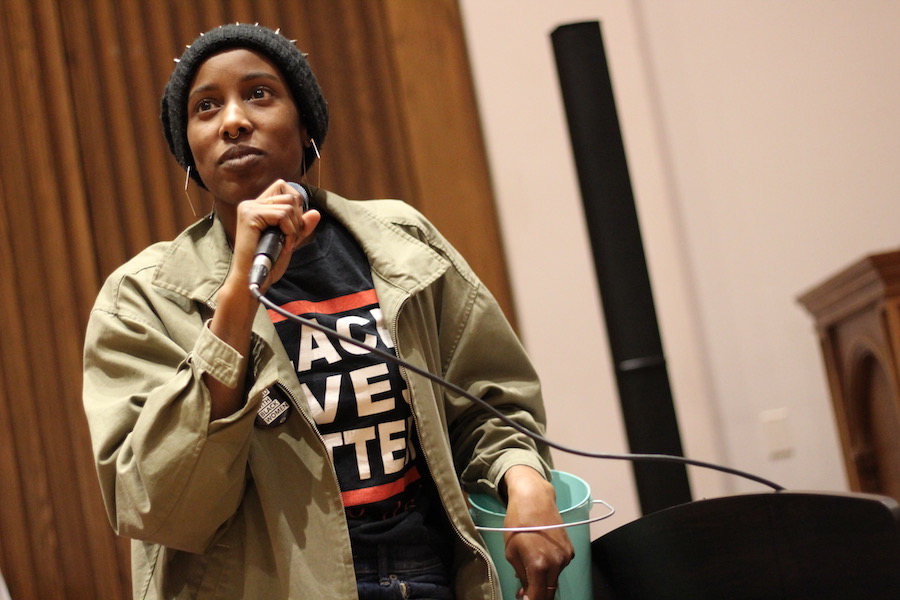 Culture & Community | Arts & Culture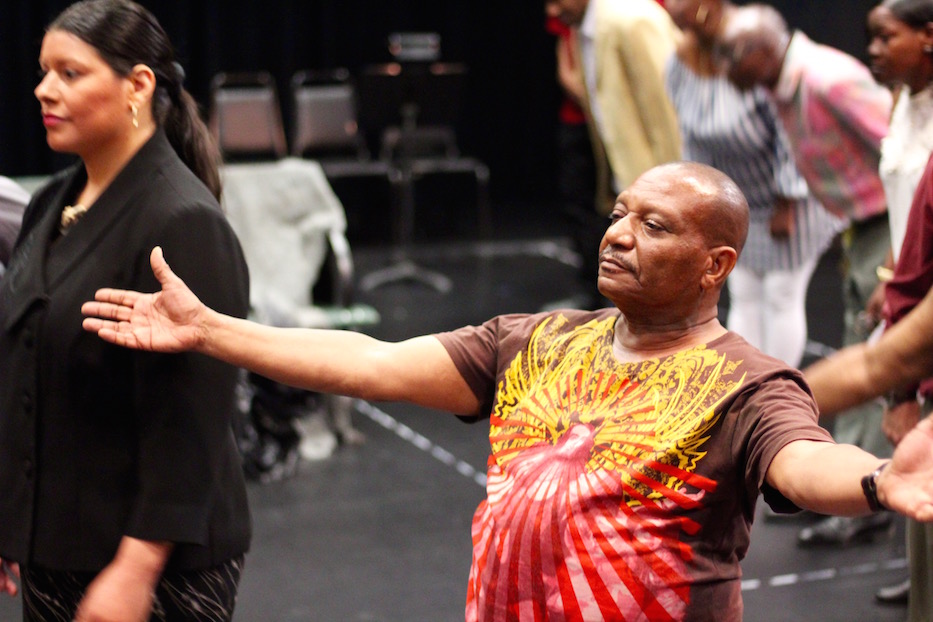 A final rehearsal for Survivors of Society Rising. Lucy Gellman Photos unless otherwise noted.
This year, our small but mighty crew of writers saw over 100 plays, exhibitions, dance showcases, and protests where art making took center stage. Among them were theater performances in huge auditoriums and intimate blackboxes, loud concerts and small chamber music shows, poetry at the mic and on the page, and exhibitions at large university museums and small galleries.
Here are just ten of our favorites. Often, they happened out of the spotlight or on shoestring budgets as neighbors came together and made magic. They do not represent an exhaustive list; we could have easily added ten more, from the New Haven Free Public Library scoring the nation's top library honor to social justice theater that stuck its landing every time to drag fundraisers that raised the roof in hundred-degree heat.
So here are just a few. Happy 2020!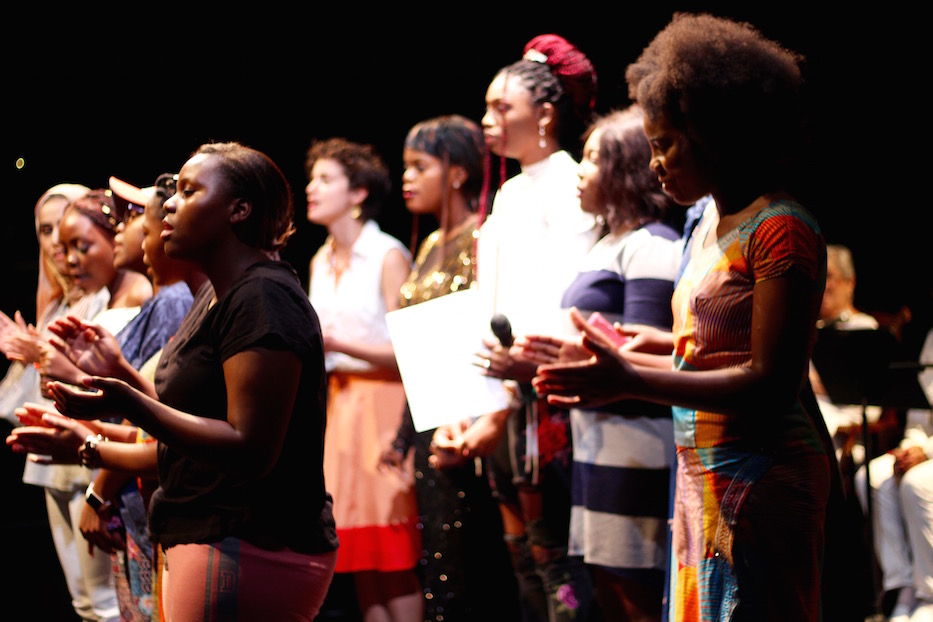 At the beginning of July, dozens of New Haveners bridged decades and bared souls as part of the New Haven Play Project, the culmination of a year of partnerships between Long Wharf Theatre, the Connecticut Mental Health Center (CMHC), Integrated Refugee and Immigrant Services (IRIS), Tower One Tower East, and Youth Continuum. As they spanned drug addiction, housing insecurity, mental illness, decades-old migration stories and current refugee narratives, performances were honest, often hard to stomach, and deeply vulnerable.
The project dovetailed with an evolving vision for Long Wharf Theatre that centers the community. In February of this year, the theater officially welcomed Artistic Director Jacob Padrón, who was appointed to the position in Nov. 2018. Within months, Padrón was sculpting a Long Wharf that felt palpably different on stage and off, with bold artistic leadership and work that looked increasingly more like New Haven.
After opening with the world premiere of Ricardo Pérez González' On The Grounds of Belonging, the theater kept that momentum going with a spirited, economical and punchy Pride & Prejudice and the inaugural "Strength Within Me" celebration this December.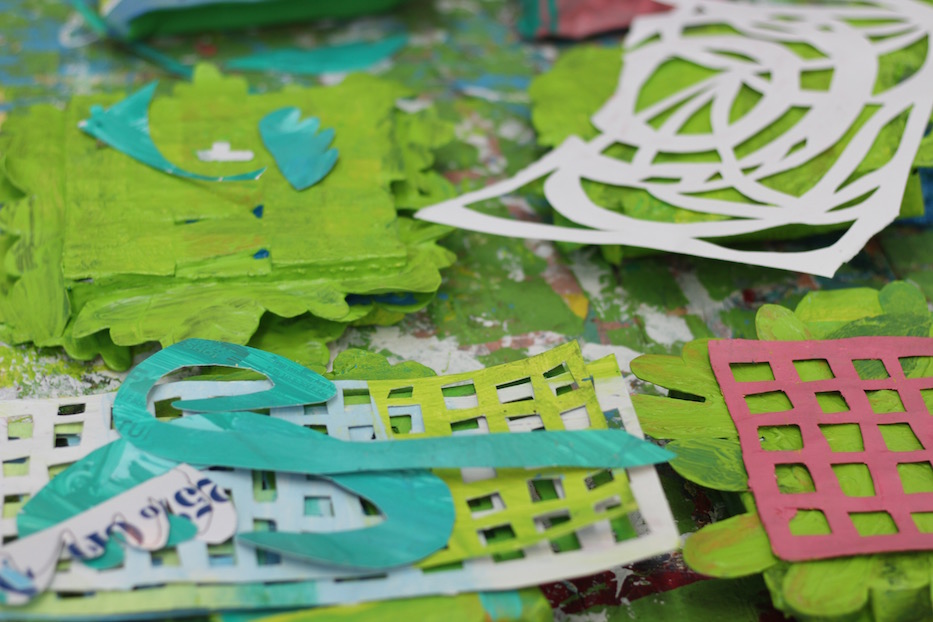 In response to reader feedback earlier this year, we began a series of studio visits in August with the goal of running at least one per month. With one exception, we made that quota—but also have the goal of returning for more in 2020. In part, we found that they were a good way to discover how spread out the artistic community is, not just in New Haven but also in the region.
So far, we have talked to artist and photographer Kim Weston, the effervescent Molly Gambardella (whose compositions literally bloom), Westvillian Noé Jimenez, Bridgeport painter and sculptor Marcella Kurowski, Meriden-based painter Eddie Rivera, and a number of artists who have studios in the MarlinWorks Building.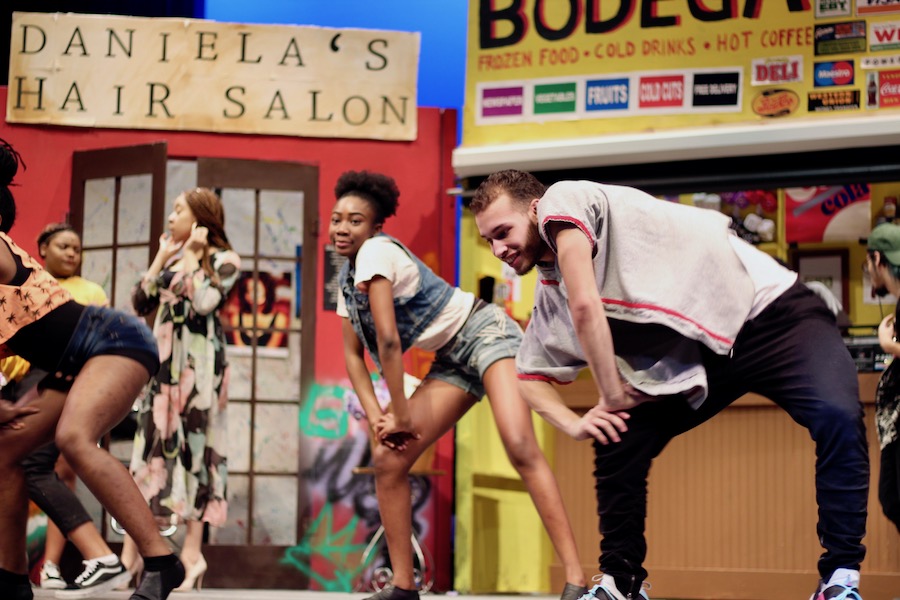 In March, a cast and crew of over 90 students at Cooperative Arts & Humanities High School brought Lin-Manuel Miranda's musical to their stage, and made it into a play about New Haven and New Haveners. Two weeks later, Collective Consciousness showed that history keeps repeating itself in a cycle that In The Heights had identified with song and dance.
Co-directed by Co-Op teacher Rob Esposito and Nathan Hale teacher Briana Bellinger-Dawson, In The Heights opened a discussion about representation, property rights, gentrification, and personal narrative in a school where educators are still overwhelmingly white. It hit home for students who grew up in parts of the city that aren't too unlike Manhattan's Washington Heights neighborhood, where "revitalization" is sometimes a euphemism for white people aggressively buying property.
At the end of the same month, CCT opened The Royale on the story of Jay "The Sport" Jackson (a dazzling Christopher Bethune in his CCT debut), the heavyweight champion of the Black boxing world. Over 100 years later, it showed New Haven audiences an image of world that still hasn't figured out race and racism. Without trying to do so, the two performances ignited a conversation about New Haven's own place within the matrix of structural racism, whiteness, and discrimination that runs from affordable housing to the sports world.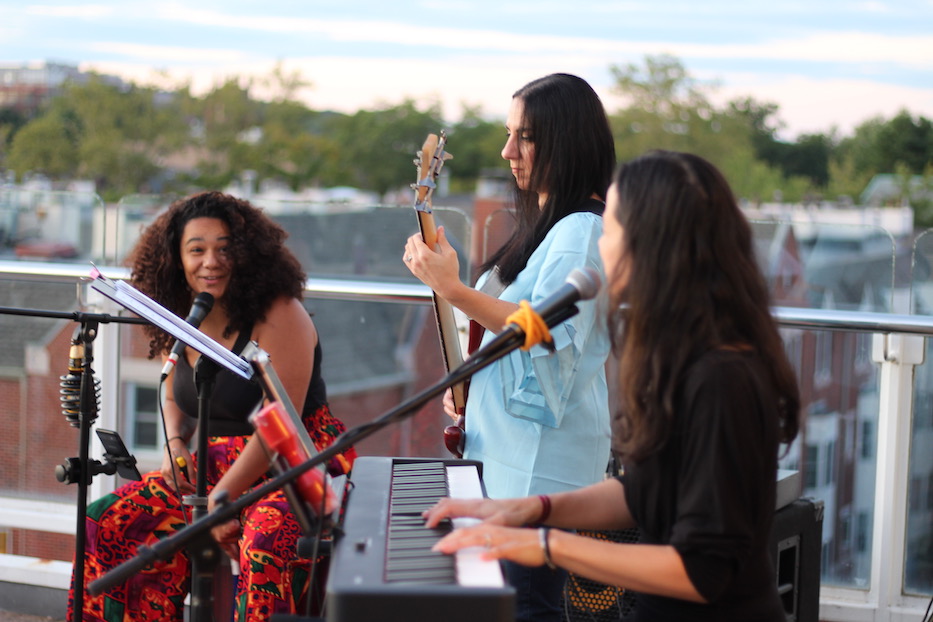 This new jazz pop-up-meets-hot-club-meets-front-porch was born in September of this year, with a sequel in December. It is organized by New Haven Independent Arts Editor Brian Slattery and Inner-City News Editor Babz Rawls-Ivy, who met four years ago through their work at WNHH-LP Community Radio (103.5 New Haven). In September, attendees were wowed with a rooftop concert soaked in bossa nova.
In December, a small but mighty crowd braved the rain as a tap dancer stepped in (yes, literally) for the percussion section. The next event is scheduled for February, around Valentine's Day.
"It's a dream we wanted to do," Rawls-Ivy said at the first event. "We didn't want to charge. We didn't even want it to be a charitable thing. We just wanted it to be a cool night. We don't know what it'll be in the future. We'll see."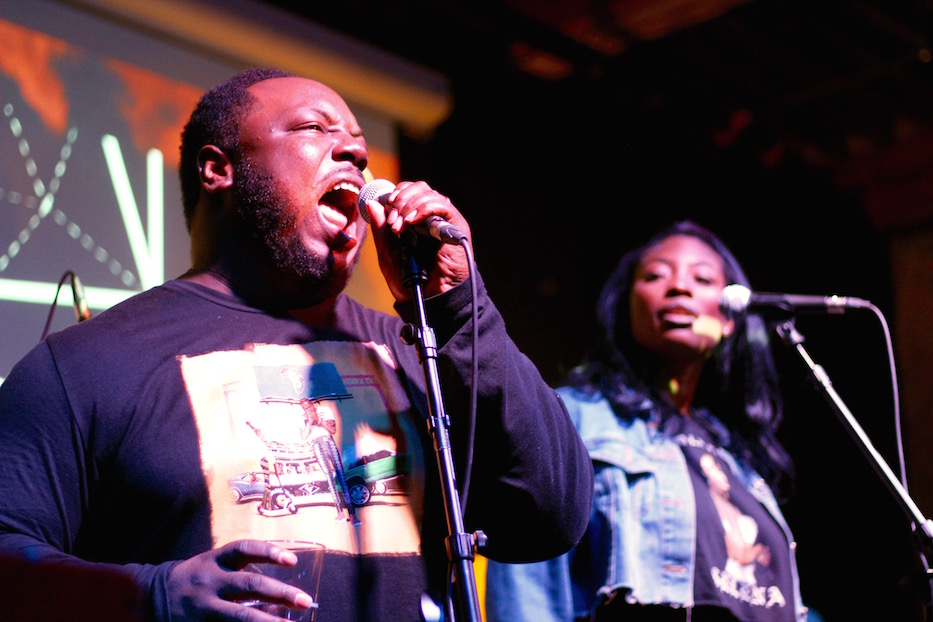 The mellifluous brainchild of musicians Paul Bryant Hudson and Jeremiah Fuller, the jam sessions began earlier this year as a way to give musicians room to play with each other in a relaxed, non-competitive environment. The original idea was simple: a core group of musicians would come with equipment, the venue would provide mics and lighting, and anyone who wanted to participate could. But it was also some of the best, tightest music we heard around town all year—and it came from local musicians.
At the first jam session in late July, over 100 people showed up and played late into the night. The night after Thanksgiving, another gave New Haveners four hours of reasons to be grateful. The sessions have grown each time, with the most recent one drawing dozens of musicians. The events return in 2020, and we're already excited for the next one.
Also amazing at The State House this year: a first birthday party that had us dancing for over four hours and Ceschi's Sad, Fat Luck release show in April.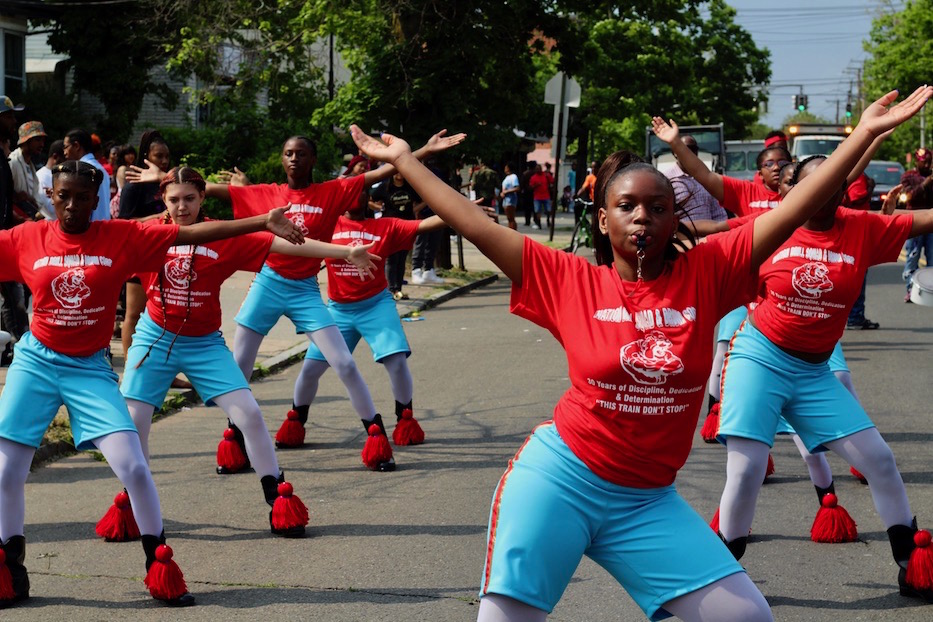 This summer marked the 55th annual Elm City Freddy Fixer Parade, pushed to June for one of the first times in its history. Held under the theme "Our Village Legacy," the parade brought out thousands of New Haveners to Dixwell Avenue, where over 70 participating groups or "units" marched from Bassett Street down to a grandstand outside Dixwell Plaza.
It felt like a family reunion, over half a century in the making (the team later won an Arts Award for their work connecting the neighborhood). The drums set the tone for exuberant feet. The horns came in, floating over the Dixwell Avenue. Cheering started from hundreds decked out in their Sunday best. Old friends ran across the street to greet each other. Families hugged, danced together, and threw kids onto their shoulders. And at least one New Havener, Dougie Bethea, ended the day in tears.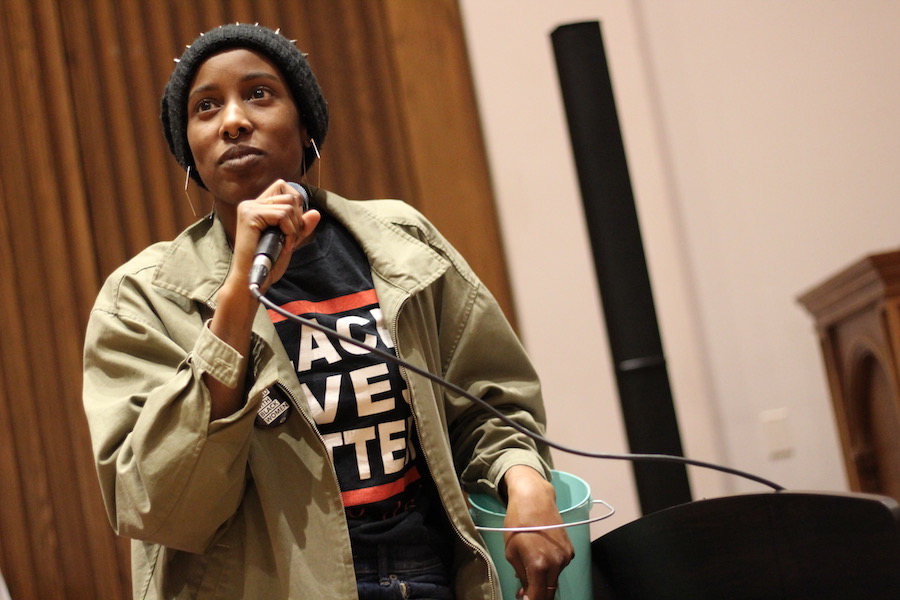 Two weeks after the officer-involved shooting of Stephanie Washington and Paul Witherspoon, poets, singer-songwriters and musicians turned First and Summerfield United Methodist Church into a stage for "Songs of Justice, Songs of Freedom." Organized by musician and Elm City Vineyard member Ruth Onyirimba (she performs as Ro Godwynn), the concert was intended to raise funds for the couple two weeks after the incident left Washington hospitalized.
And it did, to the tune of $789.12. By the end of the night, it doubled as a healing space for both those who had been attending near-constant protests and many who supported the protests but were unable to attend themselves.
"Let's talk about art as protest, first of all," Onyirimba said at the show. "Things like song and music can be used to put forward a point. But protest as art is also a thing. Art is something to be experienced, interpreted. The very act of yelling is an act of catharsis. And words hold power."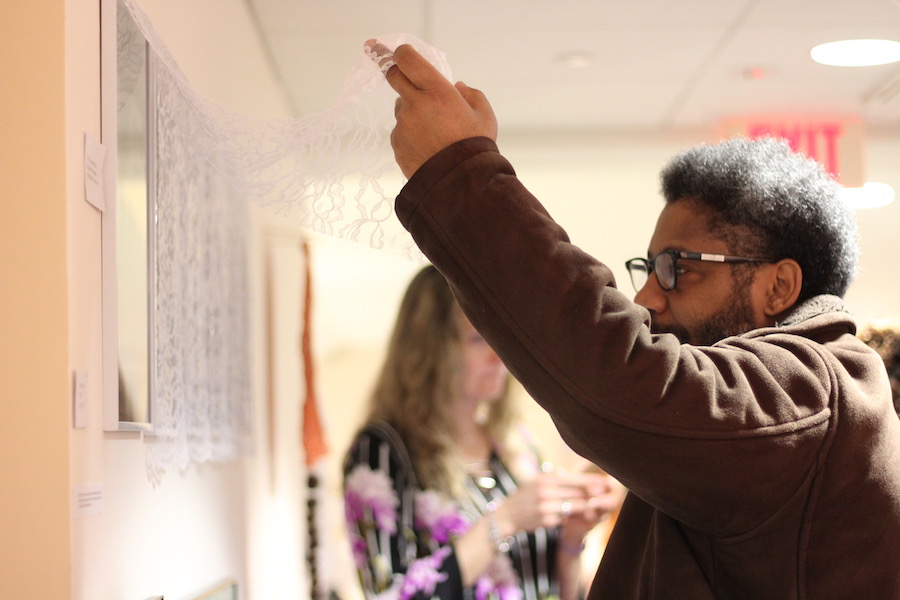 It's cool when exhibitions talk to each other. That's exactly what happened—quite unintentionally—this year in March, as Nasty Women Connecticut opened its third annual exhibition at the Yale Divinity School, and the Ely Center of Contemporary Art launched a celebration of the book Our Bodies, Ourselves decades after it was published.
The first, Complicit: Erasure of the Body, opened on a Friday at the Yale Divinity School to celebrate International Women's Day on March 8. The second, Our Bodies Ourselves, held a reception that Sunday. For the month of March, New Haveners ended up getting two exhibitions that explored, challenged, and discussed what it means to identify as female in the age of both #MeToo and the current occupant of the White House.
In particular, Nasty Women Connecticut worked to collaborate with more organizations, including Black Lives Matter New Haven and the New Haven Pride Center. As a result, the exhibitions pushed viewers—and the two respective institutions—to think about the shortcomings of feminism and structural racism endemic to its foundation. They became a sort of prelude to +Obias and +Isms at the New Haven Pride Center in June, which felt like a continuation of the same exploration at the only LGBTQ+ gallery in the state (as a footnote, the Pride Center deserves its own top ten, and we're working on that story for 2020).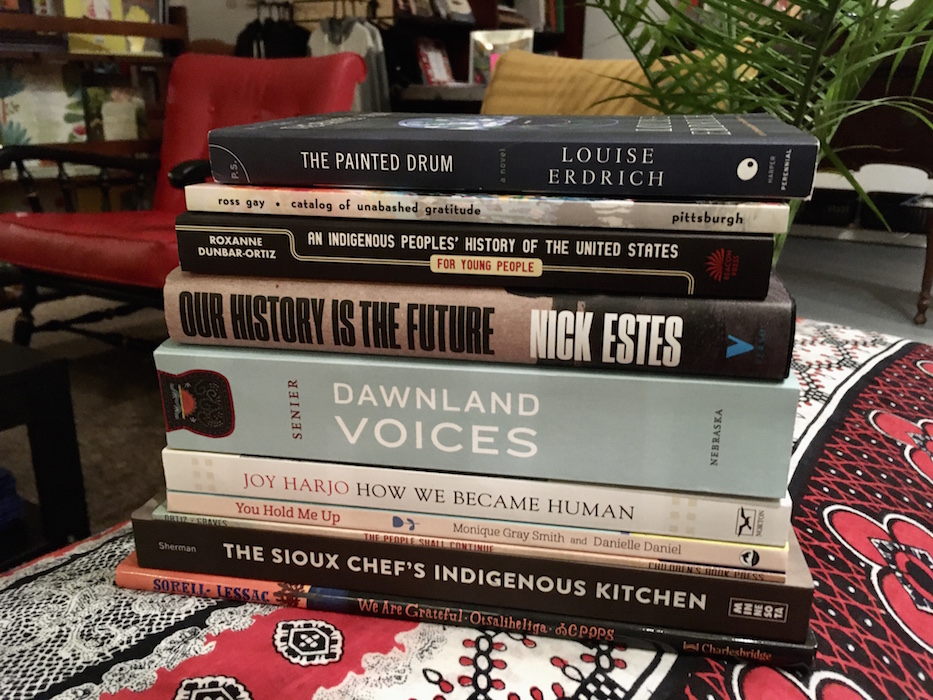 This gem is a still-nascent "bookspace" centering voices of color. In October, it landed on Whalley Avenue, in the space Music Haven once occupied beside St. Luke's Church. Co-founded by New Haveners Delores Williams and Lauren Anderson, the store is now open on Sunday afternoons, with a lineup of readings, film screenings, book club meetings and educational workshops on additional days.
Just a few months in, the two have worked in a focus on New Haveners as we;;: they carry books by local authors Abdul-Razak Zachariah (The Night Is Yours) and Genese Clark (Suddenly I Found It!), host a book club centering authors of color, and are working to support educators as well as readers of all ages in the area.
Our favorite thing this year gave us joy, taught us a bittersweet history lesson, and got us moving every single time. Sometimes it laded at a Blatchley Avenue police substation, and sometimes it was a senior center. Sometimes it hit Bregamos Community Theater and sometimes New Haven Green. As the year came to an end, it made it to a blackbox theatre and an educational Saturday academy in Fair Haven.
Across New Haven this year, Puerto Rican bomba pulsed through the city's veins, lending New Haven a vibrant and propulsive heartbeat. The dance, set to drums, is a form of communication that spread during the Afro-Caribbean slave trade. Through a system of call and response, dancers "talk" to drummers and percussionists without ever having to use words, moving their bodies, feet and their long, ruffled white skirts, hats, and wrapped hair as a form of speech.
It is a healing form, rallying cry, and old-school messaging network of both release and revolt, so clear in lyrics like "Cada día sufriendo más/si no bailo esta bomba, me voy a morir" ("Every day I'm suffering more/If I don't dance this bomba, I'm going to die"). This year, Movimiento Cultural, bomba veterans Sarahi Ayala and Carlos Cruz, and others brought the form to almost all of the city's neighborhoods.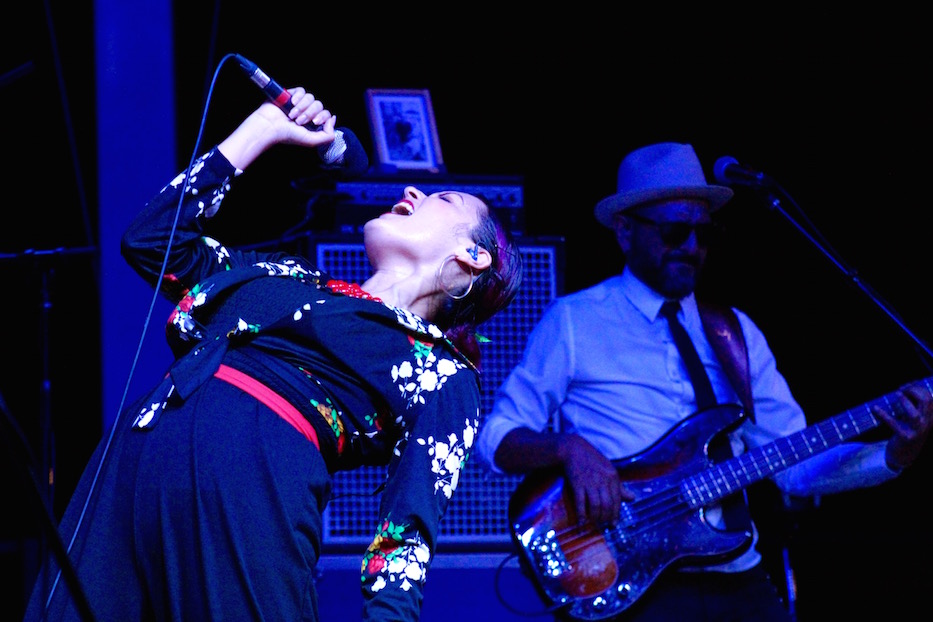 Surprise! We added an extra. If you made it to the end of this list, congratulations. This border-busting outdoor concert was everything that the Arts Paper has come to believe in. Just listen to the videos in the article and let them play you into next year.
Special thanks to reporters Leah Andelsmith, Jamiah Green, Jacquelyn Gleisner, Ashleigh Huckabey, and Shawn Murray for their work this year.