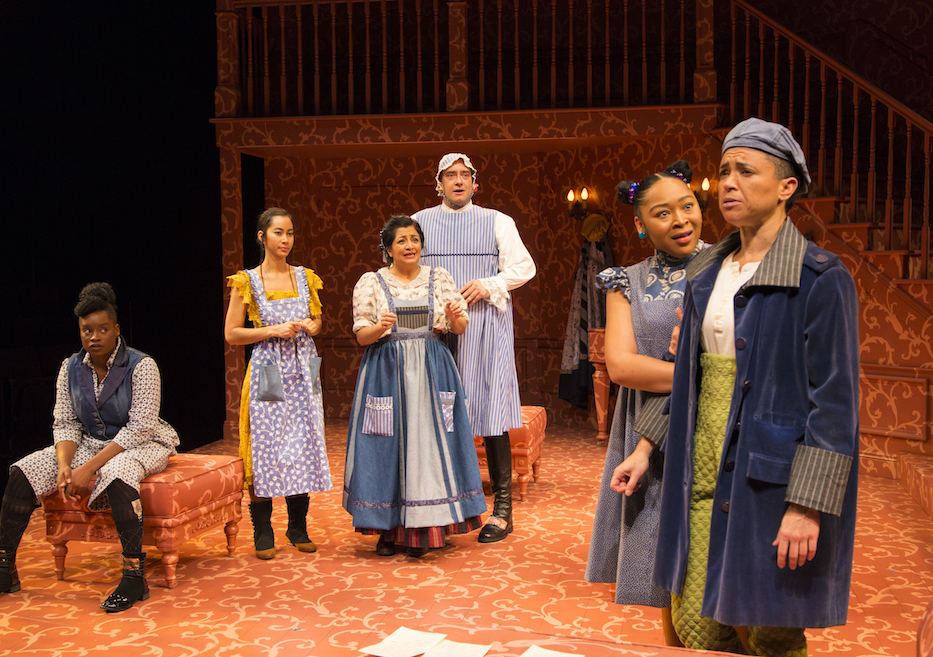 Long Wharf Theatre | Arts & Culture | Theater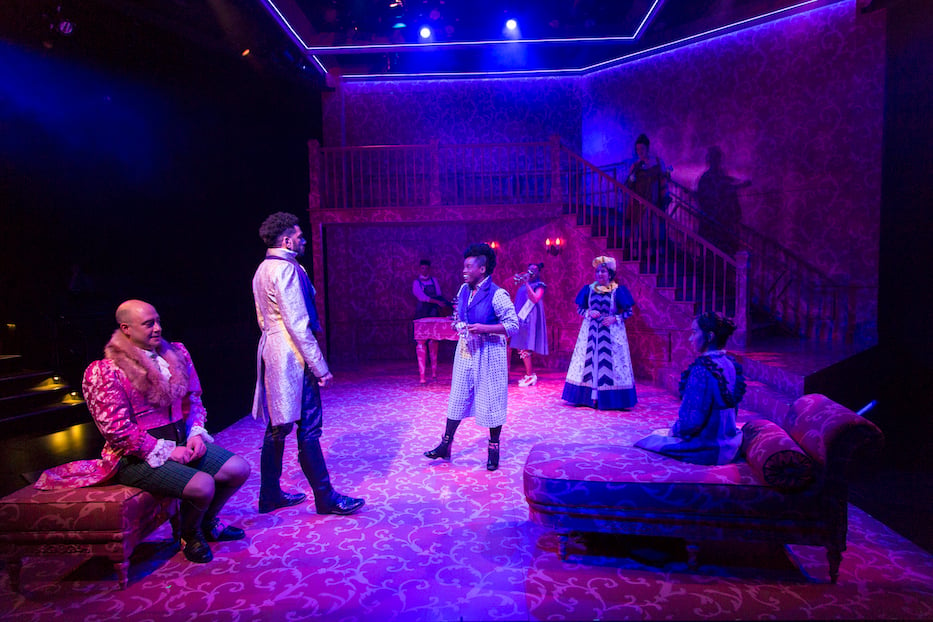 The cast of Pride and Prejudice, running at Long Wharf Theatre now through Dec. 22. T. Charles Erickson Photo.
The first thing one realizes about Pride and Prejudice, running at Long Wharf Theatre through Dec. 22, is that Jane Austen slays whether it's 1813 or 2019. The second is that her well-worn text is still fresh and expansive enough for another look.
Kate Hamill's Pride and Prejudice, now playing on Long Wharf's main stage, is a tidy and spirited adaptation of Austen's nineteenth-century classic. The show is directed by Jess McLeod with a cast that brings verve, humor, and moxie to the work. The show runs now through Dec. 22; tickets and more information are available here.
For audiences that don't know Pride and Prejudice—of which there is no shortage of adaptations, fanfiction, and spinoffs—the novel is a tale of manners, romance, and some serious ego-tripping (sorry not sorry, Darcy) that has a real love story at its core. As it opens on the English town of Meryton, the reader is acquainted with the five Bennet sisters, of whom Elizabeth or Lizzie is the second oldest and perhaps the most pugnacious. In the play, the five have been written down to four: Lizzie (Aneisa J. Hicks), Jane (Octavia Chavez-Richmond), Mary (a winning Luis Moreno), and Lydia (Dawn Elizabeth Clements, who also shines as a very haughty Lady Catherine de Bourgh).
The plot is a rom-com, Regency-style: rude man's man a.k.a. Fitzwilliam Darcy (Biko Eisen-Martin) bumps into headstrong woman a.k.a. Lizzie Bennet (or really, she into him), rude man offends woman, calls her home a dump and destroys her sister's engagement, watches as his hot and creepy ex-best friend (Brian Lee Huynh) sweeps her off her feet, and redeems himself but not before his ex-best-friend bangs her other sister. Then the rude man turns out to be not so rude, and the headstrong woman likes him after all. Wedding bells chime!
In the thick of all of it, the Bennet matriarch (Maria Elizabeth Ramirez) is fixated on getting her daughters married and out of the house, willing to sell them to the bidder with the largest coffer (not a euphemism). Or any bidder. Her husband (Rami Margron) is sort of MIA except for when he's not. Fun, right?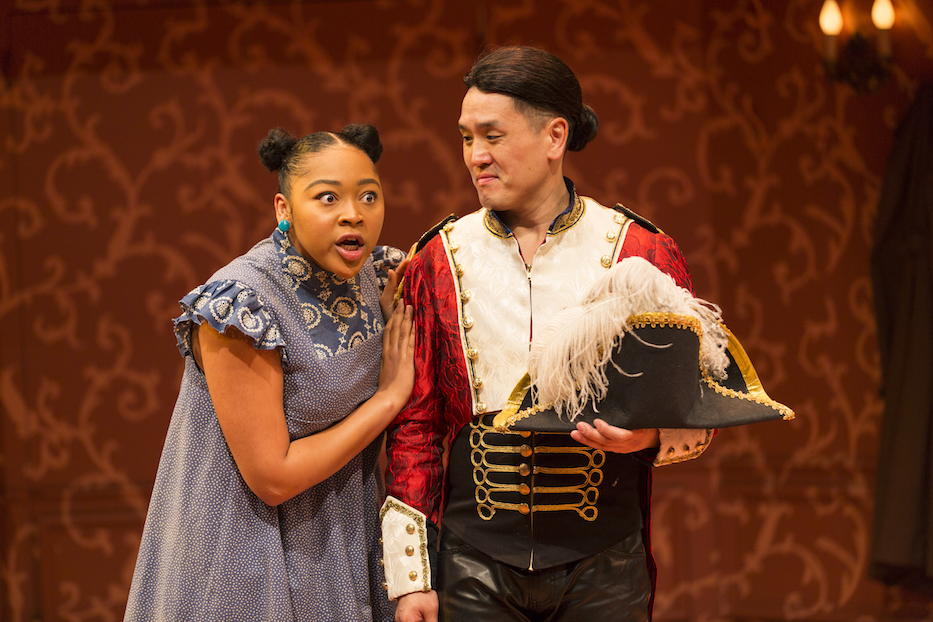 Dawn Elizabeth Clements and Brian Lee Huynh in Pride and Prejudice. T. Charles Erickson Photo.
Hamill's two-act adaptation, which condenses both the novel and the number of characters, gives Austen the gift of economy. A trip Lizzie takes to the big city with some relatives has disappeared, as have whole, month-long periods of frosty pseudo-courtship. The grand balls of the novel are scrapped, replaced with pink, rubber bouncy balls that get the trick done and make for a device that is as physically funny as it is clean.
The play, like the novel, draws so much of its richness from Austen's wit: she is salty and sarcastic, with female characters who think for themselves, turn down proposals for marriage, make mistakes, point out mistakes, and own up to them.
In this structure, McLeod has done a tremendous job, mining the text for its sweetness but also its farce, irreverence, wit and current resonance. From the moment the lights come up, characters are in motion, fusing period dance styles with a smooth, contemporary sort of sensibility. Their bodies conform to the English country dance and the scotch reel, but it also looks like they could cut the line and electrify a club at any time.
They have bucked the tradition, still pervasive in American theater, that whiteness is the assumed default unless otherwise stated. In a stew of lily-white adaptations (even in Bollywood's 2004 Bride and Prejudice, Darcy is still played by Disnefied sweetheart Martin Henderson), the cast is composed entirely of actors of color, with characters who suddenly reflect the city in which the play has landed. It's refreshing to see, and all the more meaningful because McLeod doesn't name it outright: she just invites the audience to see themselves in the show.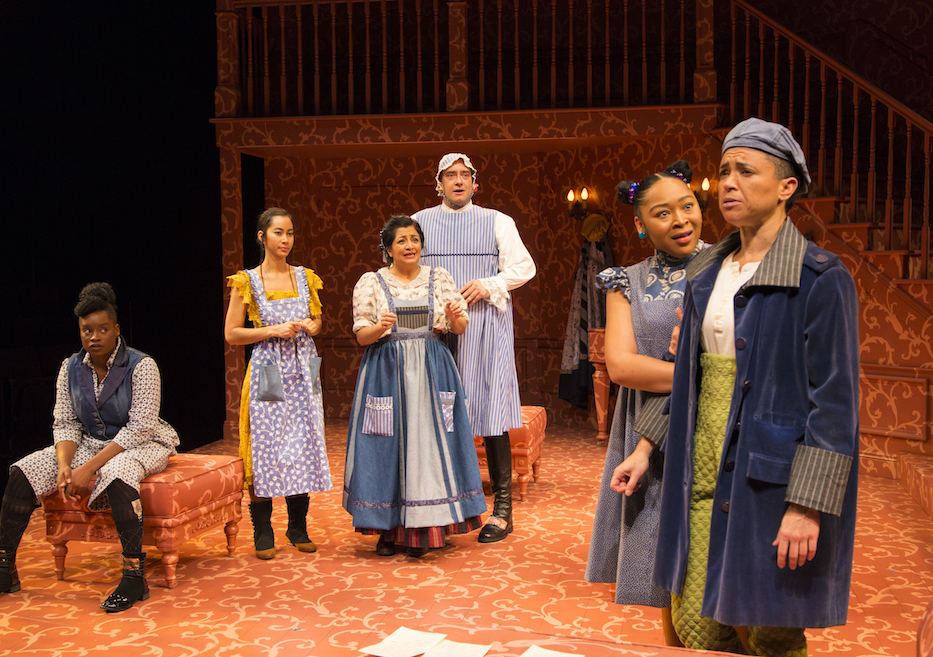 Aneisa J. Hicks, Octavia Chavez-Richmond, Maria Elena Ramirez, Luis Moreno, Dawn Elizabeth Clements, Rami Margron. T. Charles Erickson Photo.
The cast brings it to life, using role reversal and characters that collapse in on each other as a source of momentum. When Mary (Moreno) and Miss Bingley (Huynh) appear in drag, they peel away layers of literary amber in which their characters have been suspended. Moreno is funny and smart as he bounces between Mary and the dog-like, trusting Mr. Bingley who is Jane's love interest; he shrugs off the gender binary against which Lizzie so ardently rails to reveal norms that are completely arbitrary.
He brings a punchiness to Mary that the novel never did: this Mary knows she's homely and she's mad as hell about it. At one point, she makes a screaming, rushing reference to the Dreyfus Affair that is side-splittingly funny and jumbles period chronology just enough. Huynh, who also plays the unctuous heartthrob Mr. Wickham and ludicrous Mr. Collins, is equally nimble: his Miss Bingley can read a character for filth like nobody's business (and does many times, without hesitation), but he is an equally quick study in Wickham's slippery ways, and a Collins that operates with Princess Bride levels of farce and spot-on timing.
Under McLeod's swift direction, Ramirez' Mrs. Bennet is not reduced to the ditzy stereotype she often becomes, so much as a victim of gender norms, economic stratification, and internalized patriarchy that were very much a reality then, and still exist today. Across from her, Margron pulls off a switch between Mr. Bennet and Charlotte Lucas, Lizzie's friend and Mr. Collins' grudgingly pragmatic bride, that is both masterful and whip-smart, funny and biting as Lucas resigns herself to an unhappy but profitable marriage. It resonates in a contemporary theater, as the wedding industrial complex explodes when women could be ditching the socioeconomic trappings of marriage and history that comes with them.
The core of the show, in many ways, remains Lizzie's steadfast commitment to herself, and to her sisters. Hicks has brought all of herself to the role: she has the audience from the moment she's onstage, and she holds them with massive amounts of moxie. Her sense of timing is everything: her patterns of speech cut through old language, words bouncing between the cast with extraordinary bite and cadence and often equal humor.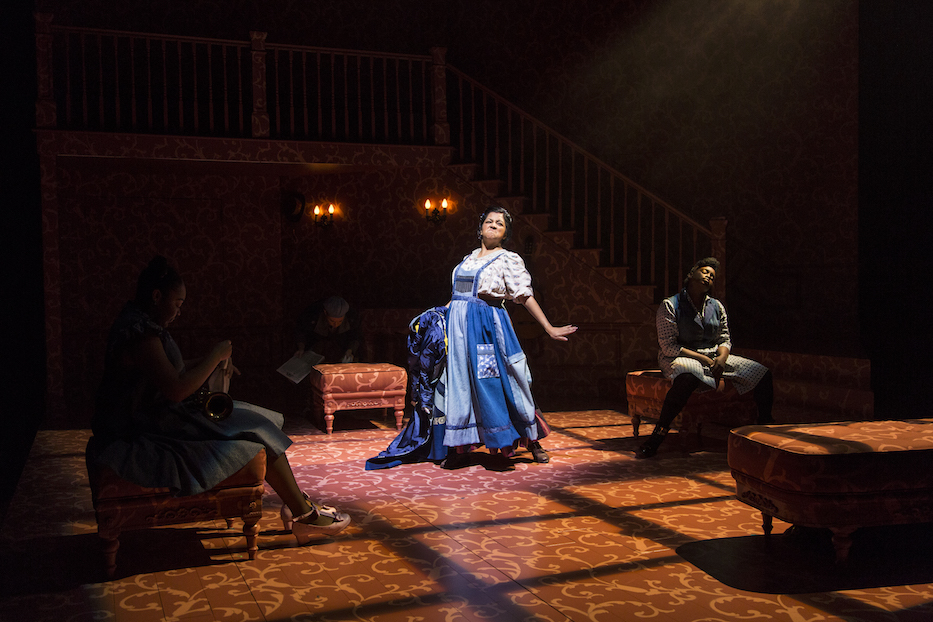 Dawn Elizabeth Clements, Rami Margron, Maria Elena Ramirez, and Aneisa J. Hicks. T. Charles Erickson Photo.
So too does Eisen-Martin, who has taken on Darcy's way of stepping into a room, and making everything around him stop. Yes, he fundamentally gets Darcy—tactless and pompous and also surprisingly sensitive—but it's more than that. His bumbling chemistry with Hicks freezes whole moments, leaving them clear in one's mind well after the show has ended. This is a story that doesn't feel tired or covered in dust, but ready for a retelling.
In this way, Long Wharf has produced a Pride and Prejudice that is for everyone, time-tested and inventive all at once. Costumes by Izumi Inaba are fresh and surprising, suspending this world between past and present. A pepto-bismol pink Regency-era interior by Gerardo Díaz Sánchez expands the fantasy, as does lighting from Jennifer Fok and a propulsive earworm of a background from sound designer Megumi Katayama, who has composed original music for the show that keeps it bumping and electric.
It feels like a much-needed balm for the stage, where the flames from last year's Hnathian attempt to write women intelligently may still be smoldering somewhere by the emergency exit. This sticks its landing: it shows that love is still a leap of faith, but it comes with a sticky, complicated and not-totally-resolved baggage that has around for two centuries. There's still a socioeconomic ceiling. The Bennet girls (mostly) get their happy endings, but Lucas doesn't. It's sweet, with enough bite to keep one coming back to it after the curtain has closed.