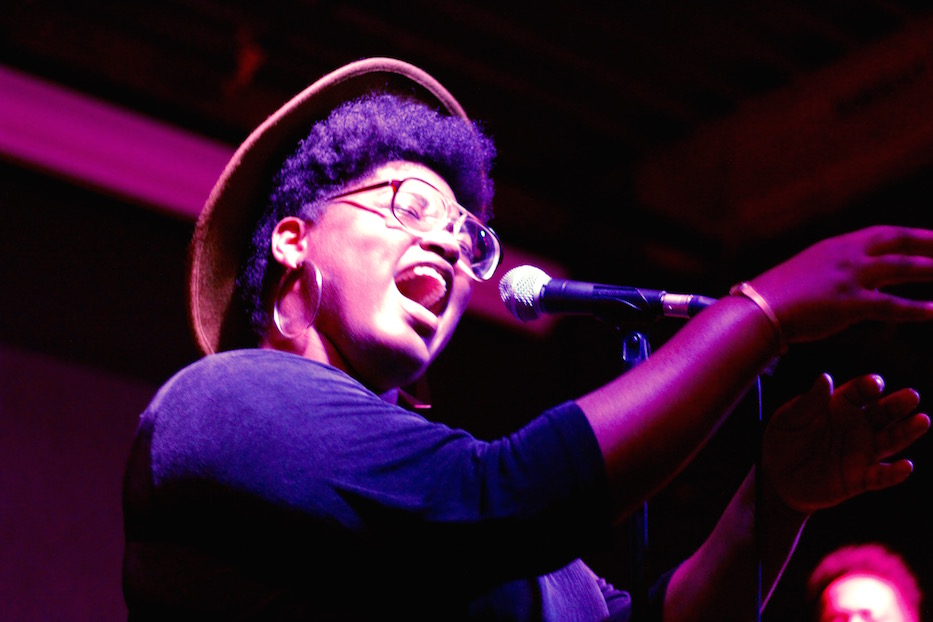 Music | Arts & Culture | The State House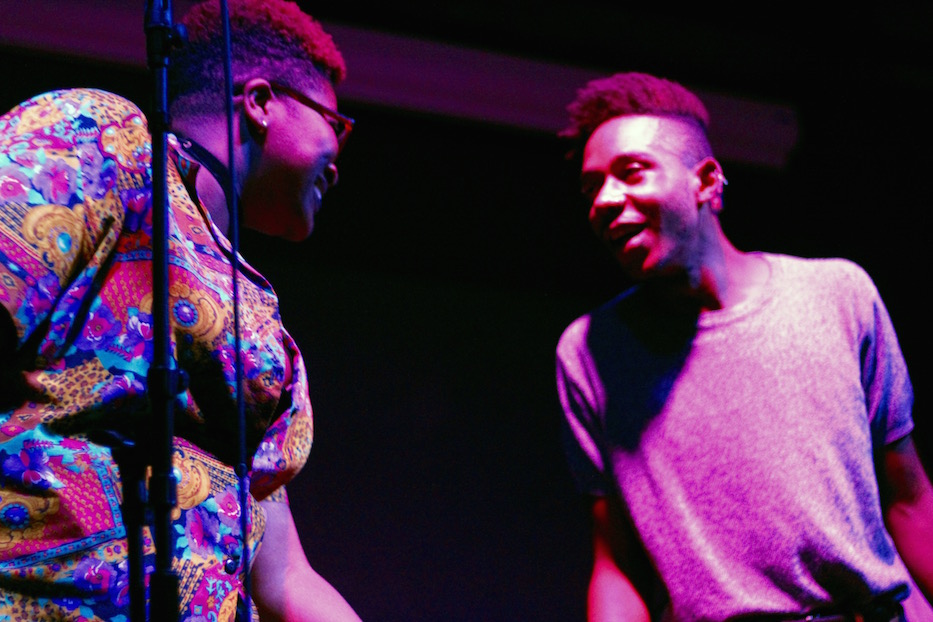 Dee Davis and Kezia Waters. Lucy Gellman Photos. Video at the bottom.
The stage was already on fire by the time Loveland Richards took the mic. She hummed a few notes, nodding to Jeremiah Fuller to slow down the tempo. Then she made a motion to the side of the stage, motioning for Thabisa to come up the stairs. They hadn't rehearsed any of it, and that was exactly the way it was supposed to be.
Friday night, The State House held its first-ever Summer Jam Sesh, a four-hour, improvised groove session and music lovefest organized by Fuller and fellow musician Paul Bryant Hudson. Equal parts jazz, cypher, intense jam and magic, the event brought out over 100 attendees, many of whom performed before the night was over. Fuller said he and Hudson are interested in making the sessions into a monthly occurrence at the venue.
"It's not a show," said Hudson, who grew up in New Haven and has been making music in the city for over a decade. "It's not for the audience. It's for the musicians. It's an invitation to create and be together."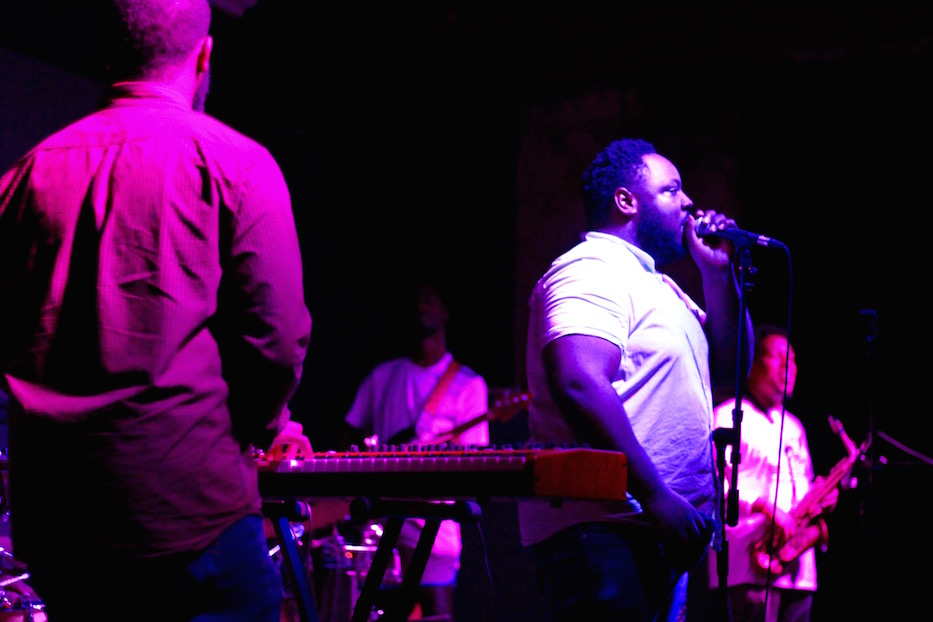 He added that he sees jam sessions as an invitation for musicians to meet, reunite, and try new material—and embrace the permission to fail if that's what they're looking for. It's also a reunion: Hudson described the ensemble onstage at the beginning of the night as "hands down, the best musicians I know."
As he spoke, they made their way onto the stage: Stephen Gritz King on alto saxophone, Trey Moore on bass, Dylan McDonnell on flute and saxophone, Tommy Carter and Albear Sheffield on drums, Dwele Coore and Fuller on keys.
They assembled their gear, chatting one last time before letting music replace any words that had been necessary. By the doors, some attendees trickled in with big instrument cases on their backs or no cases at all. Friends milled around the bar, exchanged hugs and hellos and wove around tables that had been set up in the center of the room. Their smiles bounced and flickered in a low candlelight.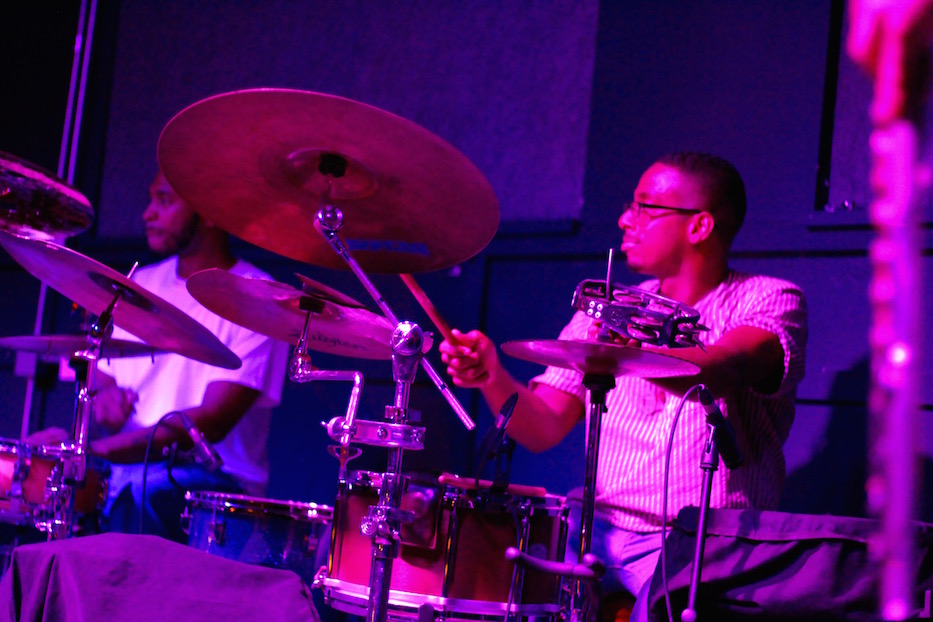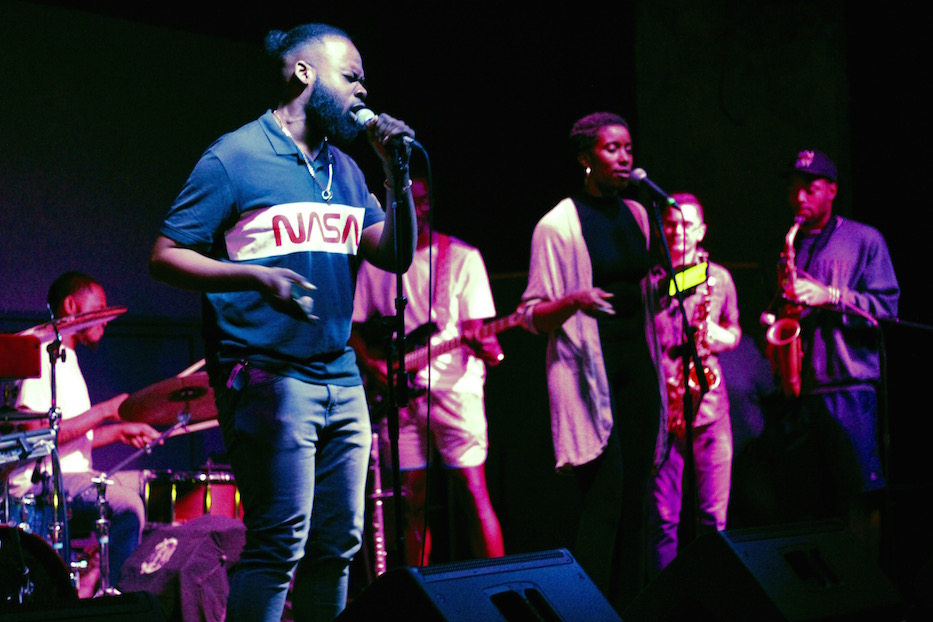 Onstage, the magic started quietly. Carter and Sheffield set a drumbeat that vibrated all the way through the floorboards. As they eased into a groove, the two transformed, musical twins shifting their drumsticks and pedals at just the right moments. Moore edged his way in note by note. At the far right of the stage, Gritz King and McDonnell put their heads together, one whispering to the other. They slid into a brassy, trilling wail.
Keys began to chatter with each other from the other side of the stage. A synth-soaked vibe loosed itself from Fuller's keyboard, landing as a grin exploded on his face. Coore answered with a flurry of sound, bobbing his head as his hands covered one end of the keyboard to the other. He slowed down, and then waited for the cue to speed up again. It always came.
That sense of experiment and propulsion kept the night going. Ten minutes into the first jam, Hudson took the stage for a slowed-down version of Nat King Cole's "Smile" that curled around each word. As musicians adjusted, he invited up musician Fernanda Franco, who plays in the local band Fate and has been gigging at Cafe Nine for the last few months.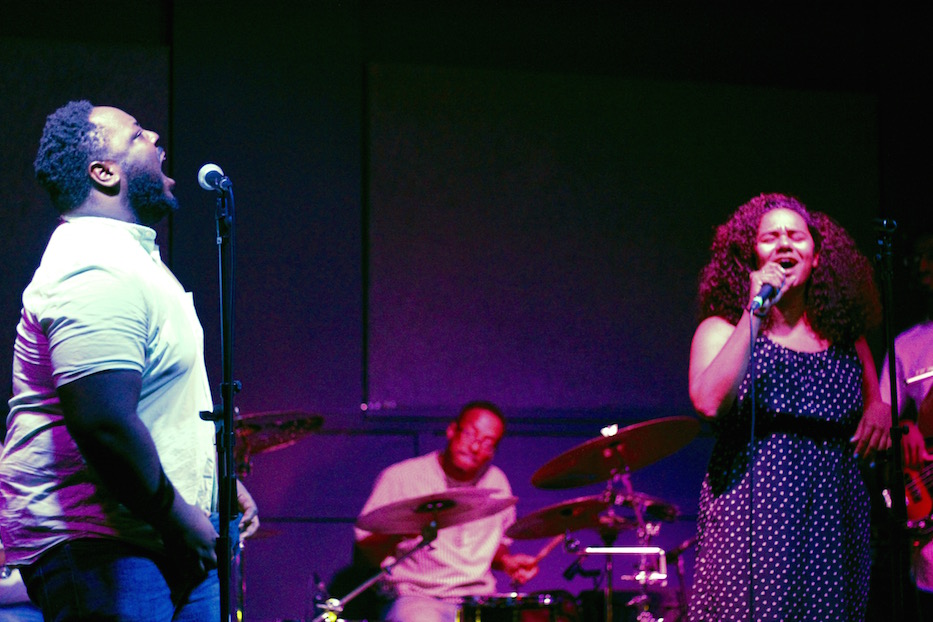 Just as quickly as it had materialized, "Smile" melted into Mary J. Blige's "Real Love," then into Lauryn Hill's "Doo-Wop." Musicians kept up, bobbing so hard with the music that they looked like they were davening. The two hadn't performed together before Friday, which is part of the idea.
"How many of y'all go to jazz jams?" asked Hudson at one point, a few attendees raising their hands or responding with cheers. He extended one hand toward where people were sitting. "This is our version of jazz jams. This is like, New Haven improv at its finest."
Onstage, musicians were just getting started. Gritz King stepped up to the mic, his alto sax glinting around his neck. "Just sing whatever notes I play," he suggested. The audience responded with a chorus of la and das. Drum solos became fast, stuttering heartbeats and deep proclamations of love. Fuller and Coore talked to each other in a series of fast keystrokes, one always ready with an answer.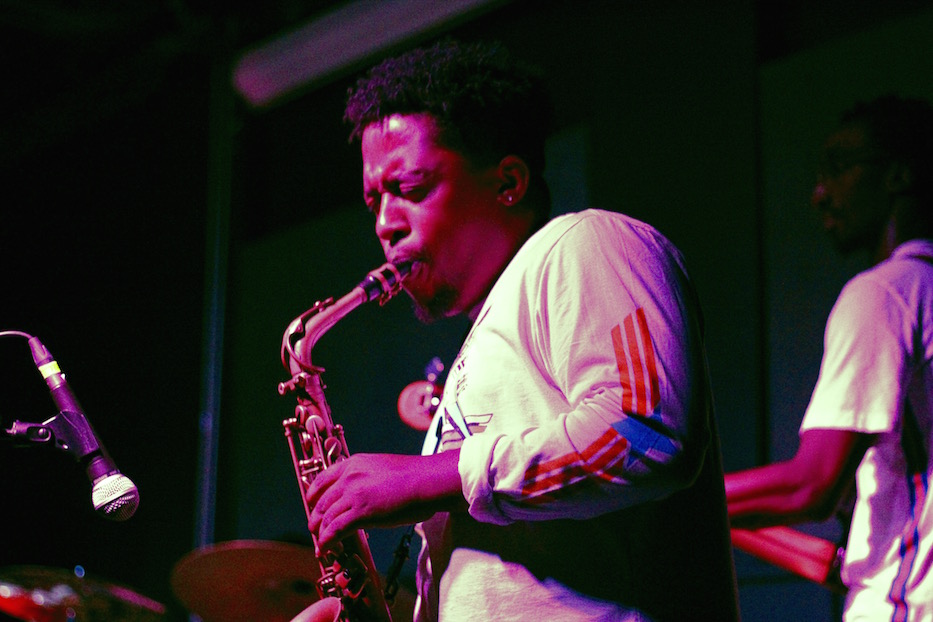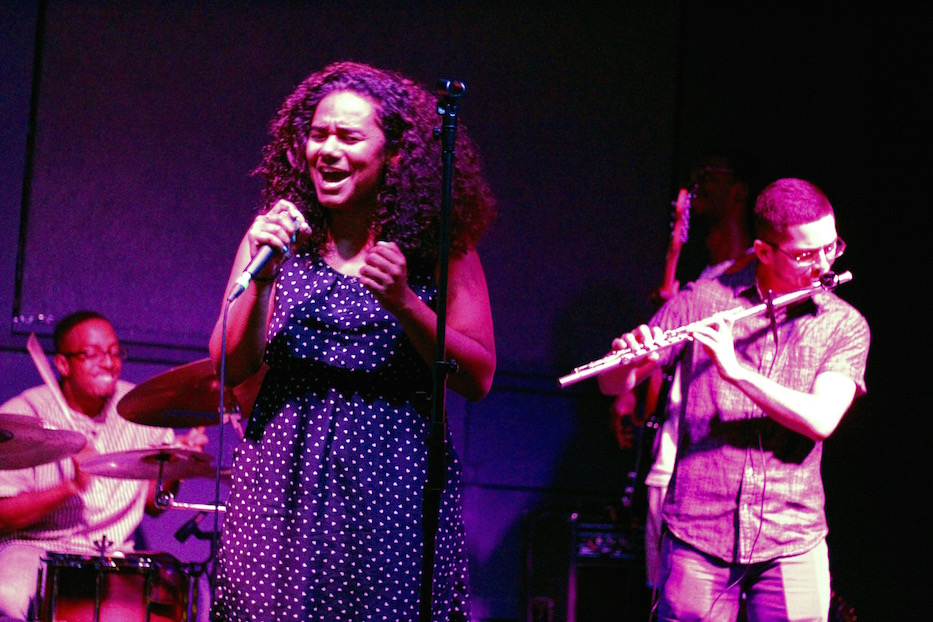 At the bar during a short intermission, Franco said that she valued the space as a musician who is constantly growing. A relatively new transplant to the city, she has been experiencing New Haven through music already. But Friday gave her the chance to meet new musicians in a place she said felt safe and welcoming.
Back near the front, Hudson coordinated the jam, lining up musicians who wanted to get onstage. No sooner had they formed some sort of line than Lovelind Richards bounded up the stairs, nodding to the beat that Fuller had laid out. She offered up a few notes to the audience, greeted with cheers. Then she whispered something to Fuller, and pulled Thabisa onstage.
"Well sometimes I go out by myself/And I look across the water…" Richards crooned. "And I think of all the things, what you're doing/And in my head I paint a picture…."
Then something shifted. Thabisa had made her way over to the second mic, then turned around to the musicians, as if to say, pick up the pace. She flashed the audience a grin in a pair of sunglasses, and started to belt. She repeated the first verses of the song, snapping her fingers. At the front of the room, someone yelled "Bless us!"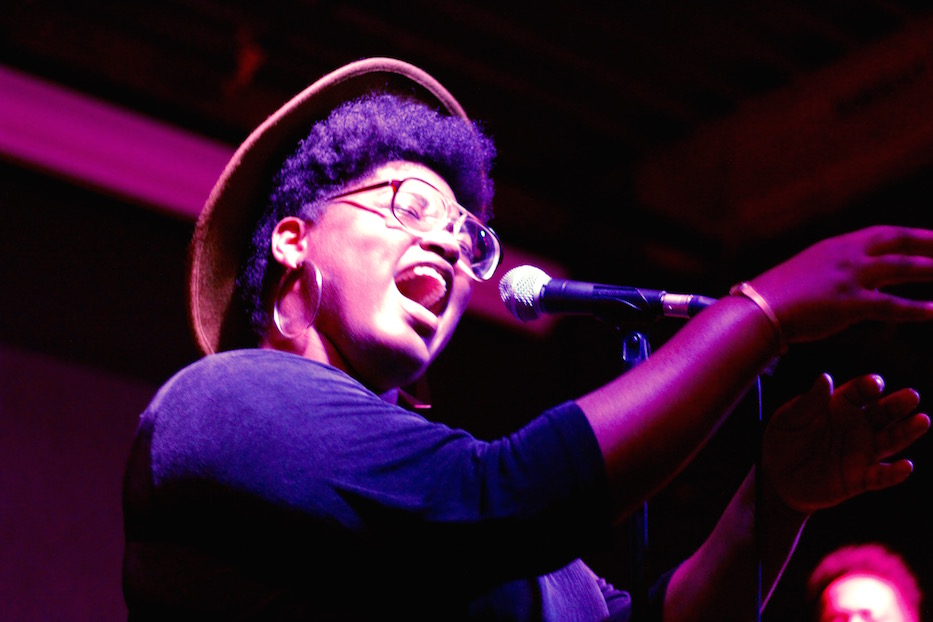 Drummer Logan Sidle, who had slipped into Sheffield's spot, shot Carter a quick look. Carter nodded back and the two moved right into prime Amy Winehouse territory. Fuller exploded into a big smile, and hit the keys running. Richards and Thabisa eased into a hip-swinging, fully danceable version of "Valerie," attendees clapping and cheering as they sang.
From Amy Winehouse, musicians folded in Gnarls Barkley, Bobby Caldwell and Common, Blackstreet and The Gap Band among others. At one point, vocalists Kezia Waters and Dee Davis sank so far into "Crazy" that Waters bent back in a graceful C, never letting go of the mic. At another, a new sax player hopped on the stage and fell into line with Gritz King, the two exchanging quick words between riffs.
By the time the clock hit midnight, it felt like the party was just getting started. The Let Loose, fresh off Cafe Nine's stage, lined up to jam to cheers. Finn Wiggins-Henry (The Art of Huckleberry) took everyone to church with a slowed version of The Gap Band's "Outstanding," dripping honey as she reached out toward the audience with each word. Ro Godwynn became so soulful that she seemed transported to another universe entirely, eyes closed as she sang.
Even as the room thinned out, energy stayed high, the lock-step of vocals and drums audible all the way out to State Street. Fuller said he's already looking forward to the next jam session, at which he hopes to include local vendors.
"I'm crazy excited," he added.