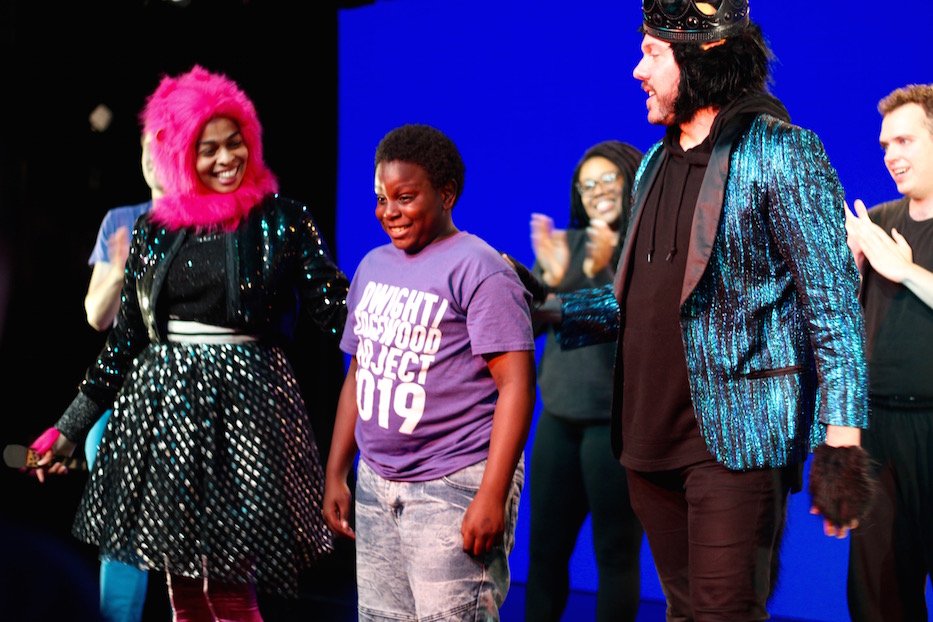 Education & Youth | Arts & Culture | New Haven Public Schools | Theater | Yale School of Drama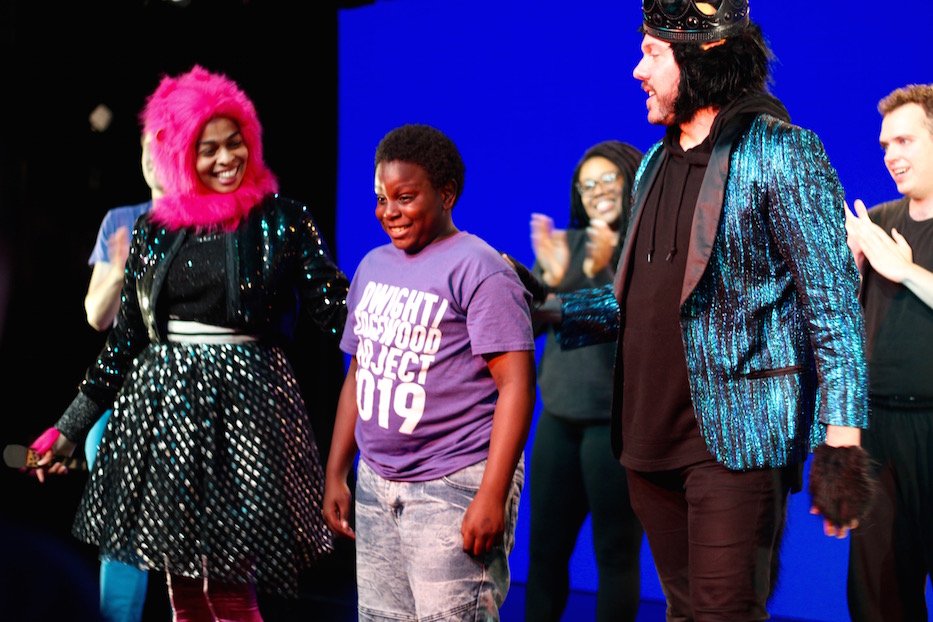 Actors/mentors David Mitsch and Adrienne Wells with playwright Antwain N. Johnson, Jr. Lucy Gellman Photos.
A rapping dolphin helps out a snake who just wants to do right by his grandfather. A talking, bilingual wad of purple gum gets stuck in the talons of a tropical bird—deliberately. A dinosaur and furry monster spar to heavy metal, then realize they have a lot in common after all.
An alien gives his prized possession away to a slug, so the slug's government won't take her three babies away. Two gorillas jam like there's no tomorrow. And all of them do it without ever leaving a room in New Haven.
These are just some of the stories that populate the 25th annual Dwight/Edgewood Project (DEP), a collaboration between the Yale School of Drama (YSD) and eight students-turned-playwrights from Barnard Environmental Studies Magnet School. For four weeks, students work one-on-one with a mentor from the Yale School of Drama to pitch, write and edit a play, which is then fully produced and acted by their mentor and one other YSD student.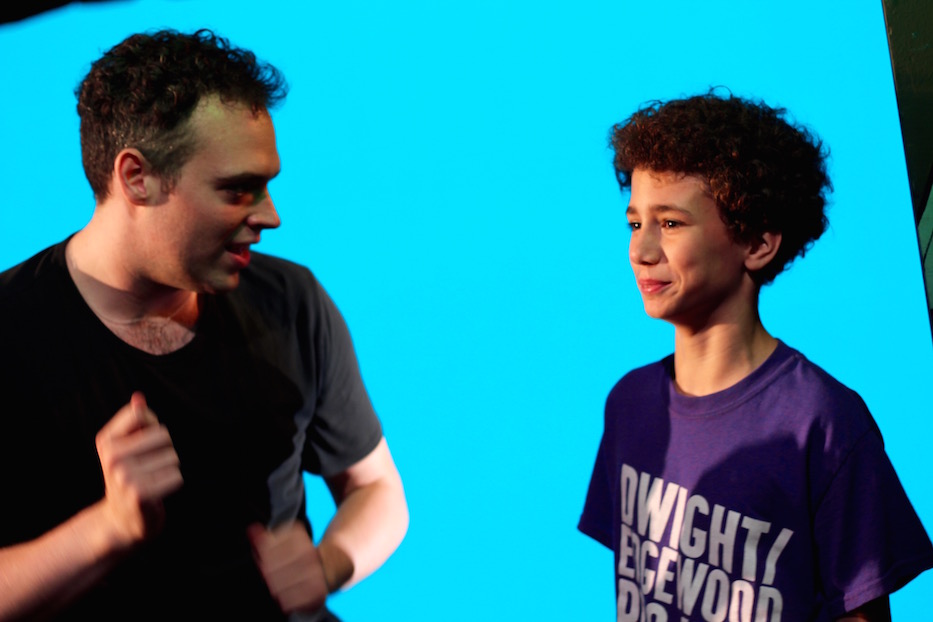 JJ McGlone with Isaac Dones, author of The Adventures of Ivory and Skulglena.
The program includes a weekend spent at a sleep-away camp, during which students both work on writing and learn about aspects of theater including sound, lighting, and production. It concludes with two nights of performances this Friday and Saturday at the Off Broadway Theater in downtown New Haven. Both performances begin at 7 p.m.
Friday night will include four short plays by students Celis Bell, Michelle Sagun, Julissa Gasca, and Jyce Relaford. Saturday night includes performances from Isaac Dones, Olivia Mack, Adriana Tristanis, and Antwain N. Johnson, Jr.
"It becomes a family really fast, and it's like they're all coming home," said Emalie Mayo, who has served as DEP project coordinator for the last five years. "It's amazing to watch shy kids come out of being really, really quiet to being confident, taking criticism, and giving notes—that's the backbone of the program."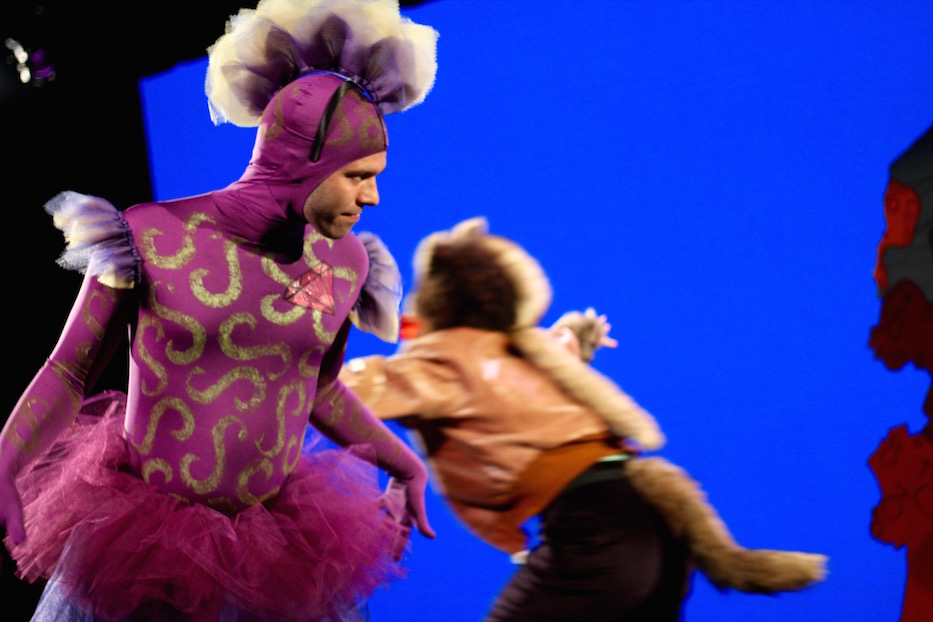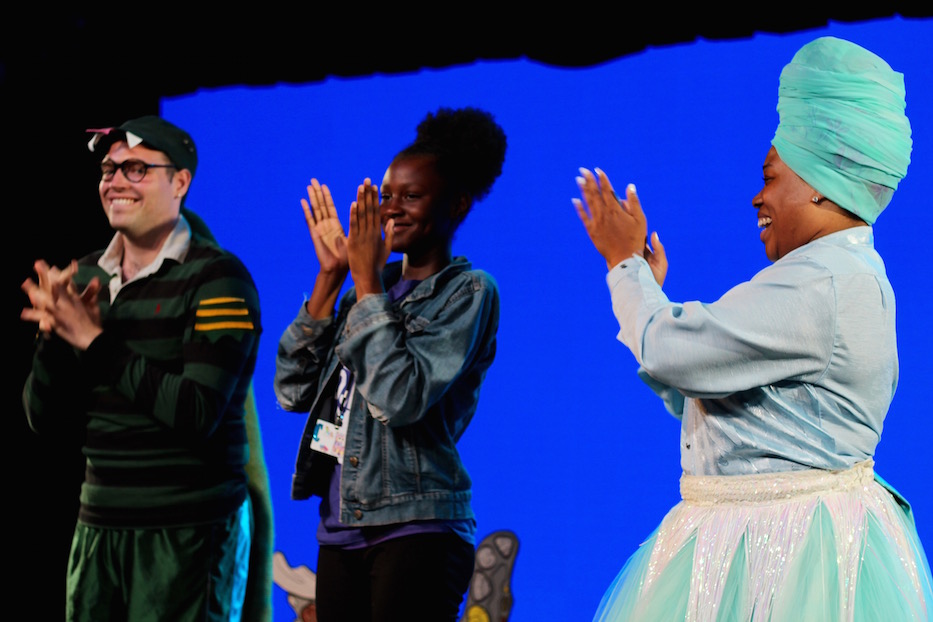 Top: Alex Lubischer in Michelle Sagun's Evil Ruby.
Bottom: Actors JJ McGlone and Alexandra Maurice with playwright Celis Bell.
This year, students have transformed the small theater into a place where magic can happen at any time—and frequently does. As the lights go down for the first time on Celis Bell's What You See Vs. What Is Me, viewers are transported to an underwater kingdom, where Snappy The Snake (JJ McGlone) and Whalley-Anne the Dolphin (Alexandra Maurice) come face-to-face with each other. Snappy is timid and lisping through sentences, desperate for affection; Whalley-Anne literally sparkles in shimmering blue, but worries that she won't make any friends in her new school.
It's a friendly meet cute with a middle school temperament: the two orbit each other with awkward and barbed conversation, confiding in their journals when everything seems to be going downhill. They try again, until they're finally getting somewhere. Whalley-Anne explains that she was hurt by an insult, because she's always been self conscious about the size of her big blue head. Snappy tells her he's been reeling from the death of his grandfather, who was strangled by a human while out for a swim.
Suddenly it doesn't seem like a far-flung underwater middle school at all, but the locker-lined hallway of any school in New Haven.
Each of the plays have that sensibility, very much alive with wisdom and candor. Several characters become unlikely allies: a cranky male dove who still dreams of his mother (David Mitsch) and young energetic penguin (Doireann Mac Mahon), an evil seahorse who isn't actually so evil (Alex Lubischer) and acorn-peddling squirrel who loses sight of her family (Adrienne Wells) only after it's too late, a camo-clad alien named Ivory (Adam Shaukat) who risks his reputation for another creature's wellbeing.
But not all of the plays have happy endings, stepping around the audience's need for resolution for something more interesting and much truer to life. In Julissa Gasca's extraordinary Connected Wishes, Chicle (a hysterical José Espinosa) is a Spanglish-spitting piece of grape gum who befriends Oliver Okkurrt the Bird (Adam Shaukat), in an unlikely pairing that leaves the two permanently changed, and Chicle's confidant Bean (played by a cardboard cutout of a lima bean) with a new best friend. It is touching and hilarious until it's also deeply existential, and hot tears are rolling fast down your face.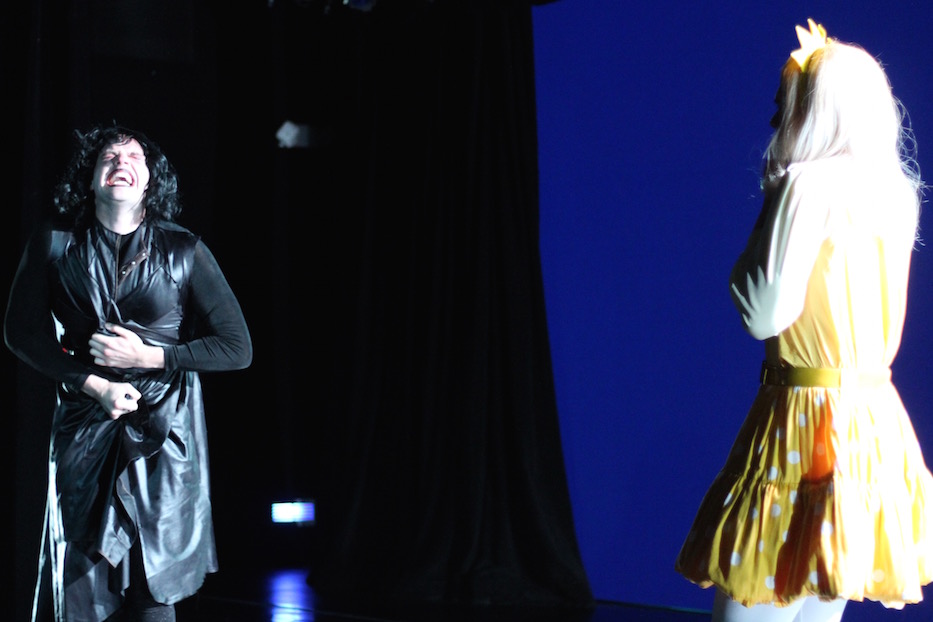 Or I, Black Dress, by sixth grader Adriana Tristanis. In the work, Luna and Aria (JJ McGlone and Alex Lubischer, both in drag) are best friends, haunted by the fact that the outside world does not want them to be together. The reason is entirely cosmetic: Luna, dressed in all black, is a shadow. Aria, clad in creams and bright yellows, is a sunlight. And Luna is the only shadow in their entire high school. When she comes back with a new dress that reinforces her shadow-ness, it literally begins to kill her.
It is searingly true to life—particularly in a city that became a national blueprint for urban renewal and redlining—with a macabre ending that keeps the viewer guessing. When Aria expresses outrage at the fact that the two are being pushed apart, her plea seems instantly relatable. When she delights at the dark, quiet wonder of Luna's side of town, she is every Wooster Square neighbor shedding their parents' NIMBYism on Grand Avenue. And when Luna is teased for her appearance, it cuts right to one's heart.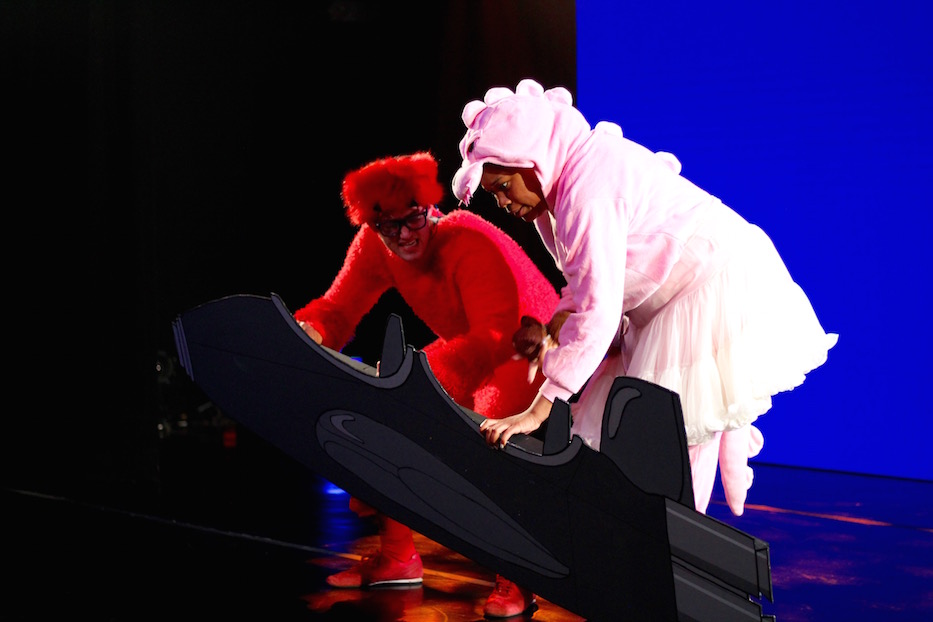 José Espinosa and Alexandra Maurice in Olivia Mack's The Weird Friendship.
While there is plenty of middle school humor there too—at least one character pees on himself, and it gets a laugh or ten—students have embraced this power to experiment, taking risks that some theater makers may never reach in their lifetimes.
Alexandra Maurice, a mentor who is a rising second-year at the Yale School of Drama, recalled watching students begin the program last moth with timidity and self-doubt, and grow into a cohort of wonderfully loud and brave playwrights. This year, bravery has been their theme, including a song that includes the lyrics "all you have to do is be brave/even if it's scary."
"For me, the best part of this program has been seeing this journey that all of these kids come in and wrestle with," she said at a final tech rehearsal on Friday. "When they come in, you can already sense that they've been socialized to be small. We give them space to be big and expressive."
"To watch them trust their own voices, and know that they are enough … it's been amazing," she added.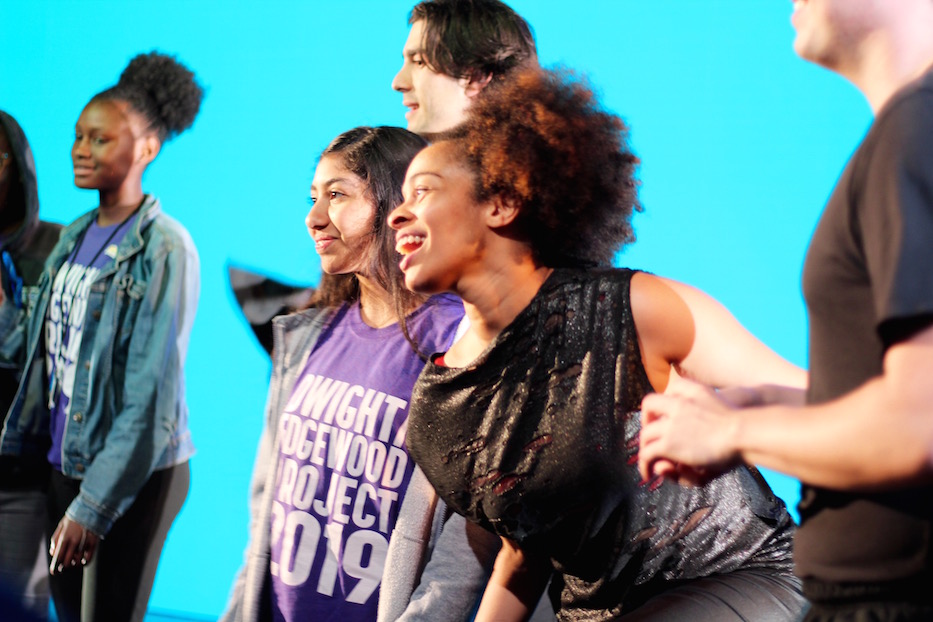 That sense of being enough has also resonated for Olivia Mack, for whom Maurice was a mentor. In her play The Weird Friendship, Andi The Dinosaur (Maurice) and Harry the "Harry" Monster (José Espinosa) meet on Bedtime Planet, where Andi fittingly clutches at her stuffed animal, sleeps a lot, and changes color when she gets scared.
Both are intrigued and a little skittish—Andi does not look like Harry and Harry does not look like her. There's also the fact that Harry is from another planet entirely, and wants to get back there. Is it possible they can get past their differences and be friends? Can they take their happenstance meeting as a chance to learn from each other?
When she was working on the script, Mack said she knew she wanted to show the audience that appearances only run skin-deep. She chose Andi's character because she likes dinosaurs, and made Harry red and furry for the same reason. She wanted their friendship to double as a message to the audience, she said.
"It doesn't matter what you look like, it matters how you act and how people act around you," she said. "It doesn't matter if you're tall and hairy or small, like a mouse. It just matters how you act."