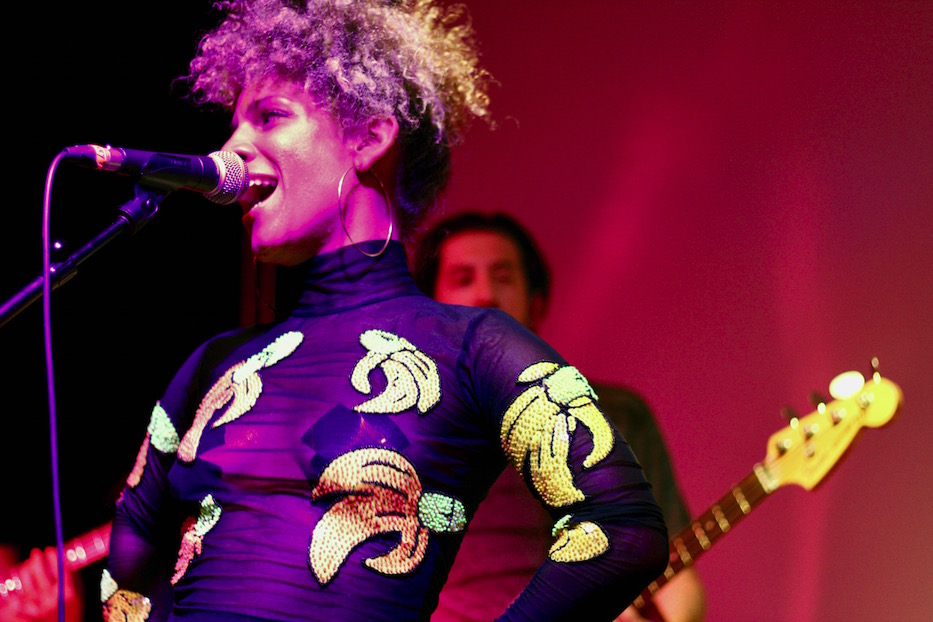 Music | Phat A$tronaut | Arts & Culture | Ninth Square | The State House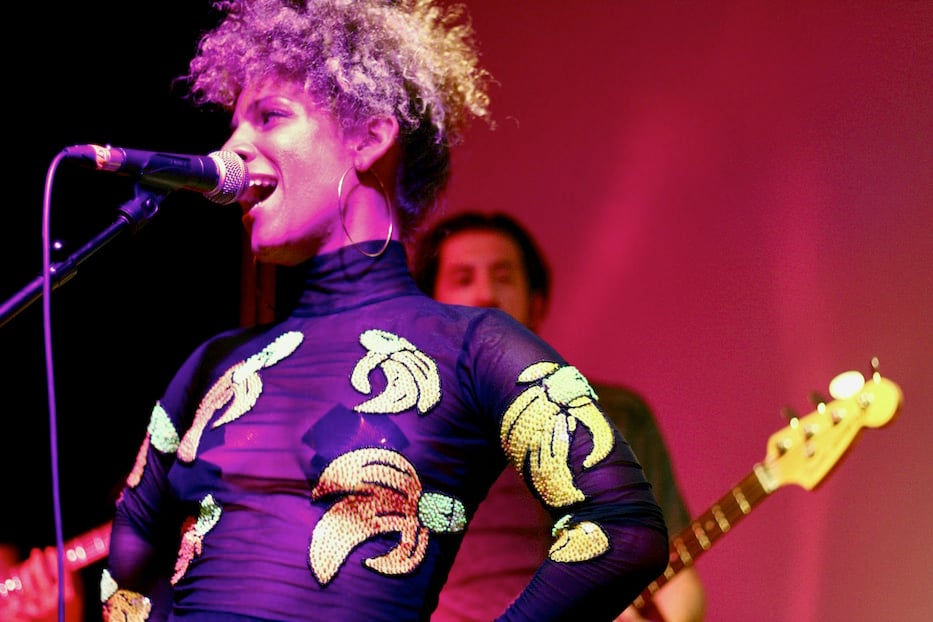 Underground System's Domenica Fossati looked out at the crowd and shook her head. No, this wouldn't do, she insisted. The audience was still too far away from the stage, and the song required participation. She motioned for attendees to come closer, a suite of bananas glittering from her top. A wave of bodies moved in, ready to dance. Fossati, her hands a clapping blur, gave them their next charge.
Friday, Underground System, Phat A$tronaut, and DJ Shaki brought a party to The State House for the venue's first anniversary celebration, filled with birthday benedictions, unbridled dancing and big love for the mid-sized venue that has cropped up in the Ninth Square. Over 100 came out for the show, which spanned cultures, genres and dance moves long before the clock ever struck midnight, and kept going well after it did.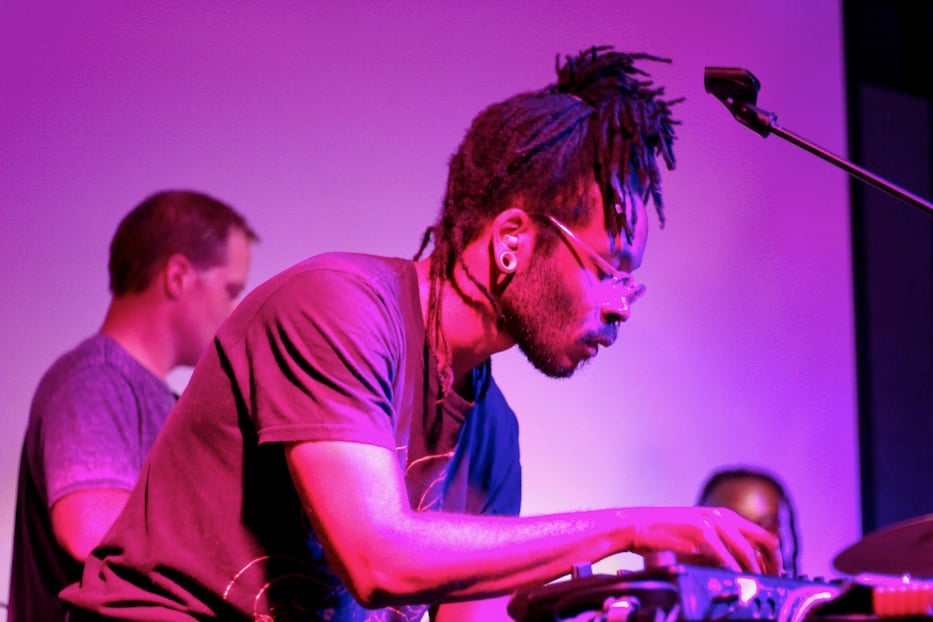 "It's been fun to look back on this year," said State House co-founder Slate Liu-Ballard, who opened the State House in June of last year (the first few performances were technically at The Grove) with co-founder and manager Carlos Wells and booking from New Havener Rick Omonte of Shaki Presents. "We sort of straddle this line between a bar and music venue and an arts organization. We have a drive and desire to mirror the diversity of New Haven, and I think we've done that."
Part of that has meant working with local musicians and promoters including Trey Moore, Paul Bryant Hudson, Tiny Box Booking, Seventh Circle, Butch Queen Presents and Bugatti203. The anniversary also comes as The State House rolls out its new membership program, with three tiered levels of support designed to grow a more tightly knit music community. In a year one review, Liu-Ballard said that the venue hosted over 200 events with artists from over 12 countries, bringing in over 20,000 attendees.
Liu-Ballard estimated that the economic impact on downtown New Haven has been close to $2 million, a number he hopes to grow in the next year. He added that it has not been without challenges: the venue experienced significant drops in attendance during college and university vacations in March and again over the summer. From February to March, attendance dropped from almost 3,000 people to 1,894. Since the end of the semester, the venue has seen numbers drop again, from 2,518 attendees in April to 1,511 in May and 1,440 in June.
"I feel really good about the impact that we've made," he said. "I'm so thankful for a lot of community building that has taken place here."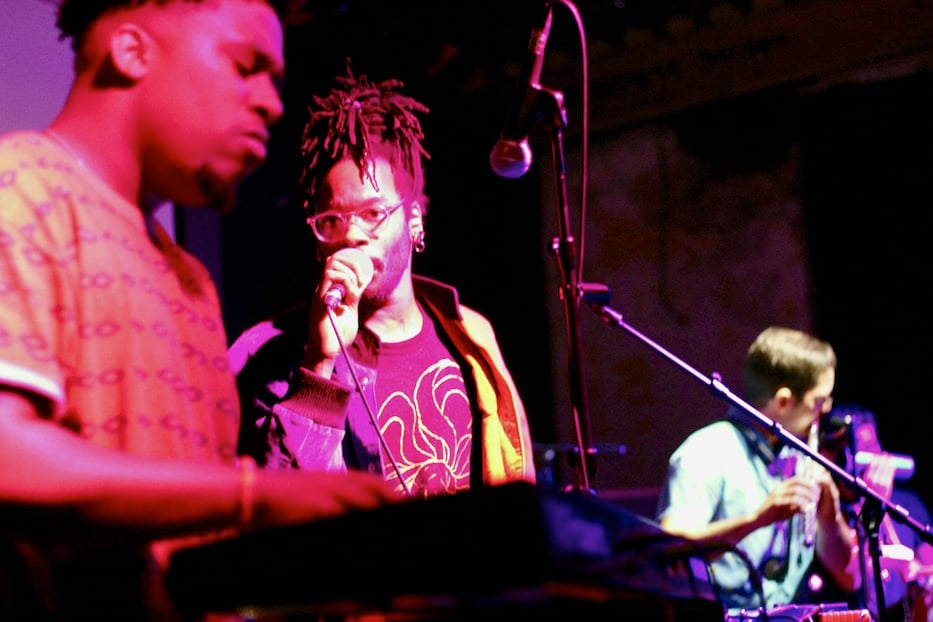 Inside, a growing crowd personified that community. Close to the bar, friends caught up with hugs and hellos, some leaning in mouth-to-ear to hear one another over loud pre-show music. Others shuffled to the middle of the dance floor and waited for the music to sweep them away. Onstage, members of Phat A$tronaut launched into their set with "Puppy Love," the first few notes bringing conversations to a hush. The song has a chill, loping start and sharp lyrics, smooth enough to ease right into and smart enough to laugh.
As keys and guitar set the song in motion, frontman Chad Browne-Springer told the audience that the lyrics are inspired by an actual puppy who used to shower him in big, drooly kisses. As he launched into them—"Don't lick me in the face/Can you tell me where your mouth's been/I can smell it on your breath"—one could almost envision his sister's dog Milo following him around the synthesizers and big keyboards on soft, pink paws.
They were just warming up. The group got the house moving with tracks off their album The Fifth Dimension before picking up speed with a heartbeat-like drum from Travis Hall and wailing sax from Dylan McDonnell. Browne-Springer wove in new material and synthy, looping interludes that stretched out songs, the audience working from head bobs and shoulder shrugs to rocking hips and stomping feet. Some friends danced together; others moved entirely on their own. The band drew huge cheers with new pieces, including the potentially political "There Is No Mayo In Heaven."
"I like my turkey on whole wheat/dry as a bone," Browne-Springer sang out, drawing a few laughs and far more dance moves.
Back on stage, he fiddled with a set of knobs on a loop station as Mark Lyon (solidly in the anti-mayo camp) took it away on guitar. Where Lyon had been pumping his arms in protest of the condiment just moments before, the musician stood transfixed by his instrument, setting off a propulsive riff with a huge grin on his face.
Attendees kept filing in and heading right for the dance floor. Just the band launched into its "Motherland" as the last piece of its set, sisters Mercy Quaye and Jennifer Quaye Hudson walked through the door, stopping at the venue as part of their own birthday celebration. Browne-Springer drew out the beginning of the song, cheering them on as they found a spot in front to dance.
"Happy birthday, Mercy!" he shouted, diving into the beginning of the song. To his right, keyboard player Stephen Gritz King spotted Jennifer and waved enthusiastically. A minute later, the whole room seemed to be singing along.
The group slowed it down, and Browne-Springer grinned a little at the audience. In the front, he had noticed musician Paul Bryant Hudson and gave him a shout out. Then he addressed the crowd as the band played on behind him.
"Do you guys know this harmony part?" he asked. "We're just going to sing it together, ready? Here we go."
He looped the vocals, a refrain echoing on each other as he segued into "Stand By Me." As Hall picked up the drums—half "Motherland," half Ben E. King—Browne-Springer stepped back to give other members of the group a chance to solo one by one. McDonnell loosed an airy, layered string of notes from his flute that made its way through the crowd. By the end, almost every person in the house was moving.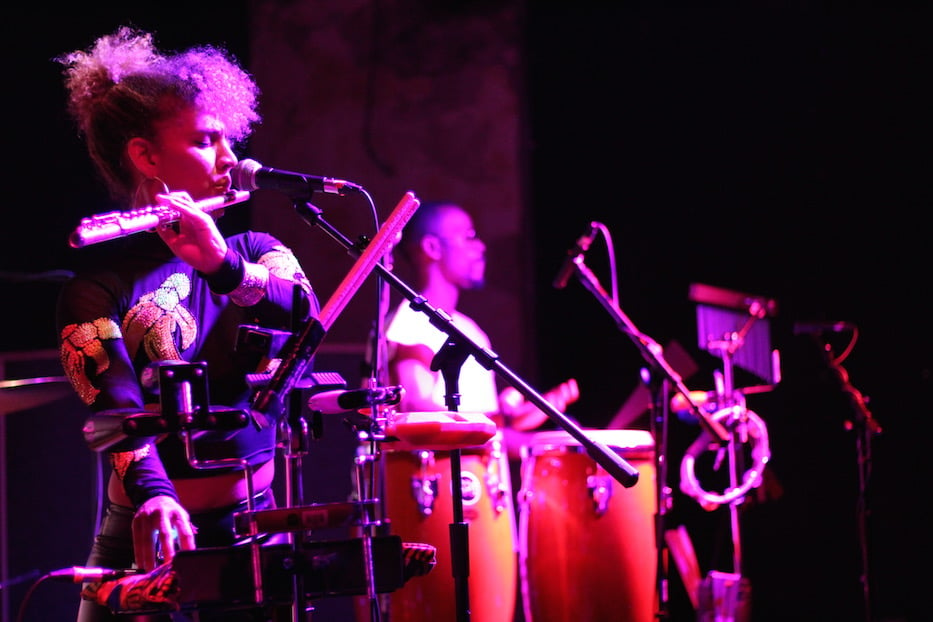 As the Brooklyn-based Underground System took the stage, it seemed that the night was just getting started. From the moment she leaned into the mic, Fossati heated up the room, whipping out a flute as she adjusted a looping board and dove deep on vocals. Beside her at the keyboard, Carter Yasutake pulled out a trumpet. The band moved into the beat, congas setting the tone for footfalls, pumping arms and gyrating hips in the audience.
In the crowd, members of Phat A$tronaut stuck around, sometimes leading the loudest cheers. Onstage Fossati pulled out new moves, jumping into flute solos so fast her teeth seemed to have fused with her lips. At one point, she yanked out a red telephone as half-prop, half-instrument and sent echoey vocals into the crowd. In another, she became a percussion session entirely of her own making.
Midway through their set, she launched into a loud, buoyant version of the group's "Sebben," drawn out and designed for dancing. As the band picked up behind her, her hands transformed into a whizzing blur, their clapping amplified in the mic. Even as she performed, she drew the crowd in to the stage, directing the audience to perform along with her.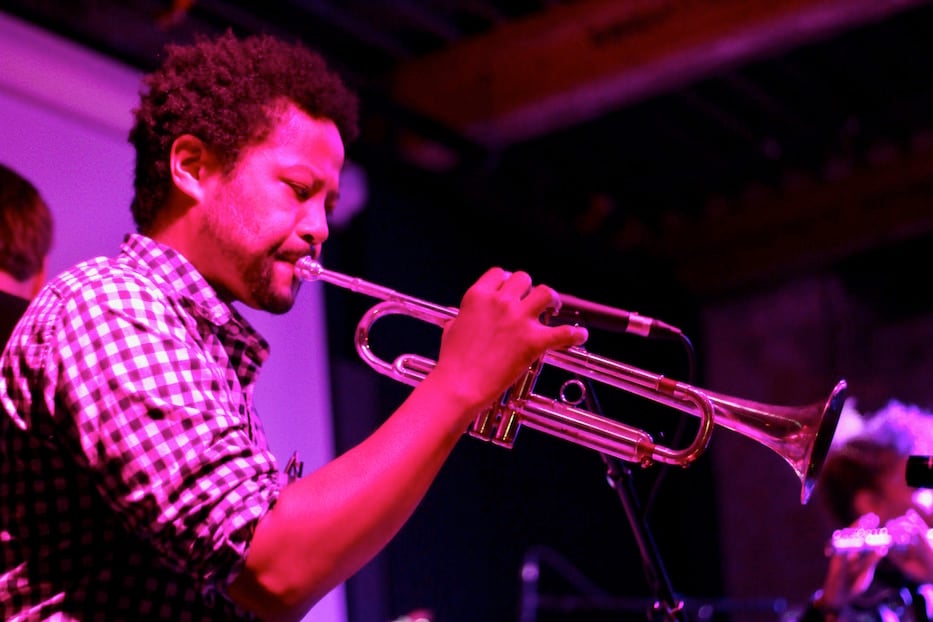 "Okay," she said. "I know you came here to watch us perform, but I'm going to need you to participate with me. Are you ready, New Haven?"
"Yes!" the crowd cheered back.
"We'll see," she said with a little smile. "I just need you to do two things. You're gonna clap and you're gonna sing with me. Okay?"
She broke into a set of moves at the center of the stage. From a dance party the night became a sort of prayer revival, audience members raising their arms to clap along. They hollered; she hollered back. They danced, and she danced harder. They grinned, and she seemed that she could outdo that too.
On the right side, Fossati stepped into the crowd to give musicians a chance to solo, her body in constant motion. At the left side of the stage, a knot of dancers worked themselves into a sweaty frenzy trying to keep up. Hair whipped every which way. Feet jutted out in one direction, and then another. They literally went airborne, then came back down and kept moving.
For more from Friday's concert, click on the videos below: