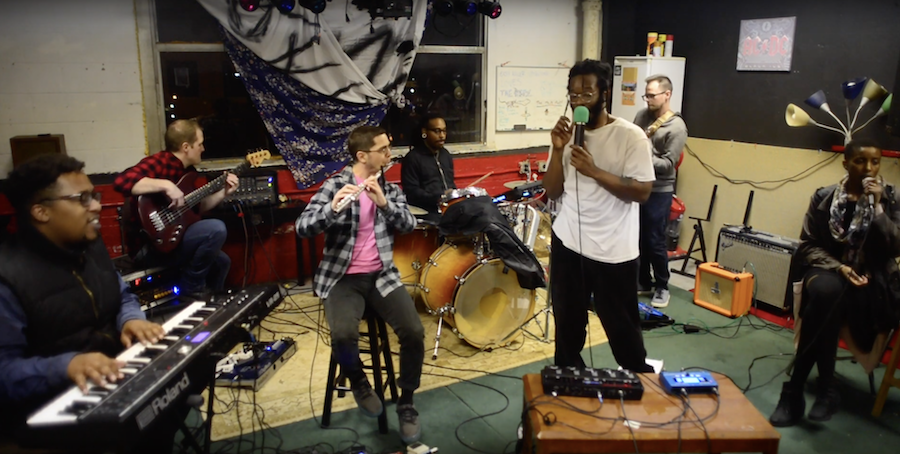 LGBTQ | Music | Arts & Culture | New Haven
The musician Evelyn Gray stands alone in a living room, her face bobbing behind a microphone and mic stand wrapped in lights. She shifts a little in black-on-black clothes, hair tossed over one shoulder. Black lipsticked-lips start to move. Her eyes lock with the viewer, who is somewhere beyond the camera, and then drift away.
"I always want something more/than anyone's willing to give," she sings, low and even. "I know that there's something wrong/I just can't find out what it is."
Gray's "People Like Me" is one of thousands of submissions—including over two dozen from Connecticut—to National Public Radio's (NPR) annual Tiny Desk Contest, which closed last month. Started in 2014 through All Songs Considered, the contest offers one winner a chance to play a Tiny Desk Concert at NPR's flagship offices in Washington and tour the country with NPR.
As judges prepare to release the final results next week, Gray and other local artists have found themselves thinking more about how the contest isn't about winning at all, but the community and feedback that comes from it.
Based in New Haven, Gray said she decided to submit for the first time this year both to get her music onto the internet and to spread a message of self-acceptance with the song. Written last year, "People Like Me" starts with a calm, even and confessional feel. As the video rolls, we take in the scene: the required tiny desk sits to her right, beside a small, standing doll that looks stunningly like her. A guitar rests in both of their arms.
"'People Like Me' is a song for anyone who has ever been made to feel like something was wrong with them, for anyone who is doing the hard work of learning how to care for and love oneself," she wrote when she released the video. "For anyone who has ever had to meet themselves where they are today instead of getting caught up in where they should be, or where they used to be.
Looking to the listener and then away from them, Gray opens herself completely: she hides nothing from sight or earshot. Her voice is smooth and textured, swelling as she gets past the minute mark. She is even-keeled, driving forward with an even sort of force. But she also knows how to shred—and she does—a sense of release palpable even beyond the camera's lens. If there is nervousness there, lurking beneath the surface, she doesn't show it. She wails, throws her head back and then lurches forward with her shoulders. Then she eases back into her inside voice to bring the song home.
"I chose that piece because it's a song that I think of as being really inclusive," she said in an interview last week. "Something that's really important in my work is thinking on that [inclusivity], and creating a safe space for vulnerability. And being a safe space for vulnerability."
"It's very much about my queerness and my trans identity, but I also think that's anything anyone can relate to it," she added. "It's for anyone who has ever been mad."
Bridging New Haven and Hartford, Phat A$tronaut has given a different kind of soul-feeding entry with its song "Puppy Love," off its 2018 album The Fifth Dimension. As a pared-down version of the band makes the most of the space, frontman Chad Browne-Springer smiles into the camera. He's laid back but ready to start, band members shifting in their spots around him. He looks right at the viewer and motions to a soundboard nearby, then to something behind him.
"This is a coffee table, but that is a tiny desk," he says before launching into a quieter version of the song than what's on the album.
With no pretension, he lays down verses one after the other, his voice winding down and then back up again. Background vocals come in sweet and flowing, punctuated with flute right on time. At a piano, Stephen Gritz King gets totally into the song, bobbing his head from side to side. The band eases into its groove, sound filling the space.
The song is inspired by Browne-Springer's sister and her actual puppy Milo, who he described as a "cuddly fuzzball" in a recent interview. While going on a "couchspedition" a few years ago, he stopped at her place to dog sit the pup, who followed his every move around the house. The two fell in love with each other.
"We never had pets as kids, but always wanted them," he said. "So this is truly a dream come true."
He added that in the group's second year submitting (listen to its 2018 submission, "Greene Eyes," here), he has been feeling particularly good about the band. While members had discussed submitting to the contest before last year, the time finally seemed right for them in 2018. They were about to drop an album, and thought the contest provided a cool outlet. A year later, he said they've gelled that much more.
"Music, while it can be complex, will always be a great release for me," he said. "A way to express, and connect, as long as you're trying to do the art justice. Whether we get to play a Tiny Desk through this contest or otherwise, the squad's creating [a] beautiful, unique, strange, combinations of frequencies, and I'm looking forward to the unfolding of the 'Phat Story.'"
Split between Connecticut and Massachusetts—one third of the group is Hamden-based musician and arts reporter Brian Slattery—The Moon Shells took a different tack, speeding up the pace when they came together to record their entry. Formed in 2018, the three members (Slattery, Laura Murawski, and Maggie Shar) start the video by crowding into the frame, a tiny desk squeezed behind them. Everything is kissed by a loping, lovely Appalachian sound.
In a recent interview, Slattery said they chose "Fireworks," off the group's album Seaside Asylum in part for its sense of pace. While other pieces on the album have an eerie and ethereal feel to them, "Fireworks" is sweet, a kind of pick-me-up that makes the listener want to get up and dance before the song even mentions dancing (and it does). He said recording the song was easy—the group had wanted to record a video for a while, and this gave them a reason to do it. Shar's friend Katherine McCusker hopped on board to help. Once they were all in the same place, she helped them relax almost immediately. They submitted the third take.
"It's fun because in full disclosure, I started the song just a little too fast and I'm not actually a great guitar player, but of course Maggie and Laura were rock solid," Slattery said by email. "So I think my own sense of 'boy, I hope I don't screw this up' gave the song a nice little kick."
Brazil-born artist Virginia Semeghini, a musician who plays under the moniker That Virginia and is now based in Bridgeport, said she used the contest as a chance to connect with community. Over the past four years, she's used Tiny Desk Contest-themed Facebook and social media groups to connect with musicians in other cities, some of whom have hosted her on tour, or invited her to perform at their venues. In 2018, she recalled recording her song "Our Time" as an exhausting, over-produced ordeal. In her fourth year submitting, she said that she wanted to strip down her approach, concentrating on the music and little else.
So when she returned to the contest this spring, she didn't even think about the recording process until the day that she had decided to do it. On a Sunday last month, she was caught in the pouring rain while out at the Long Wharf taco trucks. When she got home, "I was like, okay, let's record!" she said.
Her tacos sat untouched as she picked up her guitar, waited for her friend Eva Ray to cue up the video camera, and launched into her piece "Unalome." It was exactly as she wanted it, Semeghini recalled: she didn't have time to get nervous because she was totally in the moment. Her hair was wet and messy, her skin was still cool from the rain outside. So much so, in fact, that she forgot to include a tiny desk and had to go for a second take.
"The chances of winning are so low it's really not the point," she said. "But there is such a strong community around it. People who do it are very supportive of each other."
Listen to all of the Tiny Desk Contest entries tagged 'Connecticut' here.