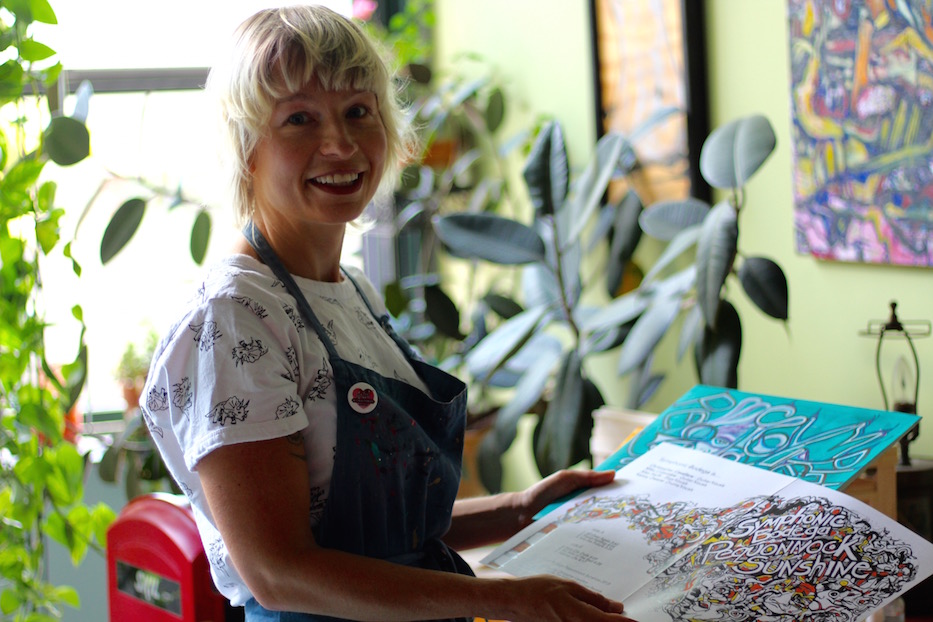 Bridgeport | Painting | Arts & Culture | Visual Arts | Studio Visits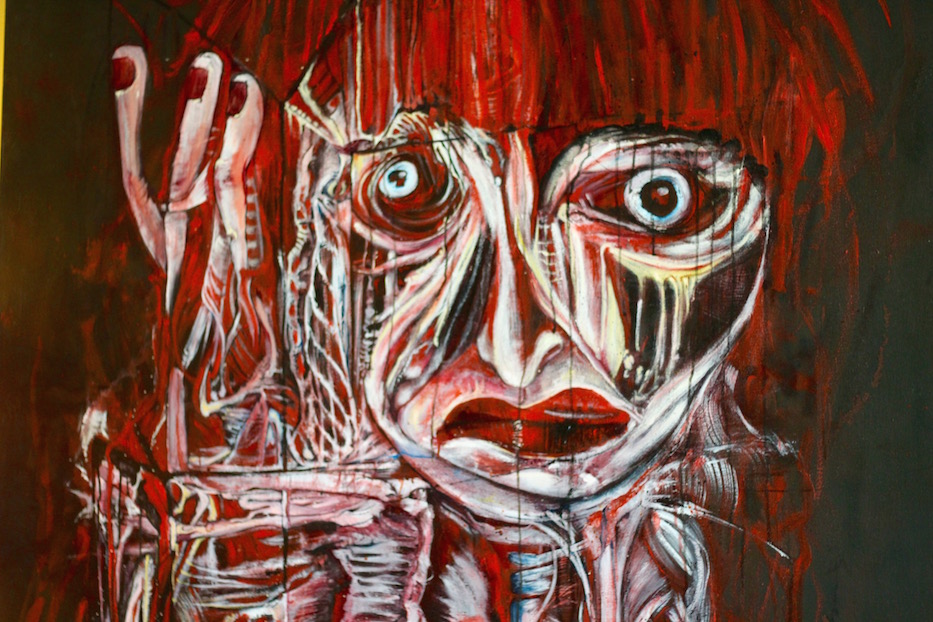 Detail, De Faced. Lucy Gellman Photos; all artwork by Marcella Kurowski.
The huge, uneven eyes strike you first. The whites are flecked with blue and rimmed with black, but glowing by the time they reach the pupils. The sockets are deep red, hollowed out like they'll go back for miles. Her lips are bright and bloody, contorted as they work from one side of her face to another. The rest is ropes of muscle, marbled in red and white with yellow swipes of leftover fat.
It's a face of gentle contradictions: the cheeks are two halves of a whole heart, interrupted by long, limp strands of hair and a cupped right hand stripped of its skin. Nothing in this is accusatory; nothing is overly maudlin. Is she sad, or just ready to ask a question?
"De faced" is one of hundreds of works—large and small, bright and muted, front-facing and in profile—dotting the walls of Marcella Kurowski's Bridgeport home and studio, a live-work apartment at Read's Artspace that she shares with her husband, the musician Christopher Cavaliere, and the couple's ancient cat Scofield. The artist is the creative force behind Looketha among several other projects.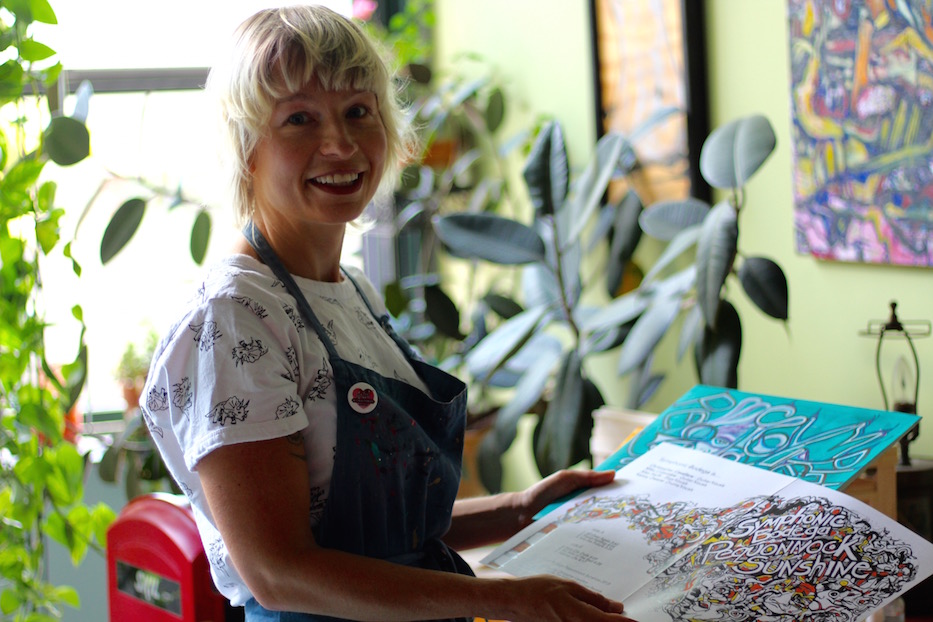 "I always start out with a mess, and work from there."
After exhibiting at Fussy Coffee earlier this year, she will be showing her work at New England Brewing Company this September. The show opens Sunday Sept. 1, with a reception from 2 to 5 p.m. It will be up for the entire month of September.
"I always start out with a mess, and work from there," she said during a recent interview in her apartment, as sunlight streamed through the windows and brightened the room. "Sometimes there's a whole completed piece under the finished work."
For Kurowski, that mess has long been part of her process. Born and raised on the East Side of Bridgeport, she grew up watching her grandparents dip their hands into art making, and pull out a life that straddled worlds. Both were Polish immigrants who saw economic opportunity in Bridgeport: her grandfather was the city's first wet-plate photographer while her grandmother (also a Marcella) crafted pisanka, intricately painted eggs that brought Polish folk art into their Connecticut home.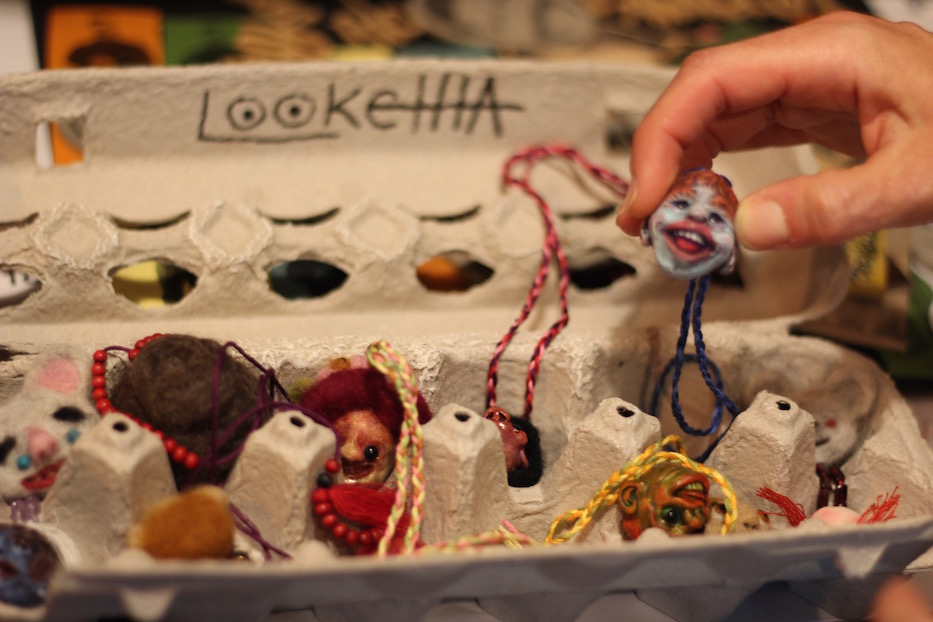 Some of Kurowski's Doodads.
While her grandfather photographed from a studio in his house—just a stone's throw from Kurowski, her parents, and four siblings—the elder Marcella also collected broken dolls and fixed them up, giving her grandchildren the cast-offs that were beyond repair. Years later, Kurowski said, she's still connecting the impact of those early years to her evolution and current work.
"I was one of those people who has been doing art since they were a kid," she said. "As a kid and then as a teenager, I would do it all the time without knowing what I really wanted to do ... I was inspired by the visual craziness all around me."
At 18, she decided that she wanted to focus on her art, without knowing exactly what path that would take. After studying at a technical high school, she began her studies at Bridgeport's Housatonic Community College, and later at Western Connecticut State University. Her influences multiplied: Tim Burton, Hannah Hoch, Max Ernst and German Expressionism, and later Pablo Picasso's near-manic fashion of painting on glass.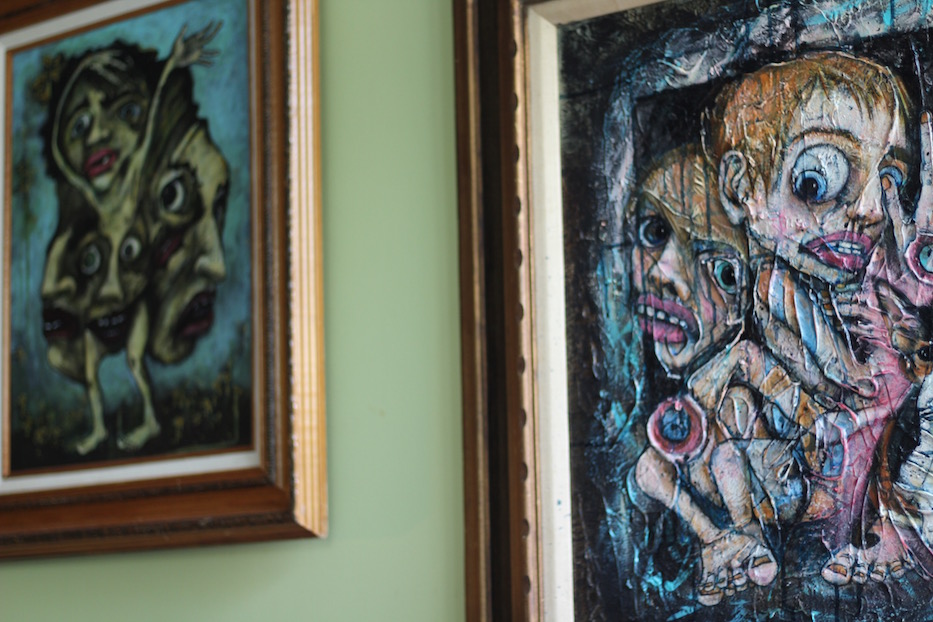 As she dove into her studies, she found herself obsessed with human and not-so-human features: lips that curled up to reveal imperfect teeth, noses that were small and sweet or big and bony, ears that rolled inward like seashells and those that hung heavy with big lobes. She felt that her canvases had a way of speaking to her, telling her where there was supposed to be a wide forehead, blinking eye, curling, slender hand or set of gnashing, bone-white teeth.
Decades later, much of her work seems tied to those half-intact doll limbs, one-eyed faces and stuffing-bereft torsos of her childhood. In her apartment, painted and sculpted faces peek out from every direction. Her petit, polymer clay "doodads" grind their tiny teeth, stare unblinkingly, and open their mouths with a near-totemic gravity. Multi-headed creatures meet one's eyes as they wink out from the lime green walls, from painted doorways, from the hallway surrounding her apartment.
But they aren't grotesque, so much as wild and compelling. As she spoke in a recent interview, Kurowski motioned to a bright canvas in one corner where a series of heads and arms fell over each other in thick, nectarine-colored paint. A suite of huge, button-flat eyes stared out over twisted, disapproving hot-pink lips and bodies that had toes sprouting every which way.
Pinks and blacks met oranges and turquoise blue in an untamed riot of color. One of the creatures looked fearfully out at the viewer, as if it was naked and trying to cover itself. Another, sprouting out at the right, just looked mad.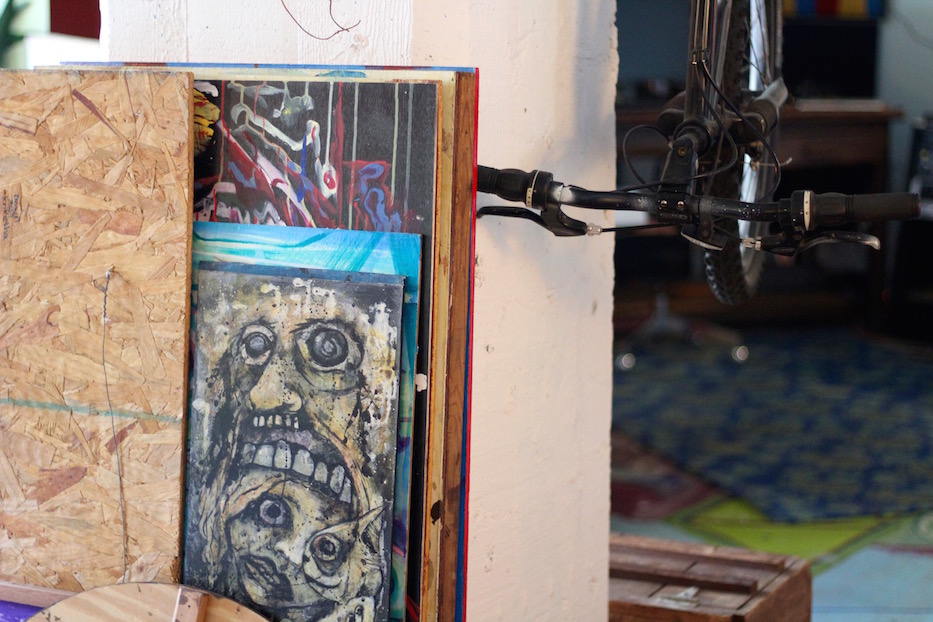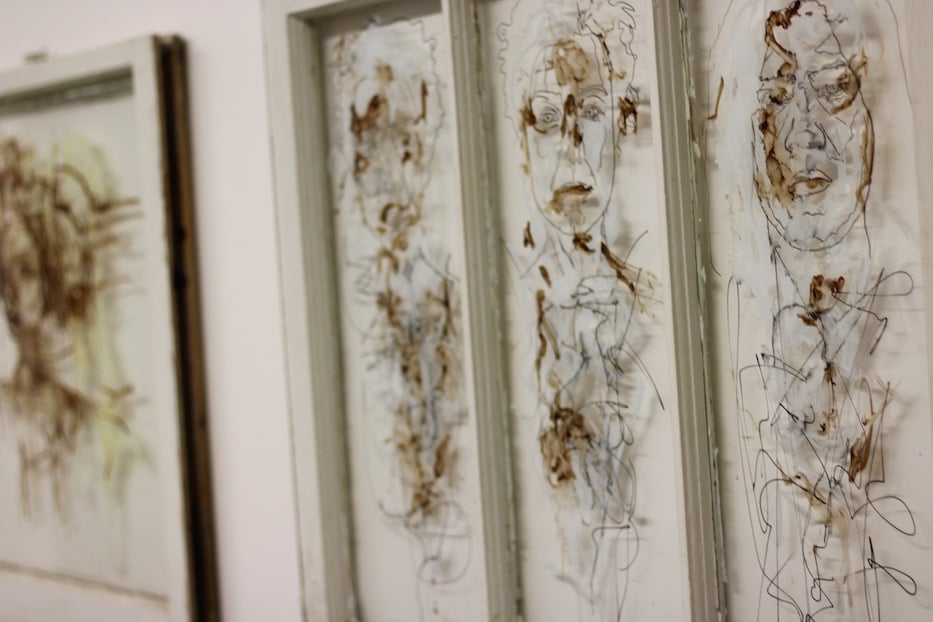 Kurowski praised her friend and fellow artist Thomas Mezzanotte effusively for his work, and for gifting her his old windows on which she painted.
"I usually see them as smiling," she said of several of the canvases. "I know they're all teeth, and some people get weirded out by the teeth. But I love teeth. I love eyes. I love noses. I love hands and feet. I love ears too. Painting them, and also sculpting them."
"I just appreciate the face so much," she added. "It holds almost all of your personality."
Around her, that interest covers the walls, fills an overflowing backroom studio, and lines every shelf in the room (and a few of the drafting and coffee tables, too). Because the apartment is hung salon-style, the pieces chatter to each other, a cacophony of misfits.
Maniacal laughter rises up from one corner, and then another. Single eyes, dented skulls and severed heads roll along trying to find their missing parts. In one canvas, a face looks out at the viewer so clearly, so perceptively that it takes a moment (or several) to realize that it is actually one of three faces, all sprouting from the same small body.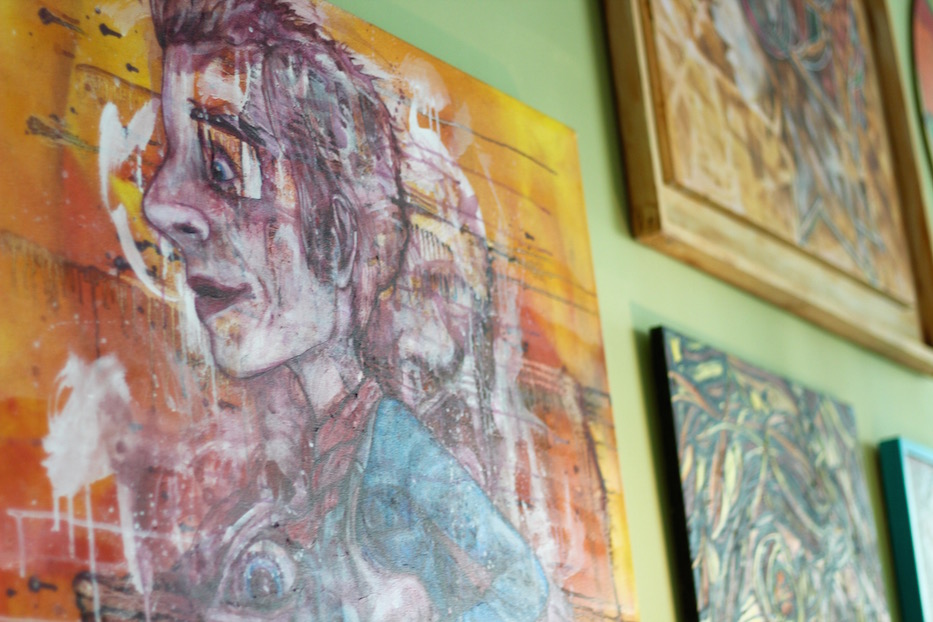 The splitting, layered faces—which are not human and also not not human—are a style that Kuroswki takes in stride. Watching over Scofield as he spends his days napping, a Gumbi-esque figure rises on thin legs and knobbly knees, a face exploding right where his torso should be. There's no belly button here, but a few green blobs with eyes and mouths springing in three different directions. They are propulsive and ghastly but also soft and fun, pulling this Gumbi-not-Gumbi to the left, right, and center all at once.
Even the floor is a flat, stretching sea of faces and leads, some caving in at the edges, some layered, mouths hanging open, hands and ears going every which way. No single face is the same: some are all nose, and others beckon with huge teeth and open lips. There are little nods to the Pre-Raphaelites and big, flat noses that seem to have lost track of Lord Voldemort.
Others still look right up at the canvases that surround them, taking in this grotesque and surreal palace. They merge and mesh into each other, a sort of Chagall-like, flowing map across the floor. For the artist, they're not meant to instill fear, so much as wonky and weird enchantment.
"I wanted it [the space] to feel like an artist's romper room," she said. "Kind of like you're walking into a painting. I just want to entertain the viewer. Each time you look at a piece, you see something else."
It's true of the pieces, many of which viewers could spend hours decoding without getting bored. In one, close to the door of her back room studio, a young man runs forward in profile, his mouth half-fishhook, half-smile. There's a nod to painter Max Beckmann there, but something else too, as if Beckmann has gone to Coney Island and come back burning with new ideas. A face sprouts from the man's chest. An orange background soaks the image. He keeps on running.
In others, Kurowski's own likeness looks out in a sort of macabre and exquisite hello. Inside her studio, a self-portrait glances out in blue and white, a glowing crown of thorns on her head. In her arms—equally blue, with bony hands at the end—she clasps a big, menacing head. A sort of baby gremlin lies beneath it. Her eyes shift, distrustful. Her mouth heads toward a pout. It's not an irreverent Madonna, but something else entirely.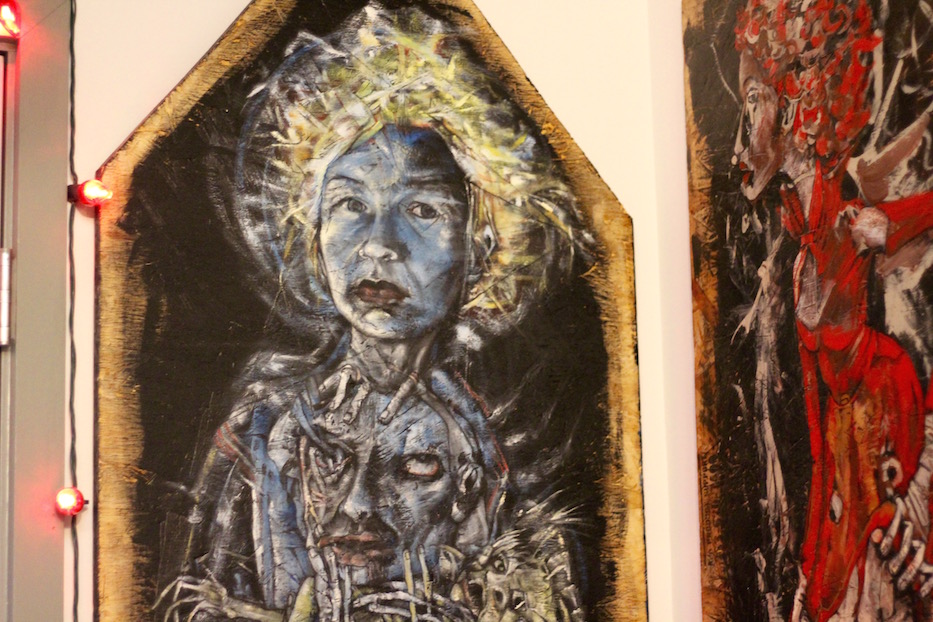 The paintings are part of a greater obsession, on which she has collaborated with local artists Thomas Mezzanotte, Michael J Clocks, Daniel Eugene and others. After taking a sculpture class with the artist Susan Clinard at Creative Arts Workshop, she became interested in the intricacies of the human figure and the ways in which she could experiment with it. In a drawer in her studio, she keeps a collection of delicate plaster masks of her face, there to pull out and study when she needs to.
"I have a racing mind, to the point where I have to physically exert myself just to keep it under control," she said. "I believe in the flow state, where I'll be working and moving but something else has control."
In part, she tames that with a longtime side gig, creating tiny portrait sculptures for the custom action figure site Herobuilders. She is also the art director behind her husband's band Symphonic Bodega, meaning that she designs the work for album covers. She has been working on the latest, a miniature model and sharp explosion of color that draws the viewer in before they ever flip on the music.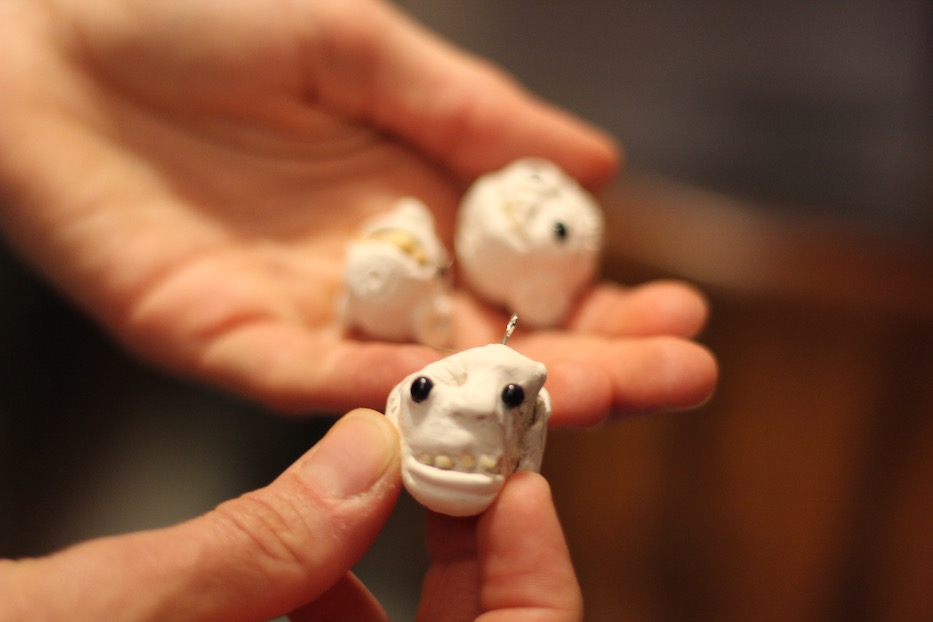 There are also her "doodads," small molded heads and faces, sometimes on strings or with tiny pebble teeth from excursions to the beach. They aren't fearsome so much as endearing and odd, often completed on her trips to the beach and stored in egg cartons. A recent set includes her "Doodad in collaboration with a seagull," on which a gull stuck its beak into the soft polymer clay while it was trying, leaving an indent on the figure's skull.
When her hands aren't rolling out clay, she just keeps painting. The texture and thickness of substrates interest her: she has bought and painted over cheap canvases she finds at the Salvation Army in town, used discarded windows from friends, and experimented with wood and tile. The paintings are everywhere: in a collection she keeps by a back room, close to her bike rack, on the walls and doorways from a previous apartment.
She said she is rarely done with a canvas: she'll sometimes put a work down and then decide days or weeks later that it's not finished, and return to it. In several instances, that has meant painting right over an entire work, so that there may be multiple finished pieces beneath what the viewer is seeing.
"It has taught me how important it is to express yourself, to physically do something," she said. "It's so therapeutic. I don't hold anything back."
Marcella Kurowski and Looketha present 40 Years Of Weird at New England Brewing Company starting Sept. 1. An opening reception is set for that Sunday, from 2 to 5 p.m.