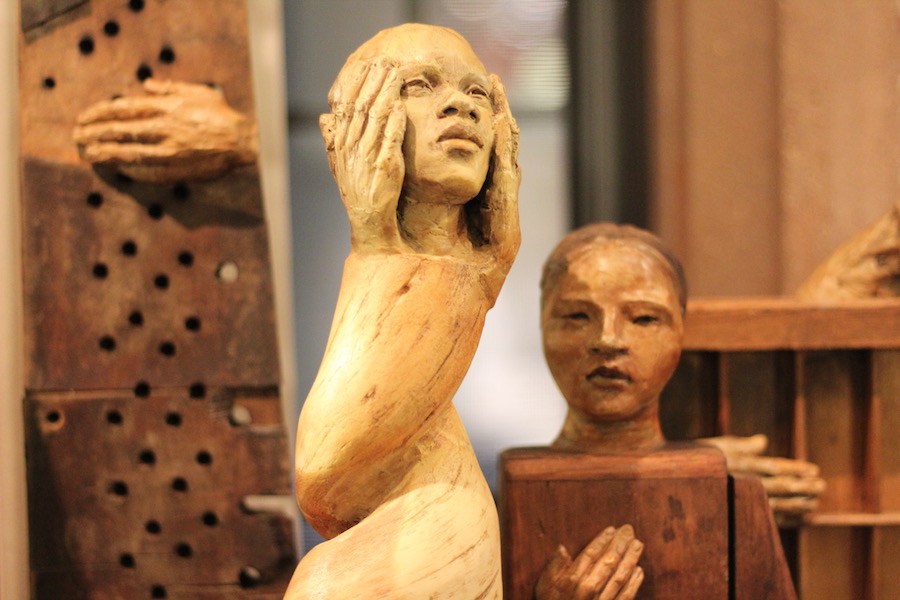 Downtown | Arts & Culture | Visual Arts | Yale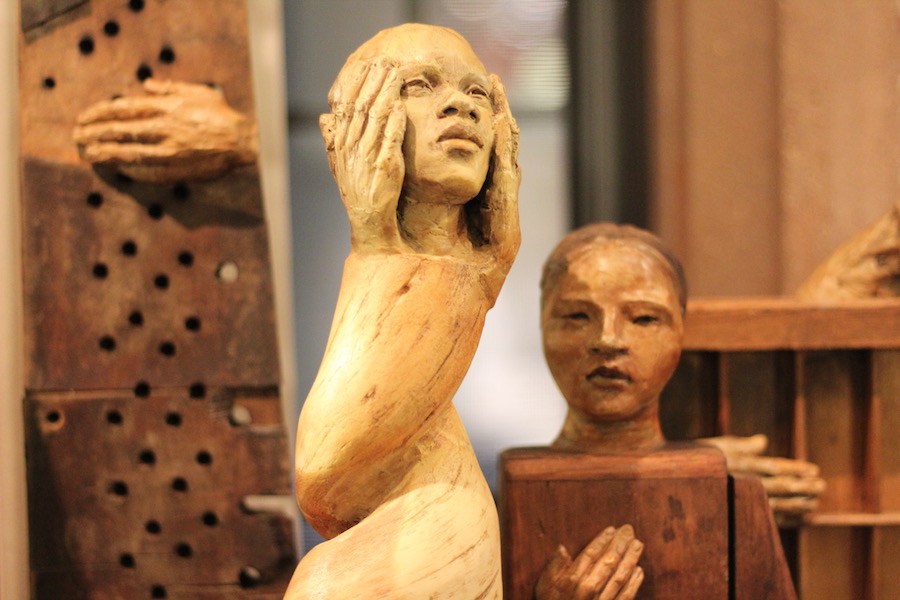 A detail from sculptor Susan Clinard's Voices of Women: Front and Center (2018). Lucy Gellman Photos.
A woman casts her eyes skyward, long wrinkles pooling beneath them. Her lips are a tomb, closed and sloping down just so. Large hands cup both sides of her face. The longer we look, the younger she seems to become. And yet, we can't tell if she's in the land or the living or the dead, or somewhere in between.
The figure is one of over 40 sculptures, sculpture boxes, and mixed media pieces in Susan Clinard's Places We've Been, running at the Whitney Humanities Center now through June 19. Deeply feeling from the first piece to the last, the show demands that viewers look within themselves and find the things that make them human. It's not an easy ask, except for the artist who makes it so.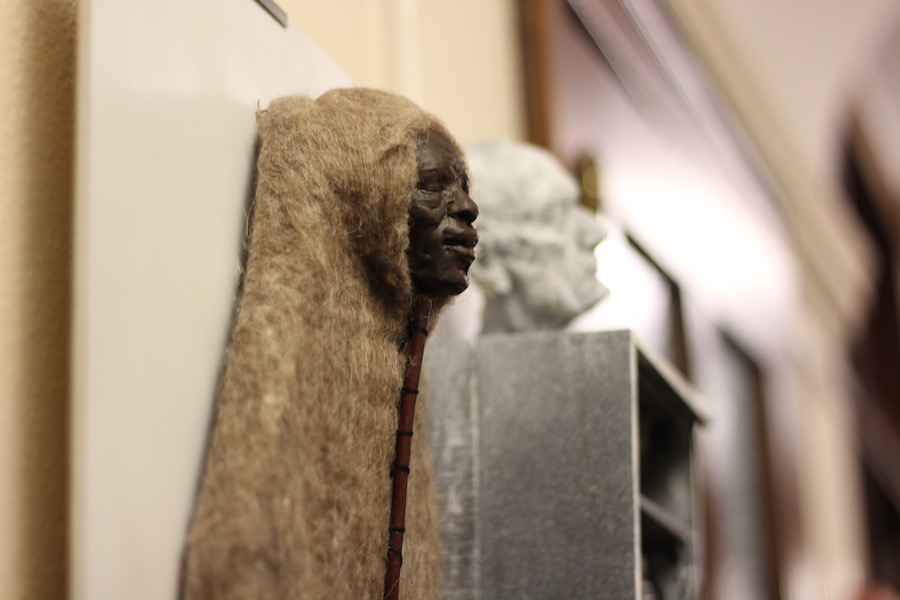 Backbone, mixed media (2017). Beside it is Clinard's 2018 piece Living Memory.
Spread over the center's hallway and first-floor exhibition space, Places We've Been is inspired by what Clinard calls "points of time from our shared human narrative," from raging forest fires in California to #MeToo and political protest to Donald Trump's most recent travel ban. From the mouth of the hallway onward, figures look out from the walls, some in painted and papered boxes, others outlined in black wire, others still in their own tiny and not-so-tiny three-dimensional worlds. Each is never far from a pair of large sculpted hands, beckoning for us to come closer.
"I am captivated by the subtle nuances in life, the mundane flipped to reveal the poetic," Clinard writes in a statement accompanying the show. "Places We've Been is like a salt shaker sprinkling stories on your tongue of who we are."
She has conjured that shaker with each piece, as if some invisible hand has dropped hundreds of stories—very, very human stories—in front of our faces, and asked us to take a long, hard look. On one side of the hallway, wire, hemp and and acrylic sculptures peek out, hanging from the wall at eye level. In one titled "Gossip," wire hands and faces protrude from a thick black web, chatter bubbling beyond the frame. There's gossip within gossip, another two figures towering above, heads pressed together in that wild exchange of a secret.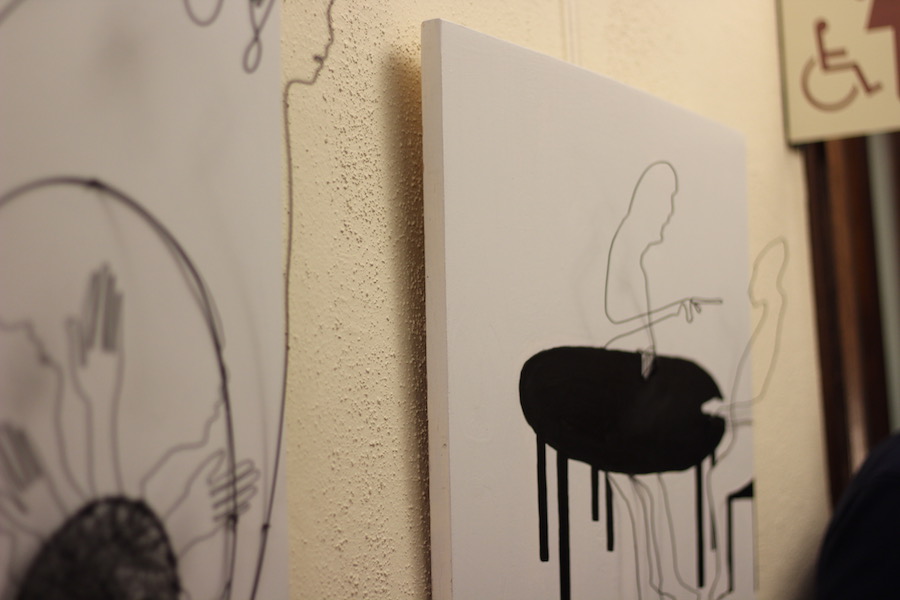 A detail of The Meeting (2016). Gossip (also 2016) is to its left.
Whole worlds seem like they could be enclosed in there: friends' late-night, giggly whispers, stirring rumors, hushed heart-to-heart conversations and neighborhood NIMBYism to which New Haven is no stranger. The sheer grace of its form mixes with a sort of gnawing, curious unease, and makes us think twice about playing the game of telephone with our lovers, friends, colleagues.
In another titled "The Meeting," two figures face each other at a table, one form pointing accusatorially while the other shrinks back, head tilted down. Clinard has frozen the frame and asked us to enter, watching what will happen next. It's not hard to: we feel the table materialize beneath our hands, cool and firm while the world around it keeps spinning too fast. We don't just see one figure lean back but almost feel it, that prickly sense of shame and embarrassment suddenly on our own skin. We have to decide: are we the admonisher, or the admonished? Do we like the position we're in?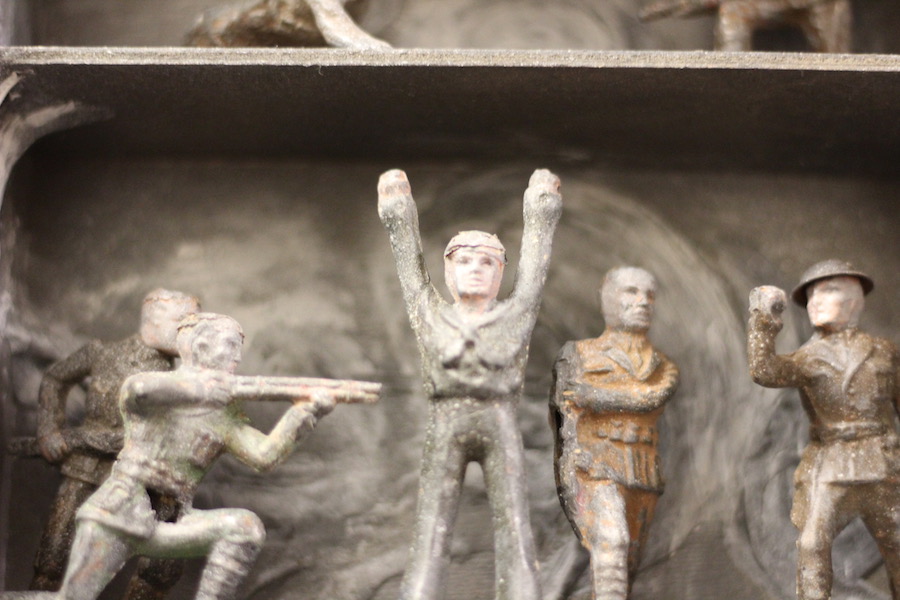 A detail from Living Memory.
One wall away, another story unfolds. Beside her hard and soft, mixed media "Backbone," Clinard has fashioned a tiered sculptural box titled "Living Memory," a sort of dollhouse turned on its head. At the base, a handful of soldiers catch our eye, posed around one figure who raises his twig-sized arms and looks straight out at the viewer. To his left and right, soldiers seem to egg each other on: one raises his right arm as if to shout Fire! while another across from him lunges forward with a rifle in both hands. In the back, a soldier seems to feel for an arm that's no longer there, blown clean off at the shoulder blade. It is the war, brought home and put literally front and center. And suddenly, whatever this conflict, it seems small and senseless.
There is power in these tiny worlds, each with enough heart to bend us toward action over inaction, peace over war. In the center's large room, Clinard has made particularly good use of three windows, each of which twinkled with snow and streetlight during a blustery January opening. At the center window stand the figures who comprise her recent Voices of Women: Front and Center series, 11 figures who are bound—and made captive—by their gender. Across a long ledge, each of them look out, faces weathered and wide-eyed, or tired and mid-question.
As each emerges from the wood around them—there is something intensely Camille Claudel-ian about Clinard's sheer feeling, and she's embraced it fully—they're held captive, each body turned into a modern-day pillory from which they cannot escape.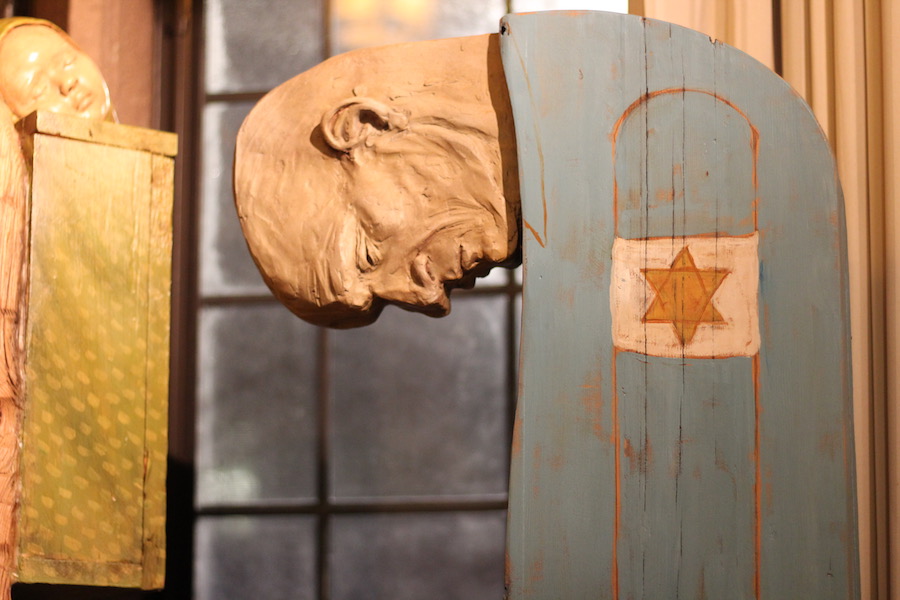 One of the figures from History Repeats Itself: Travel Ban (2017).
In another of the show's most moving works, Clinard has placed Trump's travel ban on majority-Muslim countries in historical context, a collection of sculptures forming the 2017 series "History Repeats Itself." Arranged in a line, they show the people behind closed border policy, state-sanctioned xenophobia, and normalized propaganda: a Muslim mother carrying her infant, Japanese-American woman interred during the second World War, an African man and his daughter who suffered from the Helms Amendment in 1987, a European Jew denied entry to the U.S. in 1941, when 900 Jewish refugees aboard the SS St. Louis were barred from coming into the country.
"History will repeat itself, but at what cost?" asks an accompanying label, one of the few in the show.
In one sense, the pieces are political: they advocate for better gun control, open borders, fair and safe workplaces and more humanitarian aid without ever having to use the words. In Figures of Lament and Hope: Shootings in Our Public Spaces, we cannot help but get fired up about banning bump stocks and passing stronger gun legislation. So too with a series of Clinard's delicate and moving boats, nearly propelled forward as they hang from the ceiling in a statement on the immense beauty in migration.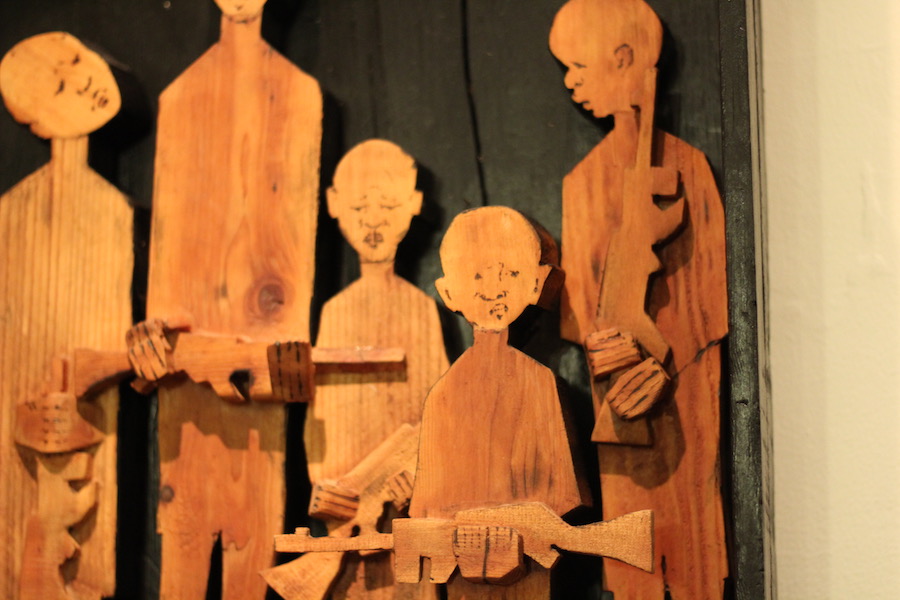 A detail from Child Soldiers, wood and acrylic (2008).
And yet, in their wild sense of heart, they are also not political at all. The prevailing feeling isn't righteous partisan anger but overwhelming emotion, as if you may start to cry and never stop. As if you may fall straight to your knees, as Clinard once did when she was a social worker in Chicago, and felt like her heart might tear in two from the amount of pain in the world around her. There's nothing polemical or reactionary about them. If you truly allow yourself to feel the work, there doesn't need to be.
Instead, they are a show of both empathy and immense technical proficiency, as if we have stepped from mid-polar vortex New Haven into Paris' Musée Bourdelle, the quirky atelier of a monumental sculptor. The pieces keep us coming back not just because they are timely, but also because they are good. In each, there is enough to warrant a second, third, or tenth look: rough textures meet obsessively smooth ones, inner compartments reveal delicate sculptures-within-sculptures, freeze-frames remind us that there are children halfway around the world learning what the weight of a machine gun feels like in their small hands.
Indeed, Clinard has asked us to stare something in the face, and make her a promise in return. That we'll be better, so someone else's tomorrow can be too. That choosing shared humanity is one's natural state, as organic as having a body and making it move through the world. It's a big ask. And yet, it doesn't seem hard to swallow surrounded by the pieces, where any political skepticism is supplanted by the catch in your throat. It doesn't seem hard at all.