Aminah and her husband, Issa. By Sunday, she will have made enough chicken shwarma to feed 300 people. She said that her
shawarma

, which her husband called "like fast food," comprises marinated chicken, yogurt, cucumber, mayonnaise, and shwarma spices she finds at a Syrian market in Orange. Lucy Gellman Photos.
Before the end of this week, Aminah will have to buy enough pounds of chicken breast to feed 300 people. Azhar Ahmed will be searching for 50 of the freshest eggplants she can find. And Herman Bershtein will dust off his running shoes, lay out the right socks, and make sure to get a good night's sleep.
With thousands of others, all three are participants in Integrated Refugee and Immigrant Services' (IRIS) 12th annual Run for Refugees, scheduled for this Sunday morning at Wilbur Cross High School in East Rock. While Bershtein will be running the race, Aminah and Ahmed will both be cooking for the post-race afterparty, an "international food festival" for which three refugee women and refugee-run Greenleaf Persian Catering are the featured chefs.
As of Tuesday morning, 2,200 runners and walkers had registered for the 5K, which will cut through East Rock Park and wind through the neighborhood on a slightly reworked course. IRIS has a 3,500 person cap for the run, which Director of Community Engagement Ann O'Brien said the organization is hoping to fill. Registration and more information are available here.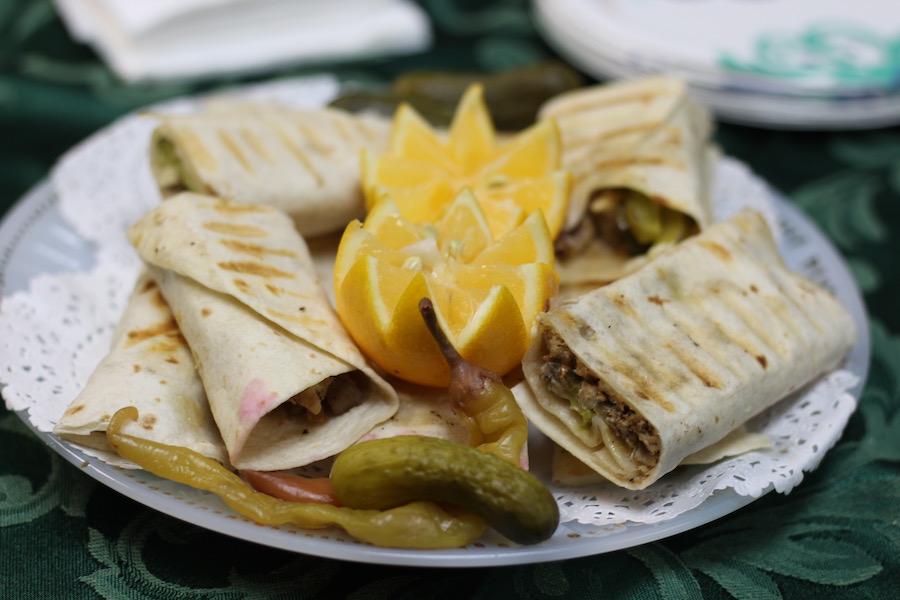 "It's what makes America amazing," O'Brien said of the race Tuesday morning, in a small gathering at IRIS' Nicoll Street headquarters. "When it started, we liked the idea of something physically challenging … it's a show of resilience on the part of the runners, like the refugees who are working so hard to come here."
She added that two years after Donald Trump's executive order banning refugees from seven majority-Muslim countries, IRIS does not want people to lose the momentum—particularly after the ban was upheld by the Supreme Court of the United States last summer. As it hits the two-year "banniversary," IRIS has seen its direct effect: in 2018, the organization resettled 120 refugees, down from 343 in 2017, and 530 in 2016. Currently, the organization only receives $1,000 in federal assistance per refugee.
Last year, only five refugees—a family of four and one elderly women—came to New Haven from Syria, permitted into the country on humanitarian waivers. Fifty-nine entered on Special Immigrant Visas (SIVs) from Afghanistan, awarded to refugees and asylum seekers who have contracted with U.S. Military Forces in their home countries. O'Brien said the remainder of refugees came from Congo and Iraq, and a few other countries. She added that the rise in SIV holders has marked a sharp shift in the past two years, as IRIS went from welcoming 285 Syrian refugees and 103 Afghanis in 2016 to just 50 Syrian refugees and 232 Afghanis last year.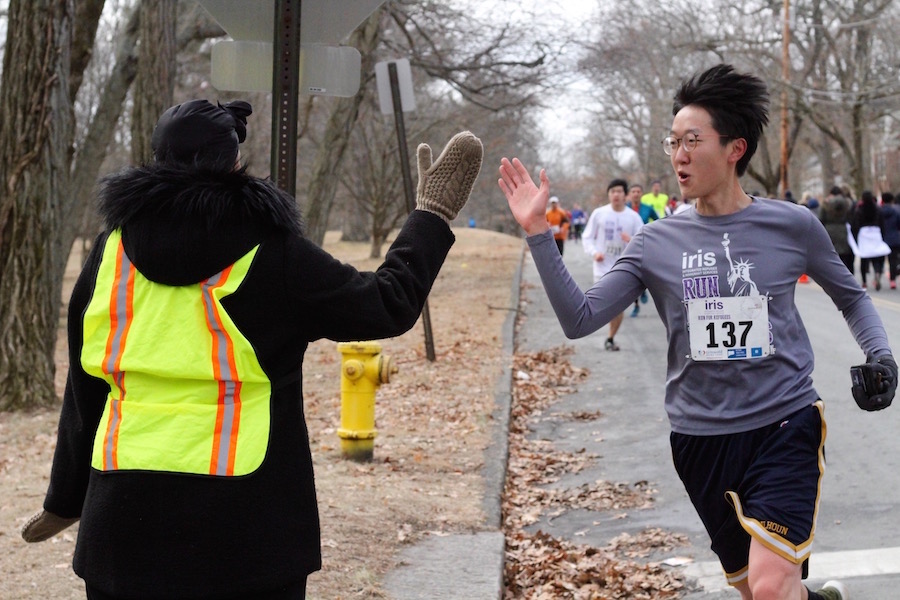 Runner Dennis Wang, a student at the Yale School of Medicine and graduate of the Yale School of Public Health, hits the three mile mark, and gets some support from a race volunteer during the 2018 run. Lucy Gellman File Photo.
This year, the organization is is aiming to raise $100,000 from the event, which will go directly into its $2.5 million annual operating budget (as of Tuesday afternoon, just over $41,000 had been raised). While some of IRIS' funds come from federal support, O'Brien said that staff are bracing for "wild dips" in federal funding as the organization navigates how to do more with less money, and aims to raise $1.5 million through grants and donations. Although it received fewer refugees last year, the organization been stretched in other ways, working with JUNTA for Progressive Action to aid Hurricane Maria Evacuees and facing growing needs for its asylum law practice.
As IRIS pushes to raise that remaining $60,000, the organization also has some backstage help. This year, three refugee chefs will be making the bulk of the food for a post-race festival in Cross' gymnasium, cooking dishes from Syria, Sudan, and Afghanistan.
One of them, Aminah, arrived with her husband Issa and their three children from Syria on Election Day 2016, just hours before Donald Trump was declared 45th President of the United States. At the time, they had been in limbo for years: first fleeing civil war and torture in Homs, Syria, and then living in Jordan as they anxiously waited for news about their refugee status. When they arrived to news of Trump's election, they began to worry about their lives in the United States as well.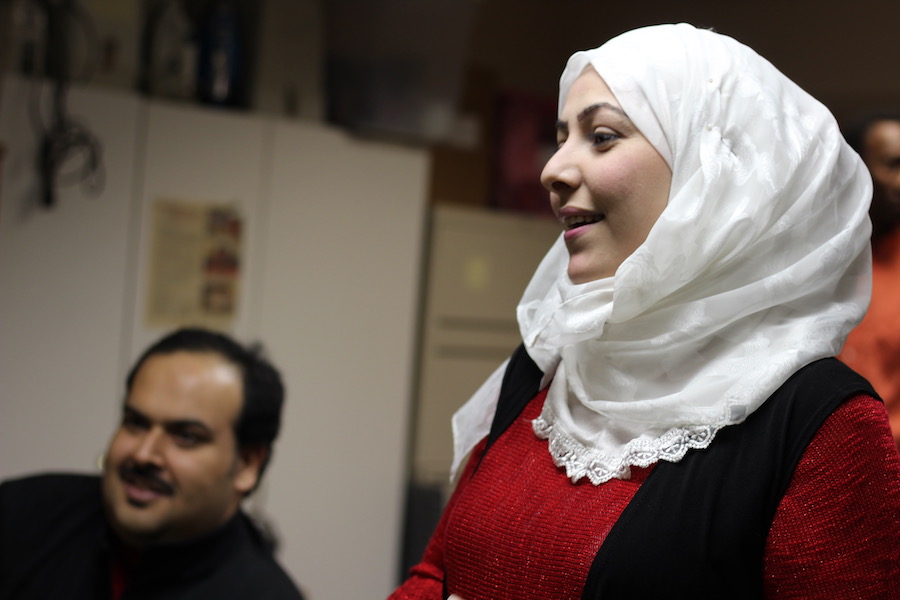 When they first settled in New Haven, Aminah recalled, she cried daily—she was afraid for her family still in Syria, knew no English, and had very few contacts outside of IRIS and the Jewish Community Alliance for Refugee Resettlement (JCARR), a small grassroots organization that helps families during the refugee resettlement process.
Then after cooking a meal for the journalist Jake Halpern—she and Issa are profiled in his graphic narrative "Welcome To The New World," which won a Pulitzer Prize last year—Aminah began to cater events. She built a catering business called Aminah's Authentic Middle Eastern Cuisine, cooking out of CitySeed's Grand Avenue kitchen and supporting their family of five.
She learned English from a mix of private lessons and YouTube videos. On her way to IRIS on Tuesday, she drove the family car with Issa, who is preparing to take his GED exam, beside her in the passenger seat. On Sunday, she estimated that she will have made enough chicken shawarma to feed 300 people, a feat that will require 50 pounds of chicken as well as several pounds of fresh and pickled vegetables, yogurt, and shawarma spice that she gets at a Syrian market in nearby Orange.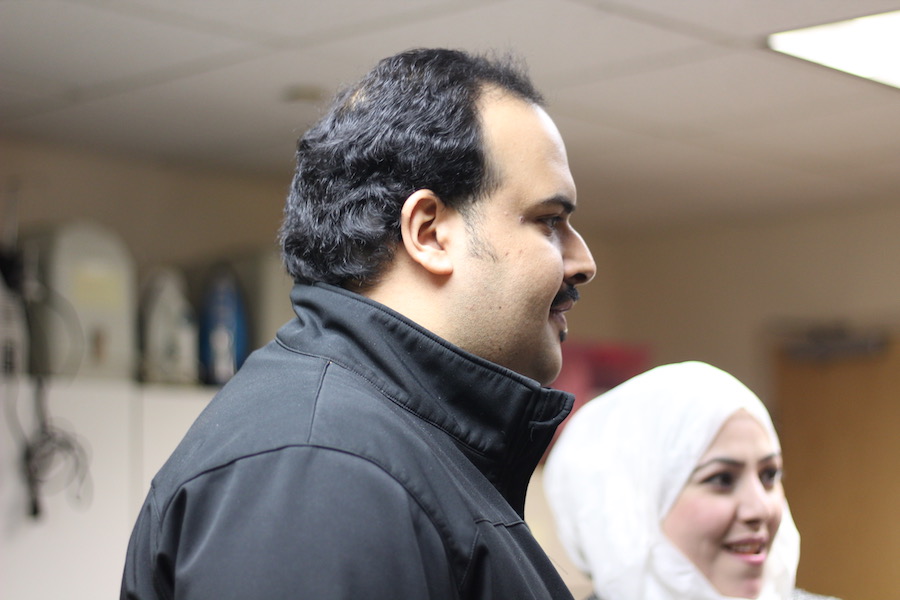 "I am very happy," she said Tuesday, adding that she will not be running ("cooking, not running!") but her children plan to. "I don't cry anymore. My children are happy. My work goes up—my business is better than it has been before. People know my name."
That's also true for Azhar Ahmed, who arrived in New Haven from South Sudan in June 2015, after years of persecution in Sudan's Nuba Mountains, and then as a refugee in Egypt under Hosni Mubarak. In 2017, she participated in the run for the first time, speaking at a march and rally held afterward. Two years later, she said she is both struggling with fallout from the refugee ban, and happier than she has been in a long time.
"I know I left many family [members]," she said. "They were supposed to come here. They have dreams. They already prepared to come."
She recalled hearing from one family who was poised to come in 2017, and then denied entry after the travel ban passed in late January of that year. There are thousands like that family waiting, she said.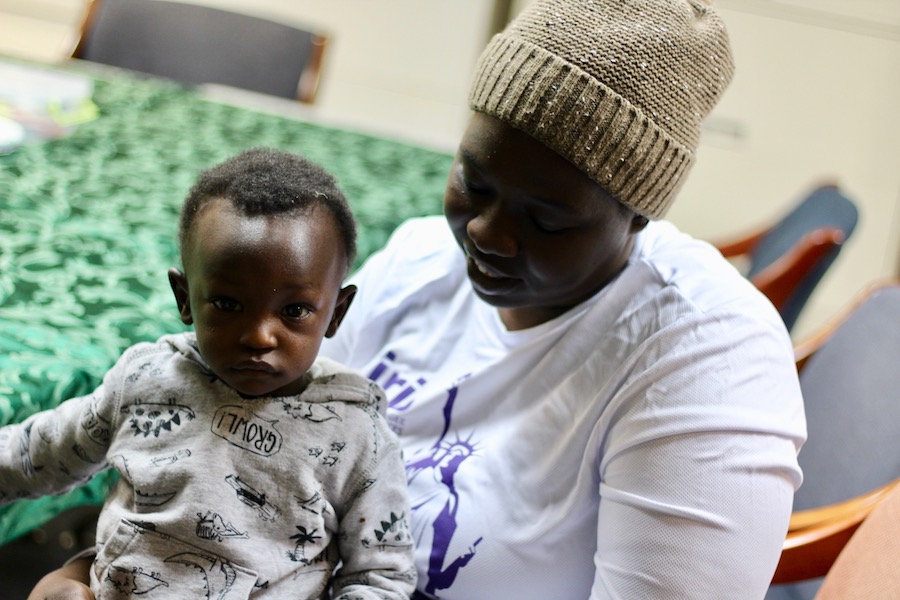 But she said her life also has "changed for better." She has a 13-month old named Kutti (pictured above), who was born during rehearsals for Long Wharf Theatre's The American Unicorn last year. She has nearly completed her ESL classes at Gateway Community College. Her 11-year-old daughter Lames has declared that she's going to be an astronaut when she grows up, a career that she's started training for by acing her math tests at Engineering and Science University Magnet School (ESUMS). And she still reflects on realizing, at that 2017 run, that she wasn't alone after all.
"I saw all of these people just came," she recalled. "It was so cold. It means for me that I am not alone. It's cold, but when the people came, you feel warm."
While she prepares four big trays of Salad Aswad, an eggplant salad with peanut butter, garlic, lemon juice and tomato that will require 50 eggplants, 93-year-old runner Herman Bershtein will be getting ready for his 12th IRIS 5K, a short jog among the 19 marathons in which he's competed. A participant in the race from the very beginning. Bershtein said he first joined as a sort of tribute to his parents, who came to Ellis Island around 1913 and met shortly thereafter. His father was from Russia and his mother from Poland, and they both moved to Connecticut to raise their family.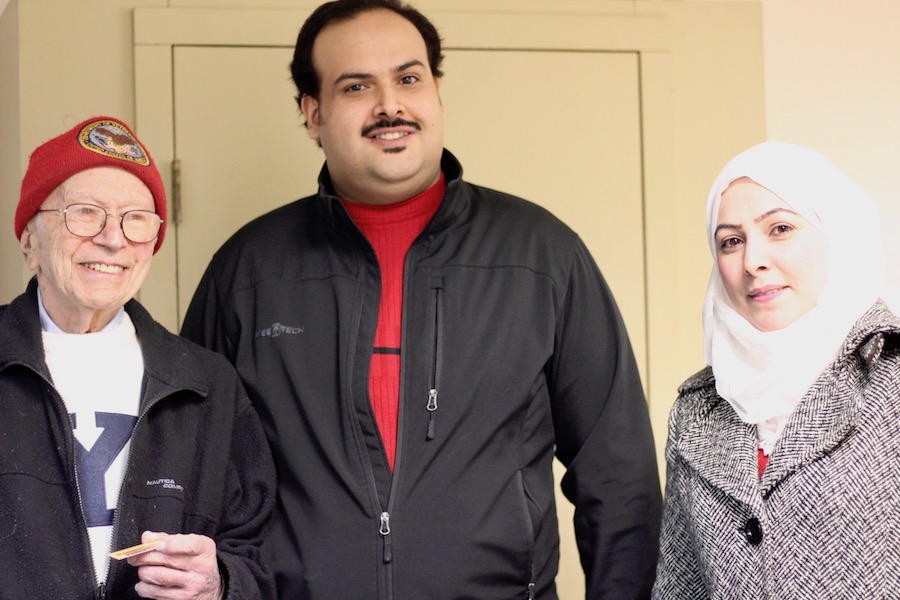 "My parents came both came from the old country," he said. "They could not come here unilaterally—they had to have a sponsor. And if it weren't for the sponsor to assist to bring them here, I would not be here today … I felt that I was lucky enough to be here."
Of their six children, Bershtein was the baby. Raised in Hamden, he ultimately went to Yale University, completing his undergraduate studies on the GI Bill before studying law at Boston University and the University of South Carolina. He said he is still practicing law at Bershtein Law Center, a firm that he founded, because he wants to assist 10 grandchildren with their college tuition. He said that education is, in part, "the dream of IRIS"—that refugees can get an education and be equipped.
"I do many races, but I try to give priority to races that have a good meaning," he said. "Not just a name, a meaning. Certainly, this organization comes to the head of the list. I make every effort to attend this race. Sick or not sick, I'll run."
As long as he's running at 93, Bershtein added, there's no excuse for other runners or walkers not to. He suggested that anyone can pick up his routine, which he started after suffering a stroke several years ago. He goes to the gym six days a week, running two of those.
"I feel very fortunate that I can be here and somehow assist this organization," he said. "Even in my small way."