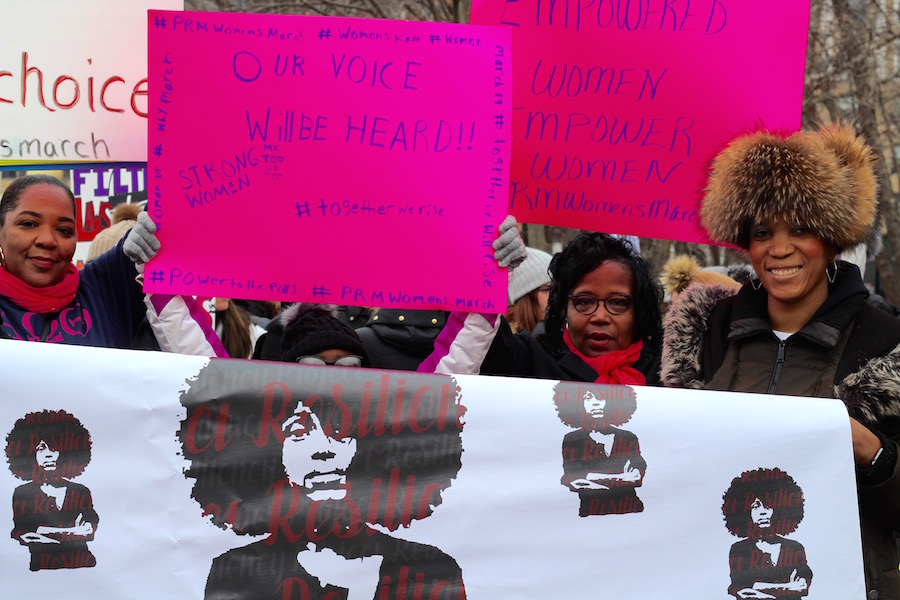 Culture & Community | Hartford | Politics | Women's March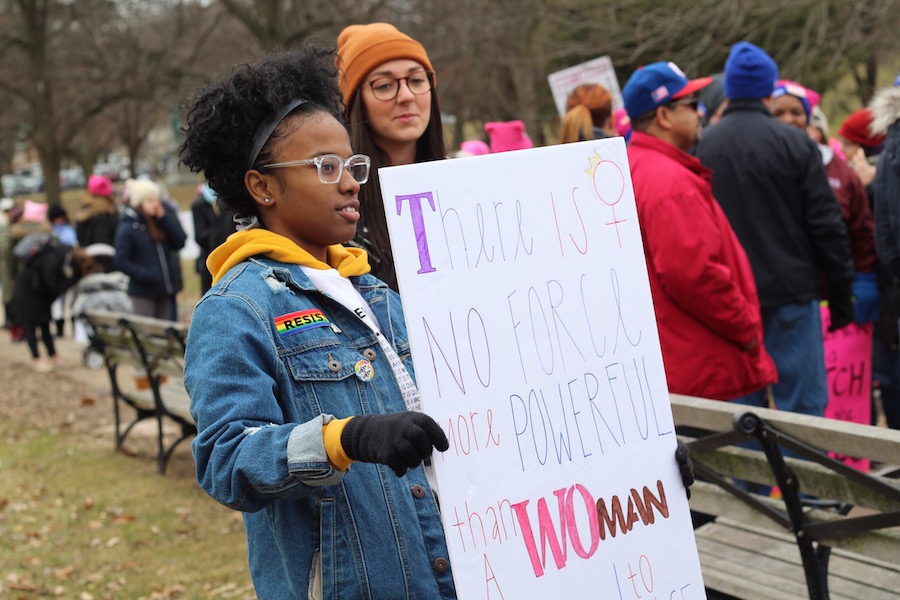 SCSU students Stache Jones and Hailey O'Brien. Lucy Gellman Photos.
Hartford—First they marched because they were mad. Then they marched to get women elected. Now, they're marching to propose, support, and pass legislation that will make the state a more equitable place to live—for everyone.
That was the prevailing message at the third annual Women's March Hartford, held Saturday afternoon outside the state capitol building. A collaboration among Women's March-CT, AFT Connecticut, Planned Parenthood Votes Connecticut, the Connecticut Women's Education and Legal Fund (CWEALF) and several others, the march drew between 2,500 and 3,000, according to Hartford police.
This year, the march focused on eight "Unity Principles" written by organizers of the national Women's March, which has maintained a united and intersectional front despite recent allegations of anti-Semitism within the movement. At noon, organizers gathered by the large fountain in Hartford's Connecticut State Capitol Park, lining the park's walkways with handmade signs and placards. Pussy hats, rainbow capes, and twenty shades of red lipstick dotted the crowd.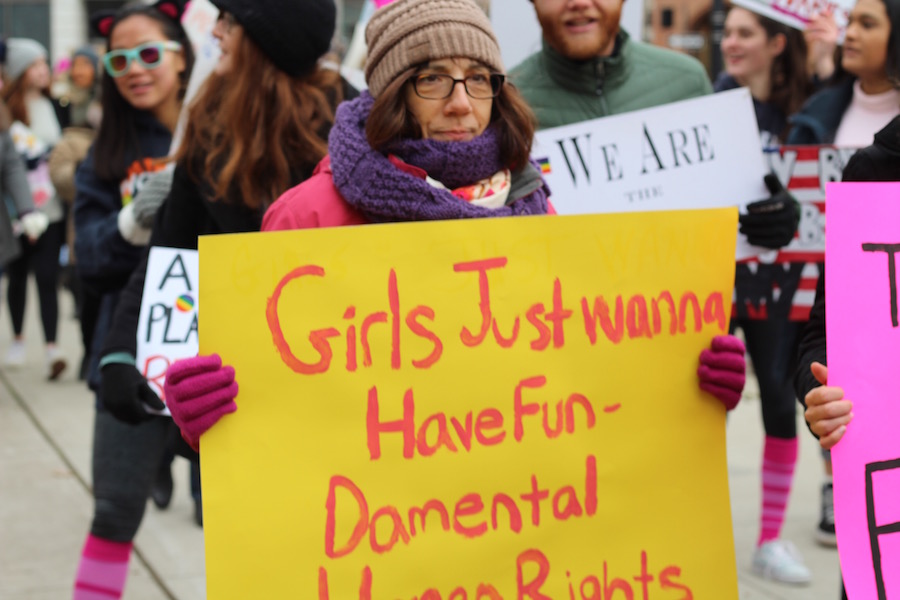 As they prepared to march, Southern Connecticut State University (SCSU) students Stache Jones and Hailey O'Brien said they had made the trek from New Haven to show their support for fellow women pushing for an intersectional legislative agenda both statewide and nationally. Jones is studying psychology with a minor in criminal justice; O'Brien is studying public health with a minor in nutrition.
"I think it's just time that everyone's voices are heard and all types of women are accepted," said O'Brien. "I think it's really important that any type of woman, not just the average white women who has a lot of power, is seen and their voices are heard. And I think it's really important that intersectional feminism is the focus of this march. In the past, it wasn't like that."
Standing next to her, Jones said she is enthused by momentum in the state legislature to pass a $15 minimum wage.
"I feel like it open doors for a lot of people, and opportunities to break that barrier," she said. "Obviously in working class but also in things like lower-income families."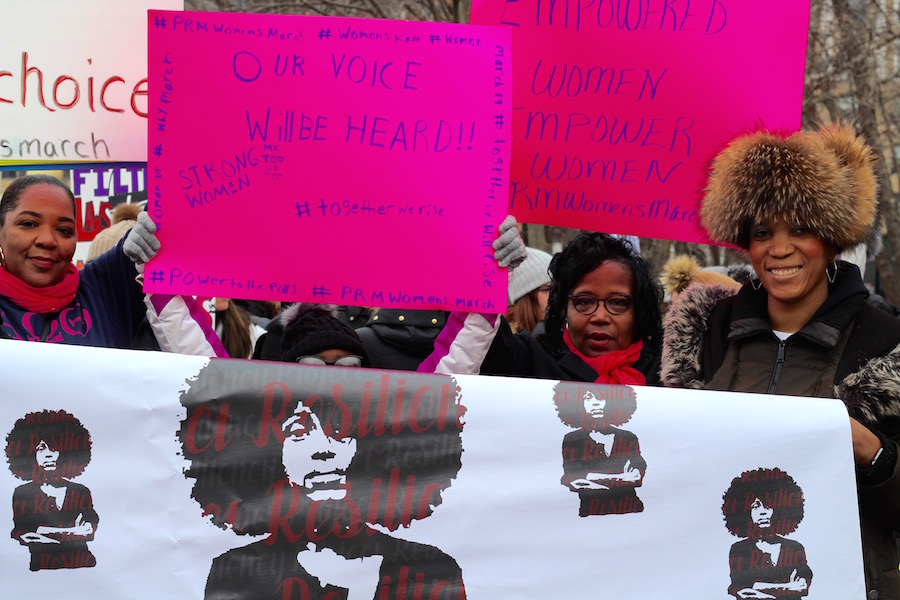 Althea Webber Bates and members of Project Resiliency.
Just a few feet away, Project Resiliency Founder and Director Althea Webber Bates organized a handful of members and friends behind a banner for the organization, brightly punctuated with a black-and-red portrait of a women with an afro. One of the partners in this year's march, Webber Bates said that she is going into this year focused on resiliency and self-care for women of color.
"We are here in support of strong women—making sure their voice is heard," she said. "We're also making sure that they care for themselves while they're out here empowering others. Today we're out here marching for paid leave, we're marching for those women that had to leave their children at the borders, we're marching for healthcare. Today we're marching for all those reasons."
Lurching forward as one long, bright line, marchers streamed from the park to its perimeter, making their way around its perimeter and up a hill to the capitol building. As they wove around shouting "No Trump, No KKK, No Fascist USA!" and "What do we want? Justice! When do we want it? Now!" marchers were joined by state and national legislators including Lt. Governor Susan Bysiewicz, U.S. Rep. Jahana Hayes, and U.S. Sen. Richard Blumenthal.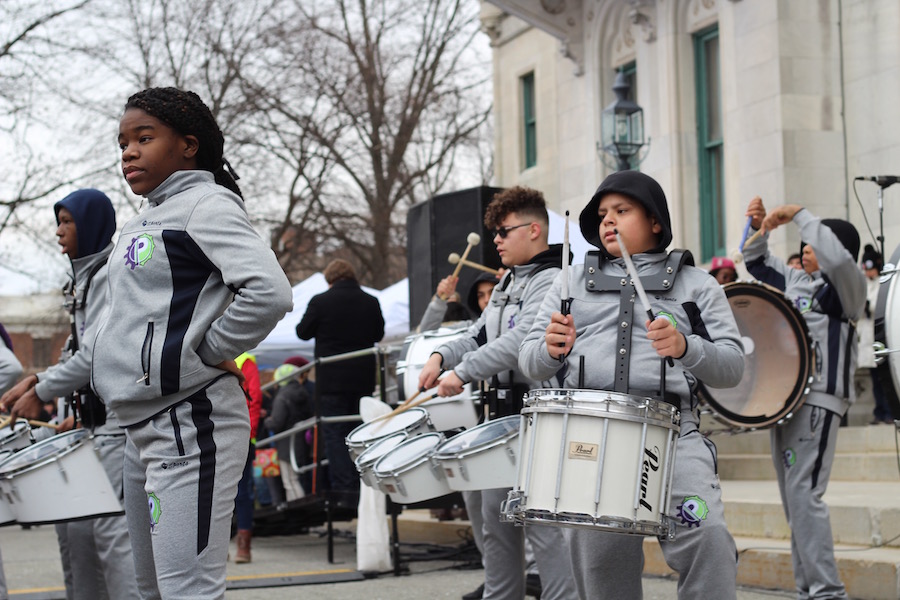 As the rally began with a drill team, loud cheers and mittened claps from the crowd, speakers zeroed in on both statewide and federal legislation that they hope to see this year. Praising the 52 women in the Connecticut General Assembly, including 11 in the state senate, Women's March organizer Nija Phelps suggested that 2019 could be the year to do it—especially with a state legislature that was walked back from the brink of turning red to turning solidly blue.
Speaking on the principle of immigrant rights, organizers Evelyn Mantilla and Barbara Lopez urged marchers to fight for fairer justice policies and proceedings as the 2019 legislative session gets underway(watch them in the video below). For them, that includes both an expansion of Connecticut's Trust Act and a "364 Day Act" that criminal justice advocates have already been rallying for at the capitol.
Under Connecticut's Trust Act, which passed in 2013, local and state police cannot hold immigrants who have been arrested for minor crimes for federal officials. Meanwhile the 364 Day Act, previous iterations of which have not passed in the General Assembly, would bring down misdemeanor sentences from 365 days to 364, which advocates see as a way to reduce deportations.
"We believe migration is a human right and that no human being is illegal," said Mantilla, a leader of Connecticut Latinas In The Resistance, quoting the principle.

Mantilla introduced an immigrant mom who identified herself only as Rosario, a member of the "Mother Warrior" committee of Make The Road Connecticut. Speaking in Spanish with activist-translator Barbara Lopez by her side, Rosario recalled her son's harrowing experience coming into the country in 2014, when he was just four years old. Rosario had crossed two years before in 2012, and was waiting eagerly to be reunited with her family.
But the process wasn't as easy as she thought it would be. When he crossed the border, ICE officials demanded to see his father's paperwork, demanding his fingerprints and documentation before they could bring her son to Connecticut. But his father and mother were elsewhere—it was another person who had arranged the boy's safe passage. His parents needed time to get the paperwork together. Immigrations and Customs Enforcement kept the little boy in a detention center for two weeks. By the end of that time, she said her son no longer recognized them.
"We want the police, the schools, and other identities not to share information with ICE," she said, bouncing her one-year-old daughter as she spoke. "We want [them] to stop contributing to the separation of families."
Those demands—a word that came up a lot during Saturday's rally—kicked off a list of both tangible and more abstruse legislative actions that speakers hope to see in the next year. Diana Lombardi, executive director of the Connecticut Trans-Advocacy Coalition (CTAC) praised the election of 19 Black women judges in Harris County, Tex., citing it as an example of the change that collective action can make. She cited state governments where voters had chosen "inclusion over exclusion" in electing women and pro-LGBTQ+ legislation, pushing for voters in Connecticut to do the same.
Taking the mic to speak about disability rights, both State Rehabilitation Council Chair Nyema Pinkney and disability activist Candace Low asked for greater representation of—and access for—people with disabilities in town and city council meetings, the state legislature, and the White House.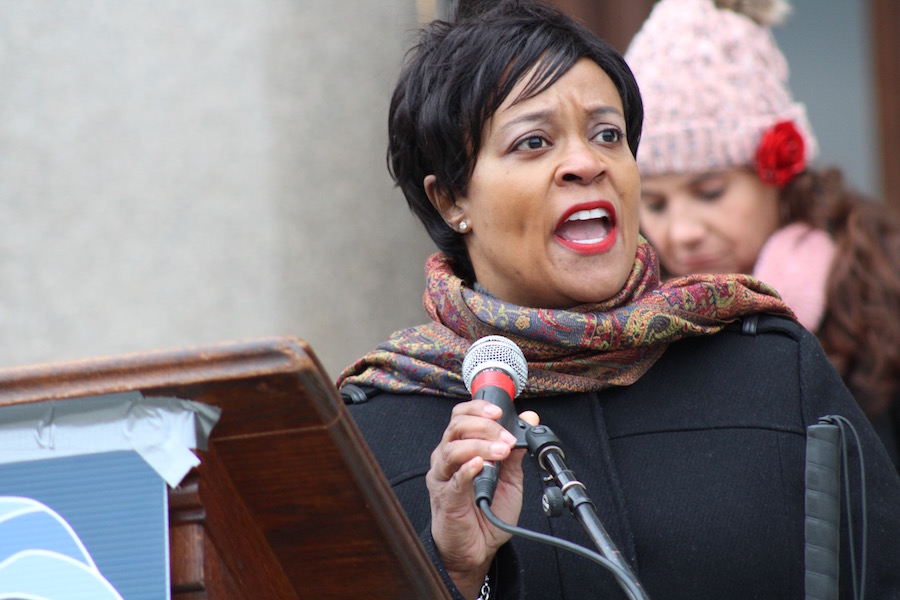 Nyema Pinkney, who lost her eyesight as a side effect of a medication 12 years ago.
"It is time for us to use our collective voices to advocate for meaningful employment," said Pinkney, who is blind and also serves on the board of directors of Disability Rights Connecticut. "Everyone has the right to work if they are able. To provide for their families, to be able to have a quality of life, to not be dependent on shrinking government assistance."
Other speakers rallied for legislation that they see as long overdue. Stepping up to the podium with two union workers, statewide labor advocate Shelleye Davis spoke out for a $15 statewide minimum wage and paid family and medical leave, both items that Gov. Ned Lamont promised during his campaign, within the first 100 days of this year's legislative session.
As she spoke, she deplored the government shutdown, asking that marchers stop for a moment to reflect on the 800,000 federal workers that have been put on furlough or asked to show up at work without a paycheck for 29 days. Then she turned her attention back to the state she calls home, and the fellow union workers she calls family, each day.
"Working people in Connecticut deserve better than the economy we face today," she said. It is too critical to wait any longer for either."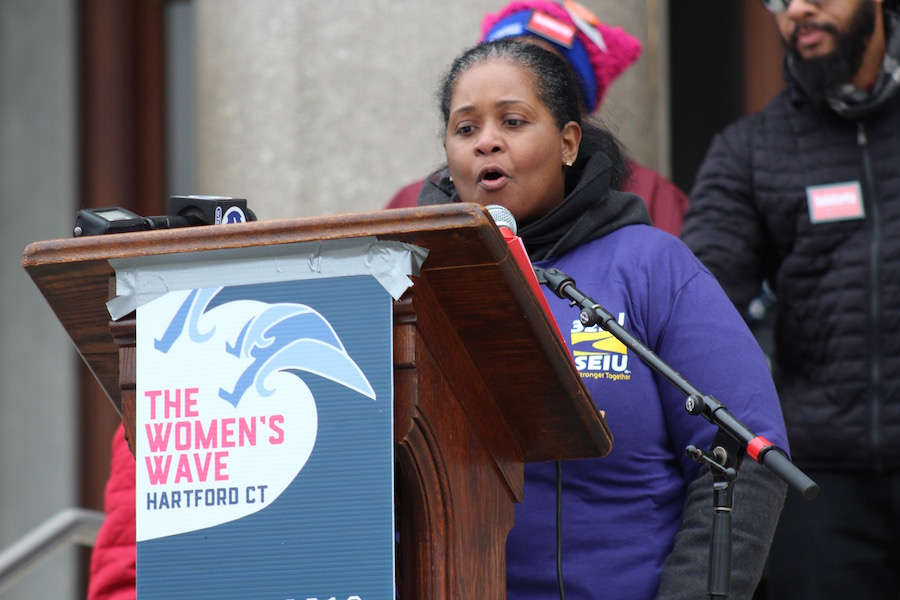 Malone, one of two union employees to speak passionately on paid family and medical leave and $15 minimum wage.
That message also rang true for Tina Malone, a full-time certified nursing assistant who works a second job as a full-time security official at an office building in downtown Hartford, just to support her four kids and nine grandkids.
"Working mothers are hurting in this political climate," she said, noting the need for better wages, benefits, and protection from abusive superiors in the workplace. "As we march today, hundreds of thousands of working women have gone a month without a paycheck. Trump is holding them hostage."
"$15 an hour won't make moms rich," she added. "But it will make a difference."
Others told the crowd that the fight for legislation is about making the personal political, and the political personal. Kristin Song, whose son Ethan was killed a year ago with when a friend found and fired an unsecured firearm, advocated for #EthansLaw, a gun storage law for which there are both federal and statewide proposals (as of this month) on the table.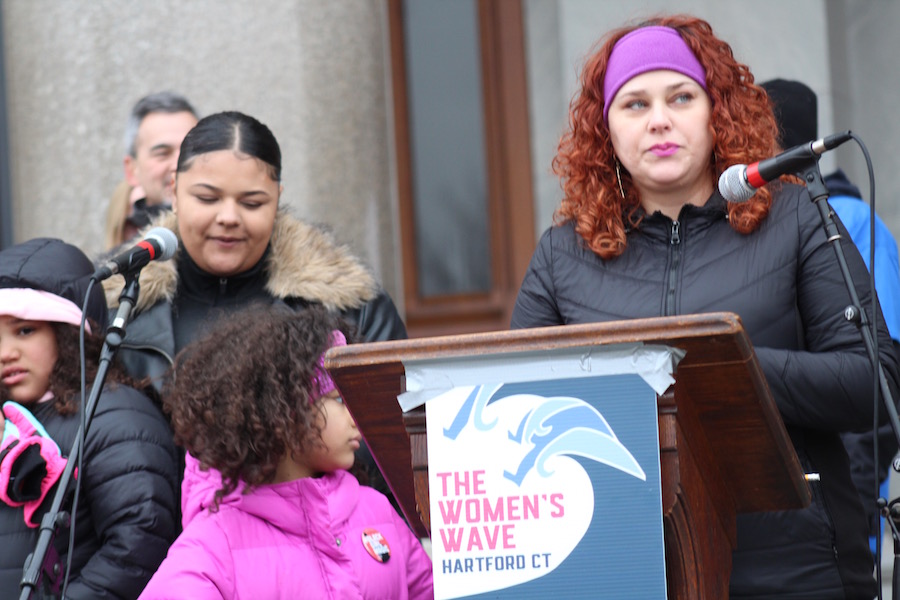 Standing with her three children, Kate Rivera (pictured above) advocated for greater police accountability, praising the work of New Haven activists Kerry Ellington and Emma Jones, whose 20 years of testifying, organizing, and petitioning New Haven's Board of Alders resulted in for a civilian review board with subpoena power and neighborhood representation earlier this month. She urged marchers to get push for better municipal oversight in their own communities, denouncing union contracts that protect police.
And she asked for legislative action—a statewide, public hearing on police violence, where the state can collect local data on police violence and synthesize it on the state level. She left attendees with a staggering number: 996 people killed at the hands of police last year.
"As a state, we decided we would no longer kill people via the death penalty," she said. "People are still dying at the hands of our government. Why are we okay with this form of government violence? When police murder citizens here extra-judiciously we're denying citizens of their rights. To have a functioning democracy, we must have real police accountability."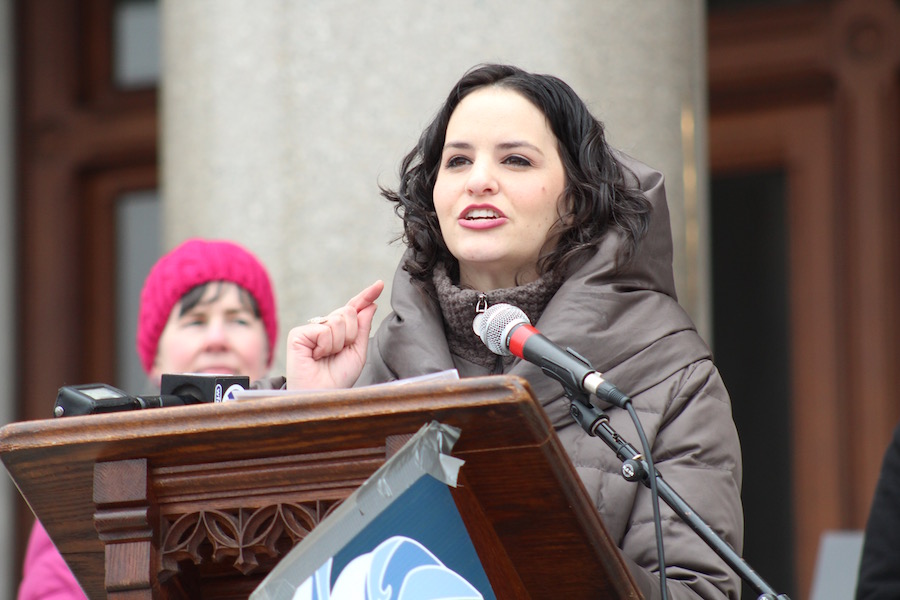 While Women's March Hartford organizers did not explicitly address fractures within the movement—the organization has been facing claims of anti-Semitism, enough to create two different marches in several U.S. cities—organizers did push for unity, urging attendees not to form divisions among racial, religious, or partisan lines.
Speaking on the principle of civil rights, activist Brittney Yancey reminded attendees that "the liberation can only be effective if it is intersectional."
Rabbi Andi Fliegel of Congregation Beth Israel in West Hartford also brought that message to the capitol steps. Without ever mentioning allegations of anti-Semitism by name (she also did not mention Palestine, which has been a rallying cry for many in the movement), she recalled the fundamental role of five Jewish and non-Jewish women in the story of the Exodus, read "in synagogues around the world this morning."
Fliegel listed them methodically: Egyptian midwives Shifra and Puah, who ignored Pharaoh's edict to kill baby boys born to the Israelites; Moses' Israeli mother Yocheved and older sister Miriam, who refused to surrender baby Moses and then watched him from the reeds as he floated down the Nile River; Pharaoh's daughter Bithiah, who scooped up the baby when she was bathing in the river, and raised him as her own at great mortal risk. Five supposed enemies, working to support the life of one child.
"A woman of any background is a partner in the fight," she said.