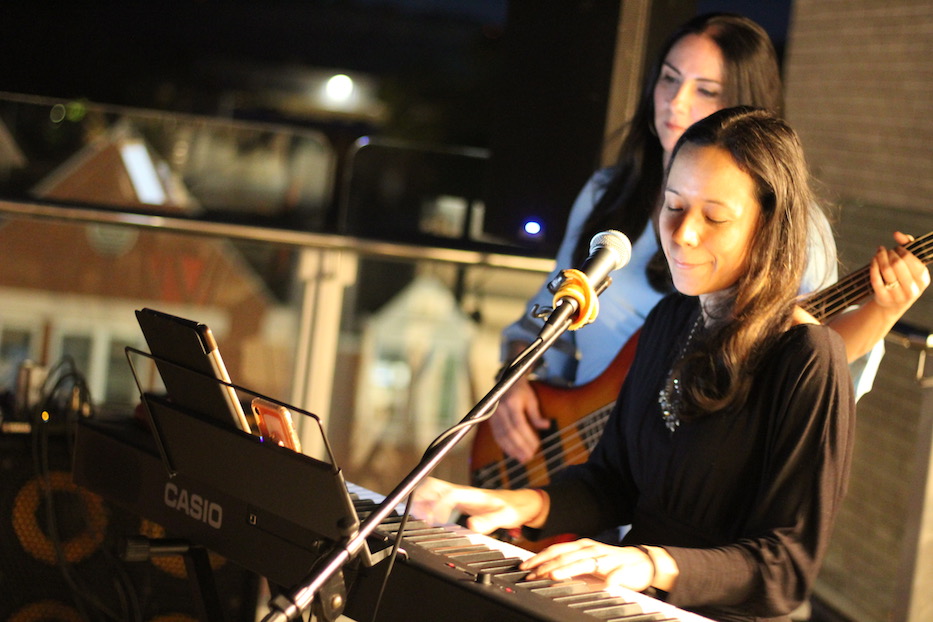 Audubon Arts | Jazz | Music | Arts & Culture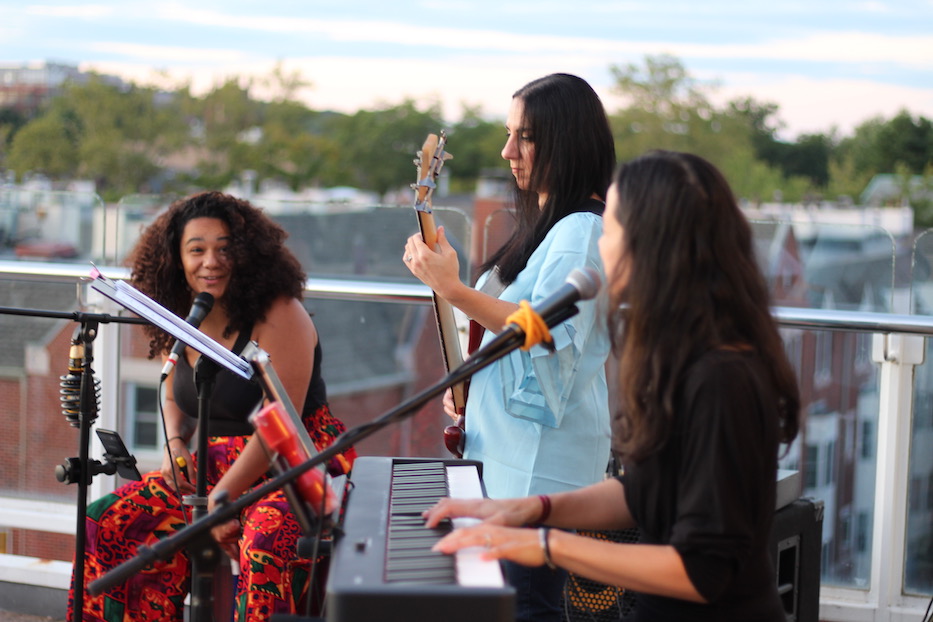 Fernanda Franco, Nicole Granucci and Isabella Mendes. Lucy Gellman Photos.
Fernanda Franco was deep in the favelas of Brazil, describing a song before she launched into it. In one universe, she guided the audience through a poor neighborhood step by step, nodding to residents with reverence . Back in New Haven, she rubbed her hands up and down her cajon and conjured a melody born hundreds of miles away.
"The most amazing humans live there," she said. "The music that comes out of those streets … there's nothing like it. This song basically says 'no one from the hills, they don't give us a chance/but if they give us a chance the whole city's gonna sing.'"
Saturday night, Franco was one of the anchors of Jazz Where?, a new jazz pop-up with a hot-club-meets-front-porch kind of feel. Organized by New Haven Independent Arts Editor Brian Slattery and Inner-City News Editor Babz Rawls-Ivy, the launch took place on the roof of 70 Audubon Street, home to the Community Foundation for Greater New Haven and Arts Council of Greater New Haven. Over 50 attended by the end of the night.
In addition to Franco, musicians included Bossa Nova Project Co-Founder Isabella Mendes and Nicole Granucci, playing as a trio for almost three hours straight. Franco, who plays in the band Fernanda and the Ephemeral (FaTE), ended the set by heading on to a late-night gig with Thabisa at Cafe Nine.
"This has been Brian and I's opportunity to do jazz the way we thought a jazz club ought to run," Rawls-Ivy said to cheers and applause Saturday. "Cool people, cool music, and a cool space. And I think we hit it!"
"It was never about 50 million people being here," she added. "As you know, jazz clubs back in the day were intimate and small. It didn't need to be a stadium. We just wanted an intimate setting where people could sit, relax, not trip over people, and enjoy each other in conversation."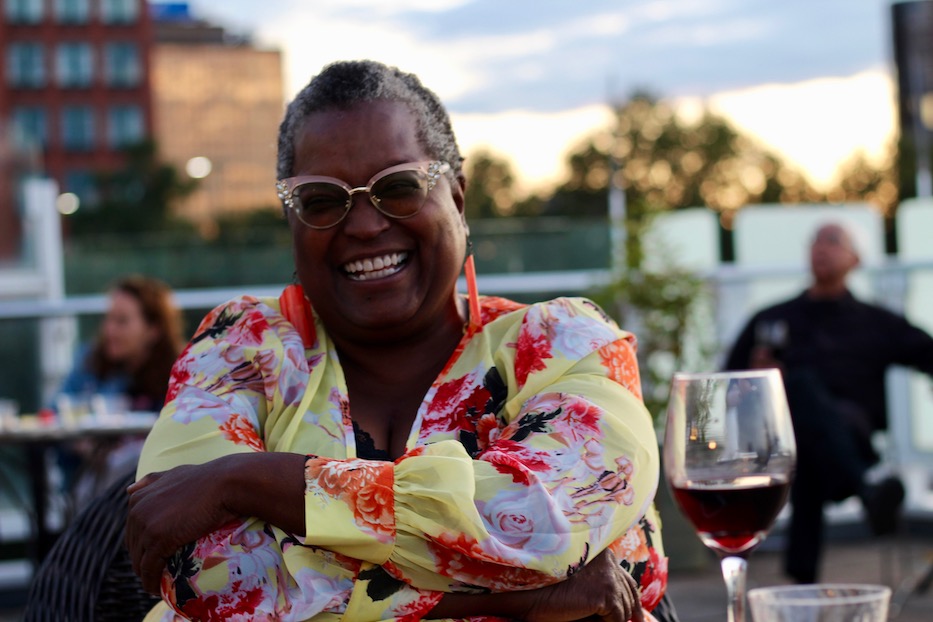 "Cool people, cool music, and a cool space. And I think we hit it!"
Slattery and Rawls-Ivy met four years ago, when the New Haven Independent was building its low-power radio affiliate, WNHH Community Radio (103.5 FM), and the two found themselves talking about the absence of a regular jazz club in the city. It was the summer of 2015—just months after the short-lived Ninth Note announced it was facing eviction and then left the city.
The two both knew New Haven's rich jazz history, but also knew it was fragmented. They joked about their requirements for a spot: open from midnight to 6 a.m. and hidden from public view, maybe in a basement or on a second floor. Something password protected. A dance floor was a must. They joked that they needed to stop talking about the idea, or they might accidentally put down a mortgage on a spot. Which would be great, except neither of them could afford it.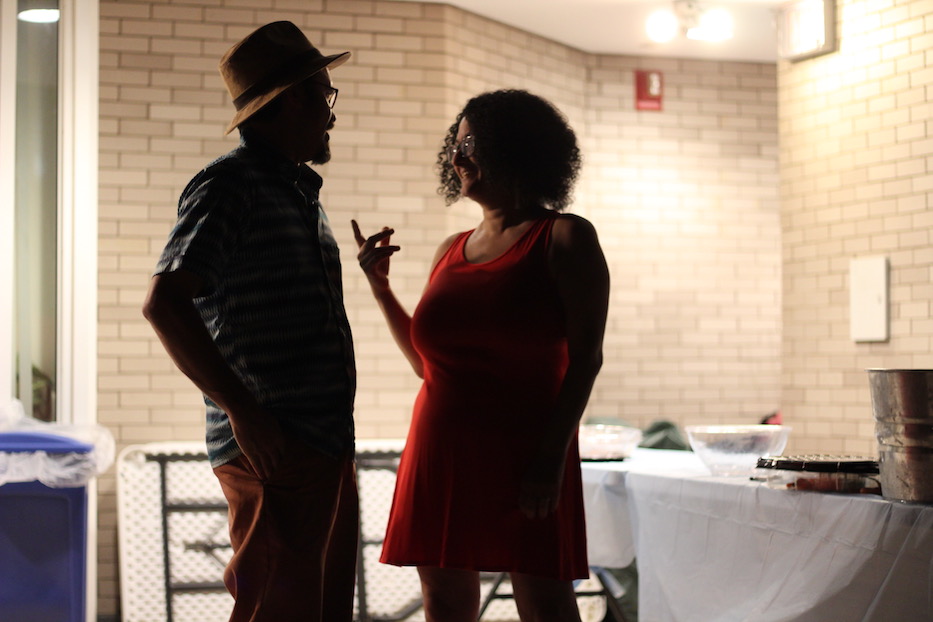 Slattery and New Haven Independent arts writer Karen Ponzio, who spent the night off duty and perfecting fancy footwork on the dance floor.
And then just as quickly as that joke came, the two realized that they could make the idea a reality with a totally free, community-oriented pop up. By the time they'd thought of venues—"we wanted unconventional," said Rawls-Ivy—they had a long list of musicians in mind. The two ultimately chose the trio after both seeing FaTE at Cafe Nine and listening to Mendes' work and feeling awestruck.
"It's a dream we wanted to do," Rawls-Ivy said. "We didn't want to charge. We didn't even want it to be a charitable thing. We just wanted it to be a cool night. We don't know what it'll be in the future. We'll see."
That easy vibe rippled across the roof, where attendees trickled in and set snacks and drinks on a communal table. On one side of the patio, Mendes unspooled the history of Bossa Nova, which blends jazz, samba, indigenous Brazilian music and something entirely of its own making.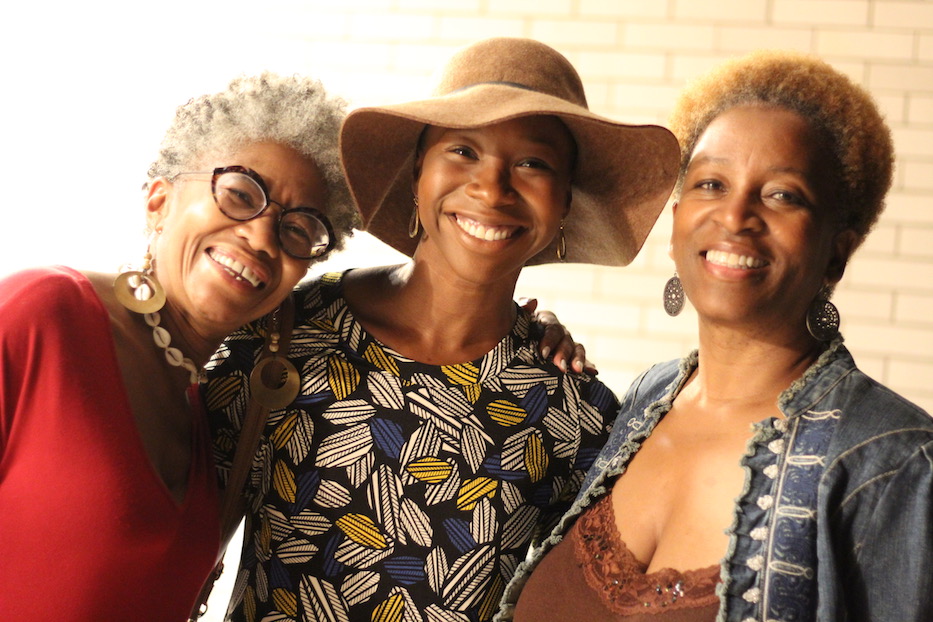 Attendes IfeMichelle Gardin, Sarafina Robinson and Michelle Turner.
She and Franco chatted in Portuguese, a nod to the country that raised them and fed them a steady musical diet of smooth piano and ear-wormy, murmuring percussion. Two numbers into the set, Mendes threw her head back and laughed, as if the group's smooth sound was a matter of divine providence.
"This is the first time we played together!" she said to cheers. Franco corrected her: it was the second time they'd played together. The first had been their rehearsal earlier that week. The audience laughed along with them, as if they'd been let in on a magical secret.
The three dove back into the set, vocals sailing into a pink-orange sky. They traversed music history, celebrating bossa greats João Gilberto and Sergio Mendes while also making time for King Pleasure and the jazz legacies to which he gave birth. To Mendes' voice, a bolt of satin, came Franco's spirited and razor-sharp response. Granucci held it down, more of a bridge between the two than a buffer.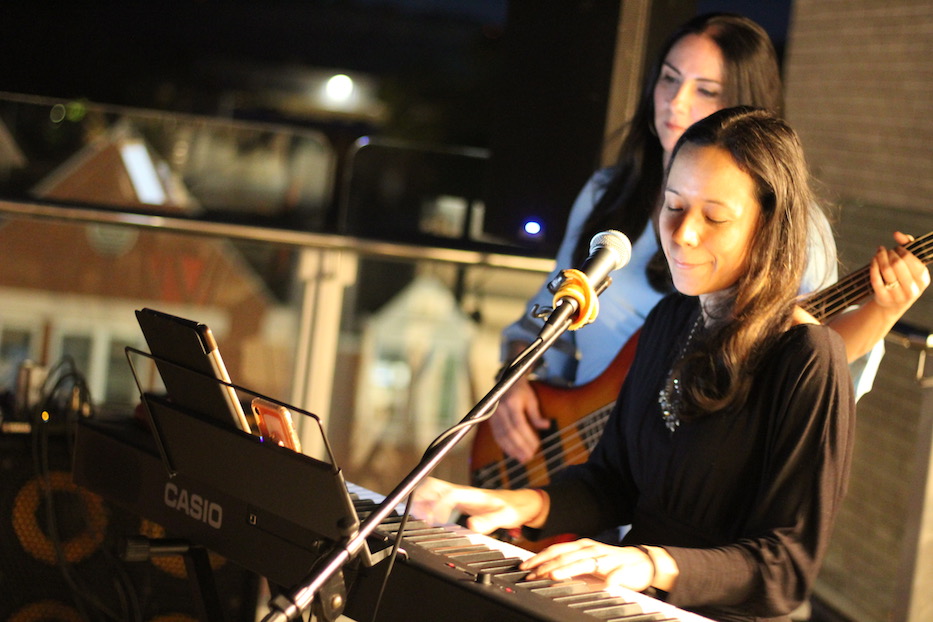 At points, the evening also became a celebration of women in jazz. Franco explained to the audience that while bossa is not new to her, this configuration was: she is still learning to play the cajon, with two different brushes clasped in both hands. She recalled calling her father, who is a musician in Brazil, to ask what she was doing wrong earlier this week—only after she'd bruised multiple fingers.
"I have this cajon because I'm tired of getting stood up by drummers," she said to laughs.
Attendees hit the dance floor, a blur of reds and blues in the falling light. When the trio announced it would be performing Astrud Gilberto's once earth-shattering "The Girl From Ipanema"—long awaited after an intermission and almost three hours of music—the audience greeted the news with applause and loud cheers. Several members of the audience began to hum and sing along quietly.
Tall and tan and young and lovely
The girl from Ipanema goes walking
And when she passes, each one she passes
Franco had other plans for the song. She grinned, leaning into the mic as she mastered the cajon beneath her. She traded lyrics with Mendes, sometimes jumping in to add an interjection just when the song seemed too smooth to handle itself. As Mendes launched into the lyrics How can I tell her I love her?, she gave a small grin.
"Just tell her, man!" she said.
Some time after 9 p.m., Slattery's phone buzzed. Someone was downstairs curious about the event, and couldn't get up to the fifth floor without someone buzzing them up (kind of like a password). They hadn't planned to make Jazz Where? part of their evening. They'd just heard Bossa Nova floating down from the street and decided to call Slattery's number, which was scrawled on a poster downstairs that read "Jazz Where? Jazz Here!"
"Yes!" said Slattery as he headed to the elevator. "We're at that point of the evening now. That was exactly my hope."