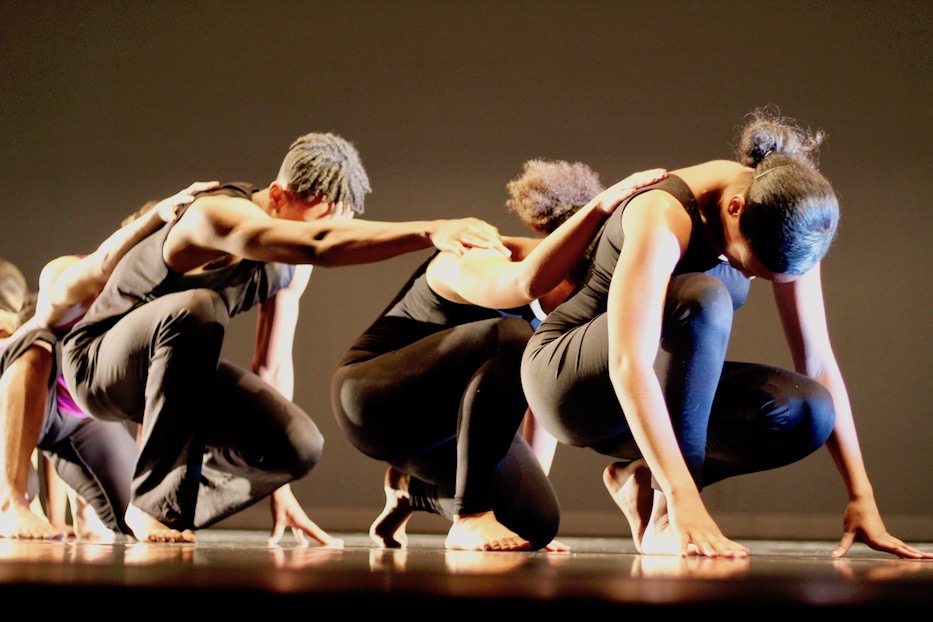 Co-Op High School | Dance | Education & Youth | Arts & Culture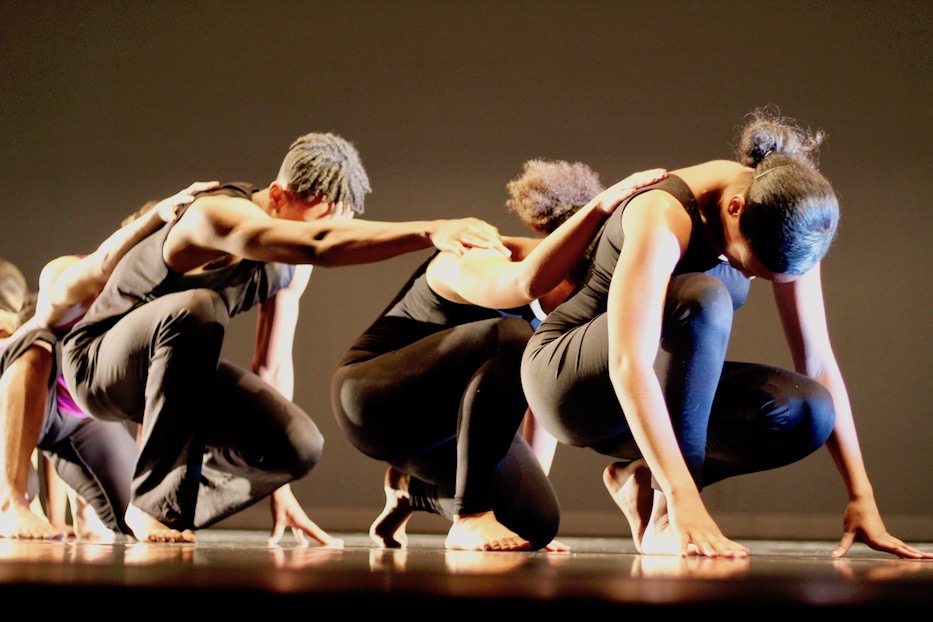 Dancers in Holding On To Humanity. Lucy Gellman Photos.
One moment the stage was empty, and the next a group of dancers had filled it. Under blue light, they lurched together in a phalanx of black and pink leotards. Space formed between them as they moved, pockets of it glowing between straight arms and pointed toes, limbs that lifted and lengthened. A few dancers fell to their knees. Violins swelled, catching as if they were about to cry.
This week, dance-focused seniors at Cooperative Arts & Humanities High School have started the long goodbye—and summoned their humanity—as part of the school's annual "Winterfest." An end-of-year dance showcase for all grade levels, the event marks their penultimate performance together before heading off to college.
The work has been supervised by teachers Christine Kershaw-Hobson, Lindsey Bauer and Stephen Hankey. Performances run Wednesday and Thursday; more information is available here.
"I feel like we're all going to go our different ways," said senior Chassity Ramirez. "We say we're all ready for now. But when we're in college, meeting different people, we're gonna miss each other. We're gonna feel alone."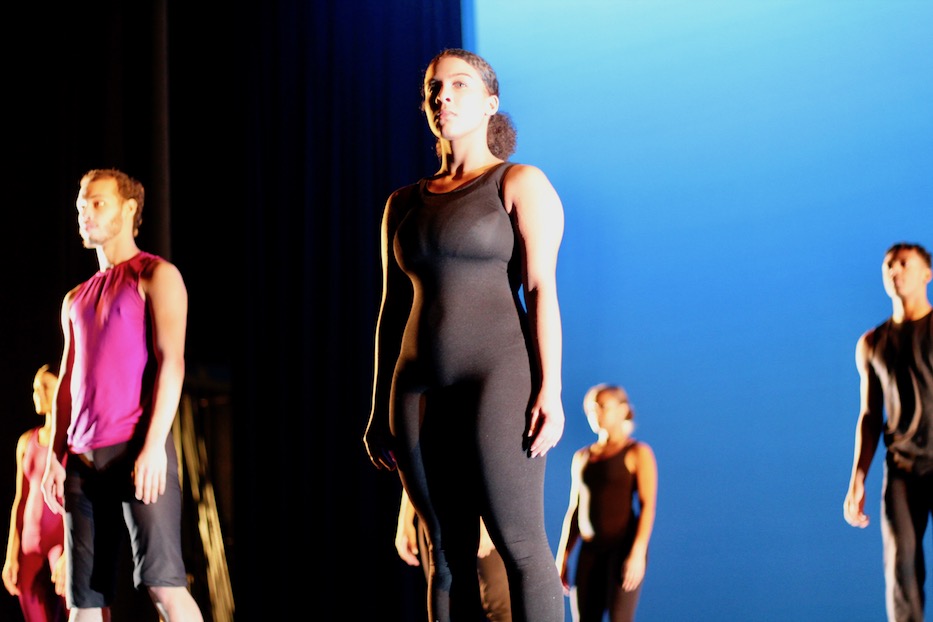 In their work Holding Onto Humanity, seniors have worked collaboratively to craft a piece about human connection, tying lessons they learned inside the classroom to those they have picked up outside of it. With Bauer, the group started the process last year, discussing what movements and actions might be associated with the words "passion," "humanity," and "inhumane."
They experimented with improvisation and weight bearing, a practice in which dancers balance on each other. The group picked the project back up earlier this year, when Bauer returned from maternity leave.
In part, talking through the dance was just as important as devising the choreography. At a rehearsal Wednesday morning, senior Rowan Huber recalled starting the process with a discussion that revealed his classmates were as stressed out about their senior capstones as he was. Vita Harris, his classmate and a fellow dancer, noted that the dance ultimately became a meditation in compassion and survival.
"We looked around at our surroundings, and we kept remembering how we had other people," she said. "That snaps us back into reality."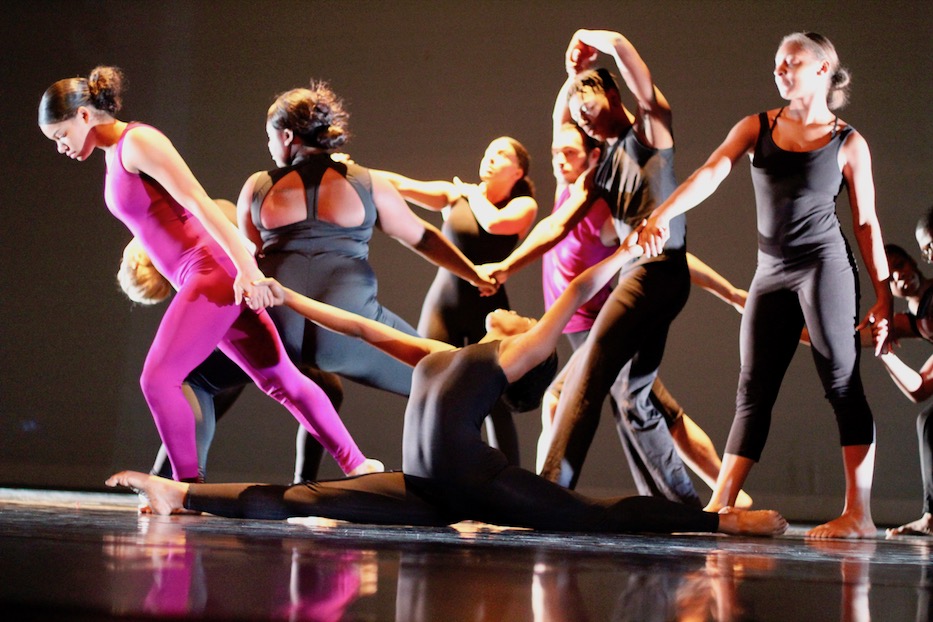 Wednesday, they made their way across the stage to music from composer Max Richter, their breath and footfalls joining the voices of violins. As they moved, they spread out into a circle, hands tightly clasped. They scattered, mastering the same back bends, outstretched limbs, forward falls and lunges in unison.
Dancers scattered, and Rosello braced himself for the lift he knew was coming. From the curtain, his classmates became a train of bodies once more, leaning on each other as they moved towards the center of the stage.
"We found ourselves talking about how we need people to hold us up sometimes," Bauer said after watching a tech rehearsal Wednesday morning. "We find ourselves collapsing at various points. Times can be really tough. This piece is about connection, honestly, vulnerability."
"I want to take them back and remind them to look at each other in the eye," she added.
But Holding On, like the program it represents, seems to also play a role in redefining who dancers and choreographers can and cannot be. In data collected from the U.S. Census Bureau and Deloitte's Data USA project in 2017, 66.7 percent of dancers self-identified as white, and 16.6 percent as Black.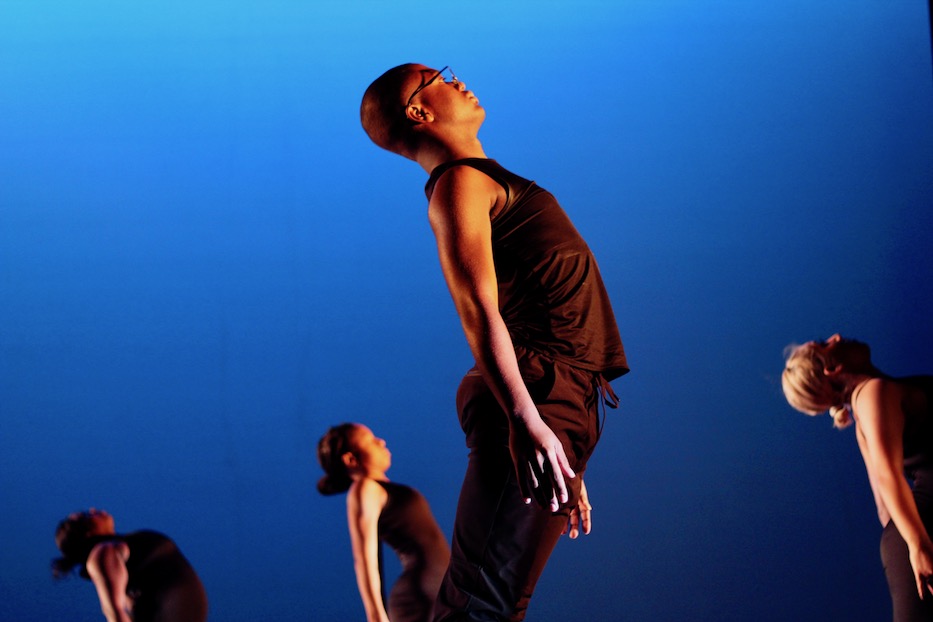 There wasn't a metric for Latinx; dancers who identified as "two or more races" comprised 8.52 percent and Native dancers made up less than one percent. There's a gendered lens too: in a study of 467 performances by the Dance Data Project this year, only 87 (less than 20 percent) were choreographed by women, despite the fact that the field is still dominated by them.
And yet in a field that still remains highly segregated—particularly in ballet, where Black and Latinx dancers didn't have a pointe shoe to match their skin until 2016—Co-Op's dancers come in every shape and shade. At a tech rehearsal Wednesday, some ditched the traditional pink ballet tights for coffee-colored ones. They came onstage fierce and nimble, ready to take on Pyotr Tchaikovsky and Georges Bizet but also Rose Royce, Rob Base, and Moby.
When seniors broke into motion in Sally's Playground, choreographed by Kershaw-Hobson and set to Moby's "Flowers," they were joyful and rambunctious but also precise, soaked in green stage light that bounced off their fuchsia leotards. Music filled the stage with pumping, steady percussion and hand clapping to which dancers pushed themselves forward and rotated their limbs. With Ramirez counting them in, they worked in elements of lyrical dance, contemporary movement, and step.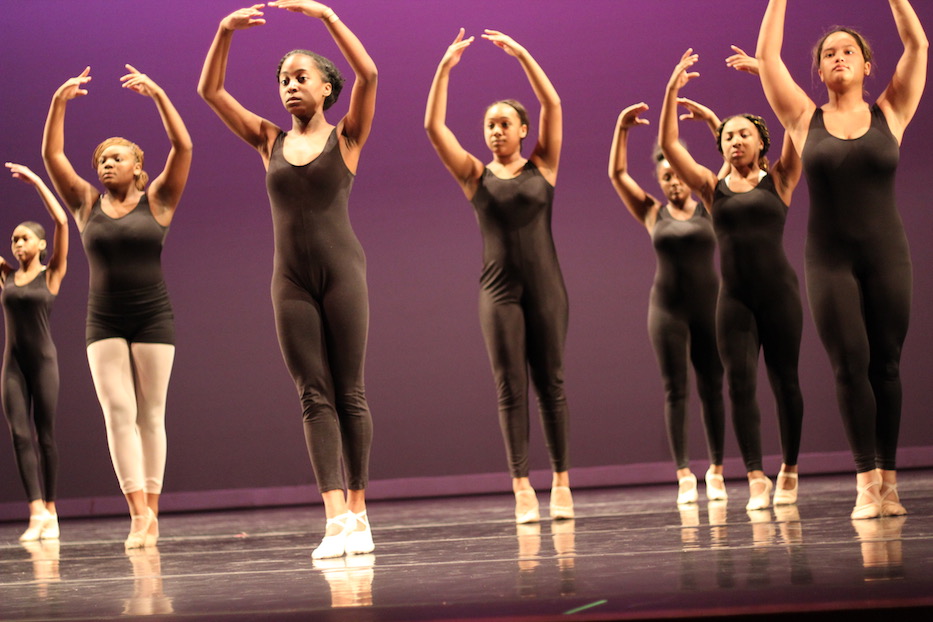 Ballet students in Bourrée, choreographed by Stephen Hankey.
As they prepared to perform Wednesday, seniors stood in a hallway outside the school's auditorium, trading anxieties on next semester's capstones and exactly how much they think they'll miss each other when the year is over. One joked that she was ready to graduate; another said they weren't so sure. Alayjah Draughn noted that whatever they do, they now know they won't be taking it on alone.
"We have these moments in life where we just feel human again," she said. "This world is driven by 'me first, I have to get there, I have to do my job.' It's very busy."
"But there are these slight moments in our lives, in our day, where we're able to connect with the people that we love the most. And only those moments are the only ones that matter."