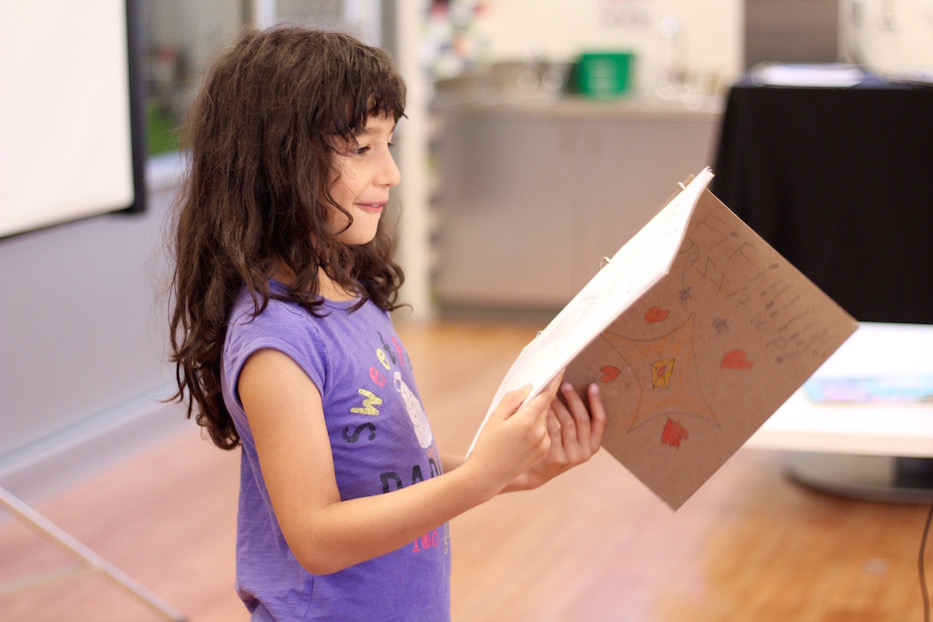 Books | ConnCAT | Science Park | Newhallville | Visual Arts | Arts, Culture & Community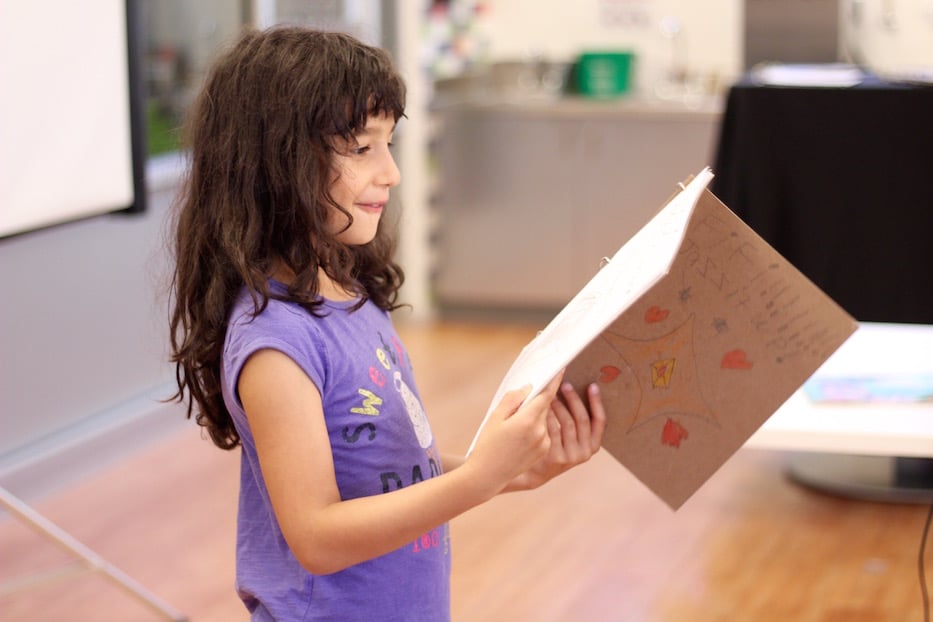 Estela Xol Rivera, one of Monday's young readers. Lucy Gellman Photos.
T'Challa and Batman were duking it out, injury almost certain because Batman didn't have any vibranium in his suit. A page turned, and Fifi the jazz dancer had found the right supplies to decorate her friend's blank white cast. Another page, and a young author named Sascha discovered where her true friends had been hiding.
Writers young and not-so-young brought those stories to the Connecticut Center for Arts & Technology (ConnCAT) Monday night, as the first annual Story Days series of events concluded with a community book exhibition and mural reveal in the space's Orchid Café. Close to 20 New Haveners came out for the event, the brainchild of author, Advocate Lab Founder and proud Beaver Hills neighbor Genese Clark.
Over the past months, Clark has used funds from the Mayor's Neighborhood Vitality Grant Program to create and spread programming across the city, bringing storytelling and bookmaking workshops to schools, community centers and police substations.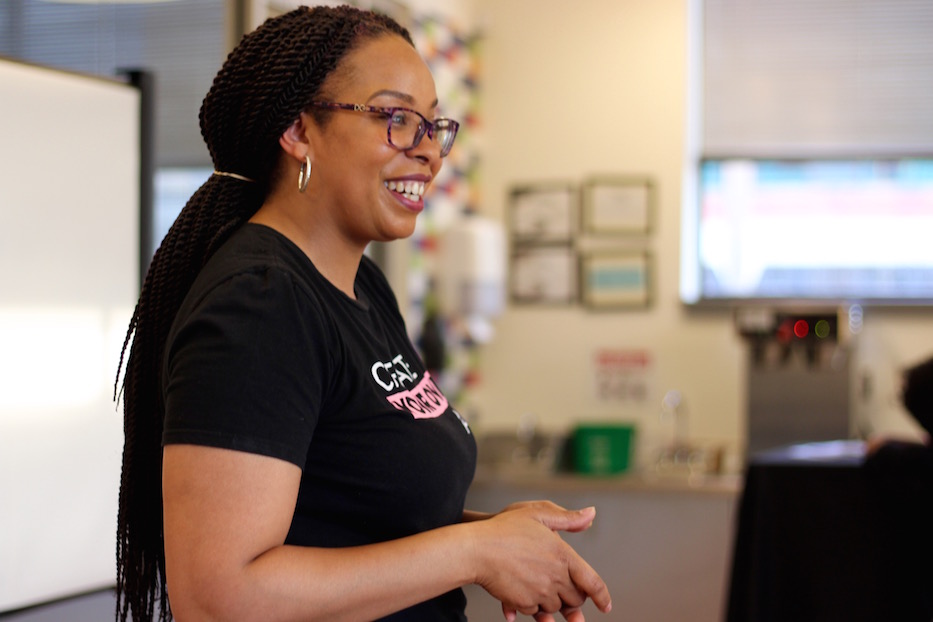 Genese Clark: "My burn is to inspire people."
In addition to the city, she has received support from the art-and-worship group Renaissance-Now and from Soul de Cuba owner Jesus Puerto, whose donation helped Clark distribute books to over 100 New Haven Public Schools students. Through the workshops, she has worked on a new portable mural with her daughter Madison Jones and hundreds of community members.
At each stop, Clark set up a story days platform, reading from her own recent publication Suddenly I Found It! before inviting attendees to write and assemble their own books. At several of the workshops, she had her publisher—who is also her mom—teach young writers about the different parts of a book, from a unique imprint to inside matter.
Monday, she motioned to index cards spread out across a back table, some still blank and some filled with text on brightly colored backgrounds. For the past sessions, she explained, she's been asking both kids and adults to write "where they want to follow their own heartstrings and where they want their heartstrings to lead them."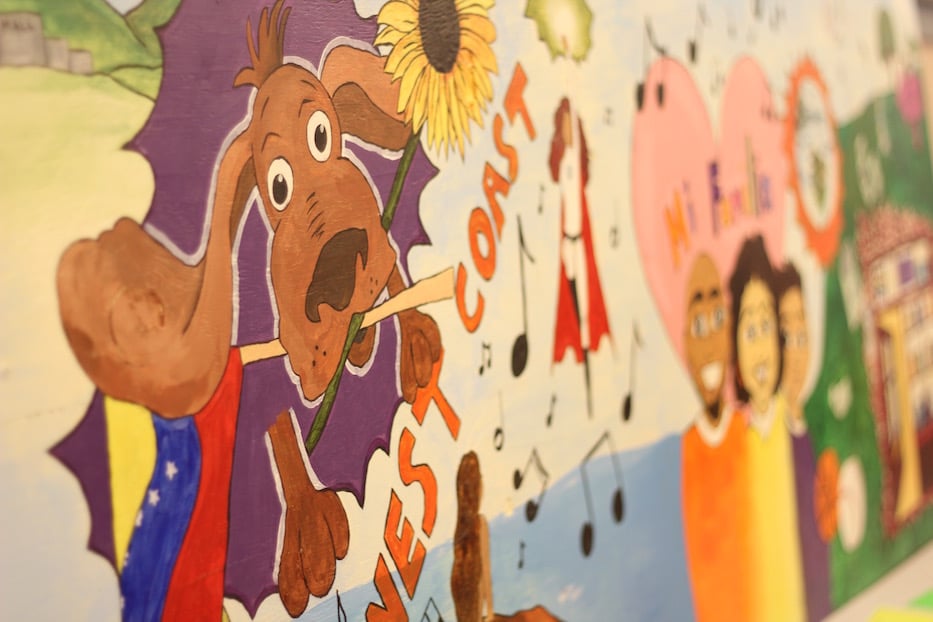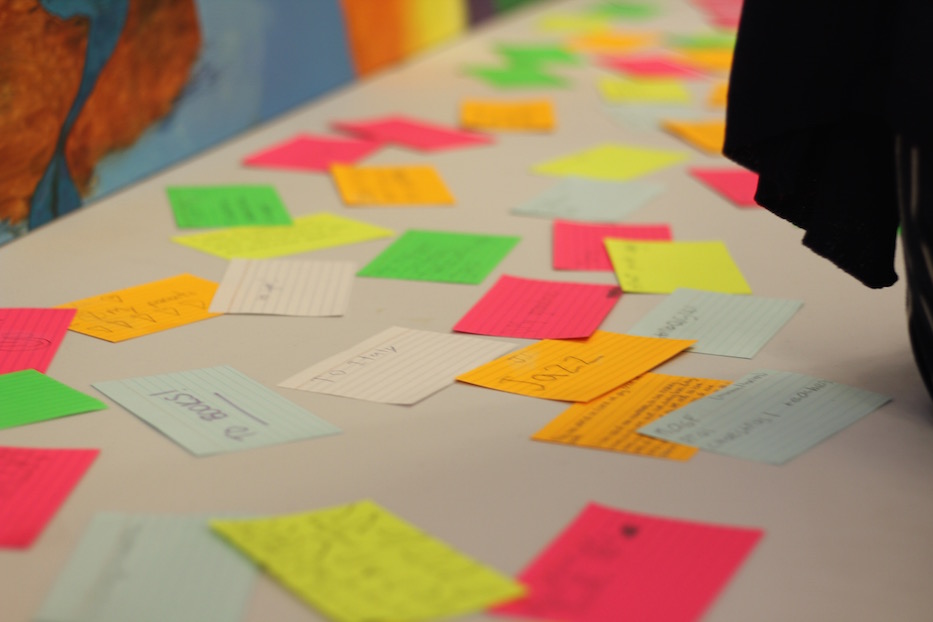 Back in the audience, some of those heartstrings had already made it into books. Edgewood-based neighbors Lauren Anderson and Honesty Robinson took a nonfiction approach with their book, an illustrated story of Robinson's own path to self-discovery as a student at the University of Connecticut. The two met Clark earlier this year, during a story days event in March held at the Whalley Avenue police substation.
"I've been calling Genese a dream keeper," Anderson said. "We feel like the universe did us a great favor by bringing us to her workshop."
Under the imprint of Potato & Banana Publishing ("because together we have potassium," said Robinson to laughs), their book tells the story of a young girl who comes up against a number of adults who insist that she's doing everything the wrong way. In the book, she walks through the pages, slowly letting their words roll off.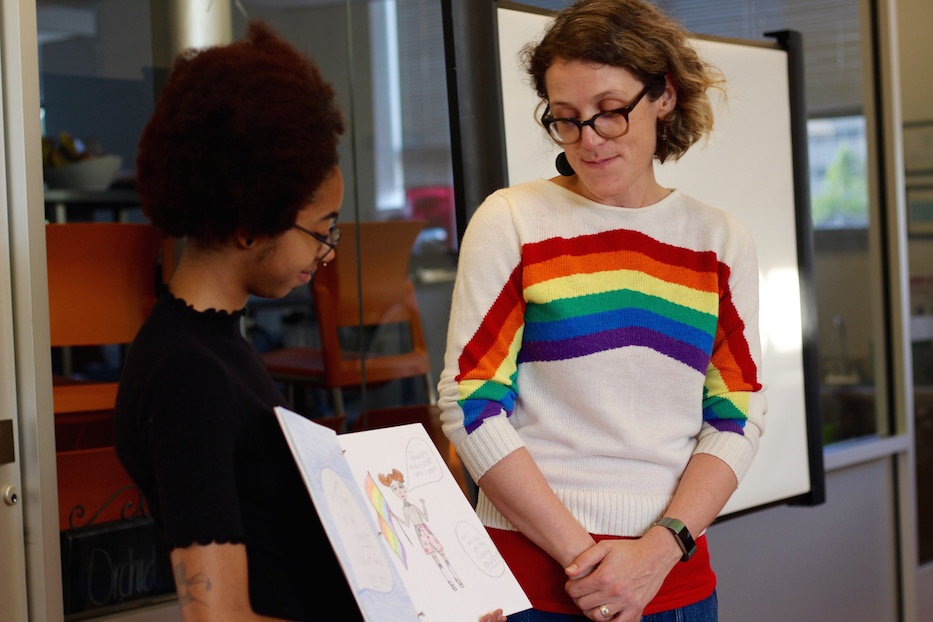 Honesty Robinson and Lauren Anderson.
And then it dawns on her: the only thing adults can do wrong is forget who they were growing up. At the end, she is standing tall in pigtails, waving a huge rainbow flag in her right hand.
Others stuck with personal storytelling, wise beyond their single-digit years. Six-year-old Sascha Luna Rivera unraveled a harrowing narrative with My Friend In Maple Helped Me One Day, in which bullies come up to her while she is skipping on the playground, and push her up against a staircase.
As her voice rose and fell with each page, activity in the room stilled. A pin could have audibly dropped. At the front of the room, the Elm City Montessori student sailed through the text, a hint of her original fear and frustration occasionally creeping into her voice.
"Stupid Sascha, what have you done to me?" she said in the bully's voice, listeners leaning forward with bated breath. On each page, figures with menacing eyes and bulbous heads looked back out at their audience.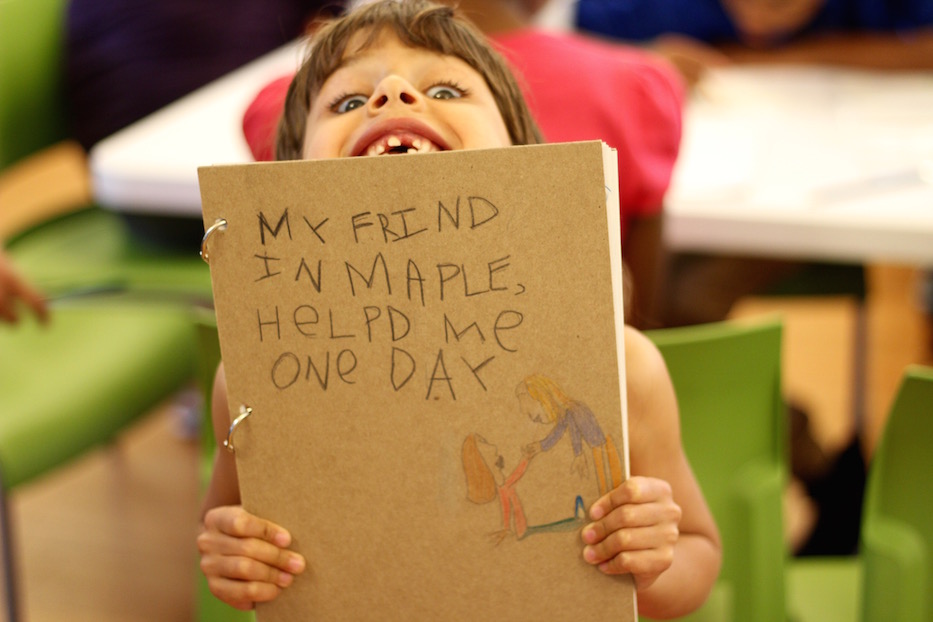 Sascha Luna Rivera: "The moral of the book is that it is good to have good friends."
Back in the book, a friend was emerging from the woodwork, yelling at the other kids to let poor Sascha go. Suddenly, bullies were running in the other direction. Sacha picked herself up, and continued playing with the friend. The audience breathed a collective sigh of relief, then burst into cheers and applause for the young author.
"It was scary. I wanted everyone to know what happened, and that there are mean boys and girls in school," she said after the reading, adding that she wants to continue writing books as she gets older. "The moral of the book is that it is good to have good friends."
That was also true for her older sister Estela Xol Rivera, a 7-year-old student also at Elm City Montessori. Monday she tried her hand at fiction, presenting her book Fifii!!!!!!!!!! Jazz It Up! just moments after she had colored in the final yellow and purple crayon accents. In the book, the fearless heroine Fifi is a budding jazz dancer, excited about the art form from the moment she first steps into a leotard.
As Estela turned the pages, Fifi's life unfolded in bright color. Fifi signing up for jazz lessons, and hopping in her mom's car to get there. Fifi making friends with Arianna, a fellow dancer who was also just starting out. And then Fifi wondering what to do when Arianna hurt her leg, and showed up to the jazz studio in a bright white cast. Between pages, Fifi gathered up her art supplies and started getting to work.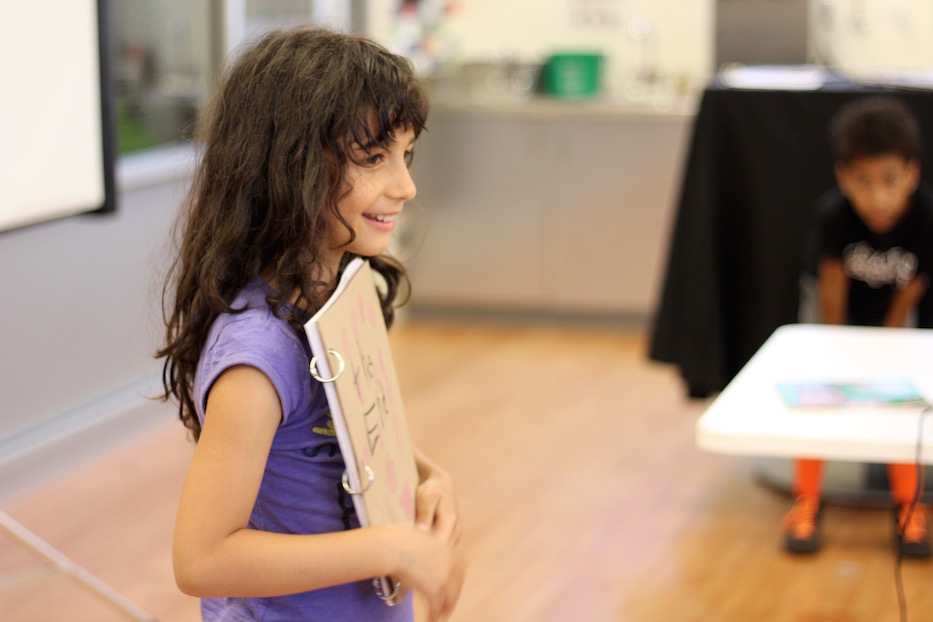 The first in a Fifi series?
"Let's jazz it up!" the character said in the book. Back at ConnCAT, Estela's voice rang out over the cafe, clear and high-pitched. A few chuckles rose from listeners. In Fifi's world, she had saved the day with a few bright markers.
After her reading, Estela said that she'd first been inspired to write after seeing a "really cute kitty" that her sister drew. An aspiring fashion designer, she has written with Sascha before. But Fifi seemed like something she wanted to pursue on her own.
"It's about how much you can help a friend that gets hurt," she said. "I'm going to write a whole series."
Other participants used the final workshop to explore a space between fiction, nonfiction and fantasy. Malachi Antoine kept the audience on its toes with a showdown between Batman and Black Panther in graphic novel form, yellow and black bat symbols blooming out over the pages.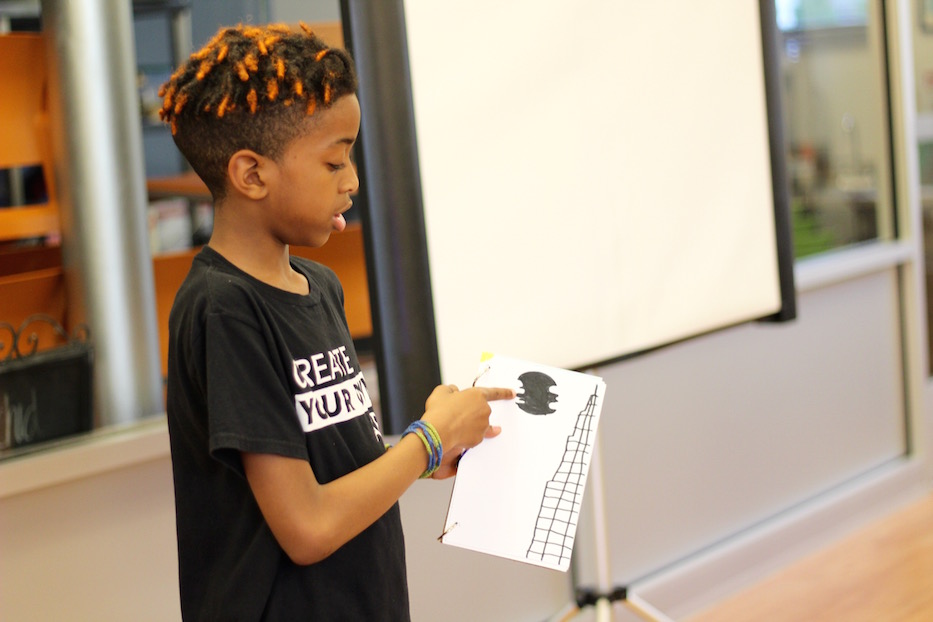 Malachi Antoine, who kept listeners hanging with a "to be continued" ending.
Just as it looked like the battle was heating up—Batman was without vibranium in his suit, and that was going to be a big problem—the young author sprung a cliffhanger ending on the audience.
"It's to be continued, so you'll have to wait for the next one!" he said.
Presenting at the tail end of the night, 12-year-old Luca Rivera ended the evening with a love story of the first man and woman on earth, the two floating through the pages with Matisse-like, fluid shapes in green and red pencil. Flower crowns rested on their heads. At the end of the book, after wandering patches of earth alone, they marry each other with a supernatural power officiating.
"They're not Adam and Eve," Rivera insisted, dancing in place as Pharrell Williams and Ruth B pumped through the room. "I'm on the path to becoming spiritual, and learning to express my creativity. I hope that they [readers] understand that marriage and love is a gift. You should build on your relationships. And you should still appreciate people no matter what."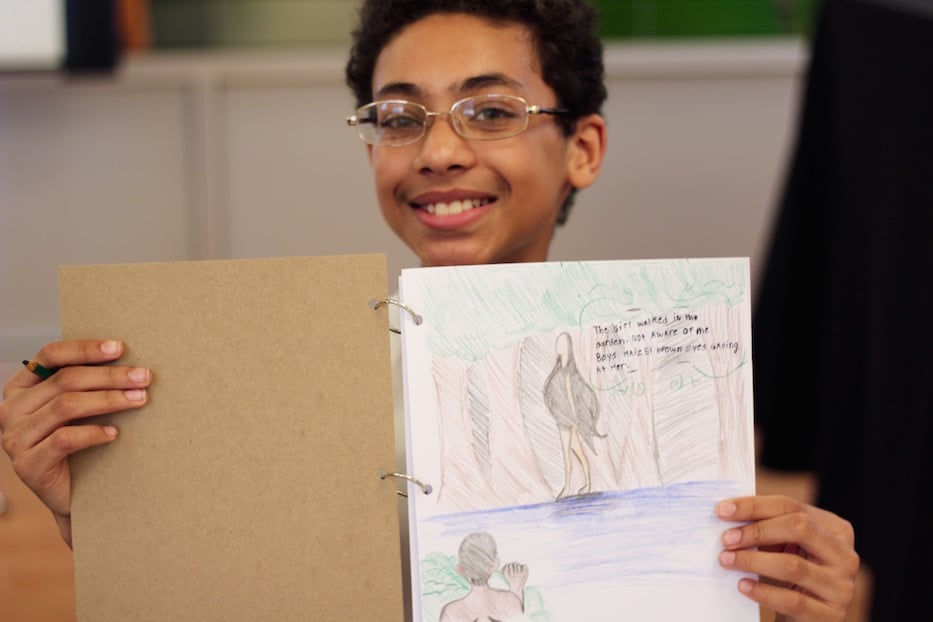 Luca Rivera: "You should build on your relationships. And you should still appreciate people no matter what."
At the end of the event, Clark said that she hopes to repeat story days programming in more schools and community spaces after leading a Family Strength Series this August.
"I'm happy that we touched so many kids and families," she said. "That's my burn.You know, we all have our burn. My burn is to inspire people. Just to get out what is inside of you. And you'll be better for it."