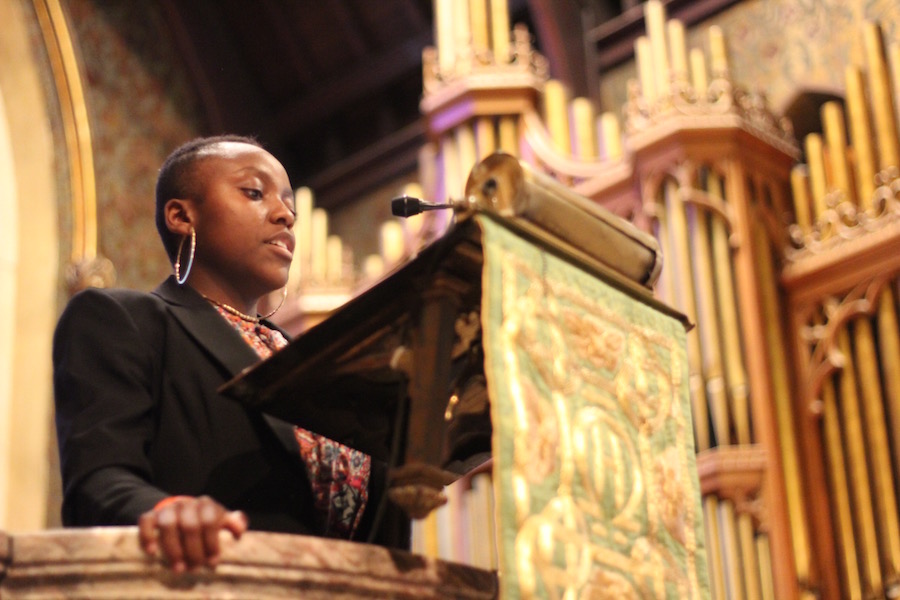 Culture & Community | Integrated Refugee & Immigrant Services (IRIS) | Refugees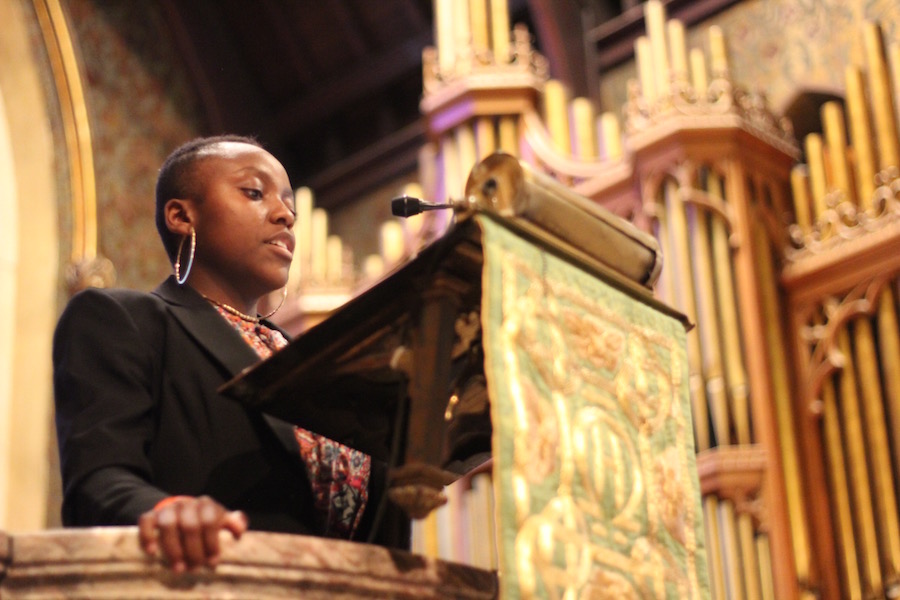 Gladys Mwilelo in a speech on World Refugee Day last June. "Tearing families apart is like switching off a light on someone who is looking for direction at night," she said. Lucy Gellman File Photo.
This Sunday, thousands of immigrants, refugees, lifelong and new New Haveners will gather outside Wilbur Cross High School for Integrated Refugee and Immigrant Services' (IRIS) 12th annual Run for Refugees. Over just a few hours, they'll take over East Rock Park and the surrounding neighborhood, pounding the pavement for a cause that extends across the globe. I'd like to tell you a little about what will bring me there.
My name is Gladys Mwilelo and I am a refugee. I was two years old when my family and I fled violence in the Democratic Republic of Congo, making our way to Burundi with almost nothing, and no guarantee that we would ever see the United States.
When you are a refugee, there are often two options. Either you live in a refugee camp, or you live in a city. At first, we considered ourselves "urban refugees"—we tried to make it in Bujumbura, once the country's capital and its largest city. But after several years, we couldn't afford to live there, and moved into a refugee camp.
It's very hard to live in a camp. There is a very limited amount of resources. In this country, we don't always get to see how lucky we are. Here, there is water 24 hours a day. In Burundi, the whole camp has one or two hours to get water. You are budgeted for the amount you eat. It's a place where I wouldn't let anybody raise their kids. Especially if you have daughters and come from a family of five girls.
For me, that life was a time of finding myself, who I was. I was very young when we arrived, and I grew up with the mindset that I was a Burundian. But there was discrimination towards Congolese refugees from Burundians. They felt like we went into their country and were taking opportunities away from them.
It was a time where I had to face a lot of oppression—and when I heard a lot of words that I don't hear in my house. I started asking: Who am I? And why do I have to be discriminated against by people?
Six years ago, we finally made it to Connecticut. When it came to the whole process of coming to the U.S., we never knew. It was always a surprise. The United Nations informed us out of nowhere, and we had about a week to prepare. Our plane dropped us off New York City, and we came right to New Haven.
I was 14 years old, and didn't speak any English at the time. It was my dream to continue my education; I would do anything to support any child to go to school. I went to Wilbur Cross High School, a place where I felt like my dreams came true. It was the first place, the first school, I realized my dreams were coming through.
That year's race had already happened, but I registered the next year. I haven't stopped coming and running since. Last year, my brother passed away in a car accident. I ran the day after we buried him. I had to do it. It was the only option for me. He would have told me to go and participate. And I'm looking forward to it, always.
Moving from one country to another taught me that there is always a reason to run. When I was young, it was for the sake of our safety. Then it was because we had tried to make ends meet in a city, and could not, and still needed our safety. Then it was for the promise of a better life. Most recently, it has been to continue my education, running through courses in business, journalism and communications at Central Connecticut State University.
The longer I've run in New Haven, the more finish lines I've seen: learning English, completing high school, earning my degree. As a refugee, I didn't always feel that I belonged here. I realized some people were not aware of who refugees are and what forced them to become refugees. When I first arrived, I spent most of my days explaining to individuals my experiences as refugees and what forced me to be displaced from my homeland. Through the run, I have learned that Americans care, and they want me here.
Today, as a refugee in Connecticut, I run for a new home and bright future. I run for the purpose of reuniting myself with people of New Haven, to support other refugees like myself, and to remind myself about how fortunate I am to be a resident of this city. What has brought me back to the run, year after year, is a sense of care and belonging that fellow runners give me just by their presence there.
Every year I get to run the 5K alongside young runners, old runners, and even toddlers. When I see these young New Haveners walking or running with their parents, I consider it a joyful image—because it shows how greatly I am being supported. It means we are together both New Haven people. Over the years I have come to understand the broad message to the run: that Americans and refugees live together, and find community among one another.
The Run for Refugees is, for me, also the most exciting event of the year that IRIS puts together. Why? Because it is the time where I get to see with my own eyes how people appreciate refugees and immigrants like myself. I get to see people who are my friends, neighbors, classmates, colleagues united in a fight for human rights.
Come join me on Sunday. Your presence at the run will help refugees spread their wings and fly to the future in their new home.