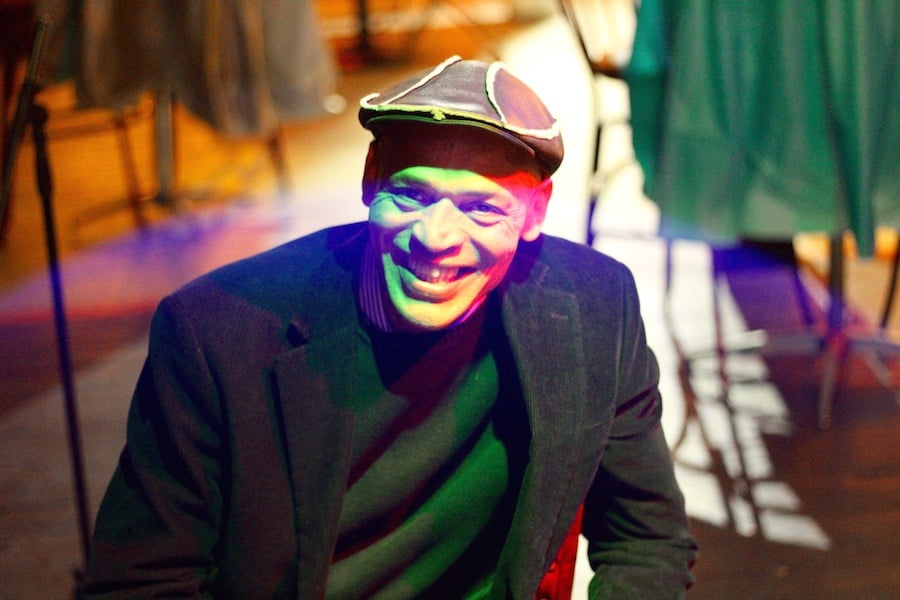 Bregamos Community Theater | Arts & Culture | Theater | Arts, Culture & Community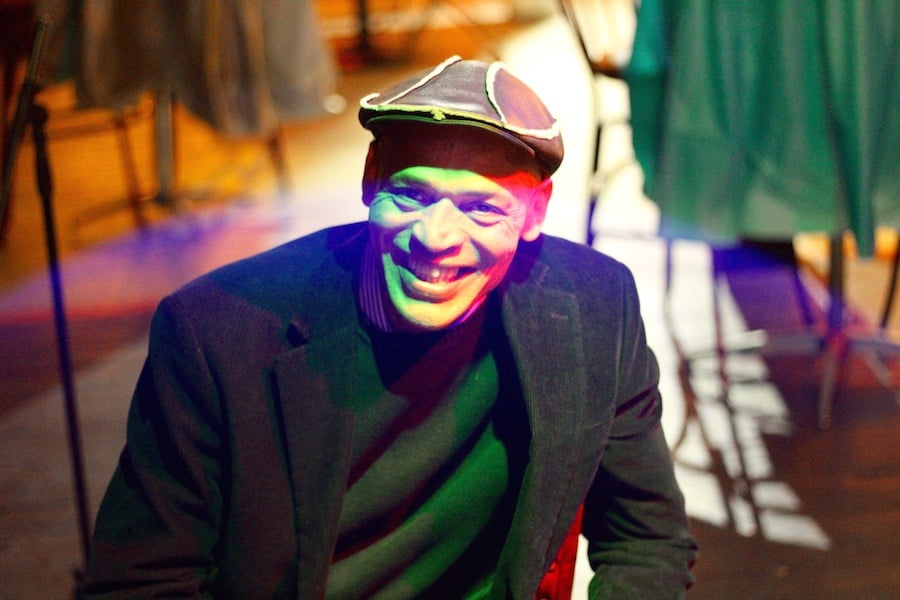 Rafael Ramos at Bregamos. Lucy Gellman Photo.
It started with a comedy about cervical cancer in the back room of a bar. Rafael Ramos didn't know it then, but he had cracked a new formula for social justice in New Haven.
Ramos, now 62, is the founder and president of Bregamos Community Theater in Fair Haven. This Friday, he will receive the C. Newton Schenck III Award for lifetime achievement in the arts from the Arts Council of Greater New Haven. The award comes as he passes the 25-year mark working for the Liveable City Initiative, New Haven's anti-blight agency.
It follows a year in which he has also been honored for his service to JUNTA For Progressive Action, where he has served as board president and still works as an organizer for its annual Big Turtle Village summer program.
"It [Bregamos] has become more than I ever thought it would be," he said in a recent interview at the theater's Erector Square home. "Like, everyone has used the theater at one time or another and it became more of a community center than it did a theater. I think that what it is is our place is humble, but it's accessible."
Ramos' brush with theater didn't begin in New Haven, but in New York City over half a century ago. In the 1950s, he was born into a big Puerto Rican family in the Bronx, the middle child of six kids. When he was young, he bounced between boroughs ("every one except Staten Island!"), ultimately landing on the Lower East Side of Manhattan.
As a kid, he spent time at the University Settlement Society of New York, doing community arts programs under the settlement house model. As the country landed in political tumult—the 1960s brought with them the assassinations of Medgar Evers, Malcom X, Martin Luther King, John F. Kennedy—he saw how dance and music were used to catalyze political and social action in his own community.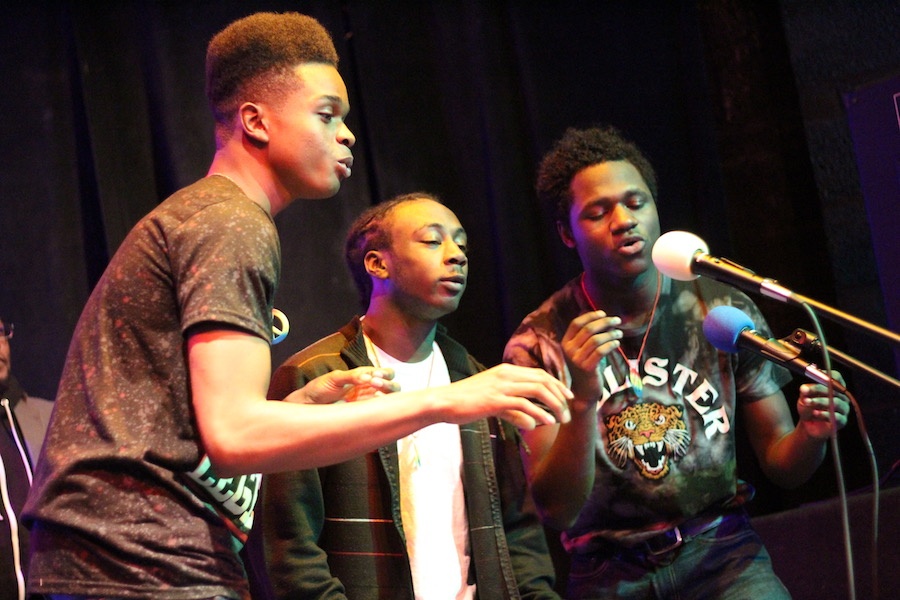 Kompozure performs at Bregamos during Hear My Soul Speak in 2018.
At home, the house was never not full of music. His grandparents had migrated from Loíza, Puerto Rico, and brought with them the rich traditions of bomba and plena. One of his brothers was a conga player; his mother was a poet and guitar player who made dolls on the side. His uncles, who lived nearby, would often turn up in the basement or the back yard with drums and guitars. By the time he was a teenager, he had started frequenting the then-nascent House of Tribes and Nuyorican Poets Cafe, soaking up the words as quickly as he could.
"It was always in the family, the drums," he said.
But Ramos didn't think of the arts as a viable career path. From high school in New York, he transferred into the military, still stationed at Fort Hood when the Vietnam War was declared over in 1975. As friends of his returned from the war "all messed up" with what the military now recognizes as post-traumatic stress disorder, he attended vocational schools, landing in New Haven on a construction contract in the late 1980s.
At the time, the city's financial center was "a hole in the ground downtown," and he was part of the crew tasked with building it. He thought he would stay for six months, finish the job, and head back to New York. He and his then-wife Eliot Righter Ramos moved into a rental in East Rock. He ended up staying for 30 years.
"I loved it," he said. "I just loved it."
From the beginning of his time in the city, jobs in community engagement seemed to find him. No sooner had he been laid off from his construction job than a position in homelessness outreach at the YMCA opened up. He and Righter Ramos moved to a home in Fair Haven and started their own family. When he wasn't at work or at home, he opened a tiny business called Uptown Books, selling children's books from a stand on the corner of Church and Chapel Street.
The books were meant to spread cultural education. He lost money on it because he gave them away, or sold them for no more than $1. He shrugged it off and took the hit.
"I guess I was just reacting to something I had just learned about reading and children, and I was just being reactionary," he recalled. "So I got, like, $7,000 worth of books and I was competing with Bart Simpson t-shirts and fake Gucci bags. But I did engage a lot of families with great books."
At some point, "I realized I needed a real job." In the 1990s, Ramos went back to school to study public health at Southern Connecticut State University. In one of his classes, a professor encouraged him to think about how to make public health accessible to members of the greater New Haven community, most of whom had never heard the word "epidemiology." Ramos thought back to his childhood and landed on the arts.
"The arts are informative, therapeutic, entertaining," he said. "I don't know of one profession or discipline that cannot be incorporated into the arts, and vice versa. And so the idea for Bregamos came up from that."
At the time, the theater was still a fledgling idea with a shoestring budget and no nonprofit status. The first play, a piece called "Ay, Mama!" by Evelyn Fermin, brought a small audiences to the back room of BAR New Haven, trying out shows that straddled Spanish and English when no one else in New Haven was trying it. It was a comedy about cervical cancer that starred a Puerto Rican grandmother who wouldn't get a pap smear.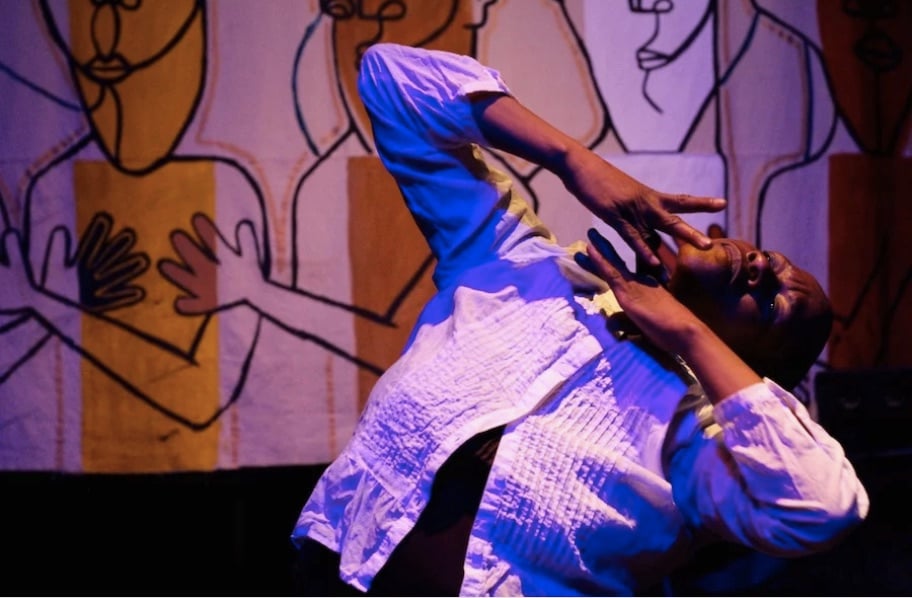 The work was meant to educate with equal amounts of medical knowledge and personal anecdote. The grandmother is experiencing symptoms she can't explain. Her daughter begs her to go to see a physician. Ramos stepped in to play the doctor at the last minute.
"It was hilarious, the things that she would say," he said. "We know that cervical cancer is not a laughing matter. But you laughed through the play, and you learned the ABCs of cervical cancer awareness and prevention."
Bregamos grew from there, a script-by-script balancing act as Ramos worked as a lead inspector in Bridgeport and then became a fierce tenant advocate in housing code enforcement for the Liveable City Initiative in New Haven. As shows multiplied, the theater's name came from the "we" conjugation of the Spanish verb bregar, which takes on different meanings in Spain (in Ramos' words, "to work hard, to struggle") and Latin America ("to make a deal, to make it happen, to tweak it, to fix it by hook or by crook").
Together, he said, Bregamos translates to "we tweak it until it works."
"We didn't have no money and we didn't have no resources, so we had to figure it out, right?" Ramos said. "How to do it. So bregamos!"
In 2000, the theater secured its nonprofit status and built a board for the first time. Ramos' days were full: when he wasn't on the clock for the city he produced scripts, booked theaters, and raised a family in Fair Haven. A housing inspection at JUNTA turned into unexpected advocacy work for the organization, including an appointment on its board. At home, he turned the living room into a theater for his kids, installing a lamp close enough to the kitchen so that it doubled as a stage door.
At work, he went to bat for tenants, some of whom called him past midnight to tell him their heat had been shut off or their landlords had locked them out. He duked it out with landlords who later called him to ask for advice. He fought for immigrant rights, integrating it into his work at Bregamos and his work for the city.
"Our job is to protect the health, safety and welfare of the general public," he said. "It doesn't matter to me who you are or where you are from. You know that you are helping people, so it just is a good place to be. You feel that you can make a difference in somebody's life."
"It doesn't come without personal sacrifice," he added.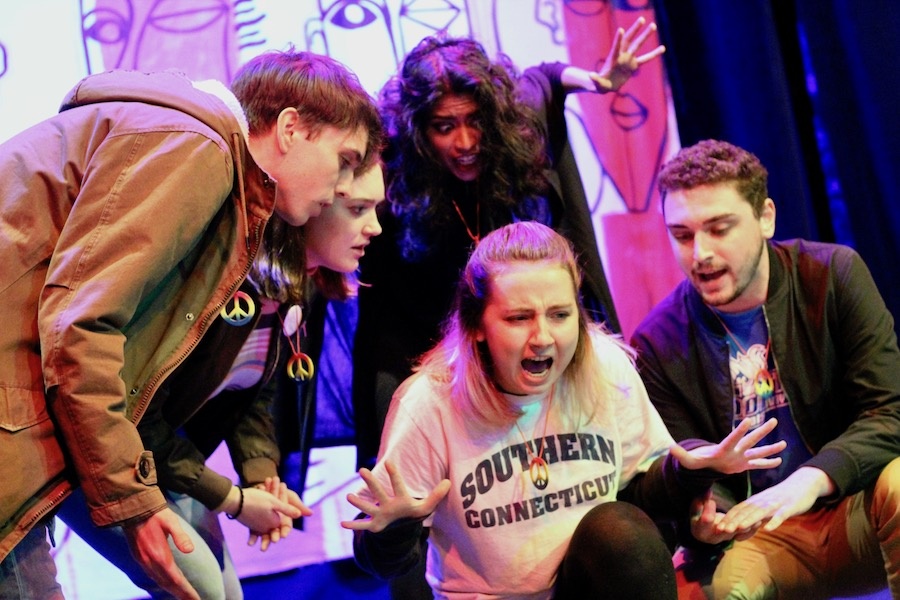 Students from SCSU perform at Bregamos during Hear My Soul Speak in 2018.
In 2007, Bregamos got its brick-and-mortar space on Blatchley Avenue, in the former home of a concrete manufacturer. Ramos, who still rents, cleaned the theater and outfitted it himself, refurbishing when a show brought in enough money to do so. His late son Satchel, of whom there is now a mural in the theater, painted the ceiling pipes red to add pops of color. His kids helped him build a wheelchair ramp to make the space accessible. For years, Bregamos didn't have heat or air conditioning, and company members rehearsed in their coats when it got too cold.
Since, it has continued to grow as an all-volunteer effort, home to weekly healing drum circles and a de facto meeting space for several of the city's community. In 2007, Ramos worked with local hip-hop poet and playwright Aaron Jafferis to stage a drama about the Latin Kings and youth violence to Fair Haven. A year later, they took it to the International Community Arts Festival in Rotterdam, where it was praised as one of the festival's strongest works.
The same year, Ramos and Collective Consciousness Theatre brought Jesus Hopped The A Train to the Atwater Senior Center. It opened its doors to mimes and comedians, experimental works and equally experimental workshops in English and Spanish. In 2014, Bregamos became home to groundbreaking work with director Germán Jaramillo, holding a workshop to collect migrant stories as immigrations surged Central America crossed at the U.S.-Mexico Border. Five years later, some of those participants returned in Oscar González-Barreto's Casa Grande, performed at the theater entirely in Spanish.
To date, he has collaborated with over 40 organizations, including Unidad Latina en Acción, the Connecticut Bail Fund, Elm Shakespeare Company, the Connecticut Mental Health Center, and dozens of others. He has welcomed other theater companies into the space, including those that are still looking for permanent homes of their own.
"I've never done it alone," Ramos said. "I've had a lot of help from a lot of people, and it was not always me by myself."
Kica Matos, who worked with Ramos during her tenure at JUNTA and later as an immigrant rights advocate and member of community arts groups, praised him for his vision and tenacity at the organization.
"Rafael is a New Haven gem," she wrote by email Tuesday morning. "He is one of those people who has made our community richer and more vibrant. He has devoted an entire lifetime to not just lifting up the most disenfranchised, but he has also elevated the beauty of arts and culture in a way that ensures that our voices—and our contributions—are heard and valued."
"It is my hope that with this award, a set of doors also open up for Rafael and for Bregamos," she added. "For too long his brilliance and the work of Bregamos have been marginalized and under-resourced. I hope that this embrace from the mainstream arts world is only the beginning."
Going forward, Ramos said he would like to own a spot that is more centrally located in Fair Haven. And he wants to step back, and see if the theater can run without him at the helm.
"I'm getting older," he said. "I'm not ready to leave it. But it's going to come to a certain point where another generation is gonna have to take it to the next place. I think that it can only get better in the future."