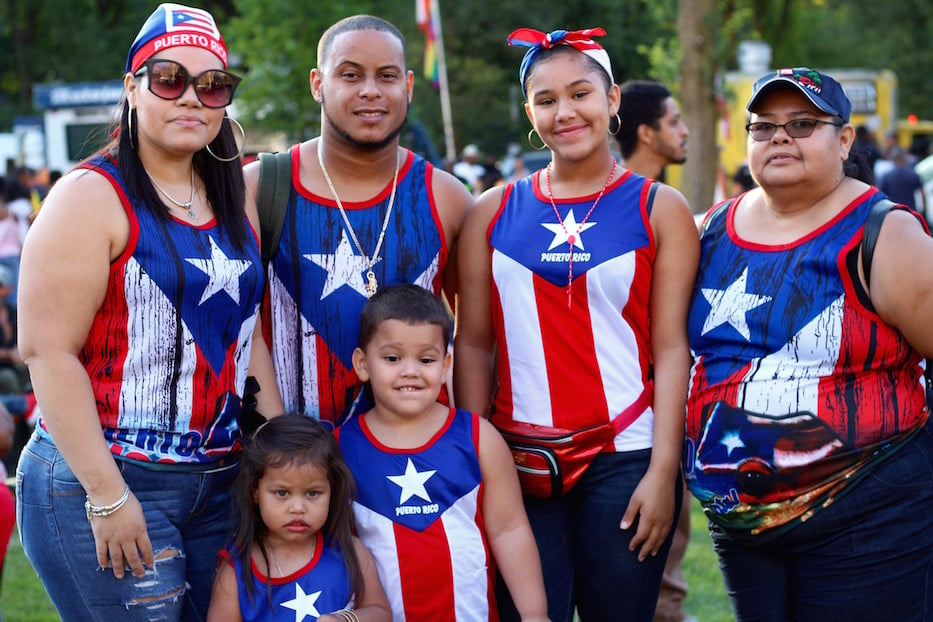 Boricua pride | Downtown | Festival Puertorriqueño | Puerto Rico | Arts, Culture & Community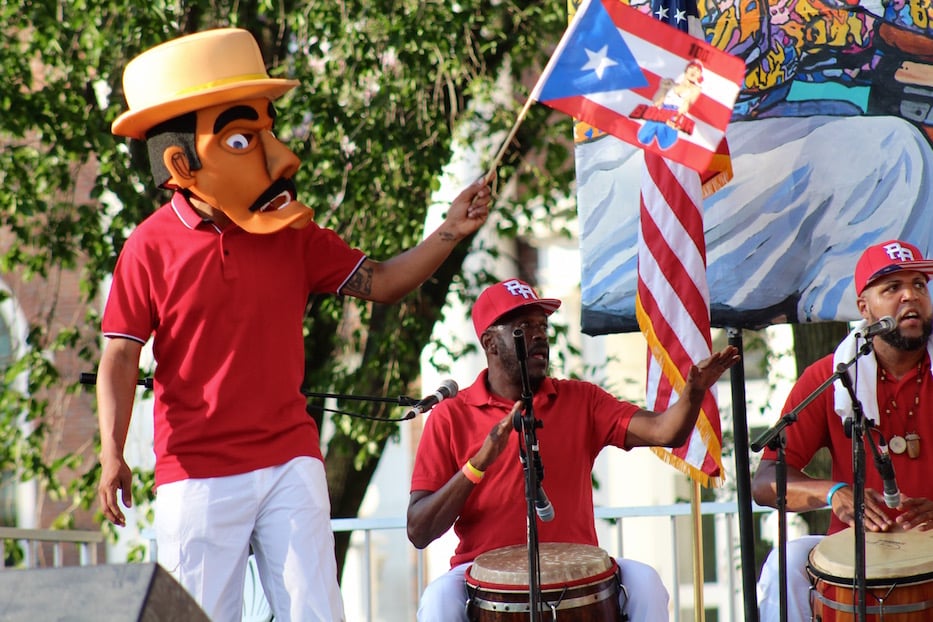 Los Gigantes de la Plena, who celebrated Loíza's place as a vibrant hub of Afro-Boricua culture. Lucy Gellman Photos.
At the lip of the New Haven Green, the town of Loíza was becoming a heartbeat. Horns rose, conjuring the intricate footwork and twirling skirts of la bomba y la plena. A dancer transformed into a masked vejigante, throwing his arms and shoulders into the rhythm as a plena dancer whirled nearby. Drums pounded over each other, bringing new footfalls forward with each one.
Saturday, that celebration was the core of New Haven's fourth annual Festival Puertorriqueño, hosted by Puerto Ricans United. Inc. (PRU) on the New Haven Green. This year the festival honored the Puerto Rican town of Loíza, which is celebrating its 300th anniversary as a capital of Afro-Boricua culture and tradition. Close to 10,000 people attended the festival before the end of the night.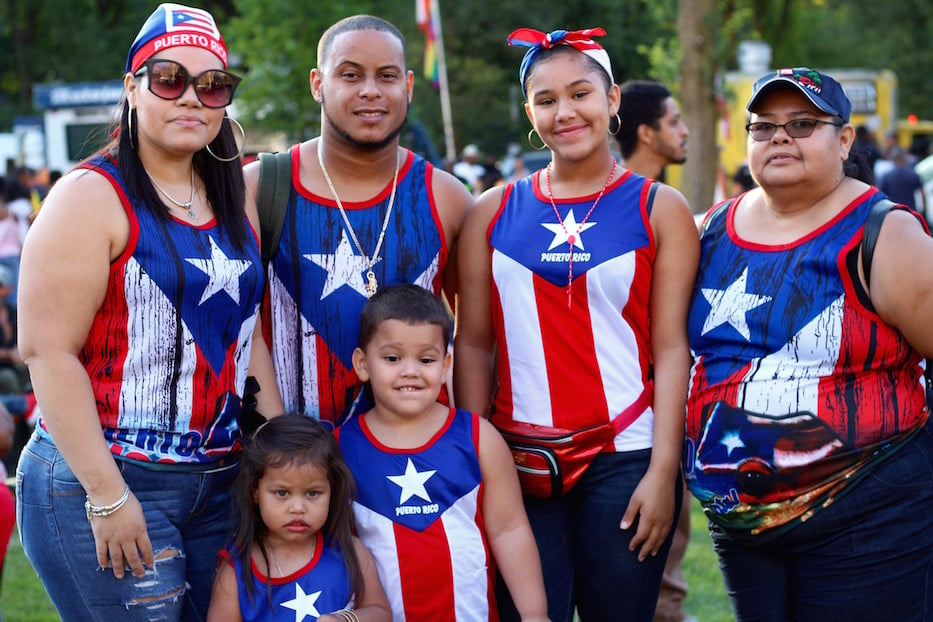 Osiris Jean (second from left) and his family said they came out for the first time after hearing about the event and getting excited about a place to show their Puerto Rican pride.
Despite a threat on social media earlier this week, spirits remained high for the eight-hour festival. In a press conference Saturday morning, law enforcement confirmed that they had made an arrest in the threat, made less than a week after a deadly attack targeting the Latinx community in El Paso.
"I'm full of emotions right now," said PRU President and Co-Founder Jhonnathan Rivera at the festival a few hours later. "Given what happened after Hurricane Maria, then everything with the governor being ousted out of office, it's a great way to come back and forget about those things for a couple hours. Enjoy the music, enjoy the food, enjoy the dance, and have a good time."
He added that he was particularly excited when PRU's board of directors chose Loíza, because he grew up in the town the first 10 years of his life. In 1990, Rivera moved to New Haven with his family, leaving behind a grandmother and several of his aunts and uncles. Now a father, he makes a point to go back every year with his two kids.
"I never forget where I come from," he said.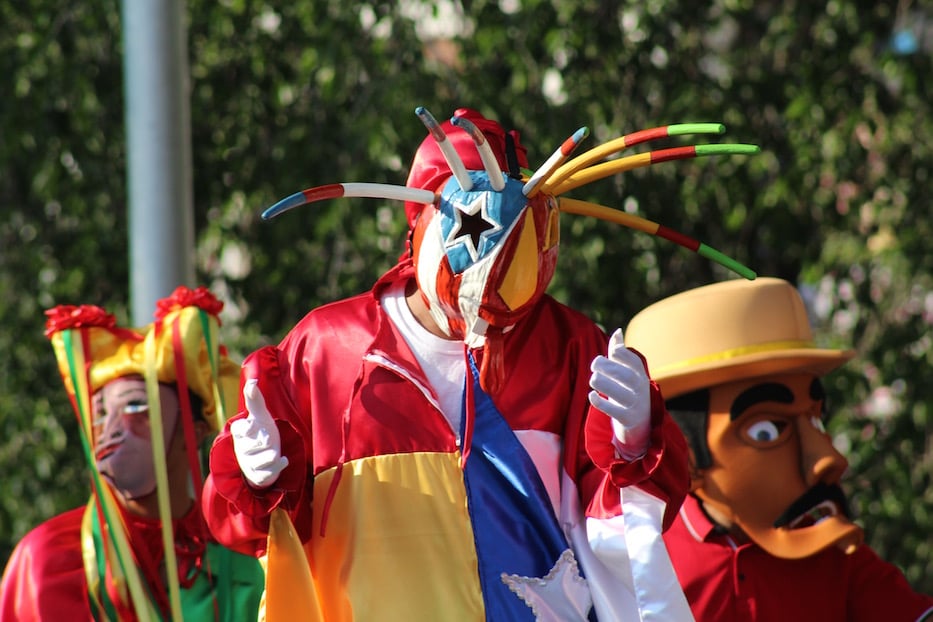 Neither did thousands of attendees who came out, literally wearing their culture on their sleeves, jerseys, caps and cheeks. By midday Saturday, Puerto Rican flags blanketed the green, adorned faces, and made their way into high ponytails and onto the backs of chairs. Babies clutched tiny flags in their fists and parents waved full-sized ones that they held at the edges. A few attendees turned them in superhero capes, with a whoosh of red, blue and white tied at their necks.
Onstage, a bright banner by artists David Sepulveda and Amie Ziner waved out at the crowd, decorated with Loíza's new take on a centuries-old flag. As attendees streamed in, they moved right into the rhythm, cheering for a rotating door of musicians that included Viti Ruiz, Ray de la Paz, Los Gigantes De La Plena, Grupo Kontrabando and others.
In the audience, some families started to dance before they had even finished setting up their lawn chairs. Others whipped out fans from a nearby vendor and willed away the midday heat.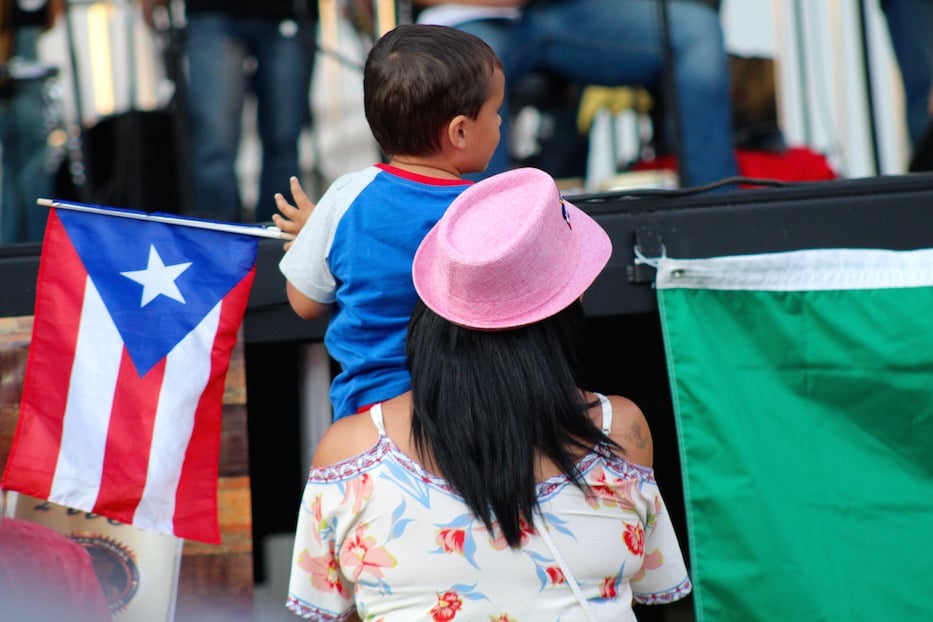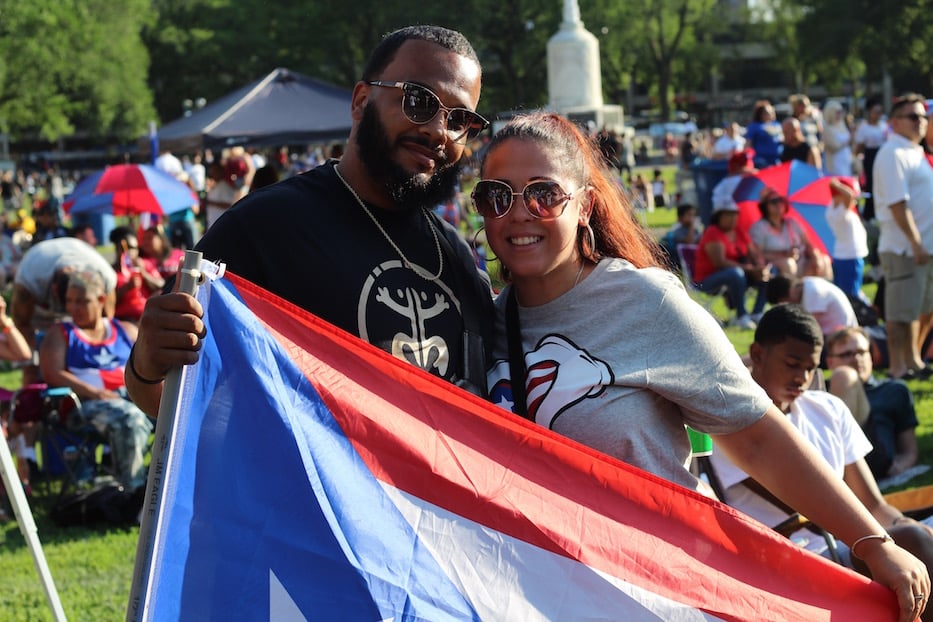 Top: A little listener grooves to Elba Llantin-Cruz. Bottom: Pedro Matos and Natalia Jardim.
Grooving close to the stage, Pedro Matos and Natalia Jardim had made the trip from Providence after reading about the festival on Facebook. Born in Boston, Matos moved to Loíza with his family when he was six, and remained there until he was 21 (he's now 28). As he spoke, a coquí or frog symbol winked out from the center of his shirt, a small and constant reminder of Taíno history, memory and resilience.
"I had to come and show out and see my people, basically," he said. "When you're Puerto Rican, it's a whole different thing. Because I'm proud to be an American, but my pride for Puerto Rico is just beyond that."
Elsewhere in the crowd, attendees celebrated by catching up with friends, queuing up in long lines for food trucks and dancing all the way from the stage to the green's central flagpole. In the crowd, people busted out moves while waving Puerto Rican flags in one hand and cups of coconut and tamarind ice cream in the other. On stage, Los Gigantes De La Plena swept on in bright dresses in the red, green and gold of Loíza's flag.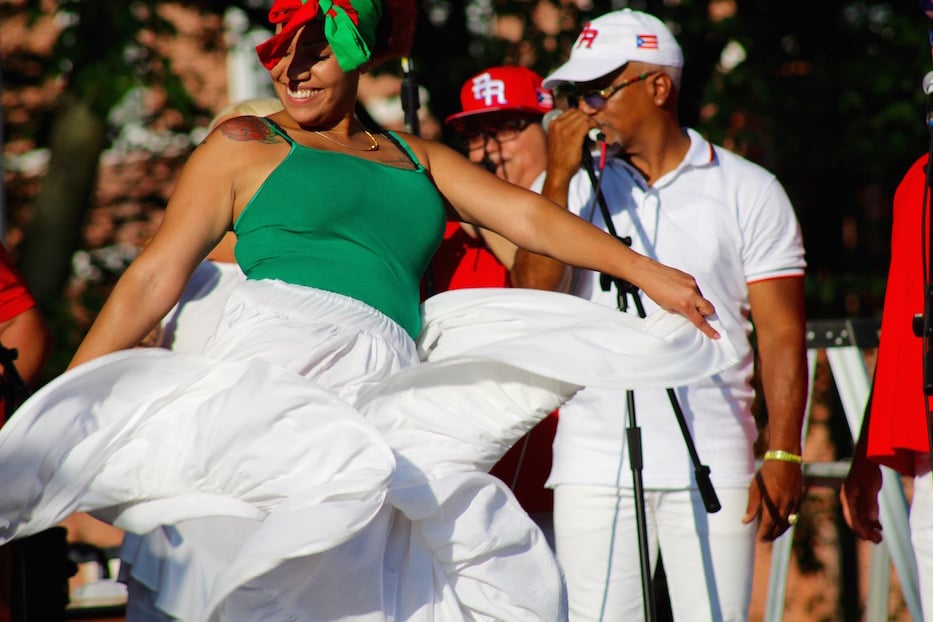 As thin, frame drums beat in time with each other, long folkloric skirts and masks made it hard to look away. They connected to the history of plena at the root, bodies in constant movement across the stage. Drums became a muscled chorus of voices, carrying centuries of history with every downbeat.
By the far edge of the green, Hartford-based friends Benjamin Maldonado and Orlando Morales set up their lawn chairs, pulled out a few drinks and caught up for the first time in over a week.
A truck driver during the workweek, Maldonado said that he usually spends Saturday fishing, but couldn't pass up the festival after hearing about it. He and Morales grew up on the same street in Hartford decades ago, and have remained close in their adulthood.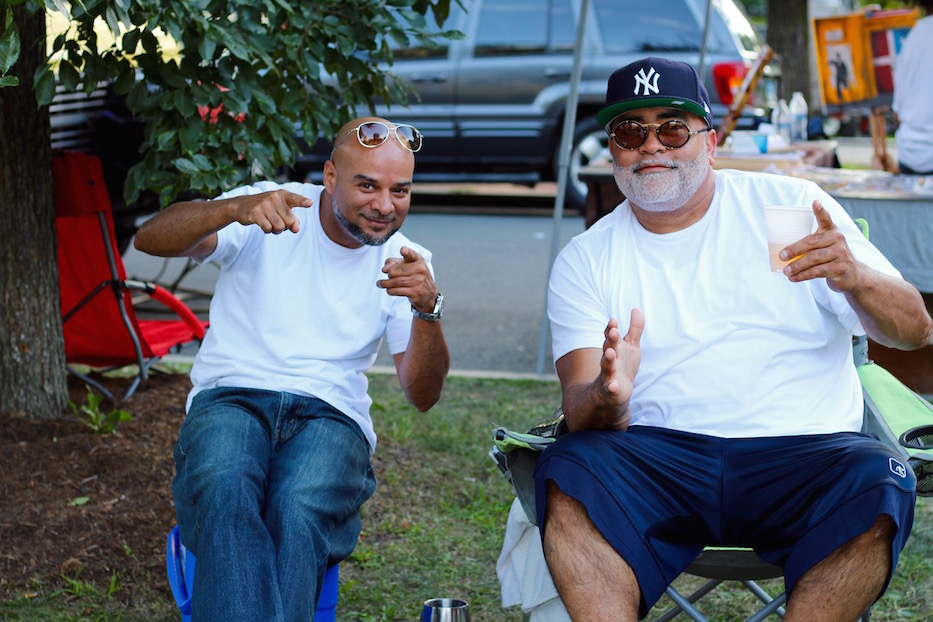 Orlando Morales and Benjamin Maldonado.
After hearing about his culture as a kid, Maldonado made his first pilgrimage to the island in the 1980s. Earlier this year, he returned with his two children and grandchildren, renting a house in Canóvanas. He said that he jumped at the opportunity to celebrate that culture in his home state.
"When we unite like this, we can do anything," Morales chimed in. While he has not yet been to Puerto Rico, he said that visiting the island doesn't matter to him as much as the act of being proudly Boricua.
Back by the stage, a thick knot of people had formed as Elba Llantin-Cruz serenaded the crowd's youngest listeners ("Say 'wepa' with me! It's like the Puerto Rican hooray!"), then Ray de la Paz took the stage with a full band.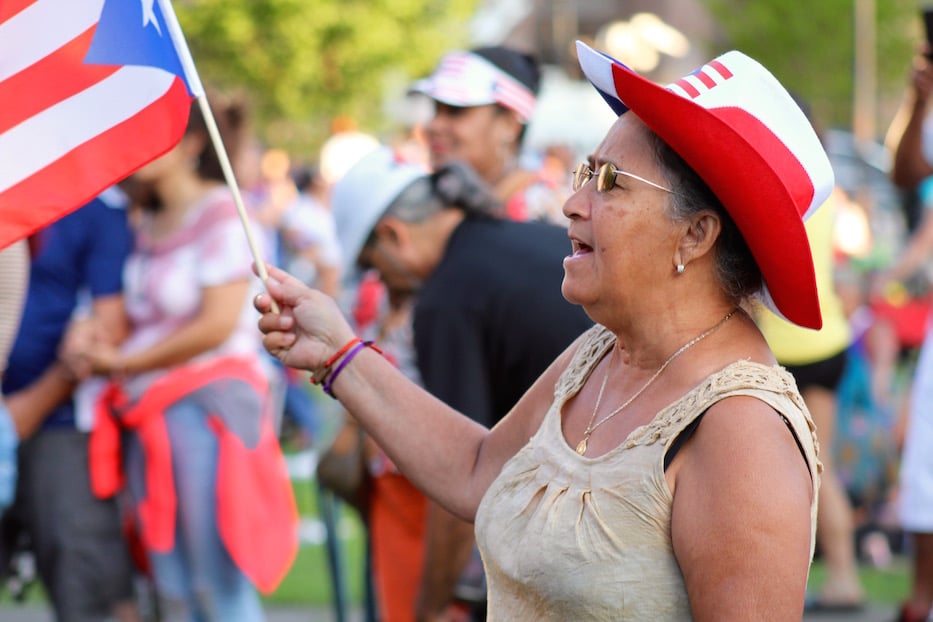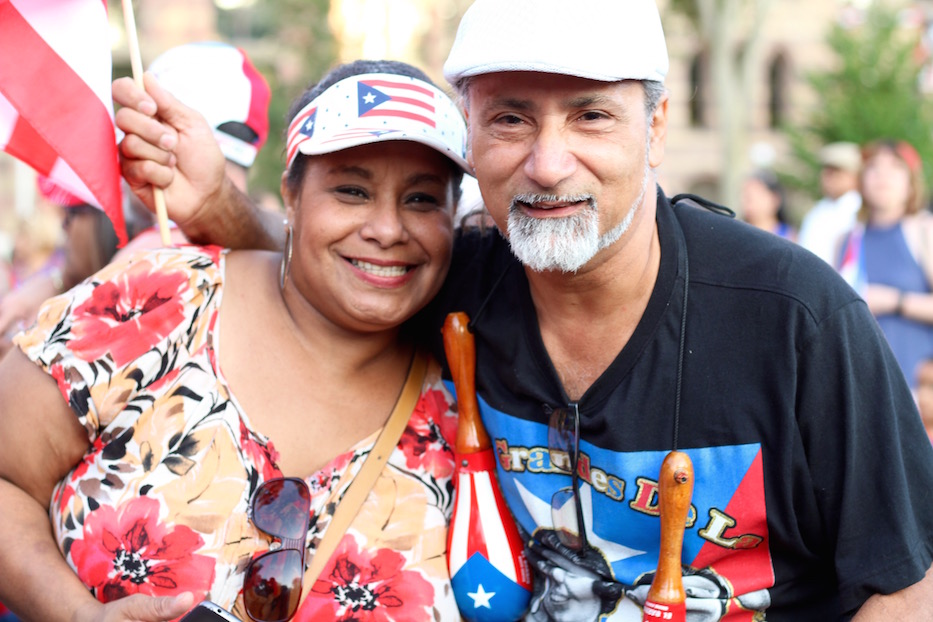 Some attendees found dance partners, and fell right into step. Others, like Cass and Liz Rodriguez, had come prepared with two decorated maracas strung around Cass' neck, and a big, shiny cowbell in his hand.
As a tide of music rose higher from the stage, Liz said that they'd come out because they love to dance, and have found in the festival a place to do it for hours. As the band picked up speed, the two swayed beside each other, watching as the green turned into a sea of warm bodies intertwined.
Weaving through salsa dancers, girlfriends Mia Santos and Daleishka Flores were attending the festival for the third time in its four years. In 2016, they moved to New Haven from Carolina, Puerto Rico to improve their English. They live in the Hill, where Santos said her favorite part of the city has been its snowy days—followed by the festival. After a friend told them about it three years ago, they haven't missed one.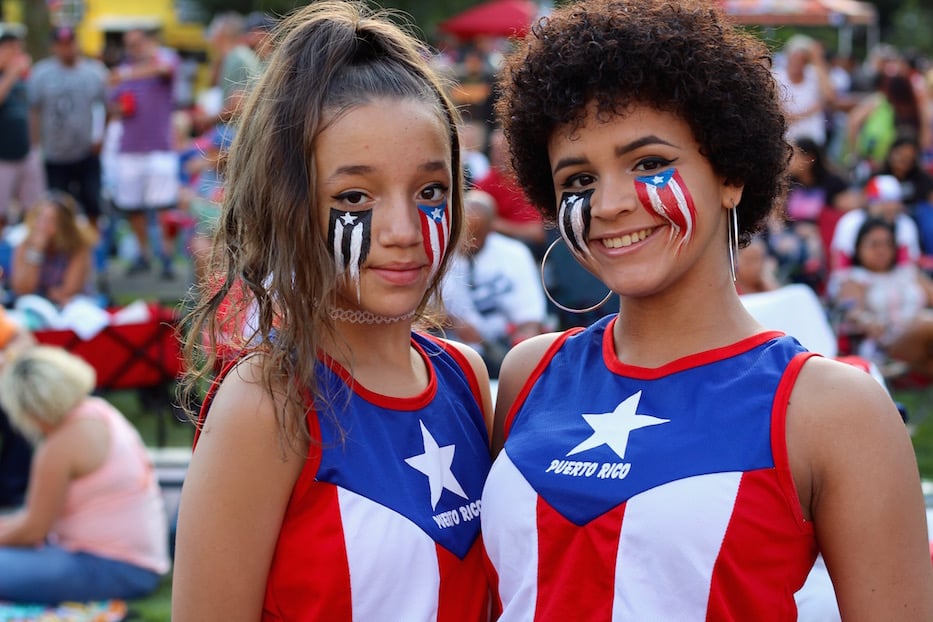 Daleishka Flores and Mia Santos.
She and Flores had come dressed for the festival, with red, white and blue Puerto Rican flags on one cheek and a black and white flags on the other. Both were frayed at the ends, as if they were crying teardrop-sized pieces of fabric. The black and white flag represents both mourning and resistance, directly referencing the United States' role in continued colonialism.
"We love to dance," she said.
That spirit extended through the green, where parents lifted their kids into arms and backs and shoulders so they could see what was happening at the center of the festival. It bounced back to the stage, where PRU member Joseph Rodriguez took the mic to cheers from the crowd.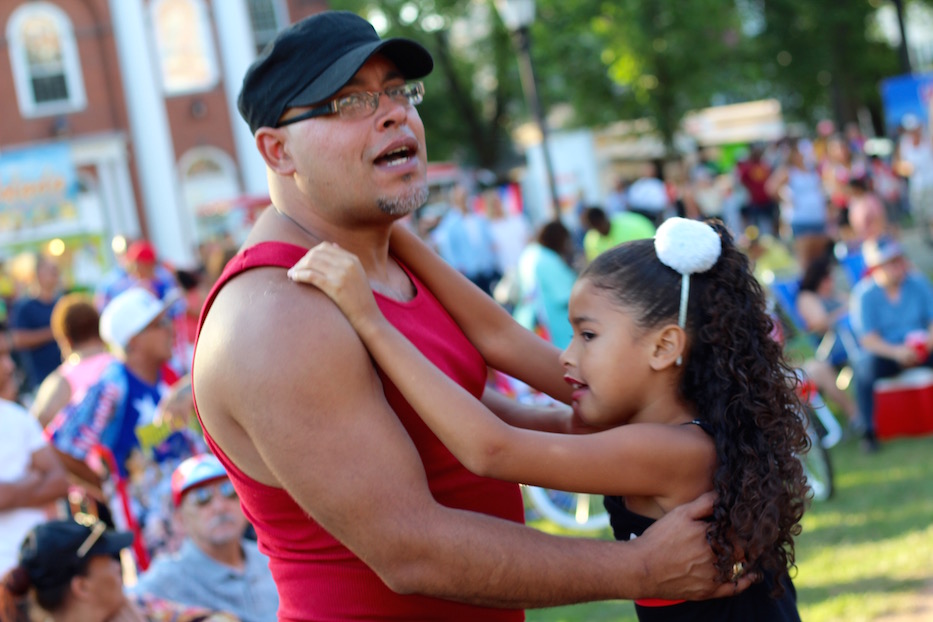 Joseph Miranda and his daughter, Bianca. "We overcame a lot of things, but it's very hard. This is a chance to celebrate," he said.
"We are not afraid! We are not afraid!" he shouted into the mic, echoing Puerto Rico's recent rallying cry demanding Ricardo Rosselló's resignation. The crowd caught immediately: he was met with more than a few ebullient cheers of "somos más y no tenemos miedo!"
"Yo soy boricua! Yo soy boricua!" he continued to more cheers and applause. Somewhere near the front, Cass Rodriguez lifted his cowbell and started banging joyfully on the side. Cries of "Yo soy Boricua" and "Pa'que tu lo sepas!" rose up from around different corners of the green.
The music picked back up. The crowd was ready to dance the night away.
Watch more from the festival below.