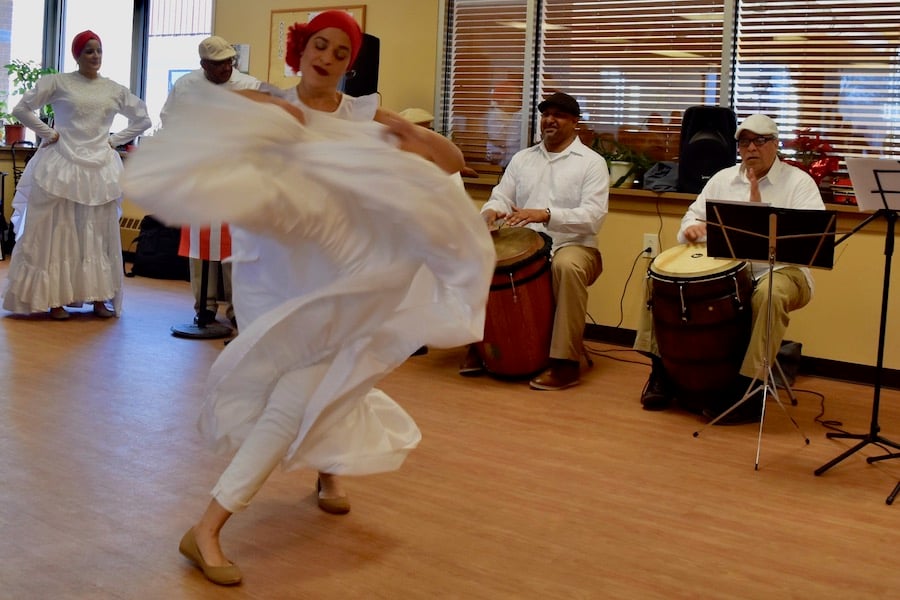 Dance | Festival Puertorriqueño | Music | The Hill | Arts, Culture & Community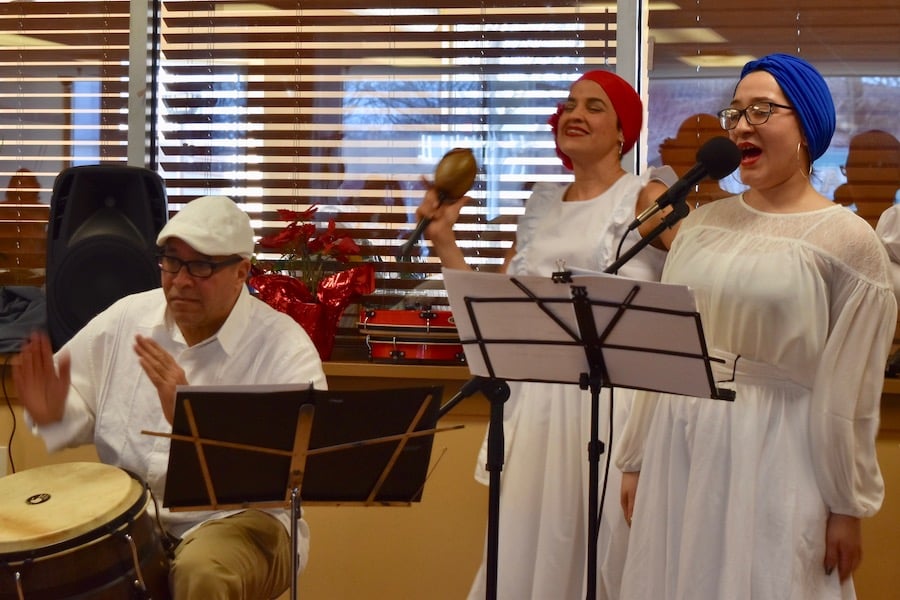 Kevin Diaz, Cristina Lugo, and Jessica Flores of Movimiento Cultural.
Alex Rosado slipped out from behind his drum and stepped into the batey. Moving back and forth across the dance floor, he performed a series of steps, crossing one foot in front of the other, then bending at the waist with his arms extended stepping quickly on his toes. With each move Rosado made, a corresponding drum strike sounded in a rapid-fire rhythm that filled the room.
Saturday, Rosado performed with Movimiento Cultural as part of the fourth annual Commemoration of the Abolishment of Slavery in Puerto Rico. Puerto Ricans United (PRU) hosted the event, welcoming an audience of around 80 to Casa Otoñal, a senior center in New Haven's Hill neighborhood.
PRU is an all-volunteer organization best known for producing the Festival Puertorriqueño de New Haven each August on the New Haven Green. With the goal of celebrating Puerto Rican culture with the support of the community, PRU considers Emancipation Day, which an official holiday in Puerto Rico, to be one of it's core activities.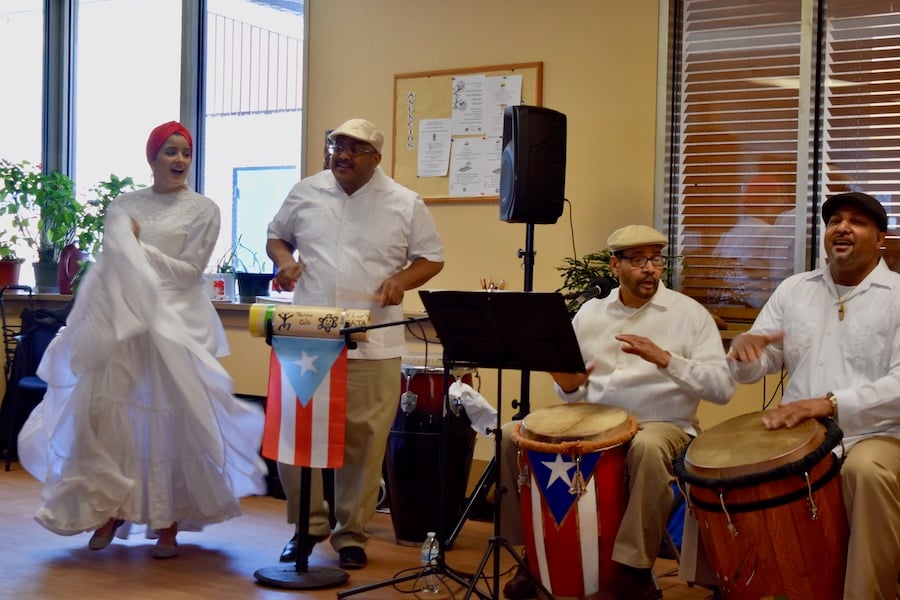 Natasha Vélez, Eluid Rosario, Abdom Ortiz, and Alex Rosado of Movimiento Cultural.
Conversations in English and Spanish floated around the room as attendees snacked on sandwiches and pastel de guava and found a chair in the rows of chairs ringing the room. As everyone settled in, PRU Vice President Edwin Martínez set the stage to "celebrate and educate" with a short history lesson.
There were 15,000 Taíno and Arawak people living in the Carribbean when Europeans arrived, Martínez said, but in rapid succession, the population was enslaved and decimated by disease.
"We became an endangered species. We almost became extinct," he said. "That's when our brothers and sisters from Africa were stripped naked and brought in shackles. But what they did bring with them was in their hearts and their minds: their culture. We are that mixture."
That convergence of cultures—Spanish, Taíno, and African—is the reason "we don't all look alike," Martínez said. From those who are "white with blue eyes" to those who are "Black and proud," it's "important to know where we came from."
For Movimiento Cultural, a New Haven ensemble specializing in traditional Puerto Rican music and dance, the story of bomba is the story of that heritage. Movimento Cultural Instructor Cristina Lugo explained that bomba was developed in secret by enslaved people on the island of Puerto Rico, and the art form was one of the ways that enslaved people resisted and claimed a sort of liberation for themselves.
"Working on the sugar plantations, the only opportunity they had to be human were these clandestine gatherings," she explained. "It was an opportunity for a slave to be the boss."
Fellow musician and dancer Jessica Flores demonstrated what Lugo meant when she stepped out on the batey—a Taíno word that refers to the open space used for dancing—the ruffled edges of her long, white skirt in her hands. The band played the song "Campo", whose rhythm belied its pain-filled lyrics:
Cada día sufriendo más…si no bailo esta bomba, me voy a morir
Every day I'm suffering more…If I don't dance this bomba, I'm going to die
Flores mostly kept her back to the audience, focusing instead on Kevin Diaz—the primo, or lead drummer—with intense eye contact. Her face was serious; she seemed caught up in the emotion of the dance.
Flores gave a series of quick hops and then a swish of her skirts. Watching her closely, Diaz played a rapid sequence of strikes, ending with a flourish. While the other percussionists keep up the steady, complex rhythms that give the songs their structure, the primo's role is more improvised, with the dancer calling the shots.
"The primo can only strike to the rhythm of the dancer," Lugo explained. "It's your chance to liberate stress and feel powerful."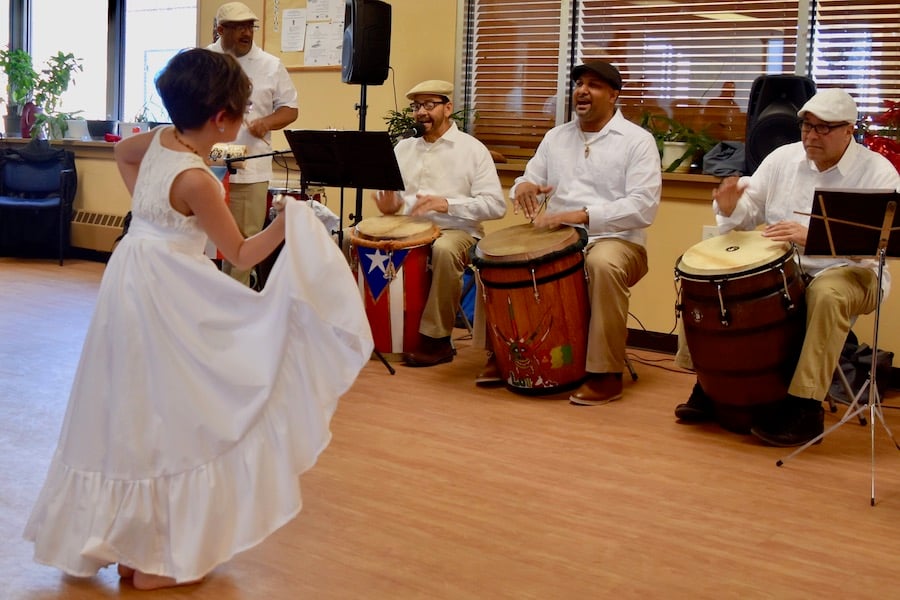 Diaz, director of Movimiento Cultural, makes eye contact with one of the youngest dancers as she confidently cues him with her movements.
The enslaved people who were brought to Puerto Rico often spoke different languages, but were able to come together through bomba.
"The language that united them was music," said Lugo. "Bomba is a community, and everyone has a part," whether that's playing drums or other instruments, dancing, singing the lead, or singing the chorus.
Lugo also pointed out how Taíno culture is represented in bomba through instruments like the maracas and terms like batey and African culture is present in the drums. Spanish became a lingua franca among enslaved people and was used in bomba lyrics. Spanish influence is also found in the traditional clothing.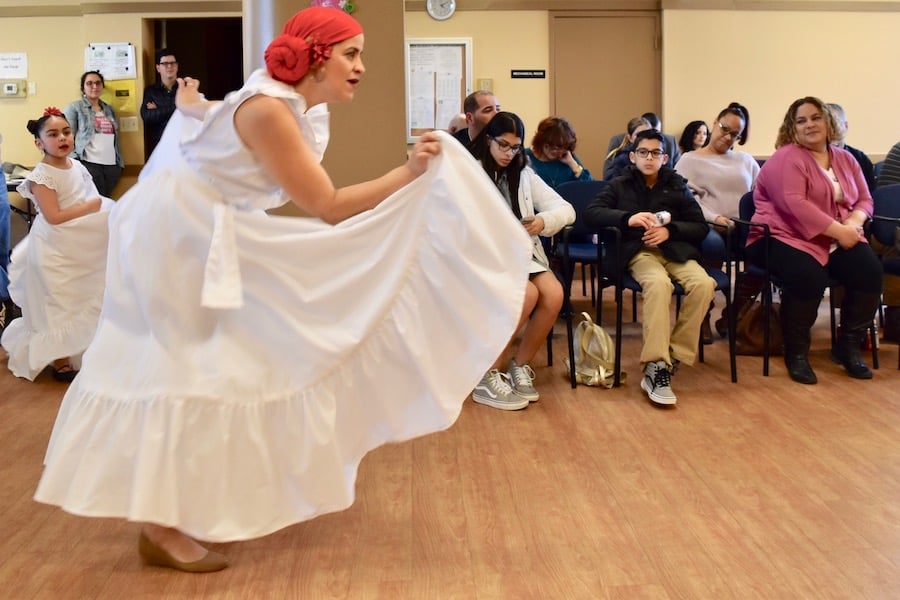 The group played a variety of different bomba rhythms over the course of the concert, and Lugo explained that each one served a purpose in the bomba community. Sicá was used to tell a story, while yuba is a very intense rhythm that is good for getting out stress and purging negative emotions. Cuembé is sweet and flirtatious while seis corridos is "the ultimate party rhythm."
The musicians brought some of those rhythms together in a medley while the dancers fanned out across the room to pull audience members from their chairs to join in the dancing.
Men in suits, tweens in sneakers, grandmothers and kindergartners alike joined in. The experienced dancers brought the volunteers to the middle of the batey, close to the primo, and Diaz used his drum to follow each one in turn, a big smile on his face as he let members of the community take the lead.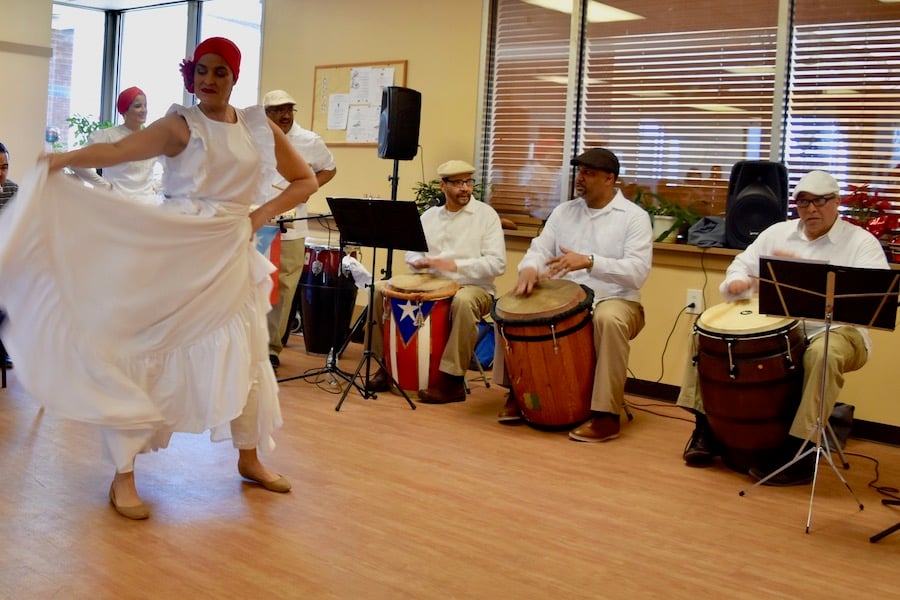 There was a wordless lesson in dance vocabulary and how to communicate with the primo using just movements. Use a shimmy of the shoulders or rapid steps on tip toes to get a flurry of beats. Raise your shoulders and drop them down to cue the primo to stop the flurry. Use a quick forward flourish of the skirt or arm to get a loud strike. Add a stomp if you like, and cue as many strikes as you want to. Whip that skirt or arm back to tell the primo it's time to stop those strikes and get ready for something different.
Each person brought their own personality to the dance, their own confidence or level of energy, polishing each move with their own finesse. Some were ready to lead, dancing right up to the primo with decisive movements. One participant jumped right in to the style of the dance, using the tails of his button-down shirt as an impromptu skirt.
"Bomba is not for impressing others, it's for yourself," said Lugo. "What better way to liberate yourself than to go to a bomba? Even if you don't know how to dance, they are your movements and that's what matters."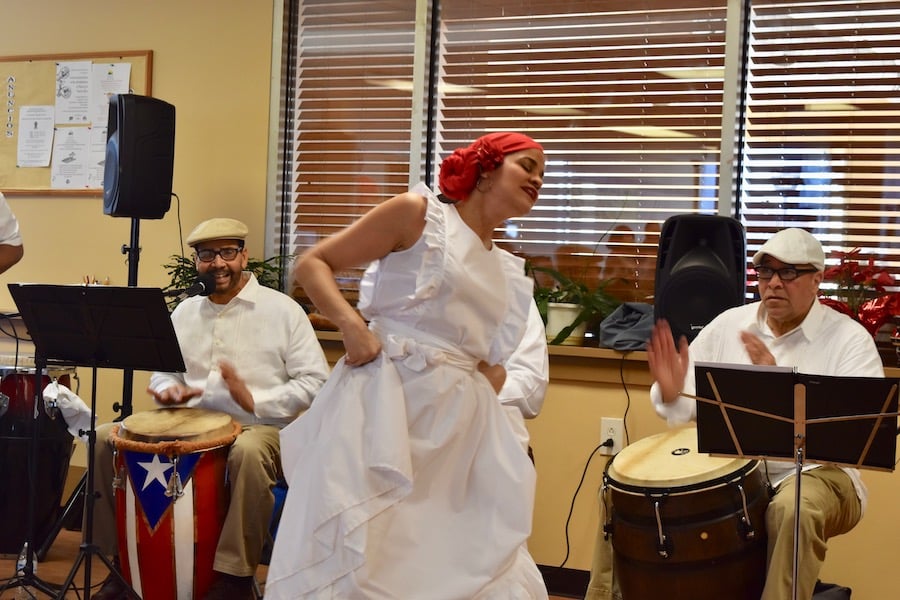 After the event, PRU member Juancarlos Soto reflected on the ways bomba communicates Puerto Rican history, culture, and values. He pointed out how a dancer can't be removed from the batey until he or she decides to leave. That's about valuing and respecting each other, he said.
There's a "magic" that can be lost without the educational component that Movimiento Cultural brings to their performances, Soto said. For that reason, the group is a fixture at PRU's annual commemorations of the abolishment of slavery. Watching their concerts, Soto finds it easy to imagine how bomba was a way for enslaved Puerto Ricans to tell their stories, share news, find love, build community and empower themselves.
"Making sure we celebrate every aspect of what it means to be Puerto Rican is important to us," he said. "It's not bomba unless you acknowledge the history."