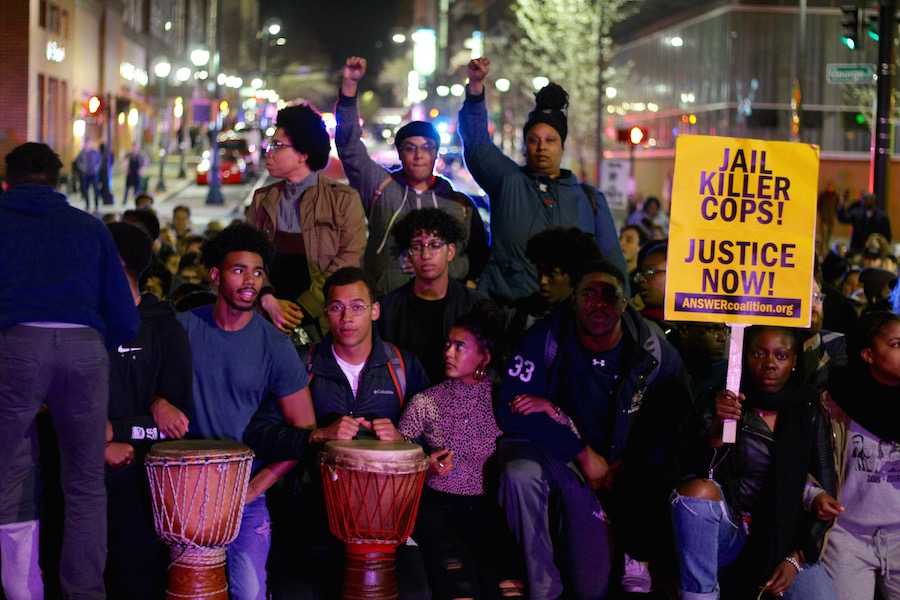 News From The Pews | violence | Arts, Culture & Community | Black Lives Matter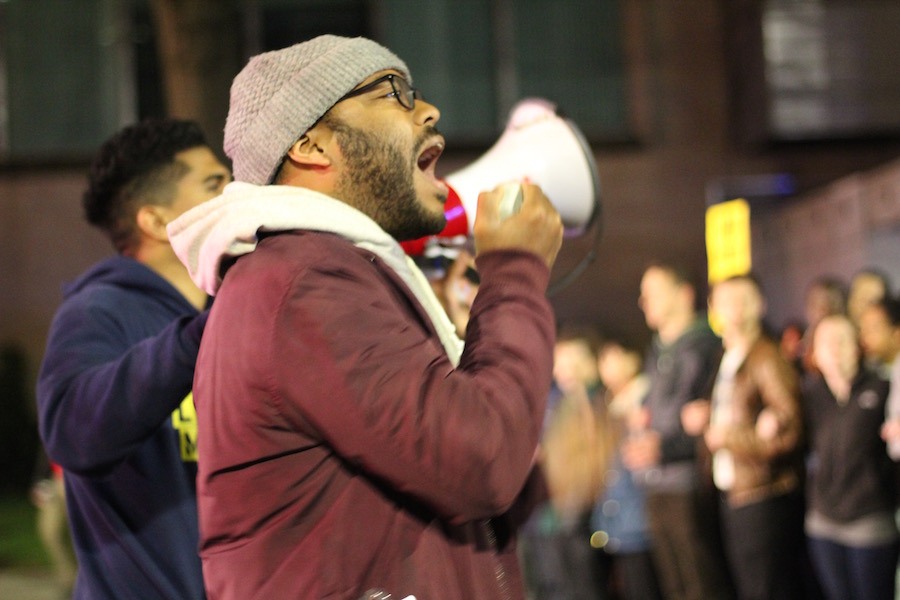 Pastor Josh Williams prepared to pray. Before him, hundreds of congregants stood at the ready, arms linked at the elbows. A spring breeze blew through the sanctuary. Behind him, a wall of police lights pulsed in red and blue. He took a deep breath and leaned into the speaker of a megaphone.
"We need to pray right now for God to be with us," he said. "We're gonna pray that as we advance, we're not advancing alone. This is a God who is with us, and who is protecting us."
Thursday afternoon and evening, Williams was one of 500 protesters to preach a gospel of justice and police accountability for Stephanie Washington and Paul Witherspoon III, victims of an officer-involved shooting in the early hours of Tuesday morning (read more about that here, here, and here).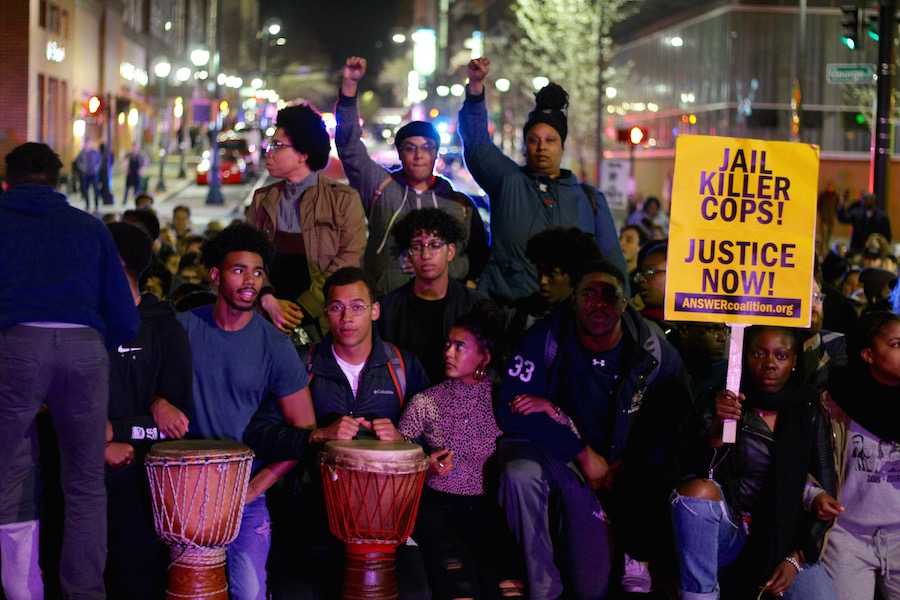 Earlier this week, Washington sustained injuries when Hamden Officer Devin Eaton and Yale University Officer Terrance Pollock fired into Witherspoon's car. As the Connecticut Attorney's Office conducts an independent investigation, both officers have been placed on administrative leave.
The action, like those earlier this week, was organized by People Against Police Brutality, Black Lives Matter New Haven, the Party for Socialism and Liberation (PSL), Justice for Jayson, and the Connecticut Bail Fund, with additional support from Sex Workers and Allies Network (SWAN) and the Yale Undergraduate Prison Project. It lasted for almost seven hours, ending close to midnight.
As organizers marched through Yale's campus and downtown New Haven, shutting down multiple streets, hundreds of Yale students joined the action.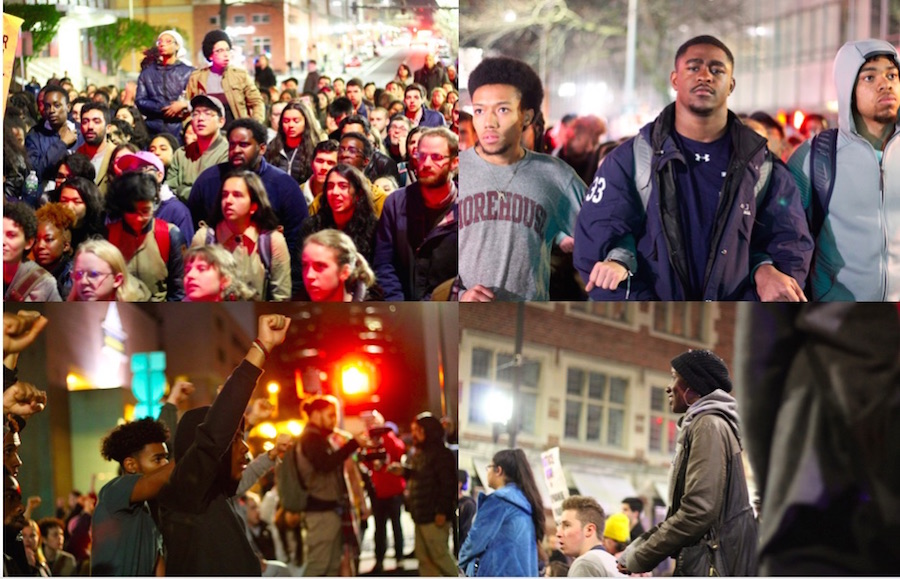 "Police violence is a crisis across Connecticut for Black and Brown communities," said Kerry Ellington, a member of People Against Police Brutality who has become one of the most visible organizers. "It's a crisis for very low-income communities. For queer communities and for trans communities. It's a crisis. "
"Their mission is to serve and protect the people," she later added. "So why were they [Washington and Witherspoon] met with rounds of gunfire? Why? It's unacceptable. It's unconscionable. It's police terror. It's police violence. We wont stand for it. We're not fucking around. We don't care about your laws for traffic when you're gunning us down."
On Tuesday evening, Ellington and others released a list of demands that include the immediate termination of Officers Eaton and Pollock, the release of body camera footage from the event, and "a just, moral and transparent investigation" from the state. Yale students have also started a petition addressed to Yale President Peter Salovey.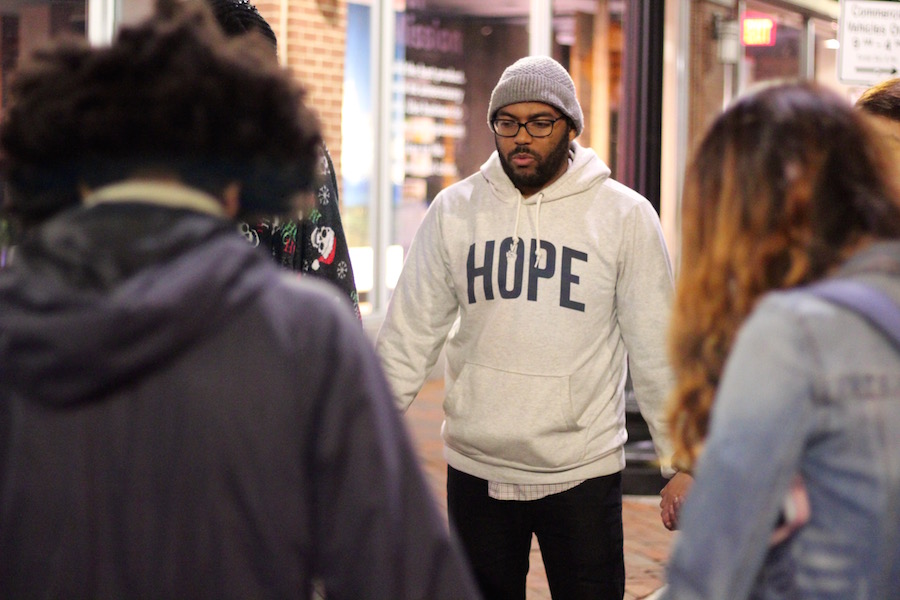 And on Thursday—the eve of both Passover and Good Friday—the protest took on a sort of ritual quality. As longtime city activists and students gathered on Wall Street and headed to the corner of York Street and Broadway Avenue downtown, rhythmic drumming, kinetic movement and song rose up to meet chants of "the people/united/will never be defeated!" and "Justice for Stephanie! Justice for Paul!"
Protesters made the streets into their own kind of congregation, blocking Broadway and York for over an hour, then marching from Broadway and York down Elm, and then Elm Street all the way down College to Martin Luther King, Jr. Blvd. At Elm Street, cheers for Washington and Witherspoon mingled with those for Nelson Pinos, who has been living in sanctuary at First and Summerfield United Methodist Church for over 500 days.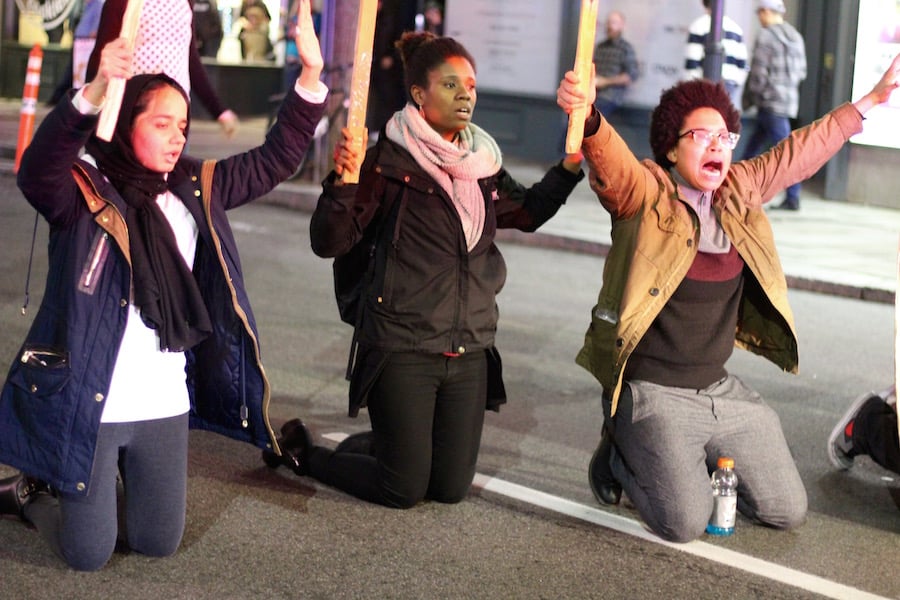 On College Street between Chapel and Crown, protesters sat and kneeled again, many linking arms. At one end of the street, Ellington fell to her knees and raised her palms, watching the police as they walked up and down the street. "Hands up/don't shoot," she screamed, her voice nearly gone after three days. On the other, activists stood and raised their fists, a voice rising from the center of the group.
"We have a duty to fight for freedom!," a voice cried. "We have a duty to win! We must love and support each other! We have nothing, nothing, nothing to lose but our chains."
Protesters began to march again, this time inching close to Martin Luther King, Blvd. The plan, explained Yale College Council President Kahlil Greene, was to keep going onto the boulevard, accompanied only by drums and the sound of singing. Several activists knelt, white attendees coming to the front of the group as protection.
They linked arms, reconfigured and linked again. Songs culled from the labor and Civil Rights movements swelled around them, voices carrying all the way down College Street.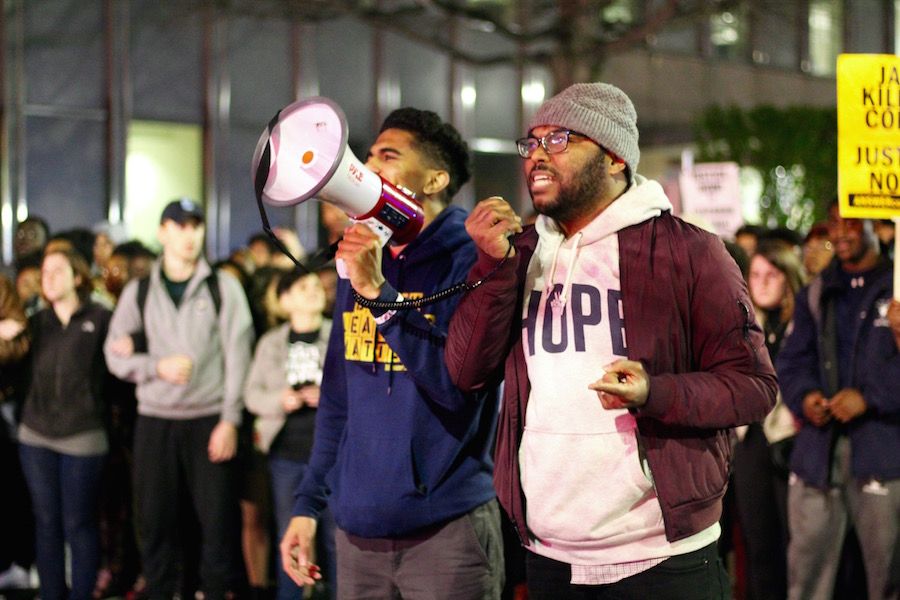 At some point, they stood again. Williams, a pastor at Elm City Vineyard church with his wife Tina Colón Williams, made his way to the front.
"God of peace, would you protect us?" he prayed. "We do not have armor. We do not have shields. We are human flesh. Would you protect us, God? Would you protect your people? Be with us, whether we believe you or not, be with us. You are out protection right now."
"We're going up against, literally, an army," he continued. "Be our protection And be our shield. If anyone is afraid, it's okay to be afraid. But give your fear to something bigger … something bigger than you. We go forward together. We go forward united. And if we're afraid, let's admit that together. Let's speak it out."
"God is watching you," he cautioned the police who had gathered, turning to face them. "God is watching you. You serve God. You're supposed to serve these people. So don't hurt anyone tonight. Do not shoot anyone tonight. Do not take any lives tonight."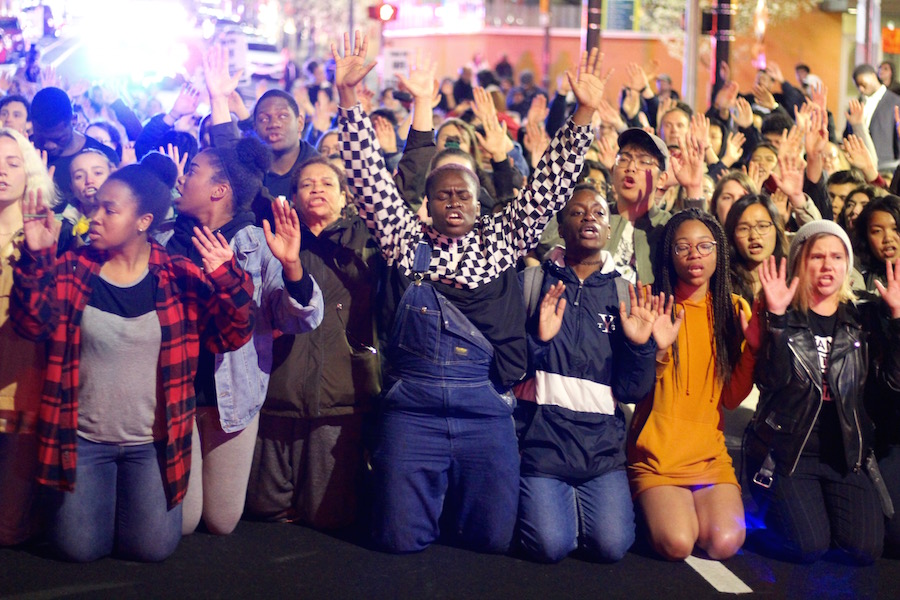 It became a sort of unexpected sermon, delivered just hours before two holidays that celebrate birth, rebirth, liberation and renewal. In Williams words were centuries-old stories: a prophet victimized, then killed, by the surveillance state in which he was living. Or a mass exodus of a people, fleeing a tyrannical oppressor, who did not know if they would make it through the desert.
Back in the crowd, someone started singing the first refrain of Florence Reese's "Which Side Are You On?" As the song rose into the night air, it mingled with others: "We Shall Overcome" and multiple references to Kendrick Lamar's "Alright."
Voices swelled. The protesters made their way through a line of police cars, and kept marching.
To watch more from the protest, click on the videos below.