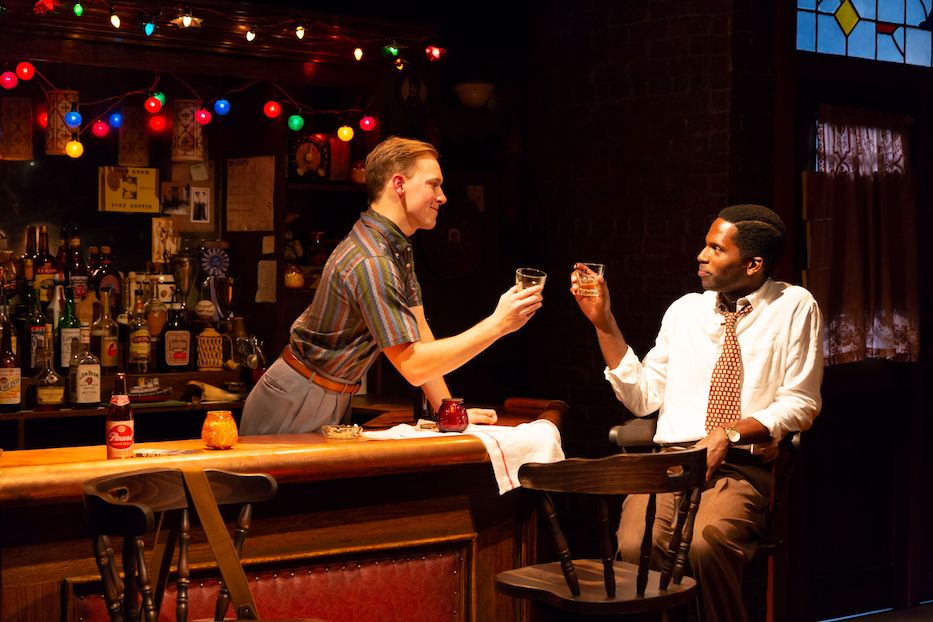 LGBTQ | Long Wharf Theatre | Arts & Culture | Theater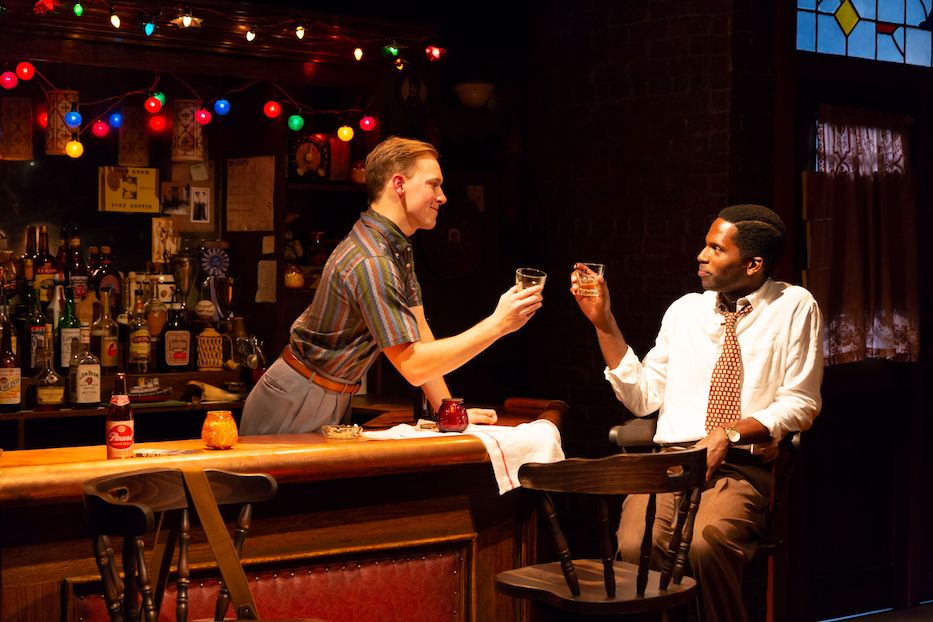 Jeremiah Clapp and Calvin Leon Smith in On The Grounds of Belonging. T.

Charles

Erickson Photo.
Mostly, it feels like a normal flirtation. At the bar, Tom is explaining his latest work as a biologist, trying to spin an experiment with cow innards into a smart gay joke. Russell is cautious, his body a bag of nerves and his hands still so close to his sides. His eyes graze the floor. He can't say Tom's name. Only a few feet separate them. Only whole histories separate them. Tom swivels, and his eyes contain worlds of want and unknowing. It feels like it's time for someone to make a move.
Until you remember that they can't leave the bar without risking their entire lives. That it's 1958, or maybe it's 1969, or maybe it's 2019, and there's not a world in which their whole love is possible.
Those resonances pump through the wildly beating heart of On The Grounds of Belonging, the world premiere of which is running at Long Wharf Theatre through Nov. 3. Written by Ricardo Pérez González and directed by David Mendizábal, the work follows two star-crossed lovers in segregated, Jim Crow-era Houston as they navigate a messy, fragile interracial love in a world that does not allow it. It is a devastating and poetic triumph that marks a new chapter for the theater, and sets a propulsive tone for Pérez González' forthcoming trilogy of queer histories.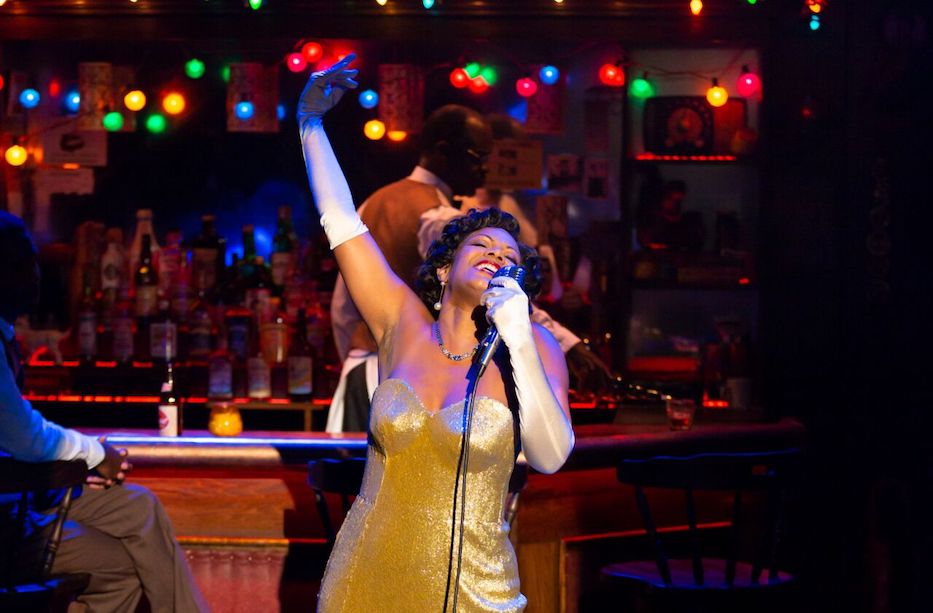 Tracey Conyer Lee in On The Grounds of Belonging.

T

.

Charles

Erickson Photo.
Set in Houston on the lip of the 1960s, On The Grounds of Belonging opens in The Gold Room, a Blacks-only gay bar in which Tanya Starr (Tracey Conyer Lee) is taking it to church, dripping gold sequins and white gloves while an old-fashioned love song flies from her lips. Her whole voice fills the bar, pulling the audience back into history while leaving them right in the present.
The song is prophecy: no sooner has she conjured Shakespeare, master of unlucky lovers, than a white first-time drag queen (boy name Thomas Aston; played by the actor Jeremiah Clapp) soon appears at the door, hiding out from the police raid at the whites-only gay bar across the street. When she spots the quiet, bookish Russell Montgomery (Calvin Leon Smith) reading Booker T. Washington at a corner table, an invisible clock starts ticking.
In this world, The Gold Room is both sanctuary and prison. Around Tom and Russell, there is barkeep Hugh Williams (Thomas Silcott), Russell's hot-and-cold lover Henry Stanfield (Blake Anthony Morris) and Mooney Fitzpatrick (Craig Bockhorn), who runs the whites-only Red Room across the street and owns both bars. When he checks in after the raid and spots one of his white "family" members there, his disgust reminds the audience how black and white the situation may truly be.
And yet if this is a tragedy, it bends the genre in beautiful and necessary ways. With a keen ear for dialogue—the play originated in oral history, and it shows—Pérez González writes a tender and forbidden love with poetry, humor, and original music. Even as the audience takes in a landscape defined by oppression, characters let their humor lift them up. It's a survival tactic: they point to their friends' hypocrisy and pull out rom-com like lines just to show how timeless their predicament and their existence is. Their humor, sometimes bitingly funny, is what keeps them afloat in this life raft of a little bar on one side of town.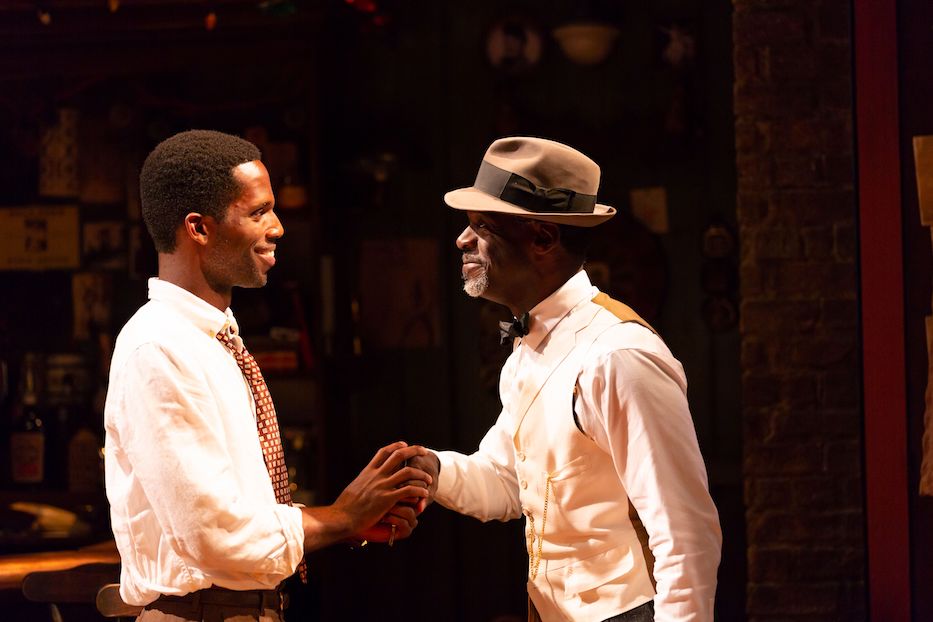 Calvin Leon Smith and Thomas Silcott in On The Grounds of Belonging.

T

.

Charles

Erickson Photo.
Early on, it almost catches the audience off-guard as Stanfield and Williams trade barbs, and their playfulness transforms into a sheer ballet of language. So too much later in the play, it's vibrant as Starr problem-solves on the fly, and the words crackle red-hot from her lips. Despite heavy nods to Romeo and Juliet, West Side Story, and James Baldwin, it's not florid and overwrought—Pérez González just writes real people.
The longer one sits with it, the less surprising it seems. History has always been bittersweet, heavy on the bitter. The sweet is what keeps the heart beating in between.
And beat it does. At the center of this story, Smith and Clapp are revelations alone and together, magnetic long before their bodies touch. Introduced as the intellectual, Smith is whip smart and equally nimble, graceful as he lays out the miracle and danger that is his life. Clapp rises to the challenge as Tom, pushing past his own understandings of the world to make room for new ones. They have an electricity that comes from a world that wants to keep them apart, so directly in contrast with their curiosity toward and ultimate, hard-fought ease around each other.
At times, they seem to forget that there is a stage at all, and they are just two boys trying to figure out how they can possibly make this work. There's a physical beauty there as they travel from bar to bedroom, so deeply felt that it becomes an open wound when punctured. Their love hits one right in the solar plexus—and the gut, chest, ribcage, pelvis, and loins for that matter. And it should: it bears witness to how fragile love can be if one is not straight and white and male.
But around them, no one is superfluous to this story, and no one is entirely wrong. In Bockhorn's Mooney, audience members get both a villain and—for some—a mirror, through which to see how a gay man can also uphold (and gleefully participate in) centuries of structural and economic racism. Morris and Silcott are his counters, one hardened by history and the other willing, with equal parts power and understatement, to give it a chance. While Morris plays Stanfield originally for humor, there's depth there, the actor coming undone in the most lovesick and genuine of ways.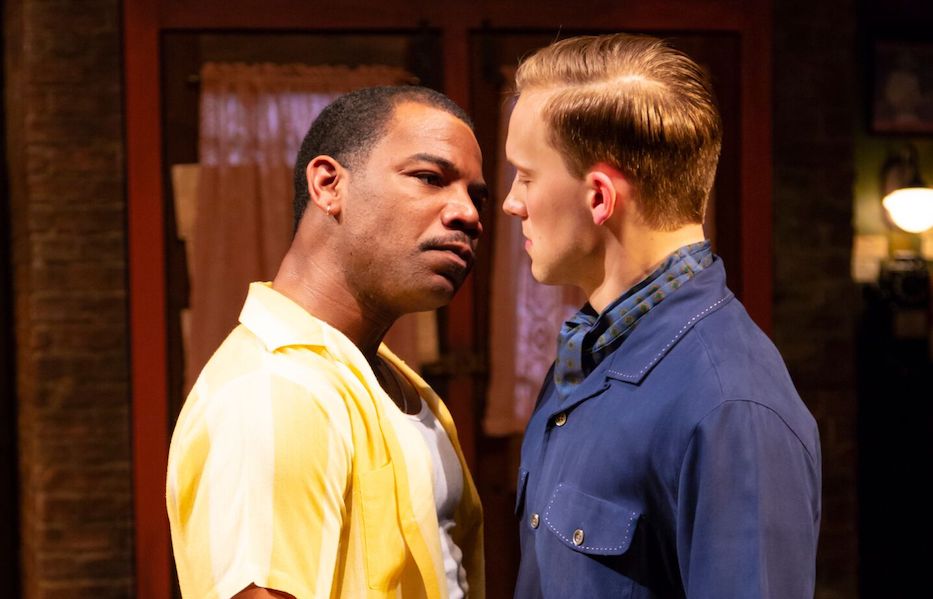 Blake Anthony Morris and Jeremiah Clapp in On The Grounds of Belonging.

T

.

Charles

Erickson Photo
As Ms. Tanya Starr, Lee leans heavily on quick, snappy humor as a coping mechanism, revealing her steel backbone to the audience bit by bit. Sometimes, it's a quip about her hair, which patrons of The Gold Room will never see. Sometimes it's unspoken, as she plunks out a song in the corner. Sometimes, it's just a few words that double as a potent warning. But by the time she sings the play out, it's enough to knock the wind clear out of the audience.
And in this way, it is a story of 1958 Houston—Wilson Chin's set is nearly a character in itself and so is Ntokozo Fuzunina Kunene's costume design—but also 2019 New Haven and 2019 America. The play takes place in 1958, but its central trauma (or, at least, one of them) stretches back to 1619, and bounces forward to today. Yes—Pérez González lets the audience revel in how much has ostensibly changed since the 1950s, but he also reminds them how much is left in a fight for true, intersectional justice.
When Hugh, a quiet fighter for this love, leaves the bar to the lovers at the end of one night, it is hard not to think about the last time Nelson and Elsa Pinos went on a date somewhere that wasn't the basement of First and Summerfield Church, where he is seeking sanctuary from Immigrations and Customs Enforcement. When Tanya arrives from church and explains that she just blocks out some of the sermon, one remembers the ease with which local faith leaders rail against homosexuality while half the church choir is gay.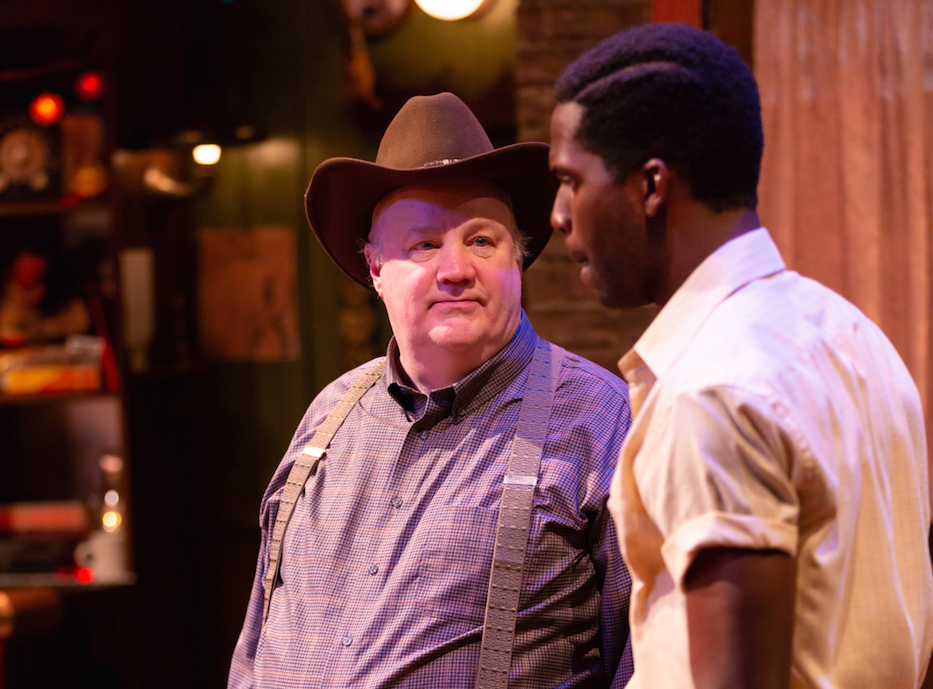 Craig Bockhorn and Calvin Leon Smith in On The Grounds of Belonging. T.

Charles

Erickson Photo.
In so doing, Pérez González has shown the ways oppressed communities can replicate systems of their oppressors. To the claim—which totally works as the play unfolds—Mendizábal is able and even-keeled. There's no overly preachy call against white supremacy and internalized -isms because there never has to be.
Instead, the audience knows that Ms. Tanya is still at the mic in some bar, still holding everything together. They know knows that Tom and Russell might be able to go on a date in Houston now, but they also still risk getting beaten in Bushwick or Chelsea or Hell's Kitchen. They know that Hugh Williams may not have lived to see the Black Lives Matter Movement, but may have prayed on it.
There's a parallel story for the theater, which has been very much in transition under Artistic Director Jacob Padrón and Managing Director Kit Ingui in the last few months. On opening night—the show kicks off the 2019-2020 season—ushers proudly sported pins with their gender pronouns. Several circulated around the lobby beforehand, handing out programs to attendees instead of waiting for attendees to come to them.
Outside, the theater was lit up with shafts of rainbow-colored light that glittered in the rain just so. An afterparty with the New Haven Pride Center, complete with drag, was planned to go into the wee hours of the morning downtown.
And in each program, attendees found an "invitation to engage" from Pérez González, including adding "the occasional audible 'yaaas,' 'wepa,' 'preach,' or your one-word cultural equivalent" during the play. Voices that audibly joined the show included Black Lives Matter New Haven Founder and LGBTQ+ Youth Program Officer Ala Ochumare and Inner-City News Editor Babz Rawls-Ivy.
They rallied for the actors to kiss, ready for its combustible power. They cheered on Silcott when he gave Bockhorn a particularly scathing read. To Lee's Starr, Rawl-Ivy nodded knowingly at every scalding line. As if she had once been there. As if she too, in fact, belonged to the play.
"This is a play that is in conversation with the world," Padrón said before the show. "It's really about being a theater company of, by, and for the community. "
On The Grounds Of Belonging runs at Long Wharf Theatre through Sunday Nov. 3. For tickets and more information, click here.