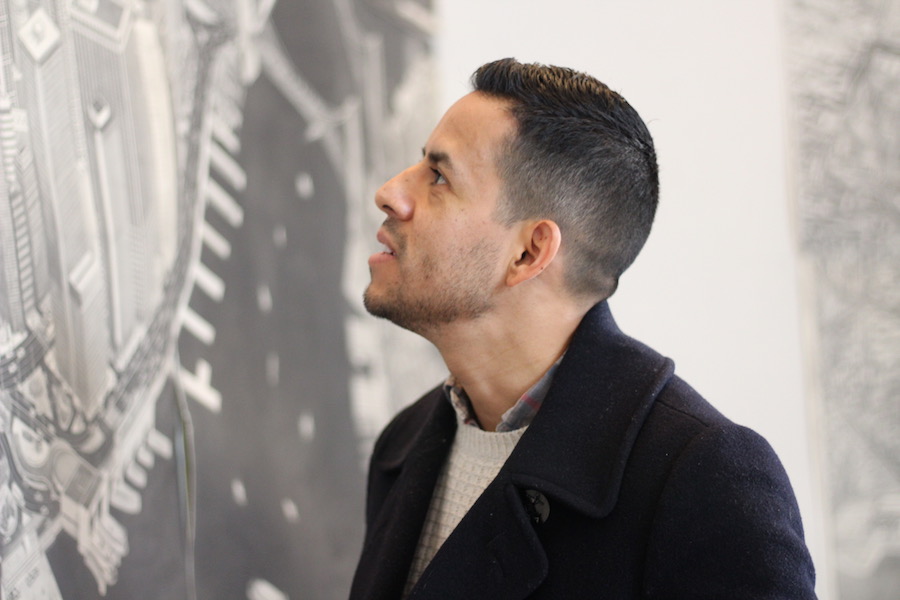 Long Wharf Theatre | Neighborhoods | Theater | Arts, Culture & Community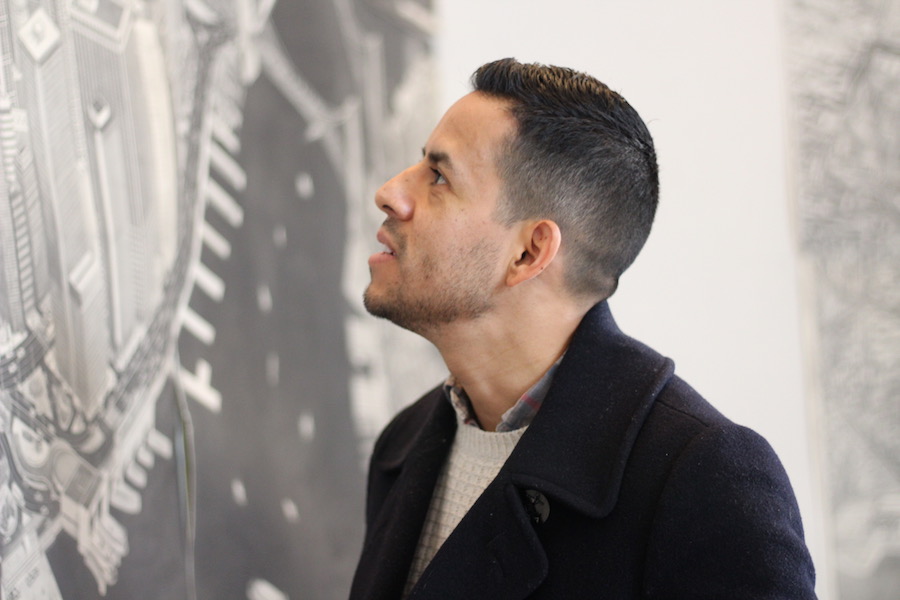 Jacob Padrón: "Wouldn't it be so wonderful if Long Wharf could be part of the connective tissue that brought all of our neighborhoods together?" Lucy Gellman Photos.
Jacob Padrón was getting lost in a map of New Haven. In front of him, Church Street collided with Elm, right at the edge of the New Haven Green. Centimeter-high figures made their way down the narrow sidewalks and honking one-way streets. A city lullaby rose from the paper: clipped phone calls on the steps of the Federal Courthouse, hurried feet coming to and from the library nearby, the hot dog vendor at the corner of Church, making small talk with the lunch crowd as they debated mustard and Utz cheese puffs.
He turned back to artist Gregory "Krikko" Obbott, eyes wide. "And this is all by hand?" he asked.
"All of it," Obbott answered. He turned to details that Padrón hadn't yet noticed.
It's part of a 90-day "listening" tour that Padrón, who in February began his tenure as Long Wharf Theatre's new artistic director, is undertaking as he figures out the theater's new role in the community. Over two-thirds of the way in—Wednesday technically marked day 72— he said he is trying to create a Long Wharf Theatre that feels more central to New Haven, instead of out of the way. And he needs the community's input to do it.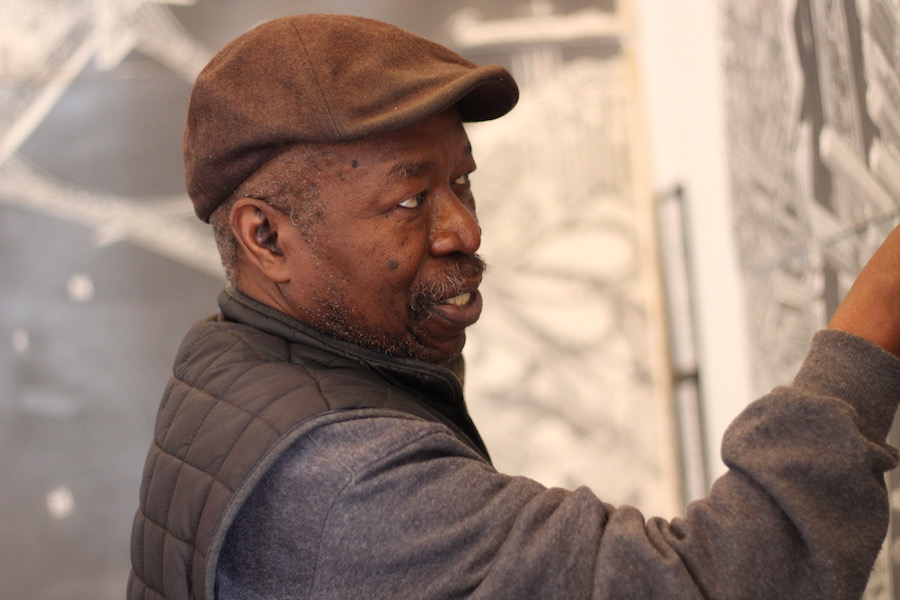 Gregory "Krikko" Obbott, who opened the Hill Museum of Arts in 2013.
"As I get to know New Haven, that is always the central question for me," he said in a recent interview, on a spin around the city that included the Long Wharf Taco Trucks, Hill Museum of Arts, Lotta Studios, and Kwadwo Adae's Women's Empowerment Mural. "How can Long Wharf Theatre be of service, and how can we be radically inclusive? And what does that mean? What does that mean for this organization, and what does that mean for the city of New Haven?"
Padrón's relationship with the city of New Haven started in August 2005, when he traveled from Baltimore to Boston, then Boston to New Haven, for an MFA at the Yale School of Drama. His view of the city was limited—he lived in graduate student housing on York Street, then on Howe Street for a summer. He spent time away from the city, doing an internship during his second year at Center Theatre Group in Los Angeles. When he graduated in 2008, he moved on.
But when he returned to New Haven this year, Padrón did so with the intention of city-wide community building through the arts. Even before his official start date in February, he spoke about four pillars on which he planned to build his tenure, including "innovation, citizenship, inclusion, and most importantly our staff culture."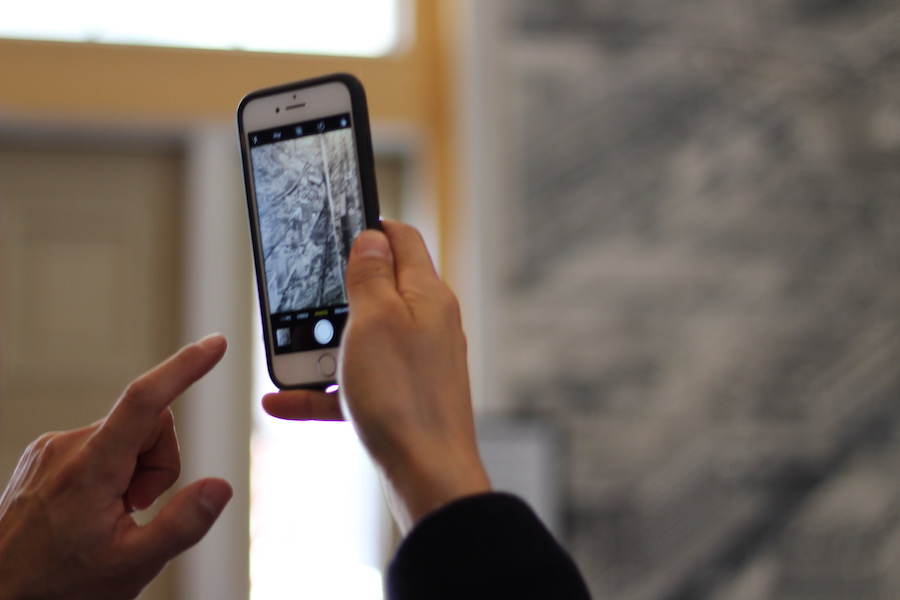 Just a few months in, he said that has translated to sitting down with community members and hearing what they have to say. So far, that has included A Broken Umbrella Theatre, multimedia artist Isaac Bloodworth, musician Paul Bryant Hudson and Mayor Toni Harp among others.
"I'm so committed to the idea of creating, like, a public square, where we're under one big tent that holds all our stories," he said. "Not that we're just engaged on the work that we see on our stages, but as a gathering space to be in community together and to be in community together and to learn from each other. I'm always thinking about—how can we create meaningful points of connection between other human beings and with each other? For all of us to call New Haven our home?"
On a recent Wednesday, that included meeting Obbott, a Nigerian immigrant and architect who moved to New Haven in the 1980s, after graduating from the University of Louisiana with a degree in architecture in 1981. The city fit Obbott's bill: it was close to New York but far enough away that he could have space and quiet while he worked. His friend was just a few minutes away. He began to make large-scale art, based on the architectural drawings that had occupied his graduate years.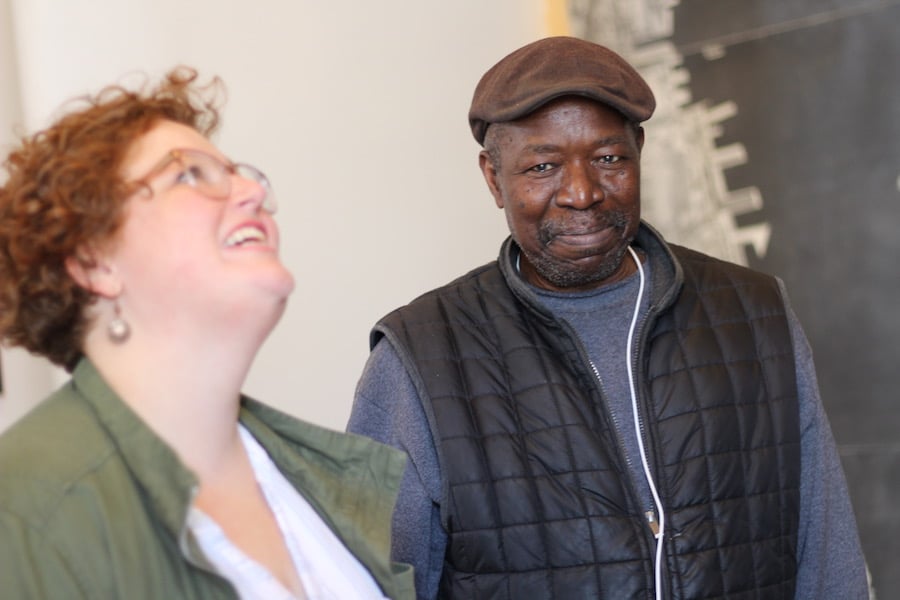 Elizabeth Nearing at the Hill Museum of Arts. Obbott is to her right.
But the more he turned out, the more he needed space to exhibit them properly. In 2005, the city sold him a dilapidated carriage house on West Street for $5,000. He gutted the building and declared that it would become a public resource. Eight years and $450,000 later, he reopened it as The Hill Museum of Arts, just around the corner from Ring One Boxing.
Wednesday, Obbott hurried through the cavernous building, jogging up three flights of stairs to turn on the overhead lights and then zipping back down to chat with Padrón and Long Wharf Community Partnership Manager Elizabeth Nearing. He flipped on jazz and started talking about recent visits to the space: a teachers' retreat on a Friday afternoon, an upcoming visit with students from Gateway Community College. He whipped out his phone to show off images of groups beaming in front of his work, a kind of digital logbook that he never keeps more than an arm's length away.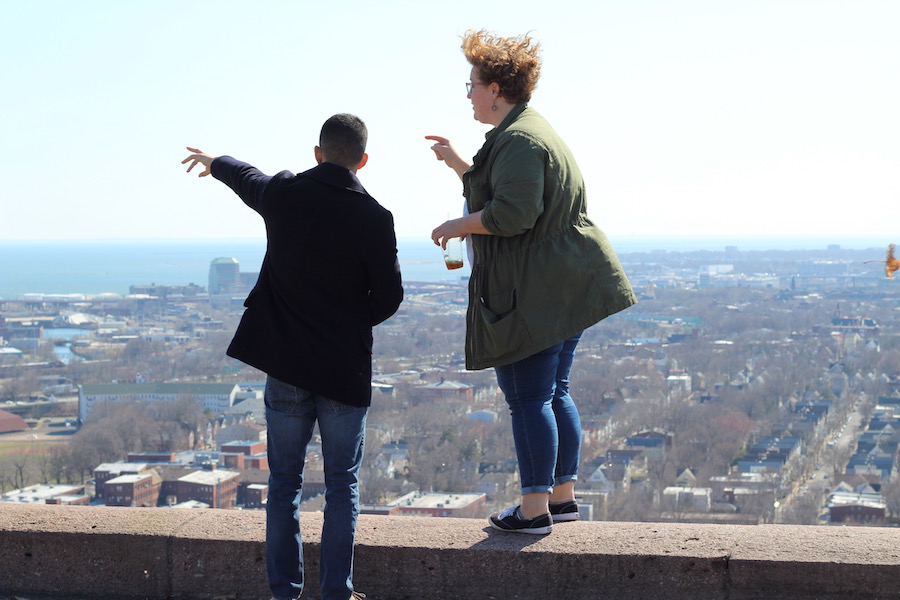 Nearing and Padrón at the summit of East Rock, where the two identified some of the spots he has visited in the past few months, since arriving at Long Wharf.
As Obbott spoke, Padrón froze in front of a massive drawing of New York City, a view of the Manhattan stretching 20 feet up onto the second floor of the building. He unfroze and turned to another across the room, where an earlier version of New Haven sprawled out across the wall. In minute detail, Obbott had captured downtown: brick and metal buildings on dense, tidy city blocks, the New Haven Green with a flag whipping at its center, highways snaking out to Long Wharf and then out of the city. Old buses trundled by.
"I can only imagine the stories that he has, and the way that he is a pillar in this community," Padrón said afterward. "As a Latino, as a Mexican-American, I'm always thinking about our ancestors, and how our ancestors paved the way for us. They tilled the soil, and made the soil fertile for us to … for many of us to have the lives that we have now."
"When I meet an elder, I'm always thinking, 'How can we honor this elder? How can we lift them up, how can we celebrate what they have done for our community?'" he added.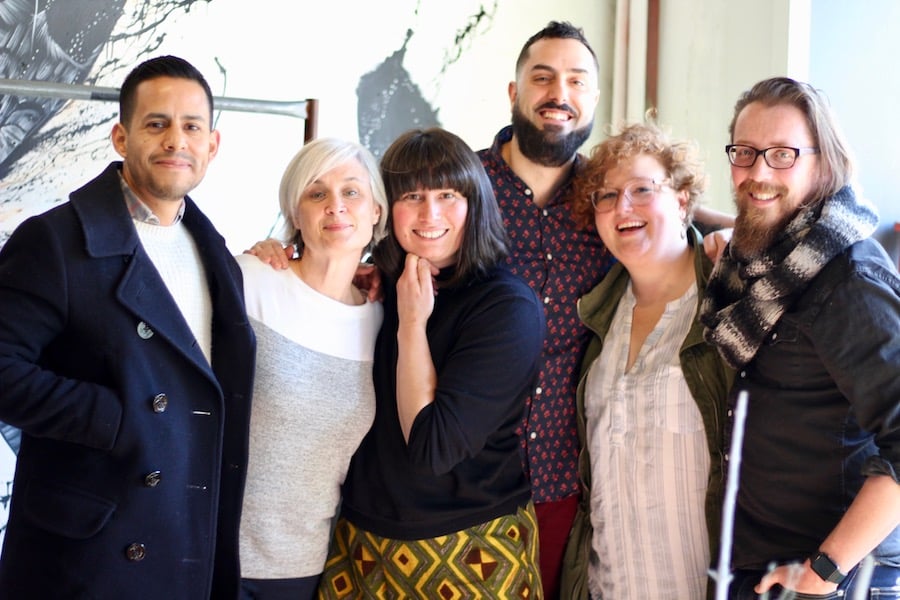 Padrón with WVRA Director Lizzy Donius, Lotta Studios' Mistina Hanscomb, filmmaker Travis Carbonella, Elizabeth Nearing, and Lotta Studios' Luke Hanscomb.
In 72 days, that listening has also taken the form of looking. Driving through the city with Nearing, Padrón has started to get a feel for how neighborhoods are connected, one merging into another, and then another, over just under 19 square miles.
On the same Wednesday, she took detours to point out landmarks that aren't on a standard get-to-know-New-Haven tour: the Amistad Catholic Worker House, flea market on Ella Grasso Boulevard, Evergreen Cemetery, Edgewood Park, the Oak Street Connector and its role in urban renewal. Neighborhoods whizzed by: the Hill, then West River, Edgewood then Westville.
In Westville, he stopped to refuel at Cafe X, and got a tour of Lotta Studios from Co-Founder Mistina Hanscomb. In no more than five minutes, the two were trading ideas about Lotta as a potential performance venue.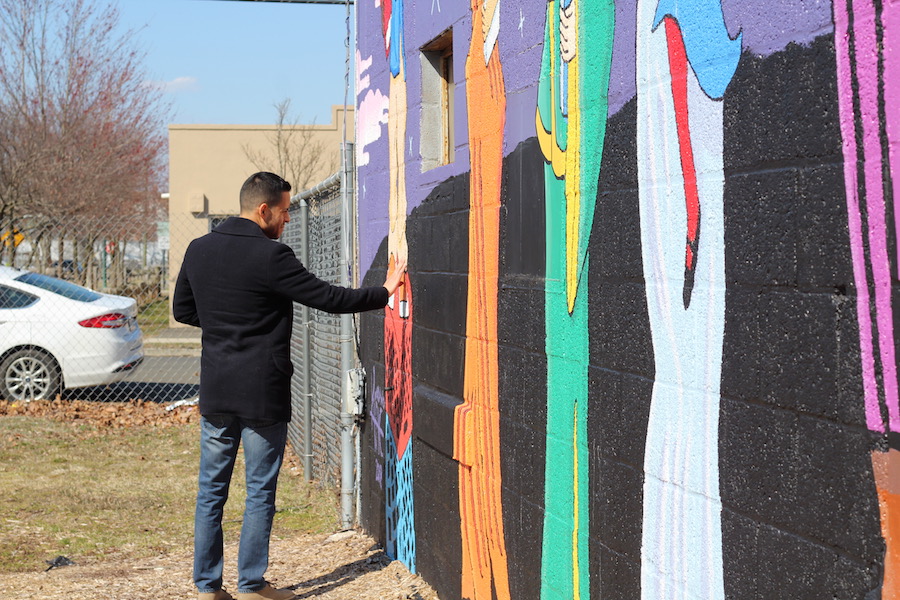 The stops provide points of connection that are still somewhat new for Long Wharf. As he passed Southern Connecticut State University (SCSU) on Crescent and Fitch Streets, Padrón noted that he intends to collaborate more with universities in the city, supporting particularly students of color. In early April, he went on a tour of Fair Haven with Lee Cruz, getting to know a part of the city the theater has not typically interacted with.
At Adae's Women's Empowerment Mural, he walked the length of the wall, studying the figures who are pulled from real life. He took a moment to look at each, like a promise that they'd meet again soon in the real world. And they may: one of his hopes for Long Wharf is to have a more mobile show, not unlike A Broken Umbrella Theatre's play Exchange two years ago.
"I think the future of the American theater, and the future of arts and culture, is to move away from the scarcity mentality and into the mentality of abundance," he said. "That the work of making art is going to be richer when you can bring everyone to the table. And the days of being so individualistic and so egocentric, that doesn't create for the innovation that we want in this city and in this country."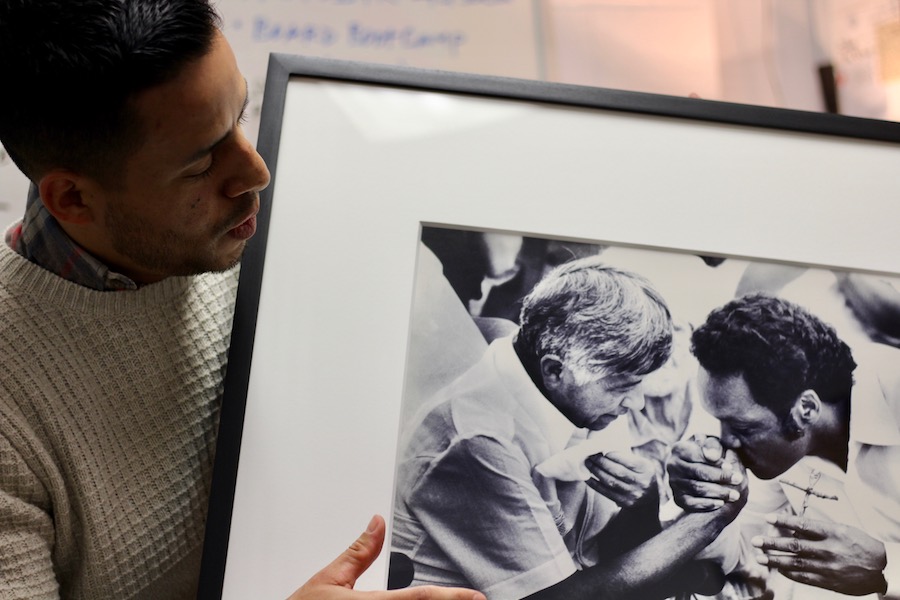 He keeps a reminder of that mentality in his office: a portrait of the Rev. Jesse Jackson kissing labor leader César Chávez on Aug. 1, 1988, as Chávez withstood his final and longest fast for the United Farm Workers (UFW) in Delano, Calif. Jackson later joined the fast, stepping in for Chávez after he was unable to continue after 36 days with only water.
"Wouldn't it be so wonderful if Long Wharf could be part of the connective tissue that brought all of our neighborhoods together?" he asked aloud. "How do we celebrate and honor that every neighborhood has different cultures, different rhythms, different people? And to be able to say to those neighborhoods: we are different and we are the same. How do we reveal our collective humanity, and how do we celebrate that?"
On April 18, Padrón will join Karen DuBois-Walton of Storytellers New Haven and Bill Graustein of the William Casper Graustein Memorial Fund for "Storytelling & Justice" at the Fair Haven Branch of the New Haven Free Public Library. The event runs from 5:30 to 8:30 p.m. To find out more, click here.