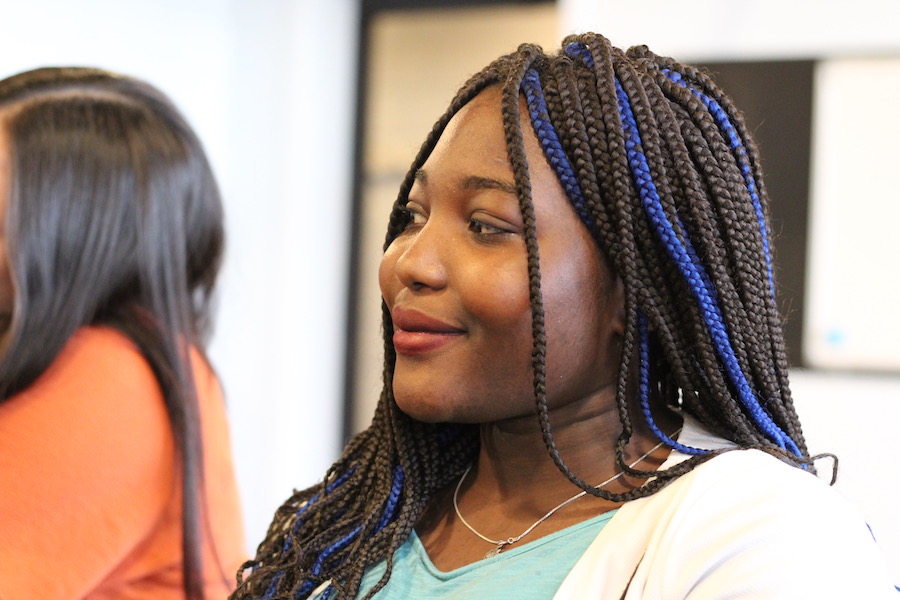 Integrated Refugee & Immigrant Services (IRIS) | Long Wharf Theatre | Refugees | Theater | Arts, Culture & Community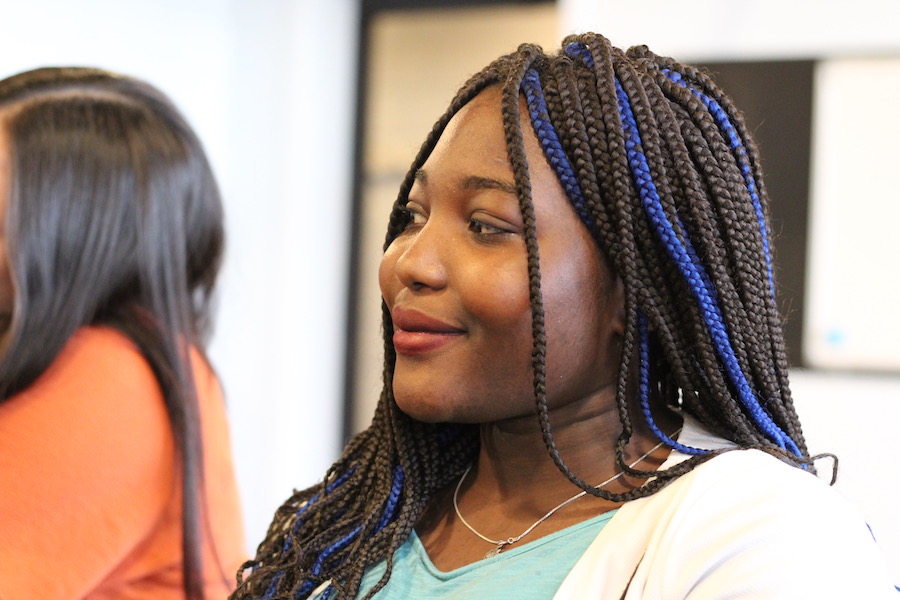 Divine Mahoundi was one of the participants on Friday's session. Lucy Gellman Photo.
Rachel Christopher is speaking people of color back into antiquity, where they existed until someone erased them from the record. Divine Mahoundi is pushing for refugee narratives to catalyze social action around the globe. Now, both are learning to undo revisionist history one story at a time.
Christopher plays The Poet in Long Wharf Theatre's production of An Iliad, a revelatory retelling of Homer's classic directed by Whitney White. Mahoundi is a refugee from Republic of the Congo, who arrived in the U.S. in 2016 and is now a senior at James Hillhouse High School. Last Friday, the two came together as part of the New Haven Play Project.
The New Haven Play Project is a collaboration among Long Wharf, the New Haven Free Public Library, Integrated Refugee and Immigrant Services (IRIS), Tower One/Tower East assisted living facility, and the Connecticut Mental Health Center (CMHC). Friday, that featured a discussion between refugee women in IRIS' Young Leaders Program and Christopher, as well as Wardrobe Supervisor Michaela O'Neil and Scenic Artist Rachel Reynolds.
The project, which culminates in performances at the end of June, is intended to be "a city-wide celebration rooted in joy, inclusivity, and imagination," according to Community Partnerships Manager Elizabeth Nearing.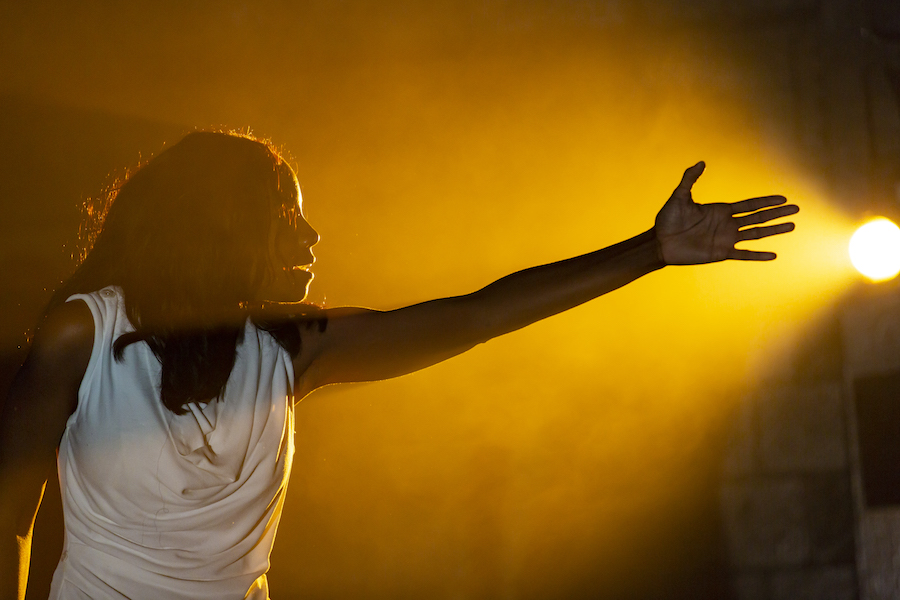 Rachel Christopher as the poet in An Iliad. T. Charles Erickson Photos.
Friday, that meant bridging linguistic, cultural, and historic worlds, with frequent breaks in the discussion for Pashto and Swahili translation. Introducing the program to Christopher, Mahoundi said the group has become a space of cultural exchange and support, where young women can talk about their refugee experience, probe human rights violations in their home countries and the U.S., and discuss a long history of global conflict. Recently, Mahoundi said they learned about the displacement of the Quinnipiac people from their land.
"It doesn't matter where you're from, your culture, race, religion," she said. "We all come together every Friday and Tuesday and talk about how women feel, and the treatment of women."
Those words seemed to land with Christopher, whose poet is a masterful world builder, yanking Homer's verse into the present. She told the group that when the play came to Long Wharf earlier this year, she and musician Zdenko Martin spent days in a rehearsal room with White and "something that looked like a mountain," trying to reimagine the play on their terms a year after it ran in New York.
Part of that was White's decision to cast a woman of color as the poet, a role that has historically been male. Another was to make it deeply kinetic, where Christopher is constantly moving—even when she's still, it seems—until even her breath becomes propulsive. Christopher praised the use of music in the show as another way to understand and interpret the text, a sort of heartbeat of the play that exists without words. Because the show is so densely packed, she said it sometimes take her two hours or more to wind down after performances.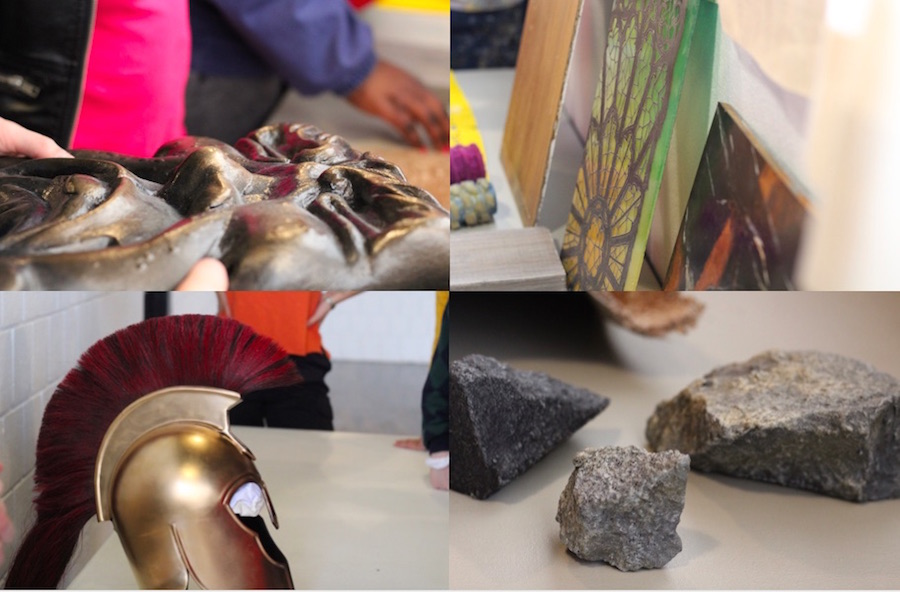 Some of the props that made it into the play—and some that didn't.
"Because the story is so old, even though it's very Greek, it feels really global," she said. "People know the story, or they know the characters in some way, and we certainly have a lot of intimate relationships with the emotions that are explored in the play. I hope that people find a way to enter into it and find themselves in it."
For whole stretches of speech, the group listened intently, pausing every few paragraphs as friends translated for each other and peppered her with questions. Then Mahoundi cut in.
"In my head, it's a kind of image of white," she asked. "So how can she come in that world? Like, I believe in that time [the Bronze Age] … there were not a lot of Black people there. So how come this is …"
Christopher didn't miss a beat. "Why do you say that?" she asked back. "What makes you say that?"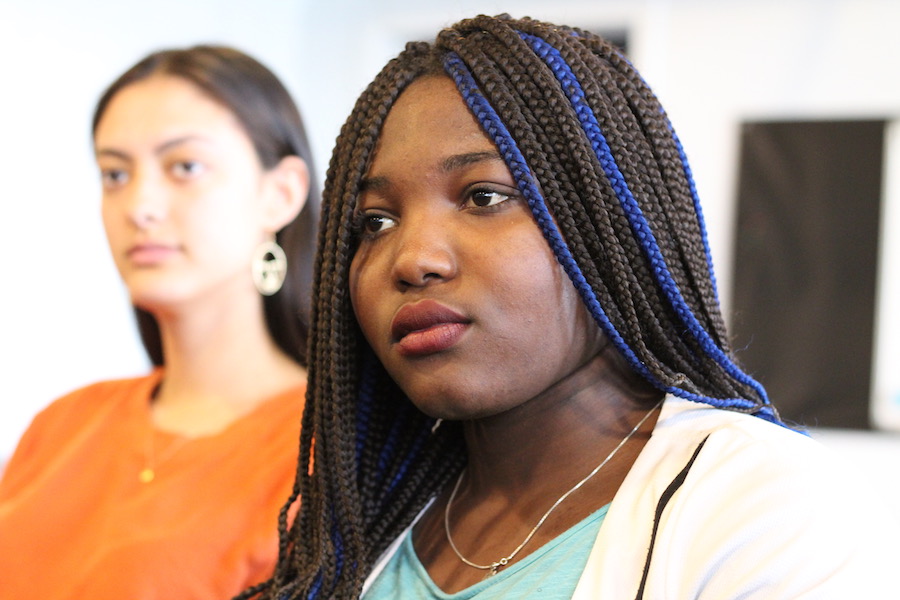 Mahoundi explained that in school, she's learned about that period as a time of conquest, when Ancient Egypt was taken by the Greeks, and Alexandria became a complicated fusion of cultures. But within that history, she's never read about Black people. In fact, she hasn't read about anyone who seems nonwhite.
"I have a very strong connection to this question," Christopher said. "Because I think the way Western Civilization has taught Greek culture is through a very specific lens. During the time that I'm talking about, you were Greek if you spoke the Greek language. It did not have anything to do with your ethnicity or your color. The world was a much broader place."
Christopher explained that during the period in which the poem was composed—some date it around 1200 BCE—there was a lot more war. That meant that people traveled much more, spreading their own customs and languages as they met new people, procreated outside of their home countries, and invaded territories. She noted that the history of antiquity often overlooks the tradition of polychromy, meaning sculptures and buildings were rendered in brilliant color.
"As this iconography has passed down to us, there's this very specific gaze that we have on all of these sculptures," she said. "They all seem marble and perfectly white, and of course all of these sculptures used to be painted. Like, the Acropolis used to be an explosion of color, and it's not anymore. So our understanding of the classics is something that is very whitewashed."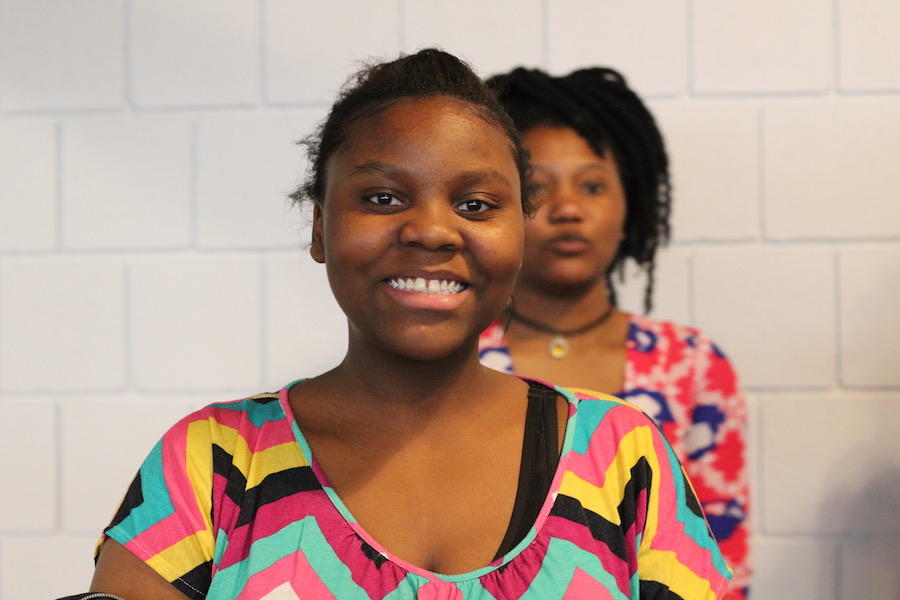 During another part of the discussion, Emmanuella Mwilelo asked Christopher if the transition—on stage to off, to on again—is ever too much for her. "Sometimes, it's hard to be myself," she said. "Is it the same for you?"
But it doesn't have to be, she continued. Citing the sheer amount of ongoing global conflict, Christopher suggested that there's an opportunity to reclaim the narrative, because it is about so much more than Greece.
"I think it's important to reclaim that story, and to not allow the only person that's orating that story to be a white body," she said. "It's important because white bodies are not the only ones that are experiencing this and experiencing the effects of this warfare."
Christopher tied it back to the poem, which ends before the Trojans have lost the war. There's unspoken context there, she said—that the victors will take the Trojan wives as human spoils, that they will murder the male children, even the little babies, that the city will be sacked and gutted. Now, it's up to contemporary artists to fill out those voices that have been left behind by history.
In the Young Leaders Program and in her school, Mahoundi said she has been working to fill those gaps too, trying to reframe the understanding—and lack of knowledge—that her friends, neighbors and classmates often have around refugees, and around injustices on their own home turf. After a trip to the American South with IRIS last summer, she said she became interested in a career as a lawyer working on Civil Rights and humanitarian aid cases.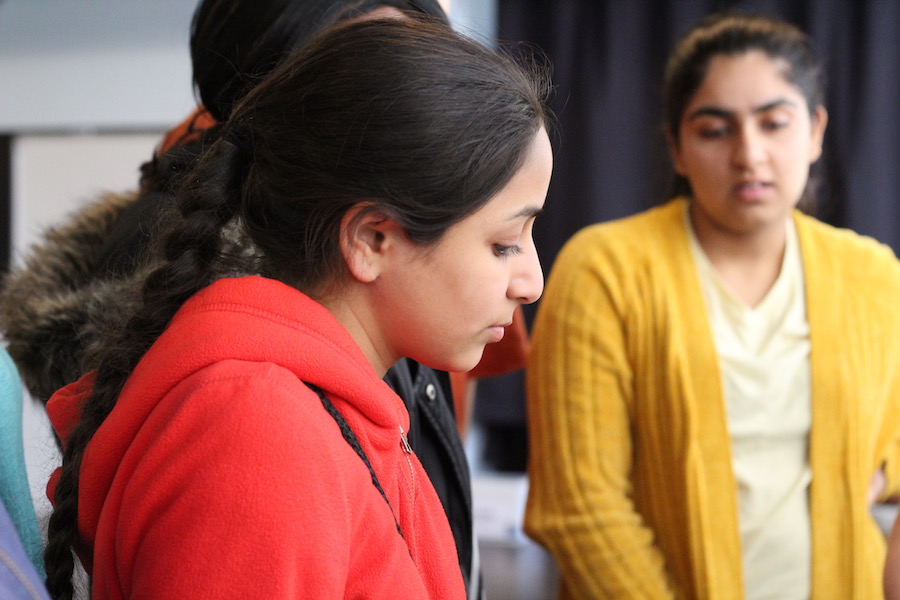 Listening to Christopher, Mahoundi added she was moved to think about how she and other members of the group are putting their narratives into the world with the play project, and by spending time with each other. With her friend Noor Al-Tameemi, she praised the group for bringing refugees from different backgrounds together each week.
"Your courage and your belief in what you're doing," she said. "I might take that from her."
An Iliad runs at Long Wharf Theatre through April 14. Tickets and more information are available here.