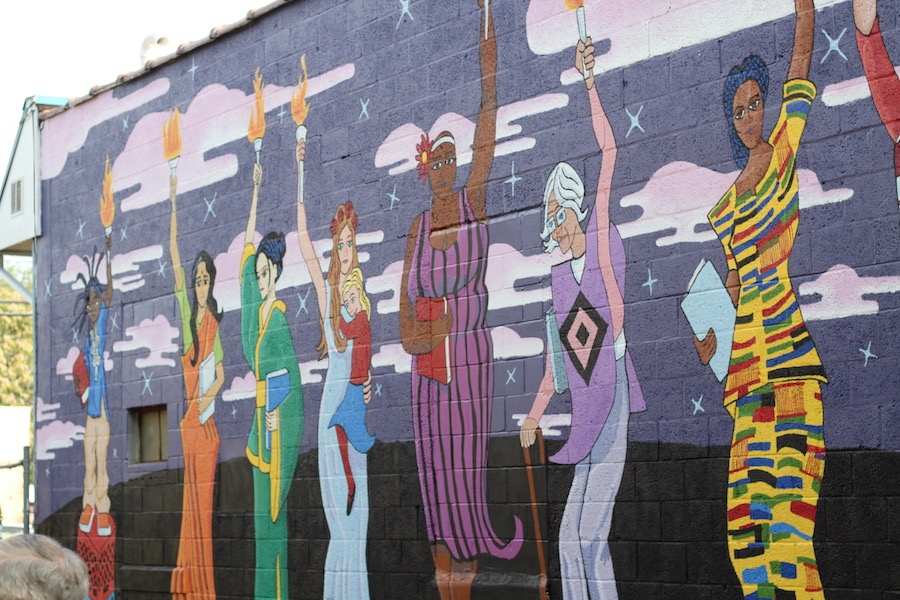 Kwadwo Adae | Public art | Arts & Culture | Newhallville | Visual Arts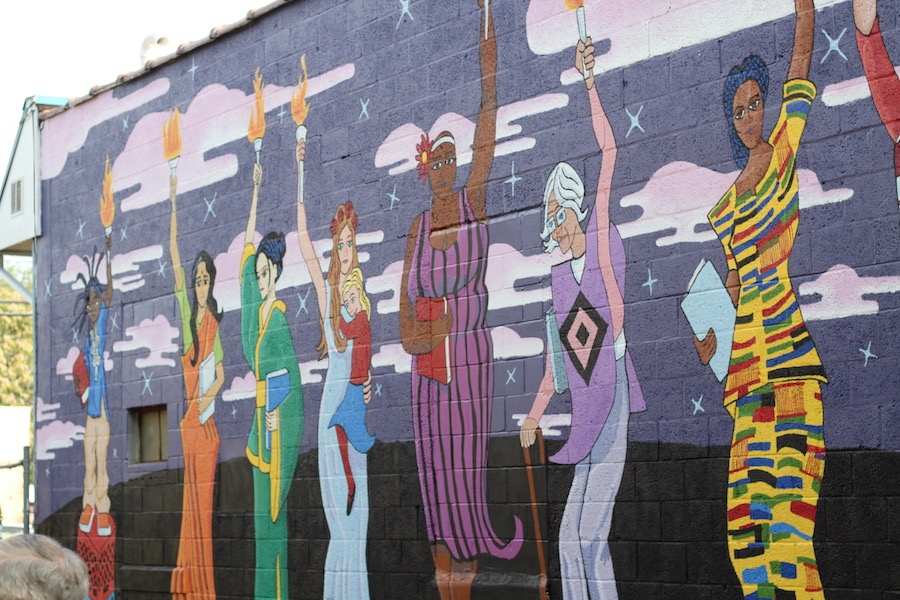 A section of the mural. Lucy Gellman Photos.
Seventeen women now look out benevolently on the Farmington Canal Heritage Trail. In their hands, they hold bright and blazing torches, small children, thick volumes of history, the pages of which we can only begin to imagine. They carry themselves high, shoulders squared against the sky, feet planted firmly in the ground. And, for the first time in two years, they are complete.
Wednesday morning, artist Kwadwo Adae celebrated the completion of his "Women's Empowerment Mural" on the trail, painted on a vivid, 18 x 108 foot building owned by Tri-Con Construction LLC at the New Haven-Hamden border. Over 100 friends, family, funders and nonprofit partners gathered for the celebration, held at the mural's 400 Goodrich St. location.
It is his second mural on the Farmington Canal Heritage Trail. The first, a bright 8 x 32 foot "Elm City Footraces" mural commissioned by the city, was completed in 2016. It still sits tucked behind Shelton Avenue, between Hazel and Starr Streets on the side of Newhallville resident Calvin Nelson's garage.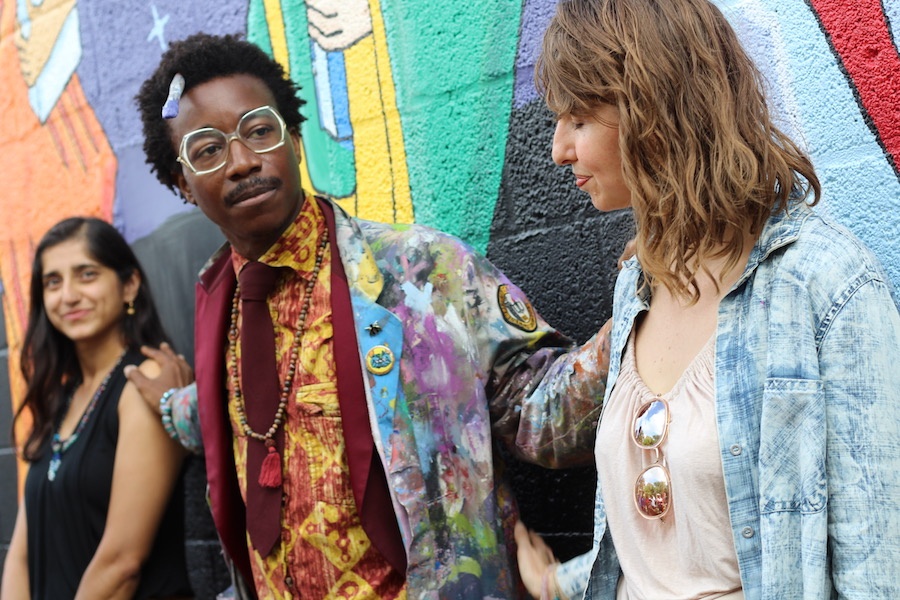 Adae (center) with Khushi Malhotra and Katie Jones.
Adae laid plans for the Women's Empowerment Mural earlier this year, after scoring a special projects grant from the Connecticut Office of the Arts and holding three public forums on the project. Additional funding came in from the Farmington Canal-to-Rail Association, Yale New Haven-Hospital, Newhallville Safe Neighborhood Initiative, Neighborhood Housing Services of New Haven, William Caspar Graustein Memorial Fund, and REI Co-Op. Since early June, Adae has been working on the piece almost daily, with assistance from over 150 community volunteers. He finished the final touch, a sprinkling of stars in the night sky, on Tuesday night.
"This mural is finished, but it is a landmark for people to make sure that we are together," he said Wednesday, standing in front of a figure he affectionately called his abuelita, with the ojo de Dios or eye of God emblazoned on her chest. "This was done collaboratively. I could not have done this alone, and we can only face and fight these problems together. This is an example of unity, and what unity can do. When you look at it, please remember all the hands, all the hearts, all the people that care … so that this is here for all of us. This mural is for you, this mural is for me. This is our artwork."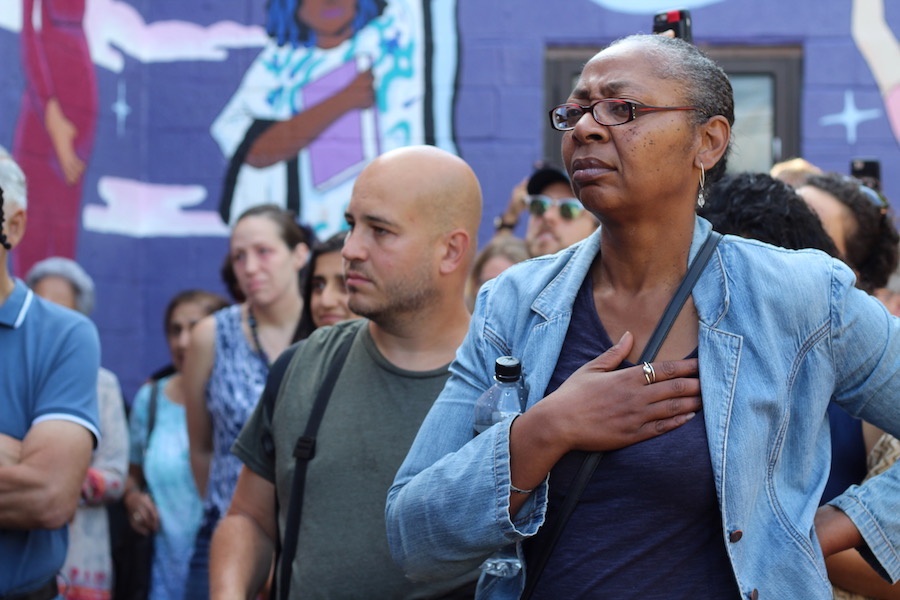 The mural has been years, and not months, in the making. Adae first conceived of the design in January of last year, during the Women's March in New York City. President Donald J. Trump had just been inaugurated, and Adae felt anger, rage, and fear for himself and for the women in his life. When he returned to New Haven, he applied for a $12,000 grant from the Office of the Arts. The money came through this February, 13 months after he had started thinking about the project. He was one of just three artists to score funding this year, said CoA program specialist Tamara Dimitri.
At the time, Adae and his assistant Toni Giammona had prepared designs for nine models, a mix of real and fictional women who had inspired Adae. There was a young Black youth, standing atop two milk crates and looking out onto the world in front of her; a Japanese woman, arresting in an emerald green kimono, who Adae had met at a Coming-Of-Age ceremony in Japan in 1995; his real-life friend Khushi Malhotra, a meditation instructor who accompanied him on three international mural-painting trips; Westville artist Hanifa Washington; youth organizer Katie Jones, holding a younger version of herself; his Chicago-based sister Nana, wrapped in bright Ghanian kente cloth, and others.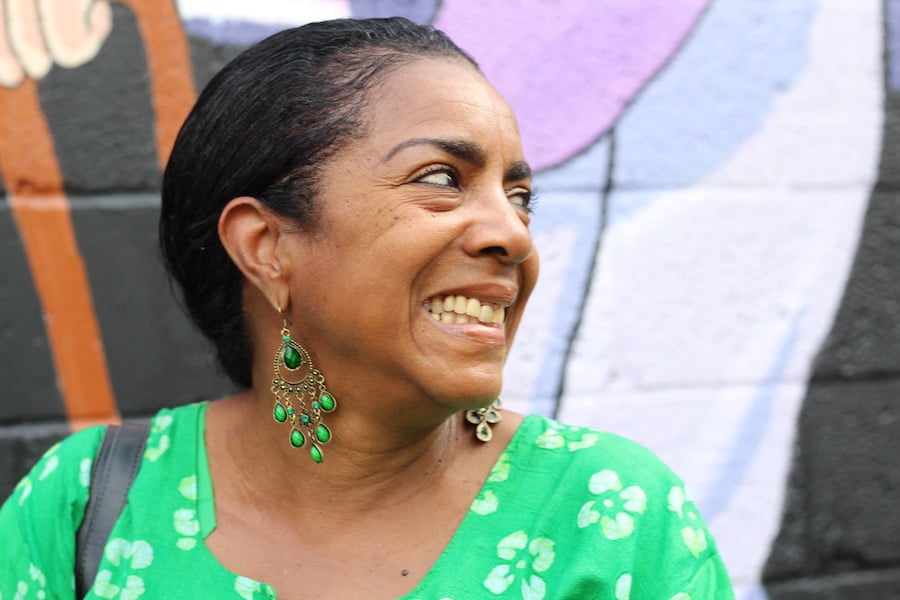 Stetson Library Branch Manager Diane X Brown.
As Adae started painting, more funding came through, and the wall seemed to grow in size. From nine figures, 14 made their way onto the wall. Then that number became 17. Adae added neighborhood heroes: Newhallville matriarch Florence Caldwell, Stetson Library Branch Manager Diane Brown, and his hematologist at Yale-New Haven Hospital. He watched as Trump promised to reverse policies for transgender rights, adding a representative of the trans community to the mural as he dug into art as a form of resistance.
Now, it has become a sort of call-to-arms—to empower and fight for women, encourage physical activity, and unite New Haven, Hamden, and other towns along the continuous 25-mile stretch of trail on which the mural sits. Adae said the mural's completion, just days after the confirmation of Judge Brett Kavanaugh to the Supreme Court of the United States, feels "eerily timely," a sign that "the fight is far from over."
"We can't continue the status quo if half of our population doesn't feel safe," he said.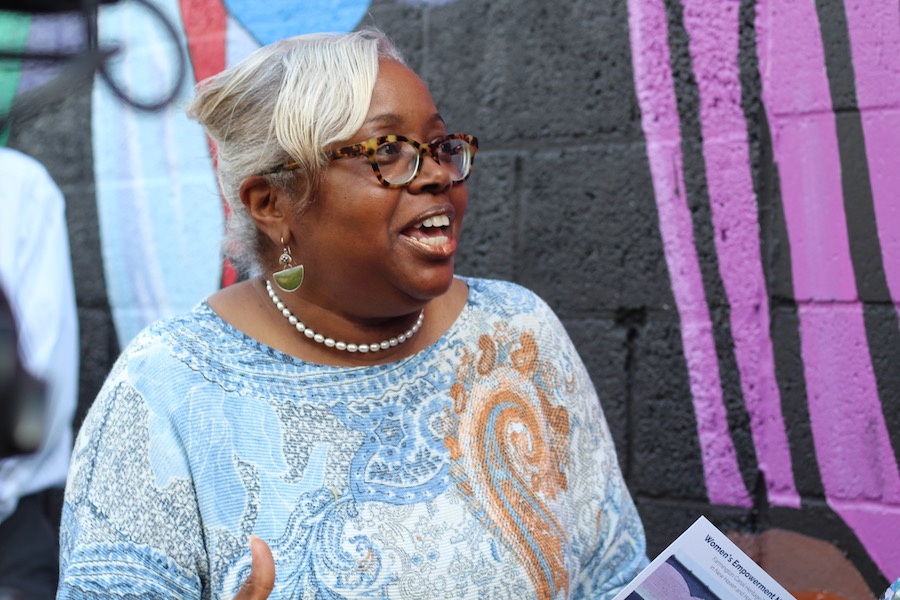 Speaking for over half an hour, city officials and neighborhood advocates praised Adae's work, noting its potential to bring community together and get people out on the trail. Emceeing the event, Farmington Canal-to-Rail Association President Lisa Fernandez called it part of a nascent arts corridor, where 100,000 people will be able to "walk into art, to bike into art, to blade into art" every year.
With some pint-sized viewers from Harris & Tucker Preschool in tow, Newhallville Community Management Team Chair Kim Harris thanked Adae for his work, and its power to light up the community. Newhallville Alder Delphine Clyburn praised it as "a river of life" flowing through the community, that placed women front and center, and gave Newhallvillians a chance to come together.
"This wall represents to me the village that I talk about every single day," said State Rep. Robyn Porter, who spent time painting the mural in early July. "It's the community. It's the love. It's the healing. It's the restoration that we need in order to get ahead."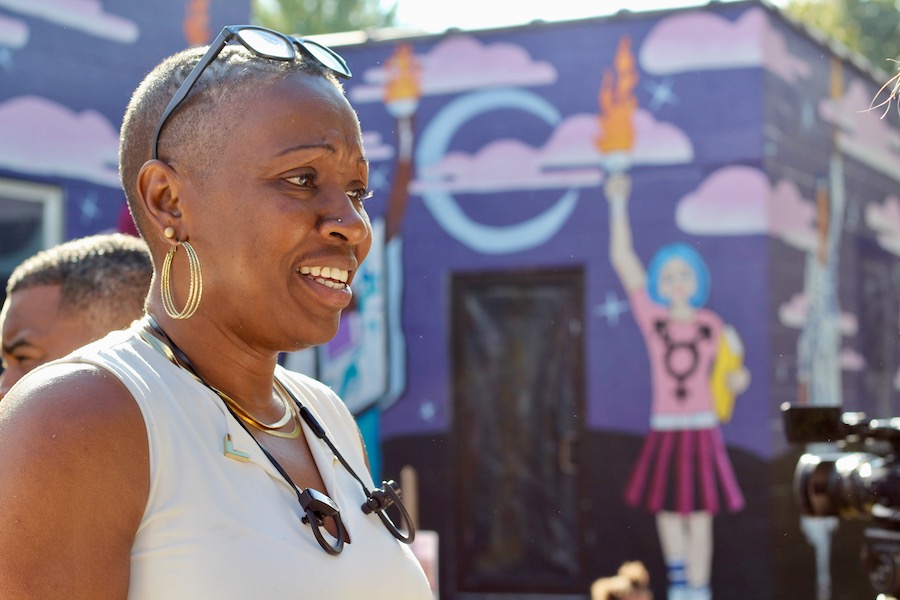 Porter: "Women are the rock and the foundation of the community and the village."
"Women are the rock and the foundation of community and the village," she said, echoing an earlier comment from Mayor Toni Harp that women are, and have long been, the builders of society. "We are the nurturers, and we are the birthers of nations, and we need to be respected and we need to be upheld … what I ask today is that each and every one of you take a piece of this mural with you and hold it in your heart."
Justin Farmer, who represents Hamden's fifth district, added that he sees the work as a chance for community to come together. He recalled the pain he felt last November, after 18-year-old Lee'Andre Cousins-Benton was shot and killed blocks from the mural site, just six days before his 19th birthday. This summer, Farmer made time for the mural almost every day—not because it was in his district, but because he was moved by Adae's work.
"To see this area transform, and to build community, and to uplift community, is something that I hold dear," he said. "I want to thank all the wonderful women that continue to inspire, to nurture, that continue to build community."
Adae with Florence "Flo" Caldwell.
To great cheers from the audience, several of the women featured joined Adae in front of the mural, posing underneath their likenesses. Among them were Jones, Washington, Caldwell, and Tiffany Lee—rendered eight months pregnant in a flowing gown, the image of motherhood itself—with her new baby, named Independence.
"I want to see more artwork on the trail, and in these neighborhoods that could use some healing," Adae said as they gathered around. He recalled the shock of seeing the wall for the first time, covered in light blue paint and scrawls of black graffiti. All it needed, he said, was a little bit of love from the community, in the form of 17 gallons of primer, thousands of dollars of paint, and hundreds of helping hands.
"Look what is possible when we all do that. If we can take that same type of patience with each other—when we see injustices happening, when we see oppression happening, then we can change things. Just like we changed this wall. It's the exact same process."
To watch the ceremony, click on the Facebook Live video from our colleagues at the New Haven Independent, below. We've also linked to our previous coverage of the project, which began in early March. And there are more photos of the mural on our Instagram, so check us out @newhavenarts!
Newhallville Mural Lifts Off, With Strings Attached
Newhallville Mural Pushes Ahead
Newhallville Mural Draws Multiple Viewpoints
"Empowered Crew" Gets To Work
Women's Empowerment, Served À La Mode
Ms. Caldwell Is Painted Into History