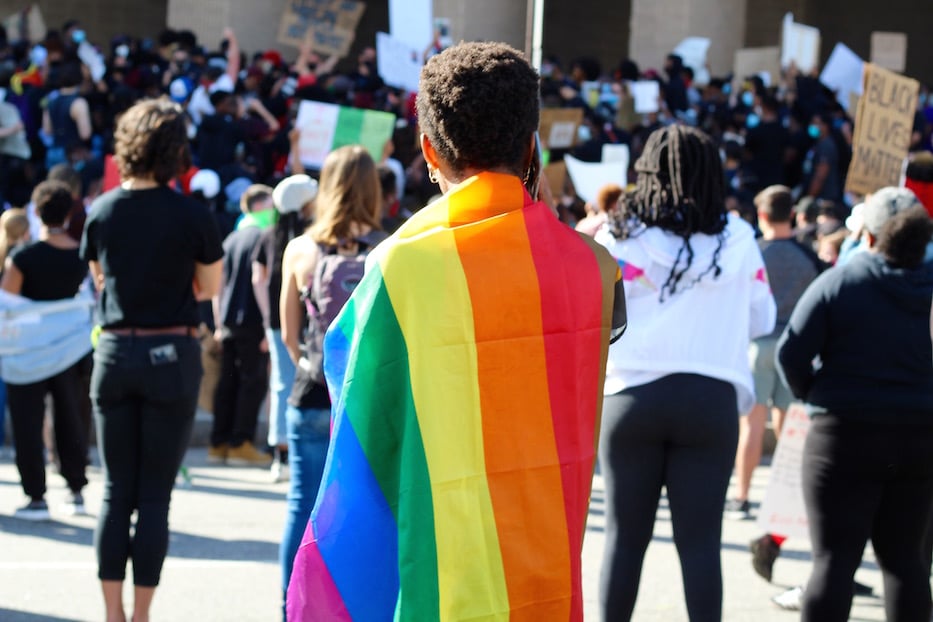 Culture & Community | Pride Month | Arts & Culture | New Haven Pride Center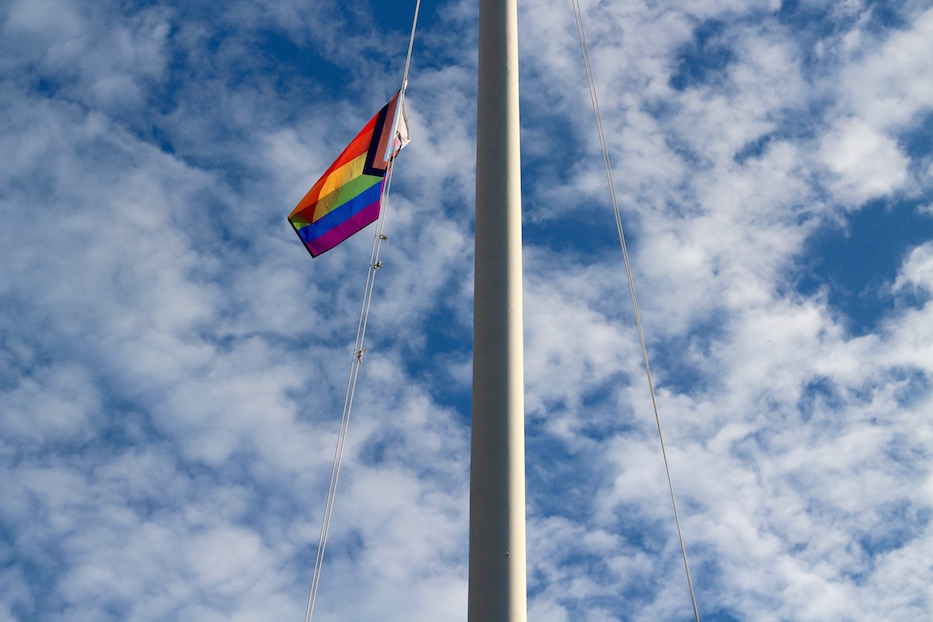 On the Haven Green, a Pride flag had started its long ascent up the flagpole, flapping against a clear, egg-blue sky. In one screen-bound box beside it, New Haven Pride Center Executive Director Patrick Dunn prepared to speak, his office snapping into focus. In another, Robin Fiercè smiled into the camera. Hundreds of gold sequins, packed tightly together, glimmered from her shirt.
"I'm so excited to be here with you guys," she said as the first notes to Mariah Carey's "A Hero Lies In You" floated out over the room. "Happy Pride."
Monday afternoon, the New Haven Pride Center hosted a virtual flag raising, intersectional call to action, and short mayoral address to kick off National Pride Month. For the second year in a row, the center is using Daniel Quasar's reimagined "progress forward flag," which mixes a traditional rainbow format with new stripes for people of color and members of the trans community.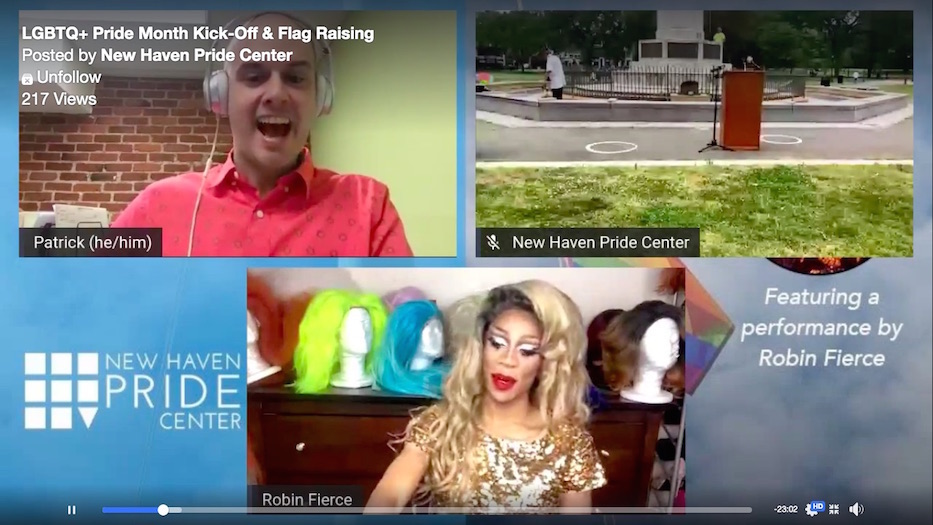 At the beginning of the ceremony, Dunn took a moment to address the police murders of George Floyd and Tony McDade, which have sparked protests across the country.
"We are proud to stand beside community organizers and advocates to oppose oppression and partner with them to address the real needs within our community," he said. "While Pride may be one day, one week, or one year for some, we recognize that serving our community is a 365 day a year commitment."
"We as a community are resilient," he continued. "We as a community have fought, rioted, and advocated for change and justice. And we not just survived, but we have thrived within the face of hate, discrimination, and murder."
In half an hour, the launch centered a call for community activism, LGBTQ+ allyship, and queer visibility both during Pride Month and all year long—pandemic or otherwise. IV Staklo, an activist with Trans Lifeline and the Party for Socialism and Liberation, reminded viewers that the first Pride was not a glitter-kissed parade but a riot started by Marsha P. Johnson, a Black trans woman who threw a brick outside the Stonewall Inn 51 years ago.
"We need to be celebrating our victories," Staklo said. "We need to be bringing forth the voices of the people that we fight for the most. We need to be centering the voices of the people that are still most affected by bigotry and discrimination. And as we celebrate those victories, we need to look to the future. We need to look to what struggles are ahead of us."
He described the current moment as one in which advocates are returning to grassroots work, including on-the-ground efforts focused on queer visibility and the intersections of queer lives and Black lives. Staklo also took a moment to remember McDade, the Black trans man shot and killed by Florida police last week.
This week, McDade's name joins a list of 11 other transgender people killed since the beginning of this year, according to tracking from the Human Rights Campaign.
"I look both to our history to learn from it and I look to our present to see where we're at right now," Staklo said. "And I look to our future to see what we need to be building."
"Get involved in some actions," he continued. "Get involved in some advocacy. A lot of people need support right now. Emotional support—friends, family, whatever you can be for a person. An advocate, an ally, a body on the line. A loved one. This is the month to express all of this. And this is the month to live as our most authentic selves."

Rev. Edwin Pérez, who serves at Manantial de Gracia, United Church of Christ in West Hartford, took his remarks as a chance to focus on the importance of advocacy, visibility, and honoring "our ancestors on whose shoulders we stand."
He named LGBTQ+ visibility as the part of Pride Month that he holds most closely, because he lives at so many of its intersections: he is queer, Latinx, and a faith leader in the state.
"Seeing LGBTQ folks is in itself an encouragement for others who need to know where their community is," he said. "Let the world know justice will be demanded by the people. And not just white, hetero, cisgender Christian people."
"Saying 'I'm proudly here' is saying I am part of the world and community we envision together," he added. "It can't be created or envisioned without us."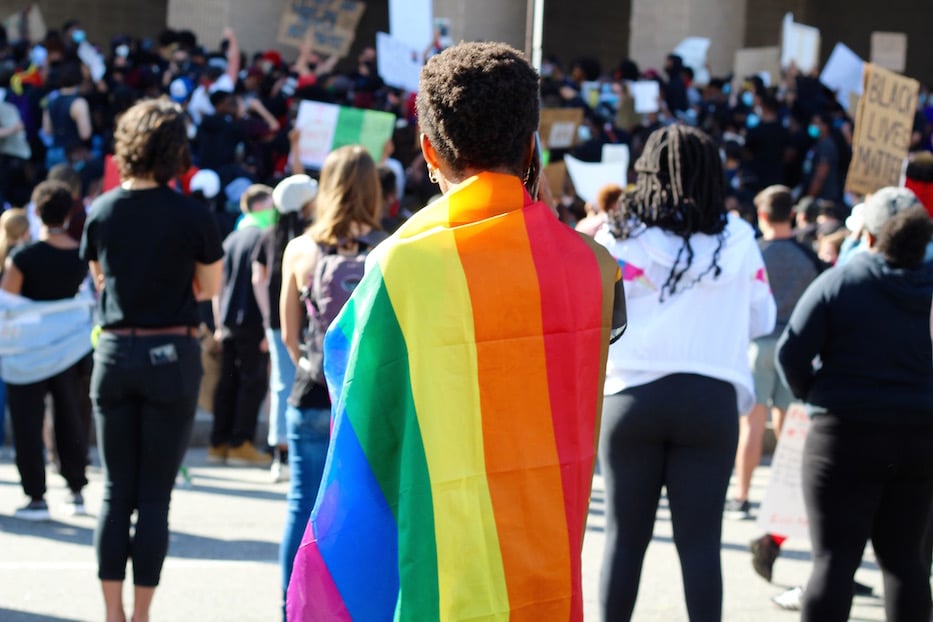 Speaking on video from the New Haven Green, Mayor Justin Elicker called the month "a reminder that things can get better" in a fight toward LGBTQ+ equality and broader social justice. While this year's Pride will be one without parades or in-person gatherings, he urged viewers to find a way to celebrate across the distance.
"We're reminded that justice—within society and before the law—has been a struggle of generations," he said in remarks that he later posted to social media. "The Stonewall riots—led in large part by communities of color within the LGBTQ+ community who faced severe and consistent harassment and brutality by law enforcement—marked a turning point, and kicked off decades of small and large advancements towards equality."
He did not directly address this weekend's local protests against police brutality, including moments Sunday afternoon in which protesters were pepper sprayed by police in riot gear outside of 1 Union Ave. Almost all of this weekend's organizers were queer women of color.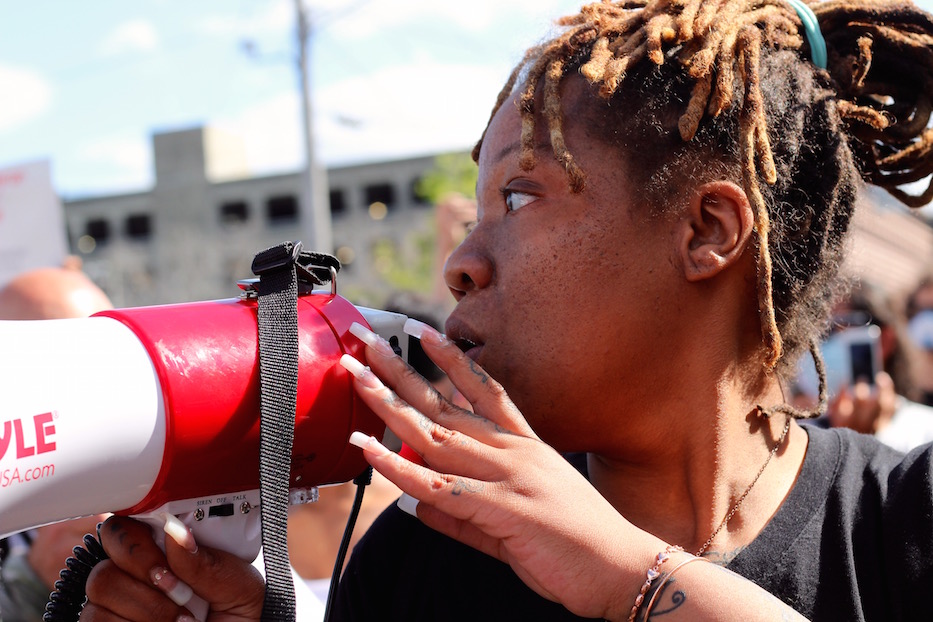 Ochumare at Sunday's protest. Lucy Gellman Photo.
Ala Ochumare, who led the protests on Sunday, concluded the launch with a shout out to her LGBTQ+ family: stay strong across the distance. As a co-founder of Black Lives Matter New Haven and LGBTQ+ Youth Officer at the center, she relies on that family herself. She recalled members of a chosen "queer family" who took her in when she was homeless, have rallied with her in the streets, and taken emotional care of her when she has reached out.
"That's what Pride means to me," she said. "It means life. It means breath. It means the reason for me to keep going. Love, acceptance, and having a badass community. That when I call on them, no matter if it's because of some Black stuff, if it's because of queer stuff, it doesn't even matter. I don't even have to let them know. I just let them know that I need them and they're here."
"We Can't Stop What We Do"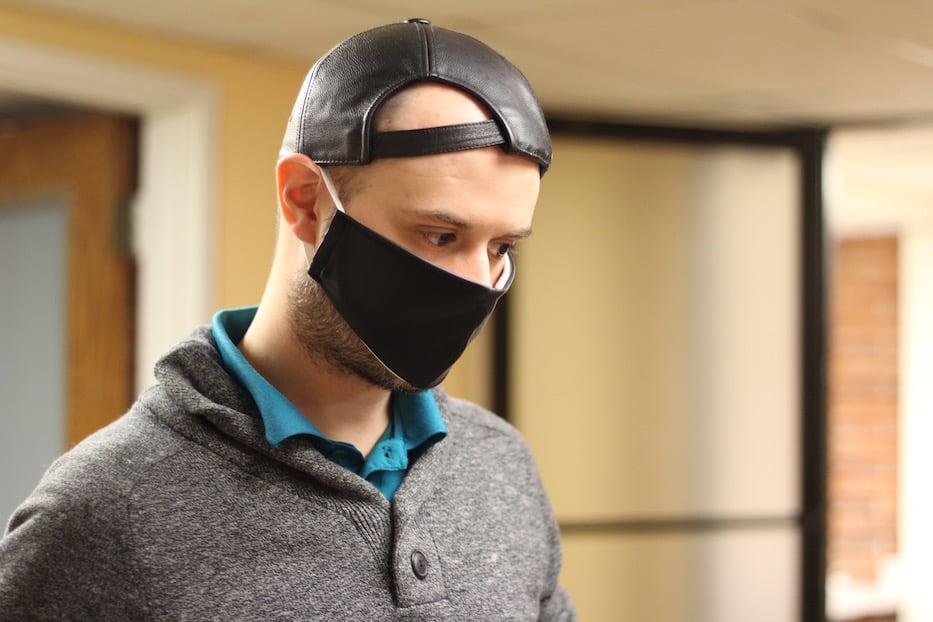 "Our plan has been to move forward, because people need this. If we stop what we do, there's nobody else in the city that's gonna do this. And so, we're doing it." Lucy Gellman Photos.
Since the pandemic began in March, Dunn and other staff have also started a weekly food distribution initiative at the center, during which he and several volunteers pack boxes of both fresh food, bread, eggs, and nonperishables every Saturday. The initiative came out of an LGBTQ+ needs assessment that the center did in March, during which Dunn saw tens of concerns around food and housing security during the pandemic.
In two weeks, the center has distributed over 50 boxes, including to households of 10 or more people. All volunteers receive masks from Mia E Z'Lay, a drag artist who has been making masks as performance venues remain closed.
"We have no interest in stopping what we do just because we can't physically share space," Dunn said. "Our plan has been to move forward, because people need this. If we stop what we do, there's nobody else in the city that's gonna do this. And so, we're doing it."
To fill the boxes, the center is working directly with Haven's Harvest, a food rescue organization that Dunn heard about through the Semilla Collective, as well as Whole G Cafe & Bakery. While the center has also applied to the Connecticut Food Bank, the organization has a six- to eight- week delay on new requests.
It joins drag queen story hours, virtual discussions, youth-led poetry events, and a series of online affinity and support groups that the center has continued to hold in the midst of COVID-19. This June, the center has also gone online with its Black & Brown Queer Camp, hosted in partnership with City-Wide Youth Coalition.
On a recent Saturday, shifts of volunteers worked in a coordinated, socially distanced ballet to get food into boxes, arranging finished ones in the center's basement lobby before bringing them upstairs. Inside each, bright green heads of lettuce hugged red peppers, loaves of bread, and neat plastic bags of flour and rice. To limit physical contact, the operation is running on a curbside pickup schedule only.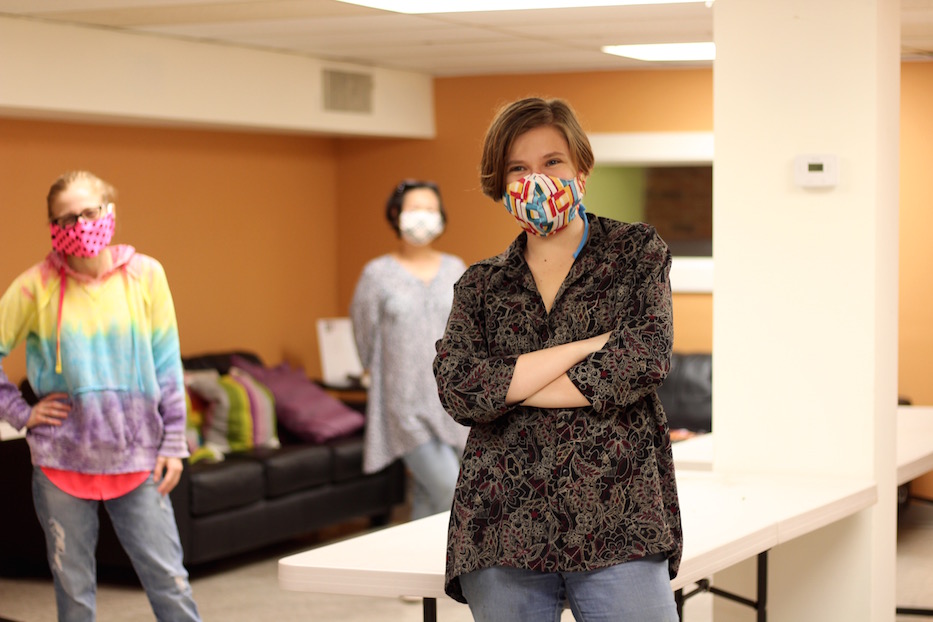 Leanne Bartosiak (in the sweatshirt) with Miranda Rector.
Leanne Bartosiak, a social worker with the Hamden Public Schools, said she was glad to be able to help. Last year, she volunteered with the center during its Pride month celebrations in September. Speaking through a mask, she said she's excited to be back.
"It's still important to spread joy," she said. "People who haven't needed help with food before need it now. There are people who are having difficulty paying their bills. People are facing new limitations."
Dunn said the center will likely not open its doors to the public until mid-July or later, due to the limited airflow and small space of its basement offices. He is currently working with both center staff and LGBTQ+ resource centers around the state to host a virtual "Pride Prom" later this month and exhibition next month.
"Obviously some of the things have to be very creative in how we do them," he laughed. "But so far, so good. We can't stop what we do just because the world has stood still."
The New Haven Pride Center is on Facebook, Twitter, and Instagram. It will be hosting a virtual gala, Together In Resilience, on Sat. June 6. Its next exhibition, based on the book Advice From The Lights, will have a virtual opening June 8.