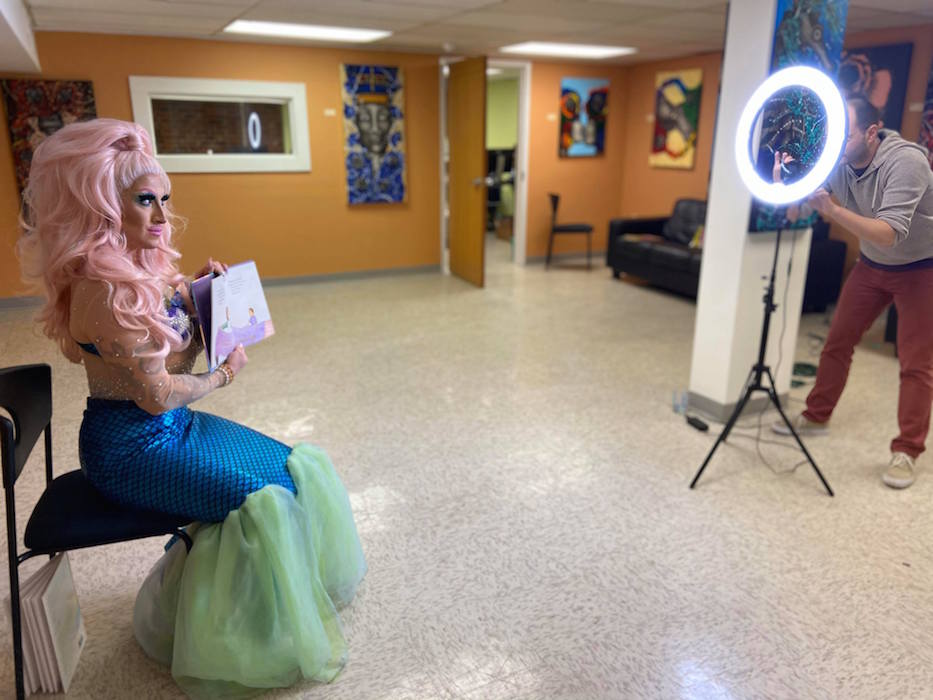 Culture & Community | Drag | LGBTQ | Arts & Culture | New Haven Pride Center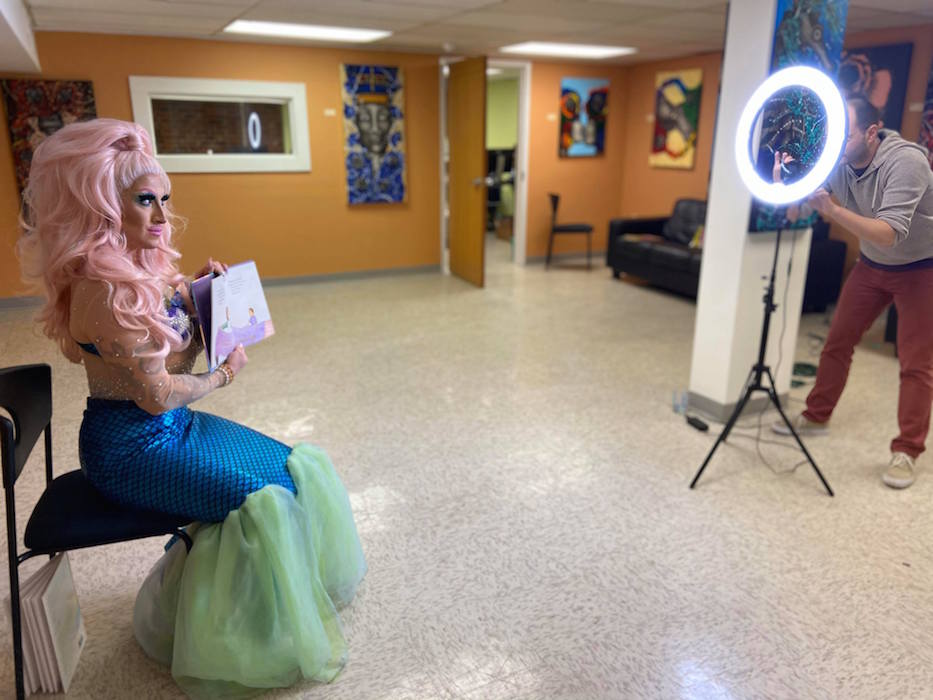 Loosey LaDuca. New Haven Pride Center Photos.
Loosey LaDuca looked straight into the camera, hands steady on a copy of One Of A Kind, Like Me. Pink hair erupted from the crown of her head and cascaded down her shoulders. Two glittering, purple-and-seafoam seashells rested on her chest. Her legs disappeared into a scaly mermaid tail that exploded with green tulle at the ends.
"Now I know what you're thinking," she said to the kids on the other side of the screen. "I'm spending so much more time at home than I usually am. And believe me, your parents are thinking the same thing."
LaDuca is one of seven drag performers and 10 visual artists the New Haven Pride Center has commissioned for a new series of COVID-19 virtual resources geared towards parents and families. In addition to providing a free, downloadable queer coloring book and biweekly drag queen story hour videos, the organization has partnered with People Get Ready Books and its own in-house Rainbow Library from GLSEN Connecticut.
"We want queer people—and all people—to be able to have access to queer programming for their kids," said Patrick Dunn, executive director at the center. "The average programming of any kind is usually 100 percent geared toward straight people. We're creating community that is inclusive of queer families."
It comes at a time when drag performers, much like musicians, dancers, actors and dramatic artists, have found themselves walking an economic tightrope. In the days since Gov. Ned Lamont's executive order closing restaurants, bars, and theaters, artists have been scrambling to figure out how they will pay their bills. Many of the state's drag performers rely on the form as their primary or secondary source of income, and are now without pay and insurance.
Last week, Dunn made the move to commission 28 drag artist story hour videos and assemble the coloring book with a growing list of aid resources already available on the center's website. Sundays and Wednesdays through mid-May, the center will be rolling out the readings book by book, with videos that were filmed against the center's current exhibition Jaii Marc Renee: A Queer Black Voice on Canvas.
Drag artists include Frizzie Borden, Xiomarie LaBeija, Loosey LaDuca, Mz October May Lay, Giganta Smalls, and Mia E Z'Lay. Coloring book pages come from Maria Altamura, Krystal Beisick, KC Councilor, Don Houston, Finn Lockwood, Jesus Abraham Morales Sánchez, Alecia Massaro, Ricky Mestre, Riley Samels, and Nico Starr Shock.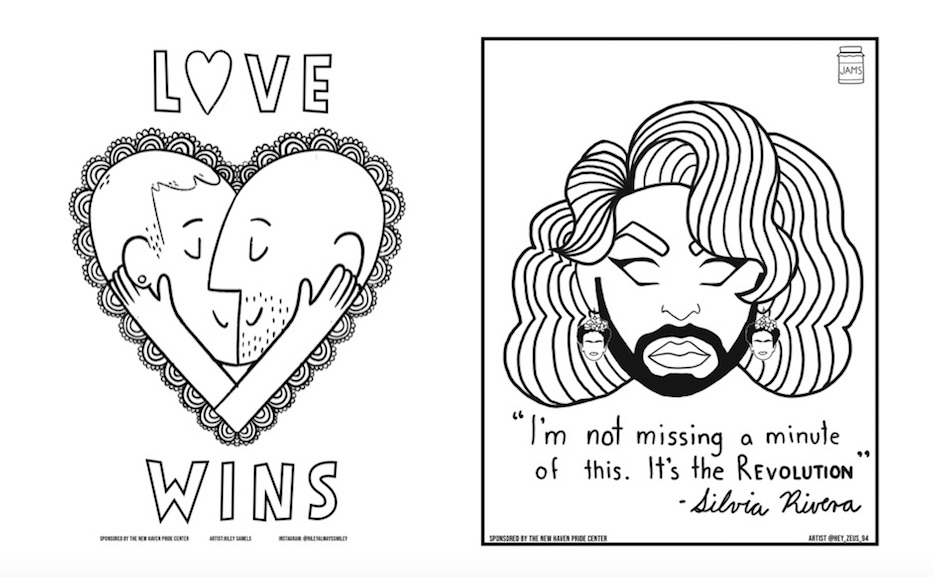 Left: A design by Riley Samels. Right: Work by Jesus Abraham Morales Sánchez.
On Sunday, the organization went live with the first video, a 20-minute literary odyssey with LaDuca punctuated with jokes and educational tidbits meant specifically for parents. One Of A Kind, Just Like Me, a young boy named Danny searches for a purple princess costume to wear to his school parade. When nothing is quite right at the thrift store, Danny's mother helps him make the dress that he has dreamed of. A second book, They Call Me Mix/Me Llaman Maestre, sat at the ready in English and Spanish nearby.
As she read, LaDuca deployed a warm, sometimes biting sense of humor. To a character with sticky hands, LaDuca exclaimed "oh, we're supposed to be washing our hands more during this time!" To Danny's dismay at the sheer size of the thrift store, she joked that it looked like her closet. When she began to cry during the first book, she joked that "I get emotional on dry land sometimes," a nod to her glittering mermaid costume.
The books are specifically meant to help kids explore and celebrate the wide world around them, while also introducing them to LGBTQ+ and gender fluid characters. Of over two dozen books, selections include Morris Micklewhite and the Tangerine Dress, Julián Is A Mermaid, And Tango Makes Three, and The Boy & The Bindi among many others. In addition to the books themselves, drag artists and center staff have worked with People Get Ready for a series of educational questions kids can do on their own.
Reached Friday by phone, LaDuca praised the videos as an essential educational resource not just for young readers, but also for their parents and families. In her own life, she was 20 before meeting "a queer person I could look up to."
Now, she said she worries about kids who aren't getting positive messaging—or any messaging—at home. She recalled a conversation with her six-year-old niece, in which the young girl had been shocked to learn that a family member's boss was a woman.
"From the second a child is aware of their surroundings, they're told what they're supposed to wear and how they're supposed to act," she said. "This [story hour] is teaching them, gender aside, that 'I can put on crazy things. I can put on colorful things. I can transform.' It's important for us to say: you can dress kooky, you can change the way that you look if you want to, you can be what you want to be."
She added that she is reeling already from the economic strain of COVID-19, and grateful for the aid from the Pride Center. For the past decade, she has focused on building a drag career in Connecticut, often gig by gig. Almost overnight, all of that work has disappeared. That there's no end in sight—epidemiological data has suggested that the pandemic could last for months or more—scares her.
"Right now, I feel like I'm a little bit at a loss," she said. "With drag, it takes a really long time to get a lot of work. I spent the last 10 years cultivating a lot of events at a lot of different venues. It can feel defeating, and I'm worried about what the future of drag will look like in the next six months. Right now, people are making less money … which means they will be less likely to spend money" when things reopen.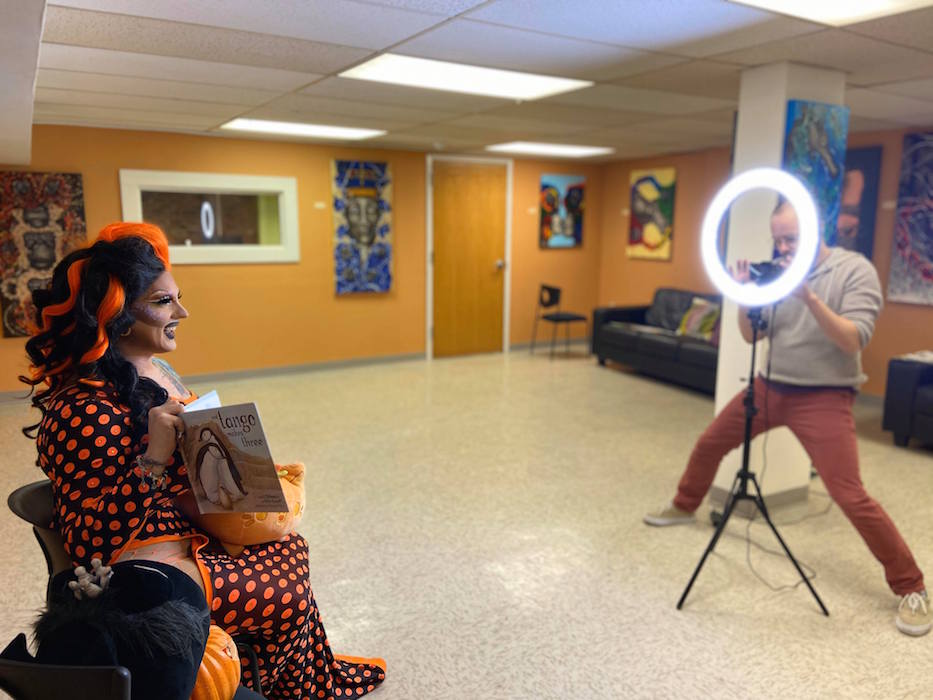 Mia E Z'Lay. Dunn is pictured in the background, filming. New Haven Pride Center Photo.
That's also a concern for Mia E Z'Lay, a full time drag artist who recorded at the center Friday afternoon. Since the state moved into quarantine mode last week, she hasn't performed at all, and has no other shows in sight for months. She has been living off her savings, which are limited. She said she's grateful for the chance to read not just for the paycheck, but for the chance to give young viewers a chance to see people who might look and act differently.
"It's an amazing thing for our community," she said, recalling the joy of reading The Princess Boy to a young boy who wanted to wear a dress at her first-ever story hour years ago. "It's important to me.I think it's a great chance for children in our community to be more understanding. You don't get born with hate. You learn hate."
Other resources include follow-up questions for young readers and a number of resources on everything from mindfulness to emergency grant funding. Juancarlos Soto, who recently joined the center as its director of case management and support services, has been supervising the development of a queer coloring book.
Friday, he said the project was inspired by several museums, who have been posting free virtual tours and digital resources as their doors remain closed. He has also added a bright design outlining the CDC's guide on how to talk to children about COVID-19.
"We were looking at them online, and we were like, 'these are not gay enough,'" he laughed. "We reached out to several artists that we know. They came up with these beautiful coloring book pages that are super positive and affirming in terms of giving folks good messages about what's going on."
"We want to do something amazing for the community," he added.
To find out more about the New Haven Pride Center, including a growing list of COVID-19 resources, visit its website.