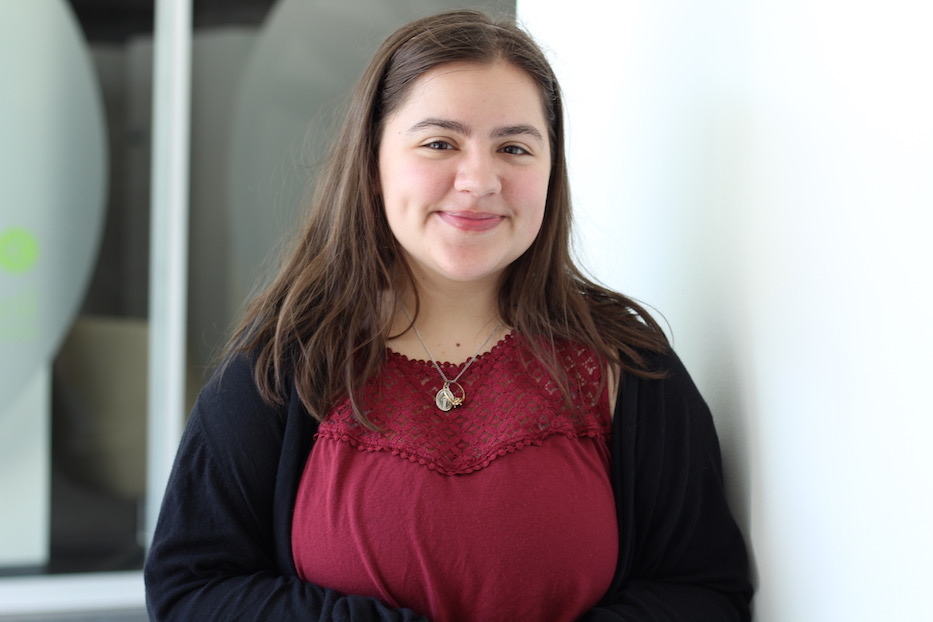 Books | LGBTQ | Arts, Culture & Community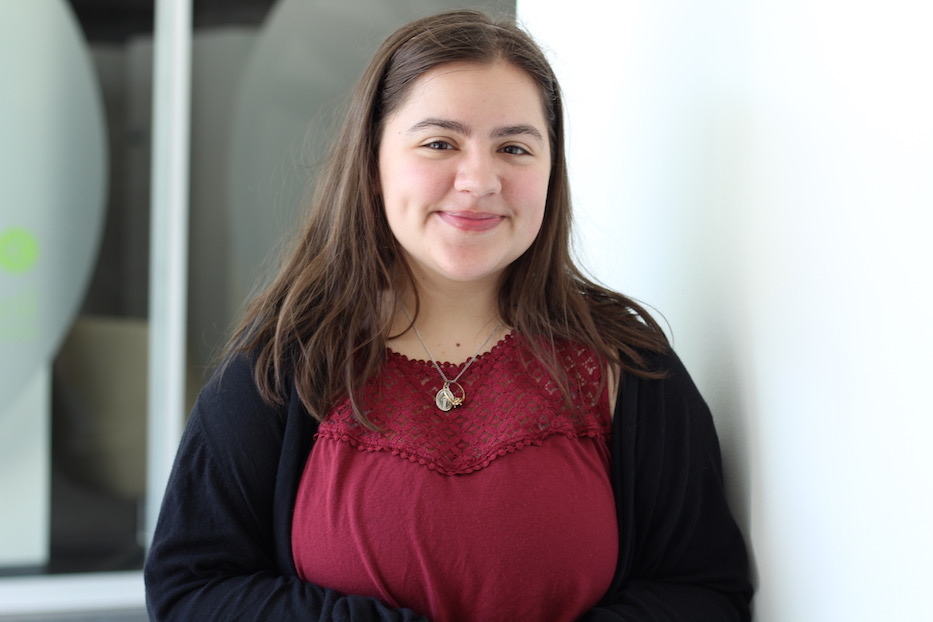 McKenzie Belisle, a junior at New Haven Academy. "
To not have reading materials that are inclusive of the LGBTQIA+ community allows others to stay uneducated and allows discrimination in classrooms to continue," she said. Lucy Gellman Photo.
By the time McKenzie Belisle hit her junior year at New Haven Academy, she'd stopped going to her school library. She knew it was available if she needed it for a project. She loved to read. But she found that if she searched for titles that represented her LGBTQ+ experience, they weren't there.
Now, Belisle and members of her school's Gender & Sexuality Alliance (GSA) are part of a group of New Haveners—and almost 100 educators across the state—requesting materials through the Rainbow Library Community Reads Project, a new initiative of GLSEN Connecticut that puts grade-specific LGBTQ+ books in public schools and libraries around the state. Last week, the project launched its website, which includes an interactive map and library request form. Now it is trying to raise the $16,000 that will make the initiative possible across the state.
The project is the brainchild of New Havener Michael Rady, a member of GLSEN's all-volunteer statewide chapter and associate director of expeditions at Achievement First. In an interview earlier this month, he said that the project's year one goal is to get books into at least 10 percent of the state's libraries and schools—that's about 114 classrooms—by fall 2019.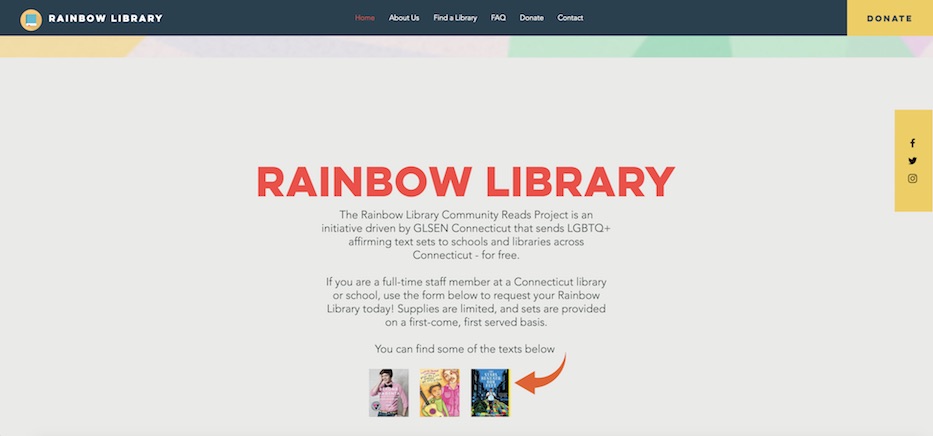 So far, he's received over 90 requests, and implemented branches at the New Haven Pride Center, Amistad Academy, Gateway Community College, Elm City Montessori School, Metropolitan Business Academy and Betsy Ross Arts Magnet School among many others (see the full map here).
"We know that queer erasure exists in schools," he said, noting a recent GLSEN study that found high rates of both verbal and physical harassment of LGBTQ+ youth in Connecticut schools. "These schools and libraries are very cash-strapped and those resources are so important."
A former elementary school teacher, Rady noted that inclusive reading materials makes a difference for not just queer students—many of whom are still in the closet, but may be on the verge of coming out—but also for their peers. As an educator, he's seen their addition to classrooms catalyze conversation and improve students' academic performance.
In creating the Rainbow Library curricula, he aligned books with grade levels, adding fiction and nonfiction options for kindergarten through second grade, third through fifth grade, sixth through eighth grade, ninth and tenth grade and eleventh through twelfth grade. Rady said it was important to the project's team to center protagonists of color, who are also often excluded from historical narratives and overlooked when schools are building their libraries.
"We wanted to be sure that our books are affirming of identities across the LGBTQ+ spectrum and are intersectionally diverse," he said. He added that nonfiction choices were important, in part, because "LGBTQ+ history is American history, and it is world history."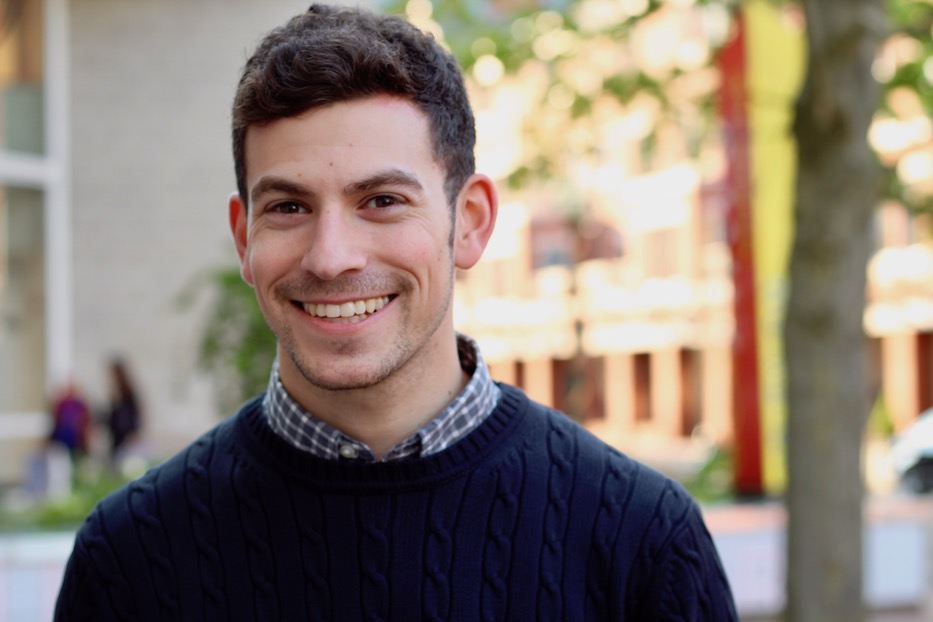 Michael Rady:"LGBTQ+ history is American history, and it is world history." Lucy Gellman Photo.
Now, that 50-book list (and counting) includes options like The Boy and the Bindi, which follows a five-year-old South Asian boy and his mother as he falls in love with her bindi, and she teaches him about its history. There are books like One of A Kind, Like Me / Único como yo, as young Danny and his mother head to the thrift store so he can find a princess costume in time for his school parade. Or The Pants Project, a takedown of school uniforms with a young trans student at the middle.
Other options are timely and classic alike. Rady has put in Audre Lorde's Sister Outsider, a collection of 15 essays and speeches that explore the intersections of injustice at which one may stand. There's a new release on the Stonewall Riots, in time to commemorate the 50th anniversary this year. Or Sarah Prager's Queer, There, and Everywhere: 23 People Who Changed the World. Others, like Ken Setterington's Branded By The Pink Triangle, which chronicles anti-LGBTQ+ discrimination under the Nazi party, come off as chillingly relevant decades later.
As the school year comes to an end, Rady said that GLSEN is roughly one-third of the way to its $16,000 goal, with large donations that have come from both the LGBTQ+ Youth Task Force and Pepperidge Farm, as well as individual donations. Each shipment of books, which come with information about GLSEN placed inside, costs around $130.
For students like Belisle, that curricular boost can't come soon enough. At school, she said that books still veer toward straight, cisgender characters who are also often white.
"There are no books about the diverse and influential history that the LGBTQIA+ community has been a part of, and there are no lessons based on it either," she said by text message Wednesday. "Oftentimes, we aren't even allowed to speak about things happening in the queer community in class. Not because it's a disruption to the class, but because it's 'inappropriate.' To not have reading materials that are inclusive of the LGBTQIA+ community allows others to stay uneducated and allows discrimination in classrooms to continue."
Currently, her LGBTQ+ reading materials come largely from the school's student-run GSA, of which she is a book club leader. In the group, she and her peers keep a queer reading list, to which they are constantly finding and adding new titles. Because the school doesn't help out, the majority of books they read come from their own home libraries. Recent picks have included Benjamin Alire Sáenz's Aristotle And Dante Discover the Secrets of the Universe, which follows two teens growing up in El Paso, Texas, in the late 1980s.
"The Rainbow Library will benefit us greatly because it'll give us a chance to showcase books that can show someone that they are not alone," she said. "And also give light to the voices of students that are often not heard or even silenced."
To donate to the Rainbow Library Community Reads Project, click here.