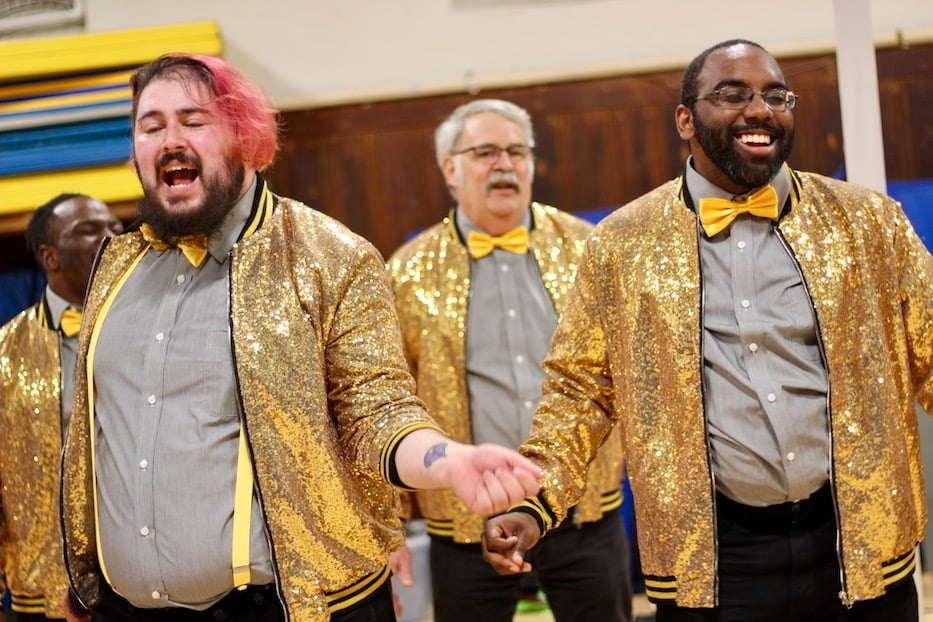 Chorale | LGBTQ | Music | Arts & Culture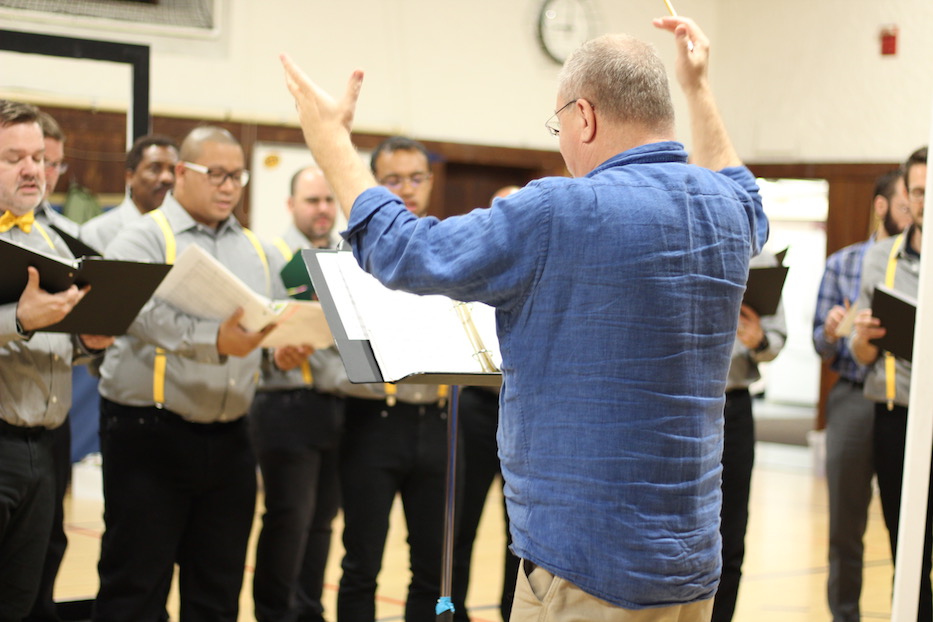 Piano was building into "I Sing The Body Electric" when echoes of the musical Fame started making their way through St. Thomas' Episcopal Church. Strains escaped the room and wove down the hallway. They wound up the stairs and through the back patio, to a sanctuary that was empty and cool. Back inside, the musical was getting its sea legs, and members of the Connecticut Gay Men's Chorus were still fixating their shoes.
"Look up, look up!" shouted Artistic Director Greg McMahan as piano lifted off. "You're happy!"
Tuesday night, the chorus kicked off a week of practice for "As You Are," a 50th anniversary commemoration of the Stonewall Riots that is also their annual spring concert. This weekend, the group will perform at Cooperative Arts & Humanities High School on both Saturday night and Sunday afternoon. Tickets and more information are available here.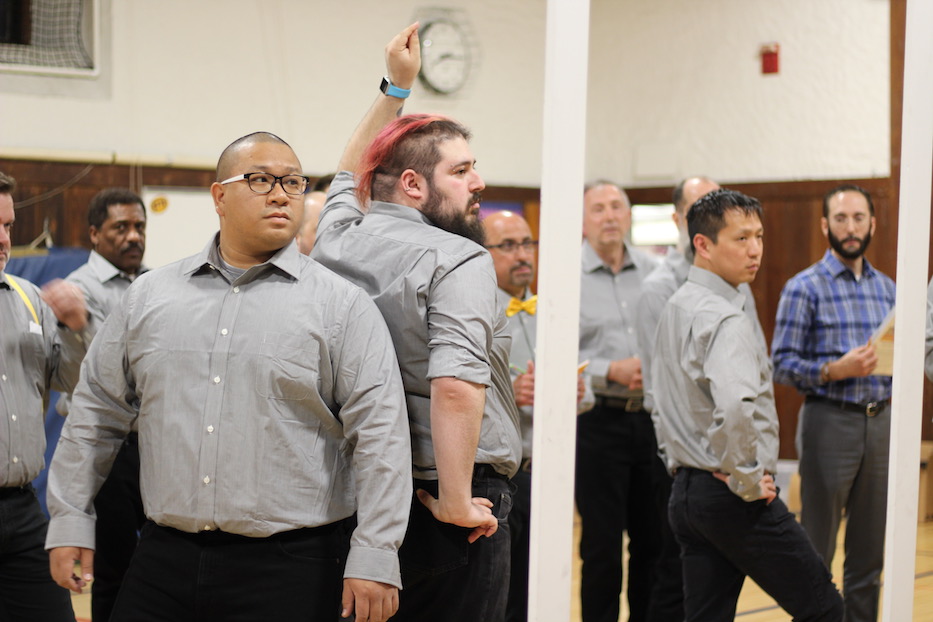 The concert has been months in the making, McMahan said Tuesday. In September of last year, he began working on the program by asking members of the chorus what songs had been important to, or even personified, their own coming out experiences.
"I wanted to know what songs were important to them," he said, adding that the group has some members that have been out for decades, and others who are still in the process of coming out. "Some of the guys are at very different places in their lives."
Submissions flowed in. From one member came Elton John's "Someone Saved My Life Tonight," a song that originated with the musician's own suicide attempt in the 1960s. Cecil Carter, who also arranges some of the group's choreography, gravitated towards a choral arrangement of Katy Perry's "Rise," trading excessive autotune for five soaring, fiery voices.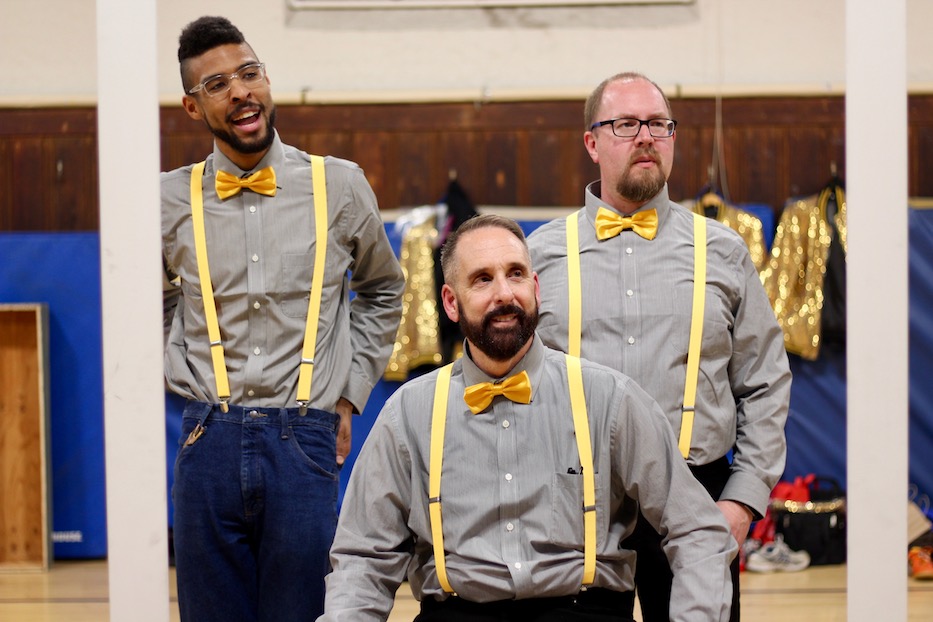 There were nods to pop-culture icons, from the Scissor Sisters and Madonna to Aretha Franklin and Destiny's Child. One member suggested his own composition, inspired by years "listening in" on friends who presumed he was straight, and said some things that hurt him deeply. Several proposed Jerry Herman's 1983 "I Am What I Am," which McMahan referred to as a gay anthem.
And McMahan had his own favorites: Nat King Cole's "Nature Boy," which was first recorded in 1947 and later covered by David Bowie (that version appears in the film Moulin Rouge). After hearing the Broadway soundtrack to Dear Evan Hansen—which he and his husband later saw—he also added that to the list.
McMahan said he wasn't familiar with "Nature Boy" when he was first coming out 40 years ago, when he was just 20 and still living in Ohio. But when he heard the lyrics years later, the song seemed immediately right for the group. In the original, Nat King Cole sings about a boy who grows up feeling different, and then realizes that he contains magic.
"All the things that you thought made you different, they really made you special,"McMahan said.
By the time he had planned the program, he had 18 songs, and an extra for an encore. He arranged them in three stages—realization, actualization, and celebration—to mirror the experience of coming out. Then a small creative team got to work on choreography, costumes, and moveable onstage art.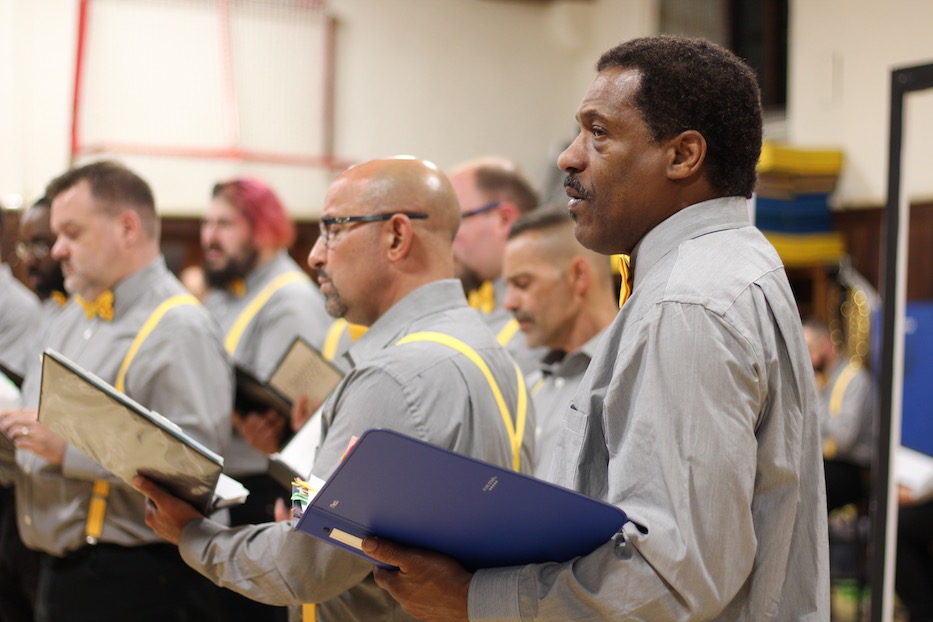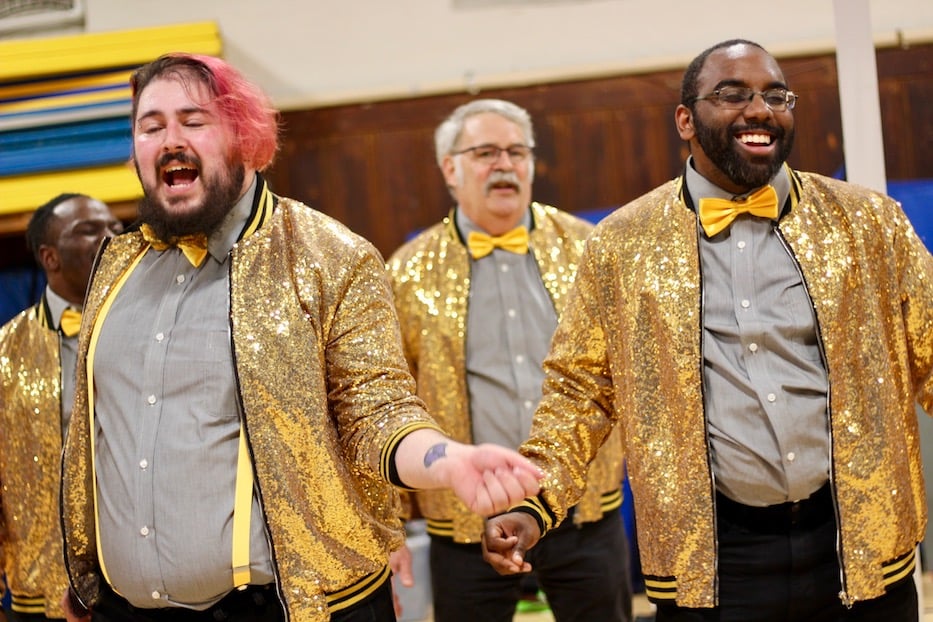 Tuesday, members prepared to run through their paces, arranging huge painted picture frames as their main props. On the sides of the gym, laughter stopped as a speaker crackled to life and Connie Francis' "I'll Follow The Boys" blasted out toward the walls. In the back of the room, men slow-danced with each other, swaying at the hips. A few mimed schmoozing over coffee, and probably spilling some tea. At the front of the space, someone mock-knocked on an imaginary door, and looked immediately at home as he entered.
This sense of being at home—a sense that was, in many ways, true of the Stonewall Inn—remains at the very heart of "As You Are." Tuesday, a quiet but strong opening on "Nature Boy" faded into "Someone Saved My Life Tonight," 30 voices conjuring best friends, brothers, and classmates who have withstood years of anti-LGBTQ+ harassment and come out alive on the other side of it. There's bitter with that sweet—in the group's soaring arrangement of the song, it's impossible not to feel the ghosts of those gone much too soon.
Vocalists press on, taking the audience with them as they climb that ladder from realization to celebration. Switching off between full ensemble pieces and smaller arrangements, members peel back layers of history and of music, flowing into actualization with a version of "I Am What I Am" that is so clean that a pin could drop between breaths. Later in the program, a quintet takes the same hold with Katy Perry's 2016 "Rise," diving into an arrangement that swells with heart and spirit she can't match in the original.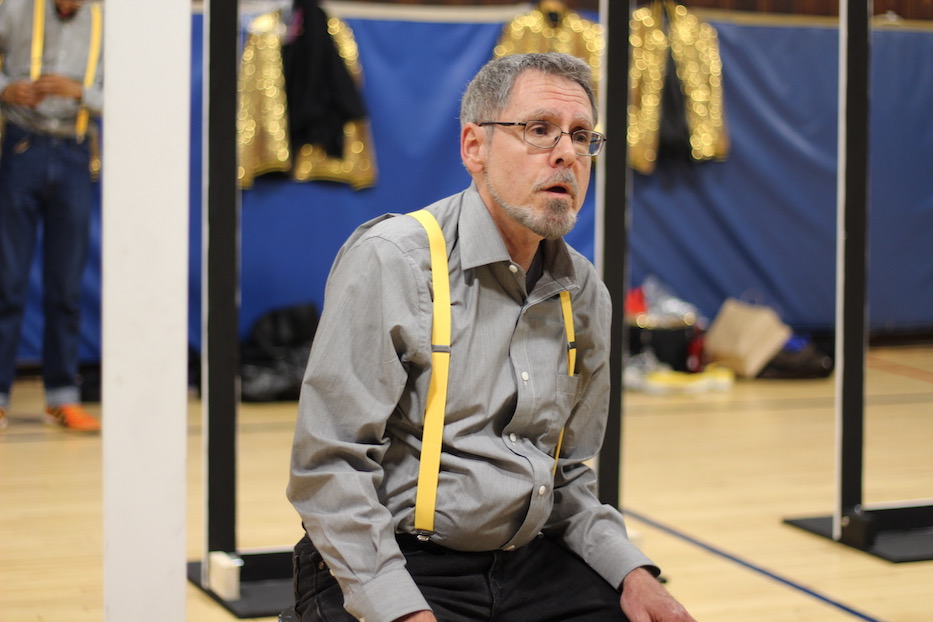 They are also singing their own lives, sometimes so tenderly it feels that your heart will burst out of your body. In a duet from the musical Wicked, bass Carl Delmolino and tenor Aaron Scott outshine characters Glinda and Elphaba as they confess how much they have changed each other. The song has a personal angle: Scott met Delmolino five years ago, at a rally for marriage equality in Hartford. Back then, he was just starting to come out, and Delmolino invited him to check out the choir. Five years later, the two have become friends.
Or "Fly On The Wall," written by Hamdenite and tenor Paul DiMauro (pictured above). Seated inside one of the group's larger-than-life frames, DiMauro carries the song, a huge and steady, folk-flecked voice busting out of his small body. After Tuesday's rehearsal, he explained that the song comes from his own coming out experience over 30 years ago—and his fondness for folk music and guitar, in which he's been dabbling.
Until he was in his late 20s, DiMauro remained in the closet, a "fly on the wall" as friends of his let homophobic comments slip into conversation. As he got older, those friends started getting married, attempting to set him up on dates with women. They were well-intentioned, he said—but they also pushed him to a turning point.
"When you're in the closet and you don't come off as particularly gay, you hear things," he said. "You start to internalize those things."
Once DiMauro came out, he said he felt liberated. The song ends with the same kind of evolution. The fly on the wall turns out to be a butterfly, and flutters away at its own pace.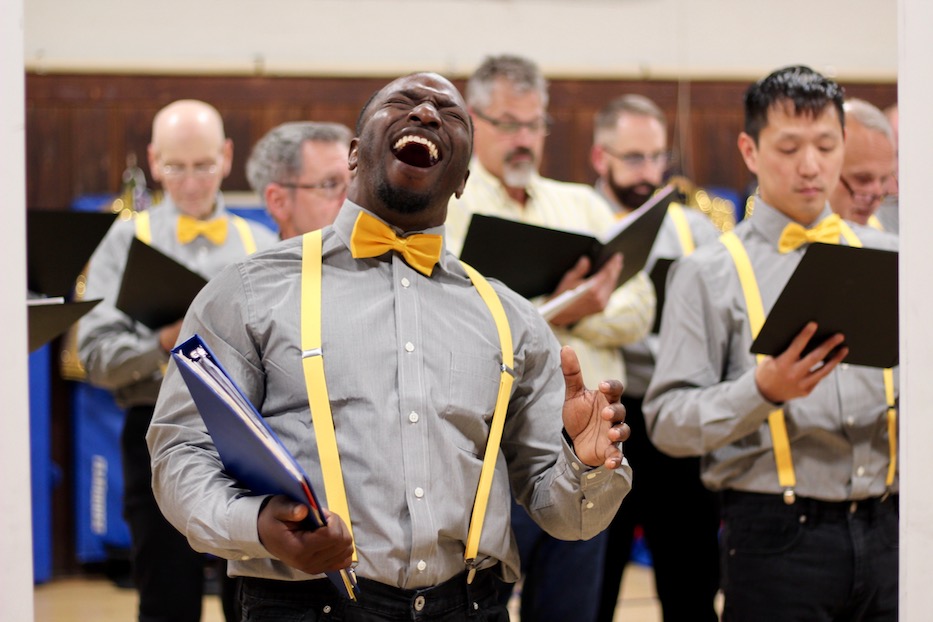 Like DiMauro, members also seized Tuesday on the chance to celebrate—perhaps at a lower volume than they will this weekend. Somewhere in between Dear Evan Hansen's "You Will Be Found" and Lady Gaga's "Born This Way," Cecil Carter stopped time with Queen's "Somebody to Love," nailing Freddie Mercury's falsetto and then filling the room with his voice. By the time the group got to "It's Raining Men," hips and butts were moving (how could they not?), shoulders relaxed and arms are reaching out at an imaginary audience.
In the run-of-show, members somehow also make time for costume changes. They whip out drag for Madonna's "Vogue"—otherwise known as what happens when a pop star sees Paris Is Burning—and then come back in glittering gold for a rousing mashup of "I Will Survive" and "Survivor" that reads, at the end of a very long set, as both a nod to Glee's arrangements and a much-needed tribute to the Black women who laid critical groundwork for both Stonewall and the larger gay rights movement.
As Tuesday's rehearsal neared its third hour, baritone James Hampton loosened up, easing into a series of solos. His shoulders fell back and relaxed, he shuffled and rocked in his place. After he had finished for the night, he said that he had been one of several members to also suggest "Rise" when McMahan sent out a call for suggestions, because the song spoke to him.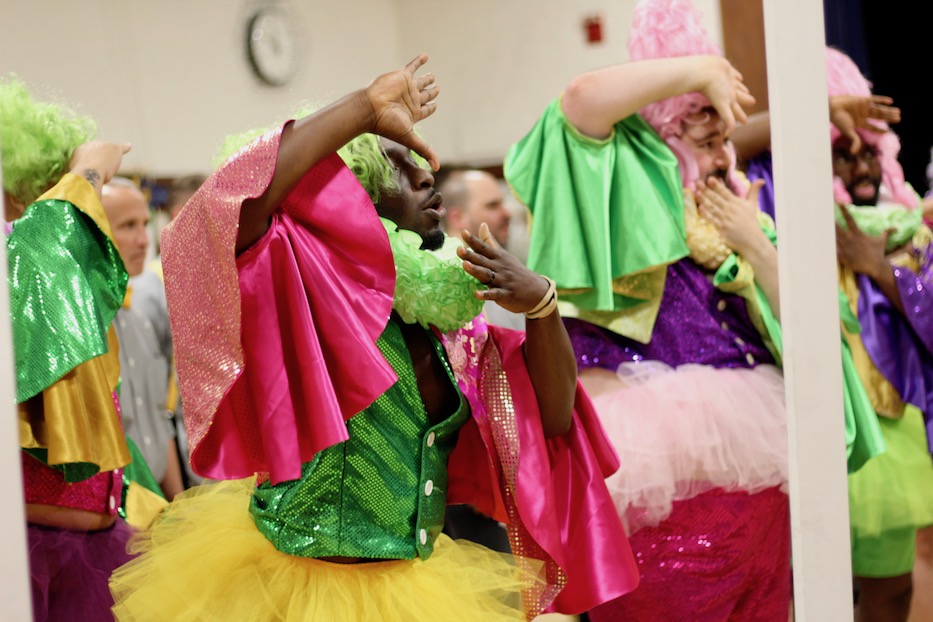 Based in New London, Hampton said that he had a fairly easy and supportive coming out experience. At 13, he knew he was gay, but kept it from his family until he was in college. At 20, he told his sister, and then was chided by his mother for not telling her first. But he said he knows that some families aren't as accepting right away. When he lays the song out for the audience, he's trying to spread a message of resilience.
"It [the song] shows you that whatever comes to you, you can get through it," he said. "You have these strong voices, saying we can get through it together."
The Connecticut Gay Men's Chorus performs Saturday, May 18 at 8 p.m. and Sunday, May 19 at 4 p.m. in the theater at Cooperative Arts & Humanities High School, 177 College St. For tickets and more information, visit the group's website.