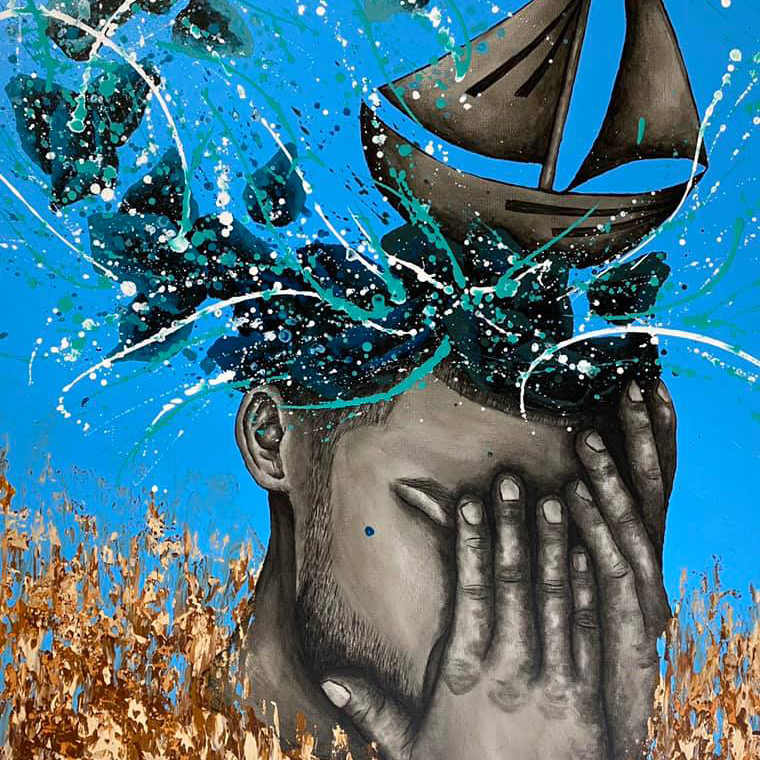 Arts & Culture | Nasty Women New Haven | New Haven Pride Center | Visual Arts | COVID-19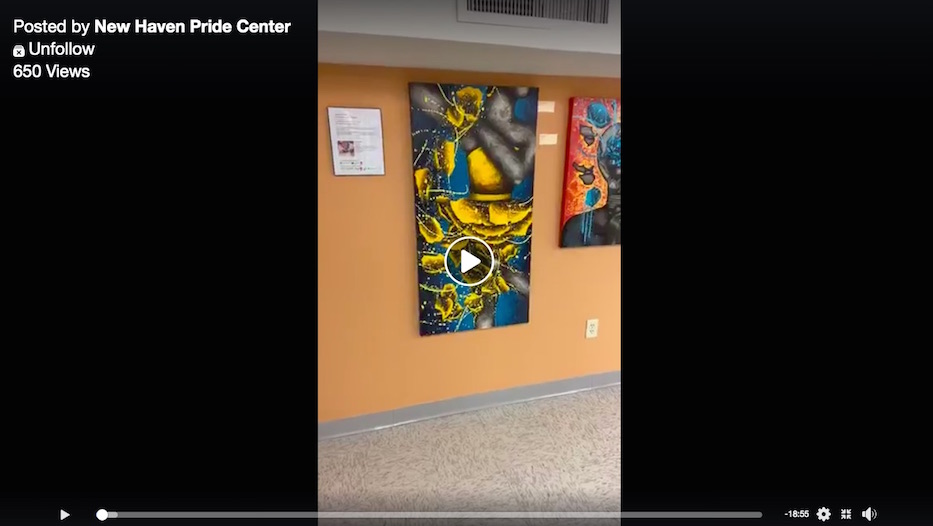 Screenshot from Facebook Live. All images by Jaii Marc Renee.
Jaii Marc Renee's Dance With Me floats in blue and gold in the foreground, thick drops of color flying through the frame. A body emerges: two arms bend upwards. A long neck hovers above them. Beneath a bloom of gold, muscled legs send the body into motion. Patrick Dunn's voice cuts in.
"We are looking at Jaii Marc Renee's first piece in our exhibition," he says "All of these works are done with acrylic on canvas, various different sizes."
The executive director of the New Haven Pride Center, Dunn is one of a growing number of curators taking their exhibitions into the virtual world. The response comes as art galleries, museums, and community centers close their doors to the public in response to COVID-19 and Mayor Justin Elicker considers an order to shelter in place.
In New Haven, the Pride Center joins Nasty Women Connecticut, the Yale University Art Gallery, and countless artists in providing online resources and gallery tours for curators, teachers, students and parents who are increasingly working from home. In addition to using Facebook Live, organizations have been turning to a mix of YouTube and Instagram.
At the Pride Center, Dunn recorded and posted a video of the latest show, Jaii Marc Renee : A Queer Black Voice on Canvas, which opened earlier this month and was set to run through the end of April. In the wake of not knowing whether New Haveners will be able to see it in person, Dunn went about creating a way to see it virtually. Even as people practice social distancing, he said it's important to celebrate the work of a local, queer artist of color.
Monday afternoon, he took virtual viewers through the space methodically, peppering the tour with information on Renee's Hartford-based practice and a few well-placed social distancing jokes to lighten the mood. From Dance With Me, the scene shifted to Breakthrough, one of several paintings completed specifically for the exhibition.
On the canvas, an explosion of blue breaks through a figure's bud-shaped skull, exposing color that swims in place like folded, luminous satin. The background roars with fiery red and splatters of orange.
Because viewers can no longer approach the work themselves, Dunn lingered, describing Renee's use of drips and paint-dipped spatulas instead of paintbrushes. He waited to take a close look at each work in the show, punctuating factoids with laughter that quashed the thick, almost palpable anxiety of the afternoon. Elsewhere in the gallery, Pride Center employees Laura Boccadoro and Juancarlos Soto provided streaming on other online platforms.
"So no matter where you are in the virtual space, you can get to see the show," Soto said as he took viewers through the show. "It's really interesting. What's really cool about these images, even though I see them every day since the show started, the more I look at them I find little, small things in each one that I like."
Some works felt especially pressing viewed through a screen, cut off from the physical space until further notice. Faces were pressed lovingly into each other, a reminder of the humans out there looking in. Elephants paraded into glittering waves of color like a throwback to grander, more beautiful days. Queens in all different shapes and sizes, some with flowers coming straight out of their skulls, reminded viewers that the long arc of history keeps going forward. That it has to keep going forward.
In Wave Of Emotions, a figure holds his face in his hands, chin slightly downward. His palms and long, graceful fingers cover his nose and shut eyes; they climb up to his forehead and rest there. A sailboat, rocking as if on stormy seas, heaves atop his hair even as pieces fly off in thick, black and teal chunks. Lines of gold—or are they flames?—gather at the base below.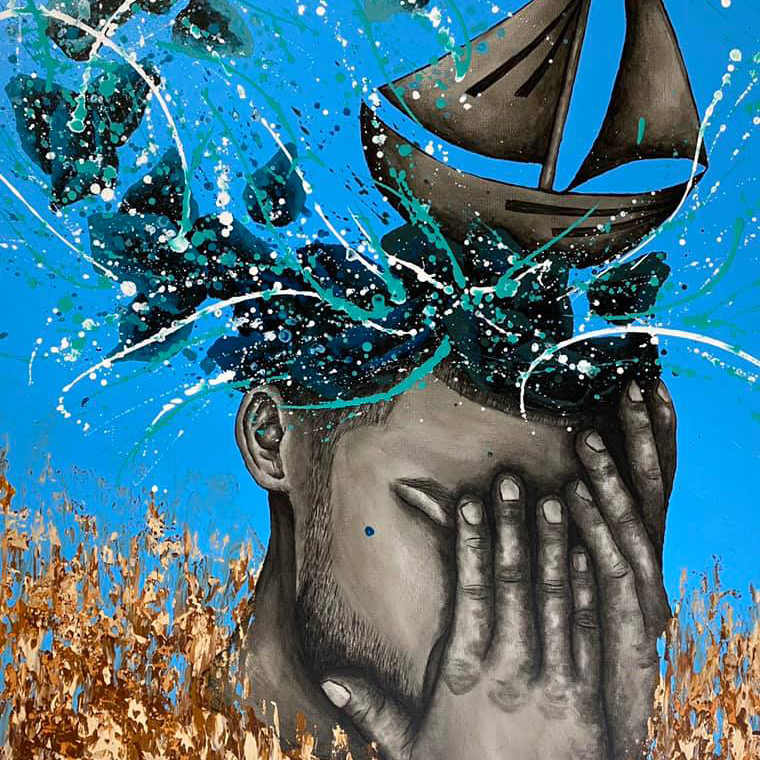 Wave Of Emotions, by Jaii MarcRenee. Image courtesy of the artist and the New Haven Pride Center.
Dunn took a moment to focus on Renee's attention to detail. In the canvas, splatters of white, blue and teal whirr across the figure's hair and face and float into the space above. A thick blue background suddenly seems unstable, like the center cannot hold any longer.
"Who knows when we're going to be out in public again," Dunn's voice cut back in, pulling his viewers on to the next piece.
After a couple dozen watched live via Facebook and Instagram, hundreds more tuned in to the recording Monday night and into Tuesday. As of Tuesday afternoon, it had been shared 15 times. Dunn has continued the center's virtual presence with "fireside chats" with staff members, several of whom have still been reporting to work.
He's part of a small but steadily growing trend. On Tuesday morning, the Yale University Art Gallery also pointed New Haveners to a number of free online resources including recorded lectures and in-house presentations and searchable objects in the collection. "Our doors may be closed for now, but we are always open online," the email read.
As the city announced its first confirmed cases of the virus over the weekend, Nasty Women Connecticut moved online for tours of its current exhibition Rituals Of Resistance, which has postponed a month of site-specific programming planned to run through April 8. The show and programming were both based out of the Urban Collective on Willow Street; McClure said she is now working to see how the closure will affect accompanying grant funding.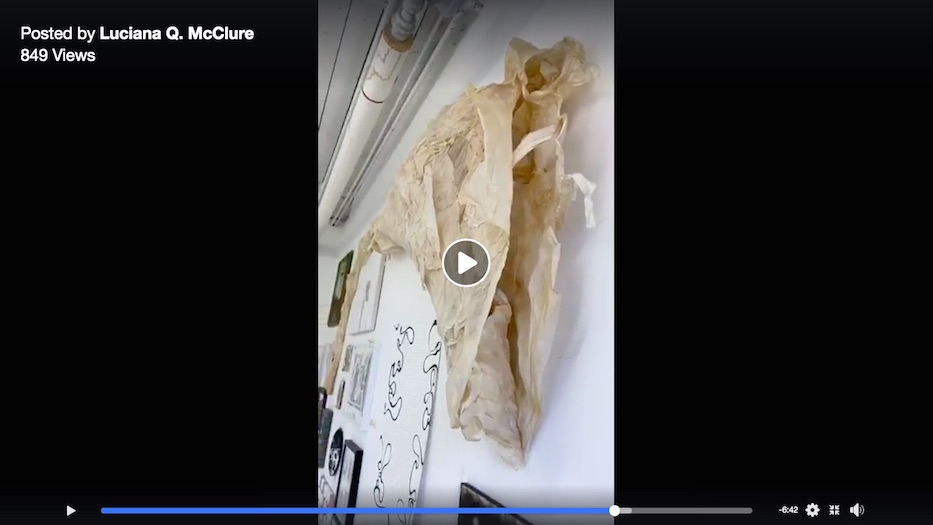 On Sunday—one week after the show opened for International Women's Day—Nasty Women co-founder and curator Luciana McClure led a walkthrough of the space, which features 118 artists from over five states, on Facebook Live. Works blinked out from every wall, ready to say hello. From artists Leila Daw by the doorway all the way to the back of the room, she kept her phone still, so viewers could look closely at each work.
Some came as wonderful surprises as McClure narrated with a steady tone, like the feminist talk therapist one never knew they needed. From a calm, steady view of the exhibition a huge, plush fist rose suddenly, its middle finger pointed towards the ceiling.
On another wall, Isabella Sarceri's Reach surprised viewers, stretching as McClure moved her camera where eyes would have otherwise traveled. McClure uncovered details as they tickled her: a photograph on encaustic paper, a black and white archival print that started back in the glass, an embroidered series with fine red and pink thread.
"How can I give a voice to the artists in the show through virtual tours, through social media, through live chats?" she said in an interview Tuesday morning. "Social media technology really can be used to create a community. We wouldn't have been able to do this 20 years ago."
McClure suggested that artists—particularly those who have suddenly lost income, and are at home unexpectedly with their children—can use the moment to regroup and brainstorm economic viability, even if they are not leaving their homes and cannot safely see each other.
In addition to a virtual tour of the exhibition, she has started an online read-aloud "feminist lullaby" series dedicated to feminist and womanist texts. She called it an act of solidarity and companionship, particularly for those who may be self-isolating alone in their homes or apartments.
During her time online, she's tried to also be transparent about how much artists need community and financial support.
"This is a time that I feel like we all need to be sharing our resources for the community," she said. "We are all responsible for each other. We don't know what things are gonna look like in a few weeks. But it is how we're caring for each other. It's a time to be creative. We don't need too much, but we need enough to just make it."
Watch the Rituals of Resistance livestream here.