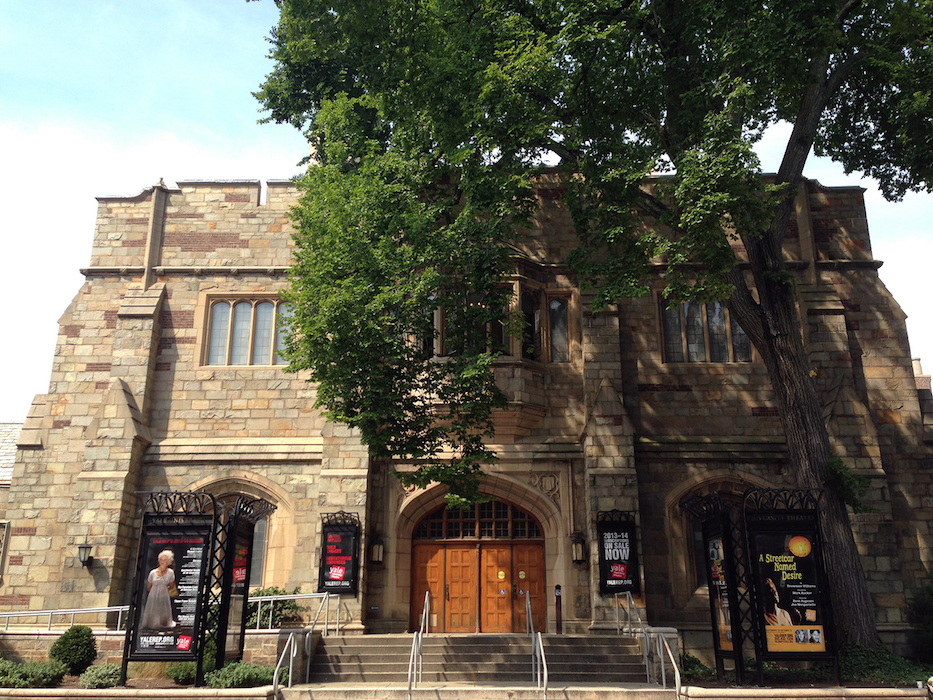 Culture & Community | Arts & Culture | Public Health | COVID-19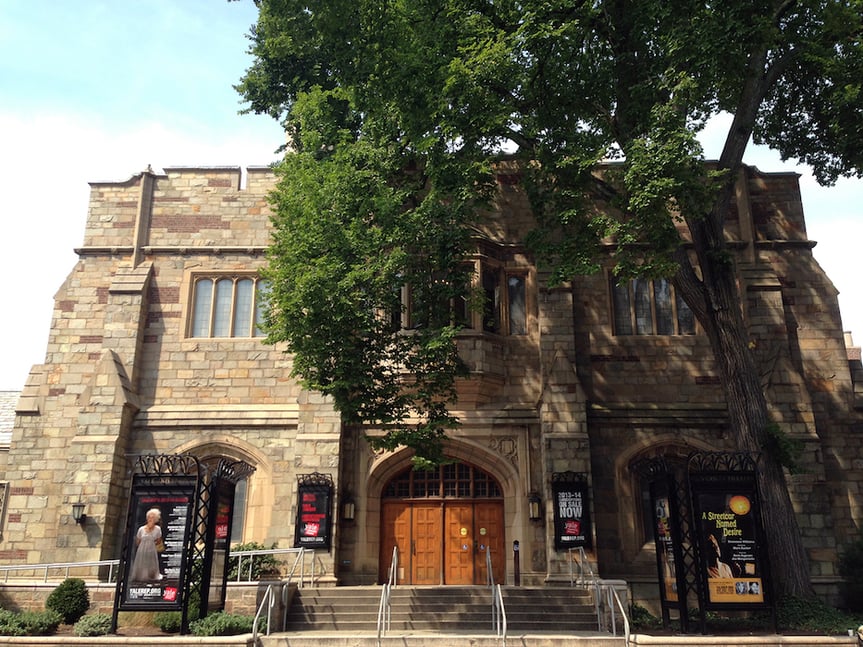 The University Theatre, where all performances of
A Raisin In The Sun
have been cancelled. Photo courtesy Yale Repertory Theatre.
This is a developing story. We will add more information as it comes through.
The New Haven Symphony Orchestra live streamed one concert and is moving more online. The New Haven Pride Center started a call-in and telecommute option for its support groups. Three high schools have postponed their musicals, and at least one of the city's professional theaters has cancelled the remainder of its season.
Other cultural institutions have urged: Be safe. Do a lot of hand washing elbow-bumping. Cancel events if you need to. But please, don't give in to fear.
This week, New Haven arts organizations are responding to concerns around the novel Coronavirus with a mix of changes to policy, procedure, and audience capacity. The updates come as the World Health Organization (WHO) Wednesday declared the virus a global pandemic, and in the same week that Connecticut Gov. Ned Lamont declared the virus a public health emergency in the state.
The Arts Council of Greater New Haven is providing a resource list, updated daily, of local and statewide arts responses and procedures.
As individual artists feel the economic strain of cancelled and postponed events, larger organizations are also taking precautions to limit the spread of COVID-19. Last week, New Haven Reads, Creative Arts Workshop, and the New Haven Ballet were some of the first to reach out to students, teachers, and tutors, noting that they would remain open but follow CDC guidelines and implement more rigorous disinfecting practices.
Faced with a week of spring recitals, Music Haven has remained open but cancelled the oft-celebrated potluck element of the week. In an email Tuesday afternoon, the organization noted that it will take its cues from the New Haven Public Schools (NHPS), but has pushed its March 20 and 21 Haven String Quartet program to May.
Using the application Remind101, it has been the only major arts organization locally to send out reminders in both English and Spanish.
As of Wednesday, public schools remained open with the exception of Nathan Hale School, which was closed Thursday and Friday due to possible COVID-19 exposure. Wednesday afternoon, New Haven Mayor Justin Elicker announced that all schools will be holding half days on Friday and Monday, so teachers can prep distance-learning plans just in case they need them.
By Thursday midday, he revised his statement to say that schools would be closed indefinitely starting Friday.
Even before schools closed, the district had postponed high school musical performances at James Hillhouse High School, Cooperative Arts & Humanities High School, and Wilbur Cross High School, with no word yet on others planned at middle schools for April and May. Ty Scurry, who is directing The Wiz at Hillhouse, wrote on social media that he is disappointed but has faith that the cast will persevere.
"New Haven has worked too hard for these beautiful pieces of art not to be shown," he wrote to Ellen Maust, NHPS supervisor of performing and visual arts, in response to her suggestion that he keep the faith—and that the show will eventually go on.
As area colleges and universities pushed classes online and asked students not to return from spring vacation, the Yale Center for British Art and Yale University Art Gallery made the decision to stay open, but cancel all public events for March and April. As of Thursday, the Yale University Art Gallery revised its statement and closed to the public.
The city's Institute Library on Chapel Street canceled events, but is staying open through Friday March 13 for patrons to check out titles. It will then close for at least a week.
"Please remember that all changes to our schedule are being made with the best interests of all in mind," wrote Operations Manager Eva Geertz. "Covid-19 is a real concern in New Haven; all educational and cultural institutions are altering their operations because of it; and while we are a small operation, it affects us just as it affects larger organizations."
For three local theaters, the virus has been a case study in increasing caution. The Yale Repertory Theatre, which planned to open A Raisin In The Sun this Friday, announced Wednesday night that it has cancelled the remainder of its season as well as Yale Cabaret and graduate student shows. In a press release Thursday, Yale School of Drama Dean James Bundy called the decision "heartbreaking," and one of the saddest and most devastating he has made in his 18-year tenure.
"As the professional theater in residence at Yale School of Drama, in a relationship analogous to that of a teaching hospital and a medical school, practical production work is the defining component of professional theater training at Yale," read a press release that accompanied the decision. "The new measures of mitigation, including the implementation of online instruction, are fundamentally incompatible with the physical work of making plays: on stage, backstage, in rehearsal rooms, shops, and lobby areas."
Collective Consciousness Theatre, which is midway through its run of Skeleton Crew, announced Friday that it will be canceling the remainder of the show.
That was also the case at Long Wharf Theatre, which announced its 2020-2021 season Wednesday night and was set to open previews of The Chinese Lady on March 18. The play is now canceled, after the theater put its season on hold with pandemic shutdowns.
"We view the prospect of pressing forward as irresponsible and are committed to prioritizing the wellbeing of our community," wrote Deena Nicol, associate director of marketing and communications, in an email Friday morning.
Speaking Wednesday, Managing Director Kit Ingui urged patrons at a season opener event not to give in to racism or fear around the virus.
"There's a great amount of fear and confusion surrounding COVID-19," she said Wednesday. "Long Wharf stands committed to combating fear by focusing on staying well-informed and acting with empathy, with compassion. We stand committed to protecting our community from racism, from xenophobia, as we traverse … this is uncharted territory, [and] we're walking through it together."
Others have been thinking about how to move their work online—even when that work relies on live performance. In advance of its March 5 concert, the New Haven Symphony Orchestra (NHSO) announced that ticket holders who were anxious about the virus—or not feeling well—could stay home and watch the concert on a live stream.
It turns out it was just the beginning, said NHSO Chief Executive Officer Elaine Carroll. This week, NHSO Education Director Caitlin Daly-Gonzales has been working with schools, musicians, and Maestro Alasdair Neale to move its 88th annual Young People's Concert online. In that scenario, students will still get to watch the concert—just from their classrooms. Daly-Gonzales has been coordinating with teachers, figuring out things like what classrooms have projectors or video conferencing technology.
Carroll said the move is worth the precaution: the concert brings in approximately 10,000 school kids over four hours at Woolsey Hall. She praised the American Federation of Musicians, the union of which NHSO musicians are part, for expanding its cap on digital streaming to ensure the health and safety of both musicians and audiences.
"Obviously the most important thing to us is the health and safety of the community," Carroll said on a phone call Tuesday afternoon. "We're solving a giant puzzle."
But, she added, both the organization and its musicians are taking a hit. This time of year is usually when patrons renew their annual subscriptions to the symphony. She said she hopes government and local entities alike will extend emergency grant and loan funding available to businesses to working artists.
"If people can't come to a concert, they don't expect to pay for it," she said. "But in the life of a musician, if you're not working, they're not getting paid."
At the New Haven Pride Center, Executive Director Patrick Dunn made the call Wednesday to keep the center open, but create online and call-in options for support groups. Wednesday morning, he said he was dealing with whether to relocate events previously scheduled at Southern Connecticut State, Yale, and Quinnipiac Universities to the Pride Center.
"We've not going to close our doors or cease services," he said, noting that this isn't the first time the LGBTQ+ community has seen the government under react during a global pandemic. "The services that we provide are, in some cases, not being provided for the LGBTQ community by anybody else."
Caroline Smith, who runs the small business incubator Collab with Margaret Lee, said that the two have been working remotely with the exception of a few meetings that need to be in-person.
They've moved their regular office hours, usually held in the New Haven Free Public Library, to phone office hours. Tomorrow, they will be on a call with other businesses addressing how to best continue working through the virus' spread. In the meantime, they have postponed an upcoming Food Business Accelerator Pitch Day.
"I think it's really concerning," Smith said on a call Wednesday. "It just reveals some of the really big gaps that we have in our system. The most vulnerable folks will be affected."
She added that she and Lee have both observed a verbal and physical rise in anti-Asian, racist sentiment that is deeply troubling to them. She cited Republican lawmakers, who have come under fire for publicly using the terms "Wuhan Coronavirus" and "China Coronavirus," as well as last week's assault on an Asian-American man riding the subway who had air freshener sprayed in his face.
"As two Asian-American women, just the amount of racism ... that's really frightening and unacceptable," she said. "It shows just how fragile model minority status is. That's just really troubling to watch, and it's especially troubling to watch from our president."
It follows a national effort in the arts and culture sector to prevent the spread of COVID-19. On Wednesday—just hours before a Broadway usher tested positive for the virus—the Alliance for Media + Culture sent out a survey asking arts administrators what their approaches have looked like.
Ruby Lopez Harper, senior director of local arts advancement for Americans for the Arts, sent out a memo last week urging organizations to get educated, communicate with their audiences, and follow public health and safety guidelines that the Centers for Disease Control and Prevention (CDC) has set.
Quoting the CDC, she also urged readers to "dispel the stigma" around the virus, as it has become a vector for anti-Asian sentiment in the U.S. and worldwide.
"As we continue to watch and prepare for the coming weeks, we will be tracking local response and welcome your questions," she wrote. "During times like this, we must act in concert with one another and support each other locally, statewide, and nationally."
In response to concerns that some Yale students do not have the financial resources to return home or may be housing insecure, Yale alumni have also started a spreadsheet for temporary housing and financial support.