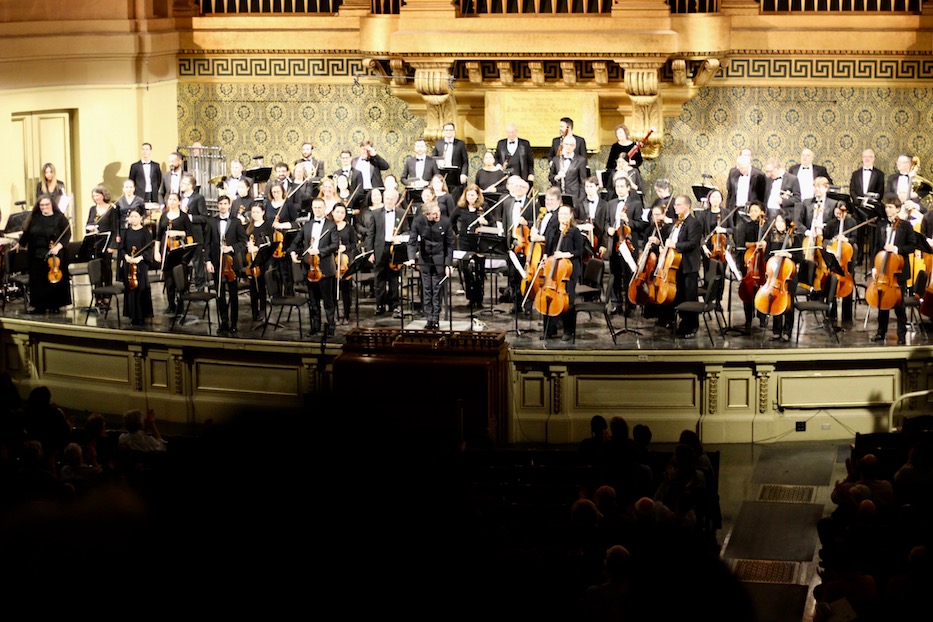 Downtown | Music | Alasdair Neale | Arts & Culture | New Haven Symphony Orchestra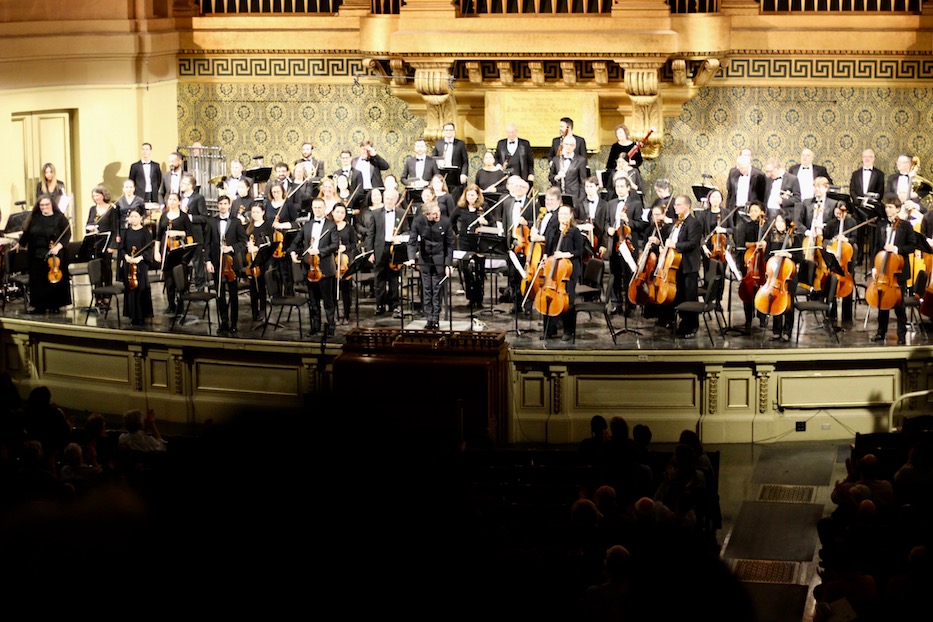 A small but mighty crowd attended Thursday's performance. Lucy Gellman Photos.
Horns rose through Woolsey Hall so quickly they wrapped around the rafters. An oboe raised its head, then dipped into the background. Drums and strings came rolling in all at once, surrounding the audience in sound. For the first time in the night, New Haven Symphony Orchestra Music Director Alasdair Neale sprang up so quickly that his body left the ground.
Florence Price didn't have a seat at the table during her lifetime. But Thursday night, she got one on a New Haven stage.
Thursday, the New Haven Symphony Orchestra (NHSO) gave Price her due as it presented Dvořák & Price at Woolsey Hall downtown, placing composers Antonín Dvořák and Florence Price in conversation with each other for a sweeping, affecting meditation on what it means to be an insider versus an outsider. The program, which was live streamed for listeners anxious about COVID-19, also featured virtuosic cellist Oliver Herbert.
It is part of the symphony's campaign to #MakeFlorenceFamous, celebrating Price's work as a Black American and a woman composer. With funding from the National Endowment for the Arts, the NHSO will also present an "Insider/Outsider" themed concert at the Stetson library on March 7 and another later this year.
"In our small way, we're carving a performance tradition for ourselves," Neale said in an interview before the concert. "Tokenism is not something I'm interested in. It was very much a conscious decision to not make this part of Black history month, because it should be considered part of what we do naturally and organically. It [Price's Symphony No. 1 in E minor] is a remarkably mature and well-formed piece. "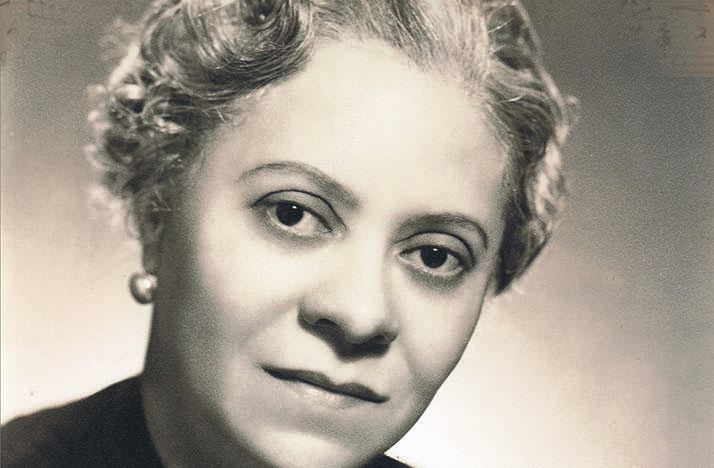 Florence Price. Wikimedia Commons Photo.
In some ways, the story of Dvořák and Price is a story that America is still telling. In Dvořák's story, a cisgender white man came over from Europe in the 1890s, realized that Black music was both the foundation and the future of music history, incorporated it into his work, and was heralded by the musicological canon and enshrined in the ever-growing Pantheon of Dead White Men. Largely white audiences, in return, got a taste of music they had only ever called "folk" or appropriated, and started to rethink it.
Around the same time, Price was born in Little Rock, Arkansas. Her life was a study in intellectual survival: she survived the Jim Crow South, then survived two young daughters and an abusive husband, then survived a move to Chicago where she could divorce him. In between, a 14-year-old Price survived education at the New England Conservatory by passing as Mexican, because she thought it would be easier to be seen as Mexican than to be seen as Black (the conservatory was one of the few to admit Black students at the time).
While she was prolific in the years that followed, particularly after her move to Chicago and divorce, her work was largely forgotten. In 1933, the Chicago Symphony Orchestra premiered Symphony No. 1. But hundreds of symphonic pieces, concerti, and works meant for organ were never performed and then were lost. Only in 2009, when a couple was cleaning an abandoned house in St. Anne, Ill., did much of her output come to light.
And then in 2018, Albany Records released recordings of her work. The New York Times and New Yorker both ran long pieces praising her work and calling for a renaissance. Two years ago, Neale brought her name up when he interviewed with the NHSO for his current position. Since, he said, both he and NHSO Executive Director Elaine Carroll have wanted to make this performance happen.
"It just gives you even more respect and admiration for her being able to achieve what she did," he said. "She was committed to writing all the time. If you're swimming against the tide as undoubtedly she was ... it should inspire us all."
As he struck up the symphony Thursday night, it was easy to see why. Price's piece is anchored in the European classical canon, but it makes room for long, graceful nods to Black spirituals, the nineteenth century Black church, choir and African drums. Parts of the first movement are so sweeping that it's hard not to want to hear them on repeat before going on to the rest of the piece.
The hook, at the very core of which is a full-lunged bassoon, flows like a river through it: at its most forceful it surges at full volume before remembering that it is not the sea. The longer one listens, the more surprises they find. Drums roll so fast they sound like water. Strings get dizzy chasing each other in a way that is very Romantic, and then they surprise listeners by plunging right back into American melodies.
Horns swell until they seem like they are on all sides. Cymbals crash, and oboe cuts miraculously through them. Sparkling chimes ring the audience into being (Thursday, Neale seemed to will the forward with a raised arm and long, deliberate fingers). Price weaves in rhythmic elements of juba, a precursor to tap, and the piece undulates with it. When the symphony ends, there's a fullness and a loss at the same time. It's like looking forward to church all week, and then realizing Monday is still happening.
Thursday, Neale did right by his audience by placing the work after Rossini's galloping William Tell Overture, but before Dvořák's Cello Concerto in B Minor. The piece lifts the listener up: it starts with an opening that swells around the cello and then falls back, making room for the instrument to do the talking. And it does, racing forward until it becomes sinuous and winds upward. It weaves in spiritual melodies with reverence and grace.
And then, close to the end, Dvořák goes so quiet one could hear a pin drop. It's an exhilarating fake out to an end that seems punchy but not abrupt.
Herbert, whose parents played in the Sun Valley Music Festival with Neale for years, carried the piece Thursday. He is a cellist that performs with his entire body, making the instrument breathe and wail as quickly as it can sing. As he gave himself over to the instrument—and it to him—the audience a chance to hear the similarities between the composers without diminishing Price's work.
In so doing, the NHSO also pointed to something much more resonant: Price and Dvořák aren't singular in their conversation. In their overlapping music history is the story of Elvis shortchanging Big Mama Thornton, of the economic exploitation of Gertrude "Ma" Rainey, of the fact that composer Julia Perry still isn't a household name five decades after her death, and may not ever be. In other words: how many other Florence Prices have been overlooked, maybe by design?
How can one organization work against that pattern?
In a program accompanying the performance, the symphony included information on its #MakeFlorenceFamous campaign, with accompanying post-it notes for audience members to fill out after listening to the work. As attendees left the hall, they had a space to leave post-its by the door.
"I hope that people really start talking after the concert," Neale said. "Like, 'Can you believe that? I had no idea what a wonderful gem of a symphony.' I hope there will be somebody out there, maybe a young person, maybe another young Black woman, who looks at that and is inspired in any way possible."
To find out about upcoming events at the New Haven Symphony Orchestra, including a March 7 concert celebrating Price, click here.