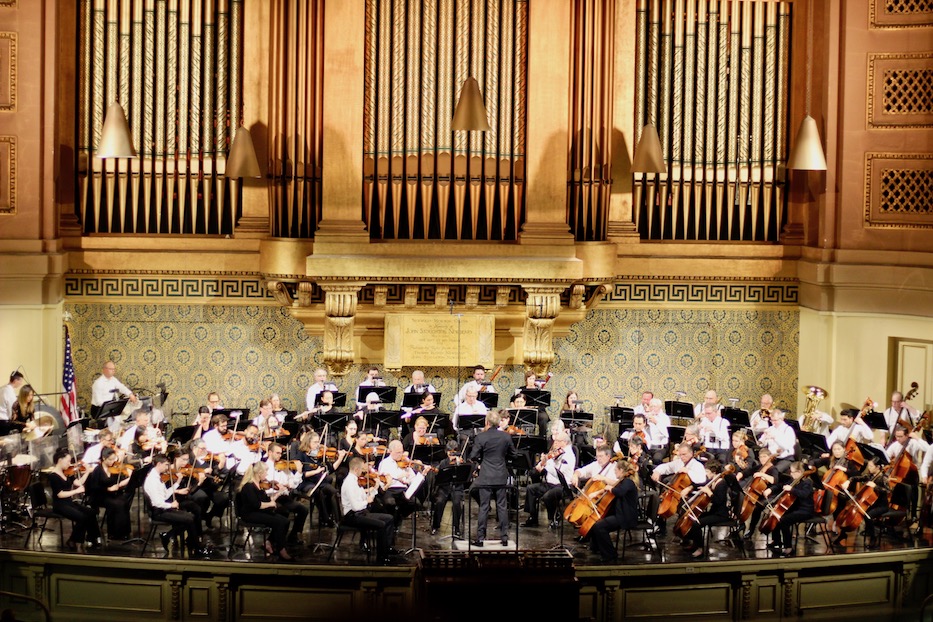 Downtown | Music | Alasdair Neale | Arts & Culture | New Haven Symphony Orchestra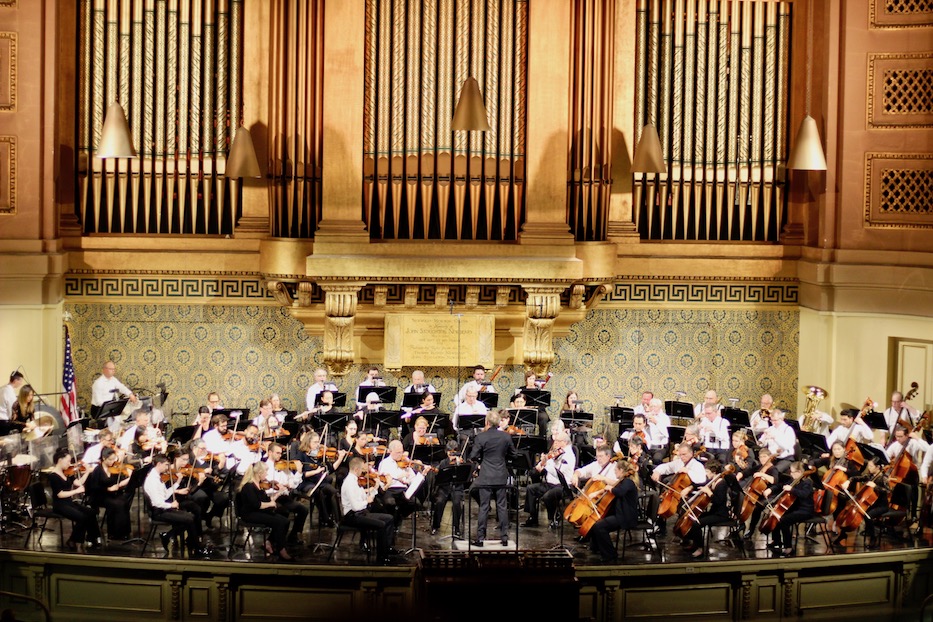 The "Star-Spangled Banner" was breaking inside Woolsey Hall. Strings shook and vibrated, so fast they seemed that they might take flight. They plummeted and bounced back, cut by the sort of blade that is history itself. They scrambled to their feet and opened into bluegrass, into civil rights, into space travel, into Latin dance. Percussion rolled in as a heartbeat. Footfalls turned into a hot day on city pavement.
Francis Scott Key met James Weldon Johnson and Aaron Copland as strains of "Lift Every Voice And Sing" drove right into something that bent and bucked just like "Rodeo." This was America put to music, exactly as it was supposed to be.
Thursday night, that sound came to Woolsey Hall as Alasdair Neale began his long-awaited tenure as music director of the New Haven Symphony Orchestra. His inaugural concert doubled as school night at the symphony, during which students, teachers, staff and families were invited to attend free of charge. Of 787 who registered for school night tickets, a few hundred attended, according to NHSO Marketing Director Katie Bonner Russo.
"It is my first concert out of the gate, and I wanted to reflect some of my priorities and interests," Neale said in an interview before the concert. "So I ended up with this kind of Russian-American blend, with one of my favorite staples of the repertoire—Rachmaninoff's second symphony, which I've loved since I was a kid—and then these two really interesting pieces on the first half."
Those wide-ranging interests took center stage almost immediately Thursday, as a well-worn "Star Spangled Banner" gave way to Jessie Montgomery's spirited "Banner," a sweeping interpretation of the former piece two centuries after it was written. Performed with the Catalyst Quartet, Montgomery's "Banner" essentially breaks its source material to fix it, making musical space—and by extension, simply space—for the bodies and lives that have made America what it is today.
As they swept into the piece, members of the quartet took the audience somewhere far beyond Woolsey Hall, sailing through music history note by note. One moment, and listeners heard strains of the nineteenth-century original bend and crack, releasing a world of possibilities. Another, and a tinny not-quite-waltz crashed right into folk and bluegrass. Just as listeners thought they were getting the hang of it, Montgomery broke the mold again, frenzied strings falling to a hush. Drums rolled. Feet stomped. Something that was not quite a spaceship nearly took off. A march, deconstructed, rippled across the stage.
On one hand, the piece is a sort of reminder that music history is American history, and some of it is still unresolved. But as it coasted over the hall, the piece became deeply timely, a statement that no one needs to make America great again, because its immigrants, its composers, its union workers and astronauts and freedom fighters and city slickers and soybean farmers make it great in one soupy, glorious cacophony, and they have for a very long time. That equally, the country's history is baked into its music, and audiences might as well start listening.
"Usually the 'Star-Spangled Banner' is plopped in isolation, and it's what you do and move on," Neale said before the performance. "But I wanted to place it in a more interesting context than it usually appears, and to get people thinking. That's part of what we do when we put on a concert in the first place."
He pushed that thread with Michael Abels' "Delights and Dances," written just over 10 years ago by the composer. As the piece begins with full-bellied cello, it unspools into a kind of stringed, silky carpet, instruments layered onto each other. But it's a classical fake-out: they slide into a whiny, easy sort of back and forth infused with blues and jazz. They pick up a western stride and drive the piece onward. In the orchestra Thursday, strings players plucked their instruments as if they were experimenting half on stage, and half in a smoky bar or club somewhere else entirely.
It was a very different feel than the one Neale conjured after intermission, as he launched into Rachmaninoff's marathon "Symphony No. 2 in E Minor" (or, as the cool kids say, Rach II), which the orchestra hasn't played in close to two decades.
The piece, which runs just over an hour, is the flow state embodied: it coasts right from slow, meditative strings and horns into a lifting second movement, with horn and woodwind solos along the way that are deeply insular. Clarinet cuts in, declaring its place in the lineup, before a sort of downward sweep of sound. In the audience, listeners ride it out because they hav eno other choice and are willingly captive. The finish, when it comes, is joyful and bonbastic almost to the point of absurdity.
Neale, too, seemed to get lost in the music. From the first rise of his baton, his whole body was in the piece, lunging forward as the music lifted, making itself small and economical as it quieted. As percussion took over, a straight line ran from his feet to his back, only a baton vibrating for moments until the rest of him caught up. During the finale, he finally went airborne.
In the audience, a sort of symphony within a symphony was taking place: kids wiggled and whispered in their seats, a sort of young energy palpable (and sometimes audible) in the crowd. A few got up and danced in the aisles, their tiny footfalls swallowed up in the hall. Off stage, it was contagious: an adult visitor leaned over a one point and whispered "I love a good timpani," close enough for this reporter to hear On stage, musicians played on, unbothered.
If the concert is any indication, Neale has an ambitious and century-spanning season before him (view the full lineup here), which ends with a nod to contemporary composer Mason Bates, whose music he incorporated into an audition concert two years ago. In an interview before the concert, he said he is particularly committed to growing "larger and more diverse audiences," part of the symphony's mission statement.
"I believe it is absolutely a central part of our mission," he said. "And if the programming doesn't reflect that, it ends up being empty words. But these words are very much alive for me, and they will continue to inform my programming for future seasons."
"I'm interested in providing a really wide range of musical experience," he added. "And that means drawing on unfamiliar and new sources, as well as playing the pieces that have stood the test of time."