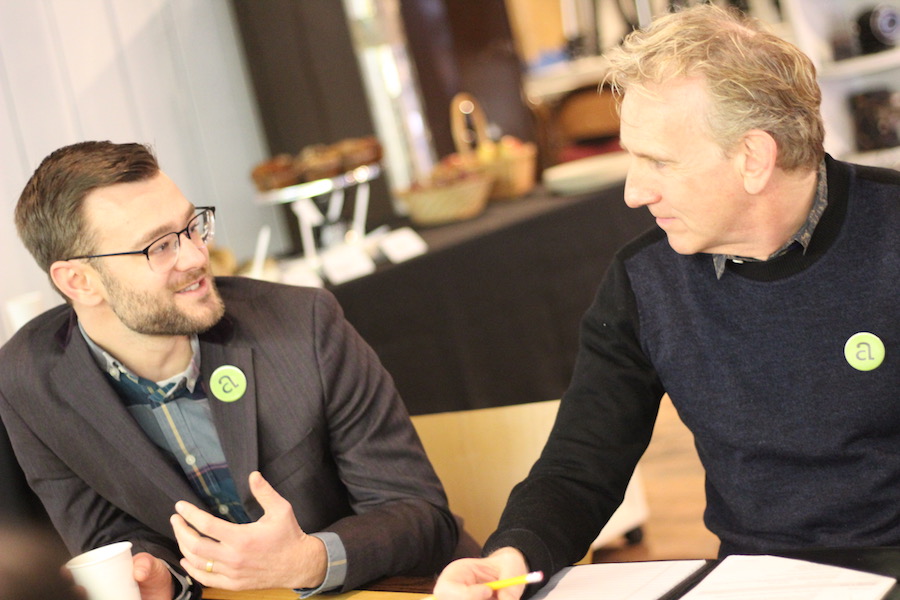 Arts & Culture | New Haven Symphony Orchestra | Westville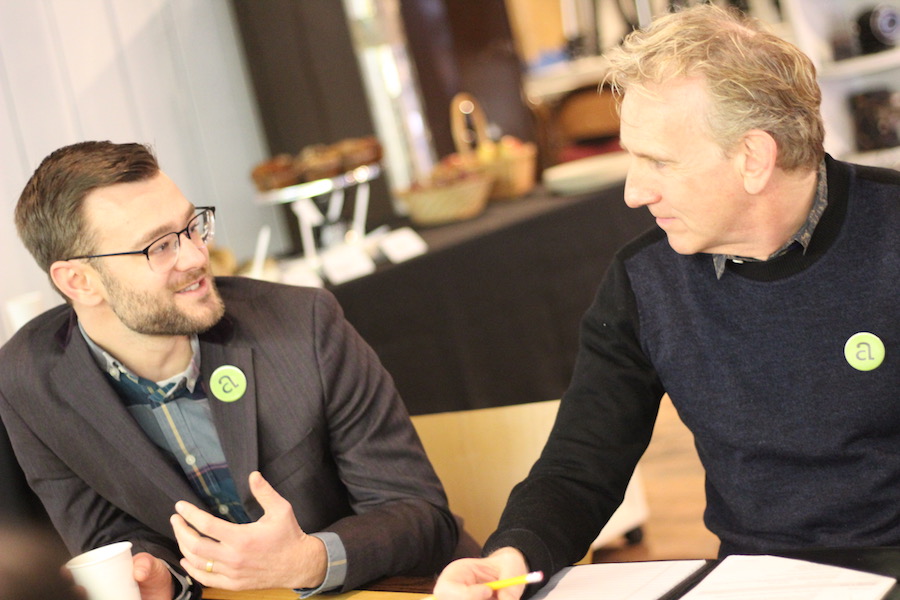 Arts Council ED Daniel Fitzmaurice and Alasdair Neale.
Get to know your community management teams, and not just in the neighborhood where you live. Reach out to potential collaborators as soon as an idea comes to you. Think about who isn't in the room as much as about who is.
Those were just some of the tips that Alasdair Neale, incoming music director at the New Haven Symphony Orchestra (NHSO), received Wednesday morning at Cafe X in Westville, as a small group of area arts leaders welcomed him to New Haven with coffee and breakfast. His visit marks the second of four week-long trips that he will be making to the city between now and the time he steps into the position next fall. Current Music Director William Boughton will finish out the current season, the NHSO's celebratory 125th year.
Attendees included Creative Arts Workshop (CAW) Executive Director Anne Coates, International Festival of Arts & Ideas (A&I) Co-Directors Tom Griggs and Elizabeth Fisher, Yale School of Drama Deputy Dean and Rep Managing Director Victoria Nolan, Shubert Theatre Executive Director John Fisher, New Haven Museum Executive Director Margaret Anne Tockarshewsky, New Haven Ballet Director Lisa Sanborn, Long Wharf Theatre Director of Development Elizabeth Monz, Music Haven Executive Director Mandi Jackson, and Arts Council Executive Director Daniel Fitzmaurice. The meeting was convened by Fitzmaurice, who said he is planning to do the same when Jacob Padrón arrives at Long Wharf Theatre in February.
Neale was named music director in July, beating out over 150 applicants and fellow finalists Rebecca Miller and David Amado for the position. He will officially begin next fall, but is already working with NHSO staff and musicians to plan his first season for the 2019-2020 concert year. He said he's already looking at apartments, with the intention of living downtown without a car. It marks a paradigm shift from Boughton, who lives in Guilford and isn't visible in the New Haven community when he isn't conducting.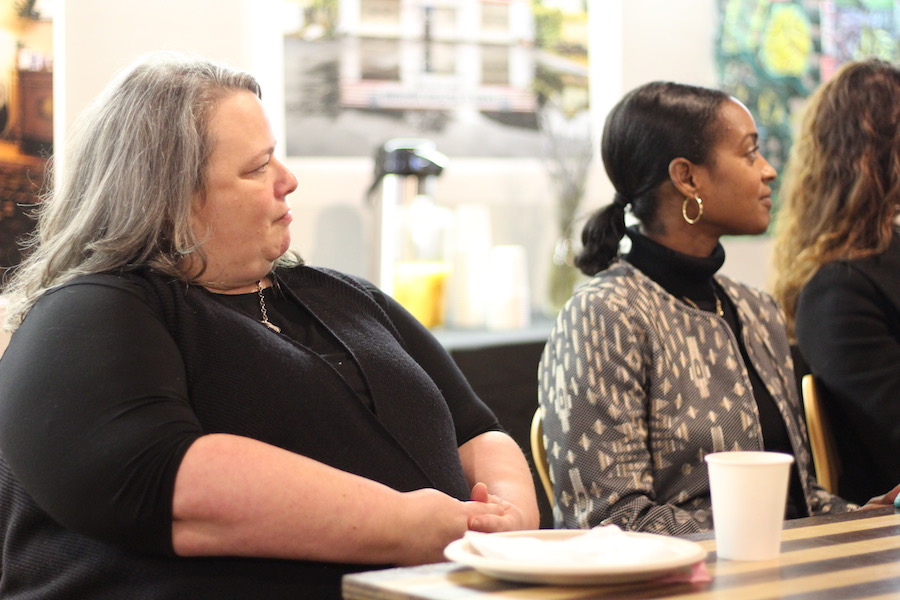 Anne Coates of CAW, with Stacy Graham-Hunt, the new membership director at the Arts Council.
But before he signs a lease, he's making good on a promise to listen. Over four different trips to New Haven—the first was in September, and the next two are in April and June—he and NHSO staff have designed a kind of listening tour, meeting with educators, students, arts organizations, community management team heads, and city officials in all of New Haven's neighborhoods.
This and last week, those stops included the Stetson Branch of the New Haven Free Public Library (NHFPL) for visits with Branch Manager Diane Brown and graduates of the Neighborhood Leadership Program, an afternoon with students at Music Haven, and a scheduled meeting with the city's Black and Hispanic Caucus. Neale also had a meeting with A&I Co-Director Chad Herzog, for a collaboration he'll be presenting with the symphony during his June visit, timed to coincide with the festival.
As new Cafe X co-owners Stephen Dest and Nate Blair prepared a spread of coffee, orange juice, bagels and muffins for the group, attendees settled around Neale, getting cozy as they shed their coats and shook off the 30-degree morning cold (despite living in New Haven decades ago, Neale said it's taking him time to adjust to the cold after living in San Francisco). One by one, they introduced themselves—then told the incoming maestro one thing they wished they'd known earlier in their own jobs.
From veterans of the field, there was a sort of common message: if you reach out to others, you'll get the support you need in return. At least, if your organization is fairly entrenched in the city. One of the first to speak, Griggs urged Neale to lean on fellow nonprofit leaders for ideas, noting that collaborations often make the city's arts community stronger.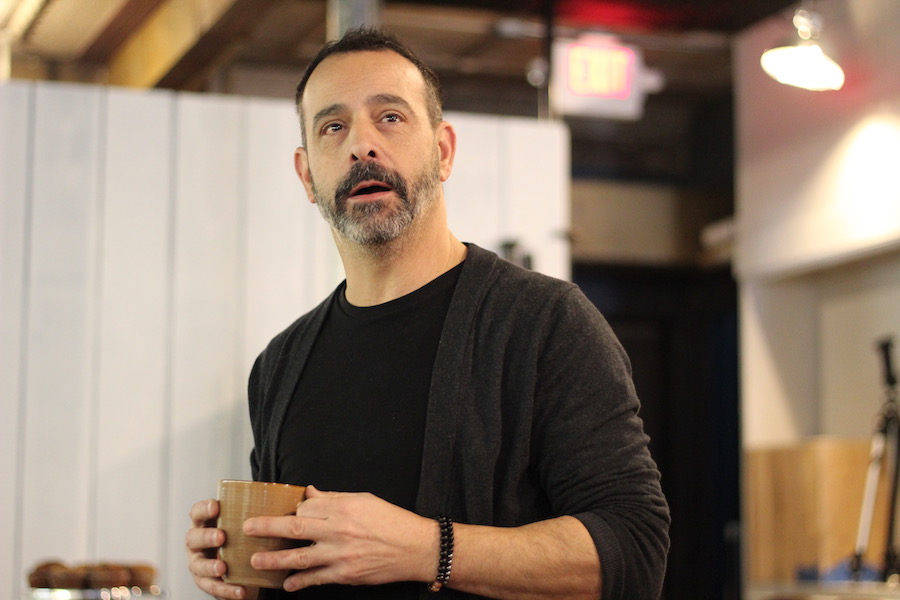 Stephen Dest speaks briefly about Cafe X, his new venture at Lotta Studio with longtime barista Nate Blair.
John Fisher, who has been at the Shubert for 21 years, praised New Haven's tight-knit feel, with "a lot of potential, a lot of opportunities." Elizabeth Fisher added that she wished she'd known exactly "what a small world it was," in which organizations end up sharing board members and supporting each others' programming. Behind her, NHSO Executive Director Elaine Carroll joked about a request for collaboration that Fisher responded to in 33 minutes flat.
"It's a small community and a small state," said Monz, who has served as executive director for The Arts Council of Greater New Haven, cofounded the Connecticut Arts Alliance, and has held positions at Creative Arts Workshop, Choate Rosemary Hall, and The Hopkins School. "A rising tide floats all boats."
But others reflected on how much they wished they'd done more listening early in their positions. Coates, a transplant who just celebrated her one-year anniversary at CAW, said she now regrets not listening more when she arrived last year, because she still doesn't have a sense of the community's needs.
"I didn't do that [listening]," she said. "I just sort of jumped in, and so I didn't have a natural way to enter the community and meet people."
Jackson added that with listening—and in her position especially—she also spends a lot of time thinking about who isn't in a given room. She spoke about the students she works with almost daily at Music Haven, whose neighborhoods are often overlooked in major arts programming. With a background in community organizing, she said she sees that disparity—and how deeply it's tied to economic access.
"There's a really large community of people who want to be invested in the art, who aren't in that circle," she said. "We have a huge waiting list, and I think that speaks to the hunger to be part of the arts."
Opening that insular arts circle, she said while looking at the table's mostly white attendees, is integral to "the ways we can make this table look like New Haven."
While she did not mention the neighborhoods by name, the shadows of Dwight, Dixwell, Fair Haven, Newhallville and the Hill all hung over the room, swaths of land whose residents are rarely reflected in audiences at the Shubert, Yale Rep, or Long Wharf.
"I'm so grateful to have the chance to listen," Neale said afterward. "Having spent six years in New Haven, I came to this fully aware that I can't think I've got this because I lived here. What I've been struck by more than anything else is the immense richness of this community and the way that it's tied together."
"I'm constantly reminded how much more there is to my job than standing on a podium," he added. "There's so much to do."
To listen to an interview between Neale and LoveBabz LoveTalk host Babz Rawls-Ivy, click on the audio below. This interview is made possible through the Arts Paper's content sharing relationship with WNHH Community Radio and its longstanding news affiliate, the New Haven Independent.