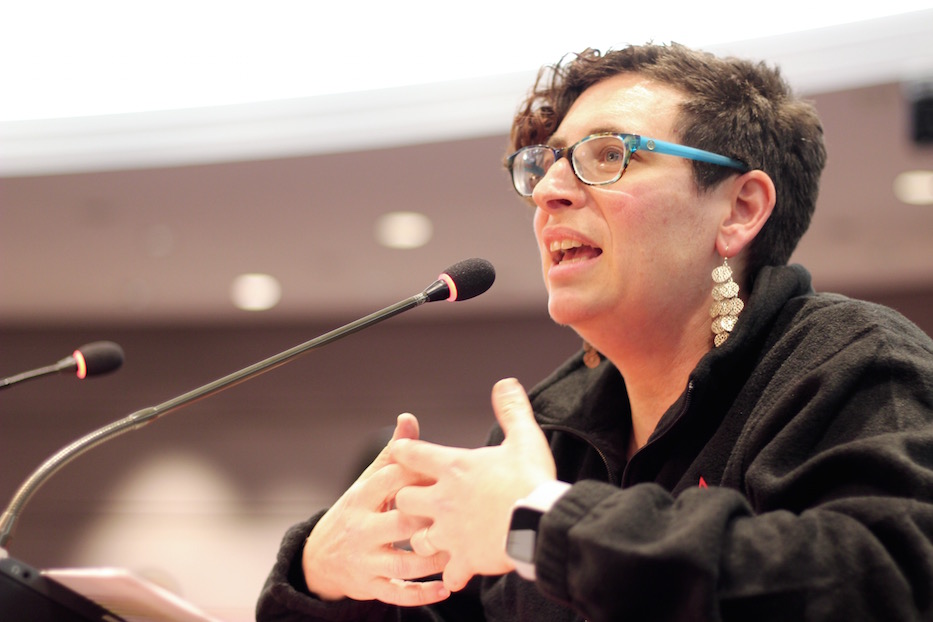 Fair Haven | Hartford | Arts & Culture | Music Haven | State Legislature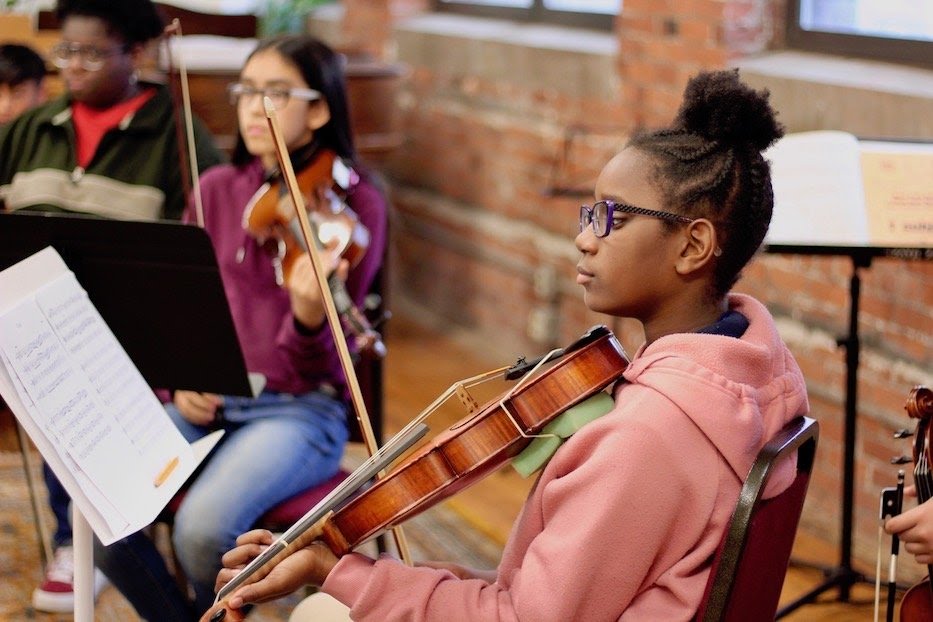 Music Haven student Jasmine King. Lucy Gellman Photos.
Music Haven stood to lose $100,000 in state funding. Then dozens of students, parents, arts advocates and arts leaders wrote letters, jammed the legislative phone lines, and drove up to Hartford to save it.
It appears that they won.
New Haven's cultural community rallied around the local music nonprofit this week, in response to the news that its line item had been slashed entirely from Gov. Ned Lamont's recommended budget adjustments for the 2021 fiscal year. Tuesday, that debate landed at the Appropriations Committee, as state legislators and Connecticut residents sat for a four-hour public hearing at the Legislative Office Building in Hartford.
Music Haven offers tuition-free music lessons, homework help, and mentorship to roughly 80 New Haven students, some of whom are new refugees arriving in the United States. Ninety-one percent of the organization's students identify as non-white; 82 percent come from families below the Federal Poverty Level. So far, it has had a 100 percent matriculation rate to four-year colleges.
The organization mobilized after its line item was inserted, then erased, from the state budget. Last year, Music Haven received a line item for $100,000 in the 2020 budget, after five years of advocacy from parents, students, and staff. At the time, it was the only arts organization in the budget not granted two full years of funding. When the 2021 revisions were released, Music Haven Director Mandi Jackson discovered that it had been removed entirely.
It came as a surprise to her, after pushing for the second year of funding in meetings with the Connecticut Office of the Arts, Department of Economic and Community Development (DECD), and members of the New Haven legislative delegation. In particular, Jackson had been calling State Reps. Toni Walker and Robyn Porter, both of whom represent New Haven and sit on the committee, as well as West Haven State Rep. Michael DiMassa, and New Haven State Sen. Gary Winfield.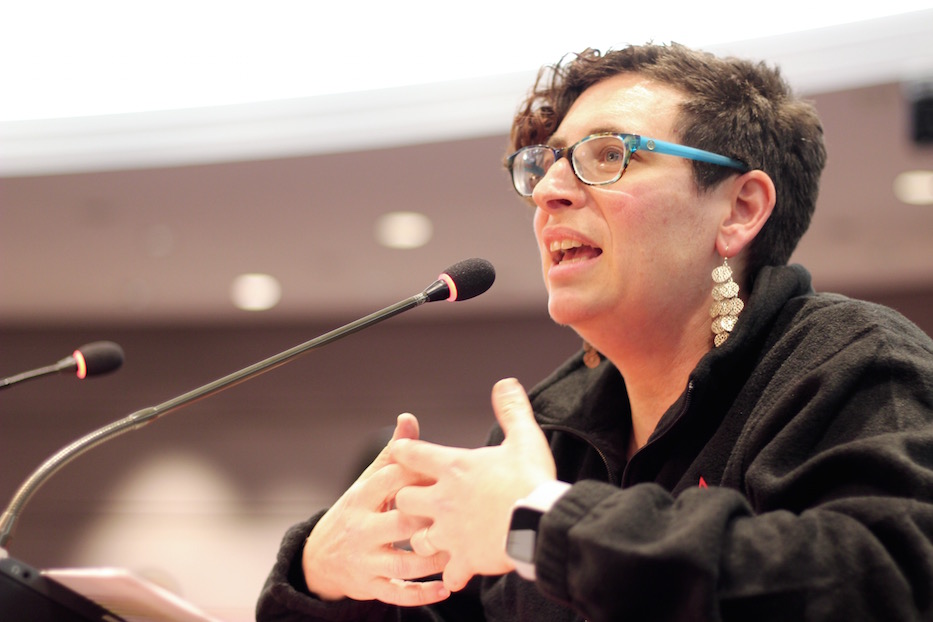 Mandi Jackson: The budget is a moral document.
Tuesday, she expressed frustration at how few answers she had received from the state.
"There is absolutely no real funding source on the state level that provides resources of any kind to address inequities and access to the arts for low-income communities of color," she said Tuesday night, after waiting for over three hours to testify. "Our inclusion on this list marked the first time such an investment was made, and to remove us contradicts all of the state's stated commitments, particularly with respect to the arts, to diversity, equity, and inclusion."
Music Haven's need for the funding is twofold, Jackson explained to legislators. In part, the organization is in need of public support, and has almost none after the Connecticut Arts Endowment Fund awarded less to the organization last year. In the past, Music Haven was able to count on $80,000 to $100,000 in arts grants that have since dried up.
The state's $100,000 is roughly 20 percent of Music Haven's $650,000 budget, the remainder of which comes from individual donations and a mix of grants and small family foundations.
"The future of an arts industry in the state requires that the sector figure out how to be more racially and economically inclusive," she said. "This is inherently a shrinking sector if it is a sector that speaks and responds only or primarily to predominantly white communities of affluence."
She also sees it as a larger issue of arts funding in the state. Currently, the bulk of line item funding—which is also known as Directed Local Funds and live under DECD—goes toward institutions that can make an argument for the economic impact of their work.
In their testimonies for Tuesday's hearing, funding recipients from performing theaters to local aquariums painted themselves as economic catalysts for the state, citing ticket sales, number of employees and patrons, and tourism revenue generated over the course of a year.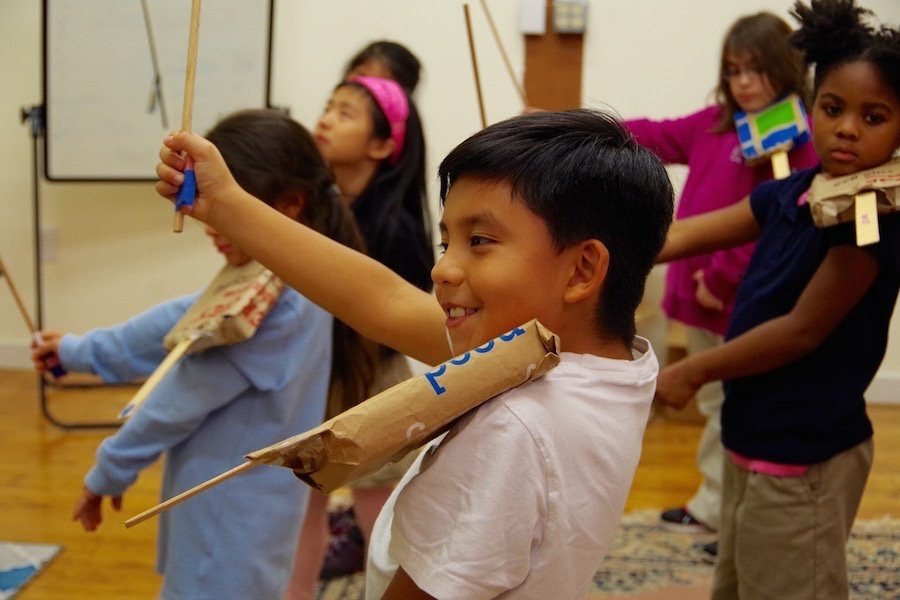 Music Haven student Carlos Camacho.
The Shubert Theatre, for instance, receives $196,893 from the state, which it uses toward educational programming with Cooperative Arts & Humanities High School and a new monthly reading program at the Stetson Library.
Meanwhile, ARTE, Inc., which offers low-cost and free programming in Fair Haven but does not bring in revenue, receives $20,735. Long Wharf Theatre, which has expanded its work in free programming, community partnerships, and focused anti-racism work, gets $43,325 from the state.
Jackson outlined a formula that puts educational organizations at a disadvantage—especially those that work with low-income, Black and Brown youth. She can't point to ticket sales, because the concerts are donation only. She can't cite millions in tourism revenue, because students and their families don't pay to be part of the program.
She doesn't employ hundreds of people by the very nature of the organization—although 90 percent of her employees are full-time, benefitted homeowners in New Haven and Hamden, meaning that their income stays in the city where they work.
In a particularly passionate conclusion to her testimony, she called the state's budget "a moral document," that speaks loudly and definitively to the priorities of the Lamont administration.
"This budget, without funding for Music Haven, says very clearly that the arts are a privilege and not a right, and the State of Connecticut doesn't believe that it makes any sense to invest in arts programming for communities of color or low-income communities," she said. "... It's telling them [students] we value museums and symphonies and professional theaters that they can't afford to visit with their families, but we don't think it makes much sense to spend state money on them, on their community, and on the music they're working so hard to make."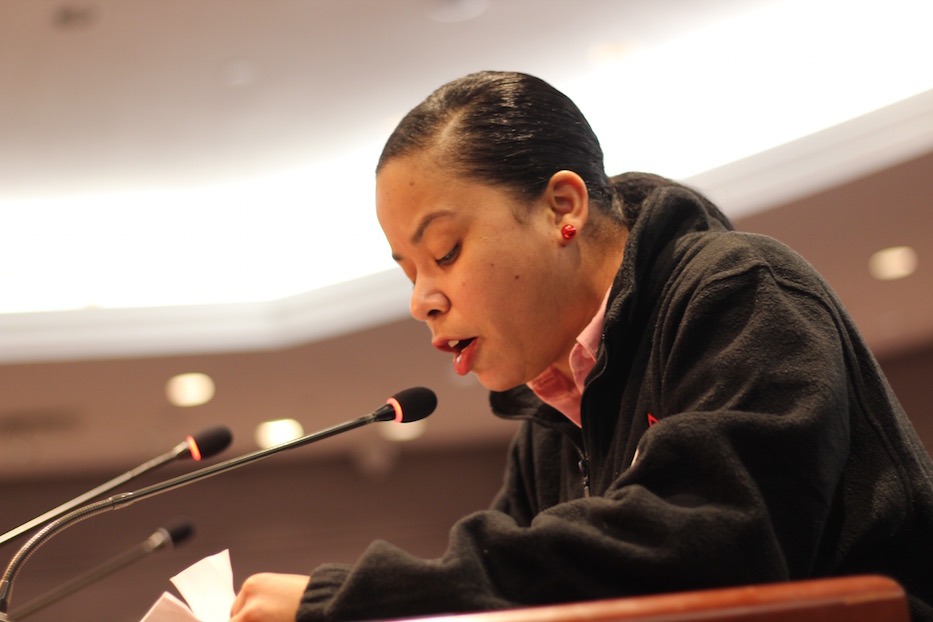 Lygia Davenport: "Our children are better because of Music Haven."
Jackson didn't show up in Hartford alone. Music Haven parent and board member Lygia Davenport, who has three students in the program, spoke directly to the organization's role as an educational incubator, community center, and de-stressor. She called it a safe haven, praising its resident teaching musicians for providing a constant presence in their students' lives.
She stressed the work that Music Haven does beyond teaching music—like providing snacks, yoga lessons, and homework help—and invited legislators to visit the organization's Erector Square digs.
"Our children are better because of Music Haven," she said. "Better at dealing with stress, better at focusing in school, better at being consistent even when other things in their lives may not offer the same consistency."
Supporters also wrote legislative testimony and left messages for Reps. Toni Walker and Michael DiMassa, chair and vice-chair of the committee. Of over 30 testimonies, many came from parents, Music Haven students, donors and fans.
Several of them also came from the city's arts leaders, who rallied en masse around the organization. On Monday, New Haven Symphony Orchestra Chief Executive Officer Elaine Carroll, Music Director Alasdair Neale, and Marketing Director Katie Bonner-Russo set a trend with some of the first letters of support, describing Music Haven's work as integral to both the city's music community and the safety, education, and development of youth in New Haven.
Rather than painting the organization as at odds with the symphony, which also receives state funds, each of them explained why it is an asset to New Haven's cultural vitality.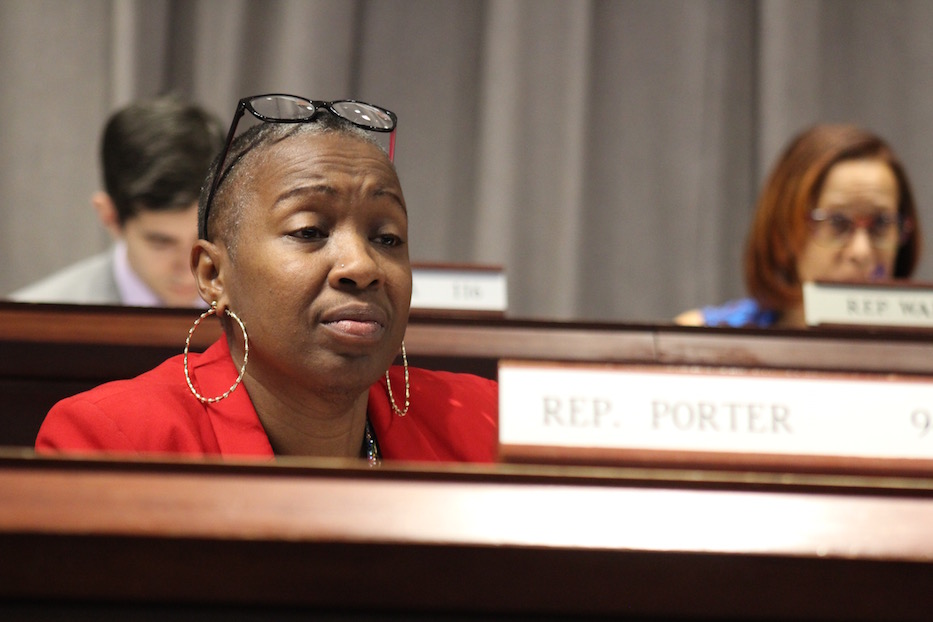 "There are so many reasons why kids should have access to music, and it upsets me that a lot of the schools in my district don't have the resources to have music teachers in the schools."
"Eliminating Music Haven's funding from the state's budget is a decision to directly, negatively impact the children in our state who need your help the most," Bonner-Russo wrote in her testimony. "Music Haven successfully improves the lives and future outlooks of New Haven's children; make the choice to stand behind the best that your state has to offer."
Liz Fisher, co-director of the International Festival of Arts & Ideas got on board, calling the organization "life-changing and life-saving." So did Neighborhood Music School Director Noah Bloom, who said he will be putting the $80,540 line item his organization receives directly into scholarship funds. Reached by phone Friday, he too expressed a concern that educational institutions are at a direct disadvantage.
In a succinct testimony, David Greco submitted writing from ARTE, Inc., which he runs with Daniel Diaz. Like Music Haven, the organization is one of the only arts nonprofits to dedicate the bulk of its resources toward educational work with low-income communities, including evacuees from Hurricane Maria and Puerto Rico's recent earthquakes.
Greco called for more funding for arts organizations across New Haven, "in particular, organizations that provide programming for inner-city, underserved youth who lack the exposure and experiences of their suburban peers."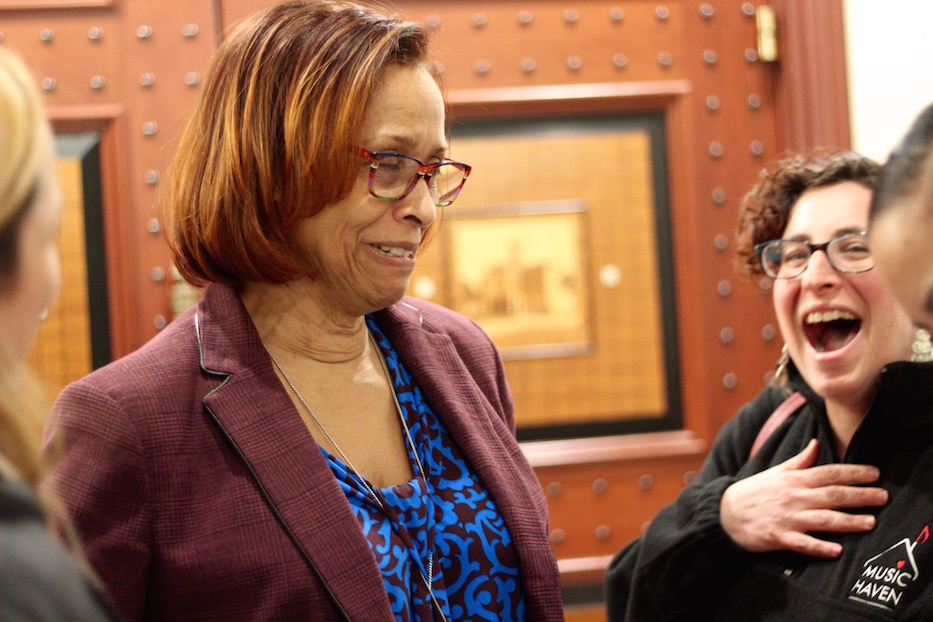 Walker outside the hearing with Jackson, Davenport, and Music Haven Director of Operations Milda McClain.
Back in Hartford, state legislator suggested they had heard the message clearly. On Monday and Tuesday alone, so many calls of support came in that DiMassa joked that Music Haven had shut down the Capitol's switchboard.
Porter, who represents several of the neighborhoods that Music Haven's students come from, said the message spoke to her because of music's impact on educational development, and specifically on science and math skills.
"[These are] some of the subjects that many students in that area, partly in my district, struggle with," she said to Davenport. "There are so many reasons why kids should have access to music, and it upsets me that a lot of the schools in my district don't have the resources to have music teachers in the schools."
"I believe that music really would change the trajectory of so many of our struggling students if they had the access that your beautiful children have," she added.
After close to four hours, the organization got some of the news it had been hoping to hear. Walker commended Jackson for mobilizing with such force.
"We will make sure that it's put back," she said.