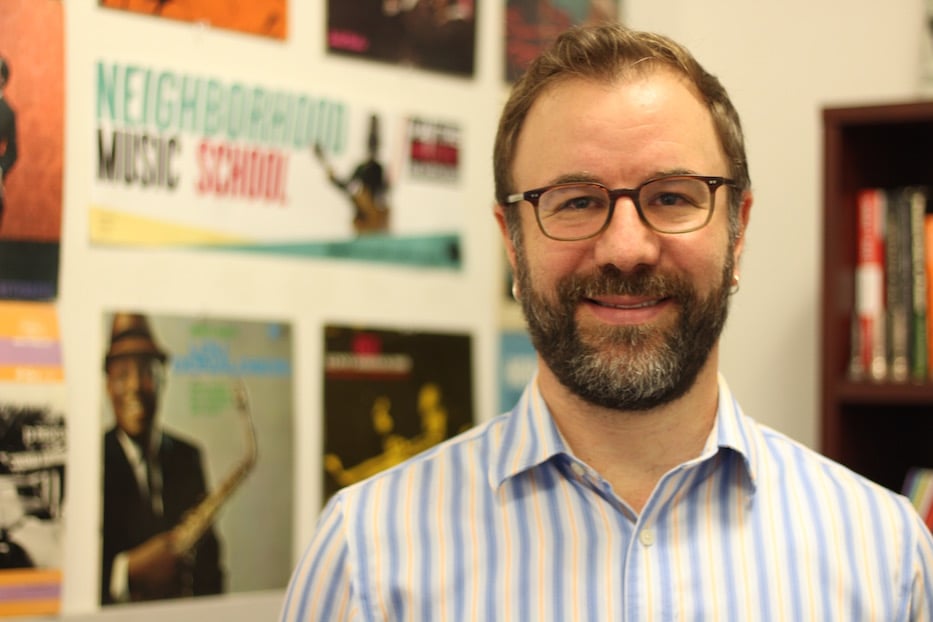 Audubon Arts | Dance | Drama | Music | Arts & Culture | Neighborhood Music School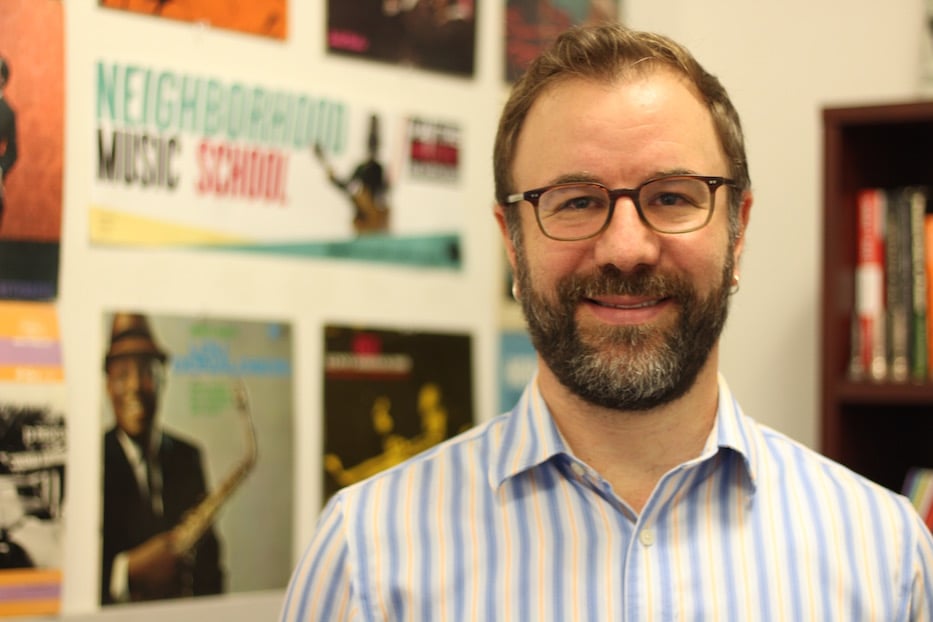 "I believe deeply that the arts are a human right and not a privilege, and I think we need to champion that." Lucy Gellman Photo.
Neighborhood Music School was built on a platform of economic access. Now its new executive director wants to get it back there.
That's the story for Noah Bloom, who was named executive director of Neighborhood Music School (NMS) last week. Daniel Gurvich, who joined NMS as executive director in May 2015, stepped down at the end of June.
Prior to his appointment Bloom served as director of programs at NMS for seven years, with a brief stint as interim executive director when Larry Zukof retired from an 18-year tenure in 2014.
"I believe deeply that the arts are a human right and not a privilege, and I think we need to champion that," Bloom said in an interview last week, seated in his Audubon Street office. "In terms of developing life skills, and the skills that we're looking for to help students be successful in their future endeavors, the arts are the perfect platform."
For him, that means doubling down on an investment in community that he has been honing as a musician, music educator, and arts administrator for decades. Bloom grew up in New Haven, jumping between seven of the city's public schools as he built a foundation in jazz music. As a kid, his education took place not just in classrooms but in the city around him, including teaching peers during his time at High School in the Community and the Educational Center for the Arts, and studying at NMS himself.
When he left for New York in 1992, he grew his experience on large stages and at small community music schools in New York and California, including most recently the Church Street School for Music and Art in Tribeca. Then around 2012 he saw a posting for NMS' first-ever director of programs, and decided it was time to come home.
"I was really, really excited to do that work," he recalled.
When Zukof retired in 2014, Bloom wasn't interested in becoming executive director. As a friend described it to him, there were two ways to work in the arts, just as there were two ways to fight in the military. One was in the air, suspended above the globe with a bird's eye view of everything below. The other was on the ground, stumbling through the muck and sand one foot at a time.
"I was like, of course I need to be on the ground," he recalled. "That's where my place is at this moment. I had come to be a program director and I wanted to stay in this position."
But when the job opened up again earlier this year, NMS was in a different place. Since 2012, Bloom has expanded programming within the school and the community, working to grow NMS's footprint outside Audubon Street.
He worked with Gurvich to triple the school's financial aid budget in seven years and built new partnerships with organizations ranging from Elm City Communities (the city's housing authority) to Music Haven to The Word to Public Allies. He saw a board that was changing, from long-serving, more tenured members to new community voices that hadn't been at the table before. At the same time, he was hearing from community members who wanted a champion of New Haven at the helm. And suddenly, it felt like the right moment.
"We have to do this one conversation, one relationship at a time, at the same time that we're being very active in doing it [access] on as big a scale as we can," he said. "And I think, trust equals time. We haven't necessarily done that. We're gonna keep fighting every day. And I have hope."
As he makes the leap, he has developed a three-pronged strategy around "the arts, diversity under one roof, and lifelong learning." What that means, he said, is not just championing the students and staff who are already at NMS—the school has over 200 full-time and part-time instructors, many of whom have been locally and nationally honored—but also working to invite new voices to the table.
Starting this year, he said, he seeks to grow partnerships with local organizations including Music Haven, LEAP (Leadership, Athletics, & Education in Partnership), Creative Arts Workshop and Music In Schools among others. This year, Music In The Schools Lead Teacher Rubén Rodríguez will be bringing at least four of the program's all-city ensembles to NMS.
"Rather than it being Music Haven, Music In The Schools, New Haven Public Schools, Neighborhood—let's think about the student," Bloom said. "They have this lifeline from at least zero to 18 that we hope to help them and support them. How do we get out of the way and support them at key moments, and make sure that they have a pipeline and an ecosystem that supports them at all periods."
"We're still the richest state per capita income with three of the top 10 poorest cities, and nothing exemplifies that more than New Haven," he said. "And how do we get that under one roof? That means all ages, all neighborhoods, all interests, all skill levels."
Part of that is getting back to equity work that was once core to the school's mission. In 1911, the idea for NMS grew out of a settlement house in Wooster Square, where instructors from the Yale School of Music worked closely with Italian immigrants who had just arrived in the United States and often had very little or no money. By 1929, the school was fully incorporated and charging on a sliding scale, from 25 cents to $2 (today that's about $4 and $30).
But as the school became more popular, enrollment crept up and so did tuition. The Neighborhood House Music School became simply the Neighborhood Music School. It operated out of a Chapel Street location from the 1930s to the 1960s. Then in 1968, during a boom enabled partly by urban renewal, it became part of the nascent Audubon Arts District. Tuition kept creeping up. And suddenly it didn't seem like it was about access anymore.
"The school took on the cost of rent, and it just became more difficult, and the model really changed," Bloom said. "I think the mission never changed, but the execution of the mission wasn't there."
"I'm highly intrigued by that," he continued. "Because on the one hand, we have a president who is saying 'go home,' which is antithetical to what we're about as a settlement house. We're actually about the opposite, which is making a home for people to come together and feel comfortable in this environment, regardless of where they're from. Maybe now more than ever, that's the time we focus on that."
He also plans to focus on the initial vision with which Bitsie Clark built the Audubon Arts District, with the hope that it can become a gathering space for all of New Haven's artists and arts enthusiasts, rather than a predominantly white crowd. Already, NMS and Creative Arts Workshop have taken down barriers that used to exist between their buildings. An extension of the Farmington Canal Heritage Trail is planned to run through the area behind the building, and a bike share station now sits nearby on Orange Street.
NMS also plans to continue plans for ATLAS, an independent arts middle school set to begin in the fall. While Bloom classified himself as "a public school person in my heart"—he attended public school but sends his two children to private school—he added that he is proud of the fact that half of ATLAS' first cohort is receiving financial aid. The school's full price tag for the 2019-2020 school year is $25,000.
"We have this resource and it's an open space, and it needs to be filled," he said. "I fell in love with the mentality of the educators and what they're trying to do. I don't disagree that resources should go to public education, but I also know so many teachers and they're struggling so hard to provide the type of education that they believe will be beneficial to the public they serve."
When pressed on why ATLAS is necessary within a middle school landscape that already includes Betsy Ross Arts Magnet School and Edgewood Creative Thinking Through STEAM Magnet School, he said that "common core, testing, the amount of red tape does not allow" students to be as creative as they could potentially be during those years.
"My hope is that this school can be free for everyone someday, or perhaps that it can be a model that public schools can take on as they become more mavericks and free thinkers," he said. "The school was built as a public school model. All three of the educators are long-time public school teachers. They just didn't believe it was possible to introduce this form of education in the public school system."
Already, he said, he delights in interactions that show a school working towards access—even if it has a long way to go. He recalled listening to two students chat with each other a few years ago, during a lull in concert band practice. One hailed from the city's Newhallville neighborhood. The other was from the Connecticut Shoreline, and planning a party at his Madison beach house. They filled each other in on their respective neighborhoods.
"That's part of the plan," he said. "Access for all."
He added that that is part of his long-term (as in, 20 year) plan for NMS—to raise enough money in the community to offer tuition-free music classes "to those that need it." Currently, NMS offers after-school programming on a sliding scale, with free options open to students who come from households that make less than $75,000 annually.
In the short term, NMS has also drafted a four-year budget with an additional $2.5 million allocated for financial aid, and an extra $1 million to professional development and support to faculty and staff.
"There's just no reason why everyone shouldn't come here," he said. "I think they don't until they do. I agree that there's so much work to change that, but I think the way that it changes is we open our door and invite people over for dinner. Over time, we have work to do. That has to be a goal of ours."
At the school, that enthusiasm is palpable. Last week, Board President Amity Doolittle expressed her excitement for Bloom's appointment.
"An organization like ours ideally seeks a leader who is immersed in the vibrancy of New Haven and its surrounding towns, and who also possesses a deep appreciation and understanding of music, the arts and education," she wrote in a press release last Monday. "These qualities define Noah."