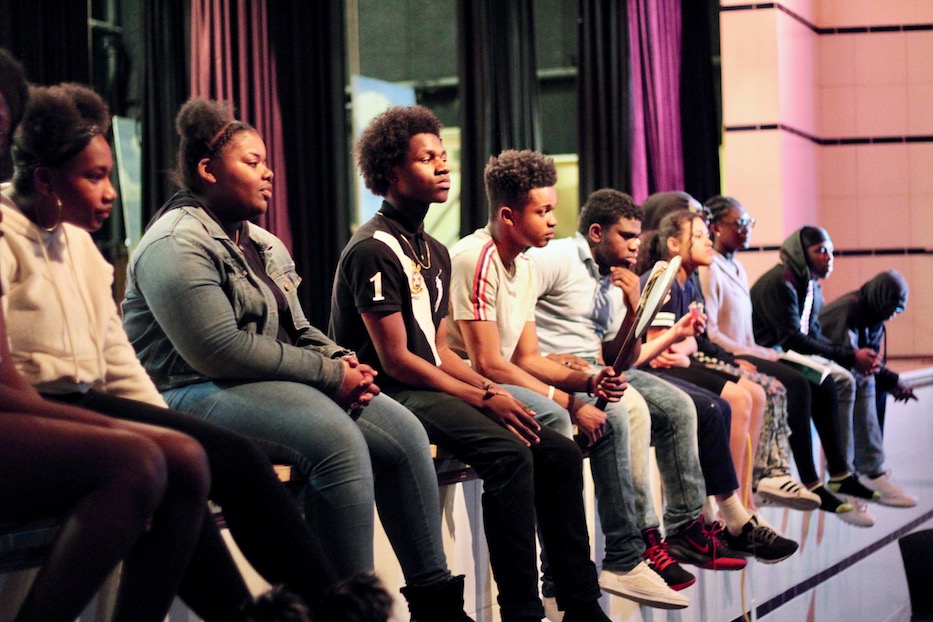 Education & Youth | Arts & Culture | Musical Theater | New Haven Public Schools | Theater | Whalley/Edgewood/Beaver Hills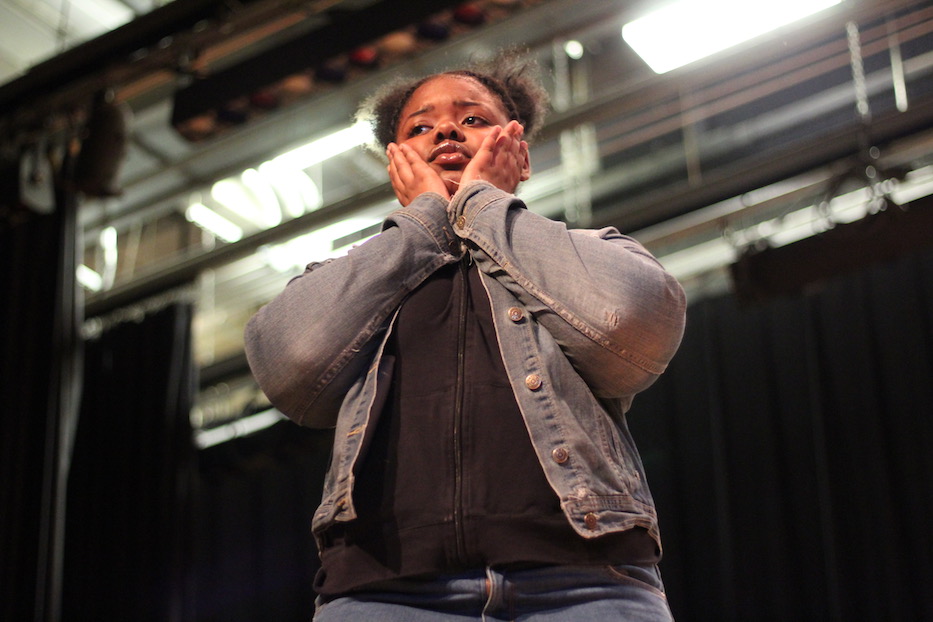 Victoria Kirkland as Dorothy in The Wiz. Lucy Gellman Photos.
Dorothy wasn't in Kansas anymore. She looked around, eyes wide and wet. To her right, a gathering of munchkins was forming at one side of the stage. A cornfield disappeared completely from view in the background. She wasn't alone, but she didn't know anyone in this new place either.
"Why do I feel like I'm drowning/When there is plenty of air/Why do I feel like frowning?/I think the feeling is fear," she sang.
Dorothy (Victoria Kirkland) is one of 13 actors in a small but mighty production of The Wiz, unfolding at James Hillhouse High School March 19 through 22. Spearheaded by Wilbur Cross High School grad and drama enthusiast Ty Scurry, the musical is the first to grace the school's stage in 10 years. The show's theme is #CreateYourLegacy; tickets and more information are available here.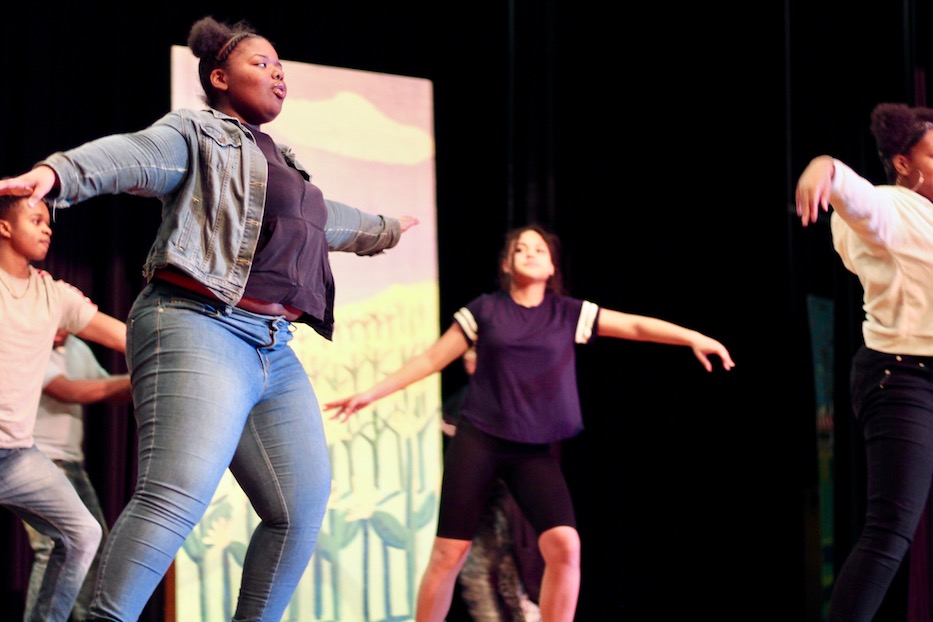 "The Wiz, to me, is not just a show about Dorothy," Scurry said at a recent rehearsal. "That's what everybody thinks. But The Wiz is honestly a show about finding yourself."
Scurry launched the process for a school musical last year, after students at Hillhouse expressed interest in bringing back the tradition (the last show was a decade ago, when Gail Staggers was still the drama director). The founder of the school's Academic Theatre Company, Scurry is a longtime musical theater devotee: he played Seaweed in productions of Hairspray at Wilbur Cross and Arts In CT, and was a part of Cross' Lights Up Drama Club in 2018 and 2019, as the school rolled out productions of Is There Life After High School? and Sister Act.
He started helping out at Hillhouse when he was still at Cross, and stayed on this year. It was a good fit for him: he has started courses for a bachelor of arts in theater education at Gateway Community College, with the hope of transferring to Southern Connecticut State University (SCSU) in the near future.
So when students asked him for a show, he consulted with drama teachers Salvatore DeLucia at Cross and Robert Esposito at Cooperative Arts & Humanities High School, and then pushed forward. While he considered other works—Once On This Island is a particular favorite of his—he kept coming back to The Wiz as a play that would click with a high school cast and crew.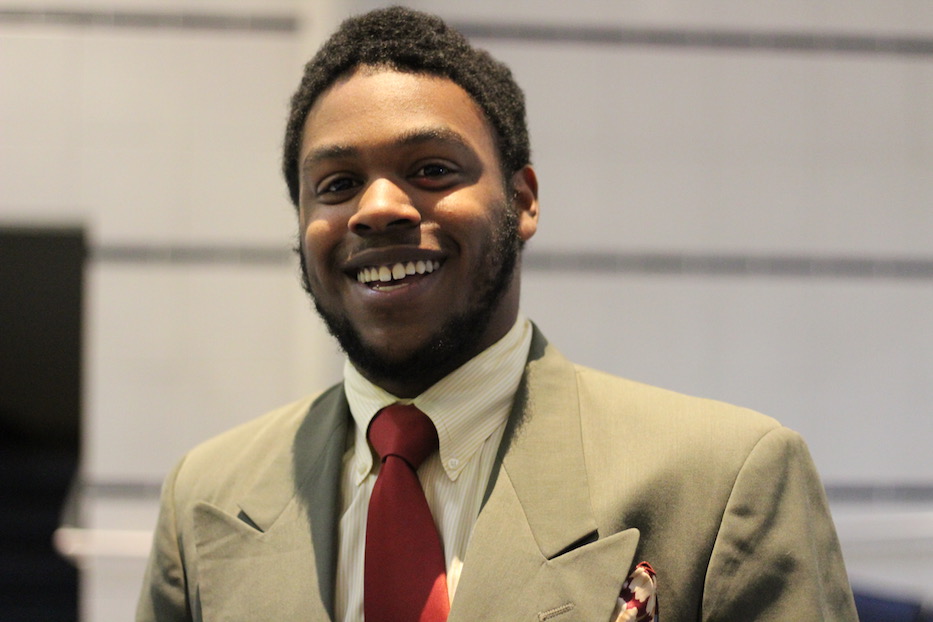 "The Wiz, to me, is not just a show about Dorothy. That's what everybody thinks. But The Wiz is honestly a show about finding yourself."
While he is a fan of the 1978 film (and Scarecrow Aveion Downs has moves to rival Michael Jackson's performance), he also wants to pay homage to the 1975 premiere of the work and original Broadway cast.
He's told students that he expects them to work toward "the Broadway standard," while also learning the fundamentals of musical theater. He's firm but gentle, often rallying his dramatic troops with the call-and-response of "Agó!" (are you listening?) and "Amé!" (we are listening).
"This show connects to students not only skin tone wise, but what they're surrounded with," he said. "They all listen to rap music. They all listen to gospel. They all listen to R&B. And that's what this show is constantly surrounded with. It's pretty much immersed in this thing that is … just a lot of good music."
Last year, he drew up a budget and applied for the rights to the show. He put up posters for auditions around the school, which took place at the end of October. When only seven or eight students showed up to audition, Scurry encouraged them to enlist their friends and classmates. He assigned double, and sometimes even triple, roles. He decided he was going to make the play happen.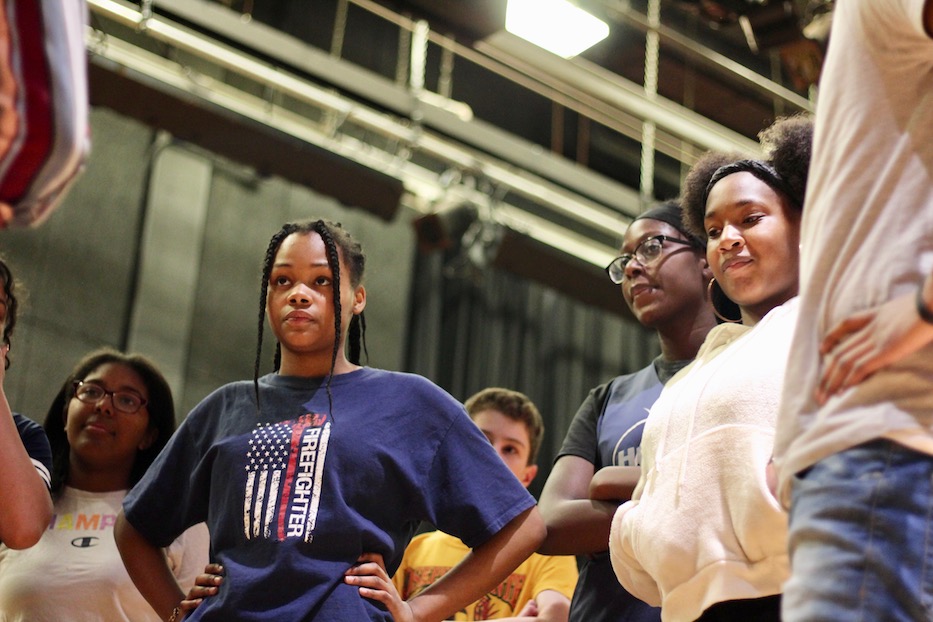 While The Wiz is usually an ensemble work with three dozen characters, this performance has a cast of 13 and a small crew. In the show, every position of power—including Lord High Underling, The Wiz, and all the witches—is played by a woman.
At a recent rehearsal, Scurry scoped out the auditorium as actors ran through warmups to Andy Grammer. Thirteen bodies bent into downward dog and lunged forward in unison, then stretched their hands to the sky. On stage, choreographer Cheyenne Santello brought actors into a huddle around her.
Giggles and whispers stopped suddenly. As if she had waved a magic wand, they fell to a hush.
"Now is not the time to give up," she instructed them. "Now is really the time to focus and work hard."
Actors took their places for act one. Jim Teti, who is the musical director for the show, started in on the overture. Keys tinkled and lifted. Elizabeth Feliciano rolled onstage with a basket of laundry and turned immediately into Aunt Em. Kirkland jogged past her looking for Toto, and became Dorothy while still in her school clothes. Feliciano chided her firmly for not helping out enough. They seemed to have no idea what kind of storm was coming.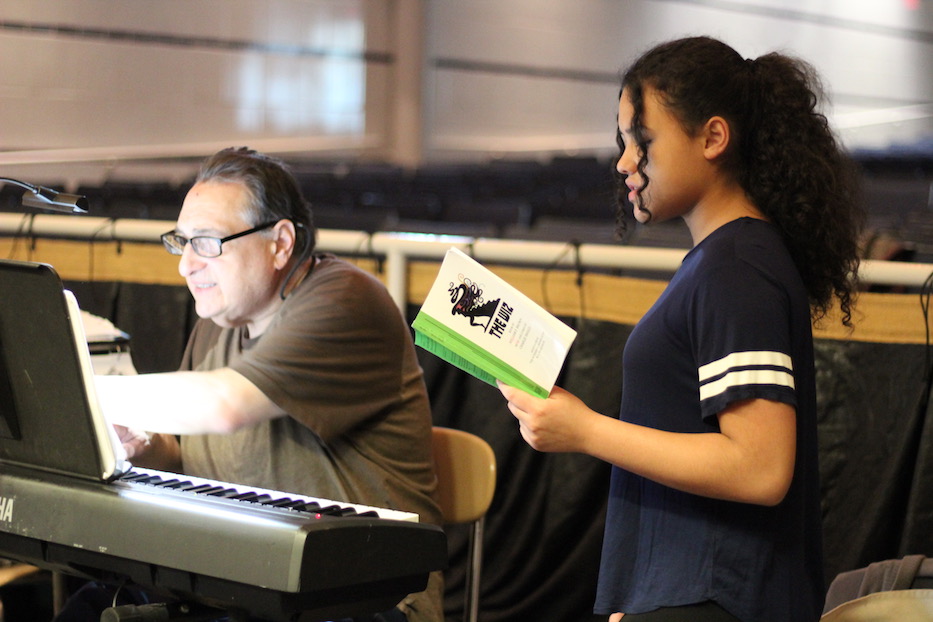 "Put your arms around me child/Like when you bumped your shin," she sang tenderly. "Then you'll know I love you now/As I loved you then."
Moments later, the wind had picked up. For the next hour, the cast took the audience—thanks to tech, a few alumni and a largely empty auditorium—to Oz. From a backdrop of cornfields neatly painted by the cast and crew, the stage transformed into a fantastical landscape through its cast members alone. Dorothy got caught in a human tornado, the first of several intricately choreographed numbers from Santello (she is a fan of kick lines, which appear almost as commonly as the show's patented Broadway hooks).
As they eased on down the road, each actor brought their own panache to the role. Faith Young appeared as a fully twenty-first century Addaperle, flaunting glittering swag and a ready-for-the-runway strut that introduced her character before she even opened her mouth.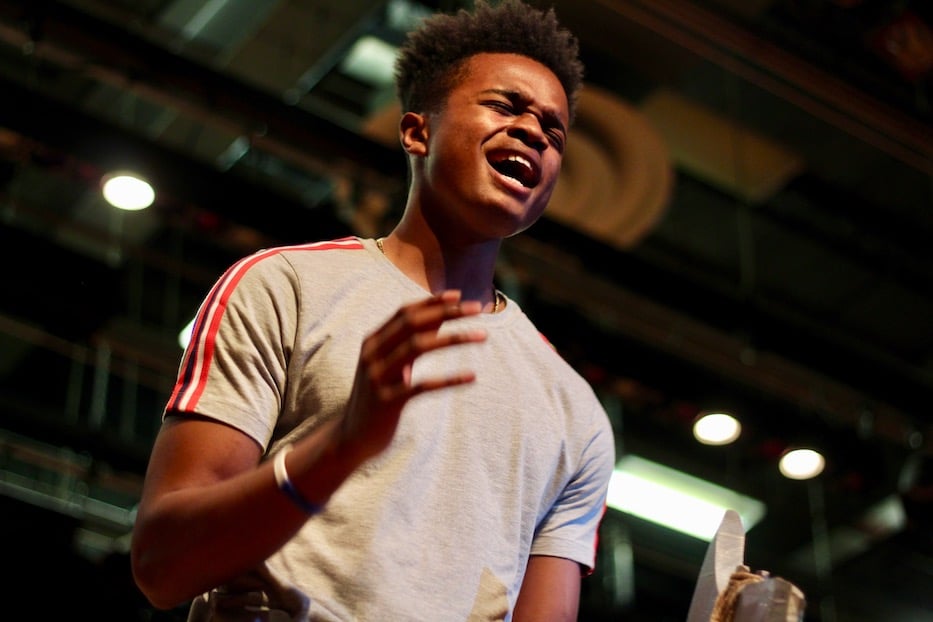 Scarecrow Aveion Downs and Tin Man Shawn Sufra, who also perform together in the teen doo-wop group Kompozure, mined their roles for literal elasticity and creaky humor. Claiming the stage as his own, Downs performed a series of stage falls that turned his body into both straw and rubber. Sufra delighted in the pauses and missteps that make his character's lines so funny. Behind them, an ensemble filled in the backup vocals and became munchkins, Kalidahs, and attendants at the Emerald Castle.
And as Dorothy, Kirkland seemed to grow into herself as the show went on, with the realization that she would never make it back to her home if she didn't walk a winding path with some newfound friends, faith in her own voice, and a pair of sparkly shoes. Towards the end of act one, she became particularly dynamic while pitted against Priscille Adopo, a Wiz who comes with a side of sass and moxie. In real life, the duo serves as the president and vice president of the drama club.
For Scurry, that ability to relate is part of the point. Each time they step into the roles, characters tell a story of self-sufficiency and friendship that is flecked with humor but also sadness, loss, and the fear of the unknown. The lion (Jack Marchand) doesn't know if he'll ever get his courage, and he plays his lack of ferocity for both laughs but also a kind of grief and self-derision.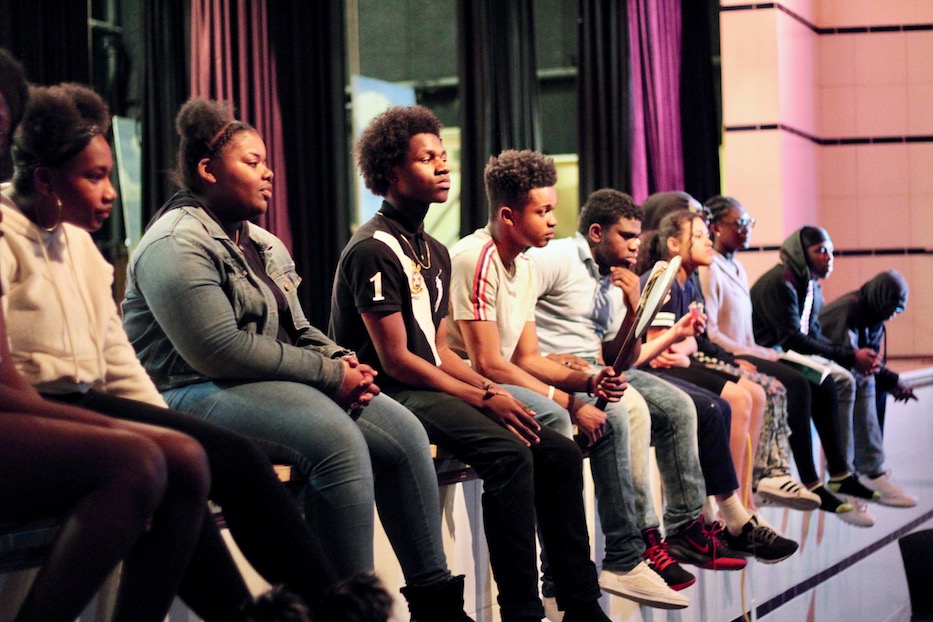 Dorothy keeps going, but she's visibly scared and not afraid to show it. The Wiz isn't, in fact, all that—but even she doesn't know how to release herself from a web of perceptions that are hurting her.
"Dorothy goes through this transition of not wanting to be home, but as soon as she isn't home, she wants to go back," Scurry said. "Tin Man, he doesn't have a heart, but he's the most heartfelt person in the entire show. He has to find that. And so, this whole show is based on people not knowing what they have already inside of them."
He added that he sees this performance as the beginning of a new era for theater at Hillhouse. Praising the legacy that Staggers left as drama director, he noted a "weight" that he feels as he carries it forward. Already, he is working on ideas for next year's play, about which he remained relatively tight-lipped.
"For me, live theater is everything," he said. "There's nothing like watching somebody onstage and being transported somewhere that you've never been before."
The Wiz runs at James Hillhouse High School March 19 through 22. Tickets and more information are available here.