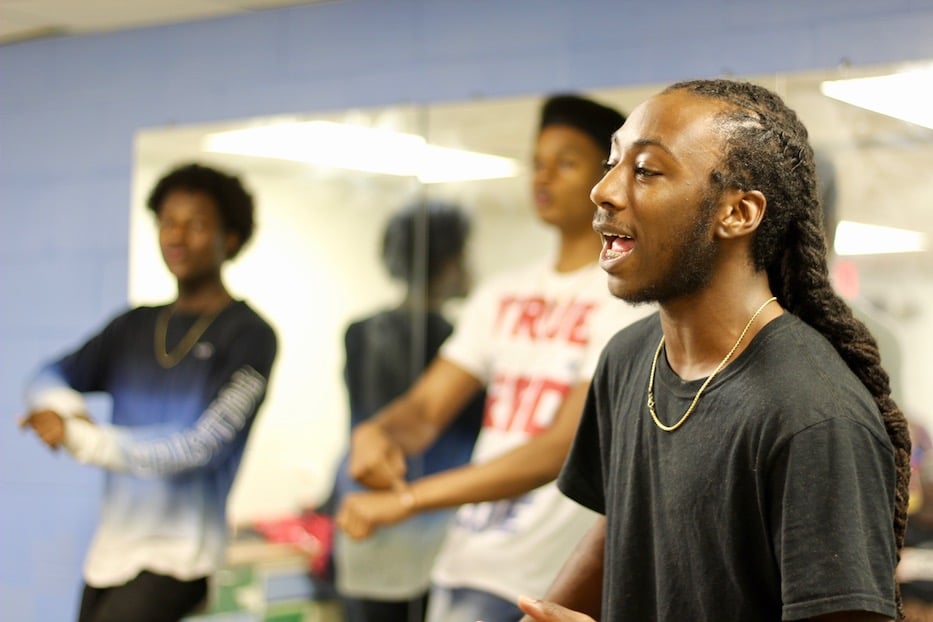 Education & Youth | Ice The Beef | Music | Arts & Culture | Whalley/Edgewood/Beaver Hills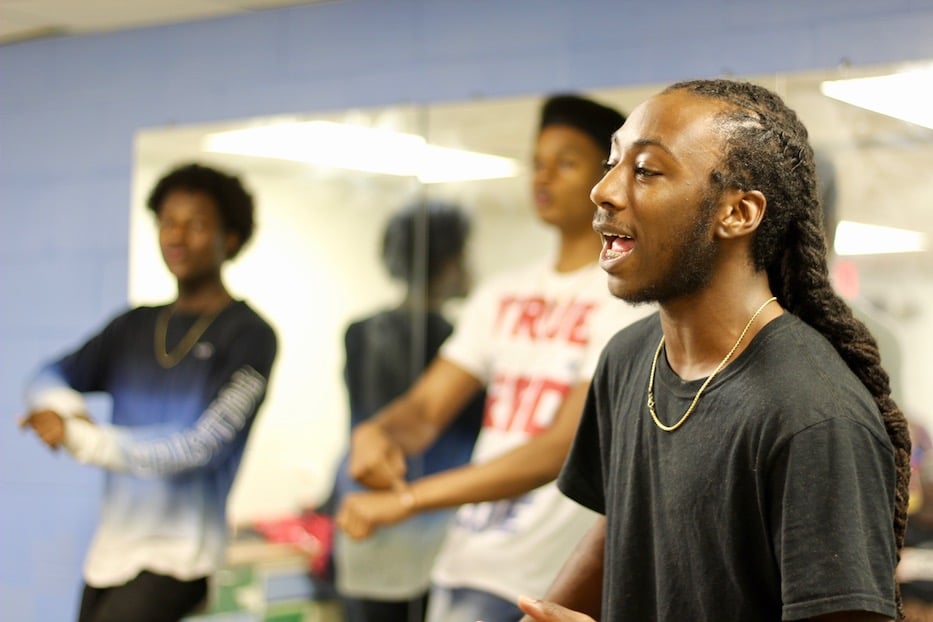 Javione Hinds in the foreground, performing "My Girl;" Aveion Downs and Shawn Sufra in the background. The three, who comprise the teen doo wop group Kompozure, head to the Apollo in New York City on Oct. 23. Lucy Gellman Photos.
On the lip of a makeshift stage, Aveion Downs was channeling Buddy Johnson and Lenny Welch with his whole body. With one leg, he steadied himself; with the other he tapped Johnson's rhythm straight into the floor. The ghosts of doo-wop rose from the spot. Javione Hinds and Shawn Sufra swayed behind him. Downs reached out to the audience, hopping off the stage to make his way into a giggling crowd.
Lo o o ve brings such misery and pain
I guess I'll never be the same
since I fell for you
Downs is a member of the teen doo-wop trio Kompozure, a project of the youth anti-violence group Ice The Beef. On Oct. 23, the three head to Amateur Night at the Apollo, a multi-week talent competition with a $5,000 grand prize. They are the second act to compete from Ice The Beef; the first was vocalist and High School in the Community grad Chyann Houser, who competed last year.
"There aren't a lot of groups out anymore," said Chaz Carmon, who leads the program. "If you can get a group together that can sing, and dance, and harmonize together, it's a major draw. I think the main difference between them and anyone who's done this—except in the 60s, and 70s, and 30s—is the music and content they're singing."
Kompozure came together two years ago, when Downs, Hinds and Sufra met through a combination of Ice The Beef and their schools. All three are high school seniors; Downs and Sufra both attend James Hillhouse High School and Hinds is at Cooperative Arts & Humanities High School, where he studies choir.
All of them gravitate towards old music as well as more modern work: Downs came into the group with a particular love for the 1970s and 80s, Sufra likes Haitian music and the 1990s, and Hinds goes back further, to doo-wop and Motown (he praised Sam Cooke as one of his all-time favorite musicians and role models).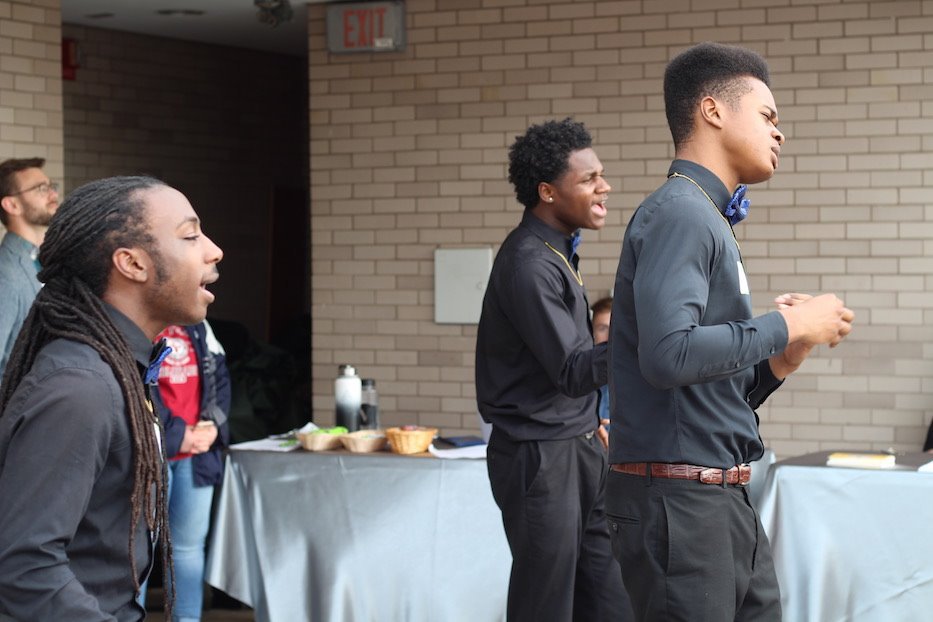 Kompozure performs in June 2019 at the Arts Council of Greater New Haven's annual meeting. Lucy Gellman Photos.
Their interest in doo-wop specifically bloomed two years ago, when Hinds played Boyz II Men's "In The Still of The Night," itself a cover of a doo-wop original by the New Haven-based The Five Satins. Downs recalled feeling delighted and transfixed as he listened to the song.
"It had a doo-wop feel to it," Downs recalled in an interview Monday, at the Goffe Street Park athletic field house where they practice. "Because it was making our harmony better."
Over two years, they have built a repertoire that includes The Temptations, The Penguins, Lenny Welch, Jodeci, The Hollies and others. Downs said he feels like the act of singing tethers them to musical history, as if each song is a portal to the past and their harmony and intricate, gymnastic choreography is the key to get in. It's particularly true for him now that they're headed to the Apollo, to perform on a stage that has held James Brown, The Jackson Five, Aretha Franklin, Marvin Gaye, Diana Ross & The Supremes and hundreds of other performers.
"The music that we go back and sing, it's way better," Hines said, adding that he knew the Apollo's name first from watching BET as a kid, then developing his own musical tastes. "Like, their perspective on life and love and music was a whole different way of being creative. Now, it's all about sexual intercourse and other things about money and material possessions."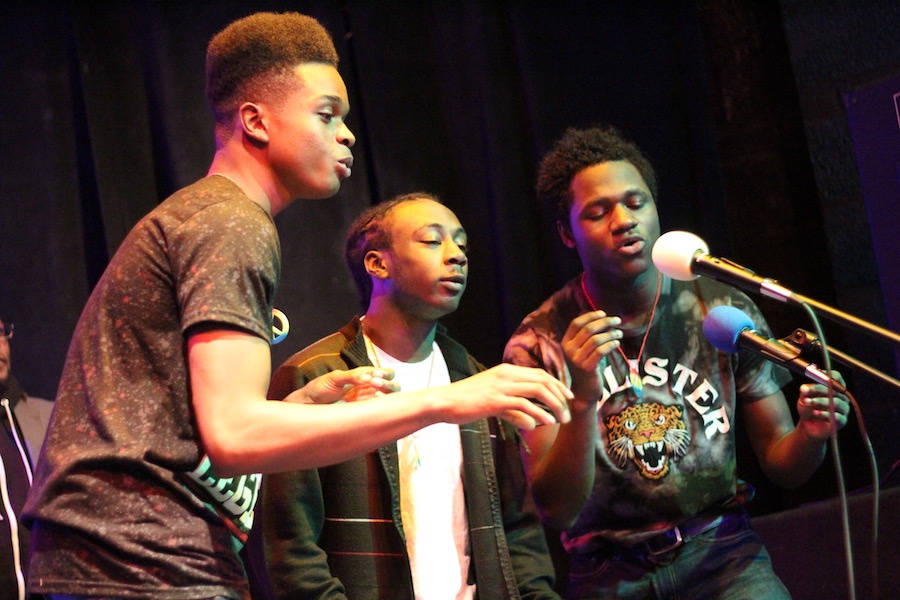 Kompozure performs in November 2018 during Hear My Soul Speak, a collaboration amomh Elm Shakespeare Company, Southern Connecticut State University (SCSU), the Whitney Center and Survivin' N' Da Hood. Lucy Gellman Photos.
They've also found that it's a hit with their female classmates. Sufra joked that when they started, "it was a motivating factor"—that there was something about crooning away in a glittery bow tie and dropping into an onstage split that had its own kind of appeal, and set him aside from his peers. Each week, the group practices after school in the small athletic house on De Gale field, where Ice The Beef has set up shop.
In September, the group decided to attend auditions for Amateur Night. On a weekend morning, they arrived in New York City before 9 a.m., surprised by how long the line already was. Downs was cautious: he thought they should save their vocals as they stood outside. But Hinds wanted to warm up. From the line, someone egged them on ("she was like, can these cats really sing," recalled Hinds).
No sooner had the three launched into Jodeci's "Stay" than a small crowd started to form. From the sidewalk, people eased into the music. A few started to sway along. By the end of the song, people were cheering and clapping. They pressed on to "My Girl," letting The Temptations guide them. By the time they got in front of the judges—which was hours later—they were warmed up and buzzing with excitement.
"It felt like we were at home, even though we were in New York," Downs said. "It was like, they made us feel comfortable. There was much love—no, like, 'oh, we're better than you,' none of this or that. It was just like, oh, 'you guys are good.' It was like family."
It comes at a time of greater momentum for the group. All three want to go on to college after this year, but they are also interested in staying together, working long enough to save money and relocating to Los Angeles to try performing professionally. This month, Carmon said they've also fielded interest from record producer Amadeus, as well as Universal Records.
In the short term, they are honing their work for Oct. 23. At a recent rehearsal, they ran through a 15-minute set, charming fellow members of Ice The Beef as they perfected their tight, dizzying footwork, exuberant leaps that went right into half- and full splits, and a fair amount of audience interaction.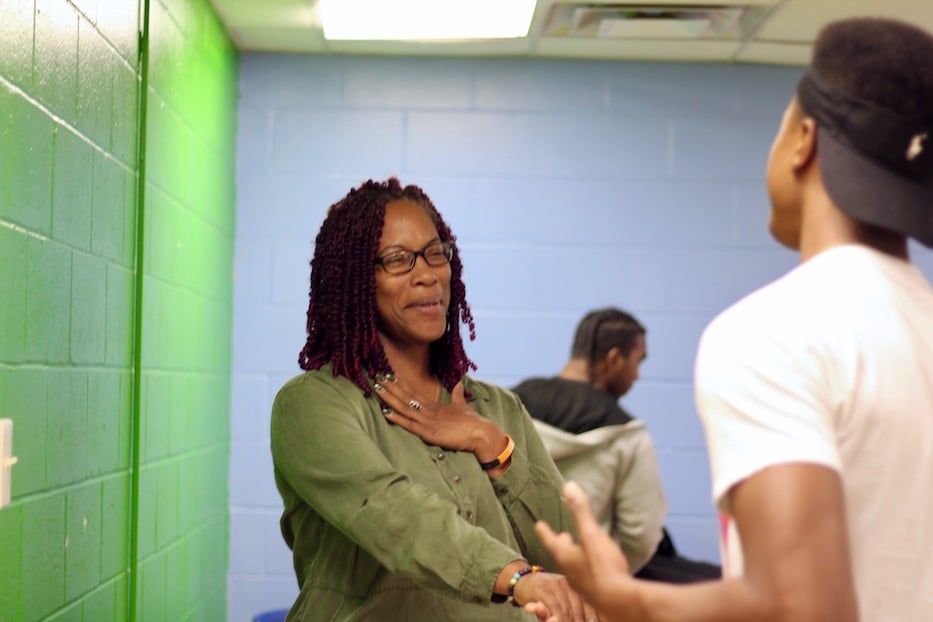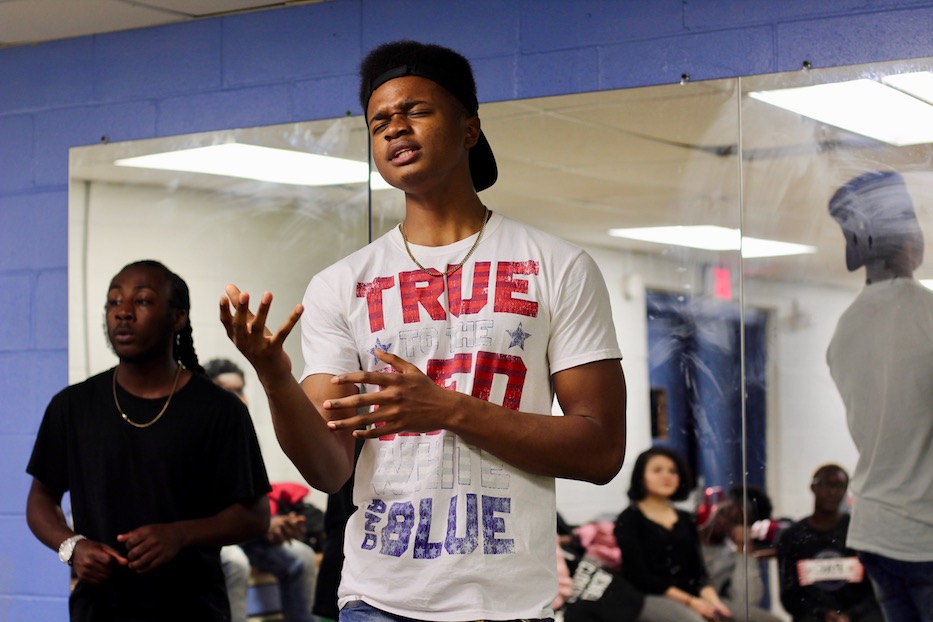 Sufra. Lucy Gellman Photos.
Around them, no one seemed to mind a low-hanging, sticky heat from a humid October. Perfecting their turns before a wall-length mirror, the three drew applause and cheers of "go ahead now!" as if they were taking Ice The Beef to church. Instead, they traveled back in time, teasing out the history of a musical movement while also making it their own.
Performing The Penguins' "Earth Angel," Sufra worked his way through the group, getting laughs and grins along the way. Rachel Spells, who recently came on as the organization's vice president, playfully clasped her hand to her heart as he serenaded her. After the rehearsal, all three said they are nervous but excited for the performance, where they are plan to put New Haven—and themselves—on the musical map.
"Seeing all of them performing up there, and now I get to perform?" said Downs. "That's a gift. We might as well go out, and give it our all."
Kompozure performs at Amateur Night at the Apollo on Oct. 23, 2019. Tickets and more information are available here.