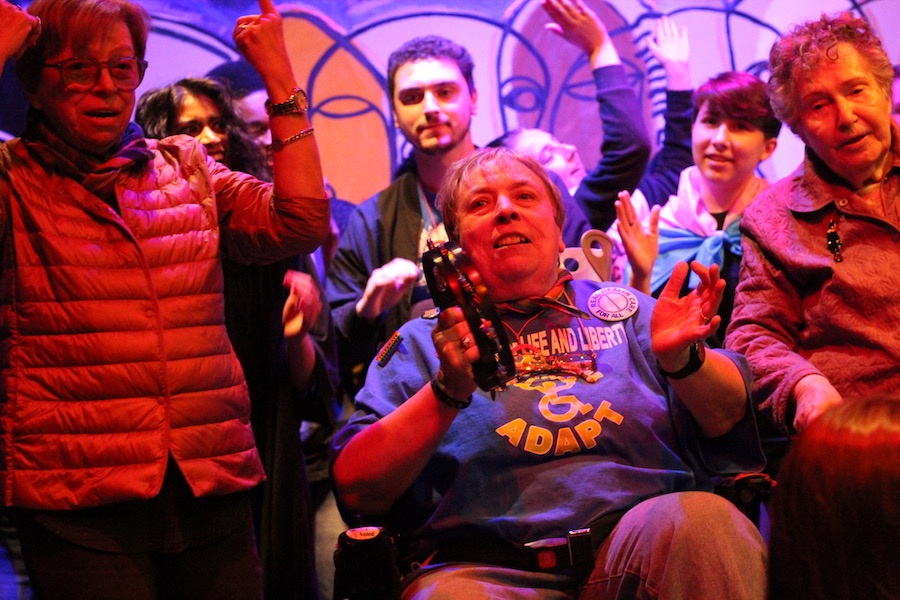 Elm Shakespeare Company | Theater | Arts, Culture & Community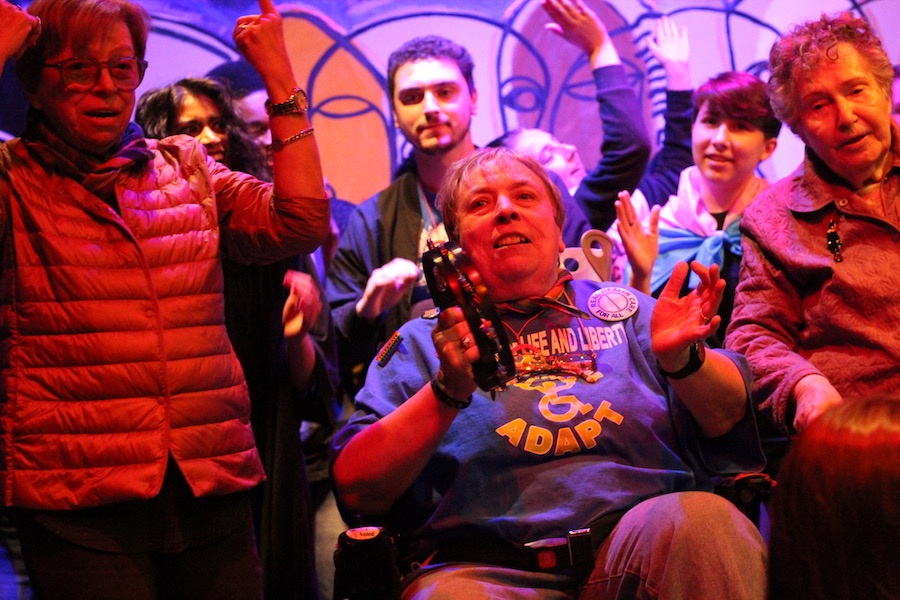 Elaine Kolb, performing "Not Dead Yet" as a final number: Peace with justice. Lucy Gellman Photos.
Actors from Ice The Beef were just trying to make it out alive. Seniors from Whitney Center wanted the crowd to know that they weren't dead yet. A group of LGBTQ+ teenagers were ready to explain the difference between gender identity and expression with a rock band metaphor. And the theater majors in the group asked—what's the big deal with their career choice, anyway?
Sunday night, several community groups came together at Bregamos Community Theater for the first annual Hear My Soul Speak, a new collaboration between Elm Shakespeare Company, Southern Connecticut State University (SCSU) and Survivin' N' Da Hood intended to build social justice through intersectional and intergenerational storytelling.
After launching the initiative in June, organizers worked with performers from anti-violence group Ice The Beef, Whitney Center Senior Living, LGBTQ Teens and Allies, and SCSU's Crescent Players. Over 100 attended the event, titled after Ferdinand's admission of love to Miranda in Shakespeare's The Tempest.
Members of Ice The Beef Youth perform.
The collaboration began earlier this year, after Elm Shakespeare Director Rebecca Goodheart reached out to Survivin' N' Da' Hood Co-Directors Duke Boozer and La'Rie MacGruder with a problem. Around her, she told them, she saw community groups talking past each other, or not talking at all. When they did come together—which was rare, and often felt segregated—no one seemed to be listening to what anyone else had to say.
So they hatched a plan: get different segments of the greater New Haven community in the same room, and have them make theater for and by each other. Goodheart said she hopes that this first performance will be the first of many to come.
"If you can speak from your soul, and you can hear what's coming, that's the beginning of social justice," she said before actors took the stage. Addressing the audience directly, she added that "you are a part of this."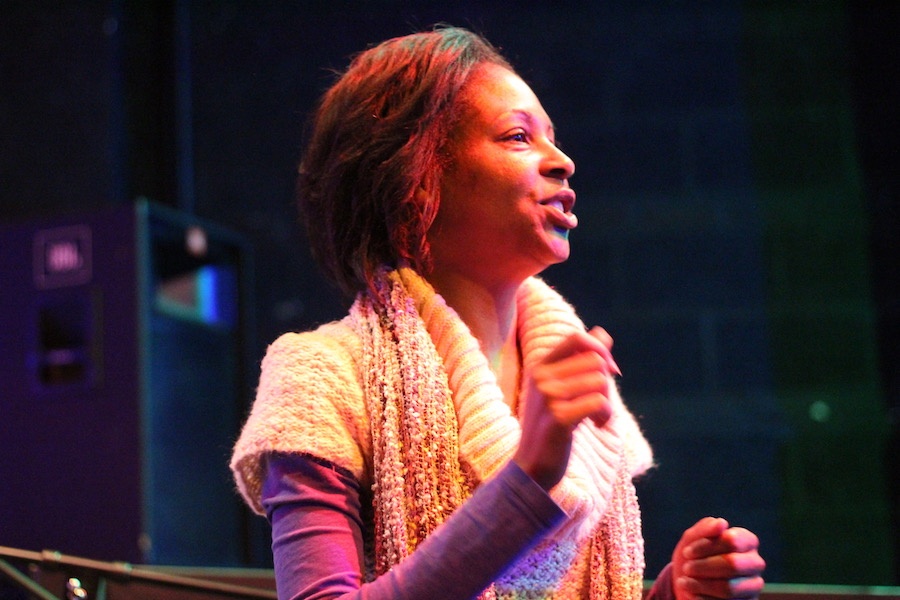 Survivin' N' Da' Hood co-founder and co-director La'Rie MacGruder said that she saw Hear My Soul Speak as the first iteration of sustained community conversations.
For just over an hour, performers took the stage to speak their own souls, weaving Shakespeare into their titles, lines, and ensemble numbers when the audience least expected it. Taking the stage to the lyrics "I'm just a youngin/Who's just tryna' make it out/Not with the drama/That's not what I'm about/But if you wanna/We can work it out/We can we can work it out," 13 member of Ice The Beef spun through their act, mixing music in with careful choreography and lines from Shakespeare's Comedy of Errors.
"We came into the world like brother and brother, And now let's go hand in hand, not one before another," they spoke in one voice, channeling the Bard.
Freezing and unfreezing to a drumbeat, members told the audience where they thought they might be if they hadn't found Ice The Beef Youth, a grassroots group that uses fine and performing arts to combat gun violence and organize for job growth and safe neighborhoods. Lines flecked by grim what-ifs sailed softly over the audience before they were swallowed up again by the drumbeat.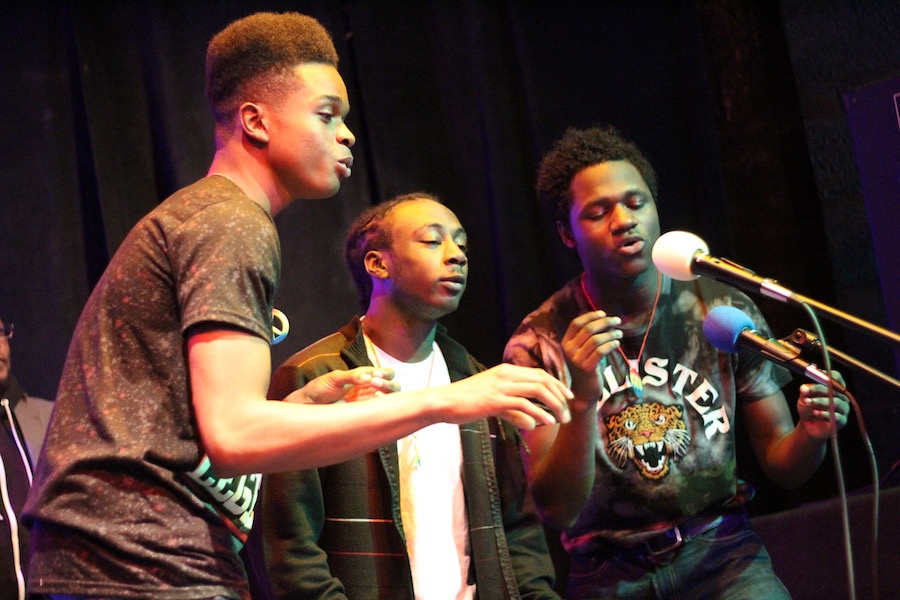 Members of Ice The Beef breathed new life into "He Ain't Heavy He's My Brother" during the performance.
"If I didn't come to this group/I'd probably be on probation," said Chyann Houser, a student at High School in the Community (HSC) who did come to Ice The Beef—and went on to perform at the Apollo earlier this year. Behind her, six members of the group froze, reaching down at their right ankles as if they were wearing monitors.
She spun a list of scenarios that followed: selling weed, in jail, still fighting with her peers. Dead on the street. A few breaths caught in throats around the room, diffused as three members crowded around the mic for an R&B cover of The Hollies' "He Ain't Heavy He's My Brother."
Other groups kept the dialogue going, playing up the personal pain and frustration their'd experienced from stereotype and bias. From Elm Shakespeare's Summer Teen Intensive, a troupe called the LGBTQ Teens & Allies conquered the stage, performing an adapted version of their original play Beneath The Sky. As they spoke, they spliced in language from Shakespeare's The Merchant of Venice ("If you prick us, do we not bleed? If you tickle us, do we not laugh?").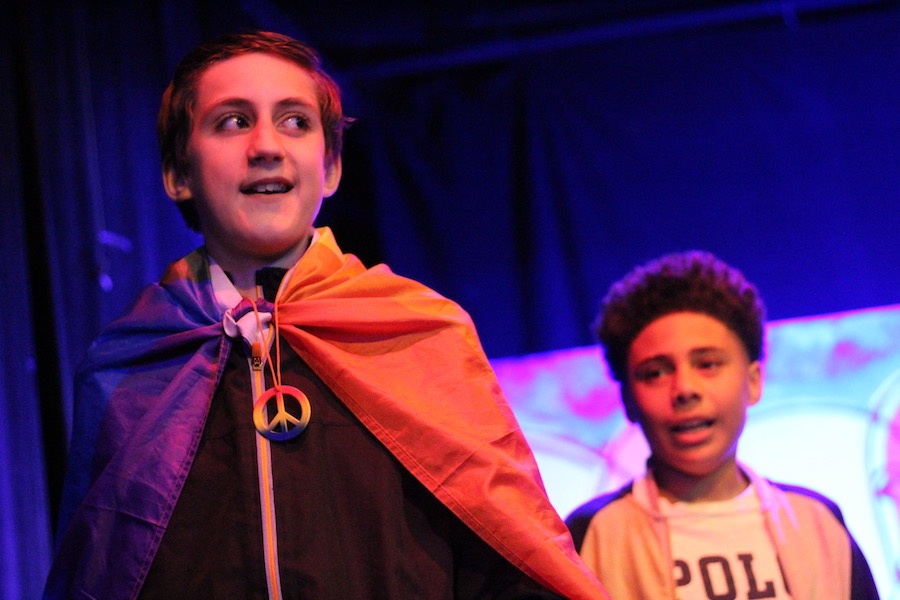 The LGBTQ Teens And Allies asked: If you prick us, do we not bleed?
In one scene, they dove into trans and non-binary gender identities. With rainbow and blue-and-pink trans pride flags hanging from their shoulders like superhero capes, they walked a befuddled narrator—and by extension the audience—through the differences between gender identity and gender expression by forming rock bands of the same names.
"We're so different from them!" proclaimed the head of the band "Gender Expression."
"I can't believe people mix us up!" said the leader of "Gender Identity"
"But we can accept our differences," countered Gender Expression's leader.
A member from the back of Gender Identity jumped up in the air, raising their arm as they came down. "Let's jam!" they said. The audience laughed as a real-life guitar riff rang out from the theater's speakers.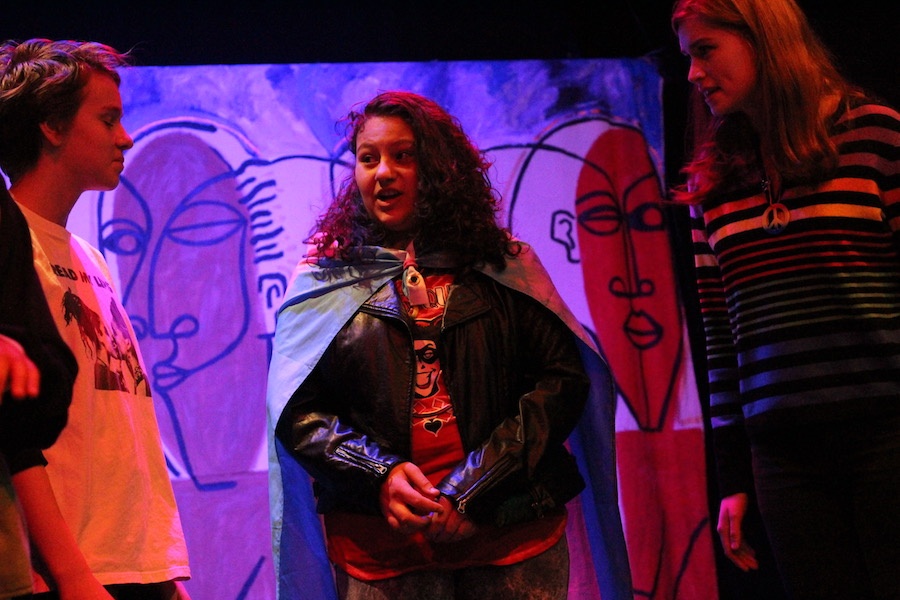 From SCSU, a handful of five Crescent Players formed a line for "Awake Your Faith," still for a moment before speaking. They locked eyes with the audience as they announced their calling—intrepid theater majors—then stepped forward one by one, impersonating parents, guidance counselors, friends and even bullies who had questioned their career choice.
"Oh, you wanna act?" Sasha Mahmoud asked aloud, lowering her voice as she glowered out at the audience. "Why don't you act happy, you stupid fucking bitch?"
"Why, you wanna do theater with the other fags?" Matt Iannantuoni recalled hearing. His mouth fixed into a straight, downward line as he stepped back and the words hung in the air.
Melanie Byron (at center, with SCSU Crescent Players): Why do I need a backup plan?
But perhaps the evening's most powerful performances came from the elders at the Whitney Center, with both solo and ensemble pieces that moved many in the audience to tears. Rolling up a ramp to the stage in her motorized wheelchair, disability rights advocate Elaine Kolb performed a kind of folk ballad on disability rights, belting lyrics as she dug into the song, and flung her arms out to the side.
Some call us disabled/While some call us worse
Some think we are saintly/Some think we are cursed
Some don't want to see us/But we won't go away
We know that our pride/Comes from deep down inside
We proclaim it today
Later, she returned to the stage with four others from the Whitney Center, helping weave a story of a woman who was too depressed to head to the polls without her late husband by her side—until her friends rallied around her. As they waited on a stage-turned-parking lot for the bus that would take them to vote, they recalled hearing a resident refer to the push to the polls as "erection day" instead of "election day."
They turned to the audience amidst peals of laughter.
"Well," the five said in unison shrugging their shoulders, "what else do you think we talk about?"
During a talkback that followed, both Boozer and MacGruder said that they see the event as a jumping off point, from which conversations can start and filter out into the community. As actors filled the stage, audience members raised their hands, offering positive feedback for the actors, and suggestions on where they'd like to see the initiative go next.
"I felt the general need of people to belong," offered one woman from the back of the theater. "That was very moving to me."
"We have to embrace the fact that we each carry prejudices," said Storytellers New Haven Co-Founder Karen DuBois-Walton, challenging Goodheart's notion that "we are standing in a room off the converted." "How does what we just worked on today become a real change in our lives?"
As if answering a palpable absence—there were no native or immigrant voices in the room, political organizers, or representatives from New Haven's upcoming trans awareness week events—Goodheart also said she hopes to grow community partnerships in the coming months. But for some of the participants, she's already well on her way.
"I feel like I've found a home," said Kolb, praising the multigenerational and interracial approach of the program. "And its a home I've been hungry for for most of my life ."
"We have an opportunity throughout the community to build real community," she added. "Peace with justice."
To watch the full performance, click on the video below: