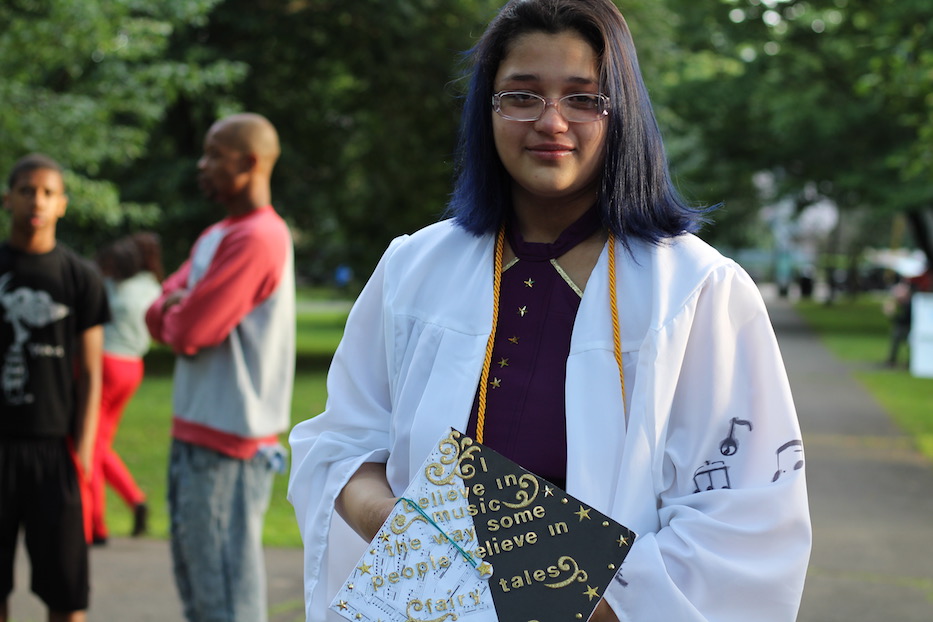 Education & Youth | High School in the Community | New Haven Public Schools | Arts, Culture & Community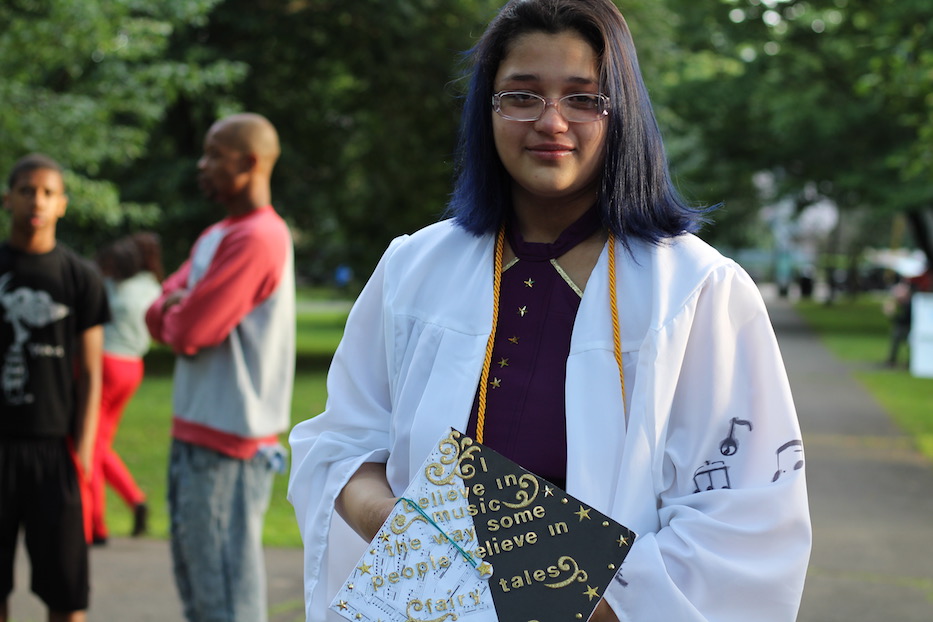 Lincy Valeta: "My time here has shaped me into what I want to be. It's been a really great three years." Lucy Gellman Photos.
When Lincy Valeta entered High School in the Community as a transfer her sophomore year, she worried that she'd already missed the window to make friends. By the time she graduated, she was leading the charge to bond with new students, note by note.
Monday, Valeta was one of 50 students to graduate from High School in the Community or HSC, the small law and social justice high school that started as a teacher-led experiment in 1970. The ceremony was held just blocks from the school's Water Street building, in the sun-dappled center of Wooster Square Park.
The graduation doubled as a chance to honor and say goodbye to Jack Stacey, who has taught history classes and led mock trial at the school for 16 years. Watch the video below to hear some of his remarks to the class.
Throughout and after the ceremony, graduate after graduate recalled a supportive and tight-knit student body, on which they had called in ways that they couldn't have imagined freshman year. Introducing the class of 2019, Building Leader Matt Brown recalled several instances in which students who were known for one thing—academic merit, maybe, or mastery of an instrument—but had quietly worked with each other to lend a hand somewhere else, just because it was needed.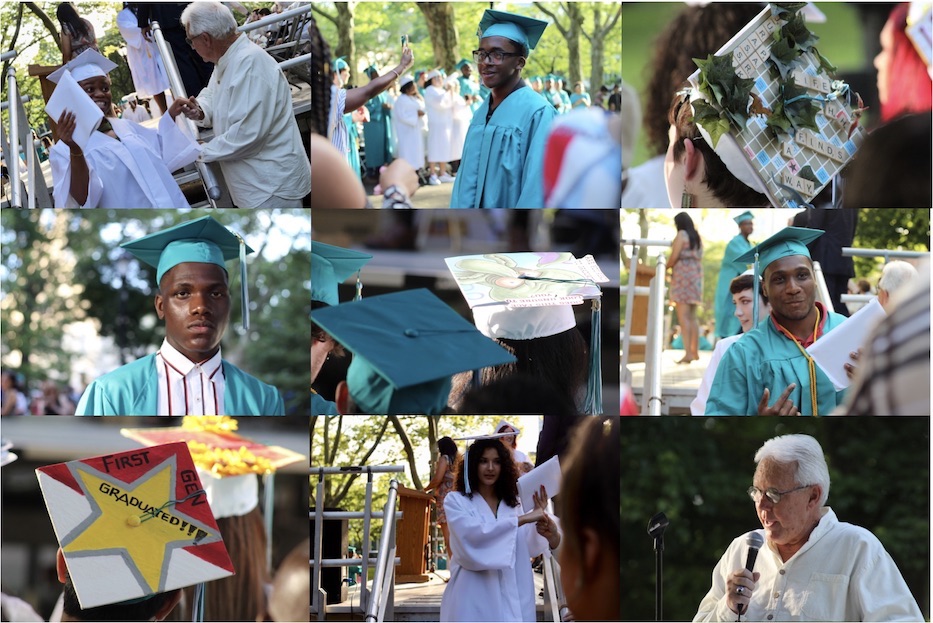 He rattled off examples: student guitarist Rocco Dematteo, who helped students earn enough math credit to finish the class as a teacher's assistant—and then taught algebra by himself when the teacher was out due to a family emergency. Students Dante Wiggins and Matthew Perez, who served on the inaugural leadership team for the group Men Up, creating a space to talk about and try to redefine masculinity in the community.
Or Angelis Marie Murga Sierra, an education advocate who worked with two English language learners in the school's tenth grade class to help get them through the year.
"That's what we, the teachers and staff who work with you, want you to take away from all of this here tonight," he said. "We're the editors of your stories. We help refine those that need a little work and aren't ready for prime time. We ask you questions to help you find your voice. We look to help you find and tell yourself the stories about the best parts of you. In the long road of life, we know it's those stories you tell yourselves about who you are and what you can do that makes all the difference."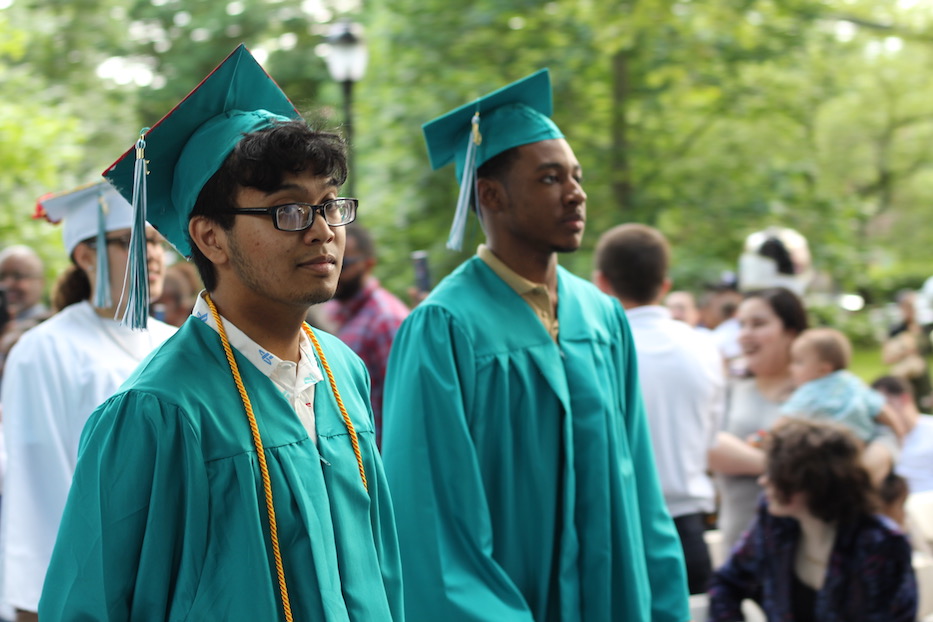 Among those are students like Valeta, who entered HSC after a year at Cooperative Arts & Humanities High School because she wanted to play the contrabass flute, and had found that there wasn't a place for the instrument in Co-Op's band. When she arrived, she recalled, she was nervous but excited, ready to find an instrumental home but unsure she would make friends.
She had nothing to worry about: they multiplied around her. Many expressed interest in her big, quirky instrument, the only one of its kind played by a high schooler in the city. With other student musicians, she started playing gigs around the city.
Then her senior year, teachers pushed her to give back too, by giving lessons to fellow student and flute novice Randy Koh. At first, she said, she hesitated, worried that teaching was beyond her capacity. But she tried it. Koh practiced dutifully. By the spring, he was playing alongside peers who had studied flute for years.
"It's one of the hardest things, teaching someone an instrument," she said, tearing up in a purple, star-studded dress that her mother had sewn especially for the occasion. "My time here has shaped me into what I want to be. It's been a really great three years."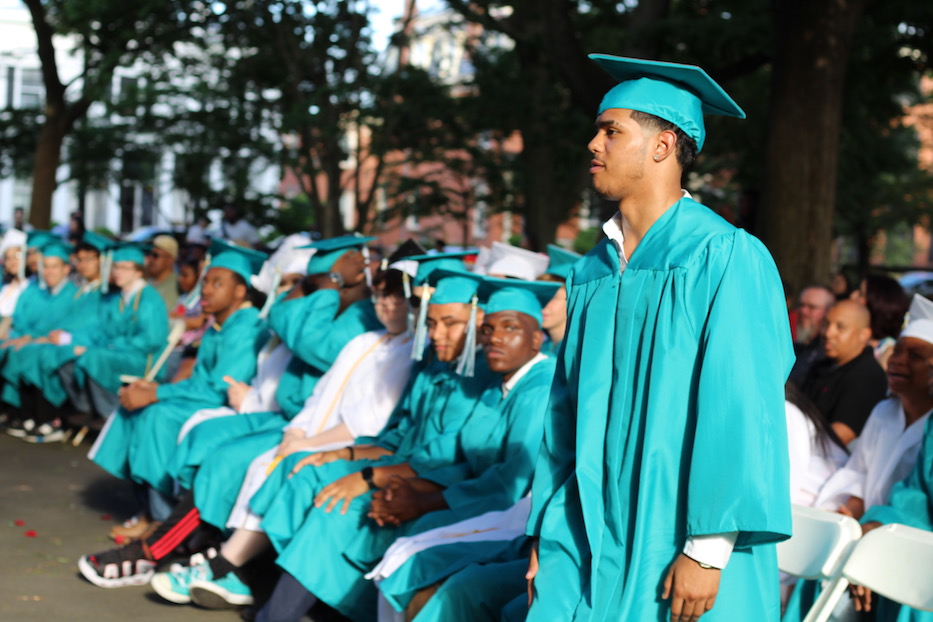 After graduating as a member of the National Honor Society, she will be attending the University of Bridgeport this fall, where she plans to begin her studies in music education. Then, she plans to return to HSC with her contrabass flute in hand—as a teacher herself. She's holding on to a hand-decorated mortarboard that reads "I believe in music the way some people believe in fairy tales" to remind herself of that goal.
That sense of community radiated onto the stage with salutatorian Juliana Marie Sabin, who recalled entering HSC as a timid 14-year-old freshman, upset that she had not gotten into her first choice school and "unsure of what the next four years would look like." For the entire week before school started, she had full-fledged panic attacks that would leave her covered in hives. She wasn't sure she would make it through one year, let alone four.
And then, even before day one, she started meeting teachers at the school. She talked to sophomores who had been there for a year, and to fellow students in her then-freshman class. She started realizing that she actually liked HSC. The panic attacks stopped. Her friends multiplied. When that first year was over, she decided to stay instead of reapplying to the other school. One of the things that changed her mind, she recalled, was watching how much her classmates helped each other.
"The class of 2019 is, together, unstoppable," she said. "We have done this time and time again. We got through all of the difficult times together. Some of us suffered a tragic loss, like the death of a friend or a family member. But what did we do? We supported that classmate, and maybe even went to the wake or the funeral."
"Some of us have suffered injuries, major and minor," she continued. "What did we do then? We helped our classmate carry their bags, or walked them to their next class. Some of us struggled academically at different times during the last few years. And what did we do once again? We helped our classmate get caught up on their work, or study for the test coming up. No matter what cards we were dealt over the last four years, we refused to stop. We refused to let our classmates fail, and we refused to let our classmates go through difficult circumstances alone."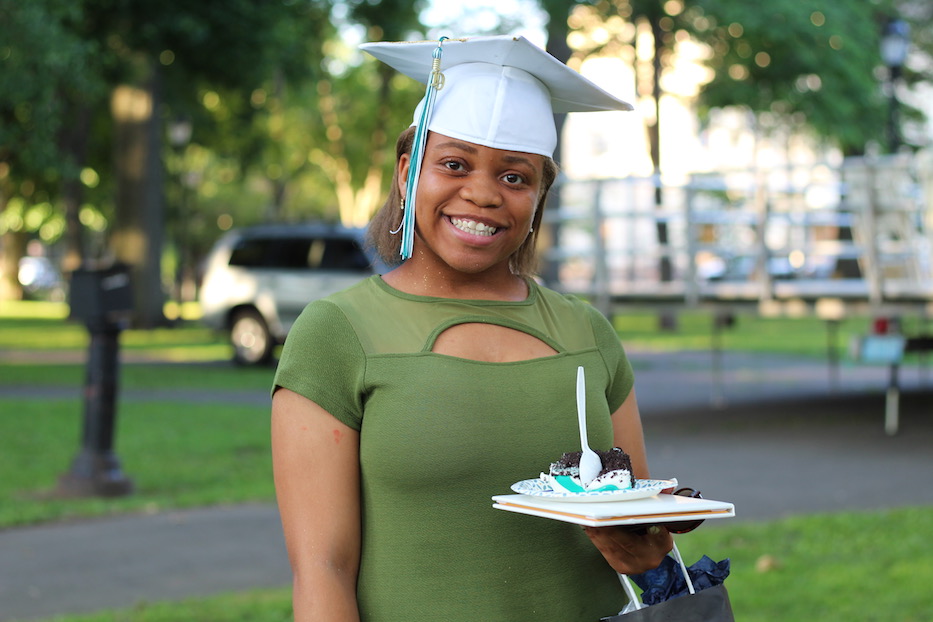 Armed with a diploma and a piece of chocolate cake after the ceremony, vocalist Chyann Hauser said those words had hit her hard—because she might not have crossed that graduation stage without the help of her friends. Just weeks into her freshman year, Hauser said she began to struggle academically. School would get easier, and then it would get hard all over again. Classes just didn't seem like her thing. And then one by one, friends emerged from the woodwork, offering help with typing and proper source citation, or a second and third pair of eyes for a paper that was due soon.
This year, Hauser said, they helped pull her through a class on the history of civil rights, as she chose a paper based on the movie Nappily Ever After and studied the origin and history of hair relaxers, movement to liberate natural hair, hatred of natural hair as a form of internalized racism, and hair wars among Black women. While she loved the subject from the outset—"it's a really, really good movie"—she wasn't so enamored with the class.
"History isn't my thing," she said. "It was tough. My friends, they helped me out with everything. It's like—we just don't want to see each other fail. It's like it hurts us if we fail."
Now, she is considering enrolling in classes at Gateway Community College, with plans of going into the school's nursing program. While she is relieved to have made it through, she said that HSC has definitely transformed her from "not a people person" into a graduate that plans to support her circle of friends—and ask them for support in return—for years to come.
"I'm done," she added. "And I feel great."
Watch more in the videos below: