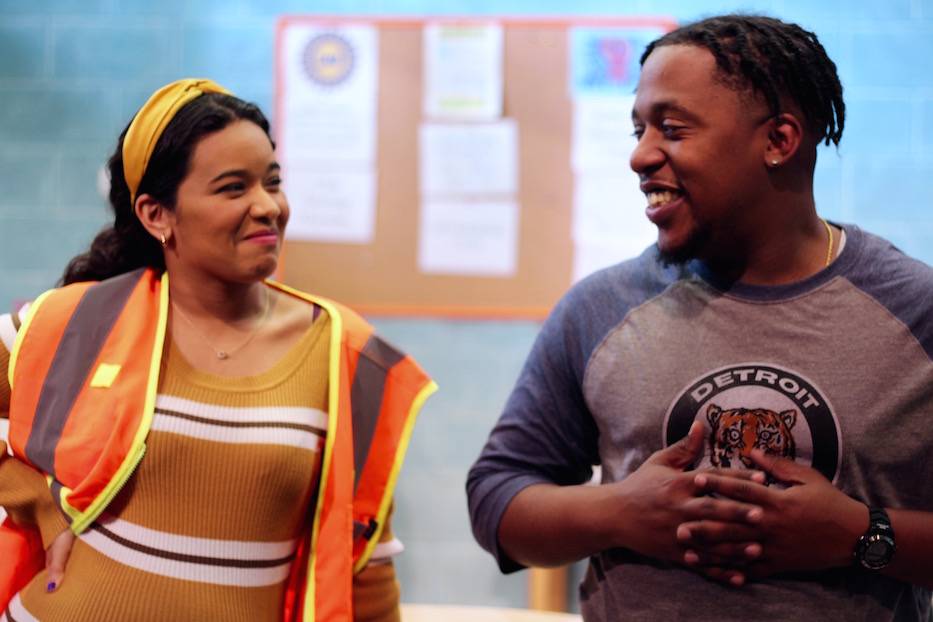 Collective Consciousness Theatre | Erector Square | Fair Haven | Arts & Culture | Theater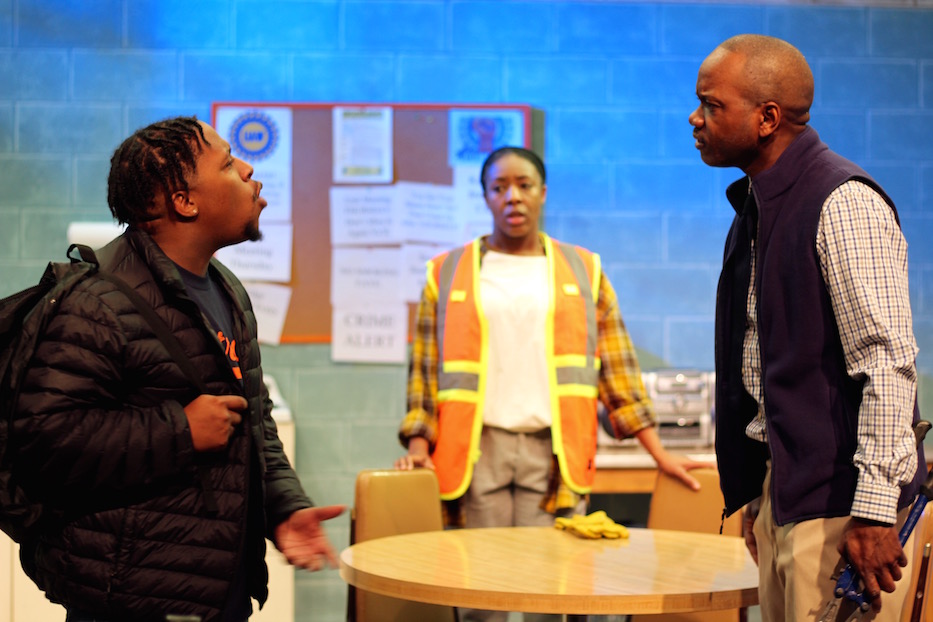 Stephen King, Tamika Pettway, and Jason Hall in Dominique Morisseau's Skeleton Crew. The show opens March 5 at Collective Consciousness Theatre in Erector Square. Lucy Gellman Photos.
Reggie is walking the line. Behind him, a row of lockers sit almost empty, a sign of just how little life is left in the factory. In front of him, a grown woman is pleading. His face twists with the weight of a closing automobile plant, a gasping city, a sputtering economy. His hands are open and outstretched, as if they're ready for prayer.
"How am I going to help anyone if I can't help myself?" he asks.
Reggie (Jason Hall) is one-fourth of Dominique Morisseau's Skeleton Crew, opening March 5 at Collective Consciousness Theatre (CCT) in Erector Square. Nimbly directed by CCT Co-Founder Dexter Singleton, the play marks the third and final chapter of Morisseau's Detroit Project, a trilogy of works chronicling decades of working-class Black life in Detroit, Mich.
The play runs March 5-7, 12-14, and 19-22 on the theater's Erector Square stage. Tickets and more information are available here.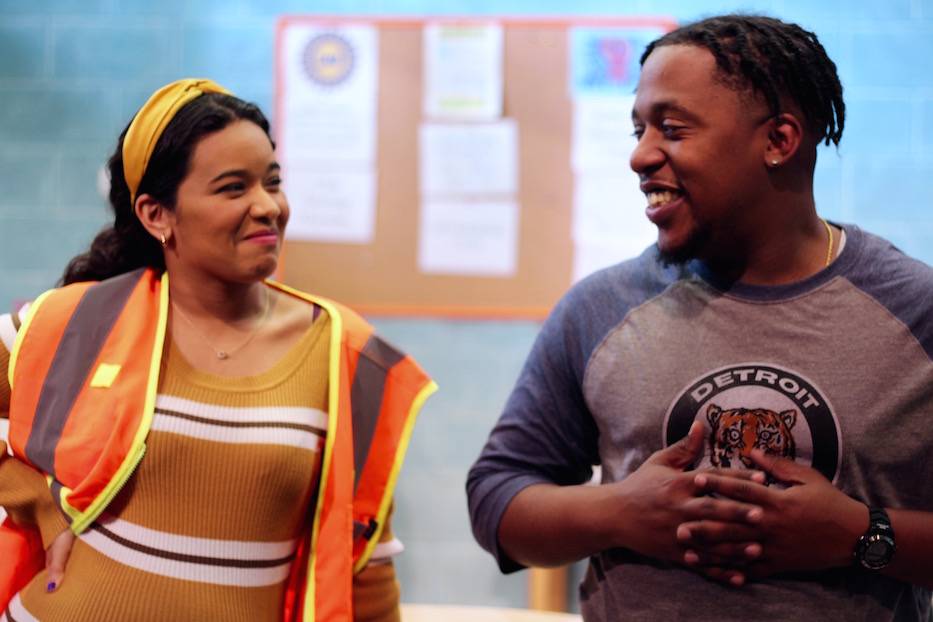 "It's a show that's really close to my heart," Singleton said at a recent rehearsal, as actors ran through last-minute lighting tweaks. "Unlike Detroit '67, it's set in 2008 and the great recession. I've been in my adult years in that time, and seeing that perspective as an adult is different. In Detroit, the factory life and the plant life was the main job. It was the main economic line to the city."
Set during the height of the country's 2008 financial crisis, the work follows three members of a "skeleton crew" and their line supervisor in the city's last automobile stamping factory. The plant is unnamed, but audience members can take their best guesses: most likely a casualty of General Motors' 10,000 layoffs in early 2009. On the wall, a poster for passenger safety sits like an odd harbinger of the crash that is about to come down on them.
The cast rotates in and out of a break room, a kind of sanctuary that becomes a frightening, Sartrian in-between place by the end of the show. In it there is Faye (Tamika Pettway), a longtime member and representative of the United Automobile Workers (UAW) who has been on the line for 29 years, and needs those 30-year benefits before she retires. There's Dez (Stephen King), a slick romantic who dreams of opening an auto-body shop. There's his love interest Shanita (Betzabeth Castro), a visibly pregnant worker who assumes that her union job will provide for her coming child even as jobs are cut around her.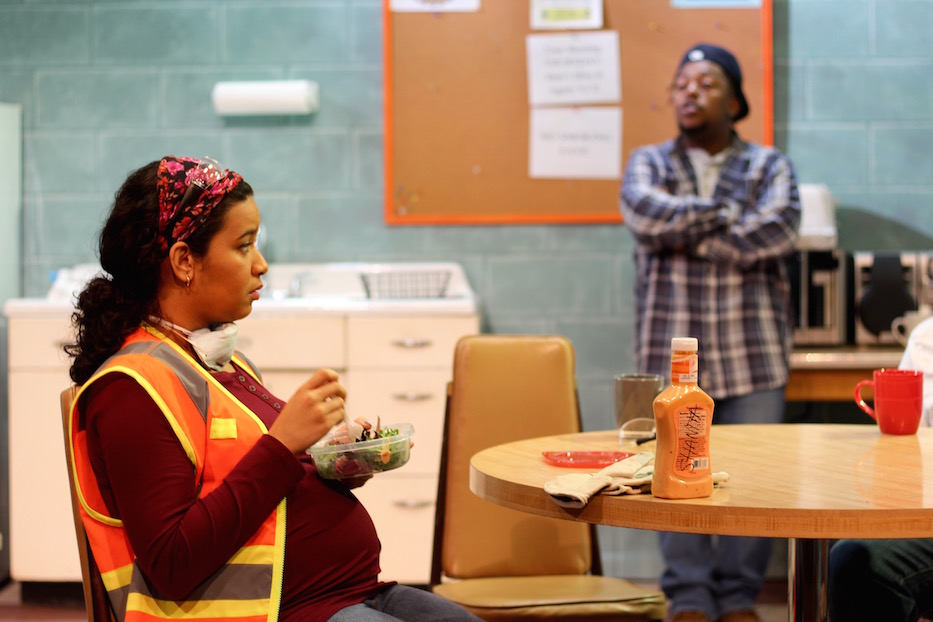 Betzabeth Castro as Shanita (King is in the background) in Dominique Morisseau's Skeleton Crew. The show opens March 5 at Collective Consciousness Theatre in Erector Square. Lucy Gellman Photos.
All of them report to Reggie (Hall), a longtime family friend of Faye's who looks out for his subordinates but also wants to protect himself and the life he has built. From the moment the audience meets him, it's clear that something has slipped under his skin and won't leave him alone. Cue the main conflict of the play, as he learns that the plant will be closing and confides in Faye only to beg her not to organize with the union.
Morisseau, whose gift for conversation and humor shines here, pushes the play forward with a driving, sometimes musical rhythm. While the 2008 recession feels huge—because it was, with shock waves that continue still—her setting turns it into a deeply personal story, where it is hard not to relate to at least one of the characters.
As they take on the playwright's language, cast members transform into friends and family: Shanita carries a book of baby names and chronicles her dreams so vividly that suddenly she's that cousin having a baby down the street. Faye has had a falling out with her son that hits close to home. Dez' ambition is palpable and so is Reggie's anxiety, a humming kind of thing that puts one right on the edge of their seat.
Cast members dip their arms into industry, and come out fully formed. As Faye, Pettway is as hard and cool as the steel parts she stamps, but also a survivor in every sense of the word. From the cigarettes Faye keeps in her bra to the strong blend of coffee she brews in the mornings, Pettway has seized on the character's heart and her resolve, mothering those around her as she also makes a case for herself.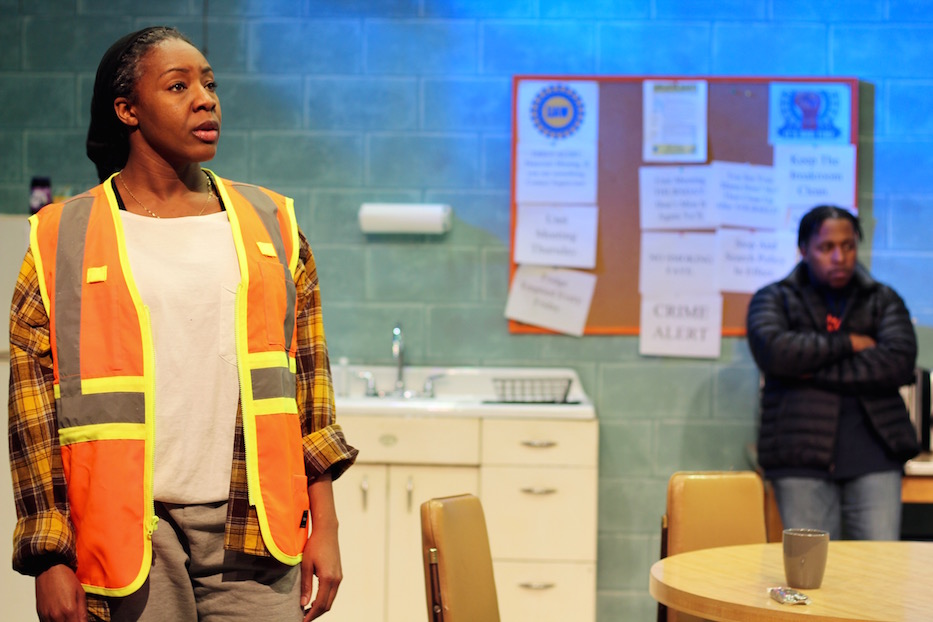 She is spellbinding to watch on stage, where she can command the space without any words at all. In some ways, the show belongs to her: this plant is her life and her home, in more ways than one. In its collapse, there's a potential and devastating parallel with her own.
But this show—and the game of economic survival around which it revolves—delivers on every character. King, who played Kitch in CCT's performance of Pass Over last year, has stepped into the role so deeply it's evident on his face before he ever opens his mouth. There's a softness there: a boy who has big dreams and equally big qualms about the city sprawling before him.
When parts go missing at the factory and he comes under scrutiny, it's hard to fight the response to stand up and defend him. His chemistry with Castro is delicious, and a testament to Morisseau's own use of humor to carry the weight and grit of so much of the show. She, too, holds her own, bringing spunk and wit and uncertainty to the role in equal parts. Hall struggles with his own power—and what he has to lose—with a conviction that he acts out through his whole body.
Around them, the crew has pulled together a world that feels like it lives on after the show, where the line is a physical piece of machinery, but also a thin, porous thing between being okay and not being okay. Machinery whirrs and booms constantly, part of a soundtrack—or as Shanita suggests, the lullaby—that jumps from Trick Trick to Aretha in a kind of complicated love song to the city's past and present (a nod to Singleton, who hails from Detroit, and to sound designer Tommy Rosati).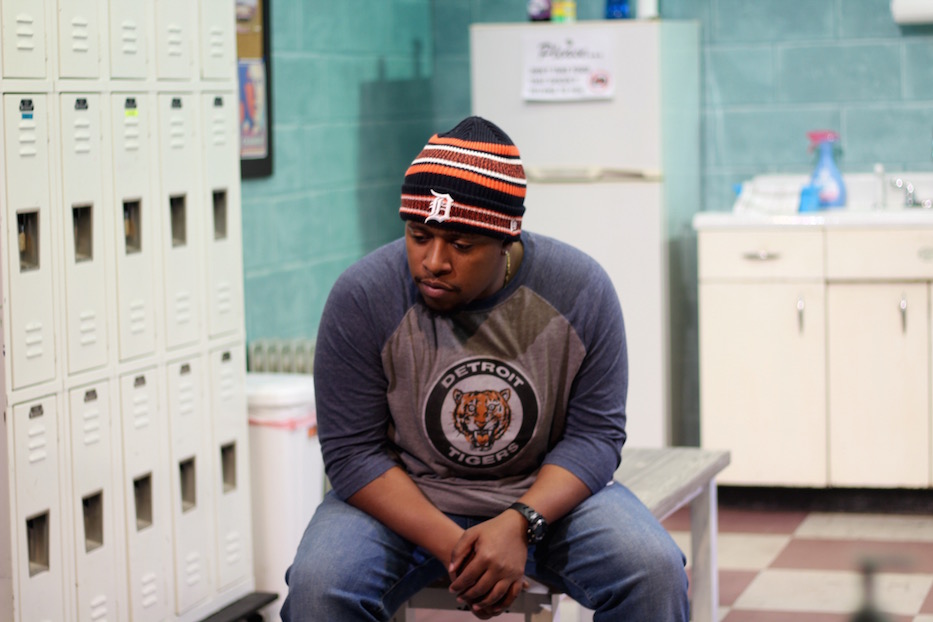 The break room feels intimate and lived in: orange safety vests hang on the wall, scuffed-up tile creates a sprawling floor, and a fridge and coffeemaker sit at the back of the space. A row of lockers, many of them empty, remind audience members of how many bodies used to rotate in and out of this place, and how they must have carried their workboots out with them at the end. Credit to set designers David Sepulveda, Jamie Burnett and Amie Ziner.
For Singleton, who grew up in Detroit, the play has been a long time coming. The theater performed Morisseau's Detroit '67, the first work in the trilogy, during its 2014-15 season. Long Wharf Theatre put on Paradise Blue, the second work in the trilogy (although it is the first to happen chronologically), in late 2018.
Because he knows Morriseau—CCT went to her directly to get the rights for Detroit '67—he's been following the progress of the play for years, including reading early drafts and attending staged readings. But even after its 2016 premiere in New York, it took CCT over three years to get the rights to Skeleton Crew, because so many theaters in New York are also putting the work on.
Singleton said it remains his goal to complete the trilogy at CCT, which would make it one of the only theaters to do so.
"As a Detroiter, everybody knows somebody who worked in the plant," he said. "It was the good job in the city for decades, where you didn't have to have a whole lot of education, but you could still buy a home, feed your family, send your kids to college, go on vacation, have a car. There were whole blocks of people who worked in the plant."
"With the collapse of the economy and the plants closing, we know how many people moved out of the city, couldn't afford to live there, lost their homes, went and worked at other plants or factories, used those skills out if state."
In that sense, it tells a story that is very much of Detroit but also of New Haven, of Newark and Wilmington, of St. Louis and so many other American cities. In the past months, Singleton has done research on the layoffs at Pratt & Whitney, Sikorsky, and the Winchester Repeating Arms Company that took place during the first 15 years of the twenty-first century.
He learned that by the time Winchester Arms closed in 2006, only a couple hundred jobs were left on the line. But in the century before, the factory had employed thousands of families, boosting Newhallville's rate of Black homeownership and feeding a thriving economy. That when the business left New Haven, it left a hole in the city's economy from which some families never recovered.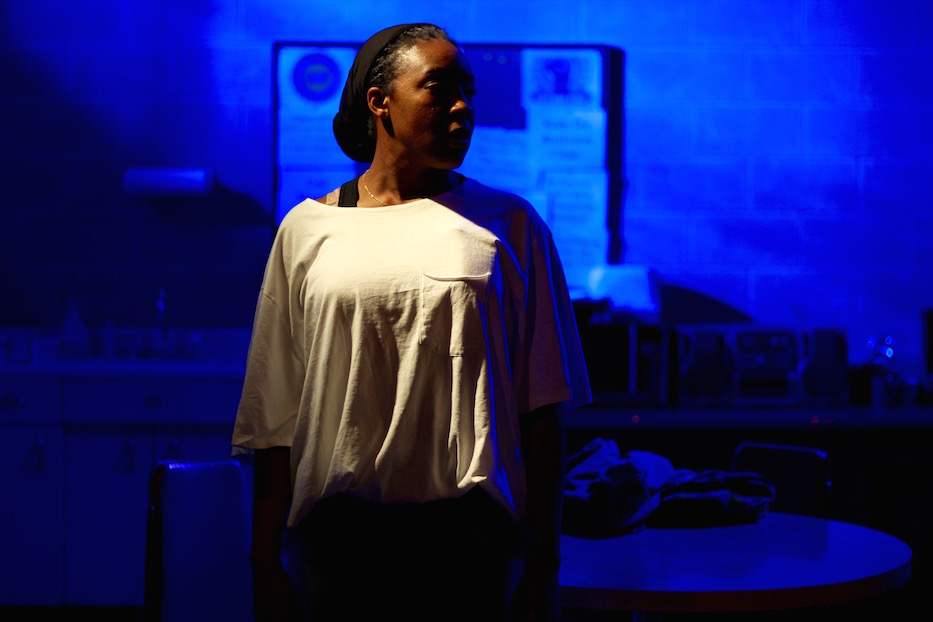 "You had these decades of Black families who worked at the plant, had legacy in the plant, and other family members were able to get there," Singleton said. "When that went away, seeing how much that affected New Haven."
The able cast turn it into a story of the present. In the midst of plummeting global markets, economic uncertainty, and another presidential election, the moral core of the show remains. It asks: What measures will one take to protect themselves and their kin? Who leads the charge, and who follows it? When is it time to step not just away from the line, but out of it?
And when does one do, despite every best effort, when the bottom falls out anyway?
Dominique Morisseau's Skeleton Crew runs March 5-7, 12-14, and 19-22 on CCT's Erector Square stage. Tickets and more information are available here.