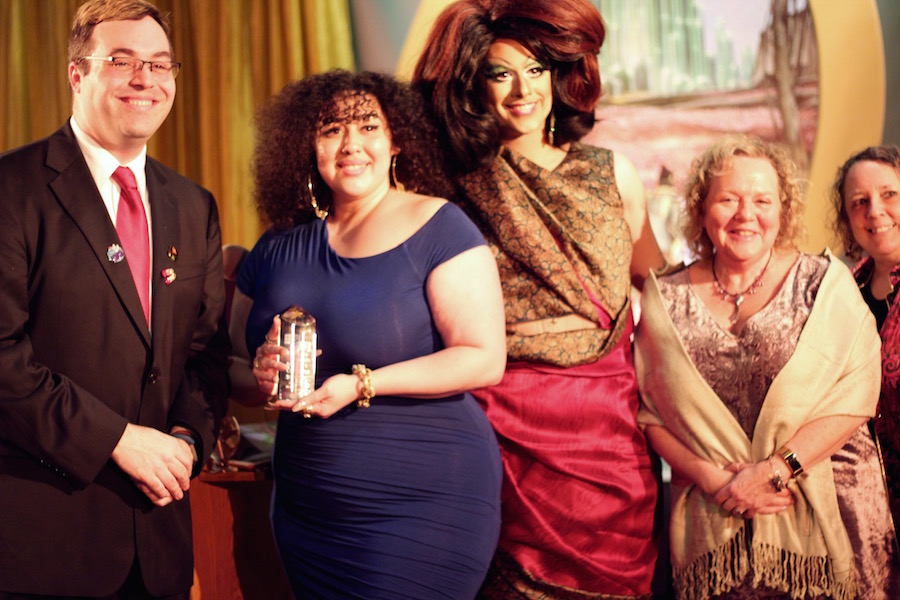 Juancarlos Soto | Partners Cafe | New Haven Pride Center | Waterbury | Yale Cabaret | Arts, Culture & Community | IV Staklo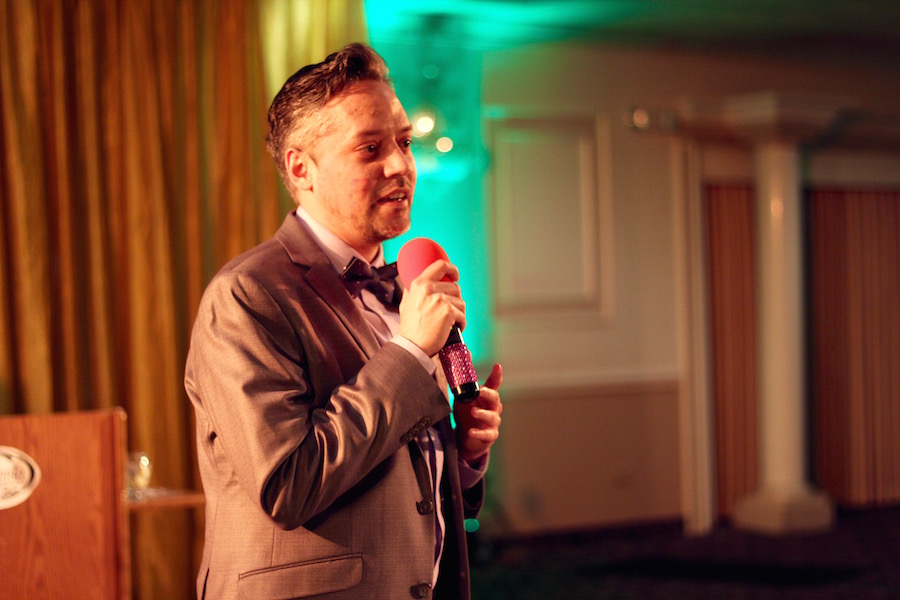 Juancarlos Soto: "I didn't even know what a community organizer did. I had just heard that they got to be social butterflies, they got to talk to people about things that made them mad, and they convinced them to do something about it. And to me, that sounded like being a superhero." Lucy Gellman Photos.
Juancarlos Soto grew up obsessed with the superheroes in his comic books. He never imagined that he'd be standing in a room full of them—or that he'd be one himself.
Saturday night, Soto was one of five honorees at the 16th annual Dorothy Awards, a fundraiser and awards ceremony for the New Haven Pride Center held at Fantasia Wedding & Banquet Facility in North Haven. The event, which brought in close to 300 guests for an Oz-themed night, raised over $40,000.
Honorees included the Yale Cabaret, Partners Cafe owners Dave and Bernard Kleman, Trans Lifeline Program Coordinator and activist IV Staklo, and New Haven "artivist" Juancarlos Soto. The night's rising star award, reserved for a member of the LGBTQ+ community who is close to the beginning of their career, went to Waterbury-based activist and organizer Roslyn Sotero.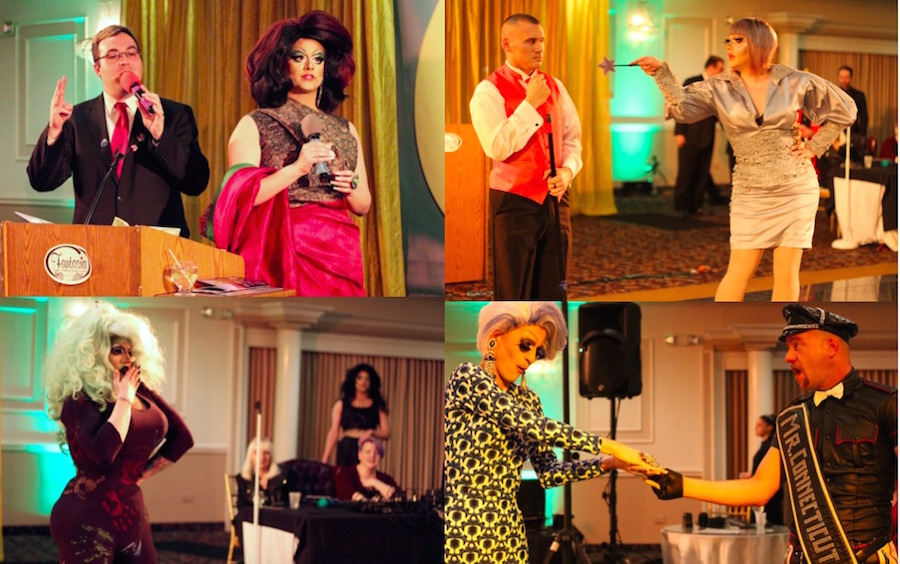 Clockwise, from top left: emcees Kiki Lucia and NHPC Board Chair Joshua O'Connell; ISCofallCT Emperor Jonathan Cuebas B. Childs; queen Dandy Lions with Mr. CT Leather; queen Mia E Z'Lay.
"Our community is a microcosm of the rest of the world, because we have a little bit of everyone," said Patrick Dunn, who has been serving as the center's first paid director since August 2017. "And that makes our community the best, because we have a piece of every single diversity marker represented in our community."
As the Elm City met the Emerald City, winners zeroed in on a need for greater LGBTQ+ inclusion, their remarks woven into dinner, dancing, live and silent auctions and stunning performances from members of the Imperial Sovereign Court of All Connecticut. Presenting the first award, emcee Kiki Lucia praised the Yale Cabaret for putting queer stories onstage at a time when New Haven's remaining theaters do not.
Now in its 51st year, the cabaret has become a playground for experimental, often unabashedly queer works (read about some of them here, here, here and here), directed and sometimes written by students at the Yale School of Drama. Lucia noted that while New Haven's other theaters are often the beneficiary of dollars that come from the LGBTQ+ community, their productions do not yet reflect that segment of their patron base. No local organization, for instance, has programmed work to commemorate the 50th anniversary of Stonewall Riots.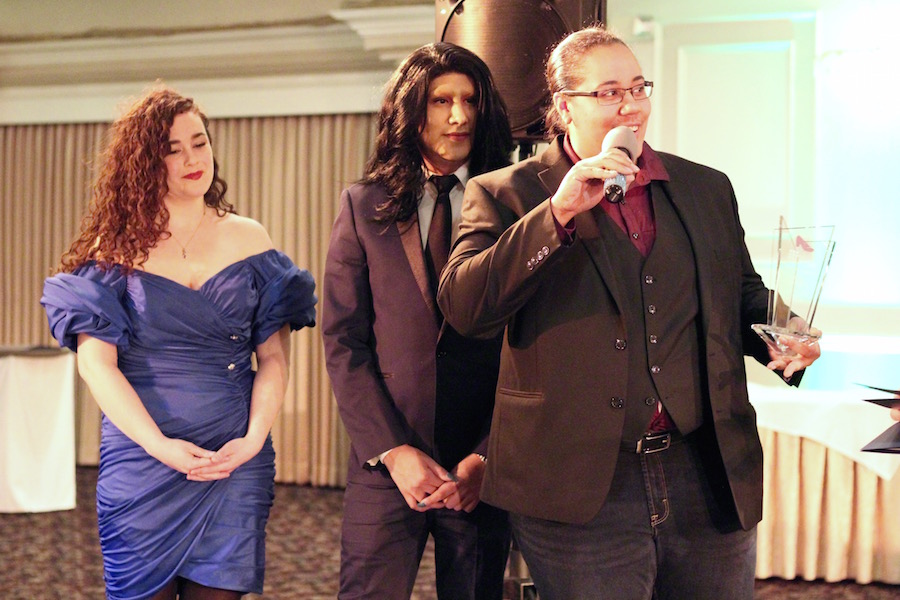 Cab 51 team members Molly FitzMaurice, Armando Huipe and
LT Gourzong.
"I am so appreciative of the efforts of you and everyone who has come before you to reach out to our community to tell our community's story," Lucia said to Cab 51 leaders LT Gourzong, Molly FitzMaurice and Armando Huipe. She thanked them for beginning each Cab performance with a recognition of the stolen Quinnipiac land on which their Park Street building stands—and for making an effort to reach out to and learn from queer artists in the greater New Haven community. Since last year, the Cab has added a night specifically for New Haven queens at its annual dragaret.
Accepting the award, both Huipe and Gourzong shouted out the Cab's five decades of existence as the very thing that has allowed them to find and keep telling new queer stories. Honing in on the theater's proposal-based format, FitzMaurice added that "we have queer stories on our stage because queer stories consistently want to be told."
Celebrating those real-life queer stories remained center stage for the remainder of the evening. Crossing the dance floor to cries of "wepa!" Sotero emphasized the importance of placing queer people of color in leadership roles across Connecticut.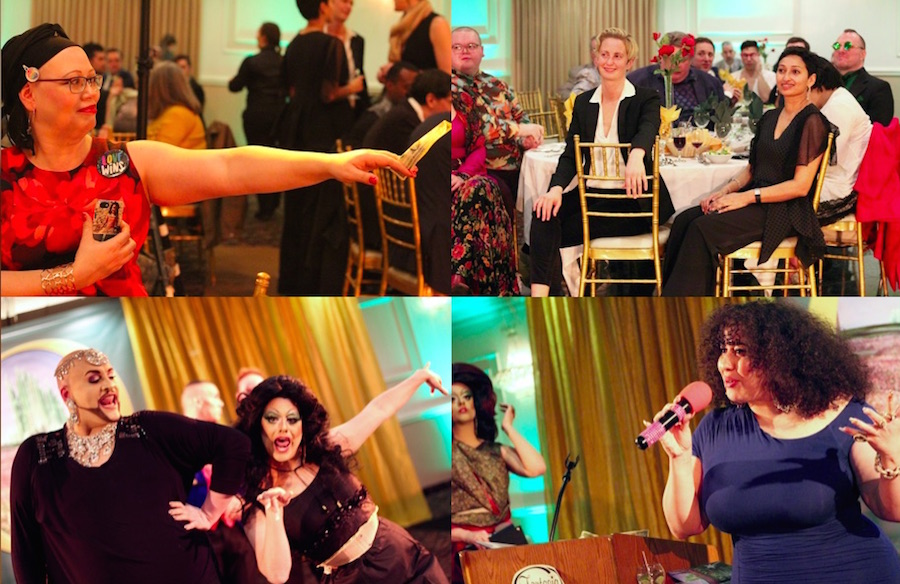 Clockwise, from top left: Linda-Cristal Young holds out a dollar bill during Dandy Lions' performance; attendees Sarah Locke and Bindu Vanapalli look on; Roslyn Sotero accepts the award; Miss Frank and Kiki Lucia break it down.
Based in Waterbury, Sotero is a community educator and organizer with StayWell Health, a position that the organization created with grant funding last spring. While also serving as an advocate and board member with the Queer Unity Empowerment Support Team (QUEST), she has created Waterbury's first needs assessment for LGBTQ+ youth and "far exceeded our expectations," according to StayWell Grants Manager Jill Schoenfuss.
Calling Waterbury "a forgotten city" for queer organizing and activity, Sotero recalled working on a community celebration last year, intended to bring members of the LGBTQ+ community together to talk about their hopes for the city. Almost 100 people came, leaving Sotero running around with fellow facilitators for most of the event. When she took a moment to pause and look at who was in the room, she recalled seeing not statewide executive directors or leaders, but local "queer folks of color who are often forgotten in the work that we do."
"Whoever is going to turn Waterbury over its head is going to be queer folks of color, specifically trans women of color," she said. "I know that my name is on the award, but this is for Waterbury, because we deserve to be on the map."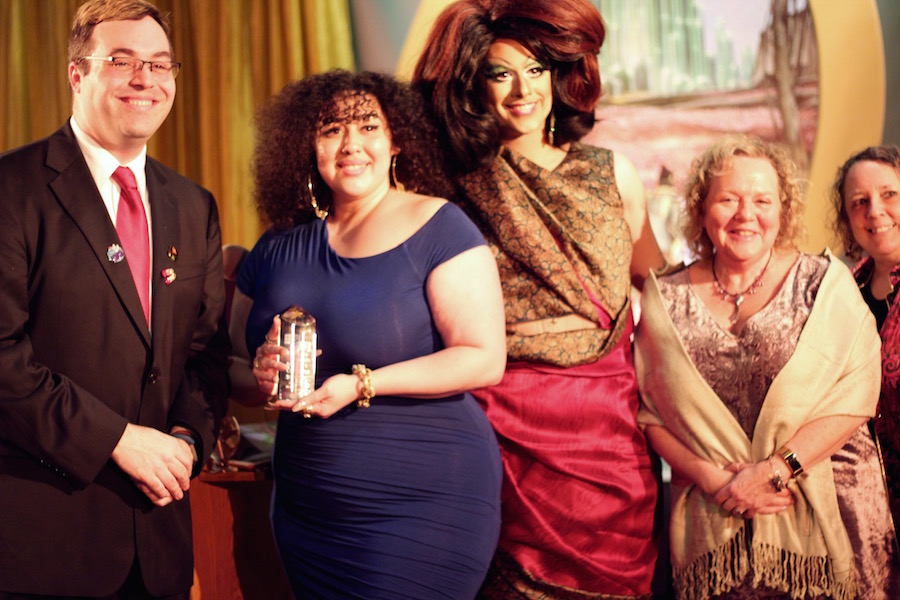 Joshua O'Connell with Sotero, Kiki Lucia, Staywell Grants Manager Jill Schoenfuss and True Colors, Inc. Founder and Director
Robin P. McHaelen.
In her efforts to expand that map, Sotero has an intergenerational network to lean on. Accepting their award later in the evening, Partners Cafe owners Dave and Bernard Kleman stressed that they've worked to make the spot as inclusive as possible, from staying open seven days a week to supporting local LGBTQ+ artists in and outside of their space.
At the cafe, which they've run for over three decades, they support weekly drag shows and monthly ladies' nights among a rotating slate of other events. In January, they also helped sponsor artist Daniel Eugene as he brought his #NHVDrag photo series to Spring Natural restaurant in New York City.
"I am proud to report that Partners is one of the oldest establishments that caters to the LGBT community in Connecticut," said Bernard Kleman, who greeted the crowd in Spanish, then switched to English as he continued. "Throughout the struggles and adversities our community has endured, Partners has continued to strive toward hard work and innovation."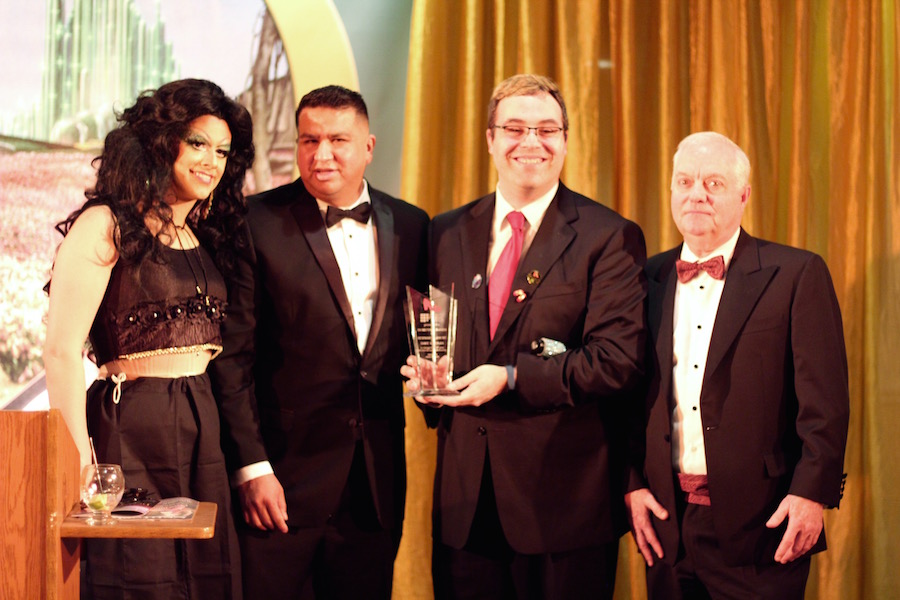 He thanked previous owner Jack Garity, who opened Partners at its current location in 1974, for making space for the LGBTQ+ community almost half a century ago. Waving from the audience, Garity received a standing ovation.
Sotero's map continued to grow as the night went on. Introduced by activist, poet, and reporter Chardonnay Merlot, 26-year-old IV Staklo took the floor as the youngest-ever recipient to win a Dorothy Award.
In addition to their work at Trans Lifeline, which provides around-the-clock access and support to members of the trans community, they are an active member of the Party for Socialism and Liberation (PSL) and the Act Now To Stop War & End Racism (ANSWER) Coalition, and have helped organize dozens of protests in New Haven.
With a catch in her throat, Merlot recalled meeting Staklo three years ago, at a Trans Day of Remembrance rally "two days after the travesty of Trump's election." The group had already marched and rallied outside of New Haven's Elm Street courthouse. Then Staklo began to speak. The whole crowd fell to a hush to listen to their every word.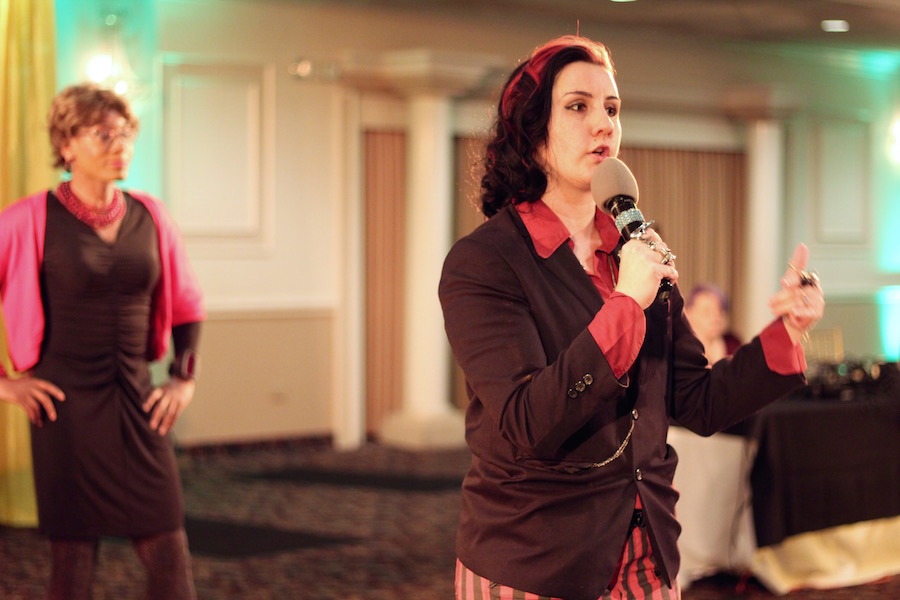 IV Staklo: "We need to work together to build a system where we're honored every single day."
"What I saw from this person was a fire," Merlot said. "It was a little frightening, but you're also emboldened by it. And since then … I got to know them. And one thing I have learned from them real quick is that when you do work alongside them, you better step your game up."
But that fire can also translate to a familial warmth, added Merlot. She praised Staklo's sense of heart, which extends not only to their work and activism, but also to animals like the land snails they found adoptive homes for last year.
Crossing the room to receive the award, Staklo thanked Merlot, then spoke to a desperate need for a network of more pro-LGBTQ+ resources and inclusionary practices. Without that network, they explained, there is no path to "basic economic, human and social rights."
"When I speak to somebody in my community or when somebody in my community speaks to me and helps me get through a difficult day, that's good," they said. "That's something that we need. That's day-to-day survival. But we also need to ensure that we can work together long term … to build a system where we don't have to constantly rely on one another to get through each day individually."
"We need to work together to build a system where we're honored every single day," they continued as the crowd began to cheer. "Where we're raised up every single day. Where we get hugs every single day. Where we don't have to worry about our survival every single day."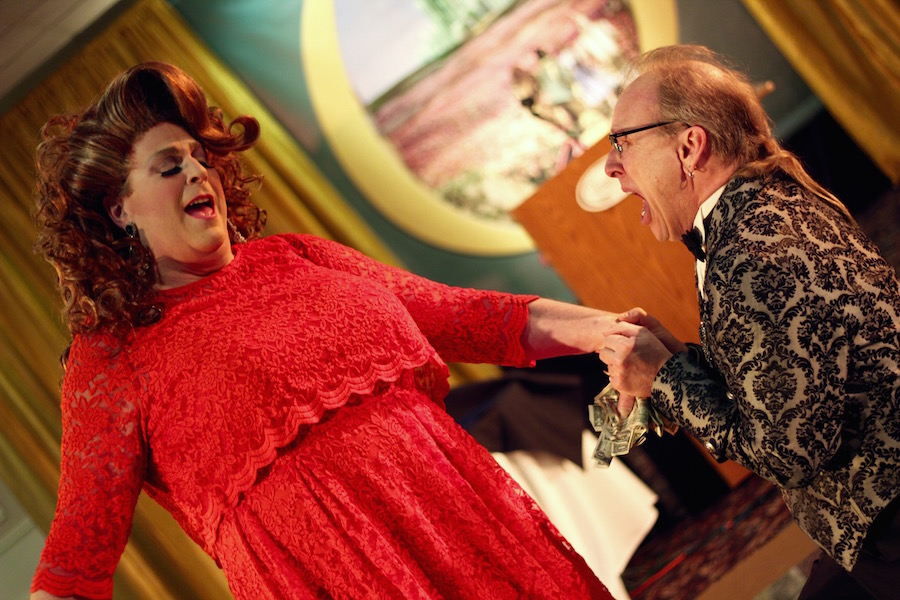 Morgana De Luxe and Trevor Reynolds, who served as ISCofallCT Empress and Emperor MMXIII, provided some of the evening's entertainment.
That message also rang true for the night's final honoree, artist-activist, reproductive health advocate and outspoken Latinx leader Juancarlos Soto, who serves as a member of Puerto Ricans United (PRU) in addition to his work with Planned Parenthood of Southern New England (PPSNE) and the New Haven Pride Center, where he leads a free summer camp for Black and Latinx LGBTQ+ youth each year.
Taking a rhinestone-studded mic, Soto recalled growing up fascinated by the superheroes in his comic books, wanting to believe that they could exist in the real world. Raised in Puerto Rico, he first came to New Haven when he was 15 years old, retreating to his sketchbooks as a way to cope with learning a new language in a new home. As he drew, he knew that he wanted to be an artist, attend art school, and design a graphic novel. But life, he said, had other plans.
"Instead of making movies and video games, I became a community organizer,," he said. "I didn't even know what a community organizer did. I had just heard that they got to be social butterflies, they got to talk to people about things that made them mad, and they convinced them to do something about it. And to me, that sounded like being a superhero."
Clockwise, from top left: NHPC Board Member Lindsey Pembrooke; ULA members Jesus Abraham Morales Sánchez, on his feet for Soto; Cab 51's Molly FitzMaurice; folks dancing late into the night.
In his work, Soto continued, he has never been able to do anything alone. He thanked the queer youth with whom he works for the lessons they have taught him, and the work he has been able to do with them. He addressed friends and colleagues who had come from PRU, PPSNE and Unidad Latina en Acción (ULA), shouting out healthcare and fair immigration practices as fundamental human rights.
"Regardless of your immigration status, your age, the color of your skin, your gender identity, your sexuality, you should be welcomed and celebrated not only in our city, but in our freaking state."
That is, incidentally, what the center is also trying to do in the next year. Stepping out of Lucia's shoes, Dunn emerged to tell attendees that this year, he plans to expand the center's mission with new, part-time program officer positions and an expanded slate of activities in the community.
In particular, he said, he is working to have greater programming by and for LGBTQ+ youth, as well as representatives of the trans and nonbinary, Latinx, and queer woman and woman-identifying community.
"What we need is people who represent the diversity of our community in leadership roles," he said. "And unfortunately, only a fraction of people are in this room tonight with us."
"Some of those people aren't here because the right invitation is not being extended to them to feel welcome in this room," he added. "And that's unacceptable."