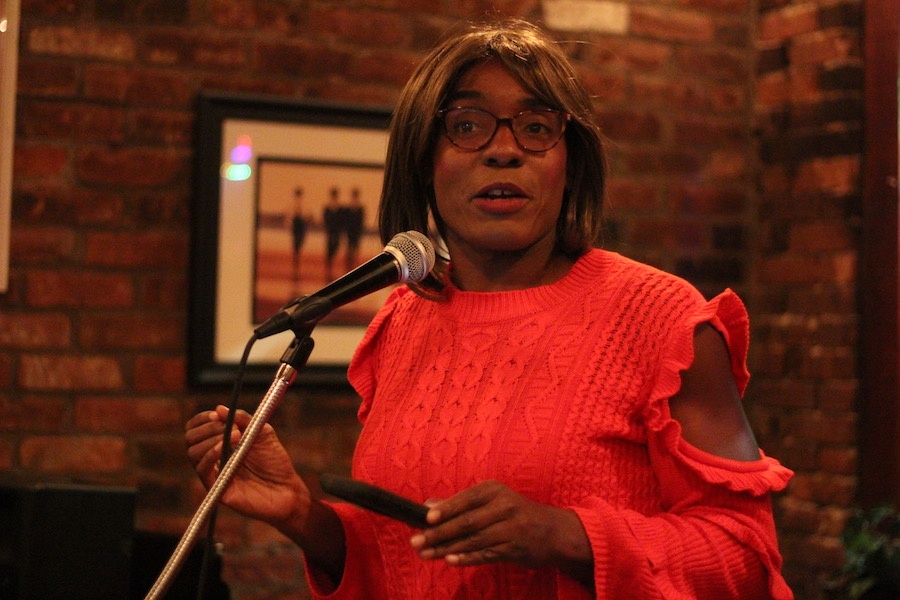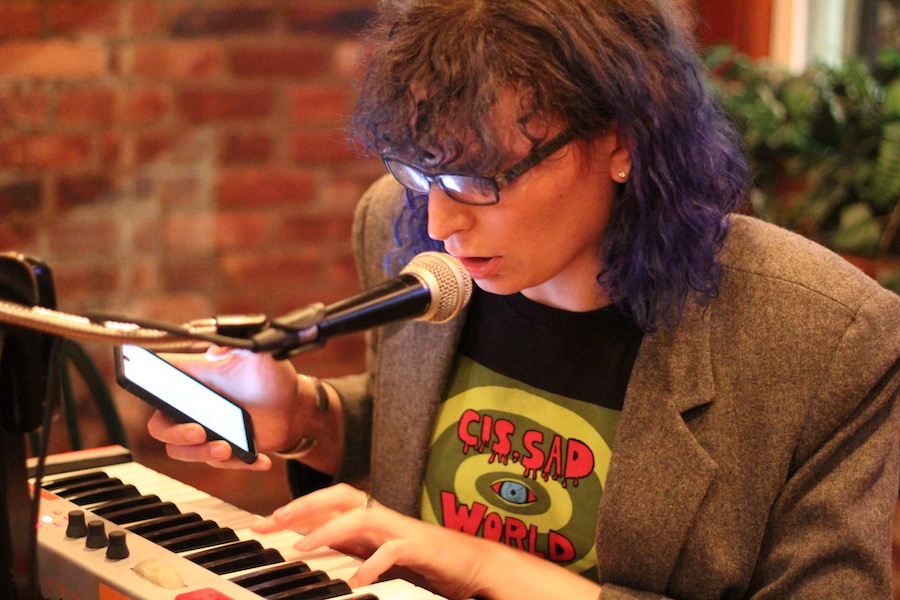 Maia

Leonardo. Lucy Gellman Photos.
Maia Leonardo was performing alchemy. She turned a series of knobs back and forth, methodical with every lengthening finger, twist in her wrist. The sound of a spaceship loosed itself from her keyboard. A beat dropped, synthy notes sailing over it. Next to her, Natalie Mazzone began to sing, smoke curling like ribbon at the edges of her voice.
Wednesday night marked New Haven's second annual "Trans and Talented" open mic night at 168 York Street Bar, a still-nascent tradition that made its debut during Transgender Awareness Week last year. Organized this year by the New Haven Pride Center with support from 168 York and the Connecticut Party for Socialism and Liberation (PSL), the event drew close to 20 LGBTQ+ advocates, allies and artists for two hours of poetry, original compositions, and a few rousing covers.
It is part of a full schedule of events celebrating Trans Awareness Week across New Haven, which culminates in a Trans Day of Remembrance (TDOR) rally and gathering Tuesday, Nov. 20. At the event, New Haven Pride Center Director Patrick Dunn said that 168 York will be hosting more frequent trans and queer open mic nights in the new year.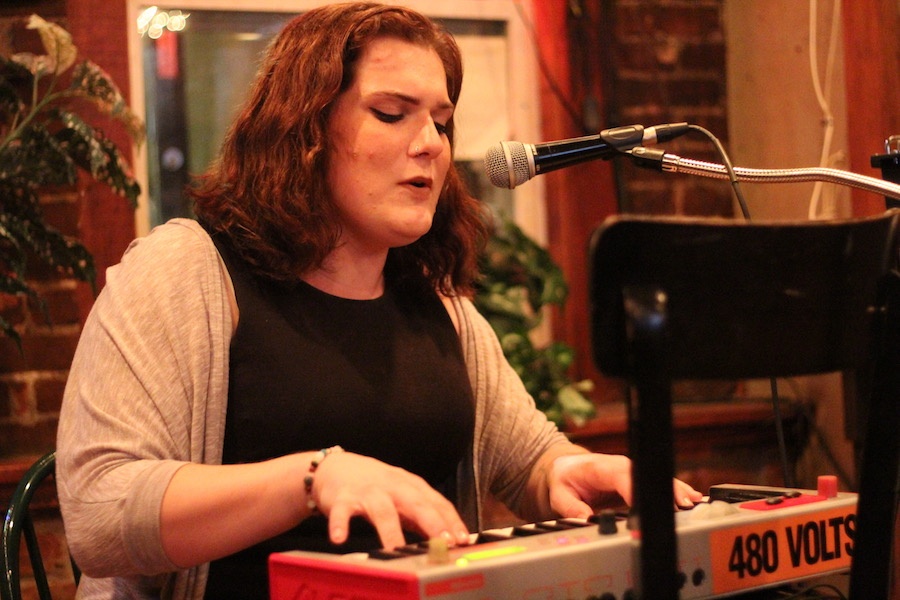 Despite—or perhaps because of—this year's political climate, the open mic focused not just on telling trans stories in New Haven and Connecticut, but the importance of centering joy and activism within those stories. Taking the mic in a hydrant-red sweater that was open at the shoulders, local activist, PSL member and journalist Chardonnay Merlot urged her fellow comrades to fight the current administration with all their might—and their art.
"It's not just about remembrance, it's also about resistance," she said of next Tuesday's rally, drawing a smattering of whoops and "yes yes" around the room. "We need resistance now more than ever. And we need a fighting spirit to come through for all of us, for all of our family. Because there are certain assholes who want to seek to eradicate us. Who want to seek to push us back in closets that we all fought like hell to get out of."
She launched into her own poetry, flecked with music and rhythm for which she raised her voice to the rafters. Dedicating her first piece to her late father, she read as lines wrapped the audience in her words, painting a portrait of a parent who loved her for exactly who she was.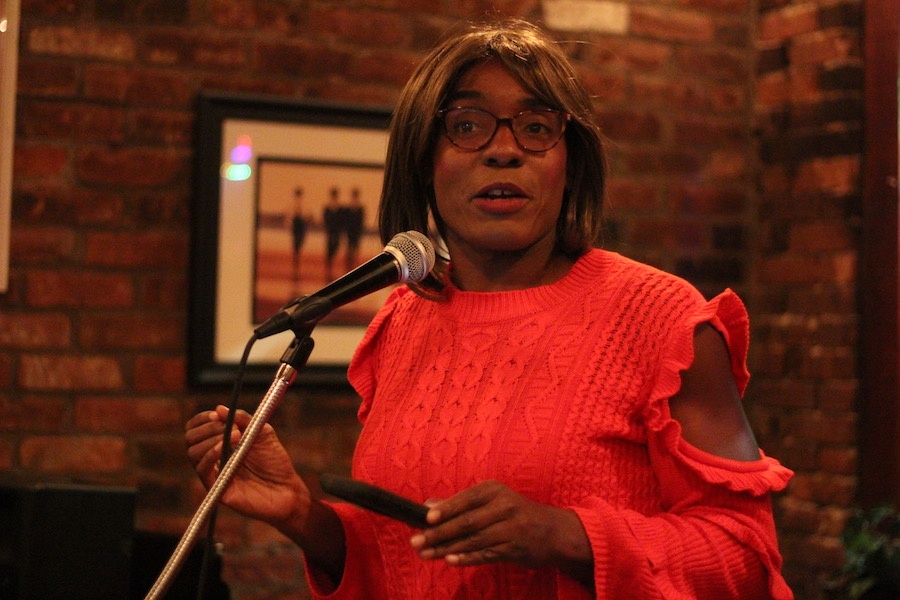 He taught me how to get off blocks, to get out of the blocks
To sit and stand tall in any land

Agape love was the thesis of this man
Who accepted me holding a handful of Silky Vicky's contraband
Others brought a mix of old and new work, pitching it to an audience that cheered, whooped, and clapped wildly in return. Returning for the second year in a row, Lacy Joy Whitefeather serenaded the audience with two long sets, dipping back into standards like "MacTriff's" and trotting out easy, rock-flecked ballads that required audience participation.
A longtime New Havener named Charlotte brought up three new poems, rocking a sort of Audrey Hepburn look as she read. When she apologized for the quality a new piece, the audience clamored over her in support. "You got this, Charlotte!" yelled NHPC Director Patrick Dunn from the other side of the room.
Before one piece titled "How Do I Tell You," she delivered some bittersweet news. After years in New Haven, she is moving to Pennsylvania. She waited a beat, watching as audience members' faces fell, and a few begged her to stay. Then she added a crucial detail—she's moving to Pennsylvania to be with her girlfriend.
"Yay love!" somebody should out at the front of the room, a chorus of awwwwws bubbling up where there had been silence just moments before.
I can tell you I love you—that's the easy part
But there's so much more to tell you and I don't know how

How do I tell you that you were the first one to see the real me?
Hold my hands and show the world the real me?
To finally allow myself be free one summer night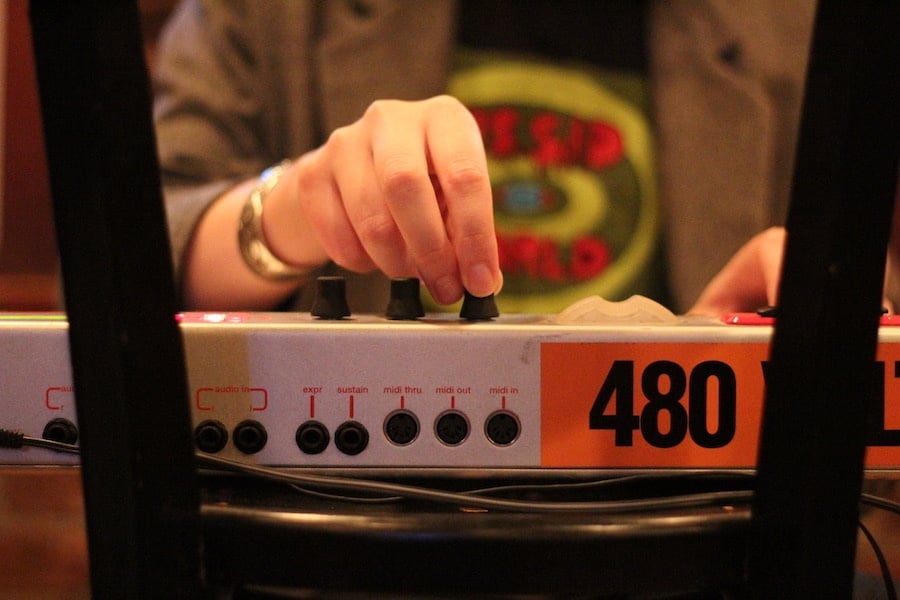 Up early in the evening, Mazzone entered uncharted territory, premiering a song about her own struggles with addiction and recovery (video at the bottom of the article). As verses swooped over Leonardo's small keyboard and into the audience—she said this was their first collaboration as a duo but would not be their last—a few audience members nodded knowingly, letting out soft mmmm sounds at the refrain "I am enough."
For 22-year-old Mazzone, the performance marked an intimate space to tell some of her own story, while using voice skills she's been honing for years. Born and raised in West Hartford, she first came out as gay to her parents 10 years ago, when she was 12. She came out as trans more recently, when she was 18. Her mom was okay with it, she recalled. But her dad—not so much. In recent years, she has struggled with addiction and recovery, breaking the cycle to realize that, like the song, "I am enough." She has now lived in New Haven for three years and praised the support of its activist community.
"It's really important to have a space like this, because it assembles community," she said after her performance. "The world isn't a very warm place right now, except for global warming, and it's just really important."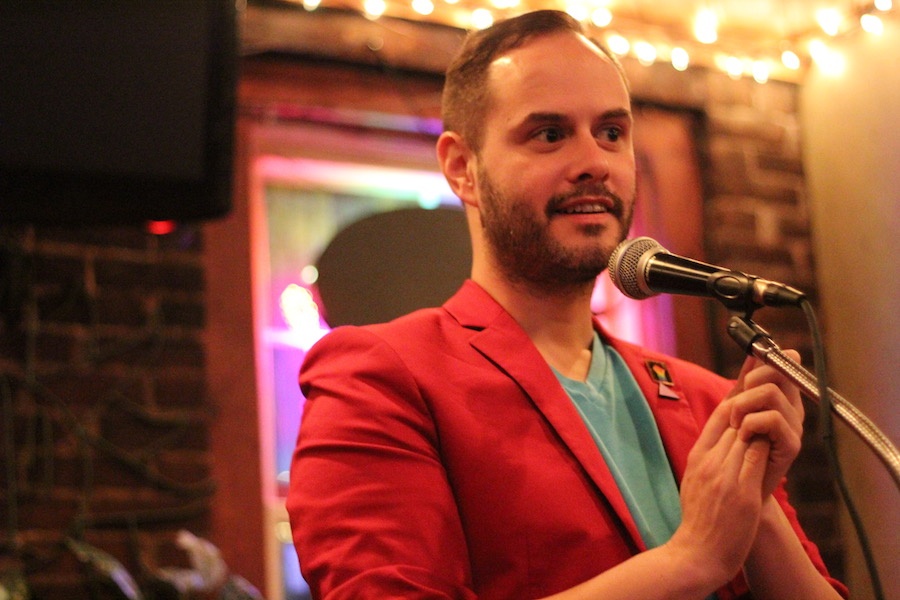 As the evening wound down, Dunn echoed her message, noting the importance of safe and inclusive performance spaces for those who identify as LGBTQQI2SPAA [lesbian, gay, bisexual, transgender, questioning, queer, intersex, pansexual, two-spirit, androgynous, and asexual].
As a cisgender man, he explained, he has long looked to historical and current trans figures—and the history of the trans rights—for his own understanding of LGBTQ+ advocacy. He urged those in the room to keep making and performing art, calling it vital within a nexus of rallies, speakouts, support groups and resource trainings that the pride center provides.
"Art and culture is what changes minds," he said. "Art and culture is what gives voice to the reality that we live in, and art and culture is the only thing that actually survives time. In 500 years, no one will remember the asshole politicians. No one will remember the stupid laws. But they will remember the art and culture from our time. And it is so important to give platforms to our trans, our intersex, and our non-binary community. Because they have to be a part of history."
"That's the only thing that will actually survive," he added. "When we are all long gone and forgotten, that will be our piece that we leave behind, the art and culture of our community. And the trans voice has to be there."
To watch videos from the event, click below: