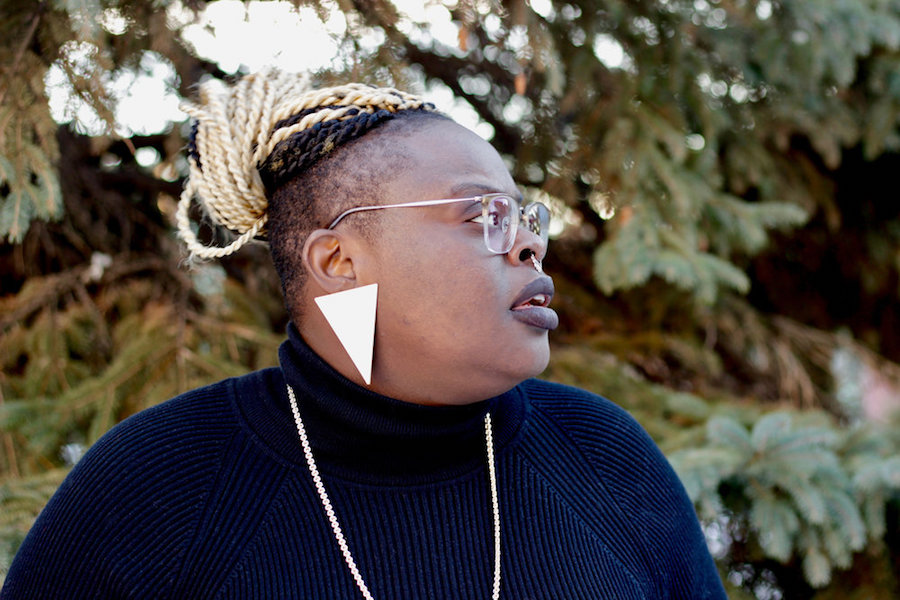 New Haven Pride Center | Arts, Culture & Community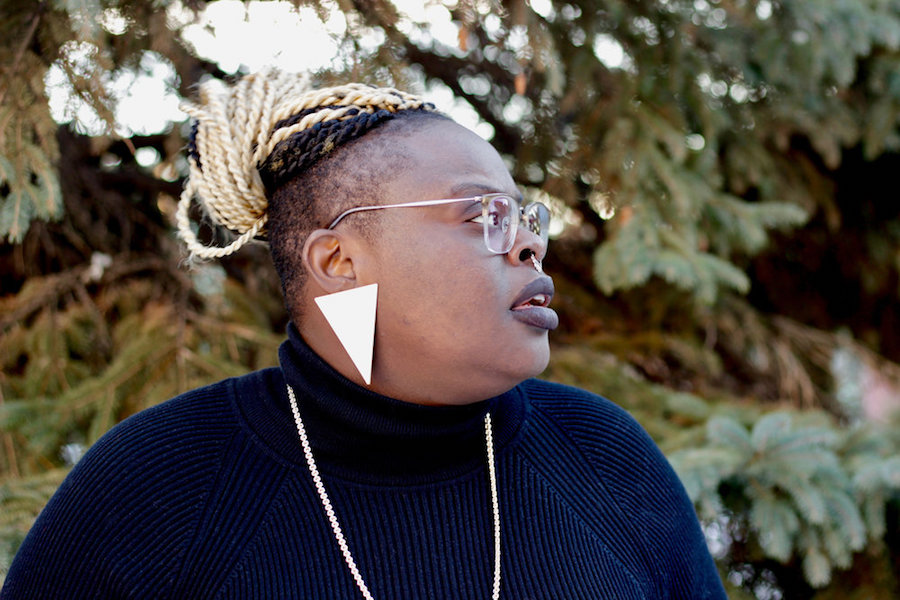 Porsha Olayiwola will perform her piece Black & Ugly as Ever Feb. 19. Photo courtesy of the New Haven Pride Center NHPC.
New staff members to handle Latinx and youth programming. Boston's poet laureate, spilling a Black, queer, ugly, beautiful story on a tiny New Haven stage. Footage that hops from New York's drag queens to the first queer Asian-American female filmmaker, without ever leaving Southern Connecticut State University's campus. And a celebration—or many—to commemorate the 50th anniversary of the brick and the riot that changed the course of LGBTQ+ history.
These are just a few of the initiatives coming to the New Haven Pride Center (NHPC) this year as it enters 2019 with new funding sources, expanded programming and collaborators, and a laser-like focus on the future of queer life in New Haven. It kicks off this month with David Wheeler-Reed, professor at Albertus Magnus College, who will present his book Regulating Sex in the Roman Empire at the first of several author discussions this year.
"It's very exciting for me," said NHPC Executive Director Patrick Dunn in a recent interview at Whole G Cafe on Orange Street, just a few blocks from the center's basement offices. "We're looking to aggressively expand opportunities at the center, and really thinking through what that means."
Part of that is a very conscious effort to have more voices at the table. In August 2017, Dunn became the first paid executive director in the center's then 21-year history, taking on a role that included programming, fundraising, community outreach, and literally keeping the lights on (he's been known to joke that he's the executive director, fundraising officer, and also the janitor). While the center has board support and has brought on both paid and unpaid interns since, Dunn has done the majority of programming for the NHPC's on his own.
But it's something he's vocally struggled with, as a queer man who is also white and cisgender. As he's expanded programming, he has said repeatedly that he does not want to be the loudest or only voice in the room. At events sponsored or co-sponsored by the center, he often keeps his remarks brief, with a quip that a cis white guy shouldn't take up any more air than he has to.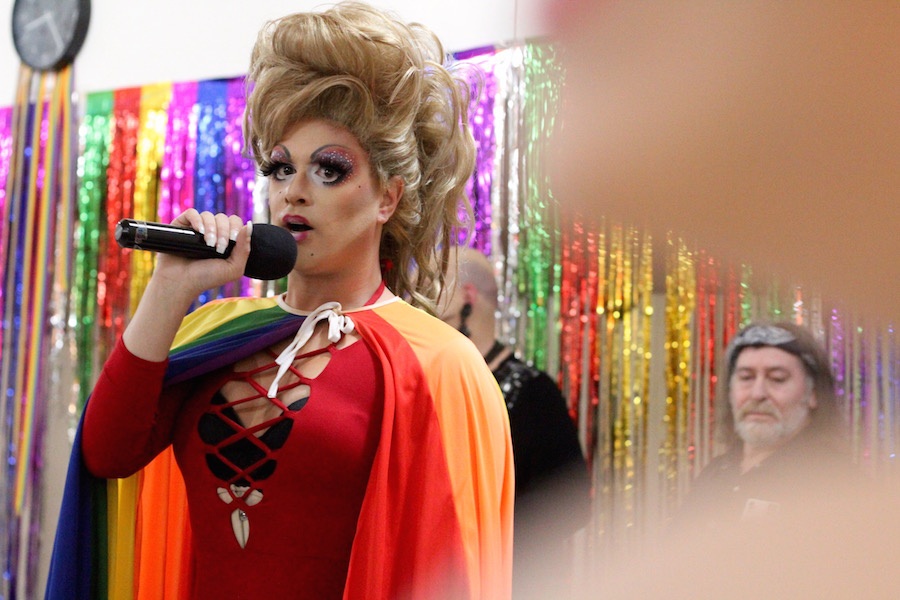 Kiki Lucia at Pride Prom 2018, which drew over 100 high school students by the end of the night last June. Lucy Gellman Photo.
Now, that's becoming more of a reality. Last year, the NHPC scored two grants totaling $25,000, both directed at creating new positions at the center. The first, $10,000 from the city's Youth Services Department, will enable the center to hire a part-time program manager for LGBTQ+ youth, starting as early as late January. Dunn said he and the center's board are considering "youth" as a kaleidoscopic group, split into groups of 12 and under, 13 to 17 years old, and 18 to 25 years old. Dunn said that the position will begin at 10 hours a week, with the possibility of increasing those hours depending on funding.
In addition, a $15,000 grant from the Community Foundation For Greater New Haven has become the seed money for three additional part-time positions, dedicated to program managers for Latinx community programming, queer women, and members of the trans and non-binary community. Dunn's goal is to have all three positions filled by April and working at 10 hours per week each, which may be dependent on funding. In addition to the first $15,000, he estimated that the center will need between $60,0000 and $70,000 annually to sustain the positions—funds that will come from individual donors, foundations, and other grant opportunities.
"All of these positions will be filled with people who represent these demographics, so we have people creating authentic programs for the community," he said. He added that the only exception may be the youth program manager, who may be over 25 years old depending on the applicant pool. In either case, he said, he also plans to have a youth advisory board that can work closely with the program manager.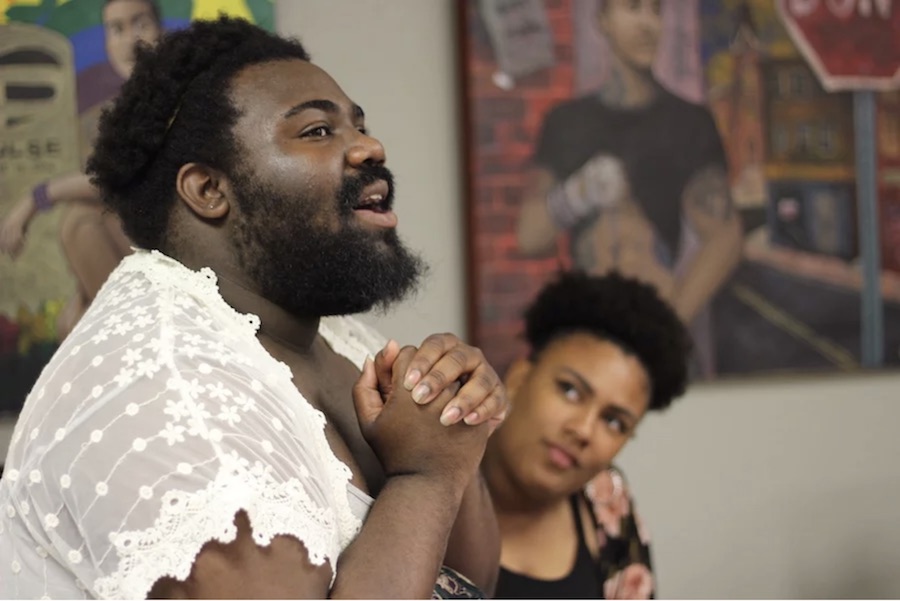 Educator Ty Cooper at last year's Children of Marsha P. Johnson Summer Camp: "We've been here since the beginning of time."
It's part of a larger effort by staff and board to offer and lead support groups that "are desperately needed that we don't have," Dunn said. Currently, those include a bisexual support group, a support group for queer community members who are struggling with substance abuse and trauma, a support group for people who engage in sex for survival, a support group for LGBTQ+ youth and teens experiencing homelessness, and a non-bar social activity for members who do not drink.
While Dunn sees the program managers as adding new dimensions to the center's internal and external programming, he has also expanded the center's annual calendar with a monthly book discussion and author series, semi-monthly film screenings, multimedia exhibitions and performances, summer concerts across the region, increased youth programming, and a conversation series titled "Gender Talks."
Many are community collaborations with academic and institutional partners. Building on a popular event that the NHPC debuted during Trans Awareness Week in November 2017 and brought back last year, there will now be an LGBTQ+ open mic night at 168 York Street Cafe on the second Wednesday of every month, beginning in February. Also that month, the center will welcome performer and newly-crowned Boston Poet Laureate Porsha Olayiwola to Lyric Hall on Feb. 19, to perform a new one-woman show titled Black & Ugly As Ever.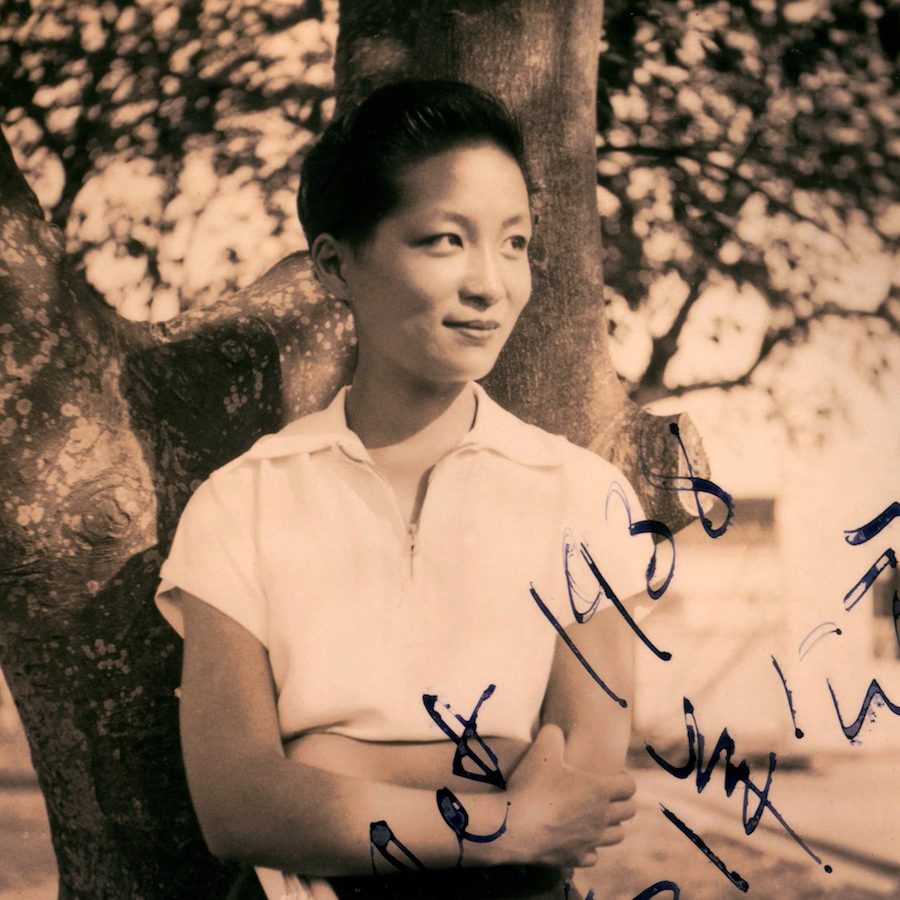 S. Louisa Wei's Golden Gate Girls explores the life and work of filmmaker Esther Eng, the first woman to direct Chinese-language film in the United States. Based in San Francisco, Eng was openly gay and has, since her death and the making of the documentary, been recognized as shattering several stereotypes of the period. Photo courtesy of the New Haven Pride Center.
At Southern Connecticut State University's (SCSU), the NHPC has partnered with the Sexuality and Gender Equality (SAGE) Center for a semi-monthly film series, scheduled to run on the university's February-June and September-November academic calendar. The series, featuring mostly documentary films with talkbacks, is set for the third Wednesday of every month, with titles including The Same Difference (2015), Paris is Burning (1990), Golden Gate Girls (2014) and From Selma to Stonewall: Are We There Yet? (2016) packed in before the year is halfway through.
Dunn said the collaboration felt natural—for the past year and a half, he's been working with SAGE Center Coordinator Jenna Retort to figure out how the two area LGBTQ+ engines can pool their limited resources. Last year, the two planned a Zumba fundraiser, and Dunn spoke at SCSU's Lavender Commencement. The two also planned a trans awareness week reception for and screening of the documentary Little Miss Westie, rescheduled to March 28 of this year because of a snowstorm last November.
"I'm really excited," Retort said via phone. "We've found that we're able to offer enriching experiences by combining our resources, and we're happy to offer space at the university."
That's one of several collaborations Dunn has up his sleeve this year. As March approaches, the NHPC will be working closely with Elm City Dance Collective (ECDC) to commission a movement workshop for Nasty Women Connecticut's exhibition Complicit: Erasure of the Body, set to open on International Women's Day (March 8) of this year. After Olayiwola performs in February, Dunn is planning to bring more voices through the city, with a diverse lineup meant to reflect the city. Then this summer, the organization will present a summer concert series with All Sounds Fair, a nonprofit and music promoter that organizes concerts and benefits by and for members of the LGBTQ+ community. From June through August, concerts will be held at venues throughout the city.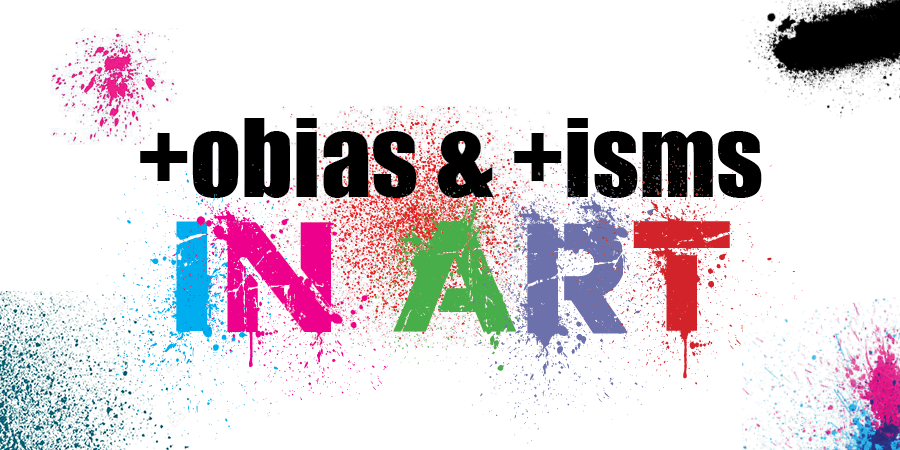 Photo courtesy New Haven Pride Center.
Throughout—Dunn said he is hoping for a monthly basis—the center will also sponsor "Gender Talks," a series of conversations on what it means to be part of a queer community locally and globally. The discussions begin in February, geared toward "telling queer Black stories." A date has not yet been confirmed.
Other events will take place at the center's downtown digs at 84 Orange St. After January's author talk with Wheeler-Reed, the center will welcome author Edafe Okporo to talk about book BED 26: A Memoir of an African Man's Asylum in United States in February, and then local author Jean Copeland to discuss her work in March. Seven exhibitions have been confirmed for the center's art gallery, including a multi-artist show called Freedom To Love (Feb. 4-28) timed for Valentine's Day, and a summer collaboration with Nasty Women Connecticut titled +obias & +isms in Art (July 8-Aug. 30).
While some initiatives are changing, Dunn said that many are staying the same, and coming back bigger and louder than they ever have. In addition to a week-long celebration of New Haven Pride in mid-September (Sept. 16-22), the center is bringing back its annual Pride Prom in June, Trans Awareness Week in November, and HIV/AIDS Awareness Week in December, planned alongside World AIDS Day on Dec. 1. Like last year, the center is also offering its space for a now-annual Children of Marsha P. Johnson Summer Camp, an initiative from Black Lives Matter New Haven, Planned Parenthood of Southern New England (PPSNE), City-Wide Youth Coalition and others.
In other words, Dunn said, "2019 is gonna be exciting."